This article is in continuation with a previous one; and a part of my Tirthan Valley travelogue. We traveled from Delhi to Chail on Day 1, and Chail to Tirthan Valley on Day 2 while crossing Jalori Pass on the way. Our destination for the second day was Ghiyagi where we stayed in Shringi Vatika. Details of the second day of the journey are as mentioned below in this article. To read the previous part of this travelogue, please click on the link below.
Journey so Far: Day 1 – Delhi to Chail: A Pleasant Ride
Tirthan Valley is located at a distance of about 200 kilometers from Chail if you travel via Narkanda and Jalori Pass. Jalori Pass is around 170 kilometers. It doesn't sound like much in terms of distance but considering how slow our ride was yesterday, I considered it to be best if we started early. The route of the journey was going to be as below.
Chail – Kufri – Narkanda – Anni – Jalori Pass – Ghiyagi
So far the road has been great and I knew that it was going to remain smooth until Kingal because I had traveled on this route a few times before. However, I had no idea about the road conditions after Kingal which was another reason for us to start early.
The Monkey Episode
I was the first one to get up in the morning that day. Gunjit and Sunny were both fast asleep and I decided to step out for a cup of tea. I got out of the bed lazily and still half asleep. The moment I opened the door of our room, I was greeted by a Monkey sitting right outside the door.
For a moment, neither the money nor I knew what happened and we just stared at each other blankly for a few seconds. Monkey was the first one to realize the situation and shrieked at the top of his voice. I was jolted out of my half-sleep and caught off-guard so I too did what the monkey did. When I screamed the monkey immediately ran away and I slammed the door shut.
Also Read: How to Plan a Trip to Tirthan Valley – A Complete Travel Guide
All the screaming in the morning worked as a wake-up clock for my companions. They woke up from their sleep startled and looked at me questioningly about why I was screaming. I told them what happened and after a hearty laugh, we all stepped out of the room for some tea.
Day 2 – Chail to Tirthan Valley via Jalori Pass
After having some breakfast, we checked out of the hotel and continued our journey towards Kufri. The road from Chail to Kufri is a narrow one but mostly in good condition and a very scenic drive. We were at Kufri by 9 am, got something to eat, and continued towards Narkanda.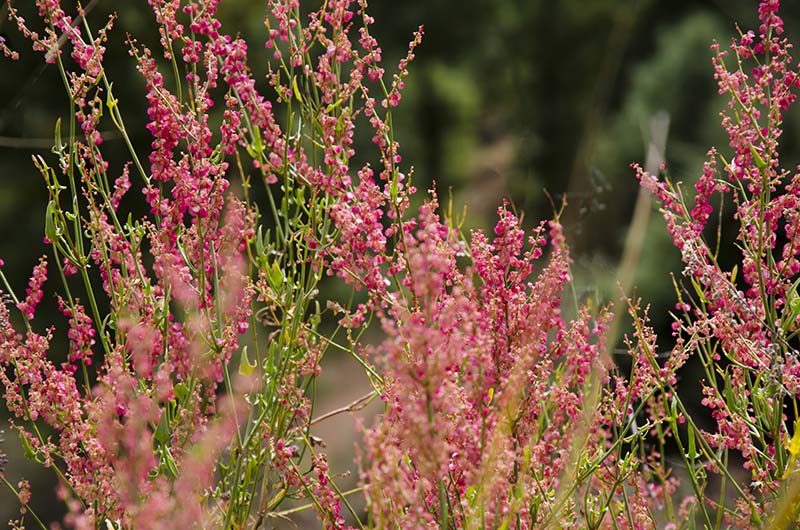 Road conditions were good so far and after a few breaks, we made it to Narkanda at around 11 AM. We stopped for a while and decided to have an early lunch there. Sunny had never been to Narkanda so he was pretty excited to see the place, which is actually nothing but a very peaceful small village.
He wanted to in fact stay in Narkanda for a day but since we were short on time, that was not really an option. I thought of visiting Hatu Peak on our way but later gave up on the idea because Gunjit and I both had been there before.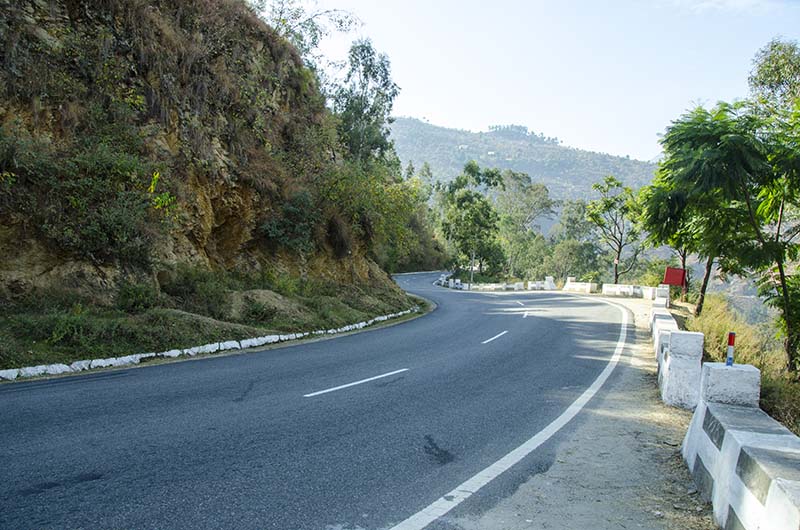 After a while, we reached Sutlej viewpoint and got our first view of the beautiful river.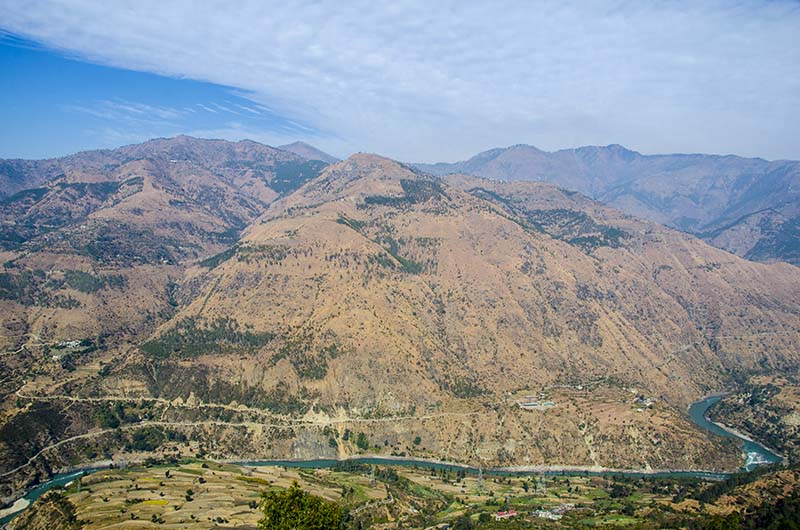 We reached Kingal and then turned on the road towards Anni. This stretch of the road was a bit narrow but to my pleasant surprise, was smooth to drive on.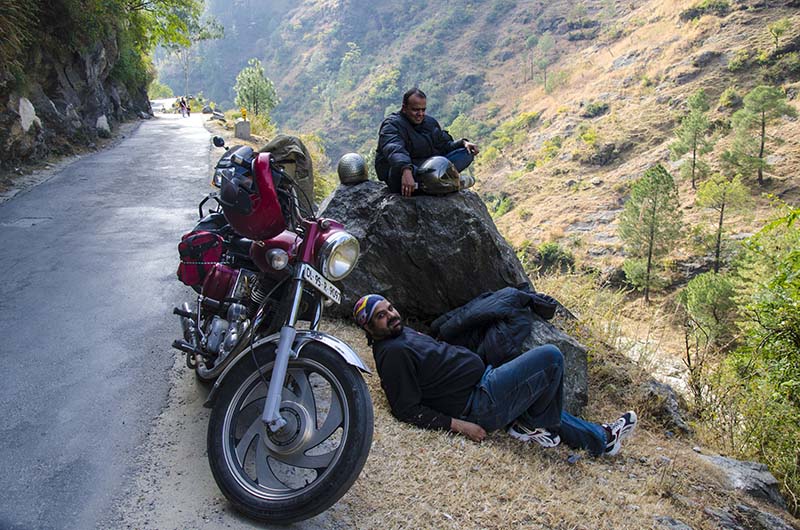 The beauty of this place made me wonder how amazing and paradise-like it must look in Monsoon.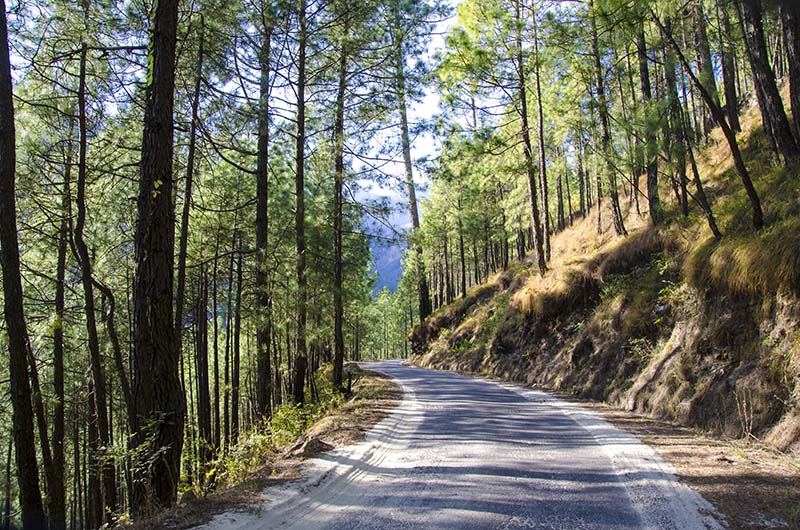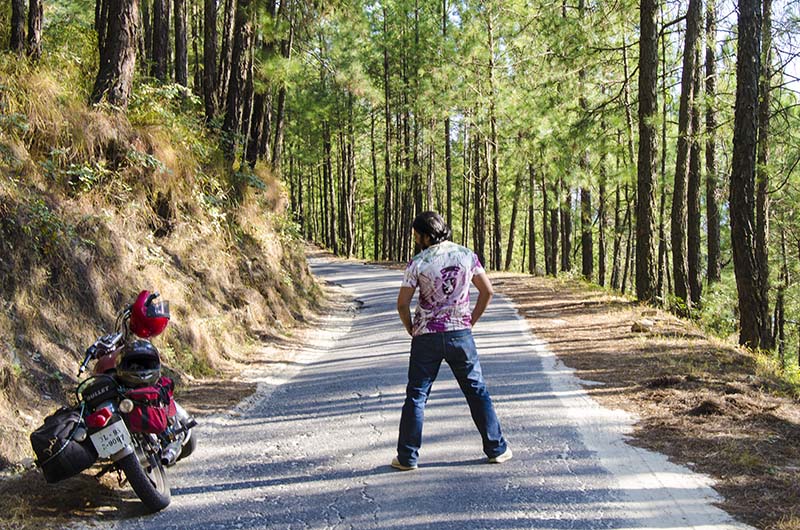 Jalori Pass
Soon we reached the small town of Anni and then started to climb up the Jalori Pass. From here, the road turned into a complete nightmare. There was no Tar at all and it was just a badly broken dirt trail.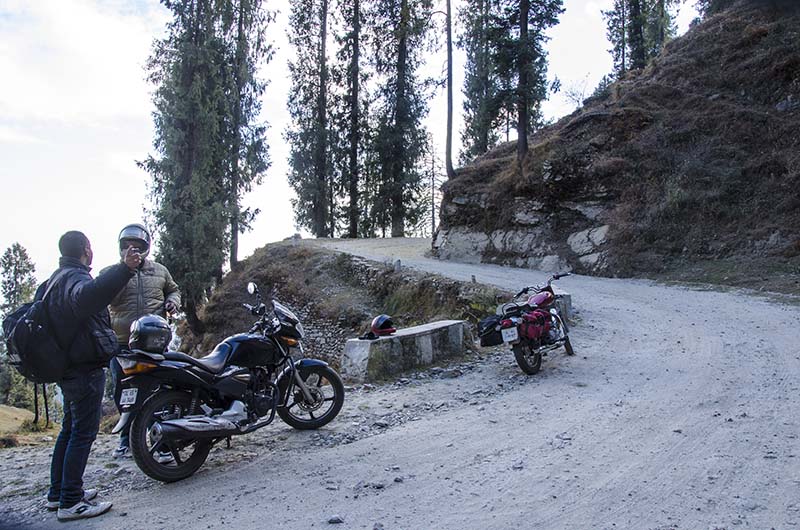 The final 5 kilometers of the climb to Jalori Top was really a difficult one. It was so steep in fact that my Enfield (with 2 people and luggage on it though) remained in 1st or 2nd gear only. But once we made it to the top, we all knew that it was well worth it.
To my surprise, there were actually shops at the top of the pass which I had never come across at any other pass. There were small dhabas, tea stalls who even had arrangements for a bed if someone wanted to sleep for the night. We stopped and decided to have some delicious maggie.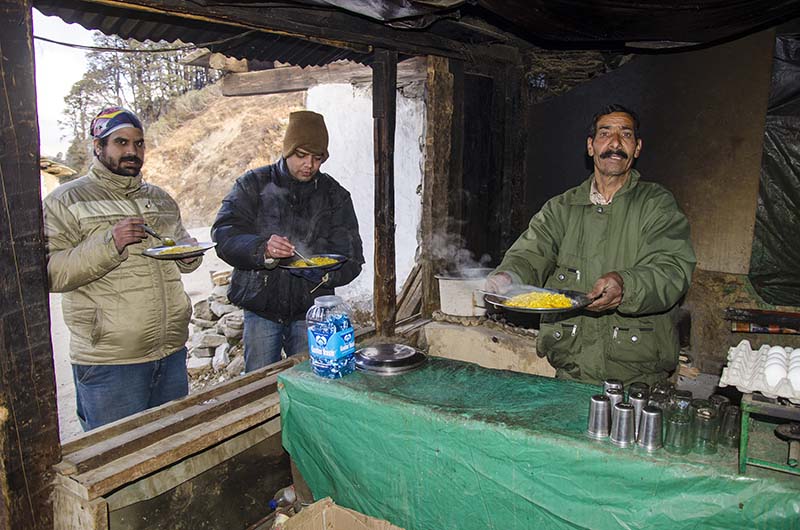 The temple at the top of the pass.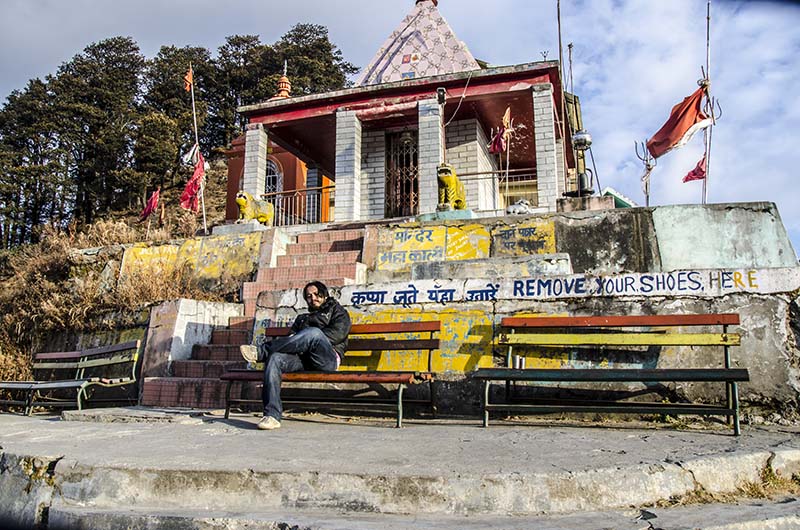 Seruvalsar Lake (Sirolsar Lake)
Seruvalsar Lake (also spelled Sirolsar Lake or Serol Sar Lake) is a high altitude lake in the Seraj Valley. The lake is located at an altitude of 3,100 meters (10,171 ft) and is accessible via Jalori pass. The trek for this lake starts right from the top of the pass and is usually a prime attraction of Jalori Pass or Tirthan Valley trip. To read more about this lake, please read Places to Visit in Tirthan Valley and Things to Do.
If trekking to the lake was on your itinerary then you have two choices. There is a campsite next to the lake where you can stay for the night. So either you can drive up to the top of the pass, leave your vehicles there, trek to the lake and stay there for the night.
Or you can cross Jalori Pass, reach Tirthan Valley, rest for the night and then trek to the lake on Day 2. Yes, this also means that you will have to climb up the pass from the other side once again the next day. If you were going to do that, then I recommend that you stay in Shoja itself. It is the first town that you reach once you descend from Jalori into Tirthan Valley.
Raghupur Fort
If you had the time then I will highly recommend trekking to Raghupur Fort. It is about 3 kilometers of a walk from Jalori Pass and will take you an hour to visit. The fort is now completely in ruins with just a few walls standing but the view you get from here is stunning. The walk to the Fort too is quite a pleasing one, passing through a lovely forest and has spectacular views of the mountains. If you were carrying your own camping gear, you can, in fact, pitch your own tent at the fort itself for the night.
Also Read: Best time to Visit Tirthan Valley
Jalori Pass to Ghiyagi
Our journey on this day as well was a very relaxed one and slow. It was so slow in fact that sunset happened while we were still at the top of Jalori Pass. The moment the sun went down, dark came much sooner than expected and we had to climb down from the top of the pass to Ghiyagi in the complete dark.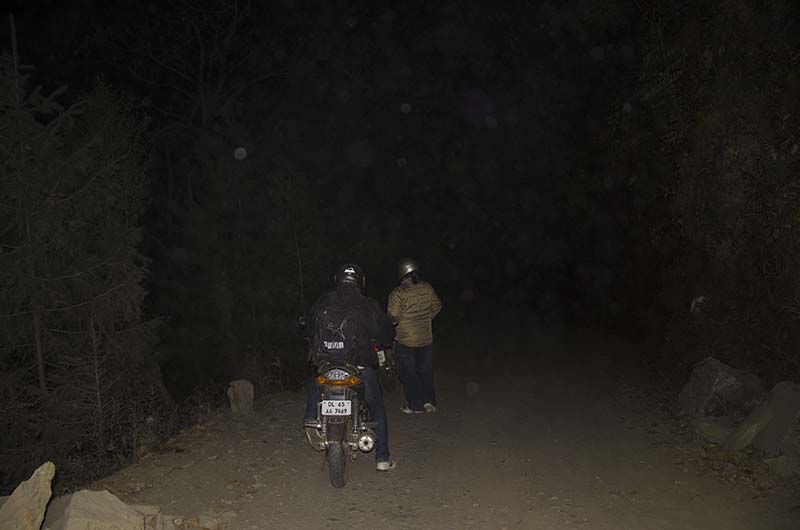 Ghiyagi and Shringi Vatika
We slowly and carefully climbed down the pass and reach Ghiyagi after a while. Shringi Vatika is located right next to the main road and we had no problem locating it. After checking in, we were shown to our room which was actually a very pleasant and comfortable one.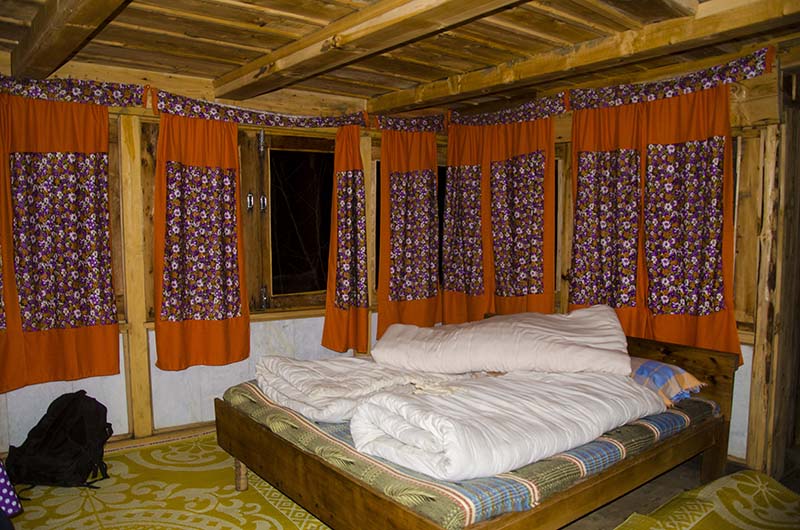 Shringi Vatika is run by an elderly couple and is a "guest house mixed with homestay" kind of a deal. After freshening up, we reached the main dining area and were served dinner cooked by the couple. I do not mean any offense to the couple because they were both amazing and gentle hosts but terrible cooks. The dinner served was horrible and we only ate it just because we were extremely hungry and did not want to look rude. We retired to our room after dinner and that was the end of Day 2 of our trip.
Journey Ahead: Sightseeing in Tirthan Valley and Trek to Chehni Kothi
Chail to Tirthan Valley – Conclusion
I hope the information and travelogue above was of help. Please click on the link above to continue reading the next part of this travelogue. If you have any questions; or need any further details; please feel free to ask in the comments section below, or at our Community Forum, and I will be glad to answer.