This article is in continuation with a previous one; and a part of my Tirthan Valley travelogue. We traveled from Delhi to Chail on Day 1; and Chail to Tirthan Valley on Day 2. Our destination for the second day was Ghiyagi where we stayed in Shringi Vatika. Our third day was spent in sightseeing in Tirthan Valley, and trekking to Shringa Ji Temple and Chehni Kothi.
Details of our third day of the trip are as mentioned below in this article. To read the previous part of this travelogue, please click on the link below.
Journey so Far: Day 2 – Chail to Tirthan Valley via Narkanda and Jalori Pass
The night in Shringi Vatika was a very comfortable one and we all slept like babies. Much of it was actually attributed to the fact that we have had a very long ride yesterday from Chail to Tirthan Valley, and were dead tired by the time we reached Ghiyagi.
When I woke up that morning, both of my fellow travelers were still fast asleep and refused to leave their beds when I asked if they wanted to go for a morning walk. Alone, I stepped out of our room went for a short walk through the small yet pretty village of Ghiyagi.
Day 2 – Sightseeing in Tirthan Valley
Ghiyagi is a tiny village and you can walk in and out of it in less than 10 minutes. It is mostly just a group of houses on both sides of the road and that is pretty much it. Like both my fellow travelers, Ghiyagi too was fast asleep that morning as I walked through a silent village.
I was actually hoping for a cup of tea but there was not even a single shop open that early. After roaming around for nearly an hour, I returned to our hotel.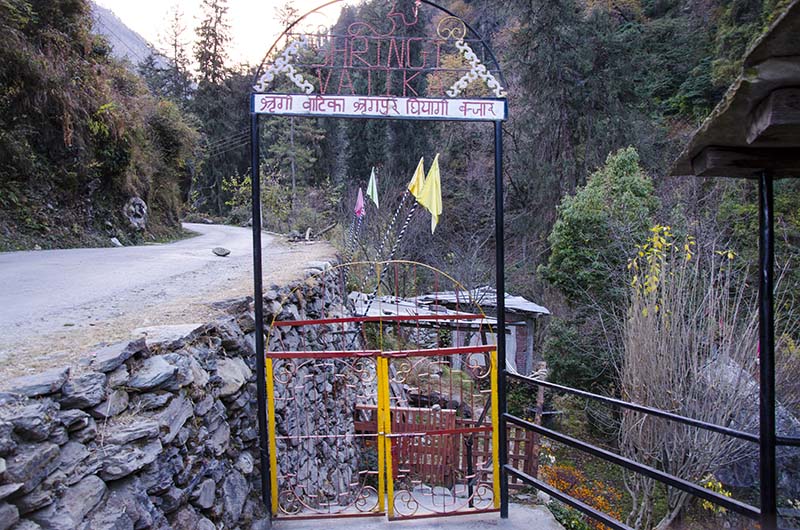 The temple in the picture below is carved in a single rock. It is located in Shringi Vatika only. This was just a huge rock lying in their backyard before the owner of Shringi Vatika decided to make something out of it. He single-handedly carved a room in this huge rock and made a temple inside.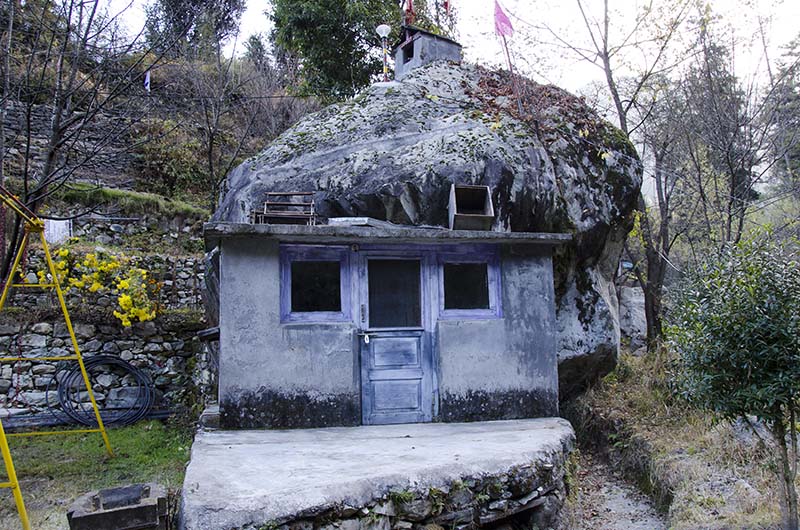 Chehni Kothi Trek
Now the biggest question was about how we spend our day. Sightseeing in Tirthan Valley was the plan but I wasn't really sure about which way to go first. I asked our hosts and they suggested that we should first trek to Chehni Kothi, then take a ride through Tirthan Valley till Gushaini; and return to Ghiyagi by evening. We took their advice and that became our plan for the day.
Also Read: How to Plan a Trip to Tirthan Valley – A Complete Travel Guide
Before coming to Tirthan Valley, I have had a word with Vikas and out of the several places that he had suggested for sightseeing, one was Himalayan Trout House. It is a small homestay/restaurant kind of a deal; located in Nagini. Vikas spoke very high of this place and said that we should at least have one meal here. As per him, the owners of this place cook some amazing fish dishes and we must try one. Tirthan River is full of Trout fishes and that is why this place too was named Himalayan Trout House.
So as our final plan for Day 3, we were first going to trek to Chehni Kothi, then ride to Nagini and have some Trout fish for lunch at Himalayan Trout House. I was sure that this would take up all our day and we won't be able to return to Ghiyagi before evening.
We had our breakfast at Shringi Vatika and started riding towards the spot from where the trek to Chehni Kothi starts. It wasn't too far away from Gushaini and we reached there in a short while.
Shringa Rishi Temple
The picture below is from where the trek to Shringa Rishi temple starts. You first trek up to the temple and then continue towards Chehni Kothi on the same trail. The starting point is right next to the road and hard to miss. Since we arrived here on our bikes, we had no choice but to leave them at the foot of the stairs and climb up.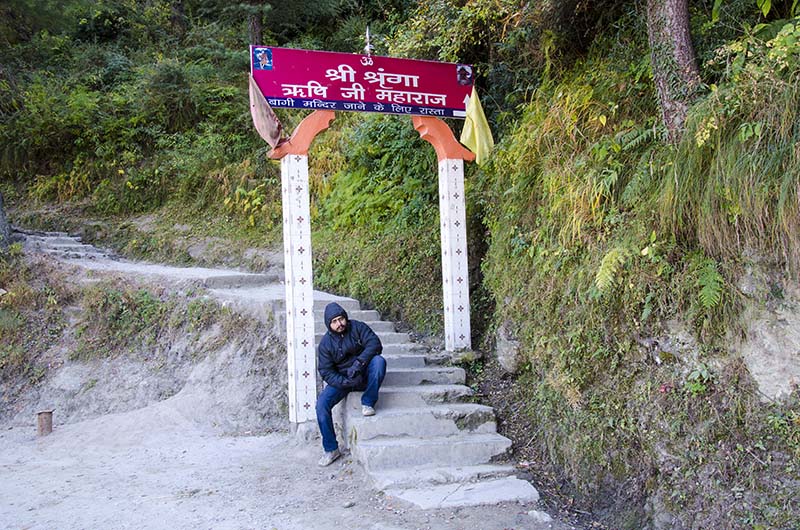 The entire trek is marked by well laid out stairs but does get a bit steep at several places.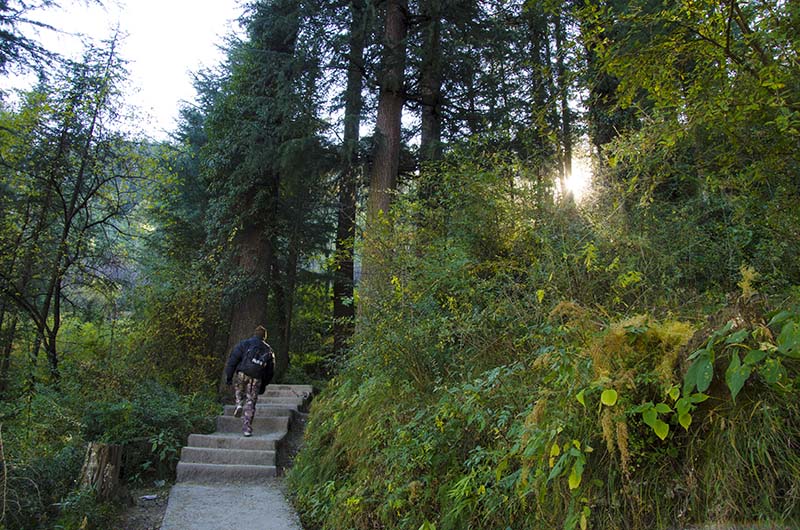 In a short while, we arrived at Shringa Rishi Temple.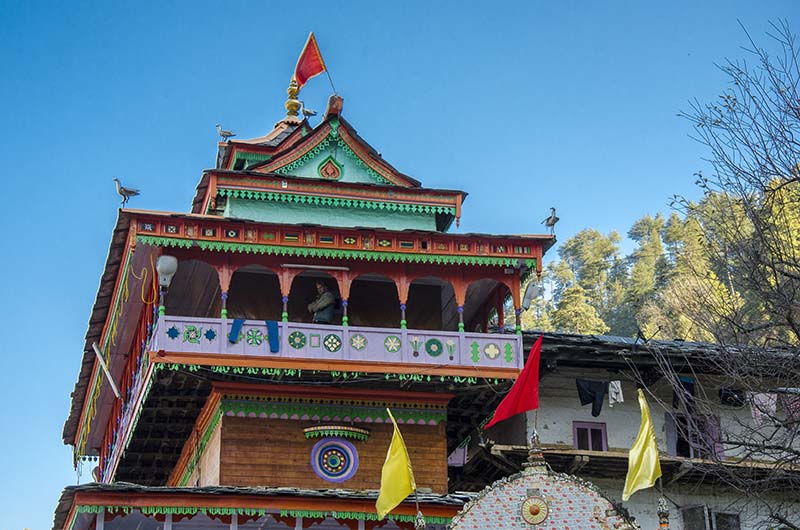 After visiting the temple, we then continued climbing towards Chehni Kothi. The only thing that changed was that the stairs ended at the temple and the rest of the trek to Kothi was a dirt trail.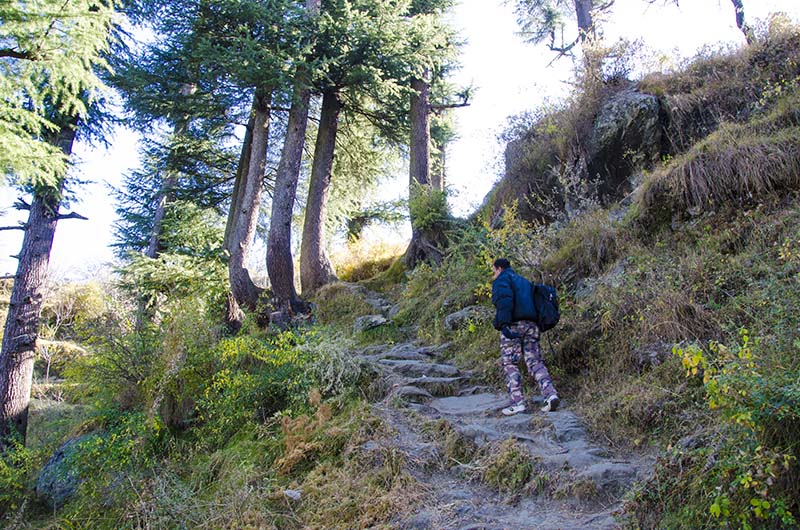 Chehni Kothi
Chehni Kothi is a small village known for its huge tower-like structure that is believed to have been built in the 17th century. This is one of the tallest structures built in the traditional local architecture in the entire Himachal. Originally, Chehni Kothi was a 7-storey tower but got damaged in the earthquake of 1905. Its top two towers fell off and the remaining 5 towers are now looked after the villagers. It is now one of the prime attractions of Tirthan Valley.
Also Read: Places to See in Tirthan Valley and Things to Do
After a steep and tiring climb, we finally arrived at the village and had our first view of the tower that I heard so much about.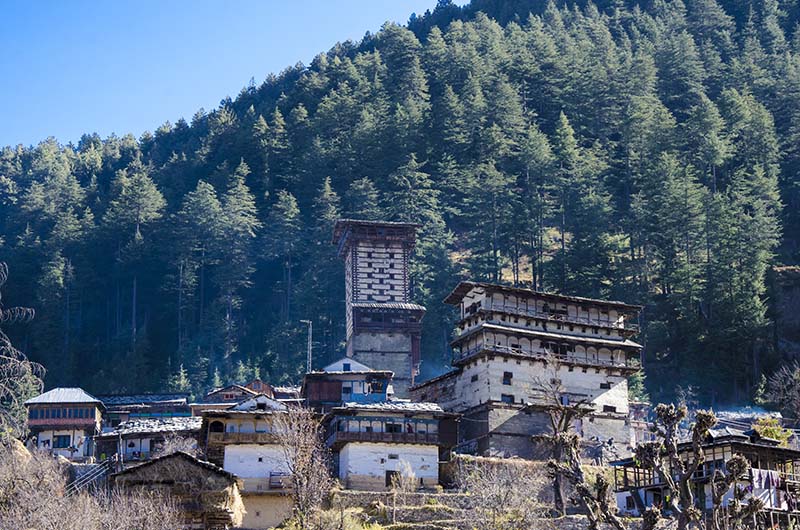 The Mysterious Village
I am not really sure why but I was a bit disappointed and started to wonder if we actually wasted our time climbing up here; time that we actually could have spent visiting some other place. To me, there was nothing spectacular about either the village or the tower. Nonetheless, we were at Chehni Kothi anyways so decided to walk around in the village.
Chehni Kothi turned out to be quite a mysterious place. It is probably one of the most intriguing places I have ever been to. It felt like one of those villages that you see in movies where the tourists go, get trapped, and then brutally murdered later.
This whole village has an air of weirdness around it, with the locals giving you strange looks; and a strange temple in a tower that you are not allowed to enter. When asked why we were told that it might upset the gods. So apparently, Gods in that temple do not want anyone visiting and worshiping them.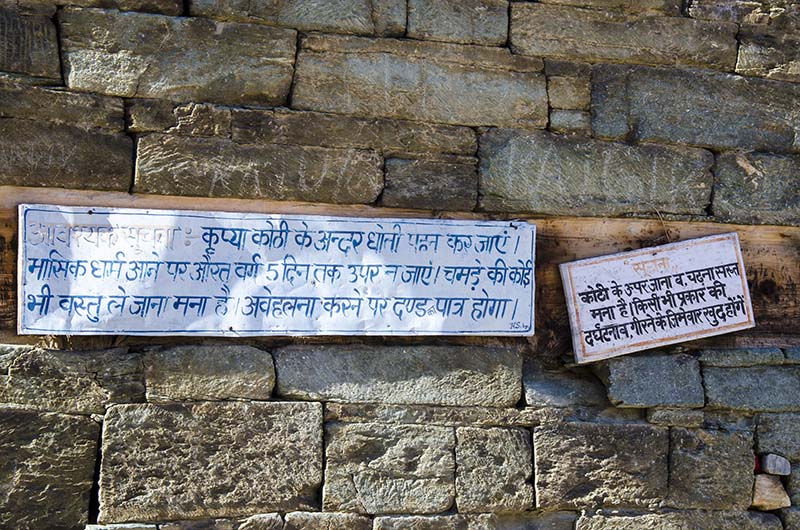 Sunny really wanted to visit the temple but as per the rule, you cannot enter the tower unless you were wearing a "Dhoti". He was so curious that if we had not stopped him, he would have gone around the village asking to borrow a Dhoti so he could see the temple from inside.
Also Read: How to Plan a Trip to Jalori Pass
Chehni Kothi – Banjar – Nagini – Gushaini – Ghiyagi
After spending some time roaming around in the village, we trekked down to where our bikes were parked. It was almost noon by the time we reached back and started riding towards Banjar.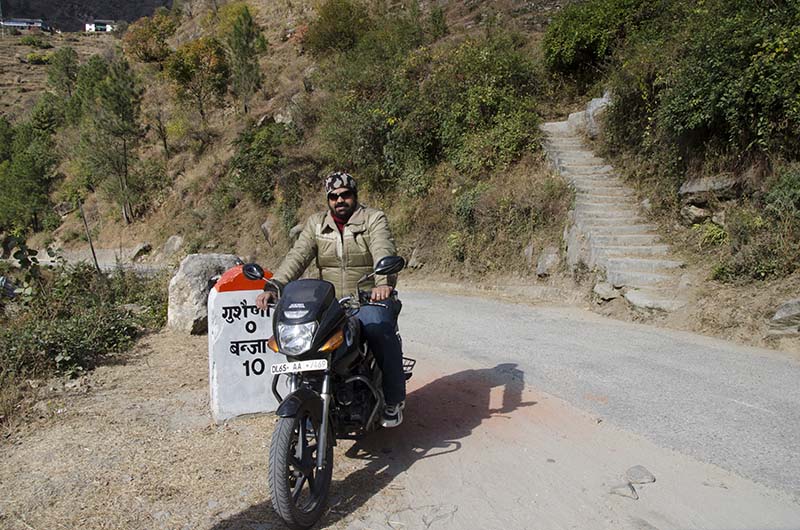 Beautiful Tirthan Valley on the way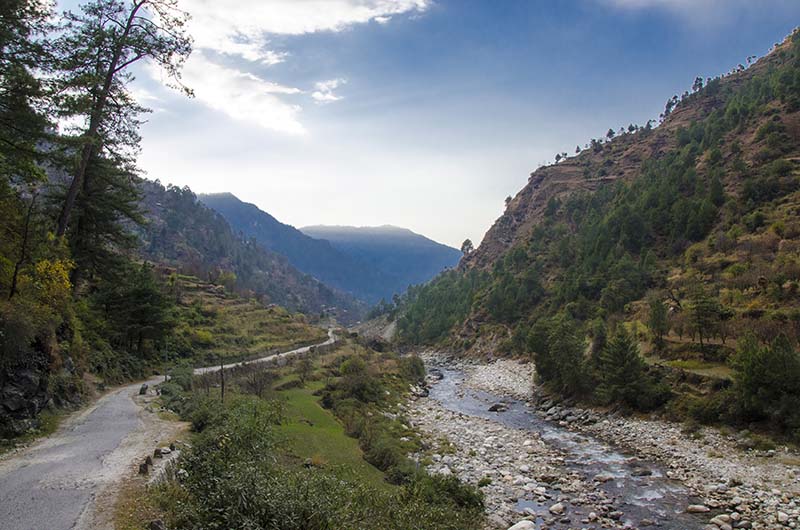 We finally reached Nagini and went straight to Himalayan Trout House. Gunjit and I ordered a Trout while Sunny ordered something vegetarian. It was a full one hour before the dishes were served but it was all worth it. Everything that Vikas had told us turned out to be true. The Trout did turn out to be quiet delicious.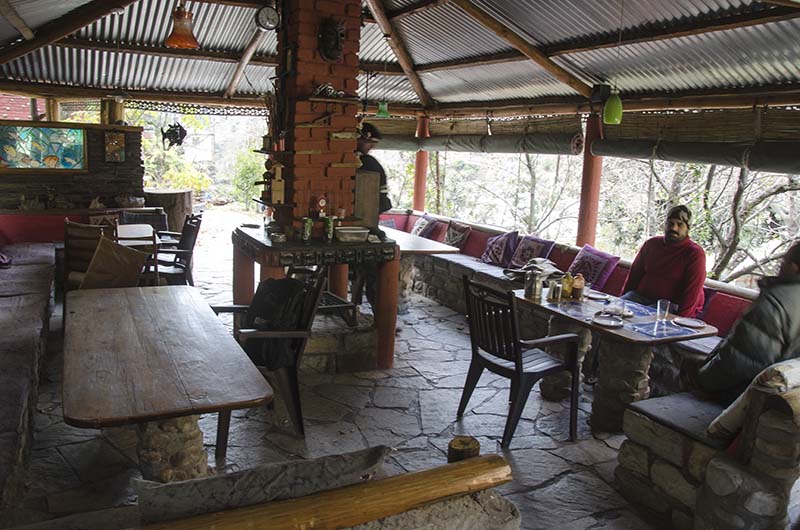 If you are planning a trip to Tirthan Valley, I would recommend taking some time out and have either dinner or lunch at Himalayan Trout House. It is a great place and you can even stay here for the night. The owner of this place is actually a French guy who married an Indian lady and settled here in Nagini.
The Jackets Episode
With our tummies full, we continued riding to Gushaini and spent time enjoying the beautiful vistas all around. While we were in Gushaini, there was this one spot by the river that was really scenic and we decided to sit there for a while. We parked our motorcycles, took off our jackets, and sat down by the river. Sunny took off his jacket and hung it on my Royal Enfield's handle. See in the picture below.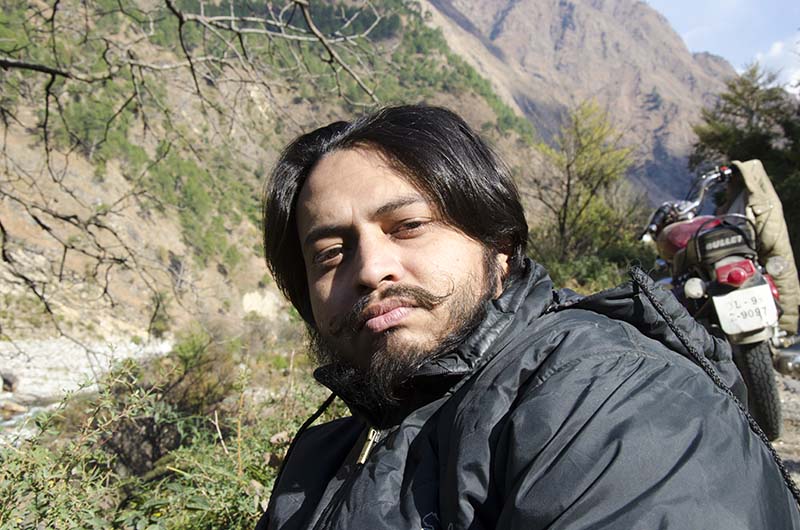 No, do not look at me. That was a weird look with a beard that I was trying at that time (I don't even know why). Anyways, see the jacket hanging on the handle of the Enfield in the background? That is what I am talking about. What none of us realized was that the jacket was coming in contact with the silencer of the motorcycle. When we finally got up to continue riding and removed the jacket from the handle, below is what was waiting for us. Royal Enfield's silencers are notorious for heating up and it was enough to burn this jacket away.
Also Read: Shringi Vatika, Tirthan Valley – A Great Homestay
But it did not end here. A little while later, the mistake was repeated again but this time, by me. The next time we took a break at another scenic spot, I parked the bike, took off my jacket, and hung it in the same manner over the handle; completely forgetting what had happened a little while ago. Result? See the pictures below.
It was really strange and one hell of a coincidence that two jackets were burned in the same manner and within one hour of each other but there was nothing we could do anymore.
Return to Shringi Vatika
With both the jackets ruined, we started riding back to Ghiyagi and reached there just before dark. The owner of Shringi Vatika was kind enough to light up a bonfire for us.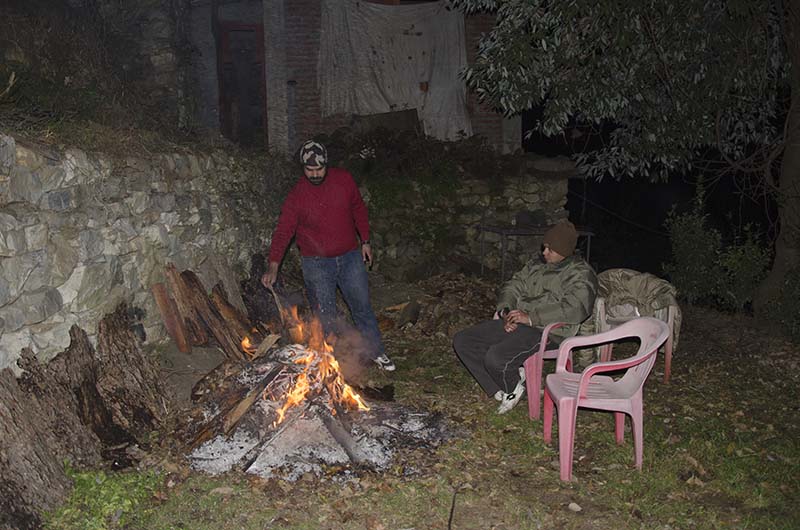 A little later, it was time for dinner which once again did not taste good.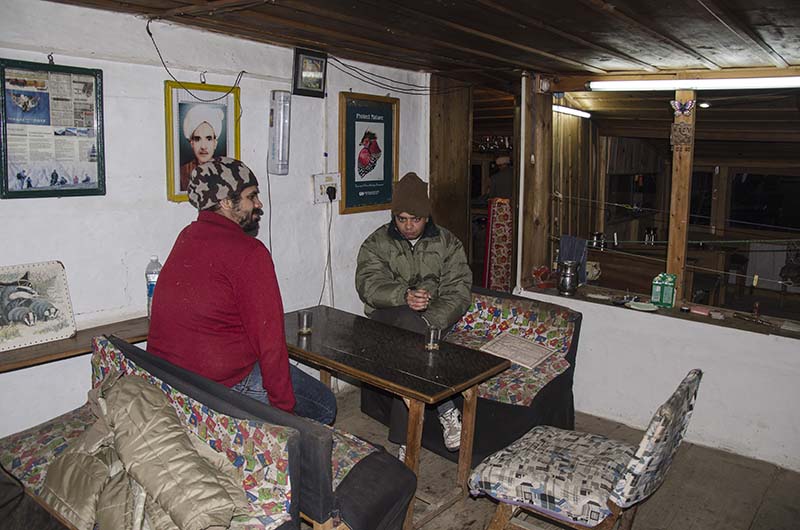 After dinner, we retired to our rooms and thus ended our third day of the trip. Tomorrow was going to be a long ride back home. The plan was to start as early as we can so we all went to sleep early.
Journey Ahead: Day 4 – Gushaini to Delhi
Sightseeing in Tirthan Valley – Conclusion
I hope the travelogue and information above on sightseeing in Tirthan valley was of some help in planning your trip to Tirthan Valley. Please read Day 4 – Gushaini to Delhi to continue reading the next part of this travelogue. If you have any questions; or need any other details; please feel free to ask in the comments section below, or at our Community Forum, and I will be glad to answer.