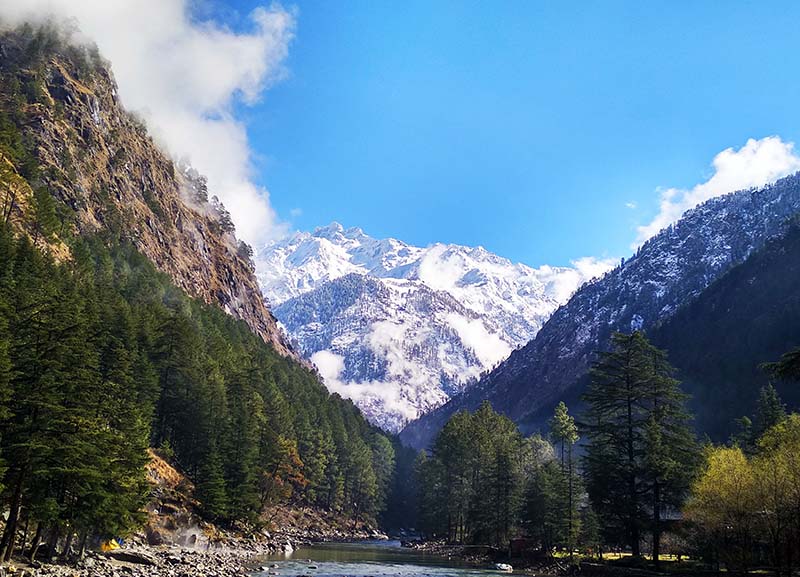 Parvati Valley, situated deep in Kullu district, is one of the most sought after travel destinations in Himachal; for both national and international travelers for a plethora of reasons. Parvati valley offers something to all kinds of travelers. There are plenty of hiking and trekking routes for adventure seekers.
It is also perfect for backpackers, budget travelers, and solo travelers as there are plenty of budget accommodations. For people looking to find tranquillity and escape the hustle and bustle of the city, this is the perfect place to be at. The aforementioned reasons are actually why people throng to Parvati Valley in large numbers each year.
Some of the known spots in Parvati valley, which used to be a great offbeat travel destination are now swarmed with tourists. Kasol can no longer be called offbeat, and the same is the case with Tosh. But fortunately, there are still a lot of other places in the valley, nestled deep in the Himalayas, where you can actually escape the rush and seek some solitude if that's what you were looking for. What those places are and how can you plan a visit to Parvati Valley perfectly is what I will be discussing in this article.
Below is a quick navigation menu of the details we will be covering in the post below.
Parvati Valley
Parvati River originates from Mantalai Glacier and runs through the entire valley before merging into the Beas River. The lower reaches of Parvati Valley are lush green with Deodar, Oak, Pines trees. As one goes to the upper reaches of the Valley, mostly beyond Kheerganga, the vegetation becomes sparse.
Everywhere in the Valley, you'll be surrounded by Majestic Mountains in the backdrop; which is why this is one of the most scenic Valleys in the entire Himachal. Some parts of the Parvati Valley also come under the Great Himalayan National Park (GHNP) which is one of the most beautiful areas in the Himalayas. Sainj Valley and Tirthan Valley make up the majority of the GHNP though.
Where is Parvati Valley
Parvati Valley is located in the state of Himachal Pradesh and quite close to Kullu and Manali. From the town of Bhuntar, if you went straight, you will reach Manali. But if you took the turn to your right, to the east, you will enter the Parvati Valley. From the confluence of the Parvati River with the River Beas in Bhuntar, the Parvati Valley runs eastwards, through a steep-sided valley.
The average elevation of the Parvati valley is about 5000 meters. Throughout the valley, several tributaries join the main Parvati River, and numerous waterfalls cascade down the steep valley sides. A trip to Parvati valley usually begins from Bhuntar and then leads deep inside the valley, to the towns like Kasol and Tosh.
Several treks lead out of Kasol to destinations like Rashol, Grahan, Kheerganga, Malana, Tosh, and Chalal, which I have discussed in greater detail further in the article. Travelers here can participate in several activities like photography, bird watching, trekking, adventure activities, camping, meditation, river-crossing, visiting ancient temples, etc.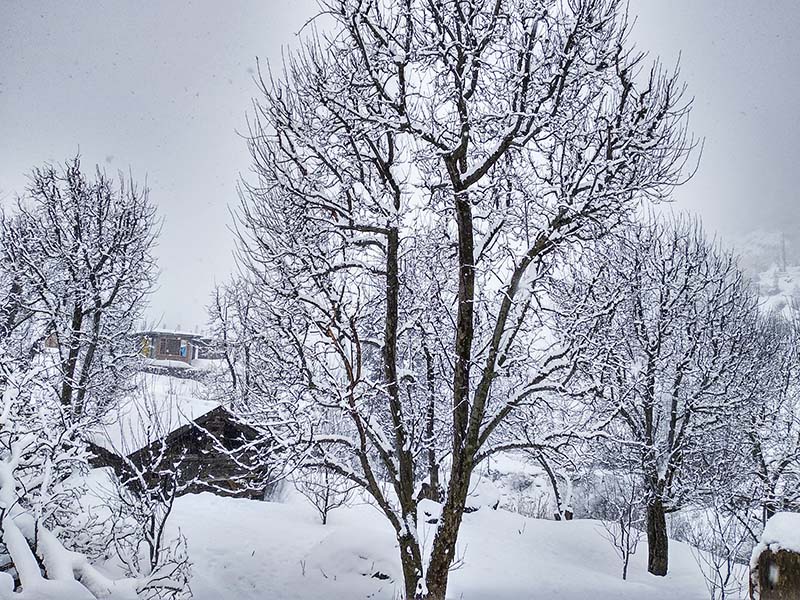 Why should you visit Parvati Valley
Parvati Valley caters to a vast variety of tourists. Out here, you will find a lot of western hippies (majorly Israelis, due to which the town of Kasol has even earned the nickname of Mini Israel). A common notion is that this place is best suited for people looking to spend time drinking, smoking pot, and partying which is not true. This is just one part of tourism in Parvati Valley.
Yes, if you want to party then you can come to Kasol but that is not what Parvati Valley is all about. The other side of it is an offbeat destination perfect for people looking to escape the crowd and spend some time in peace and tranquillity. There are numerous treks here which can keep the adventurous kind occupied for days.
Remote villages like Malana, Chalal, and Rashol can be explored to experience the local culture. You will also find a lot of Sikh Pilgrims headed for the Manikaran Gurudwara. The valley, though offbeat, is still well connected and has all facilities that you will need as a tourist; which also makes it an ideal destination for a family vacation as well.
How to reach Parvati Valley
Reaching Parvati Valley is not difficult at all. Depending on your convenience, you can easily get here by either your own private vehicle, taxi, or a mode of public transport.
How to reach Parvati Valley by Road
If traveling by your own vehicle, below is the route that one will take to get to Parvati Valley. For the sake of explaining the journey, I will assume Delhi as your starting point.
Delhi – Kurukshetra – Ambala – Chandigarh – Rupnagar – Bilaspur – Sundernagar – Mandi – Bajaura – Parvati Valley
The entire journey will be of about 518 kilometers, depending on where you started from in Delhi. On average, it will take you about 12-14 hours to reach Parvati Valley; hence an early start from Delhi is strongly advised.
How to reach Parvati Valley by Bus
One can reach the Parvati valley only by road. First, you will need to board a bus that is going towards Manali. Ordinary and Volvo buses by HRTC go towards Manali from all major cities of North India like Chandigarh and Delhi on a daily basis.
Then you need to get down at Bhuntar and from there you'll get a lot of local buses going towards Kasol, Manikaran, Barshaini, in Parvati Valley. Bhuntar is where one needs to take a diversion to go towards Parvati Valley. Private cabs are also available from Bhuntar to go towards Kasol. Kasol is around 40kms from Bhuntar.
Nearest airport to Parvati Valley
The closest airport to Parvati valley is the Bhuntar Airport. But the frequency of flights going to Bhuntar is very less and is also very expensive. From Bhuntar, you can either take a local bus going towards Kasol, Manikaran, Barshaini or hire a private cab to get to Parvati Valley.
Other than the airport at Bhuntar, the next major airport is the Mohali Airport in Chandigarh.
Nearest railway station to Parvati Valley
The closest railway station to Parvati valley is the Joginder Nagar railway station.  Once you get to Joginder Nagar, you can rent a cab to drop you at your desired destination in Parvati Valley.
Other than Joginder Nagar, the next major railway station is in Chandigarh. There are regular buses from Chandigarh to Mandi, Manali, and Kasol that you can board to reach Parvati Valley. You can also hire a cab from right outside the Chandigarh railway station.
Also Read: How to Plan a Trip to Manali
How to reach Parvati Valley from Delhi / Chandigarh
Several public transport buses are available from ISBT Delhi for an overnight journey to Bhuntar. Depending on the type of bus you chose the fare per person will be around Rs. 1000 to Rs. 1500. There are regular buses from Chandigarh available as well for Bhuntar. Once you get to Bhuntar, you can then board another bus from there to your destination in Parvati Valley. Finding a bus on this route will not be difficult but if you couldn't find one, you will still easily be able to get a shared cab.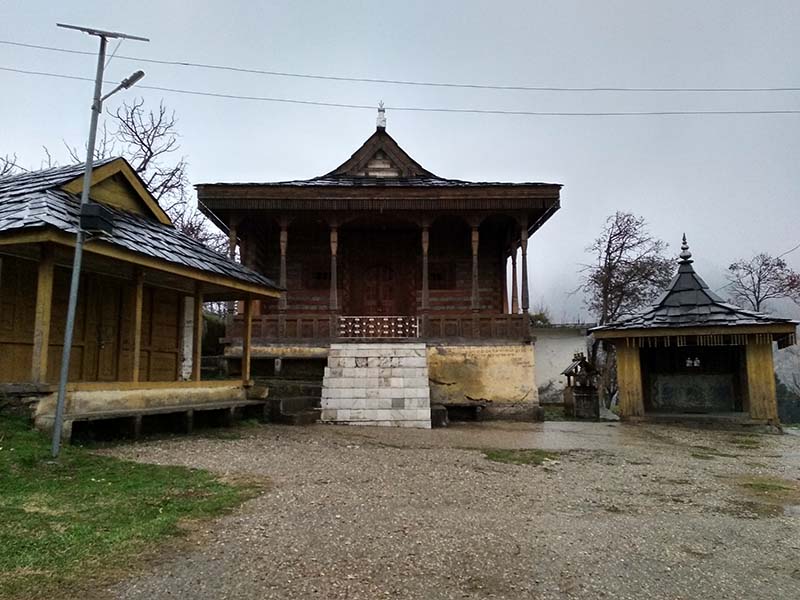 What to see in Parvati Valley
The answer to this question is a lengthy one. So long in fact that I had to put it in a different article otherwise this one page was becoming way too long. I will provide a list of tourist attractions in Parvati Valley here. But if you want to read about these places in detail, I will request you to take a look at Places to visit in Parvati Valley and Things to Do.
Kasol
Jari
Mateura Jari
Malana
Chalal
Rasol
Grahan
Manikaran
Barshaini
Tosh
Kutla
Kalga
Waichin Valley
Naktan Village
Rudra Nag Temple
Thakur Kuan Village
Pandupul Village
Odi Thatch
Trekking in Parvati Valley
Trekking is one of the top attractions of Parvati Valley. It is a heaven for backpackers and trekkers and they arrive here in large numbers each year. Below is a list of trails leading out of Parvati Valley that you can venture on. Some of these are easy to intermediate while others are a little tough and lasting for several days. For more details on these treks, please take a look at Places to visit in Parvati Valley and Things to Do.
Kheerganga Trek
Pin Parvati Pass
Chanderkhani Pass
Bun Buni Pass
Sar Pass
Mantalai Lake
What to do in Parvati Valley
Other than visiting all of the above-mentioned places and trekking, mentioned below are a few other things that you can do in Parvati Valley.
Enjoy the Restaurants in Kasol
Sit by the River Parvati and Relax
Enjoy the natural beauty of the place
Nature Walks
Observe the Local Culture and Traditions
Photography
Take a Dip in the Hot Water Springs
Weather of Parvati Valley
Due to its altitude, the weather of Parvati Valley remains pleasant for most of the year. It enjoys a mild climate in the summer season which makes it perfect for getting out into the wild and escaping the scorching heat of the plains. It is the best time to head out on several treks here and enjoy the hills. During winters, it snows here and the valley gets buried under a beautiful carpet of snow.
The average temperature here ranges between 10 degrees Celsius and 30 degrees Celsius; between winter and the summer season. This, however, is just an average figure for the valley because, in winter, the temperature can very well drop below 0 at nights in several parts of the valley.
Also Read: Places to visit in Malana and Things to Do
Best time to visit Parvati Valley
Parvati Valley remains accessible throughout the year except for temporary road blockades during monsoon and winter season. So, it can be visited almost at any time of the year. But again, it's totally subjective and depends on each person about what kind of weather they want to be in. Each season has its own charm. Like in winter, it becomes a winter wonderland, covered in snow. The Spring is when the weather is very comfortable, not too cold plus the mountains are still covered with snow and so on.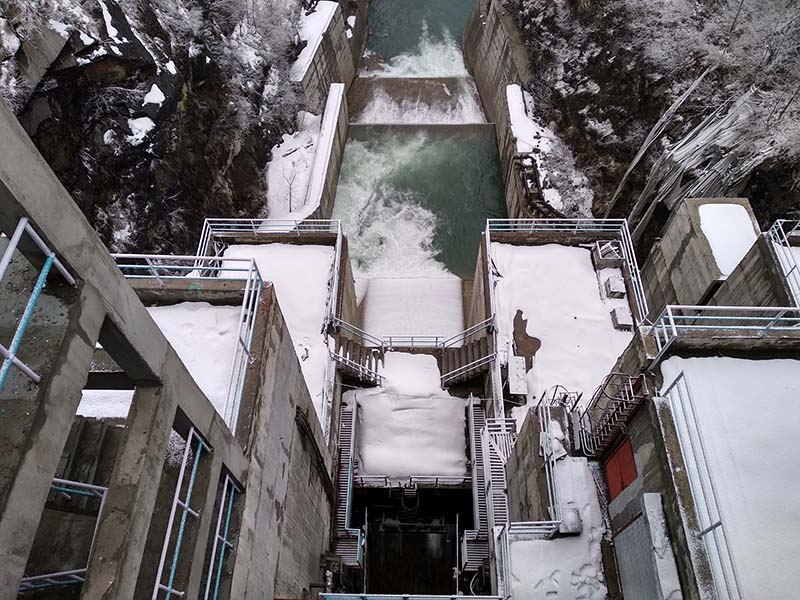 Parvati Valley in March and April (Spring)
Early March can still be considered as winter but towards the end of the month, the temperature begins to rise and the snow starts to melt. The weather can still be cold, but not too cold as compared to winter.
Parvati Valley in May and June (Summers)
This is when the temperatures are extremely comfortable. Days are pleasant and sometimes mildly hot, while nights are cool. This is when a large number of tourists throng to the hills to escape the harsh summers in the plains of north India.
Summer begins here towards the end of April (or early May) and lasts until June. This is the time when the valley receives the majority of its tourists. Days are moderately warm and nights pleasantly cool. The average temperature at this time ranges between 10 °C minimum to 25 °C maximum. In the upper reaches of the valley, the maximum temperature may not even rise beyond 20 °C at all.
Also Read: Shimla – A Complete Travel Guide & Itinerary
Parvati Valley in July and August (Monsoon)
The entire valley becomes lush green during this period and there are no tourists at all usually during monsoons. The temperatures are pretty much the same as the summers but this when there are highest chances of landslides and road blockages as it rains heavily in these parts. One should be very careful during monsoons. In August 2019, rains created havoc in the state and pretty much every main highway was blocked due to landslides. Quite a few roads were washed away as well.
A trip to the hills is not usually advised during the monsoon season. Sometimes, it can rain non-stop and keep you indoors for the entire duration of your trip. Roads can get blocked and you may get stuck in the valley for a few days until the connectivity is restored.
On the upside though, the entire valley comes alive at this time with flora and fauna and becomes a photographer's paradise. With only a handful of tourists around, this is also a great time for budget travelers to make a trip here.
Parvati Valley in September and October (Fall / Autumn)
Flowers bloom in September and the entire valley becomes colorful. Temperatures are comfortable during September and then gradually start to drop as the winter is in the vicinity. One of the best things about this period is clear blue skies. Also, everything starts turning to a golden orange of the autumn season.
Cold starts to settle in at this time though and the average temperate drops to 8-10 degrees °C. This is a good time to go if you want to enjoy a moderately cold kind of weather and see the orange color in the trees, giving the entire valley a magical touch.
Also Read: How to Plan a Trip to Tirthan Valley
Parvati Valley in November, December, January, and February (Winter)
Late November is when the temperatures plummet and hover near freezing point. If the weather turns bad, then it can start to snow anytime in these months. December marks the beginning of the cold winters. Night temperature is almost sub-zero even in Kasol; and well below freezing point in the higher reaches. It can snow anytime if there is a Western Disturbance passing through the Indian Subcontinent.
You should visit the valley in winter only if you are ready to handle the harsh cold. If you are someone who is not too fond of the winter season or catches cold fast, it is best to give up the idea. The winds are going to be downright chilly accompanied by frequent snowfall which will only make it difficult to step out and explore.
January is the coldest time of the year here. The average temperature in areas like Kasol ranges between 0-7 °C but it can drop several degrees below 0 in the upper regions.
I visited Parvati Valley in winters, and it was one of the best experiences. I had never experienced so much snow in my life previously. It sounds like a cliché but seeing such a winter wonderland seemed straight out of a fairy-tale.
Also Read: How to Plan a Trip to Kasol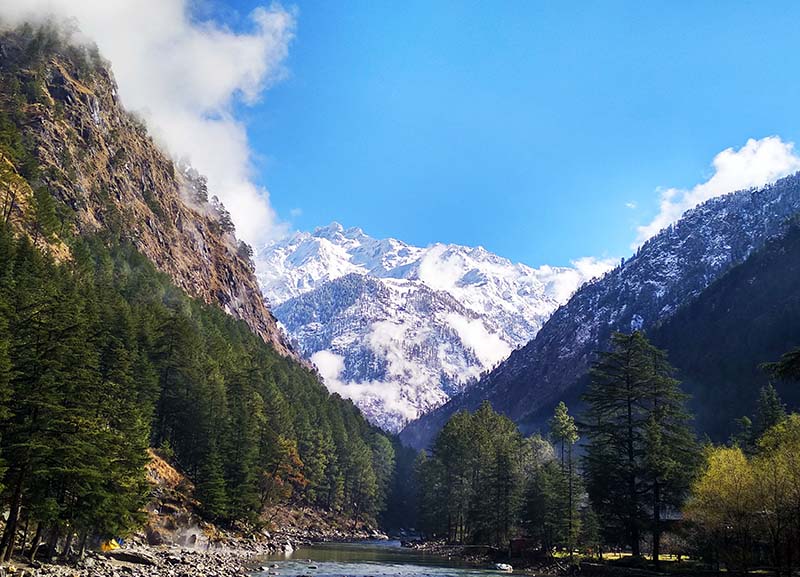 Where to Stay in Parvati Valley
Parvati Valley in recent times has come up as one of the most famous tourist destinations of our country. And as such, there is no dearth of hotels and guest houses here that will fit into any
Accommodation in and around Kasol
Plenty of budget hotels, hostels, guest houses, and even tents are available in Kasol and nearby villages of Choj, Katagla, Chalal, etc. As Parvati Valley is frequented by many Backpackers and Solo Travelers there are quite a few hostels around Kasol. The hosteller, Moustache Hostel, Nomads Hostel, Whoppers hostels are to name a few.
One can easily get Dorm beds around Rs 300-500 in these hostels, except for a few months when its peak season. The area near Kasol market and before Chalal bridge is clustered with hotels where you can get a room for around Rs. 500-800; except for peak season when the prices are absurdly high even for 'not so good' rooms.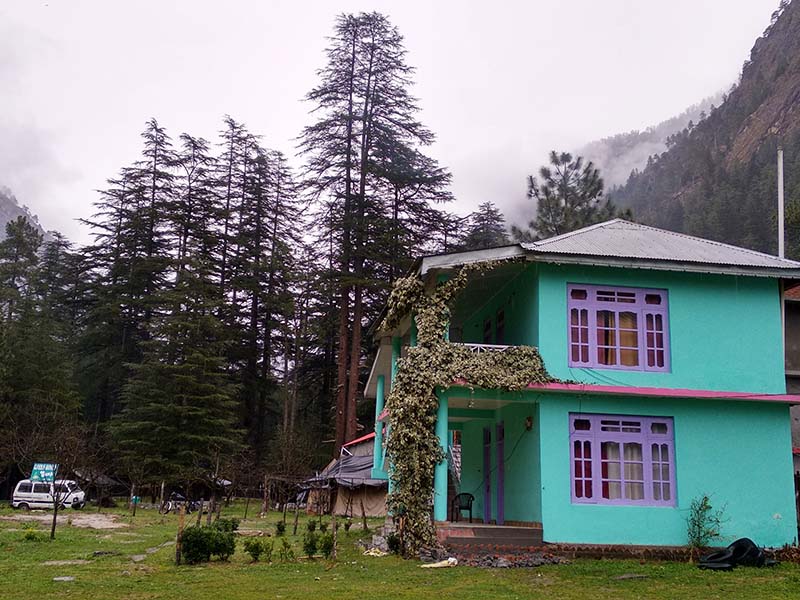 According to me, the best area to stay in Kasol and to get away from the crowd is to move towards Manikaran. There a few guest houses near Hotel Sandhya which are near the forest area and the River Bank. This part of Kasol does not seem to be much crowded and is perfect to stay and relax. I stayed at The Green House cottages. The Rooms here are pretty good, and it costs around Rs 1000 during the offseason. During peak season it might cost more I believe.
Also Read: Best time to visit Manali – When to go to Manali
I also stayed in the area before the Chalal Bridge and the prices were as low as Rs 500 with all the basic facilities available. But this was in February when there was no tourist rush and I am sure that the prices would be on the higher side during summers. If you don't like Kasol due to its tourist crowd then Chalal, Choj, Katagla are the best places to be at. There will be plenty of budget accommodations available here.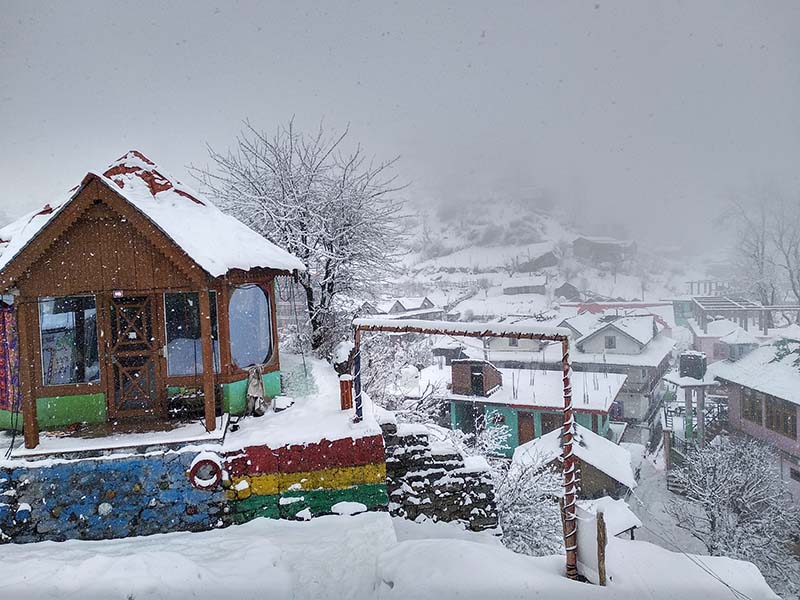 Accommodation near Malana
Malana has limited Accommodations options. There are only a few guest houses near Malana Gate with very basic rooms. I am not sure whether there are Guesthouses or Hotels at all in the area near the village. Tourists are not allowed to stay in the village so one can only stay near Malana Gate. I stayed in the Himalayan Heritage home and paid Rs 600 for a very basic room.
Also Read: Triund and Snowline Trek Mcleodganj
Accommodation in Tosh
Tosh is one of the most popular places in the valley and there are plenty of budget options around here. There are a couple of backpackers hostels as well for solo travelers and budget travelers. As I mentioned earlier, prices are usually normal except for the peak summer months. One can easily get a room for around 500-800 here. Tents are also available here in case somebody wants to stay in camps.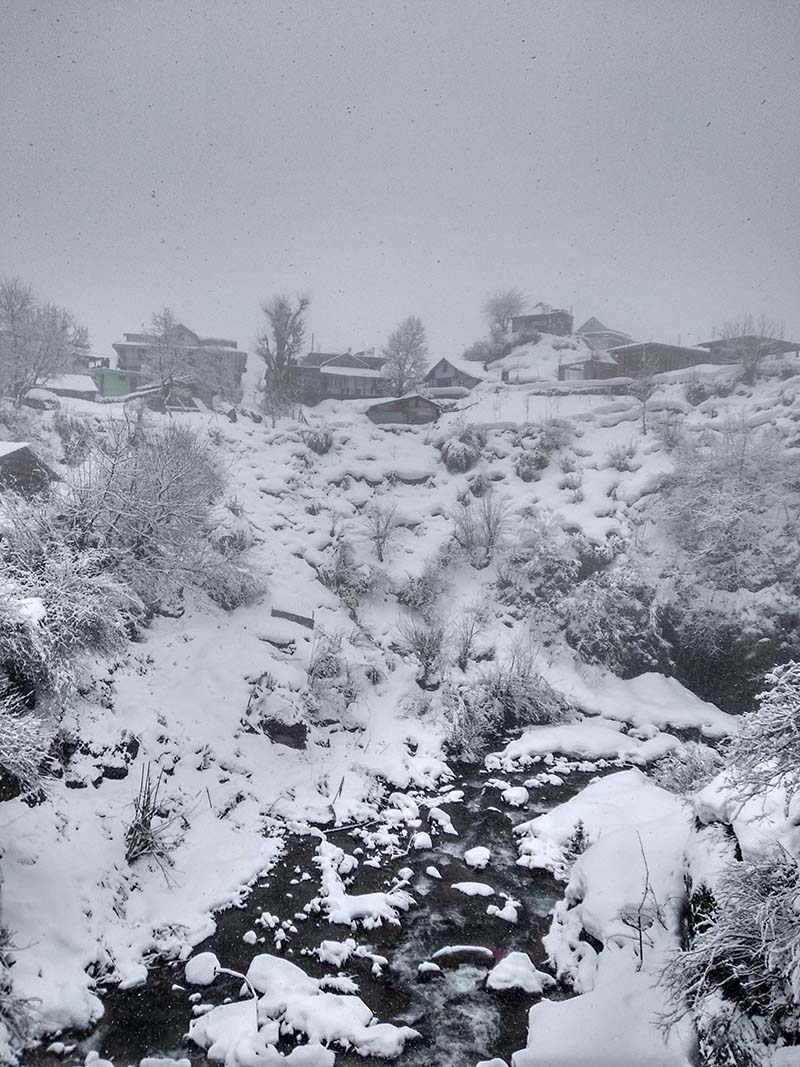 Accommodation in other Villages
One good thing about Parvati valley is there is no dearth of guest houses even in remote villages which are nestled deep in the Valley. Remote Villages like Rasol, Grahan, Kutla, Kalga, Tulga, Pulga also have decent guest houses and that too at a much lower rate than the popular destinations like Kasol, Tosh, etc.
Local Commute in Parvati Valley
Commuting locally in the valley is not that difficult. Daily buses run from Bhuntar to Barshaini and the fare is very cheap as well. Buses start from Bhunter towards Kasol, Barshaini, Manikaran as early as 6.00 AM, and have an almost hourly frequency. The last bus from Barshaini towards Bhunter is at 5.00 PM.
You can get buses throughout the day at regular intervals from Bhunter. Winter is when things are a little trickier. Mostly, buses cannot even Barshaini during winters due to heavy snow which causes landslides. Usually Shared cabs have to be used to reach Barshaini as buses only go up to Manikaran during winters.
Also Read: How to Plan a Trip to Dharamshala
What to Eat in Parvati Valley
Parvati Valley is frequented by a lot of Israeli visitors to a point where Kasol is sometimes referred to as Mini-Israel. So obviously, Israeli cuisine is readily available in the entire Parvati Valley. Apart from its scenic beauty Kasol is famous for its cafes. So experiencing the lip-smacking food served by these cafes is a no brainer.
There are so many Cafes in Kasol that you can literally go Café hopping all day and still not cover all of them. I am going to list down a few of the Famous Cafes in Kasol.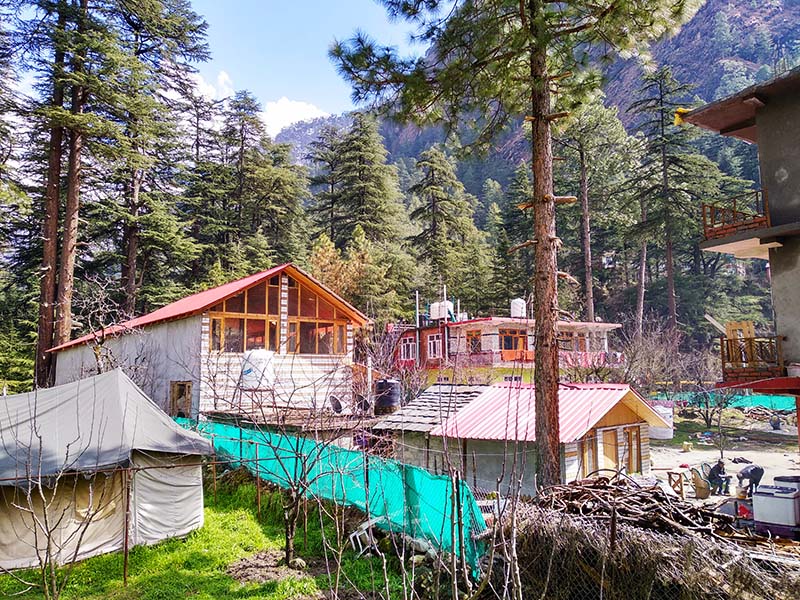 Bhoj Cafe
Personally I couldn't visit this restaurant but it is famous for its delicious food and is the best place to eat at; if you are looking for traditional North Indian cuisine while the rest of the cuisine includes Israeli, Italian.
Evergreen Café
Though there are limited options for vegetarians, the food is pretty amazing here. This café is one of the popular places to eat at in Kasol and they serve amazing Israel, Italian cuisines. I tried their Italian cuisine here and it was pretty good.
Also Read: What to see in Manali | Places to Visit in Manali
Little Italy
This is another of those Cafes which serves excellent Israeli and Italian Cuisines. Though the name suggests that they specialize in Italian food, their Israeli cuisine as well is on point. Falafel platter is a must-try if you haven't had Israeli cuisine before. Italian cuisine was quite decent here as well.
Jim Morrisons Café
In my opinion, this is the best Café to chill out while you are in Kasol. Since the café is inspired by Jim Morrison, the lead singer of the Legendary Rock Band "The Doors", 60-70's classic rocks songs are played throughout the day. But the overall vibe of this place is amazing. The food here is excellent and is entirely vegetarian.
They serve multiple cuisines like Italian, Israeli, Mexican, etc. I tried their Pizza and Mexican food which were quite amazing. To reach here though is kind of tricky. There is a small trail which starts from Hotel Sandhya which goes uphill to the Café. It hardly takes around 15-20 mins to reach and the hike is completely worth.
As I mentioned earlier, you'll get Israeli and Italian food pretty much everywhere. Tosh is another place where there are quite a few cafes that serve amazing food. Though it may be difficult to get fancy food in the remote villages like Kutla, Rasol, Grahan.
But the traditional North Indian food like Roti Sabzi, Daal Rice, Rajma Chawal is readily available everywhere even in the remote villages. Food is a little bit on the expensive side in popular places like Kasol and Tosh so do keep that in mind.
Phone Network in Parvati Valley
You would get a full 4G connection from pretty much every operator in the lower reaches of the Valley like Kasol, Chalal, Jari, Manikaran, Barshaini. But network for all of them is very intermittent in Tosh and Malana. You would not be able to use the internet properly, but there would be enough network coverage for you to make a few calls though.
Villages like Kutla, Rasol, Grahan have intermittent BSNL, Airtel coverage. Apart from these two other operators would not work. I have heard there is 4G network in Kalga too, but I am not sure about the other operators. Communication won't be a problem in the entire valley at least in terms of call unless you're venturing deep inside the Villages of Parvati like Rasol, Grahan, Kutla, or Kheerganga.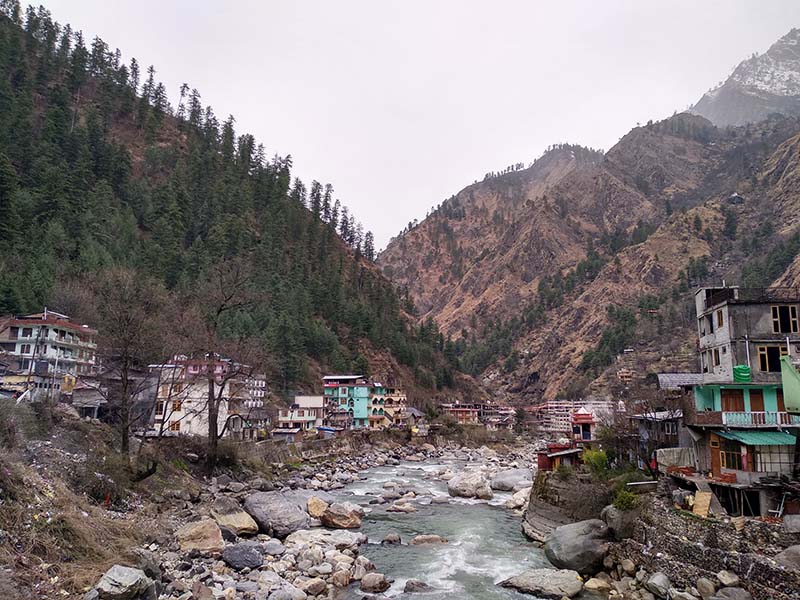 Bank / ATMs
There are banks and ATMs available but only around major towns like Kasol and Manikaran. There are no ATMs in remote areas and villages. Carrying enough cash to last the trip is highly recommended.
Mythology
There are several stories and plenty of folklore associated with Parvati Valley. The most interesting one is how this region got to be named as such. It is said that Lord Shiva actually named it himself, after his wife Goddess Parvati. As per the mythology, he meditated at Pin Parvati pass as a Nag-Sadhu for many years and was completely enchanted by the beauty of the valley around him.
Another belief is associated with the Kheerganga hot water springs. It is said that after Lord Shiva, his son Kartikeya meditated in Parvati Valley for a long time. Once, both Shiva and Parvati Ji decided to pay their son a visit. Out of her love for her son, Parvati Ji decided to cook something for Kartikeya. Legend has it that she cooked Kheer and the hot water spring nearby and that is how the place was named Kheerganga.
Also Read: Kheerganga Trip – A Mesmerizing Experience
Itinerary for Parvati valley
The ideal number of days to be spent in the valley depends entirely upon you. If you wanted to trek a bit around in the valley then you would need a few more days for it. 5 to 6 days will be sufficient if you just want to relax in a peaceful environment.
Depending on your own preference, even a weekend trip is possible and even a 10-day trip can feel fewer days if you are looking to explore each and every place here.
For the ease of it, here is the 5-day itinerary for Parvati valley (Assuming the trip starts from Delhi)
Day 0 – Board an overnight Volvo bus from ISBT Kashmere gate going towards Manali
Day 1 – Get down at Bhuntar, leave for Kasol, and spend the rest of the relaxing, roaming around Kasol. Enjoy the food at the famous cafes in Kasol.
Day 2 – Leave for Chalal. In case you love to trek then you can trek to Rasol which is further away from Chalal. Spend the night at Chalal or Rasol.
Day 4 – Leave early and head towards Kheerganga. Spend a night at Kheerganga
Day 5 – Descend back to Barshaini from Kheerganga and board overnight Volvo buses back to Delhi.
You can also cover places like Malana, Kutla, Kalga if you have a luxury of more days. 7-10 days trip should be fine to cover all the above places along with the ones in the itinerary. Since many don't have that many days I kept it simple with a 5-day sample Itinerary.
Best Camping spots
There are a lot of camping spots in the entire Parvati valley. But in my opinion, Chalal near Kasol and Kutla near Tosh can be one of the coolest camping spots in the entire valley. Though you can also find a lot of other camping spots and people who operate tents and camping in the higher villages like Rasol, Grahan as well (but for that you will have to trek for 4-5 hours). If you want to experience camping without trekking too much, then there are tents and camps in Kasol as well.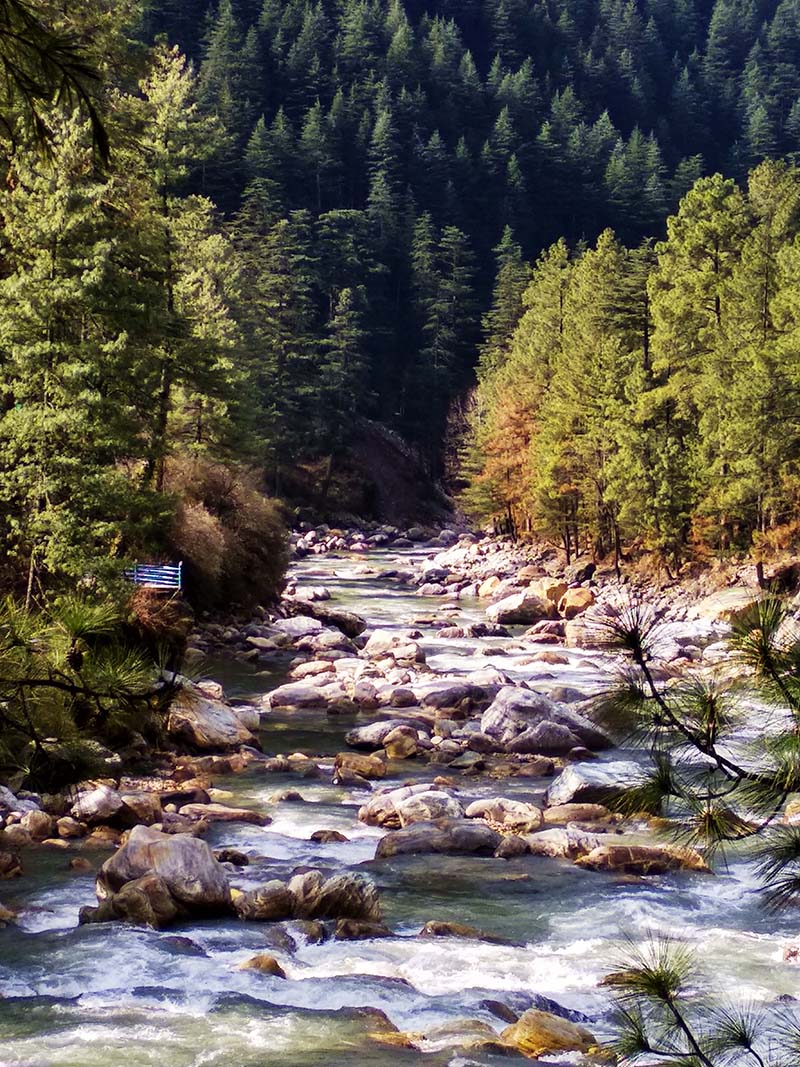 What clothes to Pack for Parvati valley
Parvati valley can be cold even in summers. It also depends on where exactly you are in Parvati. If you are in higher villages or higher reaches of the valley then it tends to be cold throughout the year with winters being brutally cold. The lower reaches like Kasol can be very pleasant in summers and very cold in winter.
So irrespective of the season that you are visiting in, warm clothes have to be packed for your trip to the Parvati valley. At least 2-3 warms layers are needed in case you are visiting in the winter and spring months of December to April. Make sure you have a good winter jacket in case you are visiting in peak winter months as it tends to get extremely cold in places like Tosh, Malana, Rasol, Grahan, etc.
Autumn months are very pleasant with clear blue skies, but mornings and nights tend to be extremely chilly so packing warm clothes is a must. For those looking to trek in the valley having a poncho is necessary. It can rain anytime in the valley and it is extremely important to keep yourself dry. You don't want to get wet in these areas.
Also Read: Mcleodganj to Triund Trek – A Day of Adventure & Fun
Road Conditions
Once you take the diversion to move towards Parvati valley from Bhuntar the roads become narrow; though they are not that bad as compared to a few other places in Himachal. I would say the roads are good to average at most of the places with only a few bad patches on the road from Barshaini to Tosh. The roads are all metaled in Parvati valley.
It should be noted that during monsoon there are high chances of landslides so the roads can be in bad shape. In winter though places like Malana and Tosh receive heavy snowfall. So, the road to Tosh from Barshaini gets closed every winter due to heavy snow. While approaching the valley, the Malana gate also becomes difficult and only 4×4 vehicles can navigate such conditions.
Conclusion
I hope the information above on visiting Parvati Valley was of help. If you have any questions; or need any other details; please feel free to ask in the comments section below, or at our Community Forum, and I will be glad to answer. If you have been to Parvati Valley and have a few tips to share that can help others, please do suggest.