This article is in continuation with a previous one; and a part of my Tirthan Valley travelogue. We traveled from Delhi to Chail on Day 1 and Chail to Tirthan Valley on Day 2. On Day 3, we spent the entire day visiting local places in Tirthan Valley; and trekking to Shringa Ji Temple and Chehni Kothi. Day 4 was our last day of the trip when we returned home from Tirthan Valley to Delhi via Sundernagar and Mandi.
Details of the last day of the trip are mentioned below in this post. To read the previous part of this travelogue, please click on the link below.
Journey so Far: Day 3 – Sightseeing in Tirthan Valley & Trek to Chehni Kothi
There are two ways that Tirthan Valley can be reached; one is via Shimla and the other one via Mandi. We took the route via Shimla to reach there primarily because we wanted to cross Jalori Pass on the way. For our return journey home, we decided to take the road via Mandi and Sundernagar.
Day 4 – Morning in Tirthan Valley
There is not really much to write about this because the most part of it was spent in riding our motorcycles with a few breaks in between. Tirthan Valley to Delhi can easily take about 14 to 15 hours which it did for us. So we started from Ghiyagi by the first light of the day.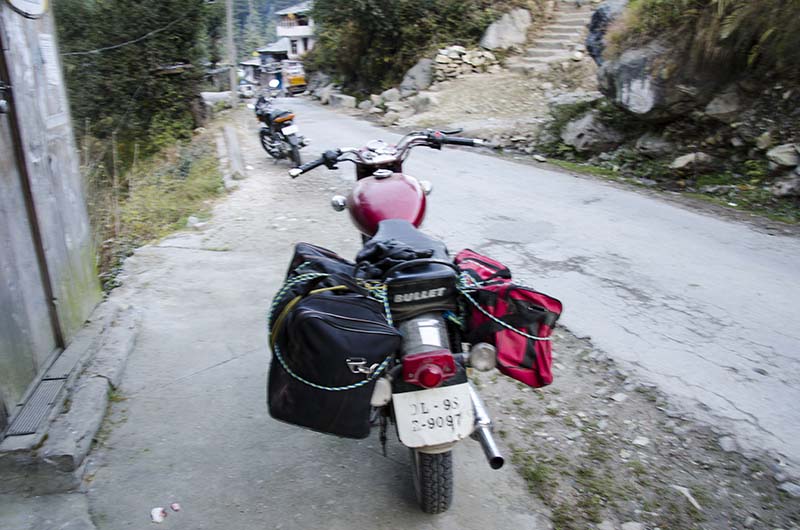 Our hosts, the elderly couple that runs Shringi Vatika.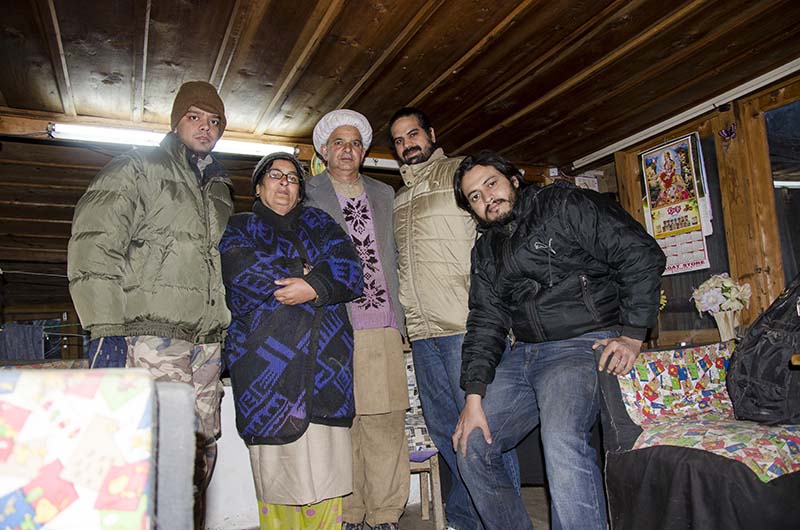 The best thing that I liked about them is that they called me later a day later to ask whether or not I have reached home safely. Not everyone does it and it really touched my heart to receive that call. Their son was serving in the Indian Army and was back home on vacation at the same time that we were there.
Also Read: How to Plan a Trip to Tirthan Valley – A Complete Travel Guide
Ghiyagi to Delhi
As we were about to be on our way, their son asked us if we could drop him at Sundernagar. His vacation had ended and he was supposed to be on his way back to work today. We agreed to give him the lift and he rode with Gunjit. But what was supposed to be a ride until Sundernagar turned out to be a ride till Chandigarh.
That's right. After we reached Sundernagar, he asked us where we were headed. When we told him Chandigarh, he just continued riding with us all the way. Why is it surprising? Because the dude was carrying a very heavy bag on his back and he sat on the bike all the way on the bike, carrying that load.
Beautiful vistas on the way.
Want to be a fan of Mandi Police?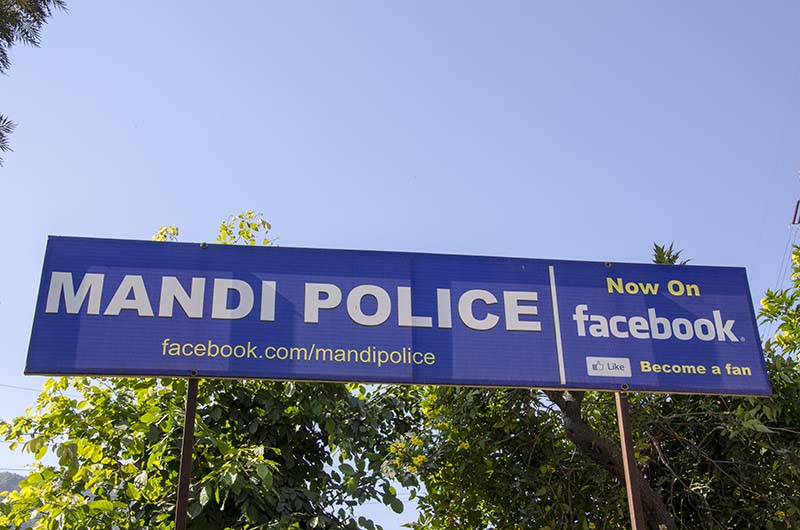 We rode for about 14 hours and reached home late by night. Thus ended a memorable trip that I knew was going to remain etched in our memories for a long time to come. Below are a few details that can be of help for anyone planning a trip to Tirthan Valley from Delhi.
How to reach Tirthan Valley from Delhi
There are two routes that you can take to drive to Tirthan Valley from Delhi.
One of the two routes will take you via Mandi on Chandigarh Manali Highway; and the other route will take you via Shimla and Chandigarh.
Delhi to Tirthan Valley Route by Road
The first and the more commonly used route it as mentioned below.
Delhi – Sonipat – Panipat – Karnal – Ambala – Chandigarh – Swarghat – Bilaspur – Sundernagar – Mandi – Larji – Gushaini (Tirthan Valley)
The second and longer of the two ways to reach Tirthan runs via Shimla and Narkanda. If you were coming from Delhi, then this is really a 2 days journey with a night halt at either Shimla or Narkanda. The route you will follow is as below.
Delhi – Sonipat – Panipat – Karnal – Ambala – Chandigarh – Kandaghat – Shimla – Narkanda – Kingal – Anni – Khanag – Jalori Pass – Shoja – Ghiyagi – Jibhi – Banjar – Gushaini (Tirthan Valley)
Best Route from Delhi to Tirthan Valley
Traveling from Delhi to Tirthan Valley via Mandi can definitely be termed as the best and fastest route. If you however wanted to cover Jalori Pass on the way, then you will have to go via Shimla.
Also Read: Shringi Vatika, Tirthan Valley – A Great Homestay
Distance between Delhi and Tirthan Valley
Tirthan Valley is located at a distance of about 500 kilometers from Delhi; depending on where you started from in Delhi and which village did you arrive at in Tirthan Valley.
Delhi to Tirthan Valley by Train
Chandigarh is the nearest railway station to Tirthan Valley and is located at a distance of about 250 kilometers. If you want to travel by train then you would first have to catch a train from Delhi to Chandigarh and then look for either a Bus or taxi from Chandigarh. A better way thus would be to just forget about the train and complete the entire journey by Bus.
How to reach Tirthan Valley from Delhi by Bus
If you were traveling by Bus, then I would recommend that you skip the Shimla route and travel only via Mandi. Or at least reach via Mandi and return via Shimla because it will be easier that way. There are regular buses from Delhi to Manali, both luxury and ordinary, that you will have to board for this journey. Traveling by bus, you have two choices. You can either get down before Aut Tunnel and look for a mode of transport, or you can go all the way to Aut town and look for a bus there.
I will recommend the second option because buses on this route are mostly crowded. If you were waiting near the Aut tunnel, you may not get a seat and will have to travel standing all the way to the valley. So instead of getting down at the junction near the tunnel, continue to Aut town and deboard the bus there.
There are regular buses from Aut to Banjar and you will have no problem finding one. Finding one directly for Gushanini can be a bit tough so do not wait. From Banjar, you will then have to look for either a Bus or a shared cab towards Gushanini. The first bus that leaves for Gushaini from Banjar is at 7 AM and the last one is around 5: 00 PM.
Fare of the Buses
The bus from Delhi to Aut will cost about Rs. 800 to 1000 depending on which Bus you travel by. Delhi to Shimla would cost about Rs. 500 per person. The bus from Shimla to Banjar will again be around Rs. 300. The buses between Aut, Banjar, Jibhi, and Gushaini will not cost a couple of hundred Rupees in total at most.
Also Read: How to Plan a Trip to Jalori Pass
Delhi to Tirthan Valley Road Condition
Conditions of the road will vary from average to excellent throughout the journey. For the most part, it will be good. The only bad stretch of the road will be around Jalori Pass if you traveled that way. For about 10 kilometers on both sides of the pass, the road really turns into a broken dirt trail. For the rest of the places, it will get average at worst, otherwise good all the way.
Tirthan Valley to Delhi Bus
For traveling the other way around, you will first have to catch a Bus from Banjar for Mandi. These run on an hourly basis and you will have no problem finding one. From Mandi then, you will board a bus for Delhi.
Conclusion
I hope the travelogue and information above was of help. Tirthan Valley is truly a magical place and I will highly recommend visiting here. If you have any questions; or need any other details; please feel free to ask in the comments section below, or at our Community Forum, and I will be glad to answer.