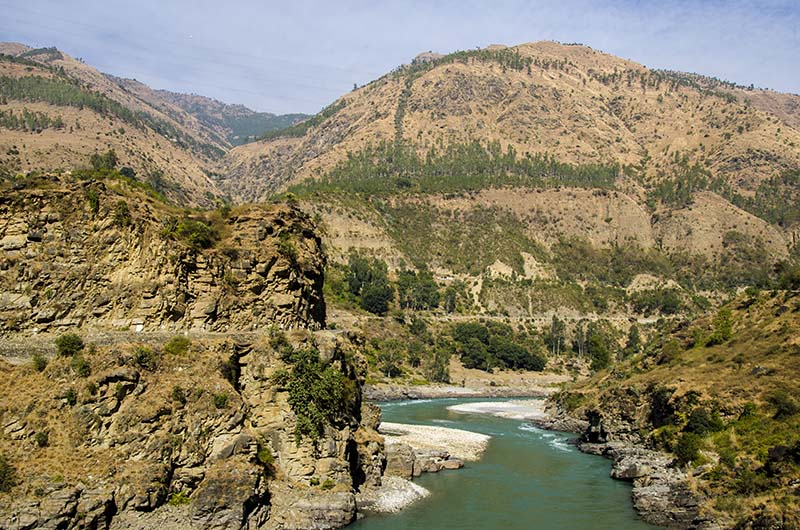 There can really be a long list of places to visit in Tirthan Valley due to it's close proximity to Great Himalayan National Park, Sainj Valley, and other major tourist destinations like Manali. In fact, you can easily dedicate an entire week to the valley and may still have a couple of more places left to see.
Attractions here cater to a wide range of tourists including families and adventure enthusiasts alike. There are ample amount of activities as well that you can indulge yourself in like trekking, camping, boating, and fishing. Or if you just want to spend some time relaxing, you could do that as well. Peace and tranquility of the place will suit anyone wanting to spend a couple of days away from the rushed city life.
If you have a trip to the valley coming up then mentioned below is a list of tourist places in Tirthan Valley that can be of help.
What to see in Tirthan Valley
The natural beauty and peace of the valley is what the majority of the people come looking for. There is no denying the fact that some of the most visited tourist destinations of our country like Shimla, Manali, and Mussorie are now also the most crowded ones. The number of people visiting increases by each passing year which is also making a trip here a bit expensive.
Due to this, places closer to these destinations have now started to receive a lot of tourists as well. The same is the case with Tirthan Valley. With Manali getting crowded each year now, a lot of people avoid traveling there and would rather spend some time in nearby areas like Tirthan Valley or Sainj Valley.
The very fact that Tirthan is still considered an offbeat place and has not turned into a touristy, commercial destination is probably the biggest attraction of the Valley.
Also Read: How to Plan a Trip to Tirthan Valley – A Complete Travel Guide
Places to Visit in Tirthan Valley
With that being said, there are definitely some places that are worthy of note. Mentioned below is a list of tourist attractions in Tirthan Valley and the areas nearby. I will first list down the places and then provide a little information on each one of them.
After places, I will then move on to list down some of the fun activities that you can enjoy during your trip to the valley.
Great Himalayan National Park
Jalori Pass
Seruvalsar Lake (Sirolsar lake)
Budhi Nagin Temple
Raghupur Fort
Chehni Kothi
Shringa Rishi Temple
Confluence of Tirthan and Flachan rivers
Confluence of Sainj and Tirthan rivers
Gaidhar Waterfall
Chhoie waterfall / Sai Ropa Waterfall
Unnamed Waterfalls near Jibhi
Great Himalayan National Park
The four valleys of Tirthan, Sainj, Jiwa Nal, and Parvati region come together to form this amazingly scenic location called The Great Himalayan National Park which is now also a UNESCO World Heritage Site as well. Spread over an area of 754 square kilometers and at an average altitude of around 1500 to 6000 meters, this park was established in 1984 and is home to more than 375 species of fauna, 31 species of mammals, and 181 species of birds.
There are numerous villages inside the park and a trip here will not only give you a taste of natural beauty and wildlife but also the local culture of the people of remote Himachal. The park is a true delight for anyone with even slightest of interest in photography, wildlife, bird watching, trekking or camping.
Jalori Pass
Also known as Jalori Jot, Jalori Pass is a high altitude pass that can either be covered while traveling to Tirthan Valley from Shimla side; or you can plan a day trip to just visit the pass if you reached Tirthan via Mandi. At an altitude of 10,800 feet, It is probably one of the least explored passes of Himachal and is truly an undiscovered beauty in every way. You can visit the pass either by road or by trekking all the way to the top.
It is located at a distance of about 5 kilometers from Shoja and remains closed in the months of winter. The road to the top of the pass is narrow, in bad condition, steep and is a fun ride for anyone looking forward to having a taste of adventure. Two other tourist attractions of Tirthan, Serolsar Lake, and 'Budhi Naagin' temple are also located near the pass. For more details, please take a look at How to Plan a Trip to Jalori Pass.
Seruvalsar Lake (Sirolsar lake)
Sirolsar Lake is both enchanting and mystical. It is a small body of water located about 5 kilometers from Jalori Pass top. There is no motorable road leading to it and one must walk all the way. The reason why I called it enchanting is because of its natural and serene beauty. It sits in the middle of the jungle with its clear and still waters and looks like a shot straight out of a movie. The water of this lake is said to possess medicinal properties.
The temple of 'Budhi Nagin' is why I called it mystical. This temple is located right next to the lake and is dedicated to the goddess 'Budhi Nagin'. I don't know why she is called that but it is said that she has a hundred sons who stand guard to this place. She is considered the goddess of snakes, ghee, and mother of all nag deities. A small temple to Buddhi Nagin overlooks the lake from its Northside.
The trek to the Lake begins just behind the temple at Jalori top. In the summer season, there are camping options to stay and a dhaba to serve travelers and hikers at the lake itself. Depending upon your speed, it will take you about 2 hours to walk from Jalori Jot to the lake.
Also Read: Sightseeing in Tirthan Valley and Trek to Chehni Kothi
Raghupur Fort
If you had the time then I will highly recommend trekking to Raghupur Fort. It is about 3 kilometers of a walk from Jalori Pass and will take you an hour to visit. The fort is now completely in ruins with just a few walls standing but the view you get from here is stunning. The walk to the Fort too is quite a pleasing one, passing through a lovely forest and has spectacular views of the mountains. If you were carrying your own camping gear, you can, in fact, pitch your own tent at the fort itself for the night.
Chehni Kothi
Chehni Kothi is a small village known for its huge tower-like structure that is believed to have been built in the 17th century. This is one of the tallest structures built in the traditional local architecture in the entire Himachal. Originally, Chehni Kothi was a 7-tiered tower but got damaged in the earthquake of 1905. Its top two towers fell off and the remaining 5 towers are now looked after the villagers. It is now one of the prime attractions of Tirthan Valley.
To get to Chehni Kothi, you will have to drive 3 kilometers from Banjar towards Jibhi. Ask around and keep an eye out for the stairs leading to Shringa Rishi Temple. Leave your vehicle on the road, climb up to the temple and then continue on the 3 kilometers trail to Chehni Kothi.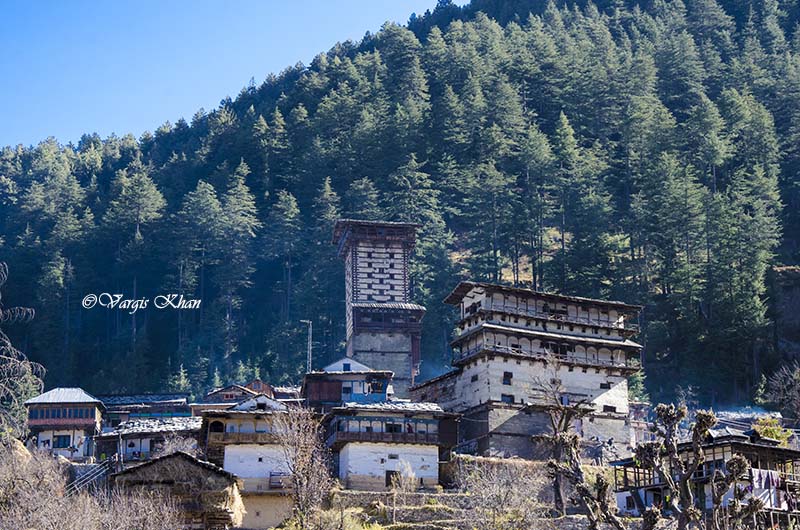 Shringa Rishi Temple
Shringa Rishi is the ruling deity of Banjar valley and the temple is dedicated to him. It is a three-tiered temple with amazing views of the valley around. It is actually located on the same trail as Chehni Kothi. From the road, you will first climb up to the temple, pay respect, and then continue further up towards Chaini Kothi.
The insides of the temple are entirely made of wood and the deities are kept on the top floor. If you just wanted to visit the temple and do not want to climb up the stairs, then there is a narrow dirt road that you can take instead. Just ask around and any of the locals will be happy to show you the road.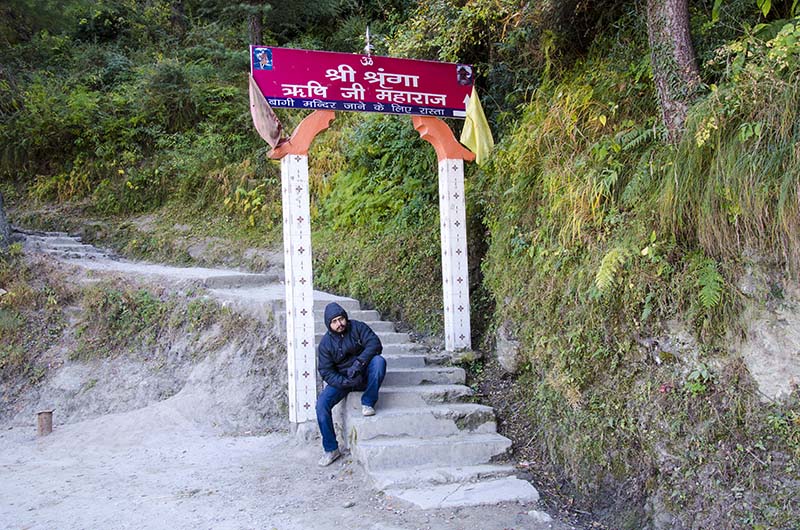 Confluence of Tirthan and Flachan rivers
Next entries in the list of places to visit in Tirthan Valley are the confluence of its beautiful rivers. The rivers of Tirthan and Flachan merge into each other near the village of Gushaini and present a sight definitely worth seeing and clicking pictures of.
Also Read: Tirthan Valley via Narkanda and Jalori Pass
Confluence of Sainj and Tirthan rivers
Near the village of Larji, Sainj and Tirthan rivers merge into each other before their final confluence with Beas River. This is near the spot where you turn right after Aut Tunnel to enter Tirthan Valley or Sainj Valley.
Gaidhar Waterfall
It is a beautiful waterfall that is hardly known and hidden deep in the forests but is stunningly beautiful. The trek to the waterfall starts from Gaidhar Village. The walk is steep and difficult at a few places but is rewarding in terms of scenic beauty.
Chhoie waterfall
Also known as Sai Ropa Waterfall, the trek leading to Chhoie waterfall is one of the easiest and most common hike in the valley. It is a short walk of about 30 – 45 minutes that will get you to this beautiful waterfall. The level of the water however entirely depends on the season but the majority of the tourists visiting Tirtan valley trek to the Chhoie.
Unnamed Waterfall
There is another beautiful waterfall located in the forest near Jibhi Village. There are in fact two of these waterfalls on the same trek but I am not sure what they are called. Just ask any of the locals in the village and they will point you towards the trek that leads to the waterfalls.
Also Read: Tirthan Valley to Delhi
What to do in Tirthan Valley
After places to visit in Tirthan Valley, let me also provide a little information on some adventurous things to do here. I will first list down the activities and then detail them one by one.
Trekking
Fishing
Camping
River Crossing
Rock Climbing
Bird Watching
Trekking
Trekking is probably the most common activity enjoyed in Tirthan Valley. The majority of the treks here lead into the Great Himalayan National Park and are available for all grades in terms of difficulty. Depending on the time you have in hand, the trek can last from half-day to full-day to multiple days of camping.
It does not matter if you have been on treks before or were an absolute beginner. As long as you are bringing in some stamina and a pair of good trekking shoes, you will be able to find a trek here per your liking.
Fishing
Tirthan valley is probably one of the most popular places all over Himachal for fishing, also known as angling. The Tirthan River is full of brown and rainbow trouts and presents a great opportunity for passing some time sitting by the river with a hook in the water. Even if you have no interest in fishing, it is still a great one-time activity.
Go to the river, catch some fish and then have it cooked for dinner. When was the last time you 'caught' your dinner? Never, right? Well, Tirthan is a great place to give it a shot for the first time.
Also Read: Delhi to Jalori Pass and Tirthan Valley
Camping
A day-long trek followed by a night stay in a camp is a great and must have experience for everyone visiting Tirthan. Your trip will, in fact, be incomplete without it. So if you have the time, you must spend at least one night in a camp. The endless green meadows of Great Himalayan National Park serve as great camping sites of which Rola and Rangthal are the two most known ones. Light a bonfire in the night and sit under the starry sky cozily near it and experience the true wonders of nature.
River Crossing
Do you know of an adventure sport called 'Flying Fox' where a zip line is attached to two places and then a person slides from one end to another attached to the line? Well the River Crossing in Tirthan Valley is quite the same as it. A cable is tied to both sides of the river Tirthan and then you are tied to the cable. You will then slide from one end of the cable to another with the turbulent waters of the River gushing underneath.
I know that I may have made it sound a little boring here but trust me it is not. When you are hanging by a cable up in the air trying to move forward with a turbulent river flowing several feet underneath, the feeling is anything but boring.
Rock Climbing
Rock climbing is really an acquired taste and not many people do it. But who do want to experience it, many tour operators have specialized staff who train and assist adventure enthusiasts to indulge in this sport.
Bird Watching
The Great Himalayan National park has over 180 species of birds documented here which makes it a paradise for anyone with interest in bird watching or even photography. The dense forests are full of all kinds of birds and a stroll amidst them will leave you spellbound. You will witness the beauty of a lot of rare and migratory birds who fly around freely singing their own melodious songs.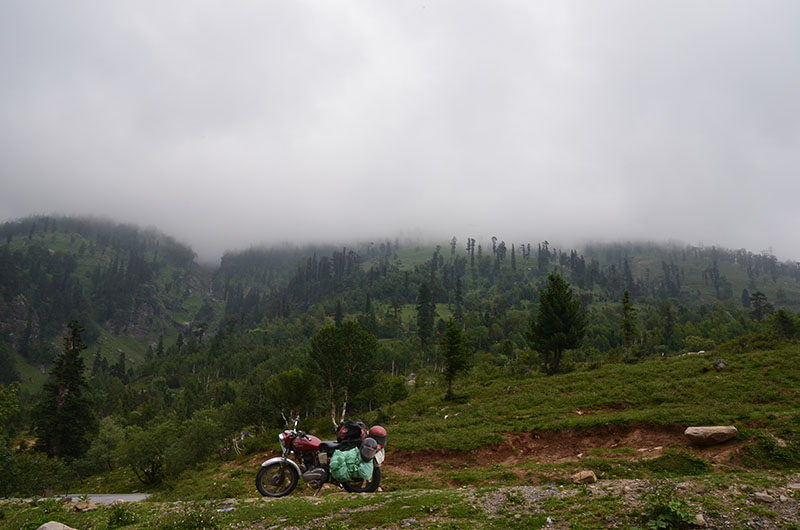 Places to see in Tirthan Valley
Last but not the least, let me list down the villages or towns located in Tirthan Valley and it's vicinity. All of these small villages are in fact tourist destinations in themselves.
Jibhi
Ghiyagi
Gushaini
Banjar
Sai Ropa
Shoja
Nagini
Jibhi
Jibhi is a small village located about 12 kilometers from Jalori Pass and 8 kilometers from Banjar. The small village has a few guesthouses and homestays available and a lot of people visiting Tirthan Valley stay here for the night. It is surrounded by lush green vegetation and dense pine forests. The place is known for its Victorian-style wooden cottages that a lot of tourists look forward to staying at.
Ghiyagi
Ghiyagi is another small place where a lot of tourists stay for the night. There are several hotels and guest houses located here but Shringi Vatika is probably the most commonly known one. It is a charming homestay kind of place with a stream running  right through its backyard.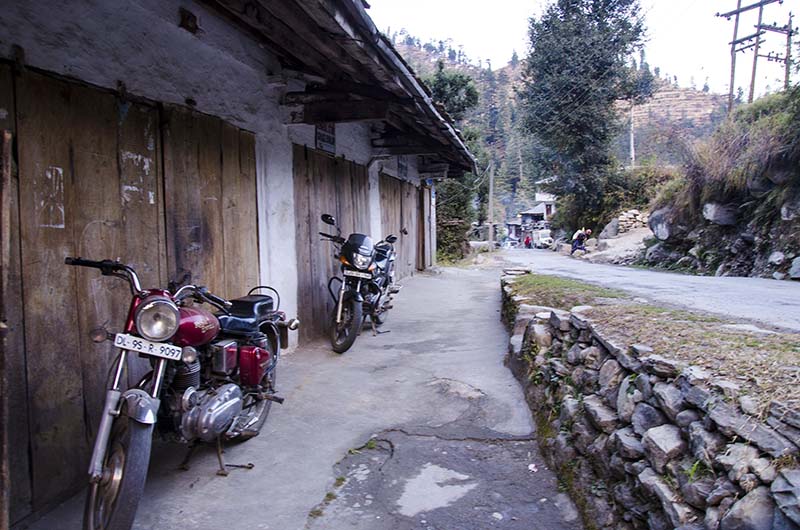 Gushaini
Gushaini is probably the most commonly known town in Tirthan Valley among tourists. The majority of the people visiting the valley arrive here to stay. It is located on the banks of Tirthan River; and is surrounded with lush green vistas and orchards of peach, pomegranate, apple, pear, and apricot. It is the gateway for treks leading into the Great Himalayan National Park which is about 10 kilometers away from here.
There are a lot of stay options available in Gushanini of which, Raju Bharti's cottage is the most famous one. It is also the center for all adventure activities like angling, river crossing, hiking, camping, and bird watching.
Also Read: Shringi Vatika, Tirthan Valley – A Great Homestay
Banjar
Banjar is the largest town of the valleys of Banjar and Tirthan. It is located about 27 kilometers from Aut and also serves as the district headquarters. From Banjar, the road bifurcates in two with one leading into Tirthan Valley and other towards Jalori Pass. Gushaini is located at a distance of about 10 kilometers from Banjar.
Sai Ropa
Sai Ropa is the entry place for the Great Himalayan National Park; and is located midway between Banjar and Gushaini at a distance of 5 kilometers from each. This is where the entrance tickets to the park and permits for treks can be bought. There is a Forest Rest House here that you can stay at but you will have to get the advance booking done. It is nearly impossible to find a place to stay at FRH on arrival.
Shoja
Shoja is a charming little village located at a distance of 5 kilometers from Jalori Pass top. It is just a tiny hamlet with a serene atmosphere and peaceful silence all around. There are a few stay options available here of which Banjara Retreat is the most famous one.
Nagini
This is another village in the valley where a lot of tourists stay. Khem Bharti Guest House ( also known as Trout Valley guest house) is a good guest house available in Nagini.
Places to Visit in Tirthan Valley – Conclusion
I hope the information above on places to visit in Tirthan Valley was of help. If you have any questions; or need any further details; please feel free to ask in the comments section below, or at our Community Forum, and I will be glad to answer. If you have been to Tirthan Valley and know of a place that I missed in the list above, then I would request you to please comment and suggest.