In this series of articles, I will provide a detailed log of my trip from Delhi to Jalori Pass and Tirthan Valley. While sharing our trip details, I will also mention other necessary trips that can be of help while visiting both or either of these places. We crossed the pass and entered the valley from Shimla and returned via Mandi.
When you live in a city like Delhi, options in terms of visiting a hill station are endless. The city's close proximity to the Himalayan states of Uttarakhand and Himachal Pradesh really gives you a long list of destinations that you can visit. Even Kashmir is not that far away and if you had a few days in hand, you can even head in that direction.
While this can be a comforting fact, sometimes it creates a great amount of confusion; and makes it almost impossible for you to finalize on one destination while planning for a trip. The same thing happened with us while we were thinking about where to go for our trip during the Thanksgiving holidays. Places were thought of and then scrapped until we finally decided on traveling from Delhi to Jalori Pass and then to Tirthan Valley.
Delhi to Jalori Pass and Tirthan Valley
I have heard of Jalori Pass before and it was in fact on my list of places to visit but the name Tirthan Valley was completely known. Both of these places were suggested to me by a friend, Vikas who had only high praises for Tirthan Valley. He was a bit of a traveler himself and I asked him to suggest a place good enough for a 4 days ride. He recommended a few places of which Jalori Pass was the one that immediately caught my attention.
I Googled the name, did a little research, discussed with my friends and finally, Jalori Pass and Tirthan Valley were finalized for the ride. We had a total of 4 days in hand including the weekend and were going to be riding in the last week of November.
Also Read: How to Plan a Trip to Tirthan Valley – A Complete Travel Guide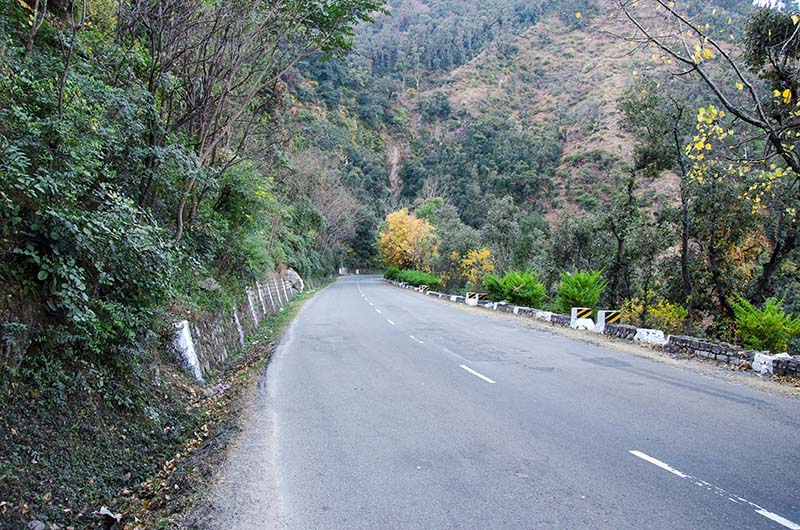 Trip Plan
After discussing with Vikas a few times, the following plan was finalized for the journey.
Delhi to Chail – Day 1
Chail to Ghiyagi – Day 2
Ghiyagi to Tirthan Valley – Day 3
Tirthan Valley to Delhi – Day 4
We were to travel from Delhi to Chail on Day 1 and then take the Narkanda route to cross Jalori Pass on Day 2. We will arrive in Tirthan Valley on Day 2 evening and would stay in Ghiyagi at Shringi Vatika. On Day 3, we will spend time sightseeing in Tirthan Valley and trek to Chehni Kothi. Finally, we will return to Delhi on Day 4 via Mandi. I called in advance and booked our stay at Shringi Vatika but decided to find a hotel in Chail after we reached there.
There were 6 main highlights of this trip.
Chail
Chail is a small hill station in Himachal Pradesh, located about 44 kilometers from Shimla and 45 kilometers from Solan. A road bifurcates near Kandaghat from Chandigarh Shimla highway; and from here Chail is about 50 kilometers and an hour's drive away. Other routes consist of roads from Kufri and Solan which I will talk about further in this article.
Often known as a "hiker's paradise", Chail is an idyllic retreat with its pine-covered hills, lush meadows, tranquility, landscapes and magnificent views of the majestic Himalayas. There is really not much to do here except to enjoy the serenity of the place, but that is exactly what you should visit Chail for. You will totally love Chail for its greenery, peace, and pleasant weather. For more details, please take a look at How to Plan a Trip to Chail.
Kali ka Tibba
Kali ka Tibba is a temple in Chail dedicated to Goddess Kali. It is built at a hilltop providing a 360 Degrees view of the valley around. The sunset view from the temple is probably the best you would have ever seen in your life.
Jalori Pass
Jalori is a mountain pass located in the Kullu District of Himachal Pradesh. At a distance of about 520 kilometers (depending on which route you take to get there), it is one of the closest high altitude passes to Delhi. It is located at a height of 3,120 meters (10,236 ft) and the road to the top is both scenic and challenging.
It gets closed sometime in December due to heavy snowfall and then is declared open in March. Jalori Jot is in fact among the first passes to open each year. For more details, please also take a look at How to Plan a Trip to Jalori Pass.
Tirthan Valley
For a brief introduction, Tirthan Valley is a valley located in Himachal Pradesh at a distance of 65 kilometers from Mandi and about 250 kilometers from Chandigarh. The place is named such after river 'Tirthan' that it is located on the banks of. At an average altitude of 1600 meters, the weather of the valley remains pleasant for most of the year; making it a perfect getaway for anyone looking to spend some time in peace and away from the crowd.
The valley also serves as the doorway to Great Himalayan National Park making it a paradise for trekkers, birdwatchers or anyone who has an interest in either wildlife or photography. For more details, please take a look at How to Plan a Trip to Tirthan Valley.
Shringi Vatika
Shringi Vatika is a guest house / home-stay run by an elderly couple in the small village of Ghiyagi. The guest house, and the entire town for that matter, are very scenically located with a stream of quarter running right through their backyard.  It is one of the most preferred places to stay in Tirthan Valley by visitors. For more details, please read Shringi Vatika, Tirthan Valley – A Great Homestay.
Chehni Kothi
Chehni Kothi is a small village known for its huge tower-like structure that is believed to have been built in the 17th century. This is one of the tallest structures built in the traditional local architecture in entire Himachal. Originally, Chehni Kothi was a 7-storey tower but got damaged in the earthquake of 1905.
Its top two towers fell off and the remaining 5 towers are now looked after the villagers. It is now one of the prime attractions of Tirthan Valley. More details to follow on this in the next part of the article.
To be honest, of all these places, I was most excited about the idea of crossing Jalori Pass. The same was the case with my friends as well. For us, the entire idea of the trip was to ride to Jalori Pass. The rest of the places were just places we would visit on the way. It was Jalori Pass that remained to be our primary attractions.
Delhi to Jalori Pass Distance
Distance from Delhi to Jalori Pass is a total of 500 kilometers via Shimla and 520 kilometers via Mandi.
How to reach Jalori Pass from Delhi
There are two ways that Jalori Pass can be reached from Delhi. The first one is via Shimla and Narkanda and the other one is via Mandi.
The route from Shimla side is mostly preferred by motorcycle enthusiasts or people who want to do the journey in the form of a circuit. You can start from Shimla, cross Jalori Pass, exit at Tirthan Valley and then return home via Mandi. The route of the Journey will be as mentioned below.
Delhi – Sonipat – Panipat – Karnal – Ambala – Chandigarh – Kandaghat – Shimla – Narkanda – Kingal – Anni – Khanag – Jalori Pass
Traveling this way, the total journey will be about 500 kilometers, depending on where you started from in Delhi. This is necessarily a 2 days journey with a night halt at either Shimla or Narkanda. It cannot be completed in a single day unless you started from Delhi at about 2 in the night and drove non-stop for 18 to 20 hours. It will just make the journey too tiring and I will not recommend it. Best would be to take a break in between and then cross Jalori Pass on Day 2.
I was initially more inclined towards breaking our journey in Narkanda on Day 1 but then changed it to Chail on Vikas's recommendation. I had been to Narkanda a few times before but never to Chail so staying there would mean adding another unexplored destination to the journey.
Mandi to Jalori Pass
Now the route above explained how you can reach Jalori Pass from Shimla, arrive at Tirthan Valley, and then return home via Mandi. But if you wanted to reach Jalori Pass via Mandi, then the journey will be exactly the other way around and route as mentioned below.
Delhi – Sonipat – Panipat – Karnal – Ambala – Chandigarh – Swarghat – Bilaspur – Sundernagar – Mandi – Larji – Banjar – Jibhi – Ghiyagi – Shoja – Jalori Pass
Traveling in this manner, the total distance will be about 520 kilometers. This one will also be a 2 days journey. The only difference is that your second day will be spent entirely on sightseeing in Tirthan Valley, and visiting Jalori Pass. This is a better way to travel if Tirthan Valley was your primary destination. But since for us it was Jalori Pass, we decided to go via Shimla and return via Mandi.
Also Read: Places to See in Tirthan Valley and Things to Do
Delhi to Jalori Pass Bus
Reaching Jalori Pass by Bus will definitely not be an easy task but it is still doable. Depending on what your plan is, your first two destinations from your hometown will be either Shimla or Mandi. From both these towns, you will then have to find public transport for Jalori Pass.
If you planned to reach Jalori Pass via Mandi then you would first have to board a Bus that can drop you at either Mandi or near Aut Tunnel or in Aut town. All these places are on the highway to Manali; and there are regular buses from Delhi to Manali, both luxury and ordinary, that you will have to board to reach here. Once your Bus crosses Mandi, you have two choices.
You can either get down before Aut Tunnel and look for a mode of transport, or you can go all the way to Aut town and look for a bus there. I will recommend the second option because buses on this route are mostly crowded. If you were waiting near the Aut tunnel, you may not get a seat and will have to travel standing all the way to Tirthan valley. So instead of getting down at the junction near the tunnel, continue to Aut town and get off the bus there.
Once you have arrived at Mandi, or Aut Tunnel or Aut town, your next destination will be Banjar. There are regular buses from both Mandi and Aut to Banjar and you will have no problem finding one. After you have reached Banjar, you can either stay there for the night; or find another bus from Banjar for a place of your liking; like Shoja, Gushaini, or Jibhi.
Banjar to Jalori Pass Bus

Assuming that you stayed at Banjar for the night, the next day you can plan a visit to Jalori Pass. There are daily buses Banjar to Shimla, Banjar to Anni; and from Jibhi to Jalori Top in the morning that you can use for this journey. You can catch the bus, get down at Jalori Top, spend some time sightseeing, and return to your hotel by evening. The last bus from Jalori top to Banjar leaves at around 3 PM so manage your time accordingly.
Bus from Delhi to Jalori Pass via Shimla
If you were traveling from Shimla side, then you would have to rely completely on the daily bus for Banjar. It starts at Shimla early in the morning to arrive at Banjar by evening. If you were coming from Delhi, you will first have to board a bus for Shimla from Delhi which is really the easy part. There are several buses from ISBT Delhi for Shimla, both night and day.
Stay for the night in Shimla and board the next morning bus for Banjar. If you did not find the Banjar Bus, you can also look for a Bus to Anni which is the small town just before you start climbing for Jalori. From Anni, you can then board a shared cab and cross Jalori Pass.
Also Read: Best time to Visit Tirthan Valley
Day 1 – Delhi to Chail
Like all my other trips, plan to cross Jalori Pass and visiting Tirthan valley was also finalized only a few days in advance. People kept adding and dropping out and finally, a total of 3 remained; Gunjit, Sunny, and I. Vehicles for the trip were my Royal Enfield and Sunny's CBZ. I had been on many motorcycle rides before but for Gunjit and Sunny, it was going to be their 1st one which kind of made this trip a little special for them.
We had 2 days leave from office, on Thursday and Friday. Adding this to the weekend, a total of 4 days is all we could afford. Plan for Day 1 was to start as early as we could and reach Chail well in time to enjoy the sunset view from Kali Ka Tibba. Vikas had praised it very highly and asked me not to miss it at any cost. But 'starting early' part of the journey did not really happen and it was well beyond 5 AM by the time we started.
Red flags, however, went off early in this trip as I noticed a weird creaking sound from Enfield's rear tire. It was 5 o'clock in the morning. The mechanic was not going to be available for another 4 hours at least. It was going to be a long day of riding so we could not afford to wait for a mechanic either and start so late in the day from Delhi.
So keeping my fingers crossed, we left from my place at around 5.20 AM; with hopes of finding a mechanic on the way and that the creaking noise won't turn into something serious.
Breakfast at Moorthal
First stop came at Moorthal. The clock was showing well beyond 7 AM and it was time for breakfast that consisted of Aaloo ka paranthas and tea.
It was late November and weather was pleasantly cold. Sun had just started to come up as we savored on delicious Paranthas.
Ride to Chandigarh and Chail
Not much happened really on the rest of the day. After having our breakfast, we continued riding towards Chandigarh but at a much slower pace. I am not sure why but it was really a very relaxed ride. By the time we reached Chandigarh, it was well beyond 1 PM.
The creaking sound from my motorcycle too stopped a couple of hours later; so we did not even stop anywhere for a mechanic. Just before Chandigarh, we turned on Himalayan Expressway and started riding towards Kandaghat.
Some views on the way.
After Kandaghat, we turned on the narrow road towards Chail. The vistas were a little dull and dry but still presented ample opportunities for photography breaks. As a result of it, our arrival in Chail too was later than expected. On top of it, It was late November; so the sun too came down early and it was almost sunset by the time we checked into a hotel at Chail.
It was located in the main market; and we got a comfortable room for 3 at a reasonable price of Rs. 600 for the night. After checking in and leaving our luggage in the hotel room; we hurried to Kali ka Tibba to witness the most amazing sunset I have ever seen in my life.
Sunset view from Kali Ka Tibba
Standing there at the temple, watching the sun go down, I completely agreed with every word Vikas had said to me. It was indeed the most beautiful sunset I had witnessed in my entire life. It felt as if the entire sky just exploded right in front of us. If you are every in Chail, do not miss the sunset from Kali ka Tibba.
It soon got dark and we made our way back to the hotel. We had dinner at a nearby restaurant in the market as our hotel did not have provisions for food. After a hearty meal, we retired to our hotel room and it was time to call it a day.
Journey Ahead: Chail to Tirthan Valley via Jalori Pass
Conclusion
That concluded our first day of the trip. It was a fun and very relaxed ride that ended with one of the most spectacular sunset views I had ever seen. Please read Chail to Tirthan Valley via Jalori Pass to continue reading the next part of this travelogue. I hope the information above on traveling from Delhi to Jalori Pass was of help. If you have any questions; or need any further details; please feel free to ask in the comments section below, or at our Community Forum, and I will be glad to answer.