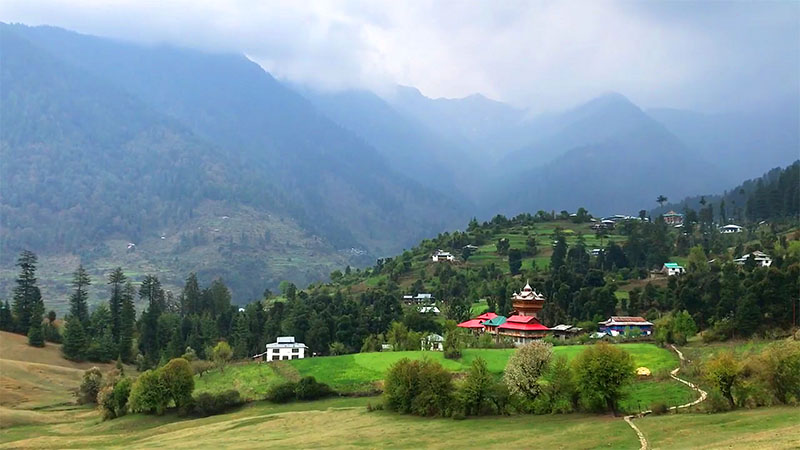 In this article, I will talk in detail about places to visit in Sainj Valley and things to do. One thing that you must keep in mind while visiting Sainj or Shangarh is that these are internal and remote areas of Himachal. The entire Sainj Valley is a cluster of small villages that are far from being developed as tourist destinations.
The primary and possibly the only tourist attraction of Sainj Valley is its natural beauty and scenery. There are no big markets here, no fancy restaurants, no long list of tourist activities, and no luxury hotels either. Your only choice of accommodation are homestays, which are really just the houses of the villagers extended by a room or two that they rent out to the tourists.
Even the roads leading to the villages are narrow, bad, and broken. I am adding this information here just to give you an idea of what you will be getting into. The people you will find here will be more travelers than tourists. But if you are still willing to explore this easily accessible yet largely unexplored part of Himachal, mentioned below is a list of visiting places in Sainj that you should take note of.
Please note that in this article, I am only going to talk about places to visit in Sainj Valley. If you want to get other details like how to reach and where to stay, please read A Complete Travel Guide on Sainj Valley.
Places to visit in Sainj Valley
Most of the tourist attractions in Sainj Valley are its charming tiny hamlets and a few other trekking destinations. Let us take a look at them one by one.
Temples
The temples of Sainj Valley are really unique and unlike any that I had seen so far. Another thing is the number of temples. There are so many of them and all are equally beautiful. The entire valley is marked with numerous temples, some quite big and famous while others are small and unknown. When you are in Sainj Valley, you just cannot miss admiring the architecture and the wooden work in these temples.
I would also like to mention that visitors are not allowed entry in all of the temples. So please do ask around before trying to enter. I was in Shangarh for a few days and there was only one temple that I was allowed in.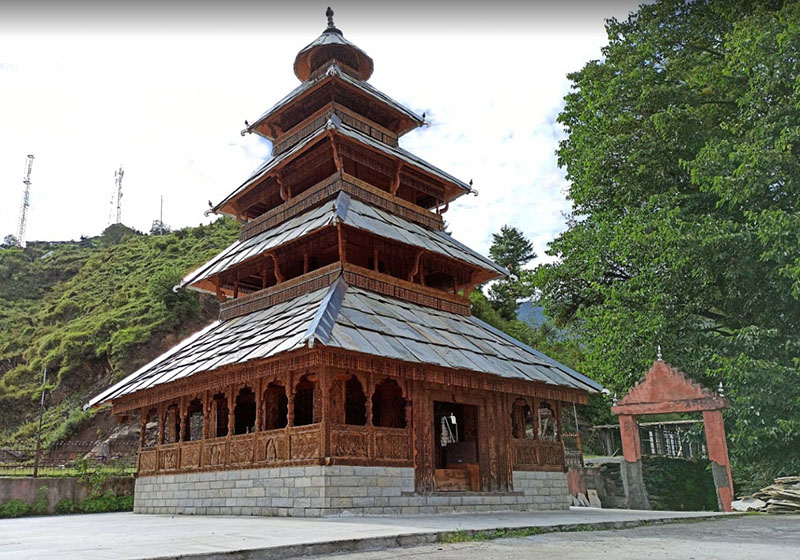 Sainj
Sainj is the largest town or village and pretty much the heart of the valley. It acts as the commercial center and this is where all the shops and offices are. Almost all of the villagers end up traveling to Sainj at least once or twice a week for one thing or another.
You can find a place to stay in Sainj but it is not much of a tourist spot. It looks more like a crowded here filled with people, cars, and taxis. My recommendation will be that you skip Sainj and head to any of the other villages. There are no places to visit in Sainj that I know of.
Also Read: When is the Best time to visit Sainj Valley
Places to visit in Shangarh
Shangarh is one of the tiny villages of Sainj Valley but is probably its biggest tourist attraction. Most of the tourists visiting the valley head straight to Shangarh.
Meadows of Shangarh
The meadows of Shangarh are a wonder in itself. It is an amazing green grassland, with snowy mountain peaks in the backdrop. It will remind you of the meadows of Khajjiar but at a much larger level; and in my opinion, more beautiful as well.
It is said that the Pandavas spent 13 years of their life here when they were in exile and the meadow was even visited by Lord Krishna. In fact, as per the belief, the Pandavas themselves created the grassland while they were here.  They cultivated this piece of land to grow rice while they were staying here.
Mahadev Temple
Another attraction of Shangarh is the beautiful three-tiered Shangchul Mahadev Temple, located right next to the meadows. There are also three other temples located in the meadow but the only one you will be allowed to enter is the Shangchul Mahadev Temple, which also is the biggest one. Even in the Mahadev temple, visitors are not allowed in the upper part of the temple.
Barshangarh Waterfall
It is a waterfall that is on the way from Shangarh to Barshangarh and you will also cross a couple of other small villages on the way. After the waterfall, you can also take a walk through the village. Homestays are available here as well if you want to spend a night. It is also known as Khastar Nala waterfall.
Also Read: How to Plan a Trip to Prashar Lake
Deohari Village
Also known as Deori village, it is located at a distance of about 10 kilometers from Sainj. The village is located in a very picturesque setting and offers a stunning view of the surrounding mountains. There is a daily bus available from Sainj to Deori.
Upper Neahi
This small village can only be reached on foot either from Deori or Ropa Complex. From Sainj, you can take a bus to either of these two places and then walk to upper Neahi. A better way for the journey will be to reach Deori, stay a night there, and then go to Upper Neahi the next day.
This village is at a much higher altitude which means that you get really amazing views from here. It is a perfect place to just relax for a couple of days in complete silence and tranquility. There are a couple of homestays available in the village.
Pundrik Rishi Lake and Temple
One of the major attractions of Sainj Village is the lake dedicated to Pundrik Rishi and named after him. It is on the way to Upper Neahi village. It is not much of a lake, to be honest. What remains now is mostly a pond of water mostly covered by vegetation.
The lake is considered sacred and there is a barbed wire fence around it for protection. While the lake itself may not look appealing, it's setting between the dense Deodar forest and mighty peaks is surely worth visiting. The entire trek to Upper Neahi via Pundrik Lake is quite stunning as a matter of fact.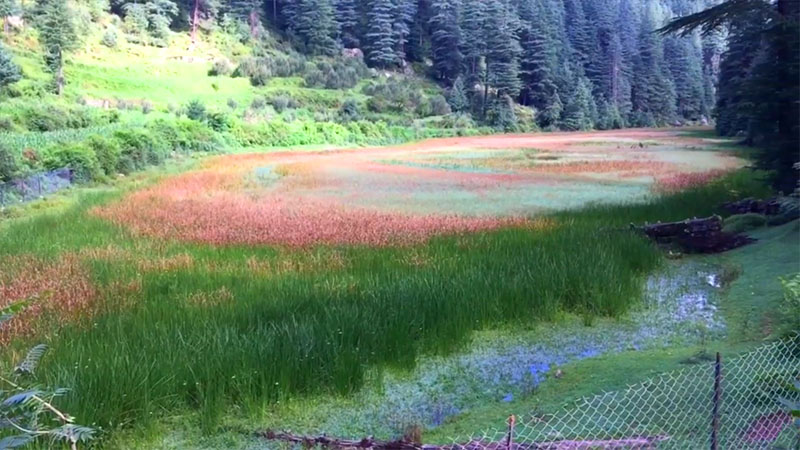 Manyashi
Another village that you can trek to from Deohari is Manyashi. Other than the scenery, there are two beautiful tower temples in the village that are worth visiting, dedicated to Pundrik Rishi and Janjar. The trail from Deori to Manyashi is a short one and will not take you too long.
Ropa
GHNP Ropa Complex or simply known as Ropa is about 8 kilometers from Sainj. This is where the entry gate of the Great Himalayan National Park is. There is also a Forest Rest House near the gate that is open for tourists. This is the entry point of all the treks leading into the national park.
Please do not confuse this with Sai Ropa in Tirthan Valley. These are two different places.
Neuli / Sambha / Bihali / Naloun
Neuli is located about 3 kilometers after Ropa Complex. The same road goes straight for about a kilometers and ends at Naloun. If you however turned left, you will first reach Bihali Village and then climb up a set of 10 hairpin bends to finally end at the village of Shenshar, also known as Shanshar.
Also Read: How to Plan a Trip to Manali
Manu Rishi Temple in Shenshar
The road from Neuli ends at the high altitude village of Shensar. It is famous for an ancient five-tiered pagoda temple dedicated to Manu Rishi. I stayed in Shenshar for a day and this is another great place for some amazing view of the valley. Almost no one comes in this direction and the villagers were actually surprised to see me there. Most of the people in Sainj Valley visit Deori, Neahi and Shangarh but rarely anyone comes in this direction. If you had the time, I will definitely recommend taking a drive to Shanshar.
Another great attraction in Shehsnar is the beautiful Manu Rishi temple. The intricate woodwork on the temple walls is a thing of beauty.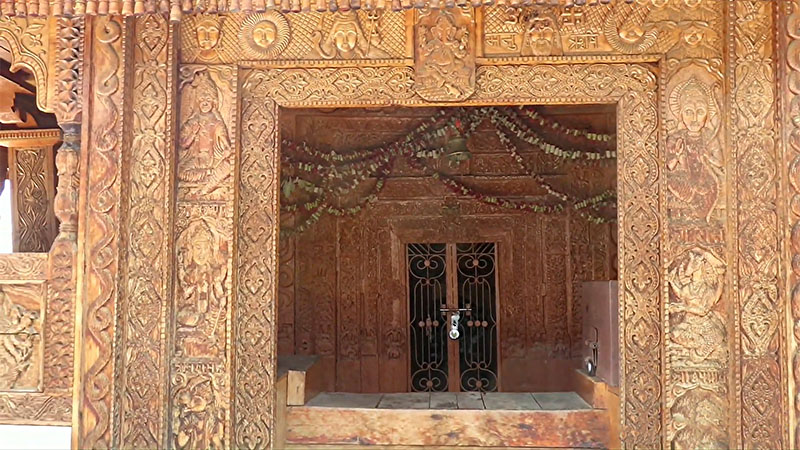 Jiwa Nala Waterfall
I was told by the villagers that there is a waterfall on the route from Sainj to Ropa but you will have to take a short detour for it just before Siund. I did not visit the waterfall so I am not exactly sure where it is but you can ask around in the valley and someone will point you in the right direction. It is located near Jiwa Village is what I was told, right next to the Jiwa Nala river.
Treks in Sainj Valley
Let us now talk a little about the various treks that you can venture on in Sainj Valley. If you just want easy hikes then you can trek from Deori to Pundrik Rishi Lake or to Upper Neahi. You can actually even walk from Deohari to Shangarh. But if you were looking forward to some serious trekking, mentioned below are a few.
Great Himalayan National Park
This is the biggest of all the treks available in both Sainj as well as Tirthan Valley. The Great Himalayan National Park is spread over 754 square km and offers some of the most stunning treks in all of Himachal. The altitude of the park ranges from 1700 meters to a staggering 5800 meters and it is home to more than 375 species of fauna, 31 species of mammals, and 181 species of birds.
Please note that you will surely need a guide to take you through the park.
The park also has some of the best camping sites in the valley. I know people who were visiting Tirthan Valley and just went to GHNP to camp for a night. The endless green meadows of Great Himalayan National Park serve as great camping sites of which Rola and Rangthal are the two most known ones.
Raktisar Trek
This trek will last about one week. You start from Neuli Village and follow the Sinj River to its source. Needless to say, there will definitely be some steep ascents to handle but the views will surely make it worth a while. This is surely not a beginner's trek and you must hire a local guide for it. The maximum altitude will be 3900 meters at Raktisar and it will take you at least 3 days to reach.
It is ideally a 5-6 days trek. Some of the other meadows you will cover on this route are Parkachi Thach and Dhel Thach. All these places too are trekking destinations for a day or two. You can also reach Shakti and stay there at the trekker huts before returning the next day.
Jiwa Nala Trek
This is another one-week-long trek that starts from Siund Village. Jiwa Nala is another small river that merges into the Sainj River near Siund Village. From Siund, you follow the river uphill to its source. This trek is also not for beginners and will require that you hire a local guide
Tirthan Valley Trek
From Sainj Valley, you can also walk through the forest to reach the nearby Tirthan Valley. There are several trails that you can follow for this and the duration can be anywhere from 4 to 7 days.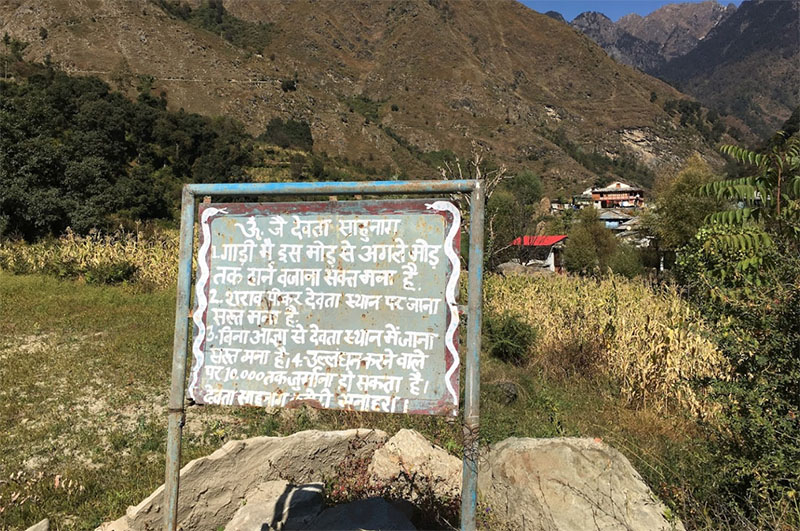 Sarikanda Thach
Sarikanda Thach is a high altitude meadow that can be approached from both Deori and Shangarh. It will take you about 2 hours to reach the meadow so it can easily be covered in a day. But please note that the walk is very steep and through a rocky terrain so ensure that you are carrying proper shoes for it. On the plus side, Sarikanda remains snowed for about 5-6 months a year. So if you were visiting in March or April, there is a high chance that you will find snow here.
Sara Lake
Sara Lake is located at an altitude of 2050 meters and about 10 kilometers from Shangarh. You will first start trekking to Barshangarh and see the Barshangarh waterfall on the way. After Barshangarh, you will then hike for another 4-5 hours to arrive at the beautiful Sara Lake. Please note that it is a 2 days trek if you only want to see the lake. You will camp here for the night and return to Shangarh the next day. Or you can continue the trek further and exit at Lapah.
Shumga Thach
Shumga Thach is another meadow that remains snowbound for most of the year. It is located further ahead of Sara Lake at a distance of 7 kilometers. You will spend the night at the lake and then trek to Shumga Thach, to camp there for the second night.
Lapah Village
Lapah is another high altitude village located a little ahead of Neuli. After Shumga Thach, you will trek for another about 10 kilometers and end the hike at Lapah Village.
Please note that if you do not want to trek all this way, you can just reach the village via Neuli in a couple of hours. This trek can also be done the other way. You start from Lapah Village and reach Shangarh via Shumga Thach, Sara Lake, and Barshangarh.
Also Read: Narkanda: How to Plan a Trip & What to See?
Things to do in Sainj Valley
Other than visiting all of the places I listed above, let us take a look at some of the other things that you can enjoy in Sainj Valley.
Photography
This will definitely be the topmost activity to enjoy in Sanij Valley. It does not matter if you were a serious photographer with a bulky DSLR or just an amateur with a fancy cellphone, you will find it hard to resist clicking photos anywhere you go. Every turn of the road in Sainj Valley will present you with a sight that deserved to be captured.
Just Relax
You do not come to a place like Sainj Valley to indulge in an endless list of activities. For that, you go to places like Shimla and Manali. Sainj Valley is perfect for some soul searching. Just sit back, relax for a few days, enjoy the peace, and rejuvenate yourself. I do not want to make it sound negative but it is peaceful here to the extent of being haunting. The only sound you will hear in the village will be of the birds, the wind or of a woman yelling at her kid somewhere far away.
Sit in the Meadows of Shangarh
Even the locals who have lived all their lives in the village do it. So there is no way that you can avoid it. Just sit down in the meadows of Shangarh, or maybe lie down on the grass, and do nothing. If you were with a group of friends, it will be even better. Get something to eat, sit down, and gossip all that you can.
And yes, please do not litter. If you bought snacks, please make sure that you are carrying the wrappers back with you.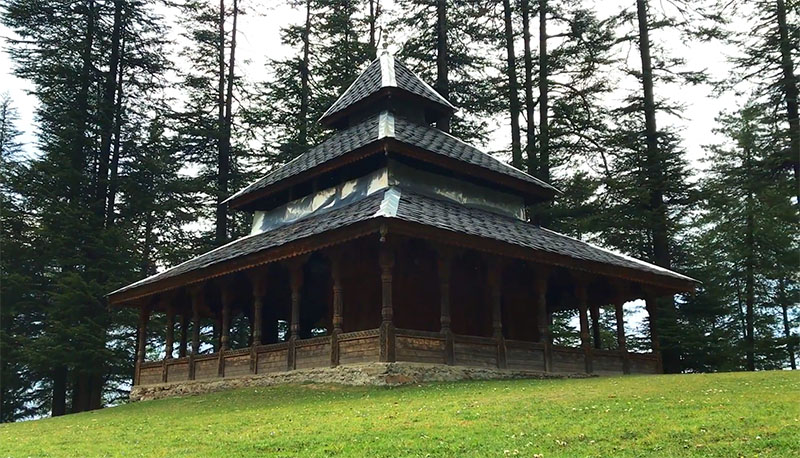 Enjoy the Night Skies
The pollution-free skies of Sainj Valley present a sight that will make you awe in wonder. It lights up with millions of stars and they all seem so beautiful. If you were into photography and were carrying a capable enough camera, this is a perfect spot to get some long exposure shots of night skies and star trails.
Learn About the Local Life
There are no hotels here so you will be staying with a local as paying guest. Secondly, they do not get many tourists so you will surely get special treatment. This will give you a perfect opportunity to get talking to the locals and learn about their lives, mythology, and folklore. The people here are very simple and hospitable. They would love to share with you stories about their day to day lives, their gods, and just about anything that is worth mentioning.
Also Read: Sangla Valley – A COMPLETE Travel Guide & Itinerary
Nature Walks
Go in any direction and Sainj Valley is beautiful. Every sight is worth capturing and worth witnessing. If nothing else, just take a walk around in the villages of the valley and even that is something that you will deeply enjoy.
Enjoy the Snow
If you arrived in the valley in either January or early February, you will definitely get to see plenty of snow and even witness a live snowfall. In March of April, you can try trekking to Sarikanda Thach and will definitely find snow there.
Places to visit in Sainj valley – Conclusion
I hope the information above on places to visit in Sainj Valley and Shangarh was of help. If you have any questions or need any other details, please feel free to ask in the comments section below or at our Community Forum and I will be glad to answer.