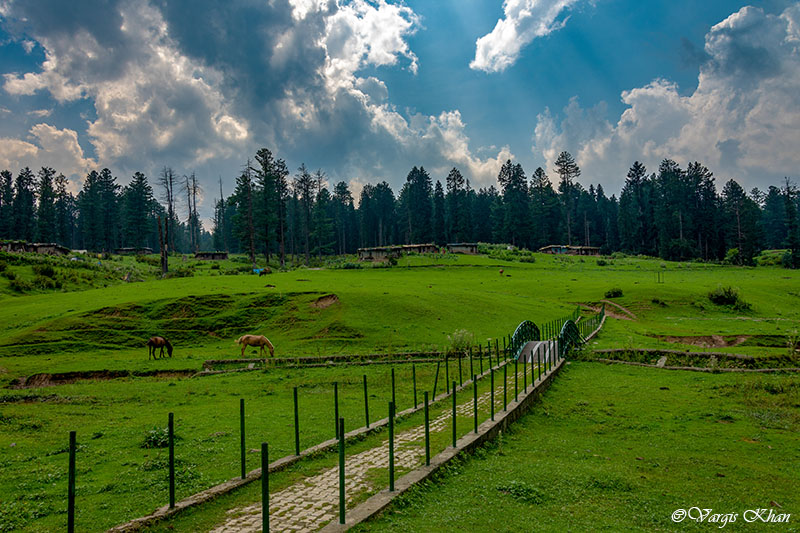 Yusmarg is a name that not many tourists put on their itineraries. A trip to Kashmir for most people means visiting 4 places; Srinagar, Gulmarg, Pahalgam, and Sonamarg. Even Srinagar actually just acts as the base to explore the other three towns. No, I am not saying that these places aren't worth visiting because they definitely are one of the most scenic ones here, and that is why they attract so much tourism here.
But Kashmir is much more than just these 4 destinations. There are many other places in Kashmir that will leave you spellbound. Destinations that only a few people know about or have been to, but are capable of drawing thousands of tourists each year if made known. One such place that I want to talk about in this article is the tiny yet charming hill station of Yusmarg; also known as Yousmarg.
About Yusmarg
The name Yusmarg in Kashmiri literally translates as "The Meadow of Jesus". The word 'Yus' is said to be a short form of Youza or Jesus, and a marg means a meadow. That is right, as per the local belief, Jesus Christ himself visited Kashmir and stayed at Yusmarg for some time. There are even claims that it is Yusmarg where he was buried and his tomb is located at. This claim however is highly disputed of course.
Yusmarg Location
Yusmarg is located in the Badgam district of Jammu & Kashmir at a distance of approximately 50 kilometers from Srinagar.
Is Yusmarg worth Visiting
To begin with, let me first talk about what makes Yusmarg worth visiting and why you should plan a trip here. To be honest, there is really nothing here. And I really mean absolutely nothing except for a single hotel, a few shops, a lake, a river, lush green meadows and some houses of local villagers.
But that in fact is what makes Yusmarg worth a trip.  There is no crowd here, no sound of the traffic, and nothing to disturb you out of your sleep or thoughts. Just pleasantly cold weather, occasional sounds of horses whining in distance; and sometimes a woman yelling out something to her kids far away.
Also Read: Grand Valley Inn – A Great Place to Stay in Srinagar
That is it, that's Yusmarg for you. A place where you can just sit for hours in peace, and walk around on the lush green meadows. The scenic beauty, peace, and tranquility of the place are absolutely stunning and it deserves to be on the list of everyone wanting to visit offbeat and lesser-known destinations.
If you are going to be in Kashmir, then I would highly recommend making at least a day-long trip to Yusmarg and on the way, you can also cover the holy shrine of Charar-e-Shariff.
Is Yusmarg Safe?
Next, I will address the question that always gets asked when someone is talking about visiting anywhere in Kashmir. Is Yusmarg safe to visit; or in general, Is it safe for someone to visit Kashmir?
It is sad really to know that a place once known as a paradise for centuries now scares people so much, but I guess that is the reality of the world that we live in. Coming back to the question though, yes Yusmarg is definitely safe to visit as long as you keep yourself safe. Just do your homework before starting the journey.
If there is any news or word of a protest or unrest in the valley, then you should better postpone your trip until things are better.
Otherwise, you are OK to travel to Yusmarg. The two-hour drive to the place is bliss in itself. And once you reach Yusmarg and see the grassy pastures stretching for acres of land, dense forests full of pine trees, and splendid snow-capped mountains in the backdrop, you will just be glad that you arrived here
I have covered the topic of tourist safety in Kashmir in another article; How to Travel to Kashmir Safely; that I would recommend you look at for more information on the topic and a few other tips for a safe journey.
How to reach Yusmarg
In order to get to Yusmarg, you will first have to reach Srinagar which is not that really that difficult. If you were traveling by your own vehicle, then you can just drive to Srinagar city by either the regular Jammu – Srinagar highway; or via Mughal road through Shopian.
Of the two, the Jammu-Srinagar highway is the better maintained and most used road but is also the most crowded one. Mughal road is the more scenic of the two and there is hardly any traffic on this. Road condition too is a mix of good and average. For more details on how you can reach Srinagar via Mughal Road, please read How to Plan a Journey on Mughal Road.
Once you arrive at Srinagar, you can then make a road trip to Yusmarg; which is a 2 to 3 hours' drive at most, covering a distance of about 50 kilometers.
If you were however not traveling by your own vehicle, then Srinagar is well connected to the rest of the country by Air, Train, and Bus service. No matter which part of the country you live in, you can easily reach the city by either flying or boarding a train.
Once you land in Srinagar, then you can either rent a taxi or a motorcycle for the trip; or reach Yusmarg by public transport. More details on all these options are further provided in the article.
Yusmarg to Srinagar distance
Yusmarg is at a distance of about 50 kilometers from Srinagar. But it will actually also depend on where exactly you are starting from in Srinagar. If you were for example coming from a place near Lal Chowk then the distance would be about 50. If however, you were starting from somewhere near Dal Lake; or Nishat or Shalimar Bagh; then the distance would be about 62 kilometers.
How to reach Yusmarg from Srinagar
Once you arrive in Srinagar, reaching Yusmarg is fairly easy. Srinagar to Yusmarg distance and time is about 50 kilometers which can be completed in 3 hours at most; depending on your speed and breaks; so you do not even have to hurry to start early.
We as a matter of fact started from Srinagar at about 10 AM after offering Eid prayers, and we were still able to make it back to Srinagar by 5 PM; after plenty of trekking around and taking a dip in the river. Let me explain the route with the help of a map. Click on the map to view it in full size.
Also Read: Hotel Affarwat – A Great Hotel in Gulmarg
Srinagar to Yusmarg Road Map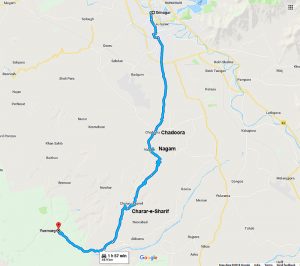 The route of the journey will be as mentioned below. There are of course several other routes that you can take but this is the most direct, easier, and shorter way to get there.
Srinagar – Chadoora – Nagam – Charar-i-Sharief – Yusmarg
The entire journey will be about 50 to 60 kilometers; depending upon where you start from in Srinagar, but it is actually only the last 17 kilometers after Charar-e-Shariff that is a steep climb. The road until Charar-e-Shariff is mostly flat and you won't even feel like driving through a hilly area.
The road is a two-lane highway for its entire length with no divider in between so drive slow and carefully. Once you reach Charar-e-Shariff, it will actually get a bit confusing about which way to go so stop and ask the local for directions towards Yusmarg.
Srinagar to Yusmarg Taxi
If you were however not traveling by your own vehicle, then the best, easiest, and most convenient way would be to rent a private taxi for the trip. Depending on the type of cab you chose, your total charge for the day would come out to be between Rs. 2000 to Rs. 2500 per day; including fuel and driver.
For booking a taxi in Srinagar, talk to Faisal at 9596410670. He is a great guy and will be able to get you a cab for the lowest possible price.
Srinagar to Yusmarg Taxi Fare
It would depend on which cab you chose. For an SUV like Scorpio or Innova, expect the per day fare to be around Rs. 2,500 including fuel. If you chose a hatchback like Etios, this charge would then be around Rs. 1800 to Rs. 2000.
Srinagar to Yusmarg Bus
There is really no direct bus from Srinagar to Yousmarg. Local buses ply only up to Charar-e-Shariff so your journey would have to be done in two parts. First, you will have to board a bus from Srinagar Bus stand for Charar-e-Shariff which will be fairly easy to find.
Once you arrive at your destination, then you will have to look for a shared cab going towards Yusmarg. As I mentioned above, Yusmarg is just a small village and not many tourists travel this way; so the frequency of shared taxis too will be a little less.
Also Read: How to Plan your Trip to Doodhpathri?
Srinagar to Yusmarg Shared Taxi
It will be extremely hard to find a shared cab straight from Srinagar to Yousmarg. You will have to first get to Charar-e-Shariff and then Yousmarg that I explained above.
Traveling here by public transport on a general note will be a bit troublesome. So I will strongly advise that you either rent a private cab from Srinagar; or rent a motorcycle. For both these purposes, you can contact Faisal at the number I provided above.
Nearest Airport to Yusmarg
Srinagar Airport is the nearest airport to Yousmarg. The major airlines operating regular flights to Srinagar are Air India, Jet Airways, Spice Jet, Air Asia, and Indigo.
Nearest Railway Station to Yusmarg
Srinagar railway station is the nearest railway line to Yousmarg. The problem however is that it is not yet fully operational and connected. At the time of writing this article; it will take at least another 18 months to 2 years for full connectivity. Right now, you can reach Udhampur by train.
From Udhampur, you will then have to board a bus or taxi for Ramban. After reaching Ramban, you will then board another train from Ramban to Srinagar. An easier way thus would be to just board a bus or shared taxi directly from Udhampur to Srinagar.
Yusmarg in winter
Visiting Yousmarg in winter will be extremely difficult. The 17 kilometers long stretch from Charar-e-Shariff to Yousmarg gets closed in winter due to heavy snowfall. Even the villagers move to lower areas for a couple of months so there is absolutely no one up here.
The road from Srinagar till Charar-e-Shariff however remains open. If you do want to visit Yousmarg in winter then you will have to find a 4×4 cab with snow chains from Srinagar itself.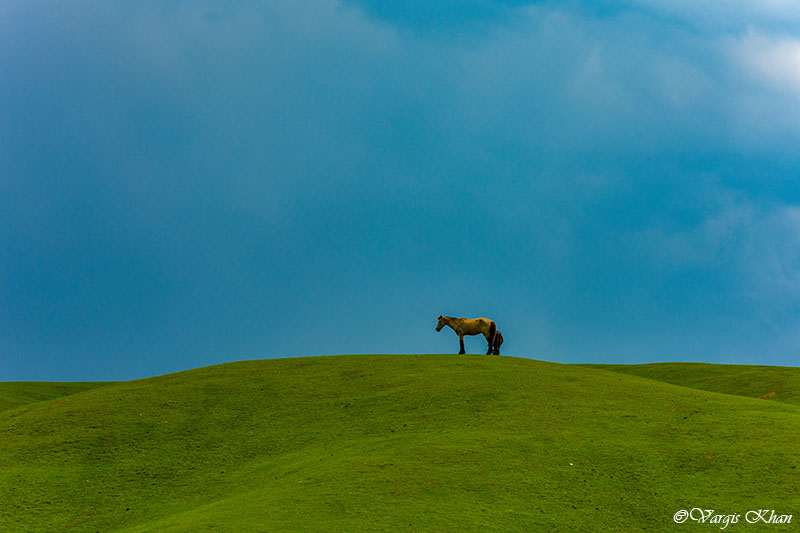 Yusmarg weather
Due to its high altitude, the weather in Yusmarg remains cold and pleasant throughout the year. In January and February, the place remains buried under snow and is almost impossible to reach. Snow starts to melt in March and is gone by end of the month.
Spring arrives in April and the next three months till June are considered among the best of times to visit Yusmarg. July and August are the seasons of the Monsoon. The amount of rain that Yusmarg receives however is not that high.
September again is another good month to visit Yusmarg. After the monsoon has passed, it leaves behind plenty of lush green meadows that you would love to enjoy. Come October the green turns to Orange in the month of Autumn which is again a delight to watch. November is again a very cold month; and once December starts, it can snow out here anytime.
Also Read: When is the Best time to visit Srinagar?
Weather in Yusmarg
Below is a month-by-month breakdown of how the weather and conditions trend in Yusmarg.
Yusmarg in January – Extremely Cold. The road remains blocked
Yusmarg in February – Extremely Cold. The road remains blocked
Yusmarg in March – Extremely Cold, Snow stars to melt. Road gets opened
Yusmarg in April – Snow is gone, lush green all around. A great time to visit
Yusmarg in May – This is the time when you will see a lot of tourists traveling here, both local and from other parts of the country
Yusmarg in June – This is the time when you will see a lot of tourists traveling here, both local and from other parts of the country. Monsoon arrives by end of the month.
Yusmarg in July – Monsoon is here, can rain anytime. Not a good time to visit.
Yusmarg in August – Monsoon is here, can rain anytime. Not a good time to visit.
Yusmarg in September – Another good month of visit with plenty of lush green vistas.
Yusmarg in October – A great time to witness the wonders of Autumn. Winter arrives by end of the month.
Yusmarg in November – Not a good month to visit. Extremely cold and there won't even be any snow around
Yusmarg in December – After mid-December, it can snow here anytime.
Best time to Visit Yusmarg
Now based on the information above and the fact the Yusmarg remains closed during winter; the best time to visit Yusmarg is anytime during the spring and summer months; from April to June or Late August, September, and early October.
Clothes to pack for Yusmarg
You do not really need to pack anything specific just for Yusmarg. Whatever you packed for Srinagar will suffice for Yusmarg as well. You cannot be here in the winter months anyway so between April till September, your regular cotton clothes accompanied with some light woolens or a light jacket will do. Actually, after walking around for a while, that one jacket too will start to feel warm and you will remove it.
Yusmarg Tourist Attractions
The natural beauty and its meadows are the greatest attraction of Yusmarg. To be honest, there is really nothing to do here except to walk around and enjoy the vistas as much as you can. Yusmarg in itself is a tourist attraction that you venture towards from Srinagar. There are however a few other places nearby that you can see while visiting Yusmarg. I will list them down below.
For most of these places, you will either have to trek or go for a pony ride as they are further ahead of Yusmarg. There is no drivable road and you will have to leave your vehicle parked at Yusmarg as you go trekking. There is just one place that you can visit by vehicle; Charar-e-Shariff which is 17 kilometers before you reach Yusmarg.
Charar-e-Shariff
Located about 40 kilometers from Srinagar and on the way to Yousmarg; Charar-e-Sharief is probably one of the most ancient shrines of Kashmir. It was built as a homage to Sheikh Noor-ud-Din Noorani about 600 years ago. The Sufi saint was born in the year 1377 and spread the message of tolerance, vegetarianism, and communal peace throughout his life.
Doodh Ganga
This is the most common of the tourist spots in Yousmarg. A trip to Yousmarg actually means that you trek through the meadows, reach the Doodh Ganga river and go back if you are not interested in trekking any further. It is quite a scenic place and there is hardly anyone around. If you were up for it, I would recommend taking a dip in the river before going back. It isn't deep at all.
Nilnag Lake
Nilnag is a high-altitude lake nestled amidst a dense pine forest and a little further ahead of the Doodh Ganga river. Trekking here from Yousmarg and back will take about 3 hours easily so please plan accordingly. It is a very beautiful lake and I would highly recommend visiting here. It can easily be done on a day's trip from Srinagar; you just need to start early from the city.
Sang-e-Safed Valley
Sang-e-Safed or 'White Rocks' is located at a distance of 10 kilometers that you will either have to trek or hire a pony to reach. It is an oval-shaped meadow bisected by a Doodh Ganga stream. It also serves as a base for Mt. Tatta Kutti and is surrounded by dense pine trees. I haven't been to Sang-e-Safed myself but I believe there is also a lake there that remains frozen for most of the year.
Lidder Mad and Haigin / Haijan / Haljan
These are two other meadows about 4 kilometers from Yousmarg. Both these actually fall on the way to Sang-e-Safed. So you can either go to Sang-e-Safed valley and visit these two as well; or visit these two meadows and come back if you were short on time.
Do note though that trek to Sang-e-Safed can only be done when you are either staying at Yousmarg for a day; or have your camping gear to camp after reaching your destination.
The only place the horses actually take you to is Doodh Ganga. Other than that, for places like Nilnag or Dragdolan, they only take you to a vantage point and show you the lake or meadow from there. There is also a trek to Doodhpathri from Yousmarg.
But remember that Doodhpathri and Sang-e-Safed treks will take at least two days to return to Yousmarg; hence taking a guide is highly recommended. Tosa Maidan is another arduous trek that can now be done from Yousmarg since the area was recently made accessible public.
There are a few other treks from Yousmarg for which I will post the picture below that I clicked when I was there. It also includes the rates of ponies in case you decide to hire one.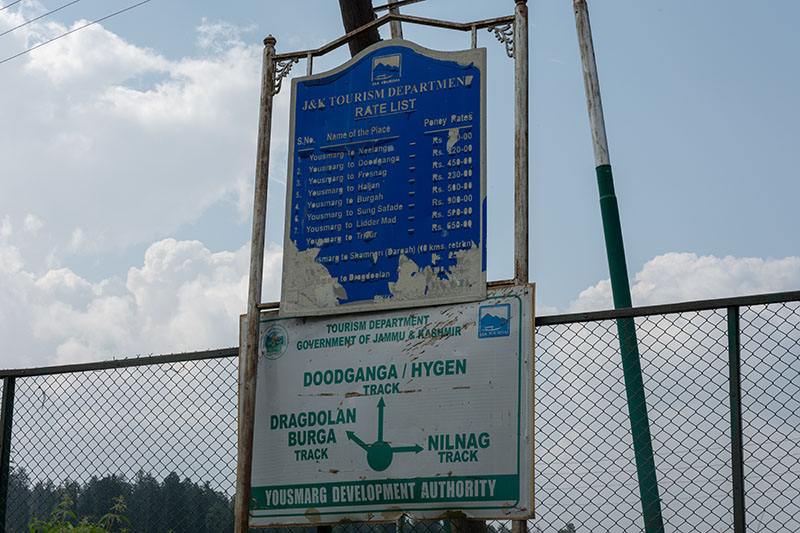 Unknown Lake
I am not sure what this lake is called but it is a beautiful spot right before the parking spot. For this you do not really need to trek anywhere s it is located right by the road. It may actually be a Dam when I think about it now. Most of the people visiting Yusmarg sit next to this lake; especially the locals. There is also fish in this lake in case you wanted to go fishing.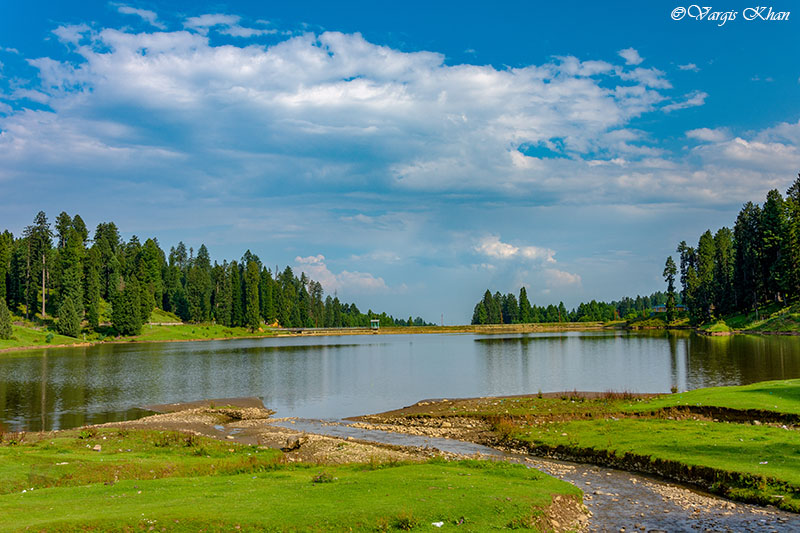 Things to do in Yusmarg
As you probably would already have figured out, there isn't anything to do in Yusmarg except enjoying some time in peace; see the beautiful vistas around; go trekking or enjoy a pony ride and click as many pictures as you can.
Where to Stay
Accommodation at Yusmarg is available only in the form of JKTDC Tourist Bungalows & Huts. These Bungalows go by the name of Hotel Kongposh and are in fact very basic stays. Do not expect anything too luxurious. There is no TV here of course. Meals can be arranged at the Bungalows or else there are a couple of small restaurants where you may eat.
The trekkers are advised to carry tents and other necessary food items for the stay. If you do want to go trekking then either bring a guide from all the way from Srinagar; or better yet, ask any of the pony owners or villagers here to be your guide which they would gladly do.
Mobile Connectivity
There is no mobile reception here. We had Vodafone, Airtel, Jio, and MTNL postpaid connections but none of us had any network in our phones. Do remember that only postpaid connections work in the state of J&K. So if you had a prepaid phone then it won't anyways work in Kashmir anywhere. A postpaid connection will work in Srinagar but will again be useless once you arrive at Yusmarg; irrespective of which network you were on.
Banks/ATM
There are no Banks or ATMs here.
Mechanic / Petrol Pump
There is no gas station or mechanic at Yousmarg. The nearest one is between Srinagar and Charar-e-Shariff.
Medical Facilities
No hospital or medical shop here as well. The nearest medical assistance is Charar-e-Shariff. For something serious, however, you will have to rush to Srinagar.
Shopping in Yusmarg
There are no shops as well at Yousmarg so nothing to buy. Your shopping would have to happen in Srinagar only.
Condition of the Road to Yusmarg from Srinagar
The road is a mix of good and average. Your drive will be smooth all the way. Until Charar-e-Shariff, it is a flat road mostly and you won't even feel like driving through a hill station. It is after Charar-e-Shariff that you rapidly climb for 17 kilometers to Yusmarg and gain height.
Yusmarg Itinerary
Now last but not least, let us talk about how you can plan your trip to Yousmarg and include it in your Kashmir itinerary. My best advice would be that you do not include it in a way that you cover Yousmarg while going towards any other destination as many people do.
Dedicate at least a day for Yousmarg only. Start early from Srinagar, say by 7 AM and you will reach Yousmarg easily by 9.30 or 10 AM at most. Trek to Doodh Sagar or even Nilnag lake and then return to Srinagar by evening.
If you can spare two days for Yousmarg then you can spend a night here at JKTDC Bungalow. This will be a great experience but do remember that you will not have anything to do here at all; not even TV to watch.
If you are into trekking and have bought your own camping gear then you can hire a local villager here to show you to Sang-e-Safed where you can camp for the night. If you are not into trekking but do want to camp then there are plenty of spots in Yusmarg itself to pitch your own tent.
Other Tips
Lastly, let me add a bit of information on the distance from Yousmarg to other popular destinations nearby.
Yusmarg to Gulmarg Distance
Gulmarg is at a distance of about 100 kilometers from Yousmarg and the journey will take you around 4 hours.
Yusmarg to Gulmarg Route
There are a few routes that you can take to go to Gulmarg directly from Yousmarg. From Chadoora, you can take the diversion towards Khan Sahib, then head to Magam and then take the road towards Gulmarg via Tangmarg. A better way however would actually be that you go back all the way to Srinagar from Yousmarg and then take the Gulmarg road from there, rather than taking any of the internal routes.
Yusmarg or Gulmarg
It is a really a personal choice but having visited both the places, I would say that you must cover both. Both the destinations are unique in their own way. If however you must choose either one then go to Gulmarg and leave Yousmarg for another time.
Yusmarg to Sonamarg
Distance between Yousmarg and Sonamarg is about 140 kilometers and it will easily take you at least 6 hours to complete. There is no direct route between the two places and you will have to travel through Srinagar.
Yusmarg or Sonamarg
You should cover both these places if you can because both are equally beautiful. If you can however only chose one then pick Sonamarg and cover Yusmarg at a later time.
Yusmarg to Doodhpathri distance – Doodhpathri is at a distance of 65 kilometers from Yousmarg.
Yusmarg to Pahalgam Distance – Pahalgam is at a distance of about 100 kilometers from Yousmarg. From Pahalgam, the route is Pahalgam – Anantnag – Pulwama – Pehripora – Yousmarg.
Yusmarg Altitude
Yousmarg is located at an altitude of 2,396 m (7,861 ft)
Conclusion
I think that is all that you need to know about visiting Yusmarg. The place is highly scenic and rarely visited by tourists so a trip here is highly recommended. I hope the information above was of help. If you have any other questions; or need any further information; please feel free to ask in the comments section below, or at our Community Forum; and I will be glad to answer.