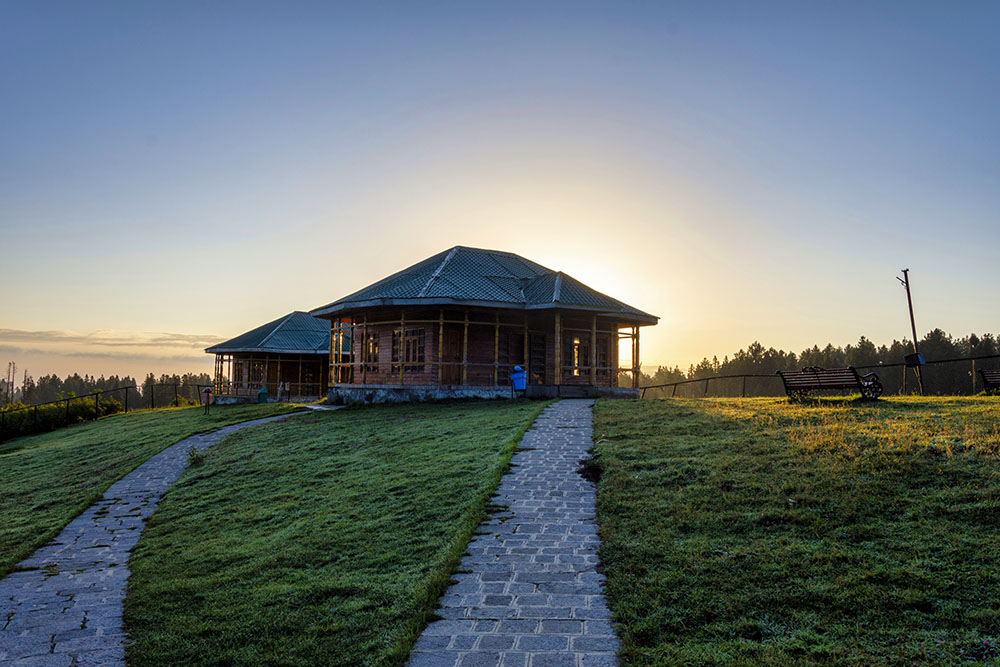 I was recently on a trip to Doodhpathri and stayed for a night in the JKTDC Doodhpathri resort. The post below is a brief overview of how my stay here was and whether or not I will recommend it to any other tourists.
It is not really a resort as such but mostly a few cottages that were built and are operated by the J&K tourism department. I stayed there in 2022 and at that time, the cottages were fairly new and well-maintained. The location was very good and the stay was satisfactory overall.
For any other details on visiting Doodhpathri like how to reach there, places to visit, things to do, best time, and public transport, please take a look at How to Plan a Trip to Doodhpathri.
JKTDC Doodhpathri Resort
Most of the tourists visiting Kashmir have places like Gulmarg and Sonamarg only in their itineraries. These are the most-visited destinations in the valley that contribute more than 90% to the tourism that Kashmir receives.
But there are several other places that not many people know about and are yet to be explored. Due to the sensitivity of the region, people do not attempt to go to the remote parts of the region. Due to this, places like Doodhpathri still remain in the shadows.
Thankfully, authorities are taking steps to promote tourism in these areas as well. The JKTDC Doodhpathri resort is a part of such efforts.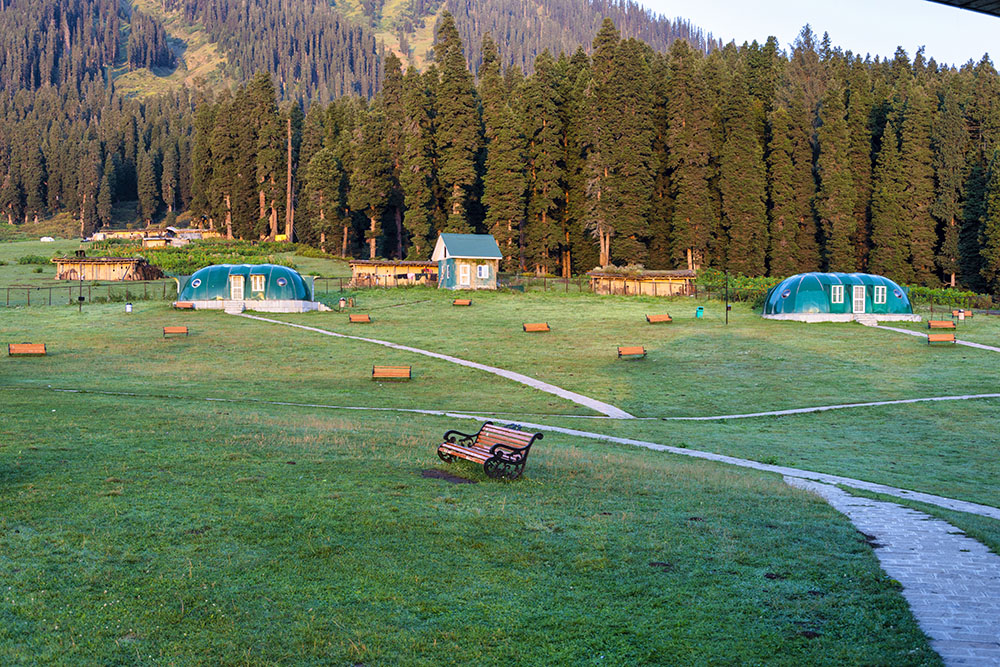 What I liked About It
The best part about these cottages is that they are in an amazing location. They provide a good view of the meadows and the mountains around and are a good place so to spend some time in peace. There are a few eateries nearby and Shaliganga river is merely a brief walk away.
This resort has been built here recently. I visited Doodhpathri for the first time a couple of years ago but there was no such stay arrangement there at that time. When I went there again in 2022, I was pleasantly surprised to see the beautiful cottages.
As you can see in the pictures above, the entire setup of the place and the way the cottages are built is simply amazing. It actually feels like a luxurious stay.
Another good thing that I liked about the place was how well-maintained it was. The caretaker there really gives attention to the place and keeps the entire resort very clean.
I saw him early in the morning going through the entire resort and picking up every single piece of trash that he found anywhere. He actually over an hour doing that which impressed me highly.
There are two wooden cottages and I think 5 or 6 Igoo-shaped ones.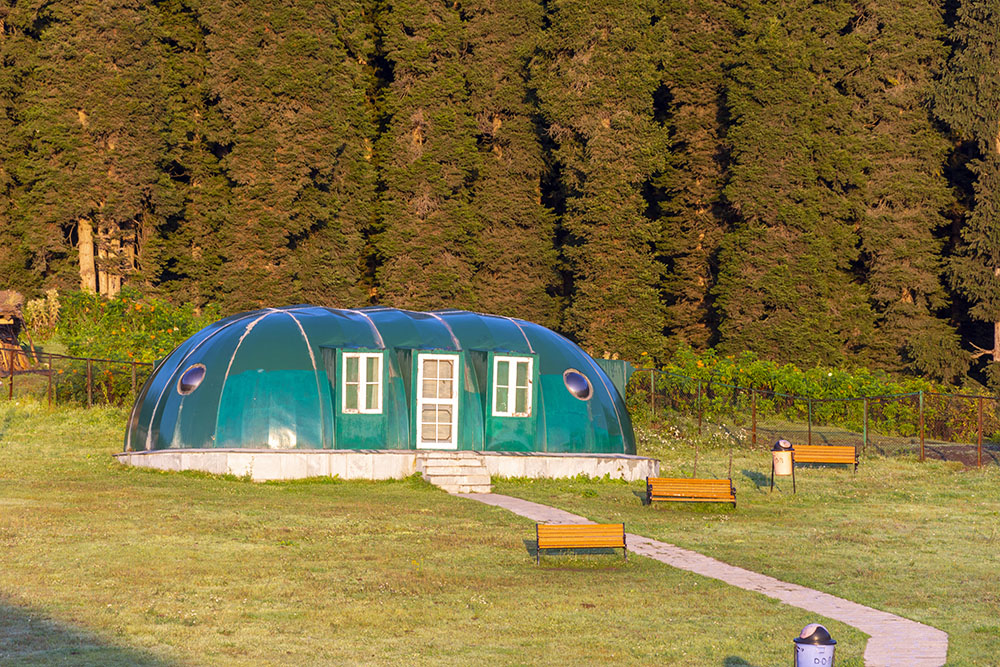 The wooden cottages have one large bedroom, another smaller one, and the main dining hall. There is one bathroom attached to the bedroom.
The Igloo-shaped huts are a bit larger in the size and have two bedrooms. I did not stay in those because they felt a little cramped and smaller in size.
The rooms, bathroom, bed, mattress, and sheets were also very clean. Since it was four of us, they arranged for two more mattresses and blankets in the dining hall at no extra cost.
Cost of Accommodation in Doodhpathri
Surprisingly, the price for the Igloo huts was Rs. 2500 per night, even though they were smaller, and for the wooden cottages, it was Rs. 2000, even though they were bigger and better.
The caretaker can arrange food for you if you wished to eat there. It did feel a little overpriced but that is the case with food anywhere in Kashmir anyway. It is all a little on the expensive side, even in the simplest of restaurants.
We negotiated an on-the-spot deal with the caretaker and checked in. But from what he told me, the cottages can also be booked at the JKTDC online portal. I am not sure why he said that because when I looked, the option of Doodhpathri was yet to be added there.
Nonetheless, take a look at the portal and if Doodhpathri was there, book your stay. I will recommend it. If not, you can call the caretaker at 9596 101 171 to book. His name is Saahil.
If you were not unable to contact him, reach Doodhpathri and check-in. Of all the cottages and huts, most were empty when I was there. Only the two wooden cottages were occupied.
Also Read: How to Plan a Trip to Kashmir – Complete Travel Guide
What I did not Like
Nothing actually. I totally fell in love with the place. So much so that I planned to return here a few days later and stay for a night more before our trip ended. Unfortunately, I was not able to do that but it is a place I would definitely love to stay in again the next time I am in Kashmir.
JKTDC Doodhpathri Resort – Conclusion
I hope the information and pictures above of the JKTDC Doodhpathri resort were of help. If you have any questions, you can contact me on Instagram and I will be happy to answer. You can also consider subscribing to my YouTube channel and asking a question there.