In the previous article, I provided a list of 10 lesser visited places that you can go to in Himachal. These are places that not many people plan a vacation to and are ideal if you are looking to spend some time away from the crowd. Continuing in the same series; in this article I will list down 7 more places that are perfect for both; a quick ride with friends or a proper vacation with family. All these places are stunningly beautiful; do not get much of a footfall in terms of tourists; and are not too remote or disconnected to reach. Finding accommodation too at these places will not be a challenge and based upon your own preference; you can either book in advance; or find a place to stay upon arrival.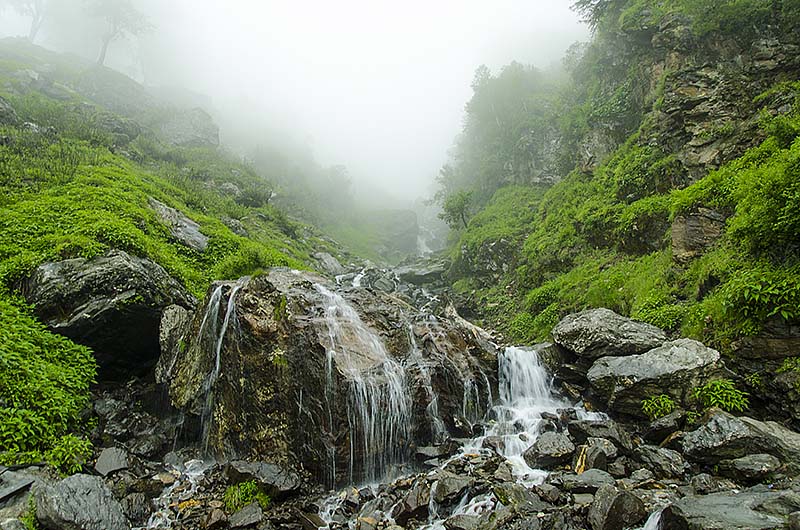 5 Offbeat Tourist Places in Himachal Pradesh
I am just listing these places down in a random order. There is no top or bottom criteria that I am following. All these places offer beautiful vistas and neither is more or less scenic than the other.
Hamta
Thousands of people visit Manali each year, in every month and all seasons. Sometimes it gets so crowded that it doesn't even feel like a tourist spot anymore. If you were too planning a trip in that direction and weren't too eager about Manali, further ahead about 12 kilometers lies the hidden and small village of Hamta. To get here, you will go via Pirni Aleo Hydro Power Plant and then climb up to the lush green mountain top overlooking Manali.  There are a few camp sites and homestays available here that you can stay at. Once at Hamta, you can indulge in several activities like paragliding; trek to Hamta Pass top; or plenty of photography. If you want to spend some time in peace and do not want to go too remote, then Hamta is the place for you.
Also read: Top 12 Offbeat Places in Uttarakhand
Naggar
Another quiet and peaceful place near Manali is the sleepy town of Naggar. It was once the capital of Kullu Kingdom but now just a charming tiny hamlet valley which offers plenty of solitude if that is what you are looking for. Russian painter, writer and explorer Nicholas Roerich was so enchanted by this place that he decided to make it his home in early 20th century. There are a few good guest houses here that you can stay at or you can also visit this place making it a day trip from Manali. The prime attraction here is the Naggar castle which currently serves as a HPTDC Heritage Hotel. If within budget, a stay at the castle is highly recommended. This grand stone and wood castle was built in 1460 A.D by Raja Sidh Singh of Kullu in a unique blend of western and Himalayan styles
Barot
I remember the first time I visited Barot and how I totally fell in love with this silent tiny hamlet hidden up in the hills. Resting on the banks of Uhl river and is locate at a distance of about 80 kilometers from Mandi. The drive from Mandi will take you about 3 hours to Barot but is totally worth it. It is quite surprising to see how a place this scenic, so close to Manali and Mandi can still remain untouched from the regular tourist crowd that this region gets. Spend a few days here in the lap of majestic hills; walk along the river to truly experience the serenity of Himachal. There are a few homestays and guest houses available here; nothing too grand but comfortable enough to spend some time.
Also read: Dagshai – The Haunted Ghost Town of Himachal
Jibhi
Another quiet yet charming place nestled in Tirthan Valley of Himachal Pradesh is the hidden village of Jibhi. It is located about 80 kilometers from Mandi and near Jalori Passs. The entire place is surrounded by lush pine and cedar forests all around. Out here, you can indulge yourself in activities like taking a drive to nearby Jalori Pass, birdwatching and trekking. Some other tourist attractions include Serolsar Lake, Raghupur For and the thousand year old watchtower at mysterious village of Chaini.
Pragpur
You may have heard of the term "Heritage Hotel" several times but ever heard of a "Heritage Village"? That is Pragpur for you. This ancient village was founded in 16th century and people here still have held on to the essence of their rich history and heritage. The entire village consists of houses built in Haveli or fort style. Due to its unique architecture which is a blend of many styles including both Indian and Western, the state government of Himachal Pradesh declared Pragpur as country's first Heritage village. The chief attraction of the small village is the beautiful mansion called "The Judge's Court". Some other tourist places here include the Lala Rerumal Haveli built in 1931 with a Mughal style garden, pleasure terrace and a large water reservoir; Butail Mandir, Chaujjar Mansion and an ancient Shakti Mandir. This historic village is located at a distance of about 120 kilometers from Mandi.
So the next time you are thinking of a vacation and would like to visit an offbeat place, do consider a name out of the list I provided above.
Conclusion
I hope the information above was of help. If you have any further question; pleases feel free to ask in the comments section below; or at our Community Forum; and I will be glad to answer.