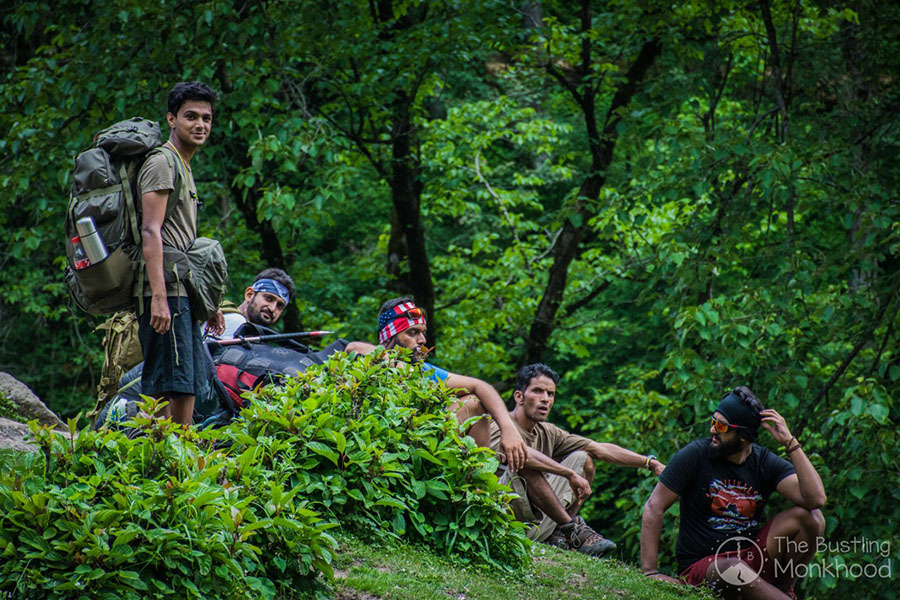 Kheerganga trek is one of the names that always come up when you talk about trekking in India at a beginner level. It is the most recommended one among all the treks in Parvati valley and takes you through some amazing scenery. It needs neither too much time nor any prior trekking experience which makes it perfect for any beginner trekker or a backpacker.
If you were planning a trip to Kheerganga, in this travel guide, I will explain the different trek routes you can take, places you can stay at and how much will it cost you approximately. If you have any questions or suggestions, please feel free to add or ask them in the comments section below.
About Kheerganga
Kheerganga is basically a meadow, perched at an altitude of 2960 meters (9711 ft). It is in the area that is part of the larger Great Himalayan National Park. There are two things that make it so famous. First is its beautiful setting at the top of a mountain. But more than that, it is known for its hot water spring which is also where it gets its name from.
Initially, Kheerganga was actually a pit stop on the way to Pin Parvati Pass trek. As the tourism in Parvati Valley grew, it eventually turned into a short trekking destination in itself. The easy accessibility, short duration, moderate climb, natural beauty, and the overall hippie culture in Parvati Valley is what contributed to the popularity of Kheerganga Trek.
Other than being a favored trekking destination, the place also has its significance in Hindu mythology (covered later in the article).
Kheerganga Trek Overview
Difficulty: Easy to Moderate
Duration: 2 Days
Maximum Altitude: 2960 meters at Kheerganga
Starting Point: Kasol / Barshaini
Best time to Visit: April to June, September, and October
Total Trekking Distance: 12 kilometers one way
Budget: Rs. 2000 – 3000 (depending on the itinerary)
How to reach Kheerganga Trek
To reach Kheerganga, you will first have to reach Kasol by either your own vehicle or public transport. From Kasol, you will then drive to Barshaini and start your trek from there.
The easy accessibility and year-round connectivity of the region is one of the factors that attracts trekkers and backpackers to Kheerganga. Kasol is one of the most popular tourist destinations of Himachal and getting here will not be a problem at all. It remains connected by road for all 12 months and public transport is available on regular basis.
How to reach Kheerganga from Delhi
Let me first talk about the route you will take if you were traveling by your own car or motorcycle. I will assume Delhi as the starting point but even if you were coming from a different city, the majority of the details below will still apply.
Delhi – Panipat – Chandigarh – Rupnagar – Swarghat – Sundar Nagar – Mandi – Bhuntar – Kasol – Barshaini
Until Bhuntar you will follow the Chandigarh Manali highway. A little out of Bhuntar, you will continue straight towards Seound and Kaol rather than turning left towards Manali.
The total distance traveled will be about 510 kilometers in 12-14 hours. An early start from Delhi is strongly recommended so that you are able to reach Kasol well in time. Rest for the night and drive to Barshaini the next morning from where you will trek up to Kheerganga. More details on this to follow.
By Bus
There is a regular bus service available on the Manali route from all major cities nearby. HRTC and HPTDC have daily buses that you can board or can even opt for a luxury bus by private tour companies. Your first destination will be Bhuntar. Board the Bus for Manali and get down at Bhunntar.
From the Bhuntar bus stand, look for a bus going to Manikaran. These are available on an hourly basis and pass through Kasol. The fare is about Rs. 30 per person.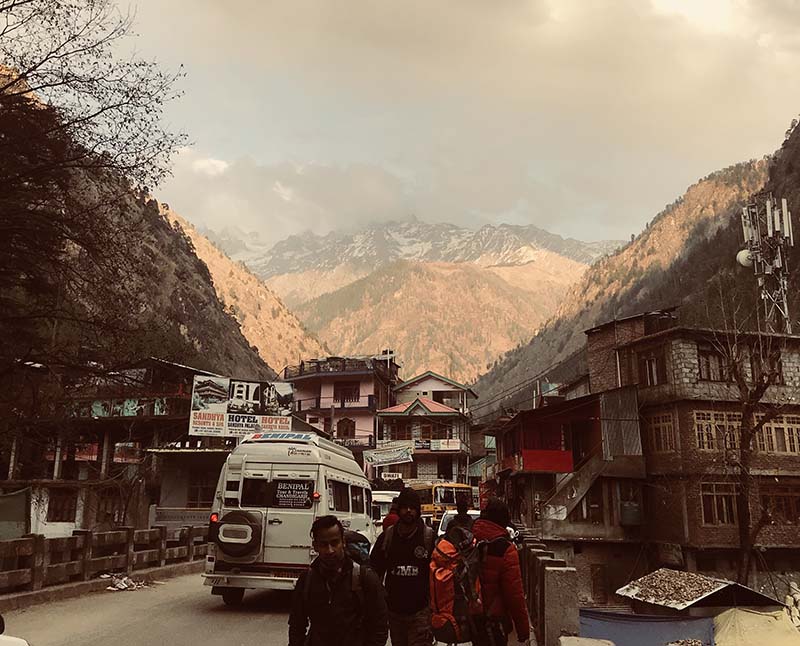 By Air
The nearest airport to Kheerganga is in Bhuntar, also known as Kullu Manali Airport. The problem however is that flights to this airport are very limited and often canceled. It will also cost you more. Hence, a better option is to book a flight to Chandigarh and travel to Kasol from there.
By Train
The nearest railway station to Kheerganga is in Joginder Nagar, at a distance of 125 kilometers. This one however is a narrow-gauge track and connected with Pathankot with a Toy train (like Shimla Kalka toy train). The next nearest major railhead is in Chandigarh which is also a better option. Finding a train to Chandigarh will be much easier and simpler.
How to reach Kheerganga from Chandigarh
After you have arrived in Chandigarh by either flight or train, you can find a taxi for Kasol from the railway station or the airport itself. It will cost you anywhere between Rs. 4000 to 6000 depending on the type of car you chose.
If not a taxi, you can also travel to the Chandigarh bus stand and find a bus for Bhuntar from there. At Bhuntar, you will then change buses and find another for Kasol.
Kheerganga Trek Itinerary
After you have arrived in Kasol, below is an example of an itinerary that you can follow. It also covers a couple of other tourist places in Parvati Valley but if you were short on time, you can remove those days.
Day 1 – Kasol
This will be the day you reach Kasol. You can look for accommodation in either Kasol or Chalal. If you were on a tight budget or looking for a less crowded place, Chalal will be a better choice. It is only a short distance from Kasol and you can easily cover it on foot.
Also Read: Weekend Trip to Kasol – How to Plan your Itinerary
Day 2 – Kasol to Kheerganga
Stay at either of these places for a night and start early the next day for Kheerganga. I will strongly recommend starting as early as 6 or 7 AM, by the first light of the day. The total trekking distance will be around 11 kilometers and you will need around 5-6 hours to cover it. Starting early will ensure that you reached Kheerganga in time and had the entire evening to explore the place and enjoy yourself.
Starting towards mid of the day is not recommended at all. It means that you are risking nightfall while you were still on the trek. If the clock showed anytime past 11 AM, it is best to stay in Kasol for the night and attempt Kheerganga the next day.
Kasol to Barshaini
Your first destination will be Barshaini, the starting point of the trek. Irrespective of how you reached Kasol, you should look for a bus or shared cab for Barshaini or a private taxi if you were in a large group. If you arrived in your own car or bike, I will recommend leaving it parked at the hotel in Kasol.
Also Read: Best Time to Visit Malana – When to Visit Malana and Kasol
Barshaini to Kheerganga
There are two routes that you can take to reach Kheerganga. The first route goes via Nakthan Village and the second via Kalga Village.
Shortly after you cross Barshaini, you will come across a bridge which will decide which route you were going to take. After the bridge, if you turned left, you will go via Nakthan Village. If you turned right you will go via Kalga.
Via Nakthan
The route via Nakthan is the most popular one, is shorter and this is what the majority of the trekkers choose. This is however also the more difficult route of the two. The trail climbs up at a gradual pace at first and then becomes really steep before easing out again.
A few kilometers after Nakthan Village, you will arrive at the famous Rudranag Temple. It is best known for its beautiful waterfall which is also one of the reasons why people prefer this route. There are also two big cafes here which serve full meals as well as home stays. I did not notice it but I think Rudranag has a Dharamshala as well, set up for the pilgrims.
Take a break, relax, and start walking again. A little after Rudranag, you will arrive at a bridge on River Parvati. After crossing this bridge, the steep uphill climb begins which will leave you gasping for breath, especially if this was your first time on a trek. There is a dhaba near the bridge if you want to rest for a while before starting on the difficult climb.
At this point, the second trail from Barshaini via Kalga merges with the one from Nakthan. From here on, it is just one trail all the way to Kheerganga.
Since it is the more popular route, the entire trail via Nakthan is very well marked and you will have no problem navigating your way.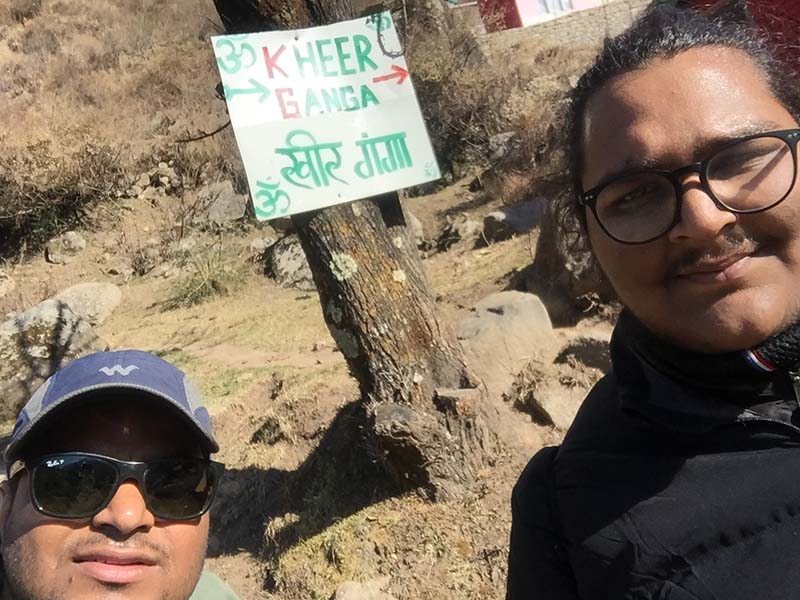 Via Kalga
The route through Kalga village is a little longer but easier. The uphill climb is not that difficult on this trail and the climb is gradual. Because of this reason, a lot of people will prefer to climb from Kalga and return via Nakthan.
A short walk after crossing the bridge from Barshanini, you will arrive in the village of Kalga. Who chooses this route? It is mostly people who are interested in getting some hash brownies. Yes, they serve them here in many cafes in the village. Just ask around. Word of advise though, even if you did get some brownies, do not eat them here in the village since you have an entire trek ahead of you. You do not want to walk this path while you were high.
After Kalga, you will walk through a large grassland before entering the forest again. You will cross a small stream of water and the trail will start picking up altitude after this.
About 2 hours from Kalga village, you will reach the bridge on the Parvati River. This is the same one after Rudranag that I described in the Nakthan route. If you want to see the temple and the waterfall, you will have to cross the bridge and get on the other side of the river.
This is where the two trails will merge.
If you want to go back on the Nakthan trail from Kalga, you can also do so in the village itself. Once you reach Kalga Village, you will notice an Om Shanti Guesthouse and Cafe. If you turned left from here, you will reach back on the trail from Nakthan.
Also Read: Best Time to Visit Tosh | Best Time to visit Kasol and Tosh
Kheerganga Trek from Tosh
There also exists a third route to Kheerganga from Tosh Village. This trail is used by tourists who stay in Tosh for the night and want to reach Kheerganga the next morning. It merges with the one from Nakthan and the only difference is the path you take from Tosh.
If you want to reach Tosh, you can do that as well from Barshaini. About half a kilometer out of the village, you will come across a point where the road starts going uphill. This is the one that will take you to Tosh.
All of the above three trails will finally merge into one after Rudranag temple and after that, it is just one trail to the top. On the way uphill, you will find many cafes during the first half of the trek. Shalom cafe is probably the most famous one. After a while of trekking, you start seeing a lot of tents and cafes.
Congratulations, you have completed the ascent of the trek and have arrived at Kheerganga.
Also Read: Parvati Valley Trip Itinerary – The Best Way to Plan your Trip
Accommodation at Kheerganga
Camping is the only choice of accommodation available at Kheerganga. You will have to carry your own camping gear though and can pitch your own tent at a suitable place in the meadow.
Earlier there were a lot of chadar tents and dhabas that were providing accommodation but were removed by the government in 2018 because of the littering problem. Some locals even put up bricked and cemented structures at Kheerganga, imagine that. These were all later ordered to be removed in order to preserve the ecology of the place.
But as it always happens with most places, not all structures were completely removed. If you find such dhabas still there at the time of your arrival, you can stay with them. Or else you will have to pitch your own tent.
If you were in no mood to camp on your own and could not find any form of accommodation, you will have to trek down to Rudranag temple and can stay there.
There is also a place called Ashram at Kheerganga, maintained by the Sadhus and Pandits. They offer a place to sleep for the night or as low as Rs. 200, including meals (daal, chawal, roti). You can also fill your water bottle from the natural water spring in Ashram and avoid buying packaged water at twice the MRP.
Also Read: Best Time to visit Manali – When to go to Manali
Things to do at Kheerganga
Take a dip in the water, enjoy natural beauty, and have a fun evening. That is all there to do at Kheerganga. It is a tourist attraction itself in Parvati Valley. A fun evening, the adventure of trekking, some great views, camping experience, enjoying a bath in naturally warm water in an amazing setting; this is what Kheerganga is all about.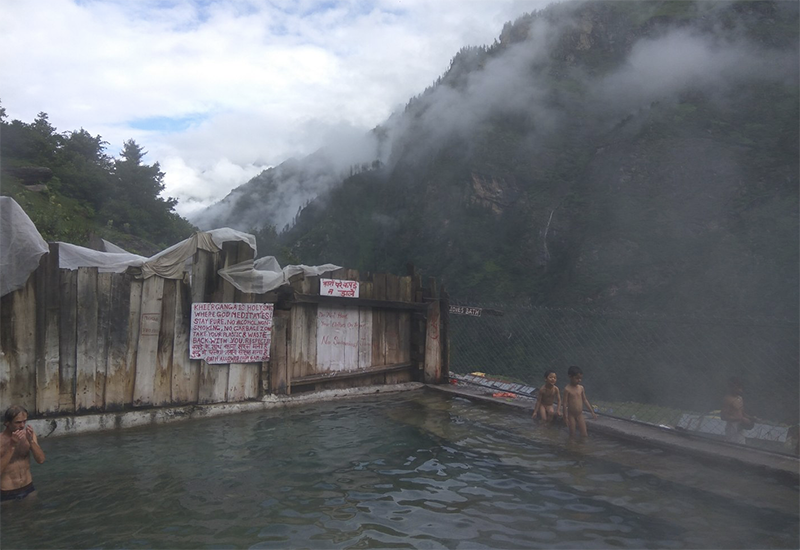 Day 3 – Kheerganga to Tosh / Kasol
How you plan this day is completely up to you. If you were short on time, you can go straight back to Kasol via Barshaini and return home. If you had a couple of days more in hand, I will highly recommend spending some time in Parvati Valley.
After you walk back down to Barshanini from Khherganga, rather than going back to Kasol, you can go to Tosh and spend a day there. Or you do not even have to come back to Barshaini even. You can take the Tosh Kheerganga trail from Nakthan itself. For more details, please read How to Plan a Trip to Tosh.
Day 4 – Malana Village
This will be another optional day. There is a motorable road all the way to Tosh. So on this day, drive down from Tosh to Malana gate and then trek to Malana village. This is probably one of the most mysterious villages in all of Himachal and you cannot miss visiting here if you were in the region. For more details, please take a look at How to Plan a Trip to Malana.
Cover the village during the day and return to Kasol by evening as you cannot stay overnight in Malana.
Day 5 – Kasol to Delhi
On the fifth day, you will return to Delhi from Kasol via the same route that you took to get there.
Mythology of Kheerganga
As per the legend, the place is named such because Goddess Parvati once cooked 'kheer' for her son Kartikeya in the hot water spring here. It is said that Kartikeya resided at this place and meditated here for years. Lord Shiva and Goddess Parvati would frequently visit him and once, out of love for her son, she decided to cook him a bowl of Kheer (rice pudding). She used the hot water of the spring and this is why it is believed to be milkish white in color.
Another legend states that Shiv and Parvati once asked Ganesha and Kartikeya to travel around the world. Lord Ganesha insisted that his parents were his entire world and walked around Shiva and Parvati in a circle. Kartikeya on the other hand embarked upon a journey around the entire world. When he returned after some time, he found Lord Ganesha enjoying the benefits of being the favored son.
This infuriated Kartikeya and he felt cheated. Out of anger, he moved to Kheerganga and started living here. Goddess Parvati came here to appease her upset son and cooked kheer for him.
A third legend states that the kheer appeared on its own and out of nowhere. That is how it was named as 'Kheer ki Ganga'. Lord Shiva and Goddess Parvati realized that in Kalyug, it will become the source of fighting among. Hence they asked Lord Parshuram to remove the kheer out of the water. After Lord Parshuram was done, only hot boiling water remained and kheer was gone.
The waters of Kheerganga are also said to be rich in minerals and to have medicinal properties. It is said that taking a dip here can help cure several illnesses.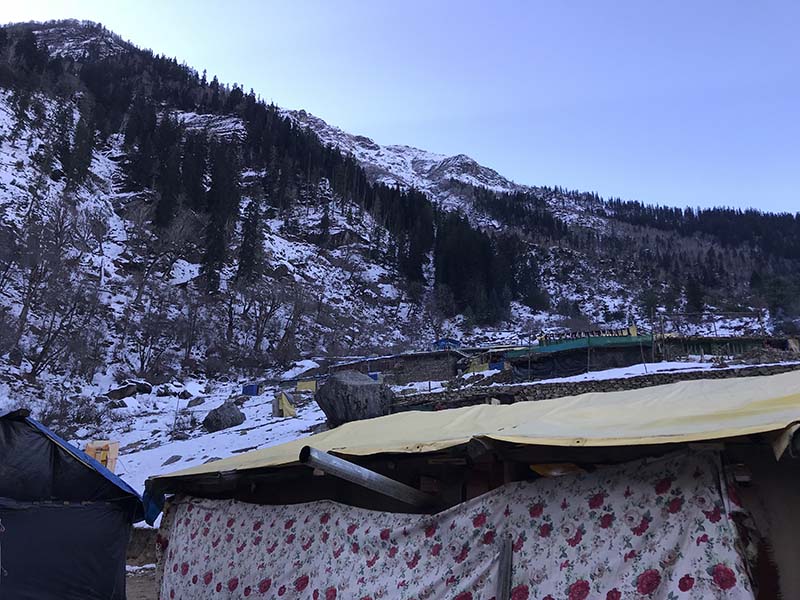 Clothes to Carry for Kheerganga Trek
If you visit Kheerganga during summers, you will experience pleasant weather. It will neither be too cold nor too warm, so carry plenty of your regular cottons and keep a sweater/jacket handy.
But things can get freezing cold if you visit around November – February. You may even experience snowfall here. Like in the pictures above, you can clearly see us wearing 4+ layers of warm clothes by decathlon. We were still shivering while sleeping. So bring along a very warm and windproof pair of jackets.
If you were trekking during the monsoons season, bring clothes that can dry faster. You will also have to bring proper rain gear because sometimes it can rain here non-stop. Trekking for 6 hours with the water beating down on your head is not something that you will enjoy. You must bring a poncho.
Good trekking shoes with a sold grip are a must. If you were going in winter when you will have to walk in the snow, you will need boots that can keep the snow and the wet out.
Also Read: Bike Trip to Chitkul in Winter – Delhi to Chitkul Bike Trip
Mobile Network at Kheerganga
There is no reception at Kheerganga. BSNL has the widest coverage in all of Himachal but even it does not work at Kheerganga. There will be a network in Barshaini, Kalga, and Tosh. But you will lose connectivity shortly after you move out of Barshaini. If you were on a BSNL postpaid, you may get some intermittent connection on the trail and it may even work at Kheerganga in short durations. It will be best to call your folks before you start the trek and let them know of your well being.
Best time to visit Kheerganga
The best time to visit Kheerganga is from March to June, September, and October. This is the time when the trek is safest and the weather is pleasant. But you can actually attempt it at any time as per your own convenience. For more details, please read When is the Best time to visit Kheergagna Trek.
Kheerganga Weekend Trek
If you were short on time, then you do not have to stay in Kasol or anywhere in Parvati Valley. For example, let us say you want to plan the trek over a weekend from Delhi. Catch an overnight HRTC Volvo from ISBT Kashmere Gate on Friday evening. It will drop you at Bhuntar the next morning between 6 to 7 AM.
From Bhuntar, there are regular buses available for Barshani. It will take about 2 hours from Bhuntar which will put you at Barshaini by 10 AM at the latest. This will give you enough time to complete the trek the same day.
Reach Kheergagna and stay there for Saturday night. On Sunday, come back down to Barshani and catch a bus for Bhuntar. From Bhuntar find a bus for Manali and reach back home by late night or early morning.
Kheerganga Trip Cost (Approximate)
Volvo Tickets to and from Delhi – Rs. 2500
Bhuntar to Barshaini Bus – Rs. 200 (Total both ways)
Stay at Kheerganga or any other Village – Rs 500 per day
Food – Rs. 500 per day
Food on Kheerganga Trek
There are several eateries and dhabas on the way and you will easily find water and food at these places. Expect the price to be steep as food in Kheerganga is a little expensive.
It is recommended to carry your own water bottle. There are waterfalls and dhabas on the way where you can fill the water. At Kheerganga, you can either buy packaged water from the dhabas or fill your own bottle from the natural spring in Ashram.
Tips for Kheerganga Treks
Below are some important tips that can be of help while visiting Kheerganga.
Do not litter. This is definitely the most important rule that you must follow. Bring your plastic bags or any other trash back with you and dispose of it wisely.
Lack of oxygen or altitude sickness will not be a problem but if you were feeling short on breath and started to feel unwell with gain in height, it would be best to give up the plan and return to Barshaini.
Consuming alcohol is strictly prohibited at Kheerganga but some cafe owners won't mind you drinking in their establishment.
If you were trekking in monsoon, or when the snow had started to melt, you will find the trail to be very slippery. Practice extra caution.
You can go to Kheerganga throughout the year but the situation gets a little bad during monsoon and in winters. It would be best to call ahead and inquire about the condition.
While walking down, the entire body weight shifts to the front, increasing the chances of slipping and falling down. Walk carefully and do not rush.
You won't need a guide for Kheerganga as such but if you can afford one, then you should hire one. They can make your life very easy here; whether it is in terms of setting up the tent or guiding the way.
You must hire a guide if you were trekking during the peak winter season.
You don't want to get caught with alcohol or cigarettes anywhere near the lake.
Please make sure you maintain the dignity of the place.
Food is expensive at Kheerganga so you may want to carry some light snacks and chocolates along.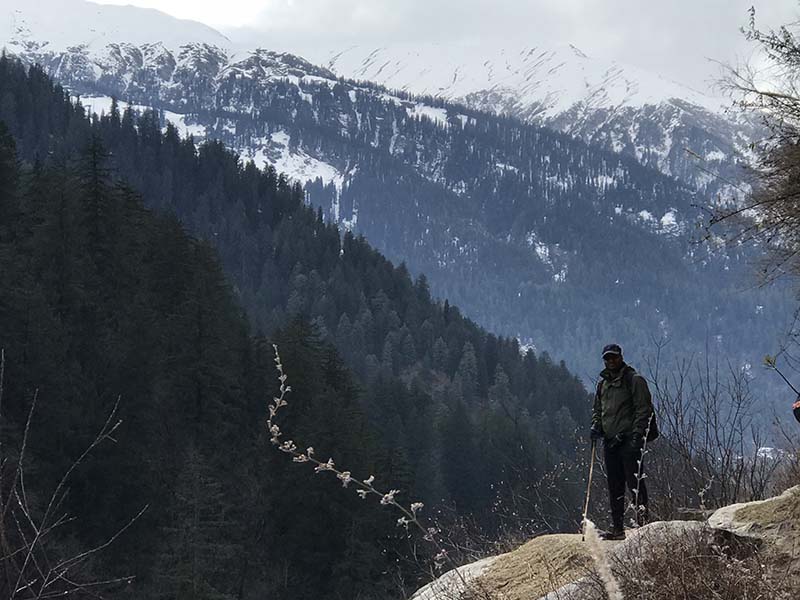 FAQs on Kheerganga Trek
Below are some frequently asked questions about Kheerganga.
1. Where is Kheerganga trek?
Kheerganga trek is located in the Parvati Valley of Himachal Pradesh.
2. Is Kheerganga Trek difficult?
Kheerganga is considered a beginner trek and its difficulty level is easy. With that being said, you will also have to be decently fit and be able to walk 5 to 6 kilometers without any problem. The trek is mild, especially in the beginning, and crosses through apple orchards.
Another trek like Kheerganga that you can attempt is the Triund Trek from Mcleodganj.
3. How to reach Kheerganga from Delhi by train?
The closest you can get to Kheerganga from Delhi by train is Chandigarh which is not beneficial at all. It will just complicate the journey. Hence, it will be better to travel by Bus.
4. How to reach Kheerganga from Mumbai?
The best way to reach Kheerganga from Mumbai is to board a train for Chandigarh and then catch a bus for Bhuntar from Chandigarh.
5. How to reach Kheerganga from Tosh?
There is a trail from Tosh that will bring you to Nakthan Village and will merge into the main Kheerganga trail there.
6. How to reach Kheerganga from Manali?
From Manali, board any bus going towards Chandigarh and get down at Bhuntar to change buses for Kasol. Or you can find a bus or shared cab from Manali itself for Kasol.
7. How long is Kheerganga trek?
Kheerganga is a 2 days trek. It will take you 5-6 hours to reach Kheerganga from Barshanini.
8. How to reach the starting point early in the morning?
It will be difficult to find a bus for Barshaini from Kasol early in the morning. Your best bet is to keep a taxi arranged or hitchhike.
9. Is there an ATM at Kheerganga?
No there is not. The last ATM is in Kasol.
10. How is Kheerganga Trek?
Kheerganga is a beautiful trail that offers you amazing views and a perfect trekking experience. Since its difficulty level is easy, you can attempt it even if you have no prior trekking experience.
11. Is Kheergagan Trek dangerous?
No, it is not as long as you stay on the main trail. Yes, there have been deaths on the trek but only when people tried something 'adventurous' or wandered off the main trail. There are a lot of short cuts on the route but these are really for the locals. These shortcuts are tricky and steep and as a tourist, you must avoid them.
12. Same Day Trek to Kheerganga
Yes, same day trek to Kheerganga and return is possible if you started from Barshaini by 6 AM.
Kheerganga Trek – Conclusion
I hope the information above on Kheerganga Trek was of help. If you have any questions or need any other details, please feel free to ask in the comments section below, or at our Community Forum, and I will be glad to answer.