Tosh Village, once a small traditional hamlet tucked away deep in Parvati valley, is now one of the top hippie destinations in the country. Located at an altitude of around 2400 meters, it offers an idyllic view of the snow-clad mountains perched in the backdrop. The valley appears lush green during summers and monsoon with Pine forests surrounding the slopes of the huge mountains.
Tosh attracts all kinds of travelers due to its sheer beauty. It is a haven for backpackers and solo travelers as there is plenty of budget accommodation available. Tosh offers beautiful unexplored trails along with the popular but scenic hiking routes with pristine landscapes. For people not looking to hike or trek too much, this is a perfect place where you can spend some time relaxing and admiring the serene landscapes all around the valley.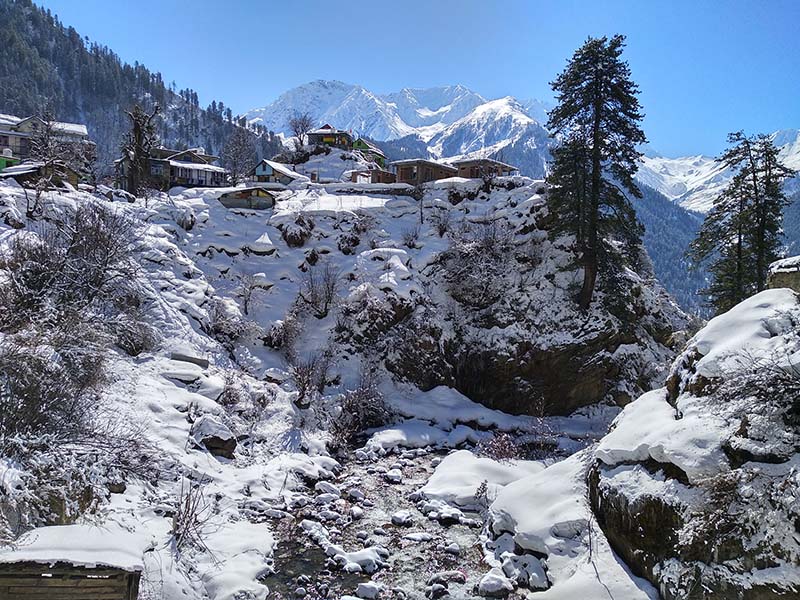 Tosh Travel Guide
Now Tosh was just another small hamlet that remained obscure for a long time as there were no roads leading to the village and one had to undertake an arduous trek from Barshaini. But with the advent of a road now, things took a180 degree turn as tourism picked up pace and business started popping up everywhere in Tosh; which is not hard to imagine considering how picturesque it is.
Well, one day this was bound to happen. Development is inevitable and it is the right of the people to have at least a motorable road leading to their village so that their already harsh lives can become somewhat easier.
After being to this traditional hamlet in Seraj valley, I imagined how Tosh would have been like before it gained popularity. The only thing I can say is that sustainable tourism (Demul village in Spiti is one of the best examples of it) is the need of the hour where locals also benefit but not at the cost of the environment.
So, it was on one such stormy winter day that I arrived in Tosh. Here, I witnessed such surreal winter landscapes with such exhilarating views that it left me spellbound. Through this travel guide, I hope that you'll be to plan your trip successfully and enjoy the Tosh Village.
Where is Tosh Village Located?
Off late, this village has witnessed a tremendous surge in popularity. You must have come across several travel logs, videos, and pictures on the internet. So first, let me shed some light on where it is exactly located.
Tosh is a village in the Parvati valley of Kullu district in Himachal Pradesh. Basically, Tosh is the last motorable point in Parvati valley. It is around 50 km from Bhuntar, which is where the diversion for Parvati valley is and is around 94 km from Manali.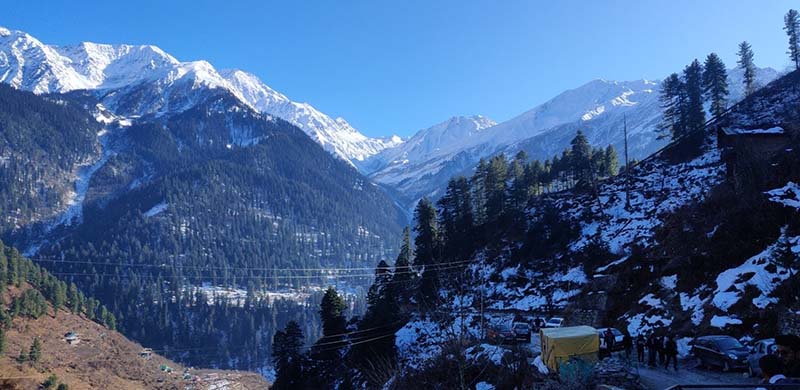 How to reach Tosh Village
Now that we know where Tosh Village is, let us now discuss how you can reach here either by your personal vehicle or public transport. I will first talk about the route if you were coming by your own car or motorcycle. For the sake of explaining the route, I will assume Delhi as your starting point.
Also Read: How to Plan a Trip to Parvati Valley
How to get to Tosh from Delhi by Road
Starting from Delhi, the route of your journey will be as mentioned below.
Delhi – Kurukshetra – Ambala – Chandigarh – Rupnagar – Bilaspur – Sundernagar – Mandi – Bajaura – Bhuntar – Kasol – Manikaran – Barshaini – Tosh
The entire journey will be of about 538 kilometers, depending on where you started from in Delhi. On average, it will take you about 12-14 hours to reach anywhere in Parvati Valley; hence an early start from Delhi is strongly advised.
How to reach Tosh from Delhi by Bus
For reaching Tosh, you need to first get to Bhuntar. To reach Bhuntar, you first have to board Private or HRTC Volvo buses or Ordinary buses going towards Manali from Delhi.
A lot of overnight buses, both Private and HRTC, depart from the ISBT Kashmere gate in Delhi on a daily basis. Most of the buses will drop you at Bhuntar, from where you can board local buses going towards Barshaini or you can hire a private cab if you are in a group and don't want to wait for the bus.
Now there a couple of HRTC buses in the evening from ISBT Kashmere which go all the way up to Manikaran from where the distance to Tosh is just 16 kilometers but the timing might not be convenient for everybody.
How to reach Tosh from Barshaini
The local buses will only drop till Barshaini which is the last point until where the bus goes. From Barshaini you can either go by cab or you can just walk on the motorable road to Tosh which is just 3 kilometers from where the bus would drop.
If you are in a group then hiring a cab is a better option as the cabs can drop you all the way to Tosh. But local buses till Barshaini are your best bet in case you are traveling Solo or are on a budget.
Also Read: Dharamkot – A Complete Travel Guide & Itinerary
Nearest airport to Tosh
The closest airport to Tosh Village is the Bhuntar Airport. But the frequency of flights going to Bhuntar is very less and is also very expensive.
Other than the airport at Bhuntar, the next major airport is the Mohali Airport in Chandigarh.
How to reach Tosh from Bhuntar
From Bhuntar, you can either take a local bus going towards Kasol, Manikaran, Barshaini or hire a private cab to get to Parvati Valley.
Nearest Railway station to Tosh
The closest railway station to Tosh Village is the Joginder Nagar railway station.  Once you get to Joginder Nagar, you can rent a cab to drop you at your desired destination in Parvati Valley. Please note though that Joginder Nagar is connected to Pathankot by a narrow gauge track, much like the Kalka Shimla Toy Train. So in this case, you will first have to get to Pathankot by train; then catch the Toy Train to Joginder Nagar; and then find a bus for Tosh from Joginder Nagar which is not going to be easy.
Other than Joginder Nagar, the next major railway station is in Chandigarh which is actually the easier way to travel. I will strongly recommend that for a journey by train, you catch a train for Chandigarh and not Pathankot / Joginder Nagar.
How to reach Tosh from Chandigarh
Once you reach Chandigarh by train, getting to Tosh Village will not be that difficult. There are regular buses from Chandigarh to Mandi, Manali, and Kasol that you can board to reach Parvati Valley. You can also hire a cab from right outside the Chandigarh railway station.
Tosh Village in Winter
In winters though reaching Tosh can be a bit tricky. In the peak winters, once it starts to snow heavily in the valley, chances are that the local buses might not even go till Barshaini due to landslides and snow on the road. At this time, only smaller vehicles can reach Barshaini.
Also Read: Kothi Village near Manali – How to Reach & What to See
Local Transport
Tosh, as you would have already guessed by now, is a village that is best explored on foot. There are no roads here and your vehicle would have to be left outside. Even the bus will drop you near the Tosh gate and can't bring you inside the village.
How to reach Tosh from Manikaran
So Manikaran is where the buses will drop you in the winter season. From there, you can look for Shared cabs (it is difficult to find one in Parvati valley) going towards Barshaini or hire a private cab if in a group. The roads are only open till Barshaini in peak winters. From Barshaini you would have to hike on the motorable road to reach Tosh which is just 3 kilometers.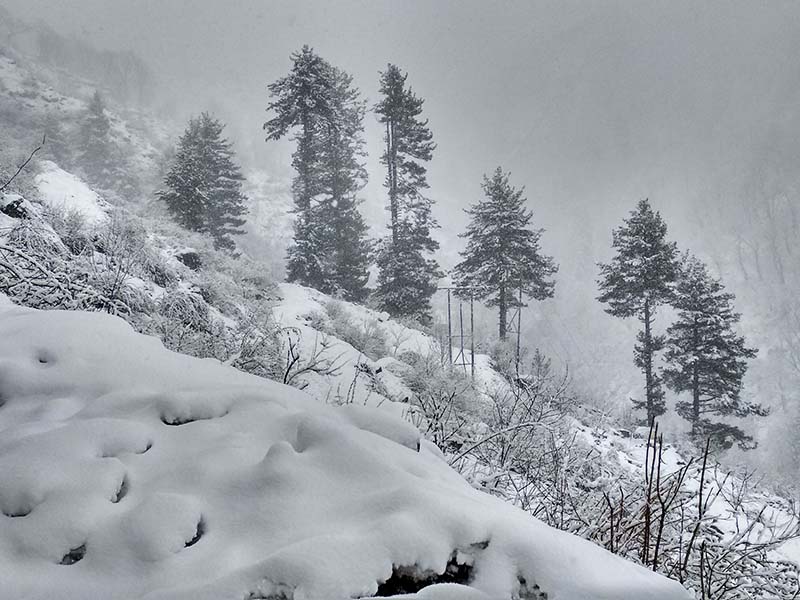 Where to stay in Tosh
One of the main reasons why tosh is a hit among backpackers and solo travelers is because there is no dearth of accommodation in and around Tosh. One can find different types of places to stay like hotels, guesthouses, hostels in Tosh. Barring a few peak touristy months, you can easily find accommodation for anywhere between Rs 500-1000.
Guest House in Tosh village
Since Tosh is now one of the more famous destinations in the valley, you will find a lot of hotels, guesthouses, etc. right after you cross the main bridge which leads into the village. In my opinion, finding a place a little bit far off from the village is advisable as you get the best views of the valley and the mountains from some of the more secluded places in Tosh. Of course, they will be a little difficult to reach but then views will be the best from the places which are a bit far off.
Also Read: Solang Valley Travel Guide – How to Plan your Trip
Homestay in Tosh Village
Yes, A lot of villagers now allow tourists to stay with them for a small amount of money. Homestays in Tosh are basically just the homes of the villagers extended by a couple of rooms. Ask at any local dhaba, coffee shop or even a house, and they'll gladly point you to a room or two. Accommodation is generally neat but if you would like to, you may carry your own sheets and blankets, though I wouldn't say that you need to.
Best Homestay in Tosh
I haven't stayed at a homestay myself so I do not really have a recommendation of my own. But a friend of mine stayed at Family Home Stay & Restaurant that he said was good. You can contact them at 09816406629. But please do note though that I am not confirming that it is good on my own, just sharing feedback of a friend.
Best Place to stay in Tosh Village
Places like Pink Floyd hotel, Hotel 19, Boom Shiva café are a little bit deep and far off in the village but are among the best places to stay as they are located at places where you get the best view of the mountains and the valley. One thing to be kept in mind is that there are no roads in the actual Tosh village so you can only take vehicles till the parking spot before the main bridge. From there, one has to walk on the village trails to get to any of these aforementioned guesthouses or hotels.
Also Read: Unexplored Places in Himachal Pradesh Near Delhi
Hostels in Tosh
Yes, it can be a bit taxing to reach, but it is equally rewarding once you see the views. There are a couple of backpacker's hostels as well in Tosh. Hostels are perfect for people traveling on budget and Solo as they tend to be pretty cost-effective and you get to meet a lot of people from all around the globe and hear their stories. You can pretty much get a dorm bed for around Rs 350-500.
Budget Hotels in Tosh Village
Boom Shiva Café offers rooms for as low as Rs 400 during the off-season. 11:11 Bunker house is another budget friendly and affordable place to stay at. Hotel 19 offers rooms priced at around Rs 1200, but the price is during the peak tourist period of Christmas and New year.
So, if you want to enjoy the most while on a tight budget you should definitely visit Tosh in the off-season months of January, February, March or in Autumn months of September, October, November. During this period prices for the accommodation are not absurdly high. Summers months and Christmas New year period will be peak touristy months which lead to sky-rocketing prices for rooms.
Also Read: Essential Items for Camping Trip in Cold Weather
Camping in Tosh
There are a lot of campsites in Tosh itself. So, if you are one of those who enjoy staying in camps then Tosh is the perfect place. You can carry your own tents and pitch it or you can stay in one of the camping providers who operate in Tosh.
Apart from Tosh, Kutla can also be an amazing place to camp or stay in camps. The views from Kutla are even better than Tosh. Due to a surge in popularity, there are a lot of camping operators providing tents in Kutla these days.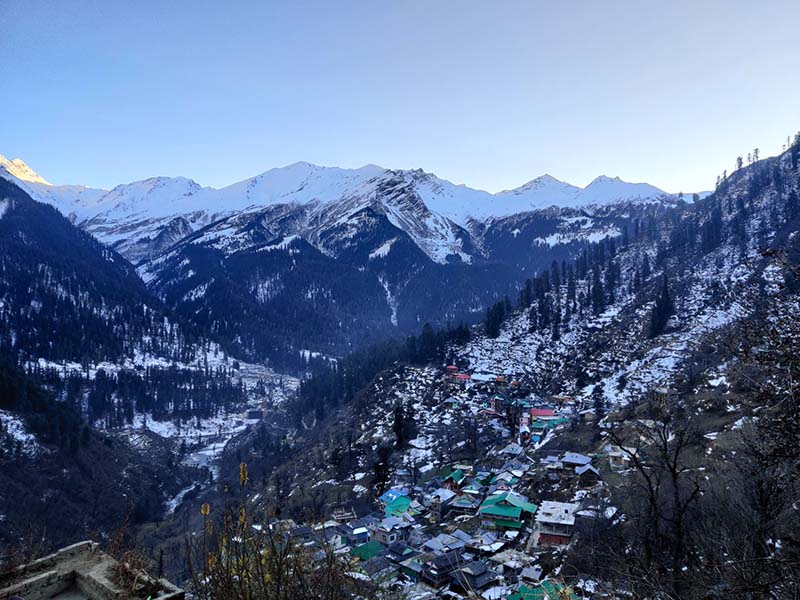 Places to Visit in Tosh
In my opinion, the best thing to do in Tosh is absolutely nothing. Just relax, soak in the hippie vibes the village is known for, eat some delectable food in the cafes around and admire the serene landscapes around the village. But in case you love hiking then there are a lot of beautiful trails and treks in the vicinity of Tosh which will surely enhance your experience.
One thing to note is that Tosh doesn't have roads in the village. The road will only accompany you until the parking spot. From there, you will be on trails leading to several different places in Tosh.
I have actually covered this topic in detail in another article, Places to Visit in Tosh and Things to Do. In this post, I will list down all the places to give you an overview. But if you want to know more in details, please refer to the link I provided above.
Tosh Temple
Tosh Waterfall
Kutla
Kalga
Kasol
Barshaini
Manikaran
Jari
Mateura Jari
Malana
Chalal
Rasol
Mostly people include Tosh in their Parvati valley trip along with the other famous places in the valley. Almost nobody exclusively does the Tosh trip. In case, you need more information on different places of Parvati valley then please check out the Travel Guide to Parvati valley. I am sure it will be of great help and will help plan your trip.
What to do in Tosh Village
Listed below are some of the best things to do while you are in Tosh Village. If you want to know about these in further details, please read Things do in and around Tosh.
Attend Namaste Festival
Trekking in Tosh
Camping in Tosh
Trek to Kheerganga
Try some local and Israeli Food
Shopping in Tosh
Photography
Experience the local Culture
Trekking around Tosh
Kheerganga Trek
This is one of the most popular beginner treks in the state of Himachal. Perched at an altitude of 3000m this place is famous for its hot water springs. Please check out Trekking in Parvati valley to know more details about this trek.
Pin Parvati Pass
This is one of the most challenging treks in our country with trek involving crossing the enormous Pin-Parvati pass perched at an altitude of 5000m. It is very essential that one has some serious high-altitude trekking experience along with high fitness levels.
Also Read: Lahaul Valley – How to Plan your Trip & What to See !
Sara Umga trek
This one of the lesser-known treks which takes you from the Parvati valley to Lahaul valley. It is one of the more difficult treks in Himachal so decent fitness levels and high-altitude trekking experience is required to attempt this one. The pass lies at the staggering altitude of 4700m and it requires almost 7 days completing this trek.
The trek starts from Tosh and it finishes in Chotadhara in Lahaul valley. Guide and porters are mandatory if you want to attempt this trek. There are local guides and trekking companies who carry out this trek so you can choose either of them and it should be fine.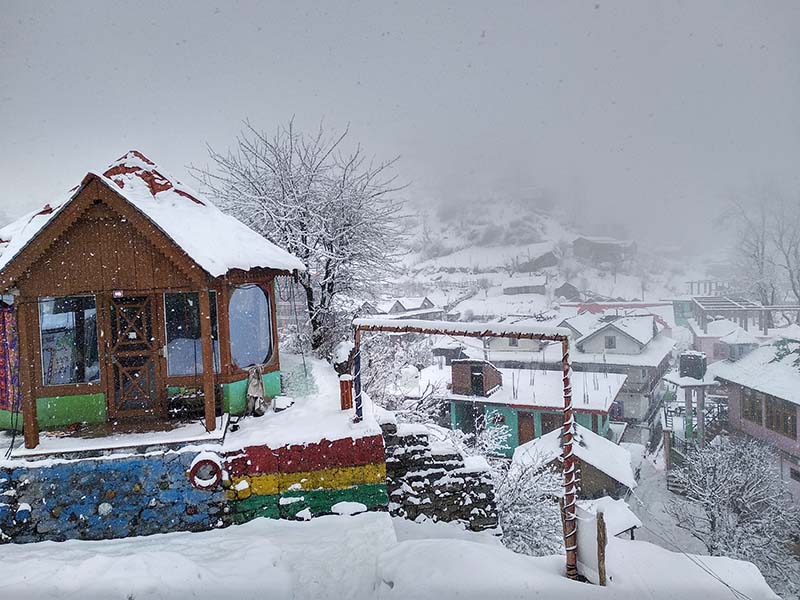 Weather of Tosh
Tosh is beautiful in every season and this statement really stands true. It is white in winter, green in summer and golden in autumn. Owing to its altitude, the climate here remains cold throughout the year. It almost never gets hot which makes it a perfect place to go to for a few days to escape the scorching heat of northern plains.
Winter here is harsh and long. It starts to get really cold sometime in October and by December, the snow starts falling frequently. The temperature drops below 0 and even the road between Barshaini to Tosh gets closed due to the snow.
The summer season, however, is very pleasant. The average temperature between April to June remains around 20 degrees Celsius. This is when the majority of the tourists arrive in Tosh.
While the monsoon season brings a lot of greenery and washes the mountains clean, it also creates risks of landslides and incessant rains. This entire region experiences a lot of rainfall each year.
Also Read: Best Hill Stations for Honeymoon in India
Best time to Visit Tosh
The best time to visit Tosh will entirely depend on your reason for the visit. If you want to see snow, then you should go in January or February. April, May, and June are best for a family trip as this is when the weather here is at its best.
Monsoon may be called a bad time because of the rains but if you want to get some stunning landscape shots, you should plan in July, August, and September. For a budget traveler too, July to September and then November are good months. If trekking was on your mind then you should visit in April, May, June, October or November.
What clothes to Pack for Tosh Village

Tosh remains cold almost throughout the year, even in summers. So what kind of clothes to pack will depend on the season you are visiting in.
If you are visiting Tosh in summers or monsoon then light woolens may suffice. If you are visiting Tosh in winters, then you should be prepared adequately. At least, 3-4 warm layers are needed during winters. A good winter jacket is quintessential to protect you from cold as the winters here are extremely harsh and temperatures are sub-zero. Spring and autumn also tend to be cold so pack your warm clothes accordingly.
If you are going to hike around Tosh, then having a Poncho can come quite handy as it can rain anytime in the hills and getting all soaked in the rain is not at all a good idea in the mountains.
So, to summarize, along with the normal clothes that you pack for your trip, it is of paramount importance that you pack warm clothes irrespective of the season. During winters, you will surely need more layers due to sub-zero temperatures.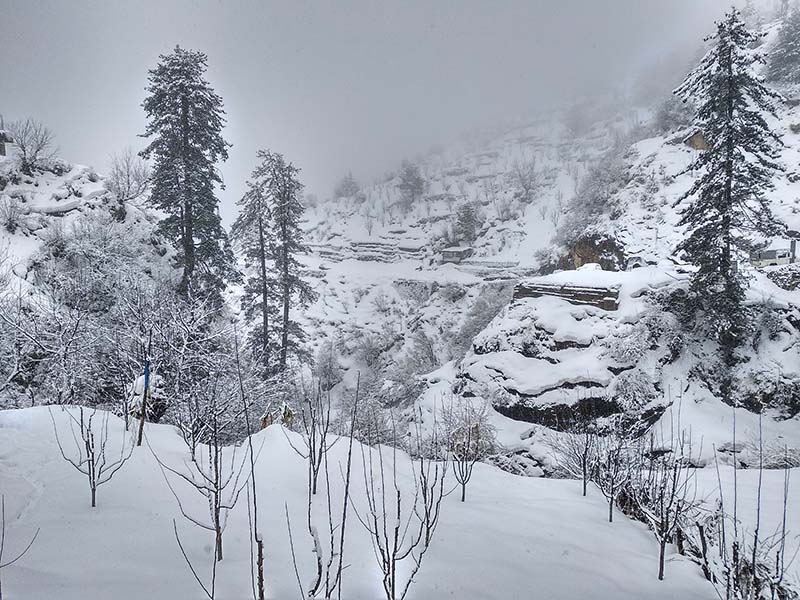 Road Conditions
The roads are a mix of good to average in Parvati valley.  But it turns quite narrow once you leave the main highway and take a diversion from Bhuntar towards Barshaini. Most of the road to Tosh is good and you'll have no problems whatsoever, but the last 3 km from Barshaini is just about average.  Good part however is that most of the road to Tosh is tarred.
During the winter months of January, February, March it might be a bit trickier to reach Tosh. The roads may be slippery from Kasol onwards from January until mid-February due to snow and ice. The roads might even get blocked for a few days until they clear out the snow.
The last 3 km stretch to Tosh from Barshaini has to be mostly covered on foot during peak winters due to heavy snow around the area. When I visited Tosh in February end, there was no snow in Manikaran and a few km beyond Manikaran. Small vehicles and 4X4 were easily going till Barshaini from where walking was the only option for the last 3 kilometers on the motorable road.
Best Vehicle
There is really no best vehicle as such that you need for Tosh. Locals around Kasol and Manikaran drive around in small hatchbacks as well. So the only thing you need is to know how to drive around in the hills and a car that is well maintained. If you can get an SUV with good ground clearance, it will definitely be better than the others.
In terms of a motorcycle as well, you need to make sure that your bike is well serviced before the trip. If you were riding a smaller engine bike, then ride solo and as light as possible.
Also Read: Jibhi – A Complete Travel Guide & Itinerary 
Where and What to Eat in Tosh Village

Being one of the top hippie destinations of the country, there are a lot of cafes in Tosh. Israeli food is predominant in Tosh as it is frequented by a lot of Israeli travelers to a point where Kasol is sometimes referred to as Mini-Israel. Apart from good Israeli cuisine, you get good Italian, Indian cuisine in Tosh.
Pink Floyd Cafe, Stoned Age Cafe, Boom Shiva Cafe, Pinki Didi Cafe are amongst the popular ones in Tosh. Olive Garden, Hill Top, and the Swastik Cafe are three other good ones. Reaching these cafes is a bit of a task as they can be only reached on foot. But the views and the food of these cafes are amazing and it surely worth it. Most of the hotels and guesthouses also serve food which is also good in case you don't want to venture out to these cafes.
In peak winters though, few of the cafes might not be open or they may not serve the entire menu as in winters it becomes very difficult to bring the groceries due to a lot of snow on the road to Tosh. Food in Tosh is a tad bit expensive than normal, but it is extremely delicious in most of the cafes and is worth it.
Shopping in Tosh
If you were looking to do some shopping in Tosh, then you can buy stuff like semi-precious stones, woolens, loose t-shirts, bags, handicrafts, fake jewelry, and several other items. The market remains open from 10 in the morning till dark and you will not have to spend a fortune to buy some souvenirs from here.
Another place to try your hand at shopping is Kasol.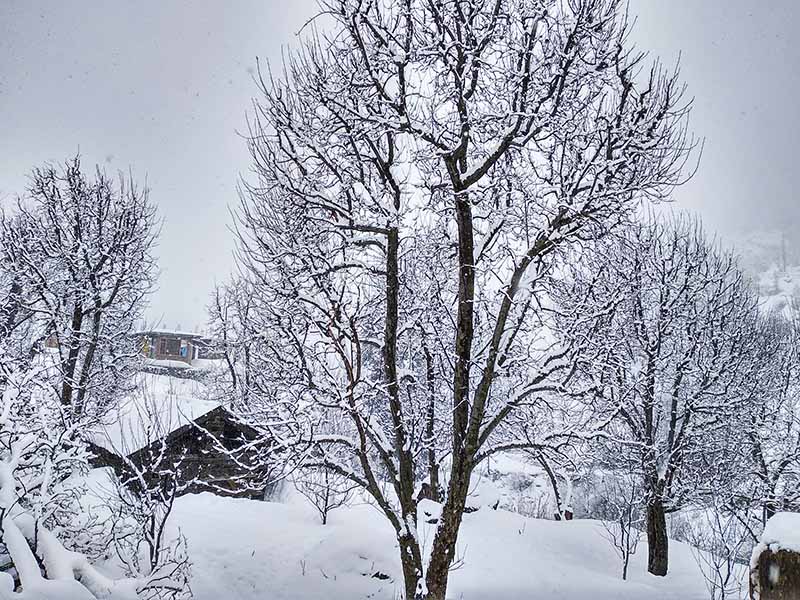 Kasol Tosh Malana Kheerganga Itinerary
Below is an example of an itinerary that you can follow for visiting Tosh and other nearby places.
Delhi to Tosh – Day 1
Trek to Malana – Day 2
Tosh to Kasol – Day 3
Trek to Kheerganga – Day 4
Trek down from Kheerganga and back to Delhi – Day 5
Another example of an itinerary can be as mentioned below if you were traveling by public transport.
Day 0 – Board an overnight Volvo bus from ISBT Kashmere gate going towards Manali
Day 1 – Get down at Bhuntar, leave for Kasol and spend the rest of the relaxing, roaming around Kasol. Enjoy the food at the famous cafes in Kasol.
Day 2 – Leave for Tosh. Spend the night in Tosh.
Day 4 – Leave early and head towards Kheerganga. Spend a night at Kheerganga
Day 5 – Descend back to Barshaini from Kheerganga and board overnight Volvo buses back to Delhi.
You can also cover places like Malana, Kutla, Kalga if you have a luxury of more days. 7-10 days trip should be fine to cover all the above places along with the ones in the itinerary. Since many don't have that many days I kept it simple with a 5-day sample Itinerary.
Time Needed for the Trip
How many days you need for the trip entirely depends on what you really want to do here and where you were coming from. But from a place like Delhi, I will recommend at least 5-6 days. Any more than this is really a luxury and will allow you to explore more places in Parvati Valley. Any lesser than this will result in a rushed trip with not much time for sightseeing.
Also Read: Trekking and Camping in Mcleodganj & Dharamshala
Bank / ATM in Tosh Village

There are no ATM's available in Tosh. The closest ATM is in Kasol which is also not very reliable as it runs out of cash quite often. So, it is advisable to have sufficient cash with you before reaching Tosh.
Mobile Network in Tosh Village

Airtel, Vodafone works intermittently in Tosh, while Jio 4g works perfectly in Tosh. Though you would be able to make calls with Airtel, Vodafone, you won't get 4g for sure. So, I would suggest that if you would need internet access, then it is better to have Jio 4g. But If you just need to make a few calls here and there, then any operator would be just fine.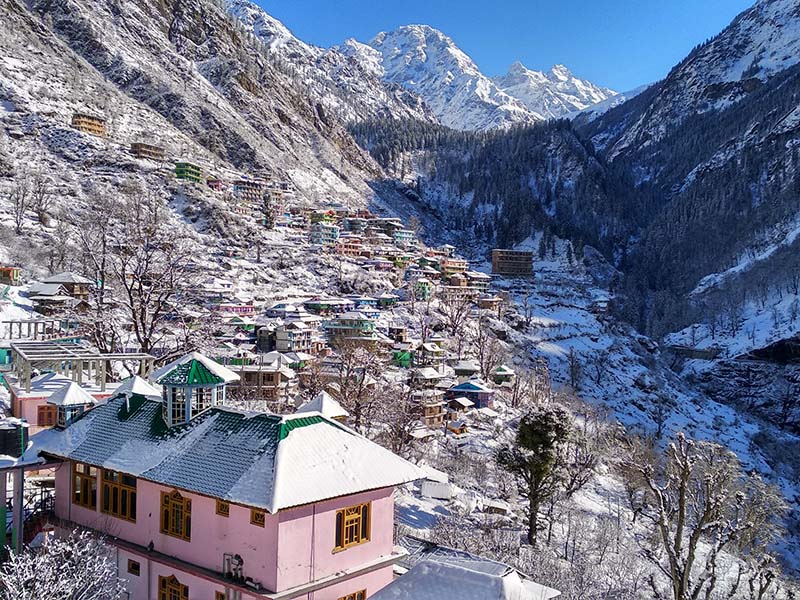 Temperature in Tosh
Mentioned below is how the temperature trends in Tosh in the year.
| | | |
| --- | --- | --- |
| Month | Avg. Minimum (°C) | Avg. Maximum (°C) |
| Tosh in January | -2 | 5 |
| Tosh in February | 0 | 8 |
| Tosh in March | 3 | 12 |
| Tosh in April | 8 | 17 |
| Tosh in May | 11 | 21 |
| Tosh in June | 13 | 23 |
| Tosh in July | 14 | 21 |
| Tosh in August | 13 | 21 |
| Tosh in September | 11 | 20 |
| Tosh in October | 7 | 16 |
| Tosh in November | 3 | 13 |
| Tosh in December | 0 | 9 |
Also Read: Chamba – A Comprehensive Travel Guide & Itinerary
Other Tips
Tosh Altitude
Tosh sits at an altitude of 2,400 metres (7,900 ft) on top of a hill near Kasol.
Is it safe to visit Tosh?
Yes, Tosh is a very safe place to visit only as long as you keep yourself safe. Do not drink and drive, do not get in any unnecessary arguments, respect the locals, do not go wandering around on the unknown trails alone, act as a responsible tourist and you will be OK.
The culture and traditions of the villages like Tosh and Malana are a little different. These are interesting to observe but at the same time, you need to ensure that you are respectful of the customs of the locals. In places like Malana, people avoid touching strangers and won't even let you stay overnight. You got to respect that and cannot be offended by it.
Some people are also sensitive to photography here. Do not take pictures of the villagers without their permission. This also includes clicking pictures of the kids.
Last but not the least; let us talk about the Hashish. Places near to Kasol are famous for producing some of the best hashish in the world, known as Malana cream. It is a part of the income of the locals here but you must also know that it is illegal India to possess Hashish.
When does it snow in Tosh?
Tosh experiences snowfall from Mid December to early March.
When is the place open?
Tosh remains open for tourists throughout the year. The only exception is that you may not be able to reach here in peak winters by road if there was too much snow.
How far is Tosh from Kasol?
Tosh is at a distance of 21 kilometers from Kasol.
How do I get to Malana from Tosh?
In order to reach Tosh, you will first have to drive down from Tosh back to Kasol. From Kasol, reach the Jari check post, turn right and take the Malana Village road. Drive for about 15 kilometers and you will reach the point where you will have to leave your car and trek to the village.
Petrol Pumps / Mechanics
The nearest gas station and mechanics are available in Manikaran.
Hospital / Medical Assistance
There is no hospital in Tosh. The nearest medical assistance is available at the Primary Health Center and Government Hospital in Manikaran.
Conclusion
I hope the information above on visiting Tosh Village was of help. If you have any questions; or need any other details; please feel free to ask in the comments section below; or at our Community Forum; and I will be glad to answer.