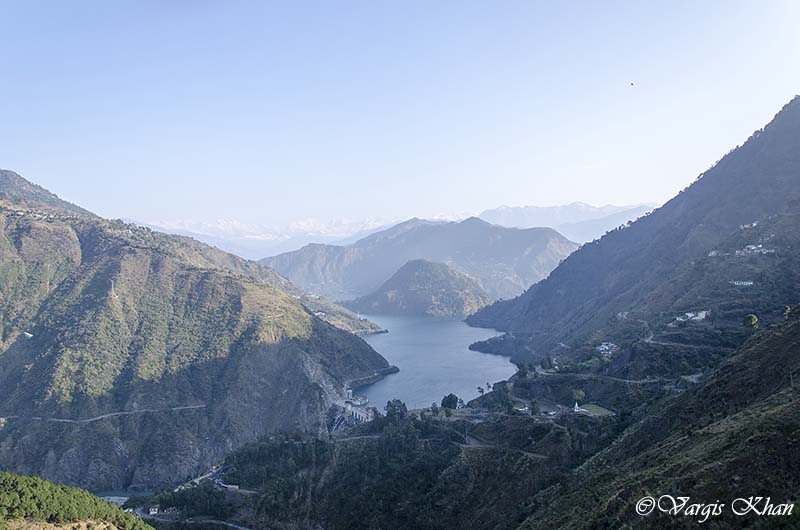 Chamba in Himachal Pradesh is a district and a town known for its exquisite natural beauty and wealth and its historical treasures. Himachal Pradesh, the name itself brings all the beautiful visuals of lush green surroundings, snow-clad mountains, mesmerizing lakes and rivers, and so many eye-catching places.
All of it always motivates you to visit one more time. And Chamba, of all the places in Himachal Pradesh, is the epitome of natural beauty. Nestled in Shivalik ranges in a beautiful valley, Chamba has some of the most enchanting architectural marvels built by its erstwhile rulers. How can you plan a visit here and what are some of the must-visit places is what I will be discussing in this article.
Chamba town is located at an altitude of 3300 ft. on the banks of the river Ravi at the point of its confluence with its tributary, river Sai. The beautiful landscapes, the local culture, and traditions, and its magnificent surroundings are sure to leave you stunned.
The festivals of Chamba are very special attractions given the fervor attached to them. And then there is the art and craft of Chamba which includes Pahari Paintings, which were started in the 18th century. There are so many attractions in and around Chamba that you will need a lot of time to cover them all.
From rivers to pristine lakes, from temples to palaces, and from the museum to wildlife, you have everything here. This complete guide of Chamba has tried to list all these places and activities so that you don't have to look anywhere else to plan a trip to Chamba.
Below is a quick insight into what is covered in this post on Chamba.
Know Chamba
History
Chamba is a district and a town on the banks of river Ravi in Himachal Pradesh in North India. It is an ancient town dating back to the 2nd century BC. The earliest rulers of Chamba are traced back to the 4th century AD when Ranas and Thakurs ruled here.
From the 6th Century AD onwards, Rajputs started ruling Chamba valley and made it their capital. Raja Sahil Varman found the Chamba town in the 10th century AD. Thereafter, the town remained under Mughal Empire for some time before coming under British rule.
After the independence of India, it became a part of the undivided Punjab state and in 1966, a new state Himachal Pradesh was carved out of Punjab, and Chamba became its part.
Also Read: Bir Billing – How to Plan your Trip & What to See
Location

Chamba is situated at a distance of roughly 580 km from Delhi and 118 km from Pathankot in Punjab. It is 345 km from the state capital Shimla.
Why Visit
Chamba is surrounded by the Himalayas from all sides, giving it a picturesque look. It has plenty of ancient buildings including temples and palaces which represent the magnificent architecture of those times. The city of Chamba has two different distinct looks.
One is the pre-British part which may be called 'Old City'; and the other one was formed during the British rule when they built buildings, bridges, etc. using their own architectural style. But both hold an equal attraction for anyone walking into the town to explore it. Chamba has a lot of cultural richness and there are quite a few major festivals celebrated with complete enthusiasm here.
Bestowed with pristine natural beauty, Chamba has a distinct charm to it with sloping farms spread all around and colorful residences. The green cover in and around Chamba makes it a sight to behold.
Apart from this, there are such amazing sites around Chamba that will simply leave you awestruck with their beauty and tranquillity. In fact, Chamba is an ideal place to re-energize your body, mind, and soul.
How to Reach Chamba
Chamba is a town that has a pretty good road network and can be approached from all the major cities without any trouble. However, being a hilly area, you will have to travel at least some distance by road from the nearest airport or railway station. But the road journey itself is a beautiful experience as you travel through winding roads looking at the most scenic surroundings. And breathing in fresh mountain air is a bonus.
Here are all the options for reaching Chamba.
Also Read: Kasol and Kheerganga Trip – A Mesmerizing Experience
How to reach Chamba from Delhi by Road
Delhi to Chamba distance by road is 580 km and the roads are quite good. There are very few routes to reach Chamba by road bypassing Delhi if you are coming from other states, so I am taking Delhi as the base location.  However, even if you were coming from a different city, the information below can still help you understand how to reach Chamba by road.
The driving route from Delhi to Chamba would be something like this:
 Delhi – Panipat – Ambala – Chandigarh – Mohali – Ludhiana – Jalandhar – Pathankot – Chamba
This is the shortest driving route from Delhi to Chamba. The total time you will take to reach Chamba from Delhi will be 10 to 12 hours depending on your speed. There are no major traffic bottlenecks on this route and your drive should be smooth. But please be prepared to pay about Rs. 500 in toll taxes. It sounds like a lot but once you travel on the butter smooth roads, you will realize that it is totally worth it.
The best part is that there are a lot of good eateries with washrooms and other facilities, along this entire route. So you don't have to specifically plan when and where to stop for refreshments. You can do so whenever you feel like it because you will not have to wait for very long before you land up in front of some good eatery.
Once you reach Pathankot, the uphill journey starts and you get stunning views on both sides of the road. From here, throughout your climb and till you reach Chamba, you will see lush green or snowclad hills depending on the time of the year you are traveling. So enjoy the view.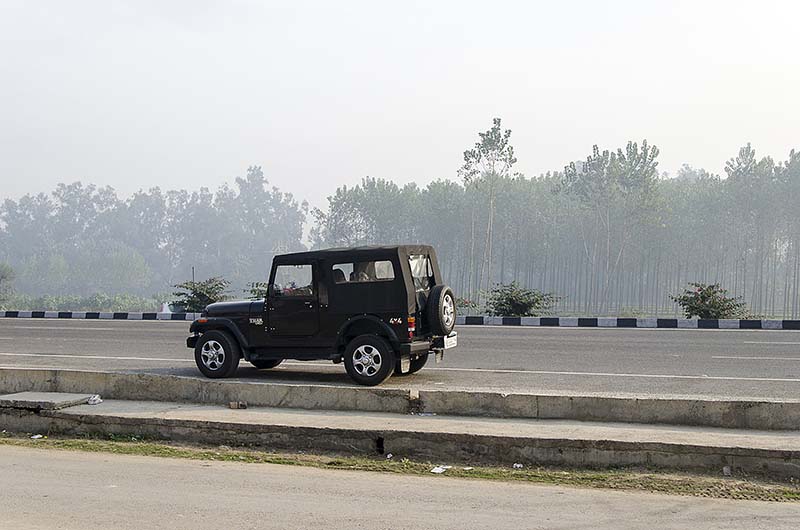 Funny sign outside a ladies rest-room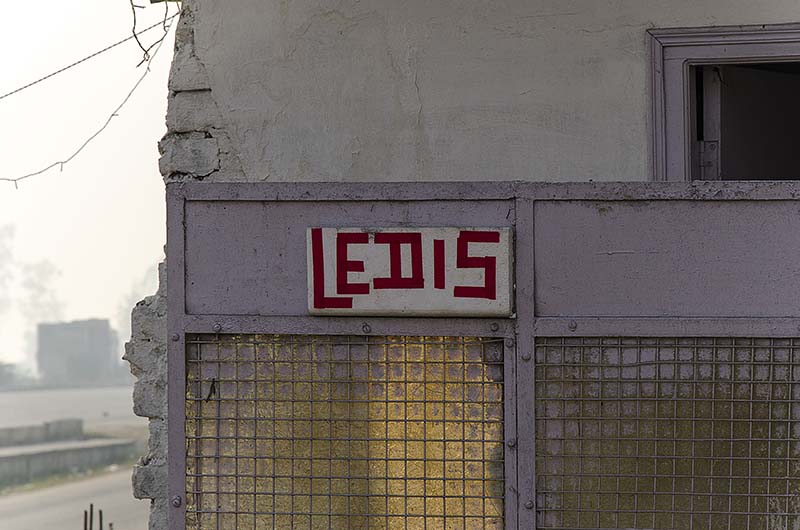 How to reach Chamba by bus
Chamba is well connected by bus service with many major cities as well as local towns. There is a regular state-run as well as private Volvo bus service from Delhi to Chamba. Apart from this, there are other types of buses also available like AC and non-AC buses. Luxury and ordinary buses also ply between Chandigarh and Chamba and Jammu and Chamba.
By Flight
If you wish to travel to Chamba by air you need to get to the nearest airport at Gaggal in Dharamshala, which is 120 km away. However, this is not a major airport and you get flights to Delhi (580km) and Chandigarh (350 km) from here. So if you are coming from any other place except the above two then you first need to catch a flight to any one of these places and then get a connecting flight to Gaggal airport. Delhi and Chandigarh are both connected to all the major cities of India and even foreign countries.
Once you reach Gaggal airport, you can hire a taxi or get into a state-run bus to reach Chamba.
Also Read: Food in Narkanda | What to eat in Narkanda
How to reach Chamba by Train
Chamba being in the hilly terrain does not have its own railway station. The nearest major railway station to Chamba is Pathankot, which is about 120 km away. Regular trains from major cities like Delhi, Mumbai, Kolkata, Jammu, Hatia, etc. are available to reach Pathankot.
Once you reach Pathankot, you have the option of hiring a taxi or hop on to a bus to reach Chamba. It is about a 3-4 hours drive from Pathankot to Chamba.
By Taxi
Taxis are available from cities like Delhi, Chandigarh, Pathankot, Amritsar, etc. to reach Chamba. The road network is good throughout right up to Chamba barring some small hiccups. Chamba is well connected to other cities of Himachal Pradesh.
Local transport in Chamba
Chamba is well connected to other parts of Himachal Pradesh. State-run buses are available to travel from one point to another and these buses charge a very nominal fare. Apart from this, local taxis are also available for hire. You may hire them for a single ride basis or a whole day basis, depending on your schedule and requirement.
You can get a Taxi at the Court Road Stand for Rs. 1800 to Bharmour, Rs. 2000 to Dalhousie and Rs. 4000 to Dharamshala. Shared taxis are also easily available. If you were planning a trip to Sach pass, you can get a shared cab to drop you at Killar for Rs. 500. Most buses from Chamba start from the New Bus Stand.
The best bus for Delhi is the Volvo AC bus at 6 pm. There are hourly buses to Pathankot that pass through Baniket and can also be used to reach Dalhousie from Chamba. There are shuttle buses available between the Old and New Bus Stands every 15 minutes.
Also Read: Palampur – A Complete Travel Guide & Itinerary
Timings of some buses from Chamba.
Chamba to Amritsar Bus: 11: 15 PM; Rs. 320 per person
Chamba to Bharmour Bus: Hourly Bus from 5 AM to 5 PM; Rs.110 per person
Chamba to Dalhousie Bus via Banikhet: 7 Daily Buses, Rs. 90 per person
Chamba to Dalhousie Bus via Khajjiar: 7 am, 9 am, 12.50pm, Rs. 90 per person
Chamba to Dalhousie Khajjiar Bus: 7 am, 9 am, 12.50pm, Rs. 90 per person
Chamba to Dharamshala Bus: 5 AM and 5 PM Daily; Rs, 260 per person. You can also board a Bus for Gaggal for Rs. 240 per person and then catch a Bus for Dharamshala from there for Rs. 30 per person.
Chamba to Killar Bus: Daily at 6 am from Jul to Sep only; Rs. 450 per person.
Chamba to Pathankot Bus: Hourly from 6.30 am to 6.30 pm; Rs. 175 per person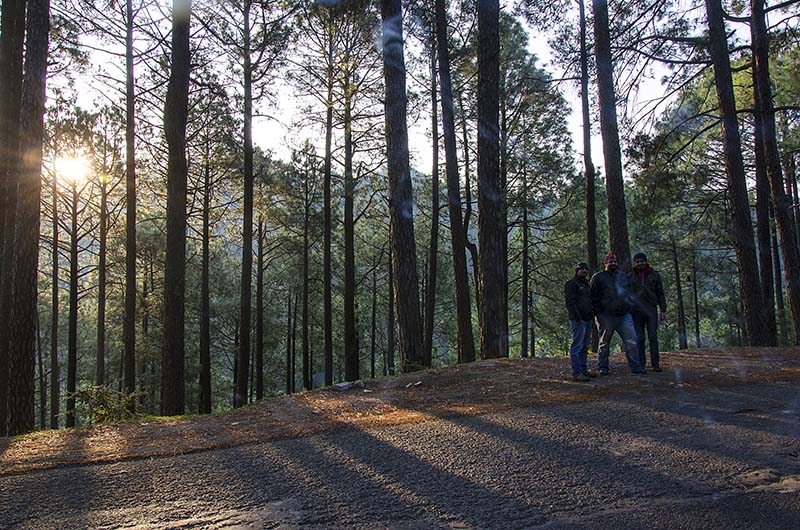 What to see & Things to Do
There is no dearth of places to see in Chamba; and in this complete travel guide, I will take you through some of the most beautiful, enchanting, and historically important tourist places in Chamba. There are several natural sites here presenting picturesque views and soothing environs. Next on the list would be the temples and palaces providing a glimpse of the artistry of a bygone era.
What to see in Chamba
So let's have a look at the natural, cultural, and historical wealth of Chamba.
Laxminarayan Temple
Built in the 10th century by Raja Sahil Verman, this is the oldest and the largest temple of Chamba. It has the shape of Shikara with amazing idols of Lord Vishnu and Lord Shiva.
The main attraction of the temple is its architecture. It has wooden chhatris which regulate the climate inside irrespective of the weather outside. Inside it always remains cool. The main Vishnu idol is made of marble and is most beautiful.
The main entrance of the temple has a metallic image of Garuda, the vahan or vehicle of Lord Vishnu, on a pillar, which will hold you for a while before you enter the temple.
Also Read: What to see in Manali | Places to Visit in Manali
Champawati Temple
The next name in the list of places to see in Chamba is Champawati Temple. This one was again built by Raja Sahil Verman in memory of his daughter Champavati and is located in the heart of the city.
The temple will mesmerize you with its intricate stone carvings and a large wheel on the roof, which is a sight to behold. The walls of the temple are also filled with beautiful stone sculptures.
Champawati temple is a revered place and a lot of people come here for pilgrimage. The temple has an idol of Mahishasurmardini, an incarnation of Maa Durga which is worshipped with all reverence. It is often compared with the Laxminarayan temple for its architecture and beauty.
Akhand Chandi Palace
This palace was built by Raja Umed Singh who used it as his residence. It was originally built between the years 1747 and 1765 but was refurbished later during British rule. The beauty of the palace is its architecture which reflects the intelligence and tastes of the people of a bygone era.
Akhand Chandi palace, also called Chamba Palace, overlooks several other prominent tourist attractions in the area like Laxminarayan temple, Chaugan and Rang Mahal. The arc-style windows and intricate work on wood and glass on inside walls will give you a glimpse of the art and architecture of that period. And to top it all, it has a distinct green roof which sets it apart from other buildings of the area.
Rang Mahal
This is one of the most iconic buildings in Chamba. Built by Raja Umed Singh in the 18th century, this red color building brings forth an amazing fusion of British and Mughal architecture. The interiors of Rang Mahal adorned with beautiful present a stunning sight.
The building has now been taken over by the state handicrafts department and houses a handicraft emporium. You can buy many local specialties from the emporium. These include shawls and handkerchiefs spun on wooden looms, which are really attractive. And do not forget to buy local Chamba pickles from the emporium.
It opens daily from 10 am to 1 pm and then again from 2 pm to 5 pm. It remains closed on Sundays. There is no entry fee for the emporium so you have a double bonanza. Enjoy the beauty of the building and buy some local stuff at very reasonable prices.
Also Read: Dharamshala Mcleodganj Trip – How to Plan & What to See
Bhuri Singh Museum
More than a century old, Bhuri Singh Museum was established to honor Raja Bhuri Singh. If you are interested in exploring and knowing about Indian epics and texts, this is the place for you. Found in the year 1908, this museum displays all the artifacts dating back to the period of the rule of Raja Bhuri Singh.
You will see a wide variety of items of that period. Initially, when the museum was built, it housed only the paintings made by Raja Bhuri Singh. But now this museum houses articles as varied as frescoes, carved doors, royal costumes, antique jewelry, and musical instruments of the royal family.
You may also find original pages of Mahabharat and Upanishads here. And the icing on the cake is the rare copper and brass engraved coins. If you love to explore history or are fond of checking on artifacts of various periods, do not miss Bhuri Singh Museum. The museum opens daily from 10 am to 5 pm and remains closed on Mondays.
There is an entrance fee of INR10 for Indian nationals and INR50 for foreign nationals. There is an additional fee of INR50 if you want to enter with a camera.
Church of Scotland
This church was built in the year 1863. If you are looking for a quiet place and a serene environment, head straight to the Church of Scotland. It is built of fine stone and has arched windows and deep carvings. These beautiful windows provide the necessary light and ventilation. The old-world architecture of the church will charm you.
If you want to spend some quiet time, walk into the library of the church. Or just walk around the building and admire the way it has been well preserved over so many years. The walls of the church are supported by buttresses and it showcases the Scottish art sensibilities. The Church of Scotland is also known as St. Andrews Church.
Chamunda Devi Temple
Located in Shah Mader hill ranges, Chamunda Devi temple is situated opposite Chamba town and is a major pilgrimage site for Hindus. This is a 300 years old temple and is dedicated to Goddess Kali. It was built in the 18th century by Raja Umed Singh. The most amazing part is it is made entirely of wood. And this is the only temple in Chamba made of wood. But it has a gabled roof.
The surroundings of the temple are absolutely stunning. You will get a marvelous view of the valley as well as the Himalayas. There is an Agni Kund or fire pit in the front courtyard. And there is a water tank inside the temple where people take a dip. Earlier, you needed to climb around 400 steps to reach the temple but now a good road had been built which is an easier way to reach the temple.
Also Read: Dharamkot – A Complete Travel Guide & Itinerary
Manimahesh Lake
Manimahesh Lake in Chamba is what Lake Mansarovar is in Tibet. They both hold equal importance as far as the pilgrimage is concerned. This is a stupendous lake in the Chamba district. This lake is situated close to Kailash peak at a height of 4100 m and is considered to be the abode of Lord Shiva. Manimahesh Lake is situated in the Pir Panjal ranges of the Himalayas.
If you are a lover of trekking to high places, you will enjoy trekking to Manimahesh Lake. Although most of the year this lake remains closed due to snow. But when the snow starts melting around June, it becomes an epitome of natural beauty.
The lake gets its water from the melting glaciers and the streams formed by them together with green hills and colorful flowers all around provide a breathtaking view of the valley. Many devotees from all over the country trek to Manimahesh Lake to seek his blessings during the monsoon period.
Hari Rai Temple
Situated in the heart of the city, Hari Rai Temple is an aesthetic marvel. The temple is dedicated to Lord Vishnu with three faces which are human, lion, and boar. These idols are made of eight different materials. A large number of people visit the temple to seek blessings. The temple is designed in shikhara style.
The main idol is beautifully decorated with finger rings, mukut, necklace, earrings, etc. Situated in the Chaugan area, Hari Rai Temple was built by Salabhana in the 11th century and still retains its beauty. The fine carvings on Shikhara and sculpture on the idols are sure to mesmerize you.
Chaugan
This is the heart of Chamba. Everything in Chamba revolves around Chaugan. It is considered to be the entrance to Chamba. Chaugan is a Sanskrit word that means four-sided. It has a beautiful administrative building and a shopping arcade built during the British era.
If you are a shopaholic, then this is the place for you. This is the shopping hub of Chamba situated in a plain area. You can buy a lot of local items from here. Get the famous Kangra tea, Kangra paintings, and a lot of organic stuff from this place. You can also buy souvenirs for memory from here.
Things like precious stones, local handicrafts, metal artifacts, etc. And do not forget to buy the famous Chamba chappals or slippers from Chaugan.
Also Read: Mashobra – A Complete Travel Guide & Itinerary
Khajjiar
This is one of the most beautiful places around Chamba. In fact, Khajjiar is often termed as the paradise of Chamba. A lush green saucer-shaped meadow at a height of 1900 m, it is an amazing work of nature. Khajjiar is surrounded by tall Cedar trees and snow-clad mountains and has a lake at the center.
All these, put together, present a breathtaking view. It is due to its unmatched natural beauty and its resemblance to the meadows of Switzerland, that it has earned an official name of "Mini Switzerland of India."
You can see cows grazing in the large meadow and clouds hovering over it. It is one serene and tranquil place where you can spend hours relaxing. If you are lucky, and the day is clear, you can get a view of Mount Kailash from here. Then there is the ancient Khajji Nag temple here, which is dedicated to the snake god and is visited by many devotees.
Khajjiar is one place that you can not afford to miss when you are in Chamba. It is just 20 odd km from Chamba town and you can hire a taxi to reach there. You can also indulge in adventure activities like Zorbing and paragliding in Khajjiar.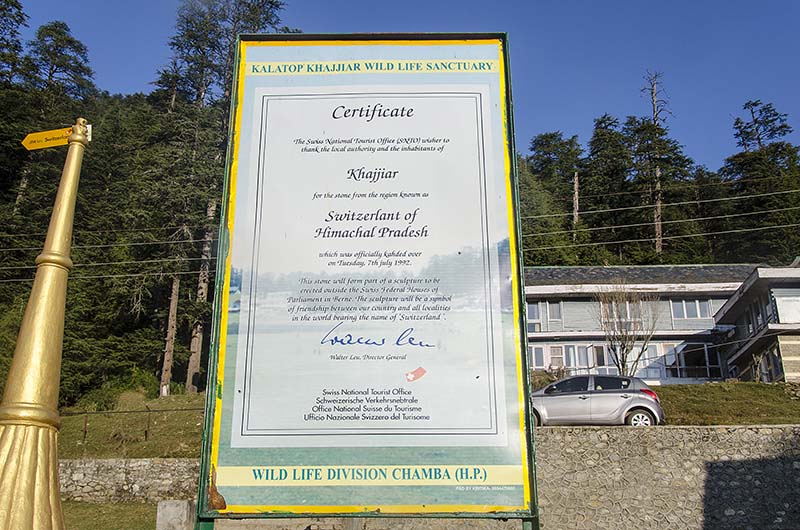 Kalatop wildlife sanctuary
This is the most popular and one of the most sought-after wildlife sanctuaries of Himachal Pradesh. Spread in an area of around 31 square km, Kalatop wildlife sanctuary is situated on a hilltop. It lies on the way from Chamba to Dalhousie and Khajjiar. The beautiful green park has many trekking trails. The beauty of the sanctuary is that the river Ravi cuts through it and this makes for a magnificent sight.
You can see a number of wild animals here, the most common being a jackal, bear, deer, barking goral, langur, and Himalayan black marten. You can also see birds like pheasants, grey-headed canary, and Eurasian jay. Covered with fir, blue pine, and deodar trees, the Kalatop wildlife sanctuary offers a majestic view of the Pir Panjal ranges of the Himalayas. Sit on the bank of the river Ravi and put your feet in the fresh cold water and start feeling rejuvenated. Kalatop wildlife sanctuary offers a tranquil atmosphere and a beautiful view of the wildlife present here.
Also Read: Dalhousie – How to Plan your Trip & What to See!
Chamera Lake
This is another place in the Chamba district, which has a stunning view. This pristine lake has picturesque surroundings. Chamera Lake is built at Chamera Dam, which has been built on the river Ravi as part of a hydroelectric power project.
But the lake, lying between snow-covered mountains has an irresistible charm. Chamera Lake is situated at a distance of 11 km from Chamba town and is the most favored spot for picnics.
The cool clean mountain breeze blowing across the lake and its clean water make for a perfect unwinding place. The lake offers many recreational activities. You can enjoy boating on different types of boats like paddle boats, speed boats, rowboats, etc.
Apart from this, you can enjoy water sports like sailing, angling, and kayaking. The quiet and beautiful ambiance of the lake and surrounding hills will make you want to stay here forever.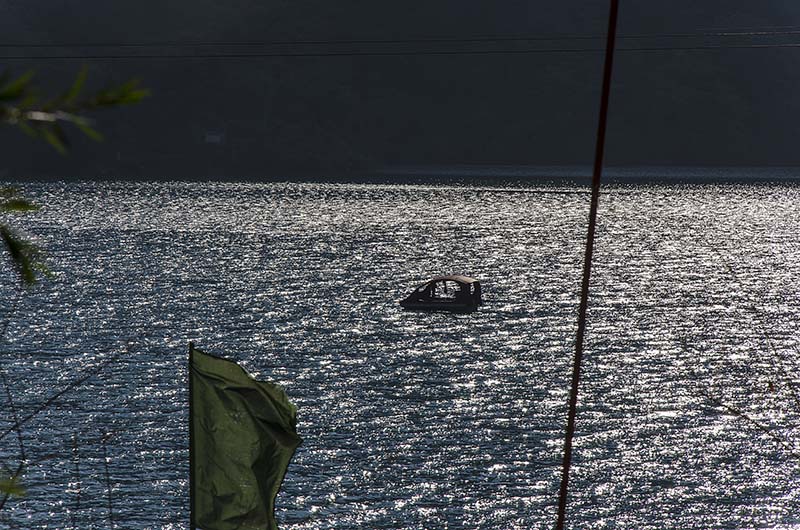 What to do in Chamba
Though Chamba is not a very big place, there are plenty of exciting activities and things to do in Chamba that you can opt for.
If you love adventure, there are numerous trekking trails in and around Chamba. More adventurous types can go for higher treks like Manimahesh and Pangi valley treks. These treks not only provide thrill but also stun with the scenic beauty that is spread all around during the trek.
Chamba has many water sports options as well. Being situated on the banks of river Ravi, water sports come naturally to this place. You can enjoy the best and the most exciting water sport, river rafting across the river Ravi. Or you can opt for leisurely sports like canoeing, kayaking, and rowing. And of course, there is no replacing the good old boating, which you can do in the lakes in Chamba.
Also Read: What to see in Dalhousie | Fun Things to do in Dalhousie
And if you love nature and enjoy stargazing, go camping. There are a number of natural spots and green meadows in and around Chamba, where you can pitch your tent and soak in the pleasant environment of the place. Watch the snow-clad peaks during the day and gaze at the stars in a clear sky during the night.
You can also go for a nature walk in Chamba and admire and explore the beautiful spots in and around the city.
Fairs & Festivals of Chamba
Suhi Mela
Celebrated in April every year, Suhi Mela or fair is mainly a festival for women. They gather at the Naina Devi temple and worship her. Naina was the wife of King Sahil Varman. Legend has it that the water supply was not regular and sufficient during the reign of Sahil Varman. He wanted to make sure that citizens got ample water, so he built a pathway from Saroha Nalla to town. However, water refused to take the course designed for it.
The superstitions of that time made people think that it was due to some supernatural cause and required the sacrifice of either the queen or her son. Ultimately, the queen decided to sacrifice herself for the cause of the people. The temple has been constructed in her memory and at a place where she sacrificed herself. This fair goes on for 15 days and is among the major festivals of Chamba.
Minjar Fair
Held on the second Sunday of Sharavana month of August, the Minjar fair is the most popular fair of Chamba. Basically, people offer their gratitude to rain gods and pray for a good harvest. The fair is a seven-day long affair.
People from every corner of the Chamba region attend this fair which has been held for centuries. The beginning of the fair sees the hoisting of the Minjar flag in Chaugan. The whole of Chamba wears a colorful look during this period. Sports and cultural events are organized. And at the end, the following Sunday, a huge procession of deities is taken out.
Also Read: What to See in Shimla | Fun Things to do in Shimla
When to Go
Weather of Chamba
Due to its altitude, the weather of Chamba mostly remains pleasant throughout the year. January and February are the coldest time when the temperature can dip down close to 0 Degree Celsius. It does now snow in Chamba town but the nearby high altitude areas of Dalhousie and Khajjiar receive plenty of snow each year.
Spring season arrives towards the end of March which marks the beginning of tourist season in the area. The following months of April, May, and June are considered to be the best time to visit Chamba because of pleasant weather with clear sunny skies. But please note that summers are also the hottest time of the year when the average temperature can remain well beyond 30 Degrees Celsius.
Monsoon begins towards the end of June and the months of July and August are ruled by the rain gods. Sometimes it can rain here so much that you will be forced to remain indoors and it may even trigger landslides.
September is when the weather turns pleasant again with lush green scenery all around. Autumn arrives in October and all that was green once now turns golden orange. November and December are the driest time of the year with winter settling in and the weather turning cold again.
Also Read: Best Time to Visit Dalhousie | When to go to Dalhousie
Best time to visit Chamba
If you are planning to go to Chamba, March to June are the ideal months to visit. You can see the snow-covered mountains as well as the greenery. Monsoons begin in July and last till September. Though it is not advisable to visit during this period, if you want to enjoy the rain of hills, you can plan a visit. And if you are a snow lover, December and January are the best months to Visit Chamba.
From a photography point of view, it makes sense to go in July, August, and September. For a budget trip, try planning in October and November because it is the offseason time. With not many tourists around, you may be able to get a good deal on accommodation. But please note that the scenery is very dull and dry at this time.
For a trip with your family, you should plan in March, April, or May. If you were heading towards Sach Pass from Chamba, then you would have to plan after the pass has opened in June.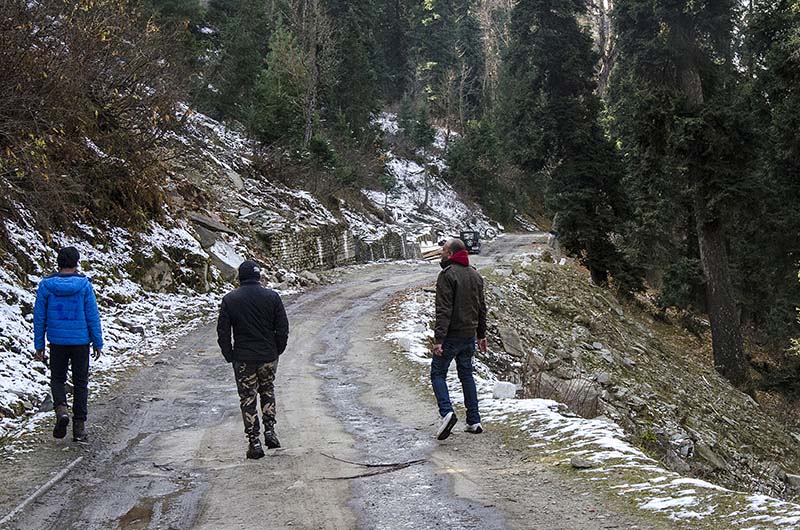 Clothes to Pack for Chamba
April is the beginning of the summer season. Summers in Chamba are warm but nights are pleasant. Normal summer clothing like T-shirts and trousers during the daytime will keep you comfortable.
The monsoon season sees heavy rains. October and November are very pleasant months and nights become cold. And if you are traveling to Chamba during December-February, be prepared for sub-zero temperatures. So carry heavy woolens.
Other Items to Pack
Listed below are some items to pack that can be really useful.
Warm Caps (in Winter)
Pair of Waterproof Warm Gloves (in Winter)
Sunglasses
Sunblock lotion with the highest SPF that you can find (if visiting in summer)
Prescribed medicines if you are on medication
Head Phones/Earphones
Power Bank (If you own one)
Chargers for your electronic items
Umbrella or a Rain Poncho (if visiting during monsoon)
Torch
Comfortable lower if planning to go on a trek as jeans is not advisable for this purpose
Also Read: Triund and Snowline Trek Mcleodganj
Where to stay in Chamba
Chamba has a number of hotels and resorts in every budget to choose from. But they offer mainly mid-range and budget accommodation. There are Airbnb accommodations also available. Most of these hotels, guesthouses, and lodges are situated in Court Lane and all of them offer a panoramic view of the surroundings including snow-clad mountains. Himachal Pradesh tourism department also operates hotels that offer decent budget accommodation.
Camping in Chamba
There are several campsites in Chamba that you can stay at but most of them are towards high altitude areas rather than in Chamba town. You can find a few on Jot road or towards Dalhousie and Khajjiar. My advice would be that if camping was on your mind, then you should head towards Khajjiar. There are several scenic spots there where you can even pitch your own tent.
Also Read: Chitkul Village – A Trip to Remember
Facilities in Chamba
---
Chamba town has all the major facilities that a town can offer. You have banks and ATMs in case you need to do any transactions. Petrol stations are also available for fuel. However, CNG stations have not yet been introduced here. For local travel, you have taxis and state-run buses.
Buses from different places in Himachal Pradesh carry people to Chamba and they will drop you at most of the tourist sites. Mobile phone services are fairly good. So, you don't have to worry about all these things once you decide to visit Chamba.
What to eat in Chamba
A local dish to try here would be Chukh. It is a hot chili sauce with capsicum, lemon juice, and mustard oil. It is served almost everywhere in Chamba. Other dishes to try would Madhra (rich, slow-cooked kidney beans with curd and ghee) and some
Tibetan cuisine consisting of noodles, momos, soups, and dumplings, etc. If that is not of your interest then almost all Indian dishes (both north and south) get served here. Just take a walk through the market and you will find several places you can eat at.
Shopping in Chamba
Chamba is most known for its shawls, chappals and leather works, and 'rumal' embroidery. You can buy these items at the Government Handicrafts Centre at Rang Mahal and in many other shops in the town.     Chaugan market is probably the best place to try some shopping.
Some other items to buy would be miniature paintings and souvenirs made out of wood and metal. But apart from the handicraft items, 'Chamba Chappals" is the most famous item to buy here followed closely by the locally made pickles.
ATM/Banks in Chamba
All major banks have branches in Chamba and provide ATM services as well.
Mechanics / Petrol Pump in Chamba
You will find several petrol pumps in Chamba and even on the route. Mechanics too are easily available.
Hospitals
There is a medical college and several hospitals located in Chamba so medical assistance will easily be available if required.
Mobile Network and Data Connectivity
No matter which network you were on, your phones will work fine in Chamba, both prepaid and postpaid.
Also Read: Triund and Snowline Trek Mcleodganj
Itinerary for Chamba
---
Last but not least, let me quote an itinerary for a trip to Chamba and the nearby region. An ideal time to visit here would be 5-6 days because it is not just Chamba that you will go to. A trip to this region is only complete when you have covered Chamba as well as Dalhousie and Khajjiar.
For the sake of the itinerary, I will assume Delhi as your starting point. If you were coming from a different city, only the journey on the first and last day will be different, the rest of the details will still apply.
Delhi to Chamba – Day 1
Local sightseeing in Chamba – Day 2
Chamba to Sach Pass snow point / Bharmour – Day 3
Chamba to Dalhousie – Day 4
Sightseeing in Dalhousie – Day5
Dalhousie to Khajjiar via Kalatop – Day 6
Khajjiar to Delhi – Day 7
Also Read: How to Plan a Trip to Sach Pass
FAQs about Chamba
---
Below are some of the most frequently asked questions about Chamba.
1. Where is Chamba Located
Chamba is a town in the Chamba district of Himachal Pradesh on the banks of the Ravi River at its confluence with the Sal River.
2. Is Chamba Worth Visiting?
Good connectivity and easy accessibility make Chamba definitely worth visiting. There are plenty of places to visit here and you can also extend your trip towards Dalhousie and Khajjiar.
3. What is Chamba famous for?
Chamba, also known as the valley of milk and honey, is most famous for its natural beauty comprising streams, meadows, temples, paintings, and lakes.
4. Is Chamba Safe?
Yes, Chamba is a very safe place to visit.
5. How to reach in Chamba in winter?
Chamba remains connected with other cities for all 12 months. So all the details that I provided previously in the article about reaching Chamba remain applicable in the winter months as well.
6. How to reach Chamba from Dalhousie?
There are 2 daily buses from Chamba for Dalhousie and vice versa that you can board for this journey.
7. How to reach Chamba from Dharamshala?
There is a daily bus between Chamba and Dharamshala for Rs. 260 per person.
8. How to reach Chamba from Pathankot?
There are several buses in the day plying between Chamba and Pathankot that you can use to move between the two places.
Conclusion
Chamba is one of the most beautiful places in Himachal Pradesh. So don't fail to visit this naturally beautiful historical place. I hope the information above was of help. If you have any questions or need any other details, please feel free to ask in the comments section below; or at our Community Forum; and I will be glad to answer.