If a person was to list down names of the most visited tourist destinations in India, then I am sure the name Manali would be among the top. So many people visit Manali each year that I believe tourist season here never ends; it goes on for all 12 months. I have been to Manali numerous times and at different times of the year; and I don't remember if there was ever once when it wasn't crowded. Come here in winters and you will find people enjoying the snow. For rest of the year, it will either be people visiting Manali and Rohtang; or people heading towards Ladakh and Spiti via Manali. In short, no matter when you come here, Manali these days means crowded.
I just returned from a trip to Spiti valley and spent one day in Manali before driving back to Delhi. This was actually the first time that I spent some time here. All my previous visits to Manali meant only a few hours of stay when I reached here from Delhi late night; and was on my way to either Ladakh or Spiti by 4 or 5 AM in the morning. And since on most of the times we were on motorcycles, even the traffic at Rohtang did not cause too much of trouble. During this visit however I was in my Thar; and my co-traveler wanted to spend some time in Manali city. I too had one more day of leave left before joining back at work so I too agreed.
So after spending two nights and one entire day in Manali, below is what I observed.
Mall Road Means Sabzi Mandi
Yes, that is what it is. I don't even know what I was doing there actually. If it wasn't for my friend, I never would have stepped into so dense a crowd. Have you ever been to one of those Saturday and Sunday markets where the street hawkers sell cheap stuff along the road once a week? If you are from Delhi or Mumbai then imagine standing inside a Delhi Metro or Mumbai Local. That is how it felt. I literally had people step on my toes a few times and regretted coming there in sandals. People brushed past me and I ended up smelling their sweat a few times. It was practically a "Mela" with people of all sorts and from all over. The only thing missing was someone shouting "Aaloo le lo, Gobhi le lo". Rest all of the traits of a sabzi mandi were there.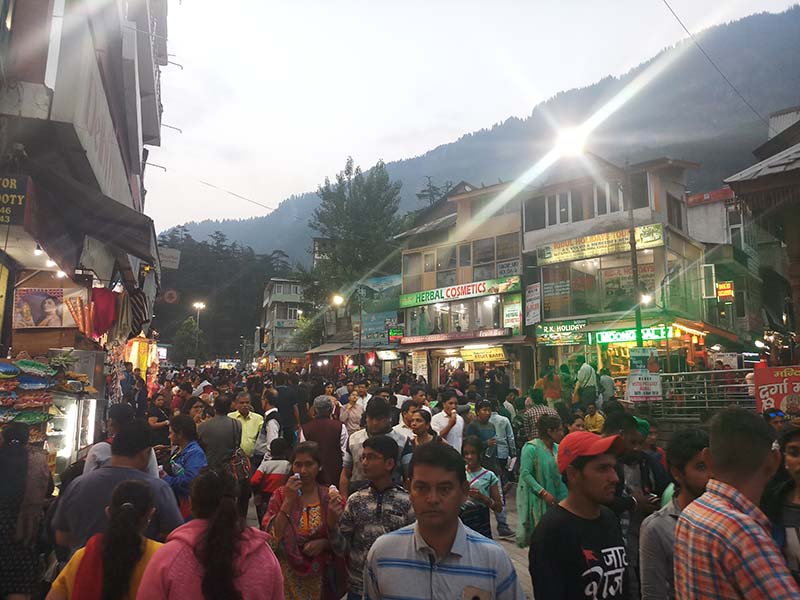 Rohtang Pass means an Ant Colony
And I mean it in a way as literal as possible. This is how the top of the mighty pass feels now. So many people visit Rohtang Pass these days that I bet you will not be able to click even a single photograph with only you in it. There will be people scattered as far as you can see; and as far as it is possible without falling off the mountain. If you want some decent pics, you will have to drive a few kilometers downhill towards Lahaul. But at the top of the pass, you will be one among thousands.
Not even that scenic
If you want to get some good vistas, you will have to drive out of Manali. In the town itself, it is not that scenic really. Outside of your hotel window, you will just be looking at cars, people and houses. If you were staying close to Mall road or Bus stand, you will also be seeing a lot of "Kachra"
Traffic Jam
I am from Delhi and that means that I have a fair idea of what a traffic jam is; how getting stuck in it feels and how to be patient about it. At least that is what I thought until I stayed in Manali. Even in Delhi, I have never seen roads getting clogged at 11 in the night but in Manali, it is possible. See the picture below. I clicked it well past 11 PM while we were taking stroll through the town. There was a traffic Jam in Manali at even midnight. Third picture is while I was driving down from Rohtang to Manali. It took me 6 hours to finally reach Manali.



Parking Problem
Did you ever imagine that you will have problem finding a place to park your car in the hills? Come to Manali and experience it. In town, you will have to really look for a hotel that comes with parking facility. In main Manali town and near Mall road, you will not find a hotel like this. You will have to leave your car parked elsewhere and walk to the hotel. If you want to drive to the hotel then you will have to look for one on the outskirts of the town. And this is not just limited to Manali. Even at Rohtang top, you will have problem parking your car and will really have to look for a little bit.
Dumb People
Hard to put this in words so let me just narrate an incident. We were climbing towards Rohtang top from Kaza side and I was in my Thar. Near the top, we started coming across people clicking selfies and they were doing that while standing right in the middle of the road. Some people were standing on the side of the road but there selfie sticks were stretched out in the road. I literally had to stop my car and wait for people to click a selfie good enough for them. They didn't budge even when I honked. Only after they were able to click a good photo is when they moved and let me pass.
Expensive
Yes, Manali is definitely expensive. I have been to a lot of hill stations and visiting Manali is definitely going to cost you a lot more. A decent enough hotel here in tourist season will not charge any less than Rs. 2000 to Rs. 2500. Good ones will cost way more. If you were thinking of hiring a taxi here then be ready to shell out around Rs. 10,000 or more. And all this is because they are not short of customers. If one person says no then there is another person right behind who could be the next customer.
Arrogant and Hostile

It does not matter if you were talking to a taxi driver, a hotel owner, a waiter or a shopkeeper; but be ready to be ignored. I have not seen a worst set of people involved in tourism industry. They will ignore and waive you off like you don't matter. As long as you are agreeing to their price and paying them all the money they are asking for, you will be treated well. The moment you show slightest of apprehension, you will lose their respect and dismissed immediately. "Badtameez" is the word that I will use to describe the locals that I met in Manali. You will be treated like a piece of trash.
Hassle
Add all of the above and you can summarize it in one word "hassle". It is not your regular vacation. You will be going from your crowded home town to another crowded city. You will have to book your hotels because you may not find a place to stay. When you get there, parking will be a problem.
If Rohtang was on your list, you will also have to worry about the permits. Renting a taxi for Rohtang means paying Rs. 10k to Rs. 15k. Tickets for the bus to Rohtang are usually sold out days in advance. You will also be getting stuck in traffic jams. Getting good customer service and treated well should not be on your agenda. Everything here will be expensive. And on top of it, the town is not even that scenic really; you will have to dry out of it to enjoy some good vistas.
Avoid Manali
In the end, I will say that there are other places in both Uttarakhand and Himachal that are way more scenic, less crowded and will cost you way less than visiting Manali and Rohtang. Just google around for some offbeat destinations and you will have a better vacation. Manali in my opinion is just way too over-rated. What do you think? Please do share your opinion on the matter either in the comments section below or at our Community Forum.