In the last few weeks, I posted several articles about traveling to Dharamshala and Mcleodganj; covering details like how to reach, where to stay and what to see. Continuing in the same series, and as the last installment, in this post, I will talk about camping and trekking in Mcleodganj and Dharamshala. This entire region is one of the favourite spots for trekking and the biggest reason behind that, in my opinion, is that there are all kinds of treks heading out of here. I am not only talking about the famous Triund Trek but several others that cater to a wide range of trekkers; from absolute beginners to the seasoned and greatly experienced ones. If you want a wholesome trip with a little bit of trekking and camping involved, then there is no better place than Mcleodganj and Dharamshala.
Both these scenic towns are surrounded by the Dhauladhar range of Himalayas and that is what you venture into when you start on a trek from Mcleodganj. The elevation of the mountains in Dhauladhar ranges widely from 3,500 m to nearly 6,000 meters. Hanuman Tibba is the highest peak in the range at an elevation of about 5,982 meters. There are several other peaks which are close to 5,180 meters (17,000 ft), both virgin and scaled. But do not let that scare you. I am not saying that you will be climbing 17,000 on a trek from Mcleodganj. No, there are a lot many easier ones as well that can easily be completed in a matter of a few hours. In the article below, I will try to provide some helpful details on some of the most popular trek routes from Dharamshala and Mcleodganj.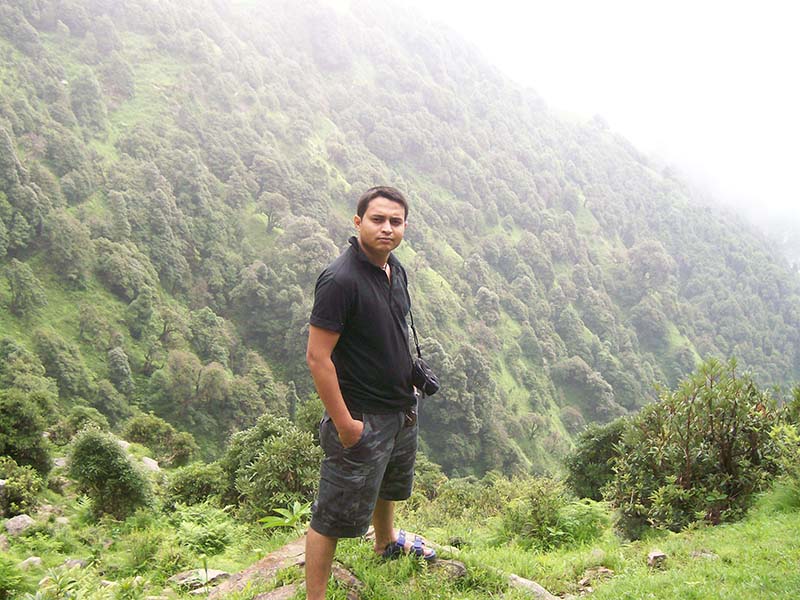 Below is a quick navigation of the information covered in this article.
Trekking and Camping in Mcleodganj & Dharamshala
Let us take a look at the list of the treks in Mcleodganj one by one and you can then decide which one you want to head out on during your trip. Along with the information below, I will also recommend you to read through this List of Necessary Items to Carry for Trekking.
Triund Trek

Of course, every list of treks in Mcleodganj has to start with the name that is most famous of all. Triund is often considered as the crown jewel of Mcleodganj and is truly so in so many ways. This 7 kilometers long trail is the reason for a vast majority of people visiting Mcleodganj. I am not saying that this is the only place worth visiting in Mcleodganj but is definitely the top one in the list.
This easy to moderately challenging walk will take you across 7 kilometers of lush green forests offering mesmerizing vistas. At the end of the trail, you will be standing at the top of a mountain with breathtaking views of the Dhauladhar Mountains on one side and Kangra valley on the other. If you planned an overnight stay then you will be camping under a clear sky with countless stars over your head. Thousands of tourists complete this trek each year and go home to tell tales of their adventure for a long time.
So what is Triund really? Triund is a trekking destination located about 18 kilometers from Dharamshala and about 11 kilometers from Mcleodganj. Of this entire distance, only 7 kilometers is the actual trek, rest all can be covered by a motorable road. The trek starts at Galu Devi Temple near Dharamkot and takes about 3 hours to complete. The first 4 kilometers of the walk is a gradual incline and it is only the final 2 kilometers after Snowline cafe that involves a steep climb all the way till Triund. The total gain in altitude is about 800 meters from Mcleodganj to Triund top.
Difficulty Level & Time Required
A large meadow type land of green grass is the endpoint of this 7 kilometers long walk, as shown in the image above. It is also the base camp and acclimatization point for the trek to Indrahar Pass trek, which I have talked about further in the article. The spot sits at top of the mountain and provides a 360 degrees view of the valley around. There are a few campsites, dhabas, tea stalls and even an HPPWD rest house built here. So you can either walk back on the same day (if time allows) or you could stay at Triund for the night and trek back the next morning. For a mix of trekking and camping in Mcleodganj, there is definitely no better place than Triund.
Difficulty Level: Intermediate
Time Required: One entire day if rushed, 2 days if done leisurely.
Guide Needed: No
Maximum Elevation: 2,850 meters
Also Read: Triund Trek – How to Plan your Adventure
Bhagsu Nag Temple & Bhagsu Waterfall
The second in the list of the popularity is the small trek to the Bhagsu Nag Temple and Bhagsu Waterfall. It may be second in popularity but it is definitely at the top in terms of visitors. Almost everyone who visits Mcleodganj goes to Bhagsu Waterfall, half of them without even knowing what to expect. The only reason why I kept it at the second spot is that it is more of a walk than a trek. The trail starts from Bhagsu Nag Temple, runs for a total of about 2 kilometers and ends at the Bhagsu Waterfall. This entire area actually looks like a picnic spot with families with kids having fun. There is a small pool type area where the waterfall hits the ground and you will find people taking a dip in the water.
To get here, you will first reach Bhagsu Nag Temple for which you can either walk or take a cab from your hotel. Pay your respect at the temple, climb a few stairs and you will reach a narrow path the leads to the waterfall. There are several tea stalls and small cafes along the trail where you can eat something while taking a break. I will advise doing this trek early in the morning because it gets a little crowded during day time. Leave the hotel at sunrise, reach the waterfall, take a dip in the waters and have your breakfast here with awe-inspiring views all around.
Shiva Cafe
Shiva Café is a small restaurant sitting in the middle of nowhere a little further up the waterfall. It is one of the oldest cafes here and is a very famous one because of that. If you were up for it, you can trek another short distance to reach the café after the waterfall. Just be careful because the path to the café is not well laid out. It is a good spot to just sit down with friends and chit chat over a cup of coffee right in the middle of great scenery.
Difficulty Level: Easy to Moderately Challenging
Time Required: 2-3 Hours
Guide Needed: No
Maximum Elevation: 2,165 meters
Also Read: Sightseeing in Mcleodganj – Bhagsu Temple & Waterfall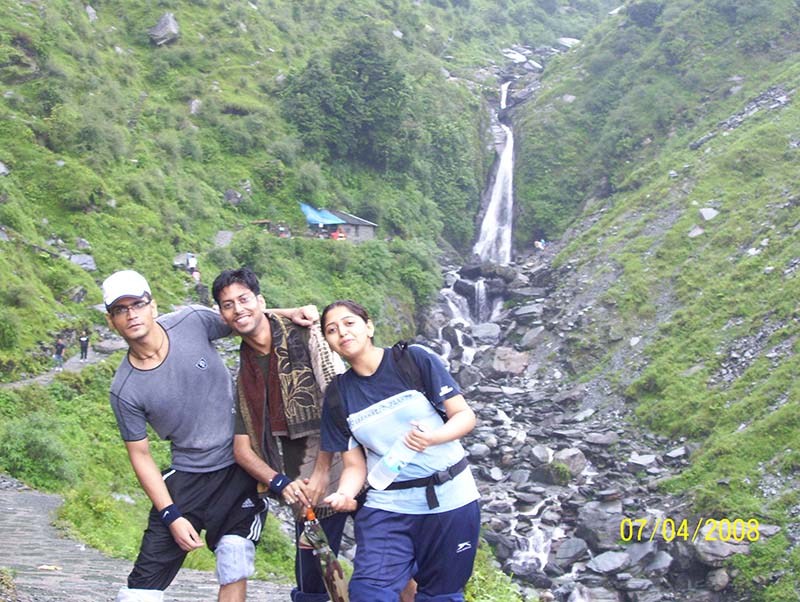 Gallu Waterfall Trekking in Mcleodganj

If you want to visit a spot in Mcleodganj where there is hardly anyone around, then Gallu Waterfall will suit you well. It is located about 5-6 kilometers from Mcleodganj but the actual trekking distance is only about 2 kilometers. This beautiful waterfall is mostly void of any people and is a great place to visit. To get to the waterfall, you will first reach the tea shop in Naddi Village (the sunset point). The waterfall is about 2 kilometers ahead of this tea shop.
The trek towards this waterfall starts at the same spot as the Triund Trek near Gallu Devi temple. The broader trail goes towards Triund and the narrow one towards this waterfall. As you get closer to the waterfall, the path gets a little rough and very smooth and slippery in the end. Wear comfortable trekking shoes and walk very carefully while trekking here. It is a great place to take a dip in the refreshing waters.
Difficulty Level: Easy to Moderately Challenging
Time Required: 2-3 Hours
Guide Needed: No
Maximum Elevation: 2,200 meters
Laka / Ilaqa / Ilaka / Snowline Trek
All the names that I mentioned above are actually for the same trail. It is a 2-3 kilometer walk further ahead of Triund Top and will take you about 3 hours to cover from Triund. This trek is named such after Laka Got, a temporary shepherd camp. It is also called snowline trek because there is a café on the trail of the same name. From Triund, you walk until the snowline café, get something to eat and drink, enjoy the stunning views and return. It can actually easily be incorporated with your Triund Trek. On Day 1, you can trek to Triund and stay overnight. On Day 2, walk all the way to Snowline, return to Triund by 11 am and trek down to Mcleodganj by evening. The owner at the café can also arrange for you to stay overnight if you wished to do so.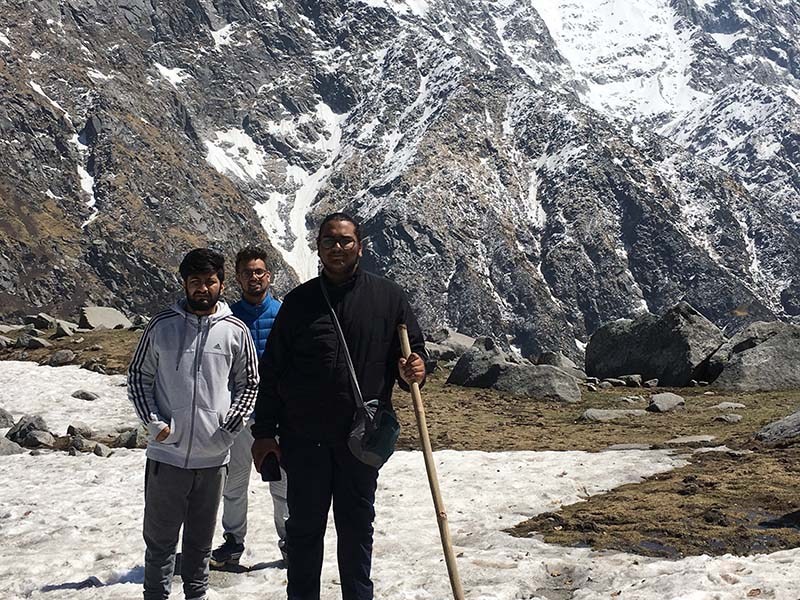 Please note that this trail is a bit rocky and narrow so practice caution while walking here. But the stunning panoramic view of Dhauladhars that you get from here is worth taking the pain. The path becomes extremely risky during the winter season and you should avoid it unless you have a very experienced guide with you.  From the Indrahar pass, trekkers proceed to Chhata camp, which is downhill from the pass.
Difficulty Level: Intermediate
Time Required: 2-3 Hours
Guide Needed: No (Yes during winter)
Maximum Elevation: 10,800 ft.
Also Read: Triund and Snowline Trek Mcleodganj
Indrahar Pass
If you were interested in a little more serious trekking and had about 4 days in hand, then Indrahar Pass is where you should be headed. The trail is the same one as Triund and climbs up even further up after snowline. On Day 1, you would reach Triund and camp there for the night. On Day 2, you will trek further towards Laka Got via Lahesh Caves. For an overnight stay, you can either camp at Laka or stay in Lahesh Caves. On Day 3, you will trek to Indrahar Pass and return to Laka Got. On Day 4, you will trek down to Mcleodganj.
Indrahar Pass is one of the most popular trekking routes of Dharamshala. It attracts a lot of tourists' traffic during the trekking season between April and October. This route connects the valleys of Kangra and Chamba and mostly gets used by Gaddi Shepherds to move their livestock. The total distance you will walk in 4 days for this trek is about 30 kilometers and it is best completed with a local guide. Trekkers usually camp till Triund for a day and then on the next day proceed to shift to Lahesh Cave.
Difficulty Level: Intermediate
Time Required: 4 Days
Guide Needed: Yes
Maximum Elevation: 14,245 ft
Kareri Lake Trek

Kareri Lake is considered as the top spot after Triund for trekking and camping in Mcleodganj. Because out here, you set up your camp next to an amazing body of water and wake up next morning to stunning views. Kareri Lake is named so after the nearby gaddi village of Kareri which is situated at a distance of 9 kilometers from the lake. This lake is a shallow, freshwater lake and is a popular trekking destination in the Dhauladhars. It remains from frozen from early December to March–April. There is also a temple dedicated to Lord Shiva and Shakti on a hilltop overlooking the lake.
This is ideally a 2 days trek for which you should make the arrangements in advance. On Day 1, you will drive to Ghera village and start your trail from there. You will reach the lake by evening and stay there for the night. Gera Village is about 16 kilometers from Mcleodganj. Regular buses ply from Dharamshala to Ghera village, starting from 8:00 AM in the morning. You can also take a taxi from Dharamshala to Ghera. The trek to Kareri Lake begins from the market in Ghera village.
Also Read: Shimla – A Complete Travel Guide & Itinerary
Accommodation at Kareri Lake
The Shiva Temple at the lake has a few rooms that the travelers can use free of cost. There is also a forest rest house nearby but you will have to make arrangements for that in advance. There is also a high chance that you arrived at the FRH and the caretaker was missing so it would be best to not rely on it. For a night stay, best would be to hire a local guide and ask him to make camping arrangements next to the lake. In winter, the trek becomes difficult with snow covering the trail. Kareri Lake also serves as a base for Minkiani Pass (4250m) and Baleni Pass (3710m) trek.
Difficulty Level: Easy to Moderately Challenging
Time Required: 2 Days
Guide Needed: Yes
Maximum Elevation: 2,934 m (9,626 ft) at the lake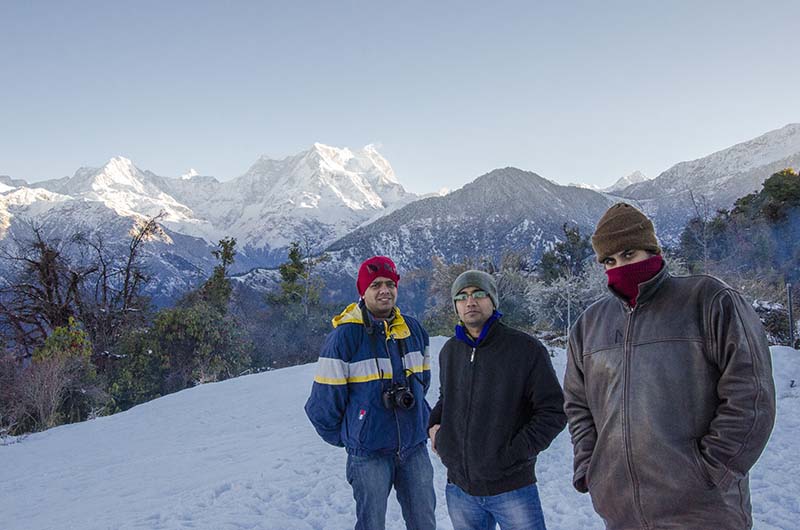 Guna Devi Temple Trek



Walking to Guna Devi Temple provides a taste of both trekking and camping in Mcleodganj as well as visiting a holy place. This temple is located at a distance of about 8 kilometers from Mcleodganj and 13 kilometers from Dharamshala; at an altitude of 2310 meters. The temple is dedicated to Goddess Kali and is a pilgrim center of the Gaddi shepherds. Completely surrounded by forests of oak and deodar, the temple gives stunning and close views of Dhauladhar Mountains. To get here, you will first drive to Naddi Village near Dal Lake and then walk the last 4 kilometers to the temple. From Naddi there is a moderate trail leading to Baal village. Guna Devi temple is located 2 kilometers from Baal Village.
It will take you about 2 to 3 hours to reach the temple from Mcleodganj and if you wanted to, you can even stay here for the night. The temple has basic dormitory type accommodation facilities providing mattresses and blankets for sleeping over.
Difficulty Level: Easy to Moderately Challenging
Time Required:1-2 Days
Guide Needed: No
Maximum Elevation: 2,310 meters at the temple
Also Read: Places to visit in Mcleodganj and Things to Do
Minkiani Pass Trekking and Camping in Mcleodganj
This is where things get a bit tough and challenging. Minkiani Pass is located about 5-6 kilometers further ahead of Kareri Lake after a steep climb. The pass is located at an altitude of 4,250 meters and a trek here is mostly extended to Chamba. You start from Kareri Village, reach the lake, climb up to Minkiani Pass, then Baleni Pass and then walk down to Chamba. Please know that this trek can take you several days and would require if you to hire a local guide and make proper arrangements.
Difficulty Level: Intermediate
Time Required: 5-7 Days
Guide Needed: Yes
Maximum Elevation: 4,250 meters
Conclusion
I hope the information above about trekking and camping in Mcleodganj was of help. If you have any questions or need any other details, please feel free to ask in the comments section below; or at our Community Forum; and I will be glad to answer.