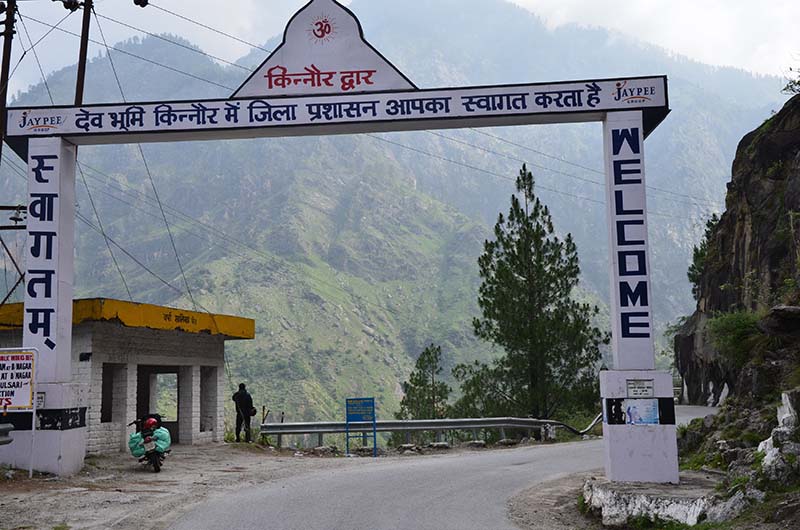 When is the best time to visit Kinnaur Valley? This one is a hard question to answer because Kinnaur remains open and beautiful for all 12 months. It presents a different color each season. When should you go will depend on which color do you want to see.
Kinnaur Valley has come up as a major tourist attraction in recent times. The way the tourism industry has been developing here makes it hard to believe that this place was not even open for tourists until the 90s. Come here at any time of the year and you will definitely find tourists in parts of the valley, even in peak winter.
The road to Kinnaur via Shimla is never closed and people travel on it all year long. When should you plan your trip really depends on your own preference. In this article, I will provide a month by month breakdown which hopefully can help you decide on the best time to visit Kinnaur valley for you.
About Kinnaur Valley
Kinnaur is one of the 12 districts of Himachal Pradesh and the second least populous one after Lahaul and Spiti. It is spread over an area of 6,401 km2 and is divided between upper and lower areas. The area around Sarahan, Kalpa, Sangla, and Chitkul is known as lower Kinnaur whereas the villages of Pooh, Khab, and Nako fall under upper Kinnaur.
Sarahan is known as the 'gateway to Kinnaur' whereas Nako marks the ends of the valley. As you cross Nako and start driving down to the other side, you will enter Spiti Valley.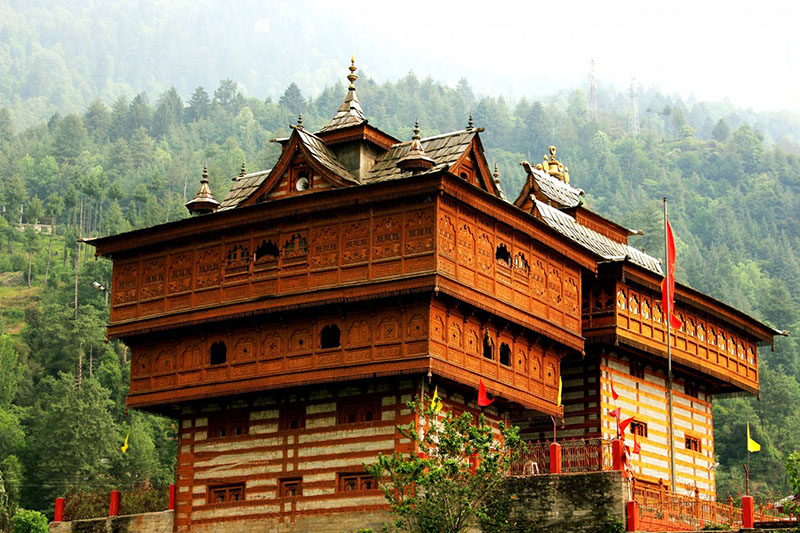 Why you should visit Kinnaur?
There are several reasons why tourism in Kinnaur has been on the rise. Its stunning natural beauty and mesmerizing vistas are of course the first reason. Second is that it is very well connected by a smooth road that remains open throughout the year. There could be a temporary roadblock caused by too much snow or rain, but even then the authorities clear the road just as soon as they are able to.
The third reason is that it is not as crowded as some other famous tourist destinations like Shimla which happens to be on the way. The serenity and tranquility of the villages of Kinnaur are beyond match.
Another reason could be that the valley lies on the famous adventure route called the Spiti circuit. The traditional way of doing the Spiti circuit is to start from Shimla, cross Kinnaur on the way, reach Spiti, and exit via Manali. Due to this, every person wanting to visit Spiti definitely makes Kinnaur a part of their travel plan.
Whatever the reason, the fact remains that Kinnaur valley is definitely a place worth visiting. When would be the best time to go here is what I will talk about in this article.
Also Read: Schedule of Bus Service in Kinnaur Valley
When is the best time for Kinnaur Road Trip?
There are two ways that you can enter Kinnaur Valley. The first one is via Shimla and Narkanda whereas the other one is from Manali. If you want to cover only Kinnaur Valley then the road will remain open for the entire year. From Shimla or Narkanda, you can first reach Sarahan and then move to other places like Sangla, Chitkul, and Kalpa. After completing the trip, you will then return via the same Shimla – Narkanda route.
The road from Manali to Kaza remains open only from late May to early October. So if you want to cover Spiti and exit via Nako – Tabo – Dhankar – Kaza – Kunzum Pass route, your trip would have to be planned in these months only.
Likewise, if you were starting from Manali and ending the trip at Shimla while covering Kinnaur on the way, it can only be done from June to September.
Sangla Valley also remains closed in peak winter months. So if you were visiting in the month of January to March, Chitkul must be kept out of the itinerary. If the weather got extreme, even Sangla may get blocked.
Kinnaur presents a different color each month and every season. Before getting to a conclusion on the best time to go to Kinnaur, let me first detail a bit on how the valley looks in a particular month.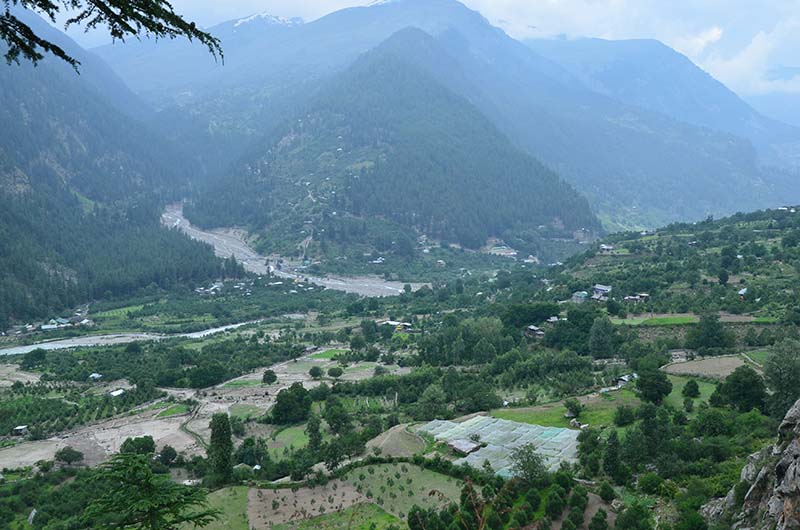 Kinnaur in January
The months of January & February is not really a good time to be traveling to Kinnaur; unless you were actually chasing some extreme weather and tons of snow. Life in winter is harsh in Kinnaur and even the locals struggle to go through their daily chores. This is the time when it can snow at any time of the day and sometimes so much that even the roads may get blocked.
Visiting Kinnaur valley in January means that you will be met with temperatures well below 0 degrees Celsius. It does not snow in the lower Sutlej areas like Rampur, Jeori, and Karchham. But places at high altitudes like Sarahan, Chitkul, and Nako get buried under snow completely. Even the road through Shimla, Kufri, Narkanda can get closed if there was too much snow.
The average temperature in places like Chitkul, Nako, and Kalpa in January will range between 0° C maximum and -20°C minimum.
The road to Sarahan may get closed and the 40 kilometers stretch between Karcham and Chitkul will definitely be closed so you will have to keep these places off your itinerary in both January and February. A few years ago, a few Bengali tourists were stuck in Chitkul for several weeks before they could be rescued.
Clothes to Carry: Heavy woolens, warmers, jacket, caps, muffler, gloves, woolen socks, Boots
Kinnaur in February
The weather and conditions in February as well will remain pretty much the same as January. The valley will continue to receive snow and temperatures will remains close to 0. If the weather turned extreme, roads to some areas may get blocked as well.
So in a nutshell, a trip here in January or February means terribly cold weather, temperatures close to zero, black ice on roads, chances of no running water in taps and no electricity, risk driving on snow-covered roads, and chances of getting stuck if the road got blocked. Not really an ideal trip or vacation unless all this is exactly what you were looking for.
Accommodation at this time will be a bit of a challenge. Most of the guest houses and hotels at this time shut down for winters. So if you were heading to Kinnaur in January and February, you should book your stay in advance.
Clothes to Carry: Heavy woolens, warmers, jacket, caps, muffler, gloves, woolen socks, Boots
Also Read: Kinnaur in Winter – How to Plan your Journey?
Kinnaur Valley in March
This is actually a good time for a winter trip to Kinnaur. I know this sounds a bit late in the season but you will have plenty of fun still. Weather in these months will yet be cold but not unbearably cold.
Snow starts to melt in the month of March and the risk of getting stuck at any of the places will be very less. Even if it snowed and the road got closed, it will only be for a day or two at most.
Spring arrives towards late March and the road to Chitkul gets declared open. In short, you get to see winter in Kinnaur with the kind of cold that you will actually enjoy.
If you want to see a valley completely buried under snow, then you can try driving beyond Kinnaur, towards Spiti Valley.
Clothes to Carry: Heavy woolens, warmers, jacket, caps, muffler, gloves, woolen socks, Boots
Also Read: How much a Trip to Kinnaur Valley Costs?
Kinnaur in April
If you were visiting Kinnaur in April, then the weather will be even better. The temperature at this time will be very moderate and the overall climate very pleasant. The place receives heavy snowfall throughout the winter season and there is some essence of it left even in April. If you traveled in the very first week, you will surely find some people around Chitkul.
Do keep in mind though that the weather will still be cold at night and early mornings, so pack clothes accordingly. Days will be pleasant but you will still need at least a jacket and light woolens. Another benefit of visiting in April could be that there will not be too many tourists around.
In terms of accommodation, you will not have any trouble finding a place to stay. The entire valley at this time is open for tourism, including Chitkul. The bus service too will be available on a regular basis, making it easy for people traveling by public transport.
Clothes to Carry: Regular cotton clothes with a few light woolens and a Jacket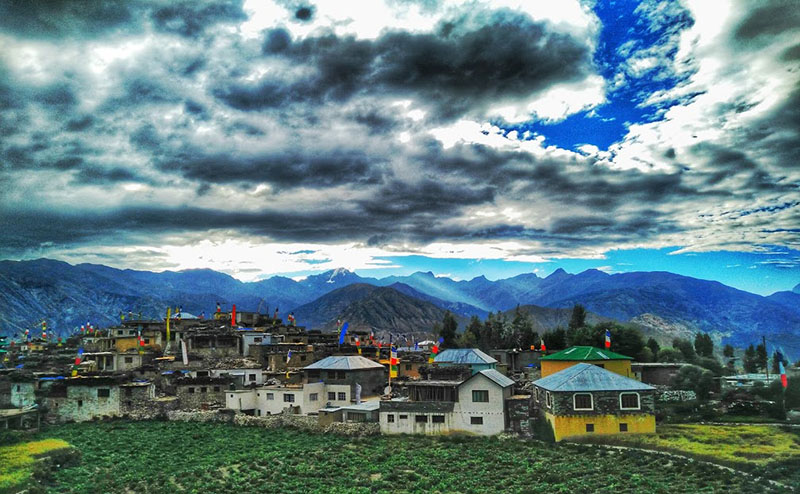 Kinnaur in May
The month of May and June are considered among the best times for a trip to Kinnaur valley. The weather starts to warm up in May. During the day, you can actually walk around just wearing regular cotton clothes. Night and mornings however will still be a bit cold and you will definitely need to pack a few woolens and a jacket. Rohtang Pass from Manali side will also be open in this month.
All the internal roads within Kinnaur are open so you can include any part of it in your itinerary. The trek routes as well are all accessible if you are interested in some adventure sports. You will not however find any snow at this time anywhere.
May is when the vacations in the schools start so you will also find a lot of families out on vacation. There will also be a lot of bikers on the route heading towards Spiti Valley via Kinnaur.
Clothes to Carry: Regular cotton clothes with a few light woolens and a Jacket
Also Read: Kinnaur Valley Itinerary – A Detailed Travel Plan
Kinnaur in June
By June, the weather turns quite warm. In the lower areas like Rampur, it can actually get a bit hot at mid-day. Road conditions improve a bit towards June and you will find restoration work happening at several stretches.
At this time, all hotels and guest houses remain open and you will have no trouble finding a place to stay. You can either book in advance or negotiate an on the spot deal after arriving at your destination. Other tourism-related activities like camping and trekking too become operational. In short, it is a great time to be visiting Kinnaur.
The road between Manali and Kaza is declared open towards late May or early June. This marks the beginning of the tourist season in Spiti Valley and it will be a great idea to modify your itinerary accordingly. Rather than returning from Kinnaur to Shimla, you can continue ahead and end the trip at Manali.
June is a great time for planning a family vacation, enjoying pleasant weather, outdoor activities, and also covering Spiti Valley. The temperature in this month will range between 30° C maximum and 10°C minimum, depending on where you were in the valley.
Clothes Needed: Regular cotton clothes, Jacket, normal sports shoes
Also read: How to Plan your Itinerary for Kinnaur Valley
Kinnaur in July
Kinnaur valley starts to receive pre-monsoon showers towards the end of June. The following months of July and August are ruled by the rain gods. If you were traveling in early July then it would be pretty much the same as the month of June. The weather will be dry and pleasant and moderately cold with occasional and light rainfall.
The intensity and frequency of the rain increase by the 10th of the month. This is not at all a good time to be heading this way. Hotels will all be open and you will find a place to stay easily but the weather will become a major challenge. Landslides caused by incessant rains are common here during monsoon. Sometimes entire sections of roads get washed away and you may be stuck at a certain place for several days.
If not landslides, then it just may rain non-stop, trapping you inside your hotel and ruining any plans for sightseeing.
July is also the warmest month in Kinnaur. The maximum temperature at some places (like Rampur) can go as far up as 35° C maximum whereas the minimum temperature will remain close to 10° C. In places like Kalpa and Chitkul, it will be much colder.
Clothes to Carry: Regular cotton clothes or clothes that can dry faster, like polyester. A few light woolens or a Jacket will also be required. If possible, carry an umbrella or a poncho as well.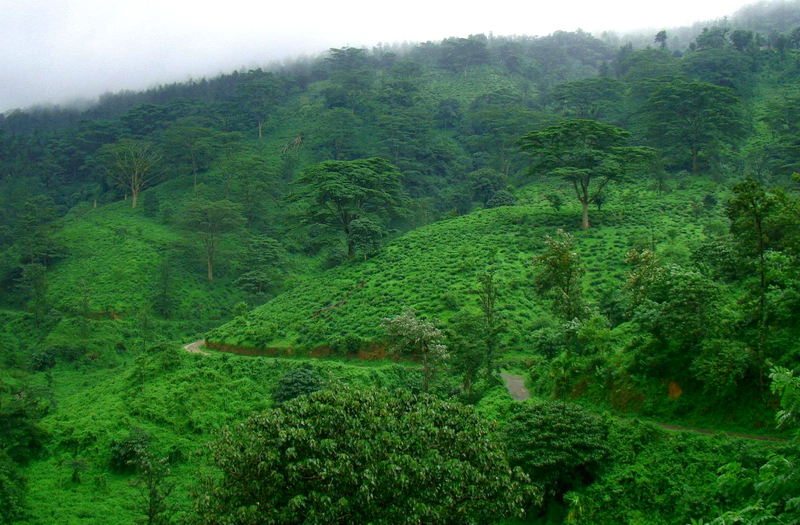 Kinnaur in August
With all that I said about monsoon being a bad time to visit Kinnaur, it has its own benefits as well. On the positive side, vistas are their best during monsoon. Mountains would appear as is they have just been washed clean and covered with a carpet of green. The valleys of Kinnaur truly come alive at this time and turn amazingly beautiful.
If you are into photography, this is the time to plan your trip. The landscape shots you will get in August will be among your best. Since there will not be many tourists around, it is also a good time for people traveling on a strict budget. You will have a better chance of getting a good deal on accommodation.
Clothes to Carry: Regular cotton clothes or clothes that can dry faster, like polyester. A few light woolens or a Jacket will also be required. If possible, carry an umbrella or a poncho as well.
Also Read: How to Make a Budget Trip to Kinnaur Valley in Under 10k
Kinnaur Valley in September
This is by far considered as the best time to visit Kinnaur because September offers a little bit of everything. Monsoon would be long gone but all the green would still remain. You will still be treated with lush green hills and mesmerizing vistas. At the beginning of the month, there will still be a chance of rainfall.
Road conditions maybe a little bad due to the damage caused by the monsoon in July and August but the weather will be very pleasant. It will be just the right kind of temperature that you would want for a vacation. All hotels and guest houses will be operational and the entire Kinnaur will remain open for tourism. In short, this is a perfect time to visit Kinnaur valley.
Clothes to Carry: Regular cotton clothes or clothes that can dry faster, like polyester. A few light woolens or a Jacket will also be required. If possible, carry an umbrella or a poncho as well.
Also Read: How to Plan a Trip to Chitkul
Kinnaur Valley in October
October marks the arrival of the autumn season. All that was green in September will now turn orange, giving a golden magical look to the entire Kinnaur. October is mostly a dry month which makes it perfect for trekking and other outdoor activities.
It will be cold but not terribly. The weather will be more on a pleasant side. Spiti circuit would close from the Manali side so there will also not be many tourists around. It is also a great time for photography if you visited in the first half of the month.
Clothes to Carry: Light woolens, jacket, caps, muffler
Also Read: Kinnaur Road Status | Road Condition in Kinnaur Valley
Kinnaur in November
November is generally considered a bad month to go unless you were on a shoestring budget. The scenery at this time is very featureless. Winter will start to settle in by end of October and the temperature will drop drastically by November. So in total, what you get is a dull and dry landscape and terribly cold weather. There won't even be any snow around because it starts to snow only after December.
Since November is offseason, there will hardly be any tourists in the valley. Hotels will be mostly all empty and you will have a great chance of getting cheap accommodation and keeping the trip in a budget.
If you were thinking of photography, November is possibly the worst month to go.
Clothes to Carry: Heavy woolens, warmers, jacket, caps, muffler, gloves, woolen socks
Kinnaur Valley in December
The first half of December is mostly the same as November, dull and dry. The weather will continue getting colder and after the 15th of the month, it can snow anytime. Places like Chitkul, Kalpa, and Nako will surely receive snow in December. Even Shimla and Narkanda will get their first spell of snow towards the end of the month.
If you were thinking of snow and a winter trip, you should plan only after the 20th of December. Do not include Chitkul in your itinerary because that road would already have closed. Even if it did not, it is not a safe time to be in Chitkul because you will risk getting stuck there.
Clothes to Carry: Heavy woolens, warmers, jacket, caps, muffler, gloves, woolen socks
Also Read: Places to visit in Kinnaur Valley – Attractions & Things To Do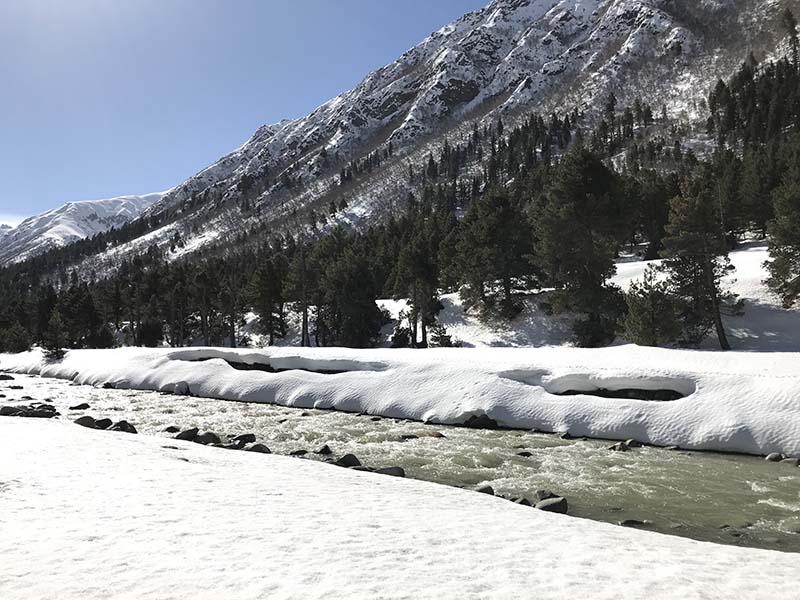 Best Time to Visit Kinnaur Valley
So based on the information above, I believe it is safe to say that the months of April to June, September, and early October can be called as the best time to visit Kinnaur Valley. If you were however after snow and were planning a winter trip, then the months of January and February will best serve the purpose.
For a family vacation, you should think about planning between April to June. If photography was on your mind, you are OK picking either of July, August, or September. For a budget trip, July, August, November, early December, and March will be a good time.
If a bike trip was on your mind, you must avoid the monsoon season. Below is a brief breakdown to summarize it all.
Best month to visit Kinnaur – January, April, and September
Best Time to visit Kinnaur Lahaul Spiti – If you want to cover the entire Spiti circuit and exit via Manali, June, and September will be the best months to do so. This is when both Rohtang and Kunzum Pass are open.
Best season to visit Kinnaur – Spring season or post-monsoon
Best Time to visit Kinnaur and Spiti – June and September once again. But if you are not eager on Manali Kaza route, you can plan in April or May as well.
Best time to visit Kinnaur – Conclusion
I hope the information above on the best time to visit Kinnaur was of help. If you have any other questions or need any further details please feel free to ask in the comments section below, or at our Community Forum, and I will be glad to answer.