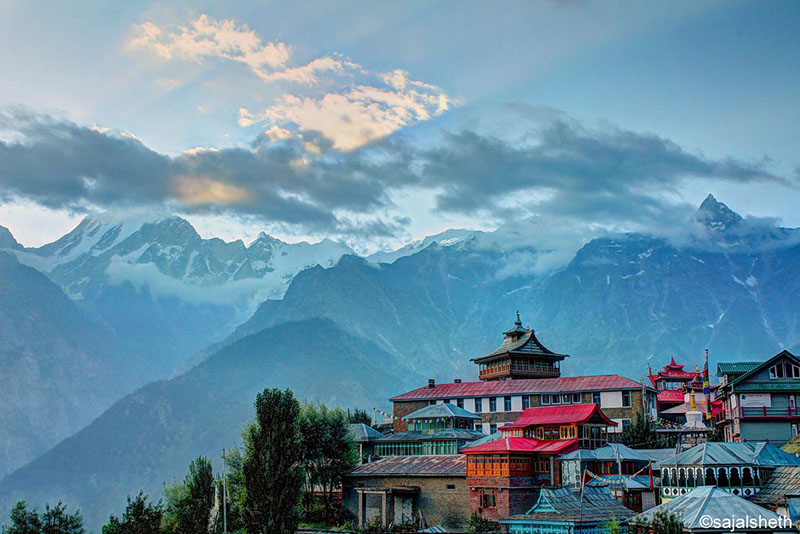 Are you planning a trip to Kalpa and wondering what to see there? In this travel guide, I will provide a complete list of places to visit in Kalpa and things to do that can be of help in planning your local sightseeing in Kalpa.
It would not really be wrong if one is to term Kalpa as the Crown Jewel of Kinnaur Valley. It is true that Reckong Peo is the official headquarters but it is Kalpa that is the heart of the tourism in the valley. The natural beauty and the serenity of the place are like none other. The stunning view it offers of the majestic Kinner Kailash peaks is unmatchable. A trip to either Kinnaur or even Spiti Valley is incomplete unless you have been to Kalpa and have spent some time there.
Please note that in this article, I am only going to discuss the tourist attractions in Kalpa. For other details like how to reach, where to stay, and other helpful tips please read How to Plan a Trip to Kalpa.
About Kalpa
Kalpa is a small village located 7 kilometers from Reckong Peo and 14 kilometers from Shimla Kaza Highway. At an altitude of 2,960 meters (9,711 feet), it is best known for its views and apple orchards. It is inhabited by Kinnauri people who follow a mixed culture of Hinduism and Buddhism. It enjoys a temperate climate due to its high elevation and has seen a significant rise in tourism in recent years.
In order to get to Kalpa, you will have to leave the highway slightly after Powari and drive uphill on a steep narrow road. Even this stretch of 14 kilometers is quite an experience in itself as you gain tremendous altitude in a short span of time. You will tackle several hairpin bends on a narrow road with traffic running from both sides; and as you do so, the view of the imposing Kinner Kailash peaks will just keep getting better and better.
Also Read: Places to Visit in Chail and Things to Do
Places to visit in Kalpa
Kalpa is really a small village. You can walk from one end of the village to another in less than 30 minutes. It is really a collection of just a few houses, a small market, a temple, a school, and some hotels. Being as such, there is really no long long list of tourist places or things to do that you will go through. Most of your time in fact will be spent in admiring the natural beauty of the place.
It also kind of makes sense, if you think about it. You do not go to a place like Kalpa for tons of tourist activities that you can keep hopping on from one to another for days. For a vacation like that, you go to Shimla and Manali or other famous tourist destinations. But when you want to visit an offbeat place and spend some time away from the crowd for a few days, you go to Kalpa.
And while you were here, below is a list of a few places that you can cover during your visit.
Kinner Kailash
This is by far the biggest attraction that brings people to Kalpa and the first entry in the list of places to visit in Kalpa. The view that you get of the Kinner Kailash peaks is simply magnificent.
In case you did not know, Kinner Kailash is a mountain that is considered sacred by both Hindu and Buddhist people of the region. It is home to a 79 ft tall Shiva linga, which is said to change color every hour of the day. The Shivlinga at Kinner Kailash is a natural rock slab that also resembles a trident. See the images below.
A trail exists that goes all the way to Shivlinga and is attempted by thousands of devotees each year. It is a challenging trek that takes 2-3 days from the starting point to the top of the mountain.
Also Read: Places to Visit in Sarahan and Things to Do
If you were not the religious kind, the view that you get from Kalpa cannot be described in the words. Even the picture I posted above does not do justice to what you actually see. This is something that can only be experienced. The sunrise and sunset views are even more magnificent.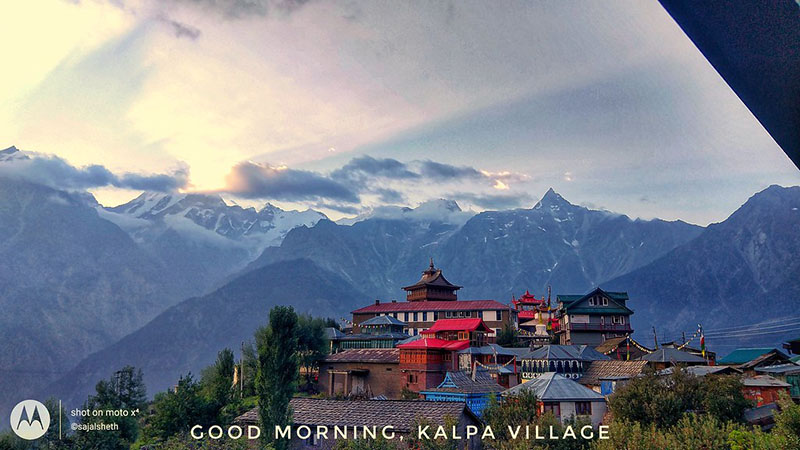 Suicide Point
This will be the second entry in the list of tourist places in Kalpa. As the name suggests, it is a good spot for someone wanting to kill themselves. There is a straight several hundred feet drop from the mountain and there is absolutely no way that anyone can survive this. See the picture below.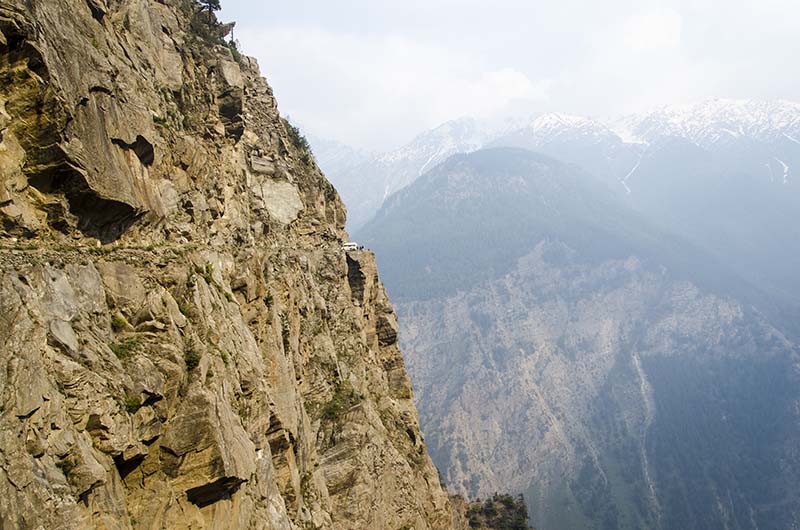 Has anyone committed suicide from here? I do not know. The reason why you should visit here is that it is also a good vantage point and offers great views. It is also a good spot to get some great pictures but please be very careful. Do not take unnecessary risks to just get a photo that you can show off on FB.
My recommendation would be that you walk from Kalpa to a suicide point. It is about 3 kilometers out of the town and through some beautiful apple orchards. More than the suicide point, you may actually enjoy the walk itself.
Also Read: Pin Parvati Trek – A Spellbinding Experience
Roghi Village
Roghi is a small village about 6 kilometers out of Kalpa. It is on the same road that takes you to the suicide point and then ends at Roghi Village. The 6 kilometers drive to the village is both scenic and adventurous as the road is narrow and literally hanging by the cliff.
Roghi is located on the slope of a mountain and is known for 2 things. The first is that this village is a true reflection of the Kinnaur lifestyle. You get to see traditional houses, temples, and how the people live their lives in such simplicity.
The second thing is the apple orchards that add to an already beautiful setting of the village. There is also a small Narayan temple in Roghi that is worth visiting.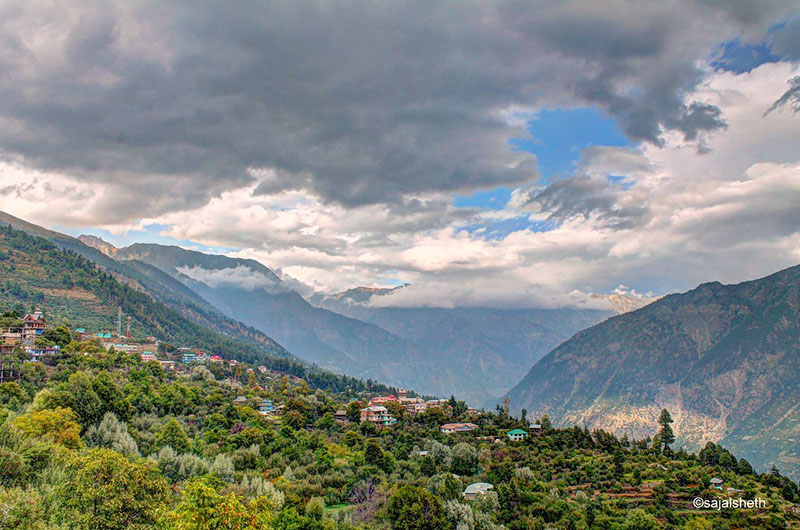 Chaka Meadows
Next in the list of places to visit in Kalpa is the Chaka Meadows. The Chaka (also spelled as Chakka) is located at an altitude of around 3800m above sea level. It is called a meadow but more than that, it is actually another vantage point. It is a good day-long activity if you were up for an uphill walk of 3 kilometers. The trail starts from Kalpa Roghi road, near the hotel Rakpa Regency.
The trail runs along a water stream and walls made out of stones on both sides of the stream. You do not need any prior trekking experience, just a pair of strong legs and stamina. The view that you get from Kinner Kailash from Chaka is even better than what you get in Kalpa.  It really is like standing on top of a mountain and looking at the one right in front of it.
If you were in Kalpa for a couple of days, hiking to Chaka meadows is highly recommended.
Narayan Nagini temple
For your local sightseeing in Kalpa, the first place you should visit is the Narayan Nagini temple. Built in the traditional Pagoda style of architecture, the temple is primarily dedicated to Goddess Durga. It is a great example of Kinnauri architecture and with Kinner Kaila's peaks in the backdrop, looks quite stunning.
Also Read: Shimla – A Complete Travel Guide & Itinerary
Kothi Village and Temple
This is another tiny village located between Reckong Peo and Kalpa. The place is best known for its temple dedicated to the goddess Chandika Devi. A beautiful gold image of the goddess is enshrined in the temple. It is said that this is where the goddess beheaded a demon who was terrorizing the region.
This temple is closer to Reckong Peo than Kalpa and can be visited while either going to Kalpa or on your way back. The village is also known as Koshtampi and the temple is known both as Kothi temple and Chandika Devi temple.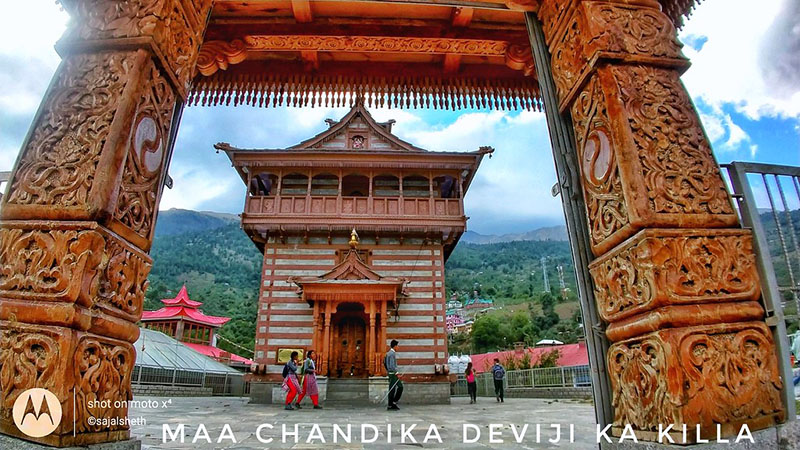 Apple Orchards
I think this one is a given. The entire region of Kinnaur is famous for its apples, often called the world's best. The apple harvest season begins towards the end of July and lasts until September. The entire region is marked by numerous apple orchards and looks quite beautiful.
Hu-Bu-Lan-Kar Gompa
This is a small monastery located in Kalpa that is another fine example of local craftsmanship.
That is quite it. That is the answer to the question of what to see in Kalpa. As I mentioned, it is really just a small village and there isn't much else to see or do here.
With that being said, there is much more to see in the rest of Kinnaur Valley. Kalpa really is just a minor part of it and there is a lot more than you can cover depending on how many days you have in hand. For further details on this topic, please take a look at How to Plan a Trip to Kinnaur Valley.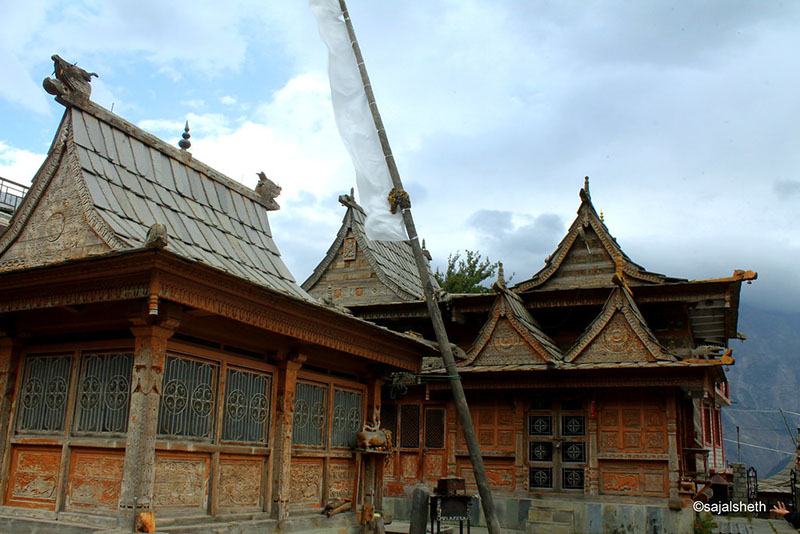 Things to do in Kalpa
What to do in Kalpa? Well, other than sightseeing at the places I mentioned above, below is a list of a few other things to do.
Also Read: Manali – How to Plan your Trip and Explore?
Photography
This one goes without saying. The view of the Kinner Kailas peaks is enough to inspire the photographer out of anyone. It does not matter whether you were a serious photographer with a huge DSLR or someone with just a fancy cellphone camera, you will find it hard to resist photos at every turn of the road.
Enjoy the Night Skies
The pollution-free skies of Kalpa will light up with countless stars the moment the sun goes down. It is truly a sight to behold and you must witness it. If you were carrying a capable enough camera and knew what you were doing, you will have your fund getting some long exposure shots of the Milky Way and star trails.
Take a Walk through the Village
If nothing else, just walk through the village. Observe the local lifestyle, talk to the locals, and visit the temple. There is also a Balika Ashram in the village where you can distribute some gifts. I bought some chocolates from a local shop and passed it on to the little girls there and I can't tell you how much they much loved me for it. Really a proof that happiness is in small things, isn't it?
Also Read: Best Time to Visit Kalpa – When to go to Kalpa
View the Sunrise
Look for a hotel that gives you a clear view of Kinner Kailash from either the window, balcony, or the roof. Get up early in the morning and watch the sun come up behind the magnificent peaks. Really a magnificent sight.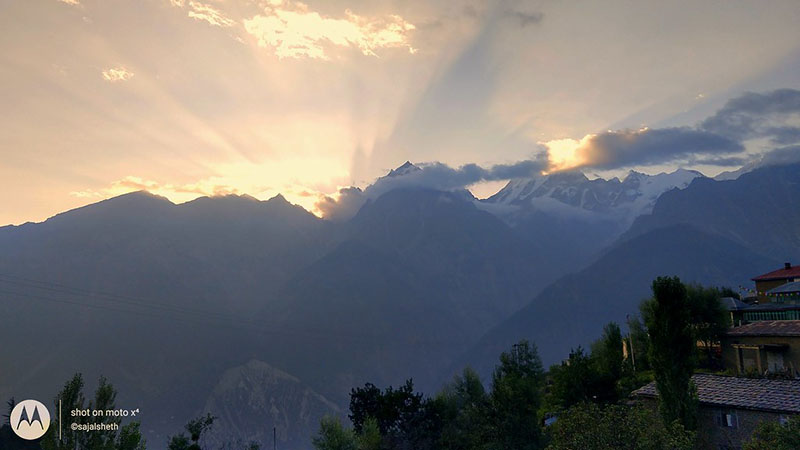 Relax
In the end, as I also said previously, Kalpa is not a place to be running around. The best thing to do here is to relax for a couple of days. Trust me, I have never enjoyed a cup of Tea and Jagjit Singh as much as I did it during my stay in Kalpa. Do nothing. Pull your chair out in the balcony, fix your eyes on the mountain in front of you, sip a cup of tea or coffee, put on music that you like, relax, slow down life for a couple of days, and rejuvenate yourself.
Places to visit in Kalpa – Conclusion
I hope the information above on places to visit in Kalpa and things to do was of help. If you have any questions or need any other details, please feel free to ask in the comments section below, or at our Community Forum, and I will be glad to answer.