The article below is a journal of my first Delhi to Spiti Valley Bike Trip. I traveled from Delhi to Kaza via Shimla and then back via Manali over a period of 10 days. The motorcycle used was my Royal Enfield Electra 350CC (4 years old at the time of the trip) and it was two of us on the same bike. In this post, I have talked about our first day of the trip and provided several necessary details about traveling from Delhi to Spiti valley by Bike, Car, Taxi or a Bus. To read the previous part of this travelogue, please click on the link below.
Journey so Far: How to Plan & Prepare for a Bike Trip to Spiti Valley
Below is a quick navigation menu of the post below.
Delhi to Spiti Valley Plan
Sometimes, where to go becomes a really confusing question while finalizing the trip. It becomes an even bigger problem when you have a few people joining the ride; because then everyone has their own preference and inputs. Before this trip, I had been to Ladakh twice but never to Spiti. As a matter of fact, no one from the group had been to Spiti at all. Though Spiti was on my list of "places to visit" but at that time; for reasons unknown to me as well; even I was not keen on a road trip from Delhi to Spiti valley. My inclination was more towards the Swargrohini trek and I almost made all the arrangements for it. But none of the others was in a mood for trekking and that too for several days.
Also Read: How to Plan a Trip to Spiti Valley – A Complete Travel Guide
Number 1 choice on the list at that time I remember was Hemkund Sahib and Valley of flowers. The second choice was to trek to Swargrohini and Satopanth lake; 3rd choice was to revisit Ladakh and last of all was a Spiti Valley ride. But as fate would have it, it rained heavily in Uttarakhand in the week before our trip. Several roads collapsed and were shut down. This put Hemkund Sahib, Valley of flowers and Swargrohini off our list. Now the big question was whether to go back to Ladakh or a road trip from Delhi to Spiti valley.
I brought up this confusion with a friend of mine who was not a traveler at all actually. What she suggested though totally made sense. I still remember her words, "You have been to Ladakh twice. Why go back there again? Go see something new".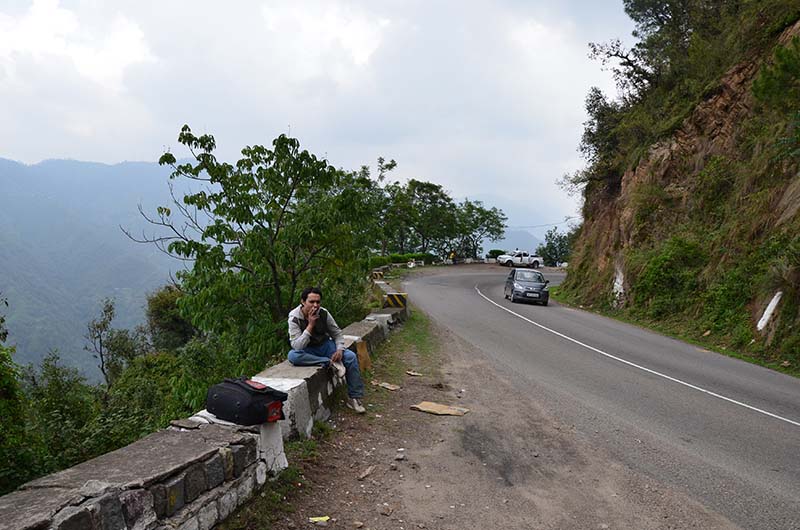 Delhi to Spiti Valley Itinerary
This totally made sense and hence the final decision of Delhi to Spiti by Bike was made. Motorcycles were serviced well in advanced and an Itinerary for 9 to 10 days was laid out. A total number of 6 people were part of the original plan but as it mostly happens, as the D-Day started to get closer, people started to drop out. The last person, as a matter of fact, canceled his trip just half an hour before the ride. In the end, it was I myself and another friend, Narender Bisht. A trip that was planned for 6 on 3 bikes was going to be executed by just 2 on a single bike.
The Itinerary we followed was as mentioned below.
Finally the D-Day arrived. Our plan was to leave as early as possible to avoid the notorious Delhi traffic. We were thinking of leaving by midnight but that did not happen.
Also Read: How to Prepare your Motorcycle for Spiti Valley
The Cops
At 2 in the morning, both Narender and I were at my place, going through our stuff and making sure that we have packed everything before we were on our way to Spiti Valley from Delhi. While we were still fumbling around with all the luggage, I noticed that I had left the door of my house open and there was a cop standing there, looking at both of us.
We both stopped and looked at him questioningly to which he replied,
"Koi bachcha aaya kya idhar?"
I thought I did not hear him right.
"Kya?" Was my response.
"Koi bachcha aaya kya idhar?" He repeated.
"Kiska bachcha?" I was confused.
He ignored my question and tried to take a peek in.
"Koi nahi aaya?" He again asked.
"Bachcha toh koi nahi aaya" I was still confused.
And with that he went away, leaving us confused and we too got back to packing our stuff which was completed within the next 15 mins.
As we started to get ready to mount the bags on the motorcycle, the same cop appeared at my doorstep again but this time it was 2 of them.
"Kya kaam karte ho?" The 2nd cop asked looking at our bags.
I didn't have the patience to explain so I ignored his question and replied.
"Ghoomne ja rahe hain. Saman bandh rahe hain"
"Kahan ja rahe ho?" He asked, taking an interest.
"Shimla ki taraf" Once again I didn't have the patience to mention Spiti and then explain where it is.
"Ye koi Shimla jaane ka time hai?" Was his answer.
"Kyun?" I questioned though I already knew the answer.
"Barish ho rahi hai vahan"
"Dekha jaayega" I shrugged my shoulders.
They stood at my door for a few more minutes, looking at us packing, and left.
The Plan and The Problem
After a few moments, we bought our bags out to tie them around the bike and that's when the disaster struck. The bungee cords that Narender bought snapped, all of them, the moment we tried to hook them around the bike. So now we were both standing there, with our bags packed but nothing to tie them around the bike with. The cords were fine but their hooks gave away one by one the moment we wrapped the cord around the bike and tried to stretch and tighten it a little.
Fortunately, I had one bungee cord left from last year's trip to Leh and we used that to tie Narender's bag to my bike. For my bag, it was decided that Narender will hold it till we find something to tie it with on our way.
With all that done, by the time we started our Delhi to Spiti Valley Bike ride, the clock was showing 4 AM. The plan was to start at 2 AM by latest so we were already 2 hours late.
How to travel from Delhi to Spiti Valley?
A big confusion that I had right from the start was about how to reach Spiti Valley from Delhi. I mean I knew the way and the route but wasn't sure which would be a better spot to start from and where to exit. In terms of distance, there is not really much of a difference. Delhi to Spiti Valley distance via Shimla is about 800 kilometers by road. Distance between Delhi to Spiti Valley via Manali is about 750 kilometers. But since we were planning to cover both sides of the circuit, it did not really matter. The only question was which side to cover first and which one later.
Initially, we wanted to enter Spiti from Manali's side. I am not sure why but I was very keen on riding from Manali to Rohtang and witnessing the sunrise on the way. I really wanted to start the trip from Manali and end at Shimla. It was the year 2012 and that was when the permit for Rohtang Pass was first introduced. When I found out that it was mandatory to obtain the pass from Manali's SDM office to visit Rohtang, which could very well mean a delay of an entire day in Manali, we decided to go from Shimla's side and circle back to Manali.
Also Read: How to Obtain a Permit for Rohtang Pass
Delhi to Narkanda
So the first destination of the journey was going to be Narkanda. I have always found this small little hamlet a much better place to break the journey as opposed to overcrowded Shimla. Actually, even Narkanda has attracted a lot of tourists now and several new hotels have come up here in recent years. But in 2012, it was just a handful of villager's houses and a couple of hotels.
Getting out of Delhi during the day could be a headache with all the traffic but early in the morning with empty roads, we reached Sonipat in less than an hour and made out first stop to have a cup of tea.
Also Read: Why you should travel to Spiti Valley from Shimla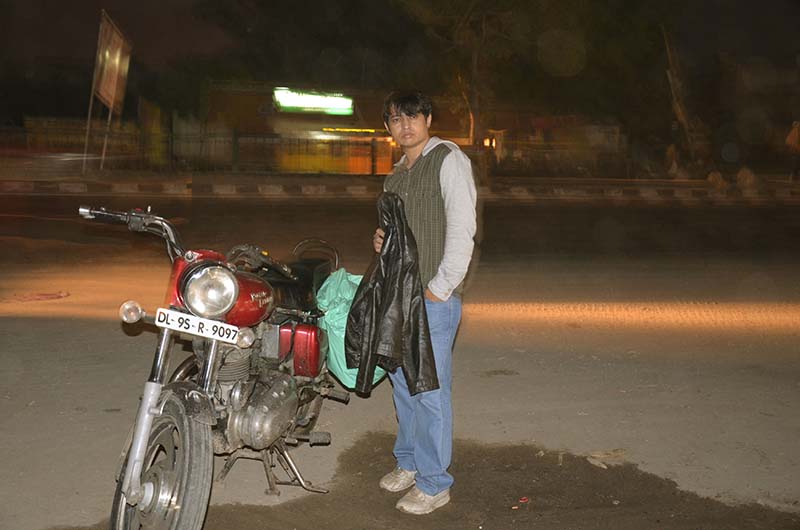 While Narender's bag was roped around the bike with just one bungee cord, he was still holding my bag between us and I know that a long ride like that was going to be very difficult. While having tea, I asked the tea stall if he had a rope that I could tie my bag with.  He did not have a rope but gave us a strap kind of thing that is usually used to pack the cardboard boxes with. It was not very long but it still did the job. Now both our bags tied on either side of the motorcycle, we continued our journey.
With the sun starting to come up, the next stop was at Moorthal for breakfast.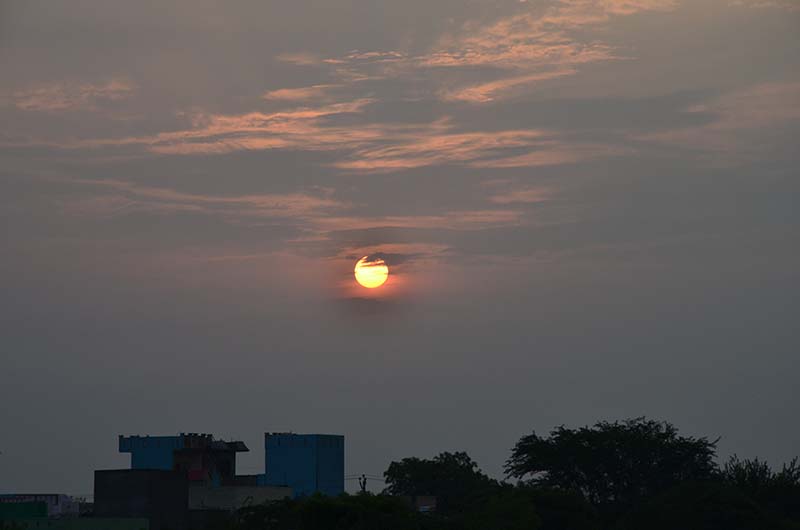 The Rain
The most important thing about this trip was that we were traveling completely unprepared in terms of an itinerary. Yes, I knew where we were headed and where out stops were going to be but my knowledge in terms of Spiti Valley was severely limited. In fact, I did not even know where all the towns were located and even got lost once due to it on our third day. There wasn't much information about the valley on the net back then. So one thought on my mind was to buy a road map of Himachal that can show the Spiti route. I knew the route till Narkanda very well and it is only after there that I was going to be in unfamiliar territory. So the plan was that we will stop for a while in Shimla and get a roadmap from a stationery shop there.
It was a cloudy day with no sun visible in the sky at all and right after we crossed Karnal, Rain God smiled at us (or maybe frowned at us), something that we were ready for but not prepared for. So there was no other choice but to take it head-on and keep riding in the rain. Luckily for us, it did not continue for long. It was only raining in a particular area and we crossed it within 10 mins, but fully drenched.
With another 80 km to go for Chandigarh, we made another stop as we were both hungry again.
While entering Chandigarh, before the turn towards Shimla, I spotted a hardware store and bought a few meters of Nylon rope so that the bags can be securely tied.
Also Read: What Clothes to Pack for Spiti Trip
Kalka to Shimla
The road from Chandigarh to Kalka was a nightmare the last time I traveled on it but with the new Himalayan Expressway built, it was bliss to ride on it. In less than an hour, we had crossed Kalka and the ascent towards Shimla started. It was time for another butt break, to enjoy a cup of tea and our first view of the hills on this trip.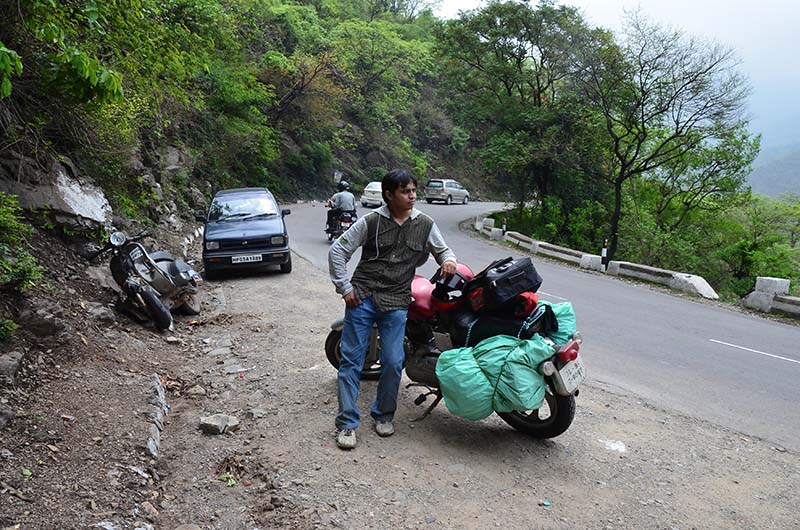 The ride from Kalka to Shimla was a pleasant one. The hills were lush green all around and the scenery was a sight for sore eyes. We rode at a moderate enough speed, with plenty of breaks in between. The thought of buying a map was constantly on my mind. We crossed a few towns in between and I asked at the shops there but none of them had a map. So the only choice left was to buy one from Shimla.
Also Read: Kalka to Shimla Toy Train – How to Plan your Trip !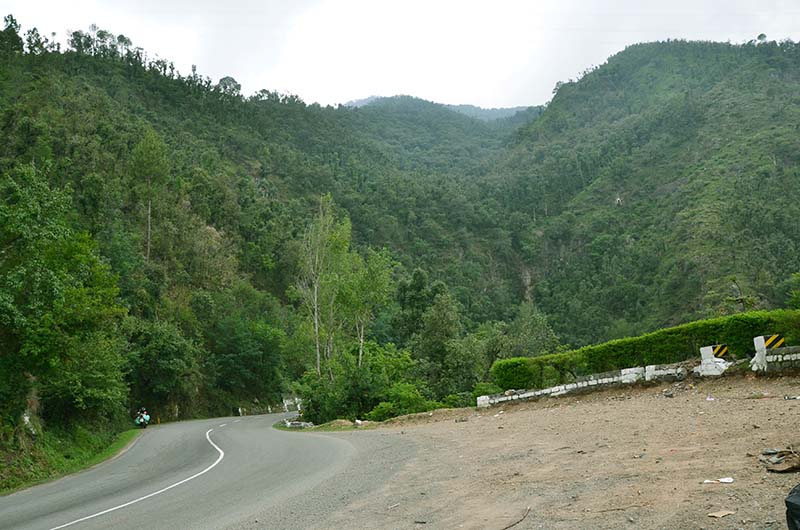 We had not encountered rain again till now and I was starting to feel lucky but proven wrong pretty soon. The moment we entered Shimla, all hell broke loose and it started raining cats and dogs. I rode like a maniac and had crossed Shimla in less than 15 minutes, out of the rain, but those few minutes had again left us completely drenched, and this time shivering.
I am not sure why neither of us thought to seek shelter and we just kept riding as fast as we could. Fortunately, it was only raining in a part of the town and the moment we came out of Shimla, there was not even a single drop of water. But in all this confusion, I forgot completely about the map that I wanted to buy from Shimla.
Narkanda
By then I had realized my biggest mistake, not carrying any rain gear. When we reached Kufri, I saw a small Tibetan market and stopped to see if they had something for the rain. Luckily, we did find a rainproof jacket on display and bought 2, one for both of us.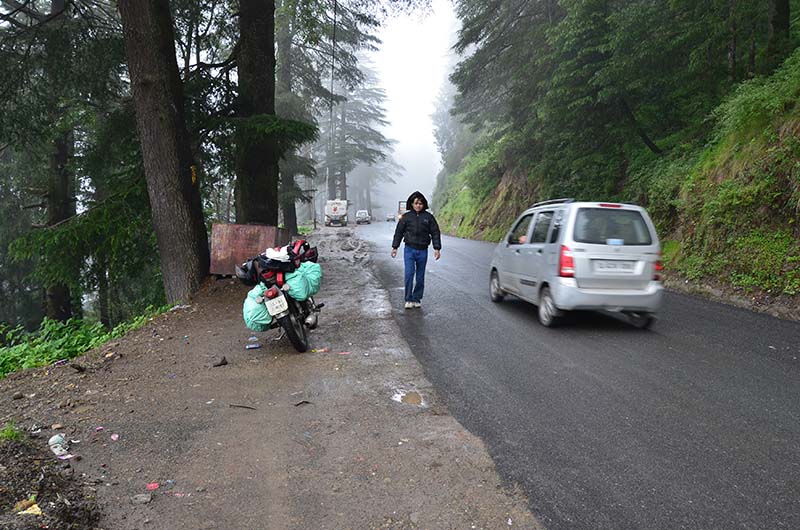 We reached Narkanda at 5 in the evening and broke our journey. I went to the same hotel, Old Thorns, that I had stayed in during my last visit to Narkanda but found it closed. Right next to it was another hotel, Harsh Villa, that wasn't there when I came to Narkanda last and was still under construction. Owner of Harsh Villa saw me standing in front of Old Thorns, told me that it is closed this month and agreed to rent us a room for Rs. 500 for the night.
Also Read: How to Plan a Trip to Narkanda
Price being reasonable enough, we checked in, took a shower and got out for a walk.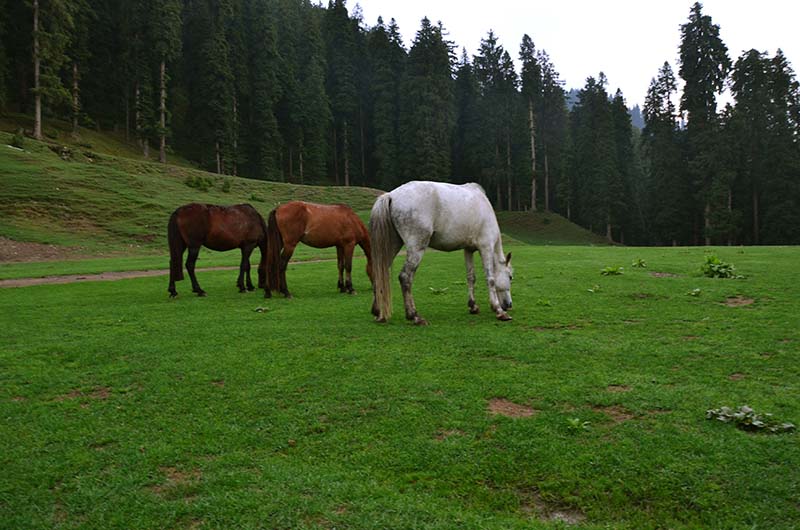 Pretty soon night settled in and it was dark all around. We had dinner at a Dhaba on the main Narkanda Chowk for Rs. 50 / person (eat as much as you want), got back to our hotel and called it a day.
Delhi to Spiti Valley Best Route
The best route to Spiti Valley from Delhi is via Shimla and Kinnaur. The road remains open for the entire year and is also helpful in terms of altitude acclimatization. An ideal way to complete the journey is by following this route to Spiti Valley from Delhi.
Delhi – Ambala – Shimla – Narkanda – Rampur – Jeori – Sarahan – Jeori – Karchham – Chitkul – Karchham – Reckong Peo – Kalpa – Reckong Peo – Nako – Tabo – Dhankar – Attargo Bridge – Mud Village (Pin Valley) – Attargo Bridge – Kaza – Kibber / Komik / Hikkim / Langza – Kaza – Chandratal – Manali – Chandigarh  – Delhi
Bus from Delhi to Spiti Valley
There are no direct buses from Delhi to Spiti Valley. You will have to break your journey in at least 2 parts or more. From Delhi, you can take a direct bus for Reckong Peo and then take the morning bus from there for Kaza. Or else, you can first board a Bus from Delhi for Shimla and then board the daily Shimla to Kaza Bus from there.
Also Read: Spiti Valley Bus Service Schedule
Delhi to Spiti Valley Bus Fare
The entire journey from Delhi to Spiti Valley by Bus will cost you between Rs. 1000 – 1200 per person for ordinary buses. If you traveled by luxury buses anywhere on the route, the price will increase.
Delhi to Spiti Valley Volvo
There is no Volvo bus from Delhi to Spiti Valley. You will mostly have to rely on the ordinary HRTC buses.
Delhi Spiti Valley distance
The total distance from Delhi to Kaza Spiti Valley via Shimla is about 770 – 800 kilometers, depending upon where you started from in Delhi. If you went via Manali, then the distance will be about 750 kilometers.
Delhi to Spiti Valley Budget
There is really no set or definite value that can be given for this. Your total Delhi to Spiti Valley cost of the trip will depend on several factors like how were you traveling, from where, for how many days and at what time of the year. For a budget calculation, I will recommend that you take a look at another article, How to Calculate the Cost of your Spiti Valley Trip?
Delhi to Spiti Valley by Flight
If you want to travel from Delhi to Spiti Valley by Air, then the best thing to do would be to catch a flight for Chandigarh and then reach Kaza by road. Another option would be the Bhuntar Airport near Manali and option # 3 will be the Delhi Airport.
Delhi to Spiti Valley by Train
For traveling by train as well, the best choice would be to get to Chandigarh first. Chandigarh is a major railway station that is well connected to other parts of the country. You will have no trouble at all finding a train for Chandigarh.
Also Read: How to reach Spiti Valley by Bus, Train, Road or Flight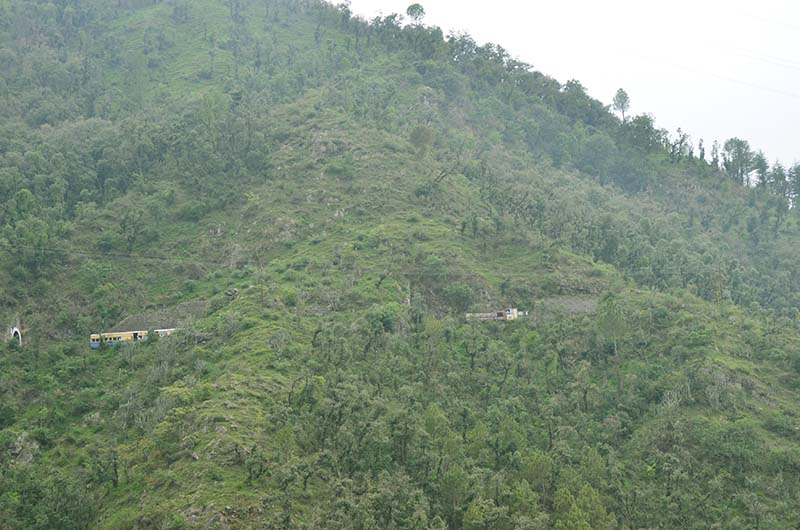 Delhi to Spiti Valley Map
If you were traveling from Delhi to Spiti Valley by road, then a map can be of extreme help. This was one thing that I terribly missed during my first road trip. Back then, Google Maps was not that big and I pretty much traveled asking the locals for directions. If you, however, would like to review the route before you go, I will recommend taking a look at Delhi to Spiti Valley Road Map.
Delhi to Spiti Valley Road Conditions
Road conditions in Spiti Valley are always bad so please keep your hopes low in this aspect. From Delhi to Rampur is a smooth road with a few bad stretches in between. Rampur to Reckong Peo is mostly average. Rampur to Khab is good. Khab to Kaza is below average. Kaza to Manali is a complete nightmare and Manali to Delhi is a mix of good and bad.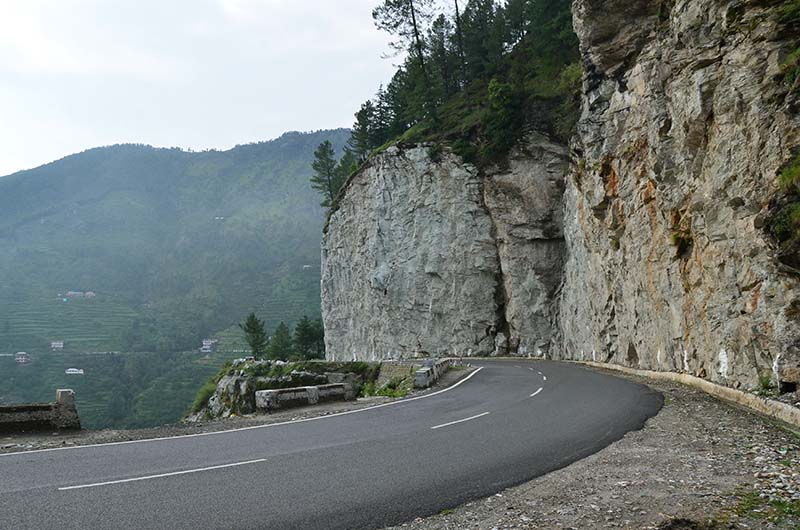 Delhi to Spiti Valley Taxi
There are several operators available in Delhi that you can rent a taxi from for Spiti Valley. Unlike Ladakh, taxi from other cities like Delhi and Chandigarh are allowed to ply on Spiti Circuit and you will not face any problem at all.
Also Read: How to Handle Acute Mountain Sickness in Spiti Valley
Delhi to Spiti Valley Taxi Fare
It will depend on what kind of taxi you opted for but at an average, it will cost you about Rs. 20k – 25k for a round trip.
Spiti Valley Travel Time
Below is an estimate of how much time it will take to travel.
Delhi to Manali to Spiti Valley: 750 kilometers; 2 days at least.
Delhi to Spiti Valley via Shimla: 800 kilometers; 3 days at least.
Delhi to Leh via Spiti Valley: 1200 – 1300 kilometers approximately, 6-7 days at least.
How to go to Lahaul Spiti from Delhi?
This is one thing that people get confused about a lot. Please note that Lahaul and Spiti Valleys are two entirely different areas. Spiti is the area around Kaza and Chandratal and Lahaul is the area around Keylong and Udaipur. If you reached Kaza and came back via Manali or Shimla, you only visited the Spiti valley. For going to Lahaul, you will have to take an entirely different road towards Keylong after have crossed Rohtang Pass from Manali side.
How to reach Spiti Valley from Delhi by train?
There is no direct train from Delhi to Spiti Valley. For visiting Spiti by train, you will first have to board a train for either Chandigarh or Kalka. From Kalka, you can then board the Toy Train to Shimla and then reach Spiti by road.
Journey Ahead: Sarahan to Chitkul – Entering the Beautiful Kinnaur Valley
Conclusion
I hope the information above on Delhi to Spiti Valley Bike Trip was of help. If you have any questions; or need any other details; please feel free to ask in the comments section below; or at our Community Forum; and I will be glad to answer.