Not just Narkanda but the best time to visit any place will depend on several things; like what your personal preference was, how you were traveling and if there were any budget constraints etc. For example, if a person wants to see snow then the best time for them to visit Narkanda would be the winter season. Whereas, someone wanting to witness lush green mountains would want to go either in the spring season or right after the monsoon.
With that being said, there are a few months of the year when every destination receives the majority of its share of tourists. Weather mostly remains to be the driving factor behind it but there could be a few other reasons as well. The same rule applies when you talk about the best time to visit Narkanda as well.
Also Read: How to Plan a Trip to Narkanda – A Complete Travel Guide
Narkanda in recent years has come up as one of those tourist spots that remain to be a hot favorite throughout the year. It is a very quiet and scenic place that changes its color every season. In winter, a blanket of snow covers its hills and turns everything white. Come spring and all the white vanishes, and green becomes the dominant color all around.
Monsoon brings life to the entire region and valleys become vibrant with flowers of all colors and kind. Autumn arrives in October and what once was green now turns into Orange; giving a golden touch to as far as the sight goes. Which of these times would be most suitable for your trip is what we will be discussing in this article.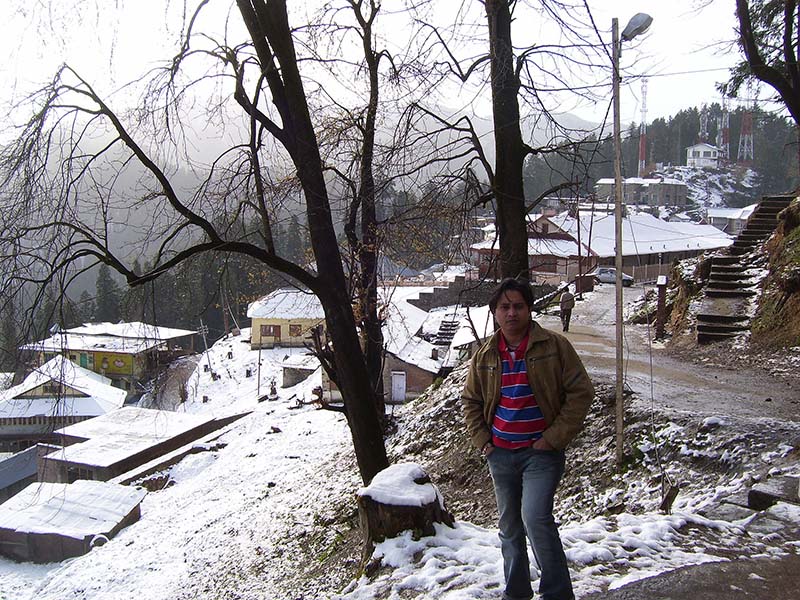 Best Season to visit Narkanda
Reaching Narkanda is not an issue at all. The town is merely 2 hours of drive away from Shimla and is very well connected. The road to Narkanda is smooth all the way and remains open for all 12 months. The route can sometimes get closed temporarily during winter, but authorities usually clear the road just as soon as they are able to. There are plenty of hotels here that remain operational for the entire year. So when to visit here will really depend on what kind of vacation were you looking for.
If snow is what you wanted to see and were hoping to catch a live snowfall; then visiting Narkanda in the months of January and February would be best. But before you leave home, please do inquire about whether or not the road was open; and how the weather was going to be during your time of travel. If you wanted to however witness the spring in the valleys of Narkanda; then the months of April and early May will be best.
If lush green vistas were on your mind, then plan sometime in July, August or early September. A word of caution, however, is that rain can sometimes wreak havoc in these areas; so once again, please check weather forecasts before you start on the trip. September will be a safe month with all the greenery still available but no rain to spoil the fun. Visiting in October will present you with beautiful orange colored trees of autumn.
If you wanted to be away from the crowd and wanted to be here with less number of tourists then you should think about visiting either in August, November or December. The months of February, April, May, and June usually see a large number of tourists in Narkanda.
Snowfall in Narkanda
It starts to snow in Narkanda towards December end and continues till February. It can snow in March as well but chances will be a bit less. I actually have seen snowfall in Narkanda even in the first week of April, but you will really have to be lucky to catch a snowfall that late. If there was a snowfall in late December, then it usually just melts away. Snow starts to stick to the ground in January; and by February, Narkanda becomes a favorite destination for Skiing and other winter sports.
So if you were eager on witnessing a live snowfall, then your chances are brightest in January or early February. If you were happy with just seeing some snow on the ground then you can visit in March as well. But before traveling in either of these months, please call any of the hotels in Narkanda and find out if it has snowed there yet or not. You do not want to come all the way only to find out that there wasn't any snow anywhere.
Also Read: Delhi to Narkanda – A Memorable Ride
Best time to visit Narkanda for Photography
If photography is what interests you, then I personally would recommend visiting either in February, April or August. In the month of February, you can get some really good shots of snow-covered valleys. You can get the same in January as well but the amount of snow on the ground tends to be a bit more in Feb than it is in Jan. In April and August, it will be lush green valleys all around; and you definitely will be able to get plenty of good shots. Rest of the months present plenty of photographic opportunities too but vistas in these three months would be at their best.
Best time to visit Narkanda with Family
Narkanda remains open for tourism throughout the year, and you can bring your family here as per your convenience. There are plenty of hotels to stay in so accommodation will not be a problem. Drive too is quite scenic and smooth. In short, it is a perfect place for a family vacation at any time of the year. With that being said, you may want to avoid the monsoon season. It is going to be all wet which doesn't sound much fun if you have your family with you. If it continued to rain, then you will be forced to remain indoors at the hotel and the fun will get ruined.
Also Read: Narkanda to Hatu Peak – A Scenic Drive
Best time to visit Narkanda for Budget Travelers
From a budget point of view, the cost of visiting Narkanda will remain the same throughout the year. Reaching here by Bus is easy and will not cost much. There are several Dhabas and small restaurants that you can eat at without paying too much. The only costly affair will be the hotels. At an average, keep a budget of Rs. 1500 to Rs. 2000 per day for your stay. In the offseason, this price may go down to around Rs. 1200 per day, depending on your negotiation skills.
Weather in Narkanda
Due to its high altitude, the weather of Narkanda remains pleasant throughout the year. It has a sub-tropical climate, due to which winters can get freezing cold but summers remain moderately warm. The temperature ranges between 19 ˚C to 28 ˚C during summer; and -4 ˚C to 10 ˚C during winter. Due to its low temperatures between the months of December to February, this entire region receives a considerable amount of snow each year.
Below is a month by month breakdown of how the weather trends in Narkanda.
Narkanda in January
January is peak winters and you will feel the chill in the wind. You must pack all your woolens and a heavy windproof jacket if visiting this time. Bringing snow boots would be wise as well. The average temperature of Narkanda in January will remain close to 0 Degrees Celsius. Sometimes, at night, this temperature may even fall a couple of degrees below zero. It can snow anytime in January and the road between Shimla and Narkanda gets blocked quite often at this time.
Also Read: Hotel Review – The Himalaya Inn & Restaurant, Narkanda
Narkanda in February
The weather in February will pretty much be the same as January. The average temperature will remain between 0 to 5 Degrees Celsius. You should visit Narkanda in January and February to enjoy winter sports like skiing, snow scooter etc. At this time, the entire town is covered in thick snow.
Narkanda in March
The average minimum temperature in Narkanda in March goes up to around 6 or 7 degrees Celsius. Days will be pleasant at around 15 Degrees Celsius but nights will still get very cold. Chances of snowfall will remain in March as well and you can still enjoy some winter activities if you went in the early part of the month. Snow starts to melt in March and is mostly all gone from the ground by the end of the month. Some light woolens and a good windproof jacket will suffice for this trip.
Narkanda in April
Spring arrives and the weather turns pleasant. The average minimum temperature jumps up to about 15 Degrees Celsius, and days start to feel warm at around 20 Degrees. Just pack a light jacket and plenty of cottons for visiting this time. A couple of years ago, I was in Narkanda on the 4th and 5th of April and still caught a snowfall. The picture posted above is from that time. So if you were lucky and went in early April, even you could observe a light spell of snow.
Narkanda in May
May and the following month of June are usually considered as the best time to visit Narkanda. Snow would definitely all be gone by this time so do not expect any of that. The average temperature at night will be about 15 Degrees, but days will start to feel warm at 25 to 30 Degrees Celsius. So yes, it can even get hot around here in May. Pack a light jacket and plenty of cottons for visiting this time. Skies will be all clear presenting a magnificent view of the peaks around.
Also Read: Snowfall in Narkanda – A Pleasant Surprise
Narkanda in June
June is another great month to plan a visit to Narkanda. The average temperature at night will start to rise up to around 20 Degrees and days will get hot at 30 Degrees Celsius. Carrying light however woolens is still advised at this time; or at least a jacket. Towards the middle and end of the month, Narkanda and the nearby region may receive some rain so please be prepared.
Narkanda in July
Monsoon arrives in July and from here on, the weather remains to be wet for the next 2 months. It can sometimes rain non-stop for days limiting your chance of any sightseeing at all. Sometimes, if the weather turned extreme, it can also trigger landslides and block the roads. With that being said, this is also the time when the scenic beauty of the place is at its best. Average temperature remains between 20 to 25 Degrees Celsius; and can go as far as 35 Degrees during the day.
Also Read: How to Plan a Trip to Sarahan
Narkanda in August
Monsoon dominates the entire month of August and it can rain anytime. Tourists won't be too many in numbers and it is a great time for photography enthusiasts; and budget travelers alike. Average night temperature will be around 20 and days will average out at 30 Degrees Celsius. Pack a light jacket and plenty of cottons for visiting this time.
Narkanda in September
This, in my opinion, is the best time to visit Narkanda; and anywhere in the hills for that matter. Monsoon will be gone but all that was green would still remain. The temperature will drop to 10 degrees at night and around 17 during the day. In terms of clothes, however, you can still easily survive with cottons and some light woolens or jackets.
Narkanda in October
The weather starts to turn cold again in October; with the average temperature dropping down to 5 Degrees Celsius at night and 15 Degrees during the day. But October is also the time for Autumn. All that was once green now start to turn Orange; giving a golden look to the hills and the valleys around. This is another great time to visit for someone with an interest in photography.
Also Read: How to Plan a Trip to Chitkul?
Narkanda in November
November is not really a good month to visit Narkanda. Vistas will be dull all around, there will be no snow and weather will be very cold with the average temperature at 8 Degrees during the day and 2 to 3 Degrees Celsius at night.
Narkanda in December
It is the peak of the winter season now with the average temperature in Narkanda at around 5 degrees Celsius. While days will still be at around 10 to 15; nights will be freezing cold at close to 0 Degrees Celsius. By the end of December, it can snow anytime time in Narkanda. For visiting in either October, November, or December, you must pack all your good woolens to help protect against the cold.
Best time to Visit Narkanda – Conclusion
Now keeping all of the above information in mind, I think it is safe to say that the best time to visit Narkanda depends on your reason for visiting. January and February are best for a winter trip. This is the time when the slopes are well-covered with snow and you can indulge yourself in winter sports like skiing. If that doesn't interest you then Narkanda is equally beautiful in the following months of April and May. The season of Autumn is a lovely time to be in Narkanda when the woods around are a riot of gold, orange, and red.
I hope the information above on the best time to visit Narkanda was of help. If you have any questions; or need any further details; please feel free to ask in the comments section below; or at our Community Forum; and I will be glad to answer. If you have been to Narkanda and have some tips to share with others, then I welcome any suggestions.