This post is in continuation with a previous one and a part of my Spiti Valley Bike Ride. We traveled from Delhi to Narkanda on Day 1, Narkanda to Sarahan on Day 2 and Sarahan to Chitkul on Day 3. Details of our 3rd day of the journey are provide further in this post. To read the travel log of Day 2 or previous parts, please click on the link below.
Journey so Far: Narkanda to Sarahan – Entering the Valleys of Kinnaur
For some reason, I got up at 4 in the morning. The plan was to start as early as possible and not delay like we did yesterday in Narkanda but not this early. Still, I was up and could not go back to sleep. I walked out to the Balcony and just sat there till sunrise, enjoying the nature all around us and the absolute silence which we Delhi-Walas are not at all used to.
At 6, I woke Narender first then walked to the room next to us and woke our French friends. The destination for today was the small village of Chitkul; which actually was the destination for yesterday but we ended up in Sarahan instead. I had absolutely no idea of the road or the journey ahead; or how long would we have to ride to get there. The miscalculation, ignorance, delayed start from Narkanda and wrong turn from yesterday taught me a valuable lesson and I intended to act on it.
Chitkul
Last evening, I had sat down with our hotel owner, who was a local of the area, and ran our travel plans with him. He gave me a complete itinerary of how our next few days of travel should be, where we should break our journey and what to see there. He also guided me of the complete route ahead that I carefully noted down on a piece of paper. All this was because I did not want to take another wrong turn and lose our way.
Also Read: How to Plan a Trip to Spiti Valley – A Complete Travel Guide
Before I go on providing details of my travel on this day, let me talk a little about Chitkul and tell you why this tiny hamlet became my favorite hill station after I visited here once. Ever seen those wallpapers or paintings of a small village with hills on all sides, a river floating down the hill and sun coming up? That is Chitkul from you. This little village looks straight out of a painting and will leave you enchanted.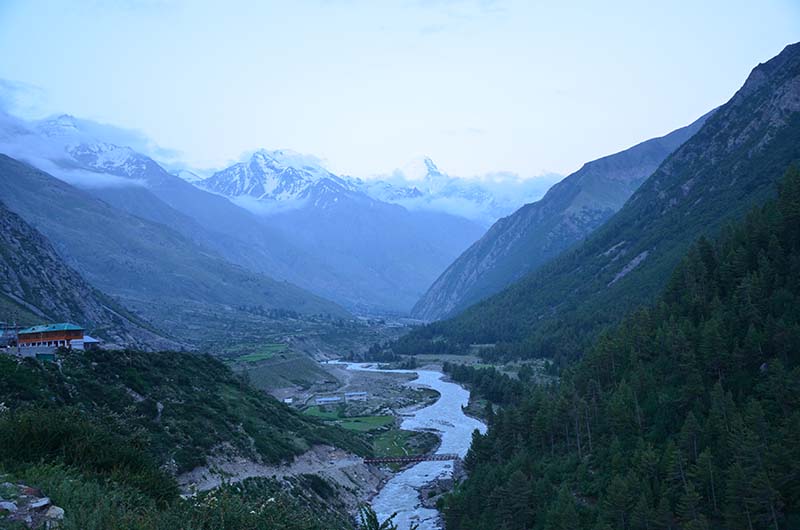 The entire place is surrounded by lush green forest and mighty peaks. During winters, it mostly remains covered with the snow. The road gets blocked and even the locals move to lower regions of Himachal. Another fun fact to know about the village is that according to a recent study, Chitkul has the cleanest air in India. That is how beautiful and scenic it is.
Where is Chitkul Located?
Chitkul (also known as Chittkul) is located in the Kinnaur district of Himachal Pradesh. The village is in what is referred to as Sangla Valley or also as Baspa Valley. It is the first village of the Baspa Valley and the last village on the old Hindustan-Tibet trade route. Baspa River flows right next to the village and through the valley. It is also the last point in India where a person can travel to without a permit.
Sarahan to Chitkul
While the French guys were getting ready, I and Narender decided to go and have some breakfast as the hotel owner was still asleep and the kitchen was closed. After a walk of about 15 minutes, we found a restaurant open but could only get a cup of tea so early.
Also Read: How to Plan a Trip to Sarahan
Once back at the hotel, our French friends were ready to move with their bags tied to their motorcycles. They started ahead of us so they could stop somewhere on the way to get breakfast while we catch up. Half an hour later, we too were packed, paid our hotel bill and were on our way back to Jeori; to the same point from where I took the wrong turn and went towards Sarahan, rather than continuing to Chitkul.
We met the French guys in Jeori. After a quick meal that didn't taste good at all (despite the fact that we all were so hungry), we were soon riding towards Chitkul.
The mighty Sutlej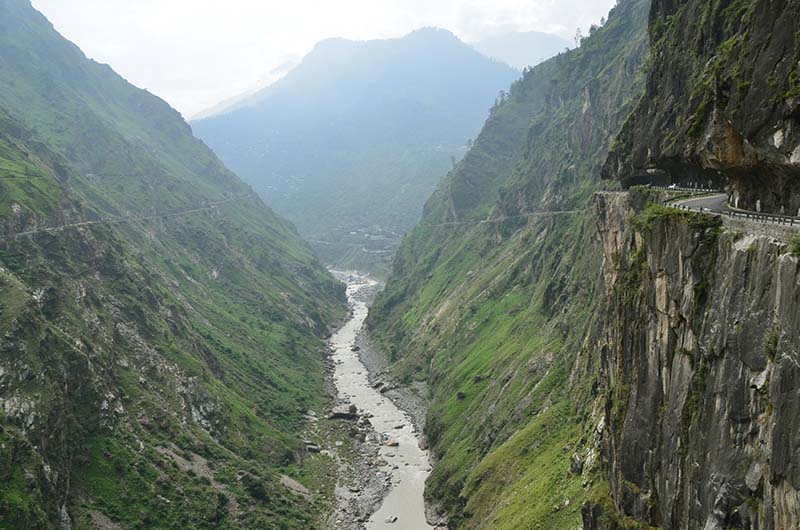 The road till Bhawanagar was good, with a few bad patches in between; which is common in hilly areas. But after Bhawanagar it turned into a nightmare. In fact, in some places, there was no road at all, just dust and rubble. Our speed dropped to 20-35 km/hr and I kept riding with hope in my heart that it is just a bad patch and road will be good again after a while. Little did I know that this was just the beginning and this kind of road was going to continue for the rest of our trip.
Also Read: Spiti Valley Road Conditions
The famous gate of Kinnaur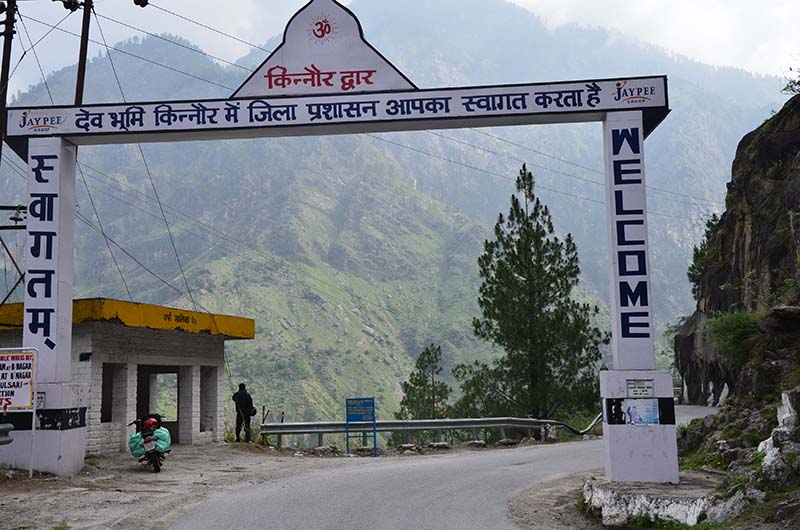 The exciting roads of Kinnaur
A natural car wash on the way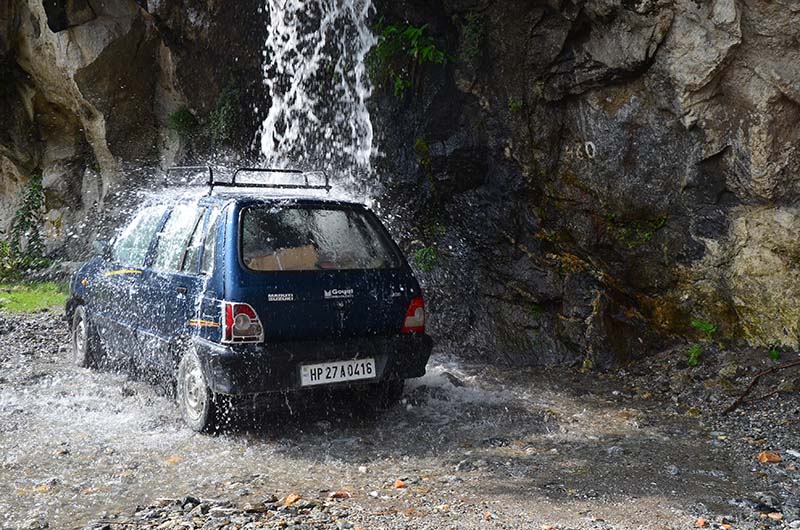 Karcham to Chitkul
Soon we reached Karcham and from here we turned towards Chitkul whereas the highway continued towards Reckong Peo. We were going to visit Chitkul today and backtrack till here tomorrow and continue towards Reckong Peo.
Karcham Dam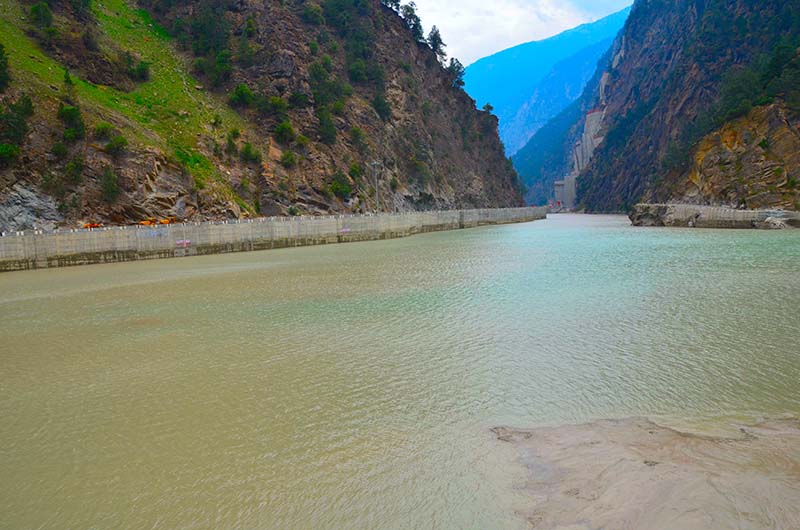 The road kept getting worse and worse with every turn that we took and while it was torturing us, the beauty of the hills around us was making up for it.
We took a short butt break and our French friends asked if we can get something to eat in the next town. They had asked me the same a while ago before Karchham. I was hungry too and the plan was to have lunch in Karcham but there was nothing there, except the dam. I told them that the next town is Sangla and that's where we will have lunch.
Also Read: How to Plan a Trip to Sangla
Karcham to Sangla
While on our way to Sangla, I realized that the French weren't following us anymore. I thought they must have taken a break somewhere in between and kept going. We reached Sangla from where Chitkul was only around 20 km. We decided not to stop here; and eat only after we reached Chitkul.
The small town of Sangla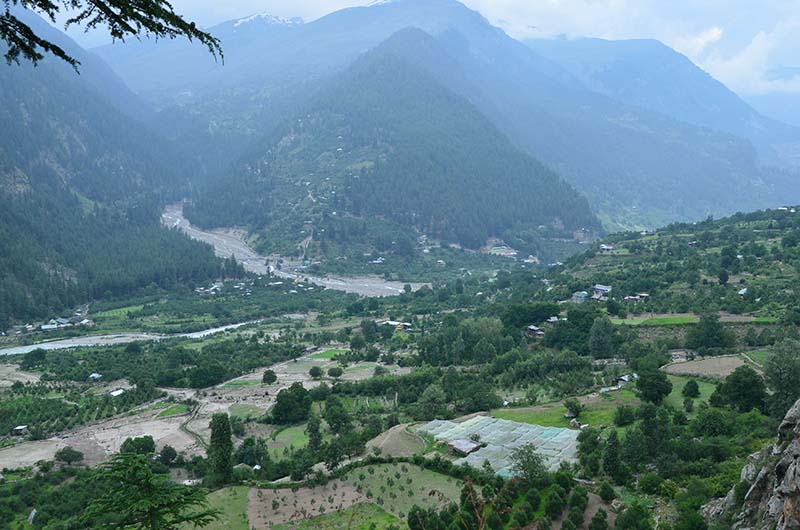 We took a break after Sangla to click a few pictures but there was still no sign of the French guys so I thought they must have stopped in Sangla to eat as they seemed quite hungry.
Sangla to Chitkul
We kept going and pretty soon reached Chitkul. This is where all the pain of riding on a bad road paid off. The beauty of this place is something that cannot be described in words and no photograph can do justice to it.
We checked into a hotel for Rs.200 for a day (There is also a govt guest house here that charges 500 / day). We booked 2 rooms initially but the French guys never showed up. I guessed they must have decided to break the journey in Sangla. It was 3 pm when we reached there and after having lunch, it was time to roam around in the small village of Chitkul.
Also Read: How to Plan a Trip to Shimla
It is called the last Dhaba because the road ends here. On the other side of the border is Tibet.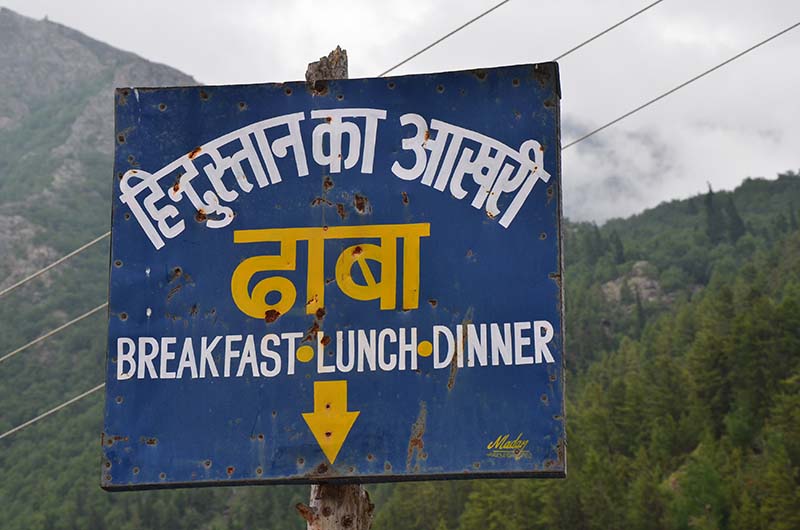 We walked around for a couple of hours, clicked some photographs and sat near the river for a while. Soon it was dark all around and time to call it a day.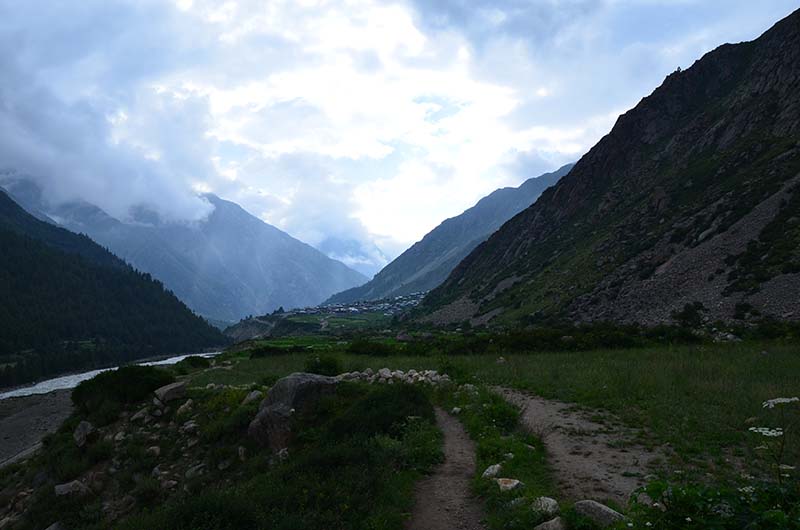 Mentioned below are a few more details on traveling between Sarahan to Chitkul that can be of help to anyone planning a trip. If you would like to move on to the next day, please read Chitkul to Kalpa – Witnessing the Beauty of Kinnaur to continue reading the next part of this travelogue.
Chitkul Road Condition
The road condition from Sarahan to Chitkul is a mix of good and bad. This travelogue is from a few years ago when the majority of the road was totally broken but it has improved tremendously in the last couple of years. Now the road is actually smooth all the way to Chitkul with a few bad stretches around Karcham and Sangla. The road from Karcham to Chitkul, however, is a narrow stretch as compared to the main highway.
If we talk about the road condition from Shimla to Chitkul then I will say that it is majorly good now. From Shimla to Karcham is mostly smooth sailing and from Karcham to Chitkul is a mix of average and bad.
This, however, is not a constant thing. I am reporting the road condition as of the year 2020 but it will of course change in the coming years.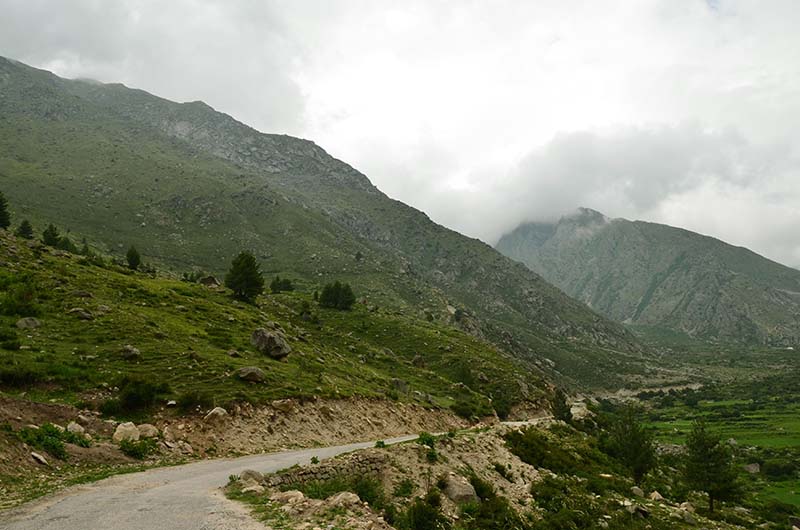 How to go to Chitkul
Due to its location in the hills, a trip to Chitkul is only possible by road. If you were traveling by public transport, then the nearest airport is in  Jubbarhatti near Shimla. For traveling by train too, you will have to first reach Shimla by the famous Kalka Shimla Toy Train. From Shimla, you can then take a Bus for Chitkul or hire a private taxi.
An even better way, in my opinion, would be to rather reach Chandigarh and then take a taxi from there. For more information on this topic, please read How to Plan a Trip to Chitkul.
Roads to Chitkul
Listed below are distances between Chitkul and other nearby towns.
Distance between Kalpa to Chitkul: The distance from Kalpa to Chitkul is 65 kilometers approximately; doable in about 3 hours at most.
Distance between Sangla to Chitkul: 22 Kilometers; easily doable in an hour
Distance between Sarahan to Chitkul: 110 Kilometers; will take about 6 – 7 hours to complete.
Sarahan to Chitkul – Conclusion
I hope the travelogue and information above on traveling from Sarahan to Chitkul was of help. Please read Chitkul to Kalpa – Witnessing the Beauty of Kinnaur to continue reading the next part of this travelogue. If you have any questions; or need any other details; please feel free to ask in the comments section below; or at our Community Forum; and I will be glad to answer.