This post is in continuation with a previous one; and a part of my Spiti Valley Travelogue. We traveled from Delhi to Kaza in a total of 6 days; while covering Narkanda, Chitkul, Kalpa, Nako and Pin Valley on the way. On Day 7, we journeyed from Kaza to Chandratal, and camped there for the night before moving on to Manali on Day 8. Details of the journey on Day 8 and a few pictures are in the article below. To read the previous part of this travelogue; please click on the link below.
Journey So Far: Kaza to Chandratal – The Adventurous Drive
Continued: Chandratal to Manali
My plan for this day was to get up early and go back to the lake once more. The day before was very cloudy with high winds so I could not really get the kind of shots of the lake that I wanted; with the reflection of the mountains around in the water. During early morning however, the winds are not that high, and lake remains placid with no movement in the water at all; which makes it a perfect time to capture some amazing shots. Jamaica and I had agreed to get up early and go the lake at around 6 AM.
But all of us ended up sleeping till late. By the time people started to step out of their camps including both Jamaica and I, it was already half past 7. Going to the lake and coming back after taking some shots would have meant spending at least a couple of hours; which further meant that we would not be able to start for Manali at least until 10. Now this was something which I was not keen on doing. Furthermore, sun had come up already which also meant that water will not be completely still; like it would have been a couple of hours ago. So I would not actual get the pictures exactly the way I wanted.
Also Read: How to Plan a Trip to Spiti Valley – A Complete Travel Guide
A Morning at Chandratal
So I gave up the idea of going to the lake again and we started to get ready to be on our way to Manali. All our luggage was still in the car as I did not bother taking it our the previous night. So the only thing to do that morning was to enjoy the vistas around and have some delicious breakfast.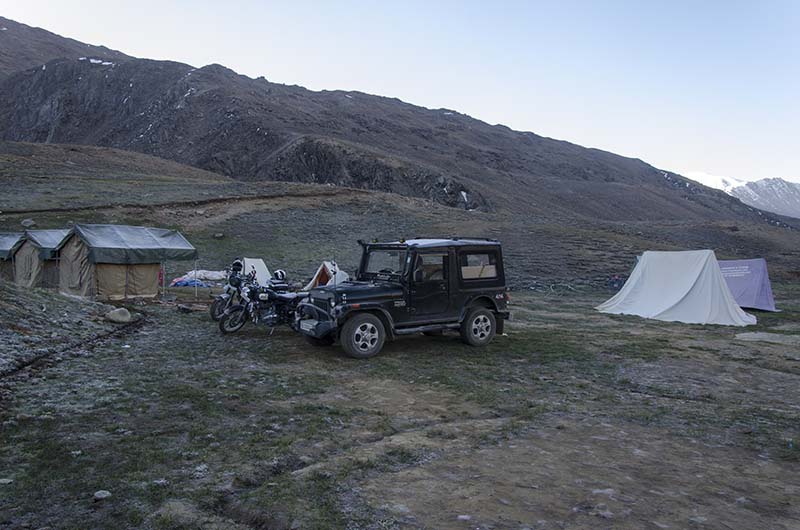 And then the group started to rope their bags on motorcycles again.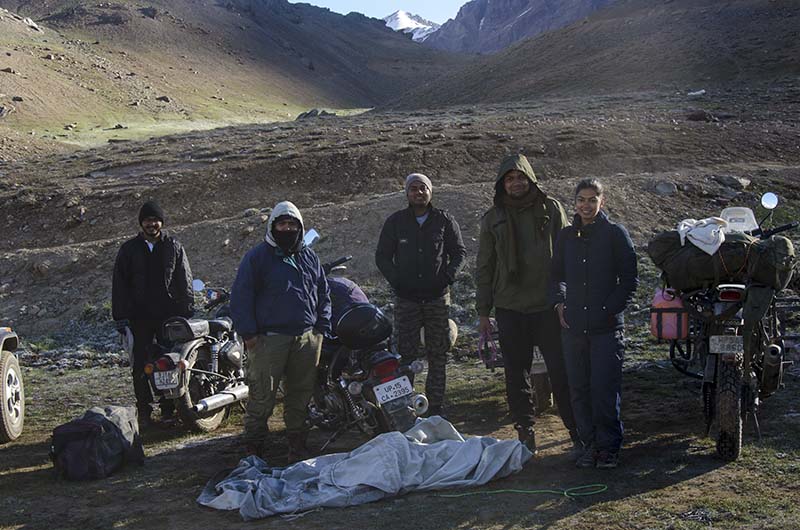 Chandratal to Batal
We all started from Chandratal at the same time. And by all, I meant the entire group staying at Jamaica's camps the previous night. First it was the drive back to Batal during which my friend was once again sitting in the car like she had seen a ghost.
Good part about this day was that I was a little confident about my own driving than I was before. During the entire trip I dreaded about whether or not I will be able to drive on the Manali Kaza stretch. But after visiting Chandratal the day before, I was very confident that I will be able to handle it all. True that the real bad section of the road is between Batal and Gramphoo but that too did not worry me much anymore.
In a little while, we reached Batal and stopped at Chacha – Chachi Dhaba for a quick break. Right in front of the dhaba is the PWD guest house where a lot of people stay for the night. This time, I noticed that there is even a camp site at Batal; and even the old couple who run the dhaba have rooms available here.
Also Read: What Clothes to Pack for Spiti Valley?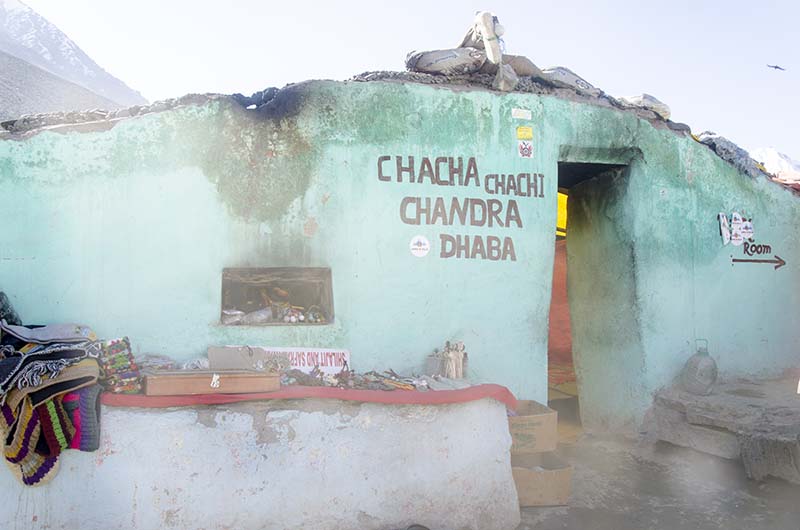 Batal to Gramphoo
After Batal, it was pretty much a straight drive until Gramphoo with a few breaks in between. This entire stretch of the road is notorious for being extremely tough and a car killer if you were in a hatchback or a Sedan. What you have heard however is indeed correct. I will post a few pictures so you can get the idea.
Celebrity Encounter
Fun fact. When we reached Kaza. I learnt that Sunny Deol's son Karan Deol was shooting in Spiti valley for his debut movie. He was shooting at Kibber to be precise. A few people in Kaza even told me about his shooting location but when we crossed Kibber, there was nothing there. I did not see any shooting going on or anything.
While we were driving from Gramphoo to Batal however, that is when we ran into him. We more or less drove together for the entire 60 kilometers. See the ISuzu in front of my Thar in the picture below? That was Karan Deol's and he was traveling in it. Too bad he never stepped even for once really, I just saw him a few times sitting in there as his car passed us by or when I overtook their cars.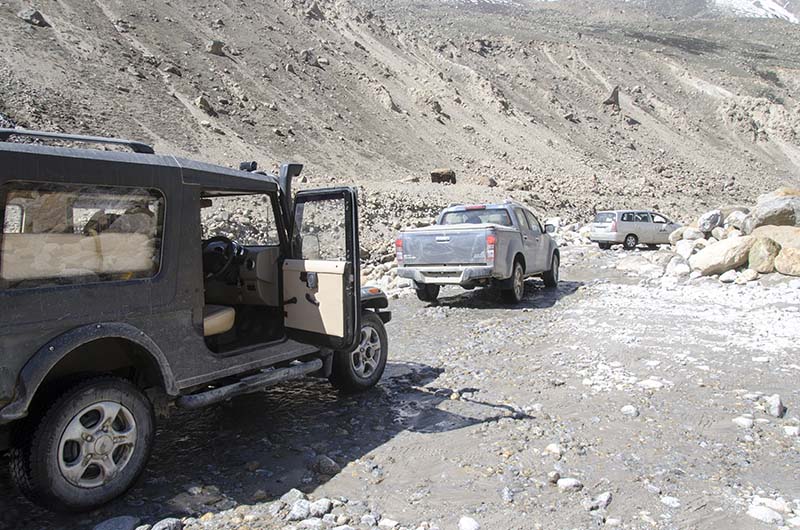 A shot of my Thar from distance.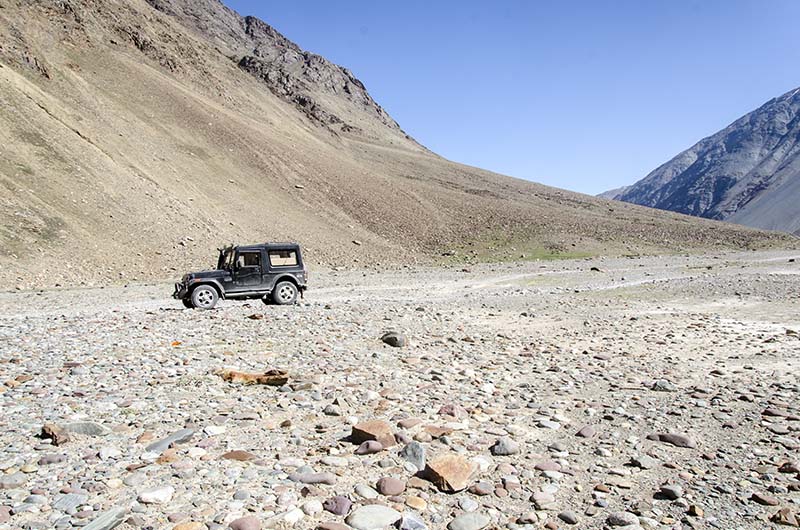 Rohtang Pass
We arrived at Gramphoo and from there started to climb up Rohtang Pass. As expected, the moment we reached the top, we were stuck in a traffic jam and huge tourist rush. From Chandratal to Rohtang Top, it took us about 4 hours and from Rohtang Top to Manali, it took us 5 hours. I will post a few pictures to tell the story better. By the time we finally reached Manali, it was already staring to get dark and I was annoyed beyond describing.
Jamaica had made arrangements for my stay at a hotel in Manali but as it turned out, that hotel was about 17 kilometers outside the main Manali town. My friend on the other hand wanted to stay somewhere close to Mall road so we decided to check out a few hotels and decided on staying at Hotel Chichoga Holiday Inn near Beas Bridge. It was a good hotel and they charged us Rs. 2000 per room per day.
Also Read: Best Hotels in Spiti Valley
An Evening in Over Crowded Manali
After checking in and freshening up, we called Khushboo to find out where she was. Turned out that she too was staying at a hotel nearby. She came to our hotel and together we all went out for a walk at Mall road; something that I regretted considering how crowded Mall road was.
We had dinner at Mall road itself and arrived at our hotel by late night. My friend retired to her room and went to sleep immediately. I however watched TV for a little while and went to sleep at around 2 in the night.
Journey Ahead: Manali to Delhi – The Journey Home
Chandratal to Manali
Mentioned Below are a few details of our journey on this day including the distance and time taken; along with some other information that can be of help.
Chandratal to Manali Distance by Road
Distance between Chandratal and Manali is a total of 133 kilometers approximately.
Chandratal to Manali Time
Even though the distance is not that great, a journey from Chandratal to Manali; or vice versa; will take you an entire day to complete. Two major things that will cause delay are the bad condition of the roads which will severely limit your speed; and the huge tourist rush and resulting traffic jam at Rohtang Pass.
Chandratal to Manali by Car
If you are planning to travel between Chandratal and Manali by a Car then make sure that you bring in an SUV with good ground clearance. A 4×4 vehicle is not needed but good GC is must. Plying on this route in a hatchback or Sedan is not really the best of the decisions.
Chandratal to Manali Buses
There are no direct buses between Chandratal and Manali. You will have to board the daily bus plying between Manali and Kaza and then get down at either Chandratal diversion or at Batal. From there, you can either hitchhike or walk the last 14 kilometers to the lake.
Chandratal Map
For a map of the route, please read How to Plan a Trip to Chandratal Lake.
Chandratal to Kaza
Kaza is at a distance of about 100 kilometers from Chandratal.
Chandratal to Suraj Tal Trek
There is a trek from Chandratal to Suraj Taal but it is not to be attempted on your own. Please note that there is wildlife in the area and if you got lost somewhere in the hills, it may very well prove to be fatal. Please hire a proper guide and porters from either Kaza or Manali for the trek.
Chandratal to Baralacha la Trek
It is the same Suraj Tal trek that I mentioned above. Depending on where you were staring from and where your trek was ending, it could be a 4 to 5 days of trekking in total.
Chandratal to Kunzum Pass
Distance between Chandratal and Kunzum Pass is a total of about 24 kilometers.
Chandratal to Batal
Total distance between Chandratal and Batal is of about 18 kilometers.
Chandratal to Keylong Distance
Keylong is at a distance of 118 kilometers approximately from Chandratal.
Chandratal to Chandigarh
If you traveled via Manali, then the total distance between Chandigarh and Chandratal is about 420 kilometers. The entire journey will take about 20 to 22 hours to complete.
Chandratal to Delhi
It is a total of 650 kilometers from Chandratal to Delhi via Manali; and will take you at least 2 days to complete provided you keep your Rohtang permits arranged in advance.
Chandratal Elevation
Altitude of Chandratal is 4,250 meters and this one of the biggest reason why many people suffer from AMS here.
Also Read: How to Handle Acute Mountain Sickness at Chandratal
Chandratal Lake to Rohtang Pass
Total distance from Chandratal to Rohtang top if 85 kilometers approximately.
Batal to Rohtang Pass
Rohtang Pass is at a distance of 64 kilometers from Batal.
Batal to Gramphoo
Batal to Gramphu is a total of 50 kilometers approximately.
Kunzum Pass to Manali
Kunzum Pass to Manali is a total of 128 kilometers and will take you about 8 hours to complete; depending upon the traffic jam at Rohtang.
Batal to Kunzum Pass
From Batal to Kunzum top is a total of 13 kilometers.
Batal to Gramphu
This section of the route is probably the worst road you have even been on. It is a non-stop series of water crossings; one after one. Once I counted about 45 water crossings in a distance of 49 kilometers. It is a narrow and badly broken road with huge stones and boulders on it. The only plus point is that it never really gets too steep but will make your heart jump to your mouth at several places still.
Chandratal to Spiti Valley
I am adding this information here because I get asked by a lot of people about how far Spiti is from Chandratal. What you should know is that Spiti is an entire district and not just one town. Place like Batal, Kunzum Pass, Chandratal, Kaza, Dhankar and Tabo are all Spiti Valley. So when you are at Chandratal, you are in fact in Spiti. If you want to explore the valley more than you can travel towards Kaza which is the headquarters of Spiti valley.
Conclusion
I hope the information above on traveling from Chandratal to Manali was of help. Please read Manali to Delhi – The Journey Home to continue reading the last part of this travelogue. If you have any questions; or need any further details; please feel free to ask in the comments section below; or at our Community Forum; and I will be glad to answer.