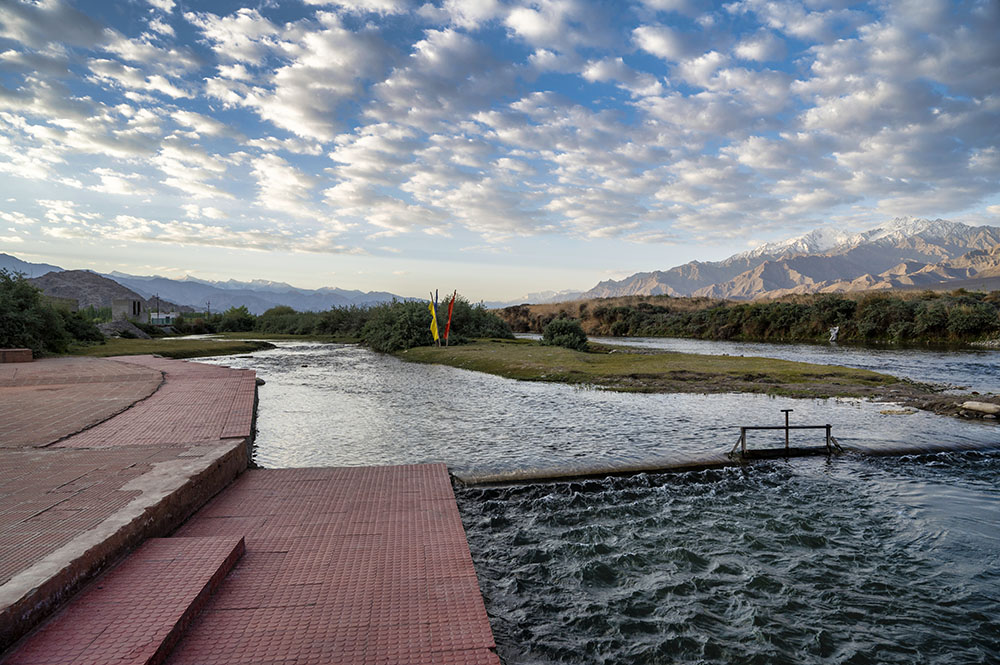 Sindhu Ghat is a riverbank in Leh, situated near the Shey village on Manali Leh Highway. For three days every year, this riverbank becomes one of the prime tourist attractions of Ladakh due to the Sindhu Darshan Festival, held every year in June on the full moon day of Guru Purnima.
The ghat is named after the Sindhu River, known as Indus in English. It is located at a distance of about 9 kilometers from Leh town and can easily be reached in 10-15 minutes at most. It is mostly visited by people for pooja and darshan but also continues to attract tourists all year long.
I have been to Ladakh several times but Sindhu Ghat had never been on my itinerary until recently. Last year, I spent about 2 months in Ladakh and also visited Sindhu Ghat a few times during my stay there. To read the previous parts of this travelogue, you can take a look at the links below.
Journey So Far:
Where is Sindhu Ghat? Is it worth visiting? What is the best time to be there? Is Sindhu Darshan festival worth attending? These are some of the questions I will try to answer in the post below.
For all other details on visiting Ladakh, like how to reach, itinerary planning, where to stay, public transport, etc, you can take a look at How to Plan a Trip to Ladakh – A Complete Travel Guide.
About Sindhu Ghat
Some people may not agree with this but Sindhu Ghat is just a small river bank. When you hear the word 'Ghat', it automatically paints a picture of the ones that you see in places like Haridwar, Banaras, or Pryagraj.
But make no mistake, Sindhu Ghat is nothing like these other ghats. Take a look at the picture below. This is all that Sindhu Ghat is. Even the flowing water looks nothing like a river – more like a water stream.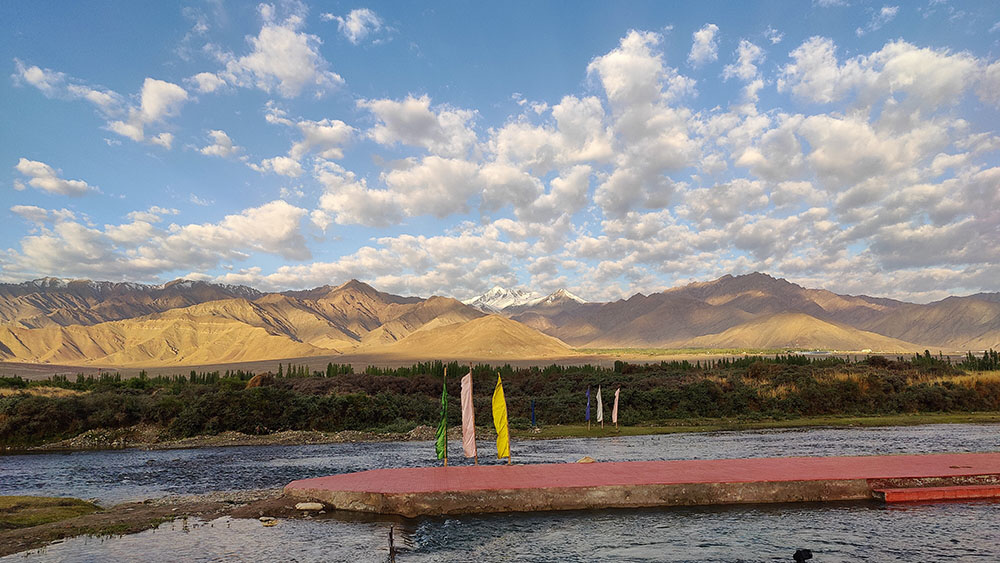 So when you reach Sindhu Ghat, you enter a ground-like area that serves as the parking spot. There are a couple of restaurants next to the parking where you can get something to eat.
Right behind the restaurants is a water stream. Next to the water stream is a small auditorium-like area and a small stage. The stage is where the performances during the festival take place and the small auditorium serves as the sitting area. This is all that Sindhu Ghat is.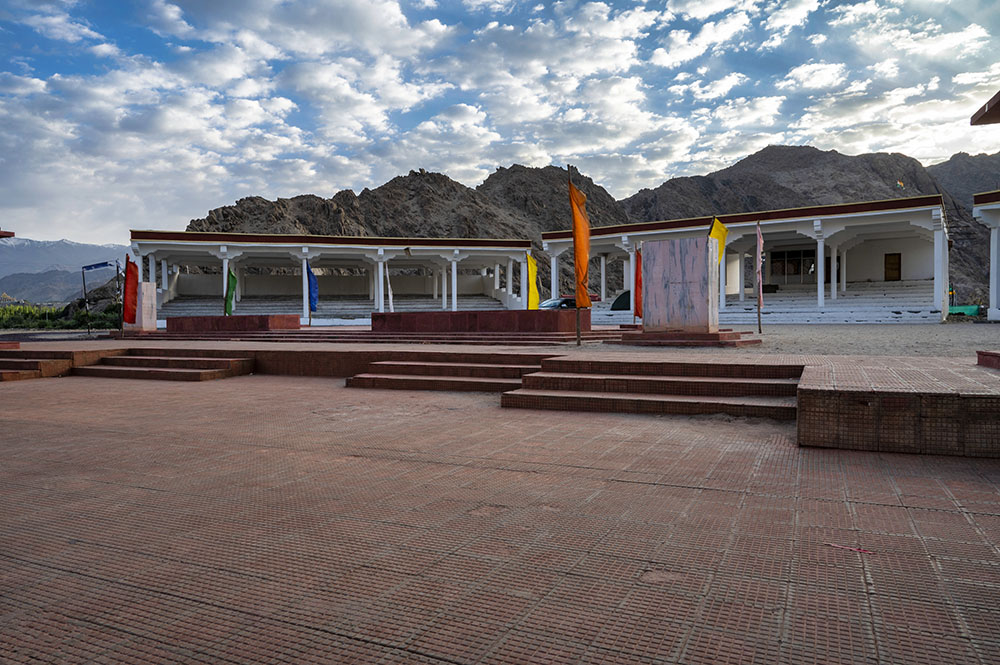 Is Sindhu Ghat Worth Visiting
This brings us to the next question, is it worth visiting? In my opinion, no it is not. The only time Sindhu Ghat is worth adding to your itinerary is when the Sindhu Darshan festival takes place. For the rest of the year, you won't miss anything if you skip it.
I went to Sidhu Ghat early in the morning, at around 6 am to get sunrise photos. I was disappointed. There was no clear view of sunrise and the place just looked dull.
I went there to get sunset shots and was once again disappointed. While the lighting at the restaurant and the weather were pleasant enough to sit and relax, there was nothing special about Sindhu Ghat.
Once I took a break here during the day while returning from Pangong Lake. The sun was harsh and it was terribly hot there. I did not even bother to go to the riverbank and we just sat at the restaurant, sipping a cold drink.
How to reach Sindhu Ghat
Sindhu Ghat is located near Shey Palace, on the Manali Leh Highway, at a distance of 9 kilometers from Leh town. If you are coming from Leh, it will be to your right. If you are coming from Karu / Sakti to Leh, it will be on your left.
Just look for a large groud-like area with a few cars parked and a couple of restaurants. There is also a large gate marking the area. This is the spot I am talking about.
There are 5 daily buses from Leh to Sakti that you can board to reach Sidhu Ghat. The bus travels all the way to Sakti but you can request the driver to let you get off near Sindhu Ghat.
Most of these buses are however in the afternoon, from 1.30 pm onward. There is only one bus in the morning at 8.45 am. So traveling by bus will be a tricky deal. Your better option would be to look for a shared cab going in that direction and hop on.
For more details on this topic, you can take a look at Bus Service in Leh Ladakh.
Best Time to Visit
The best time to visit would be late in the evening when the sun is going down. Stay there a little after dark, get something to eat at the restaurant, and relax by the river. This is the only time Sindhu Ghat is worth visiting.
Sindhu Darshan Festival
Let us now talk about what Sindhu Ghat is famous for – the Sindhu Darshan Festival. It is a 3 days event held every year in June on the full moon day of Guru Purnima.
The festival is held as a celebration of the River Sindhu and attracts a large number of foreign and domestic tourists. The first time this event was held in the form of a festival was in October 1997 and it was Lal Krishna Advani who started it all back then.
Remeber file Dil se starring Shahruk Khan? The song Satrangi Re from this movie was mostly shot near Thiksey Monastery, Basgo Plains, and Pangong. That was the time when Ladakh was not even on the tourist map. A sequence of this movie was also shot during the first Sindhu Darshan Festival in October 1997.
The festival is marked by a reception ceremony conducted by various religious groups to promote national integrity and a series of cultural programs presented by artists from various states of the country. This also includes the Chham Dance performed by Ladakhi Lamas.
Also read: The Ghost of Gata Loops of Ladakh
When is Sindhu Darshan Festival celebrated?
While the festival was first celebrated in October, it has since been moved to the month of June. The idea was to hold the festival when the weather is favorable and people can easily reach Ladakh to attend the festival.
Highlights of Sindhu Darshan Festival?
Opening ceremony conducted by a joint association of committees of various religious groups to promote national integrity.
An offering of water by people from different states. The attendees bring water from the river of their states and then pour it into the Indus River on the first day.
Cultural events performed by artists from different states of the country
Prayers and Chham Dance by Ladakhi Lamas
That is mostly all that is to know about Sindhu Ghat and Sindhu Darshan Festival as a tourist. Now let me return to the travelogue and talk about our visit to Sindhu Ghat.
Leh to Sindhu Ghat
It was Monday, our 3rd day in Leh, and the 17th day overall. We reached Leh on Saturday evening and visited Shey Palace, Thiksey Monastery, and Shanti Stupa on Sunday.
While we were at Shanti Stupa, I ended up losing my GoPro due to my own carelessness. Luckily though, a local lady found the camera, saw the videos on the GoPro, figured out the hotel I was staying at, and contacted me to return it.
I have talked about this entire story in the previous part of the travelogue. So the main plan for the day was to meet the lady who was kind enough to go through all the hassle to return the camera to me. But that was to happen in the later part of the day.
In the morning, we first decided to go to Sindhu Ghat and capture the sunrise from there. After that, we thought to continue to Gurudwara Patthar Sahib, Sangam Point, and Magnetic Hill and return to the hotel before noon.
Since it was the sunrise that we wanted to capture, alarms went off at 5 am, and by 5.30 am, we were driving out of the hotel to go to Sindhu Ghat.
The drive was a short one. There was absolutely no traffic on the road and we reached Sindhu Ghat in about 10 – 15 minutes. What awaited us there was a complete disappointment.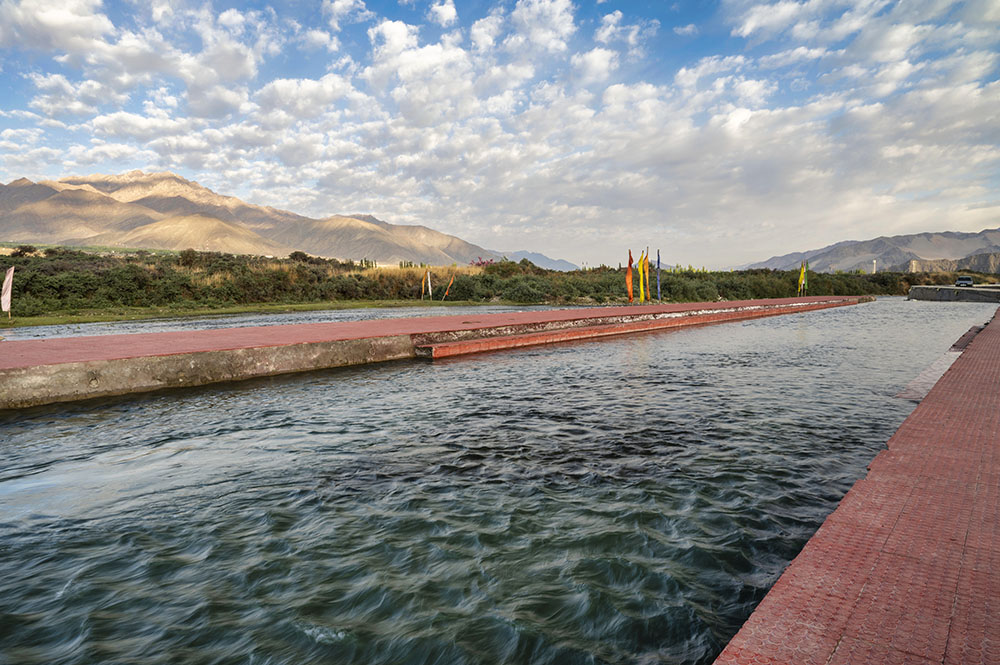 Sindhu Ghat
I was expecting the place to be what my definition of a ghat was. This was a picture painted in my head after visiting several other ghats in the others, like Prayagraj, Haridwar, Rishikesh, and Banaras.
What we saw however was nothing like my expectation. It was just a small open auditorium next to a small stream of water. There was no clear view of the sunrise as well.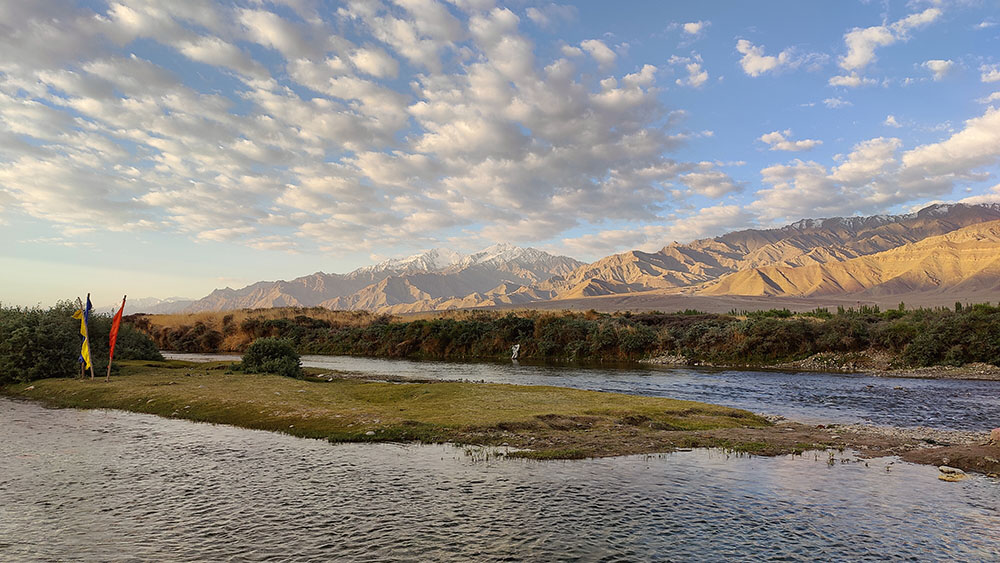 I was clueless about what we should do there or what we even see. There was absolutely nothing at all. The restaurants next to the auditorium were still closed so we could not even get some tea or breakfast.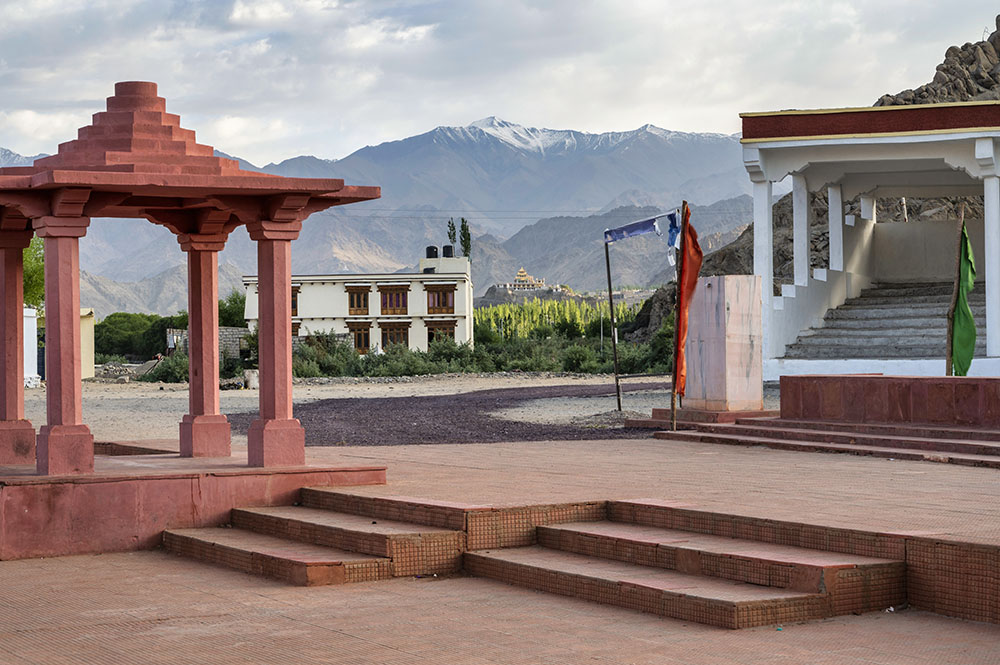 Nonetheless, we spent about 30 minutes there, roaming and trying to salvage the situation the best we could. I clicked a few photographs but none of them turned out to be great.
It was the month of June when we were in Ladakh. So the only thought in my mind was to find out the dates of the Sindhu Darshan Festival and come back to Sindhu Ghat to attend the festival. That was really the only purpose of this place and nothing else.
Disappointed, we got back in our car after 30 minutes and moved on to the next destination, the Magnetic Hill of Ladakh. Please click above to continue reading the next part of the travelogue.
Conclusion
As it would turn out later, the festival was not held that year at all. We were in Ladakh until July but the festival was canceled that year. So Sindhu Ghat remained to be one of the biggest disappointments of my 2-months long trip to Ladakh.
I hope the travelogue, pictures, and information above on Sidhu Ghat and Sindhu Darshan festival were of help. If you have any questions, you can contact me on Instagram and I will be happy to answer. You can also consider subscribing to my YouTube channel and asking your question there.
This error message is only visible to WordPress admins
Error: No feed found.
Please go to the Instagram Feed settings page to create a feed.