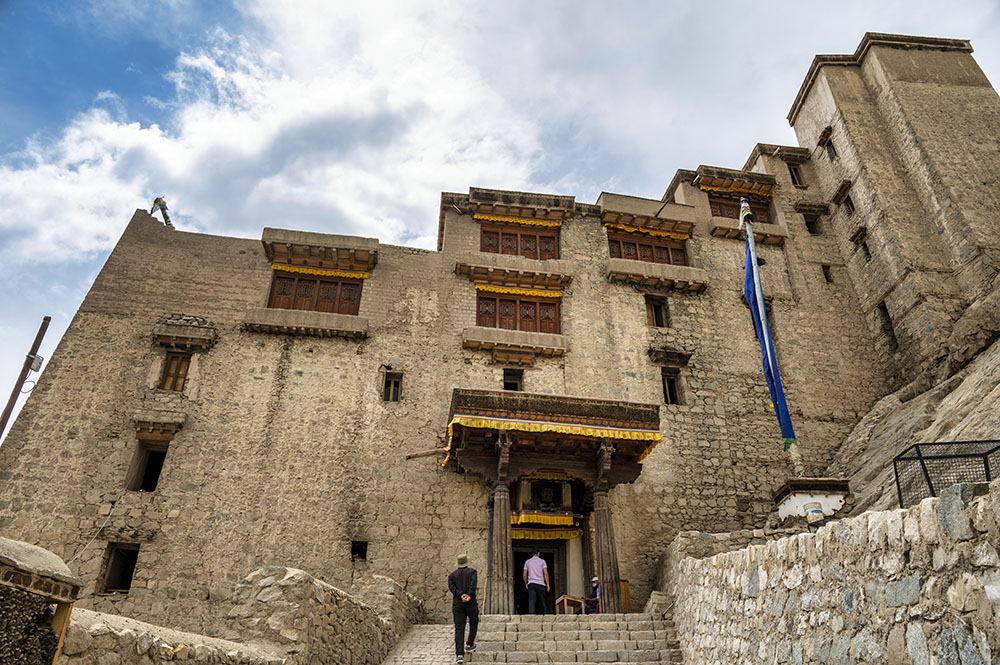 Leh Palace also known as Lachen Palkar Palace is one of the prime attractions of Leh City. It was built in the year 1600 and used to be the residence of the royal family of Ladakh until the mid-19th century.
After the Dogra forces of Jammu took over Leh City the royal family shifted from Leh Palace to Stok Palace. The palace remained abandoned for a long time after that and it was almost in ruins.
The work to restore the palace is underway and has been completed to a large extent. The Royal family does not live there anymore but it still serves as one of the prime tourist attractions of Leh City.
The post below is a complete travel guide on Leh Palace and also a brief narration of our trip to the palace. To read the previous parts of this travelogue, you can follow the links below.
Journey So Far:
It is located on a hilltop and gives a panoramic view of the entire Leh town. Even if you are not interested in historical monuments or museums, I will still recommend visiting Leh Palace just for the view you get from its roof.
About Leh Palace
Leh Palace used to be the summer residence of the kings of Ladakh. In the winter months, they would move to Shey Palace but in the summers, it was Leh Palace that served as the seat of the king.
It was a nine floors high building. The upper floors accommodated the royal family, while the lower floors were used as stables and store rooms.
After the Dogras of Jammu invaded Ladakh, the king abandoned the palace and it remained so for a very long time. Much of the palace went in a deteriorated condition, and little survived of its interior decorations.
The palace is being restored by the Archaeological Survey of India and most of the work has already been completed. The Palace now has a Museum that holds a rich collection of jewelry, ornaments, ceremonial dresses, crowns, and several Tibetan thangka or paintings that are said to be more than 450 years old. (Source: Wikipedia)
Leh Palace Video
Below is a video of the Leh Palace that I shot during our visit.
How to go to Leh Palace
The best way to reach Leh Palace is by your own vehicle, either a car or a motorcycle. There is a motorable road that leads all the way to the palace's gates. It is a little narrow and steep in a few places but is tarred and remains in a good condition.
Leh Palace sits at the top of a small hill, overlooking the entire town. Irrespective of where you were in Leh, you will get a clear view of the palace. It is located only about a kilometer away from the main market.
The palace is marked on Google Maps. So you can just search Leh Palace on Google Maps and it will point you in the right direction. If you were unable to figure the way out, you can ask any of the locals and they will point you in the right direction.
There is no public transport available for the palace. There is no bus and it would be almost impossible to find a shared cab as well. You can look for an Eeco Van which will charge approximately Rs. 200 per person.
So if you were traveling by public transport, you will either have to rent a bike in Leh or an automated scooter. You can also hitchhike which would not be difficult during the tourist season.
Leh Palace Timings
Leh Palace remains open from 8 am to 7 pm on all days, including Sundays. Its timings actually depend on the sunrise and sunset timings. So in the winter season, it may close a little early as well.
Leh Palace Entry Fee
There is an entry fee of Rs. 25 per person to visit Leh Palace for Indian travelers. If you are a foreign national, you will be charged Rs. 300 per person.
Leh Palace Altitude
Leh Palace is located at an altitude of 11,700 ft (3566 meters).
Best Time to Visit Leh Palace
The best time to visit Leh Palace is in the evening. This is when the weather is enjoyable and you will get a very scenic view of the city as the sun sets.
This is only if your itinerary allows it. Otherwise, you can visit the palace all day long. It is just that the sun is very harsh in Leh during the day so you will not be able to spend much time on the roof. The photographs will also not turn out that great under such harsh sun.
Also Read: How to Plan a Trip to Leh Ladakh – A Complete Travel Guide
Leh Palace Closing Days
Leh Palace remains open on all days, including national holidays. The only time it may be inaccessible to visitors is if there was ongoing renovation work, forcing the authorities to close the palace temporarily.
Lighting and Night View
One of the most frequent questions asked about Leh Palace is about its night view. On certain occasions, the entire palace is illuminated with lights after sunset and the view it presents is worth witnessing and capturing.
However, this is only done on certain occasions, mostly around Buddhist festivals or if there was a senior Lama visiting Leh. On the rest of the days, the floodlights are kept switched off.
Tsemo Castle
Another nearby attraction close to Leh Palace is Tsemo Castle. It is believed to have been built around 1555-1575. It is at an even higher altitude from Leh Palace which makes it an even better place to see the sunset and get an unhindered view of the city.
There are two options to reach Tsemo Castle. You can either walk a steep dirt path located near the main gate of the palace. Or you can drive back from the gate for a few hundred meters and take the motorable road to the castle.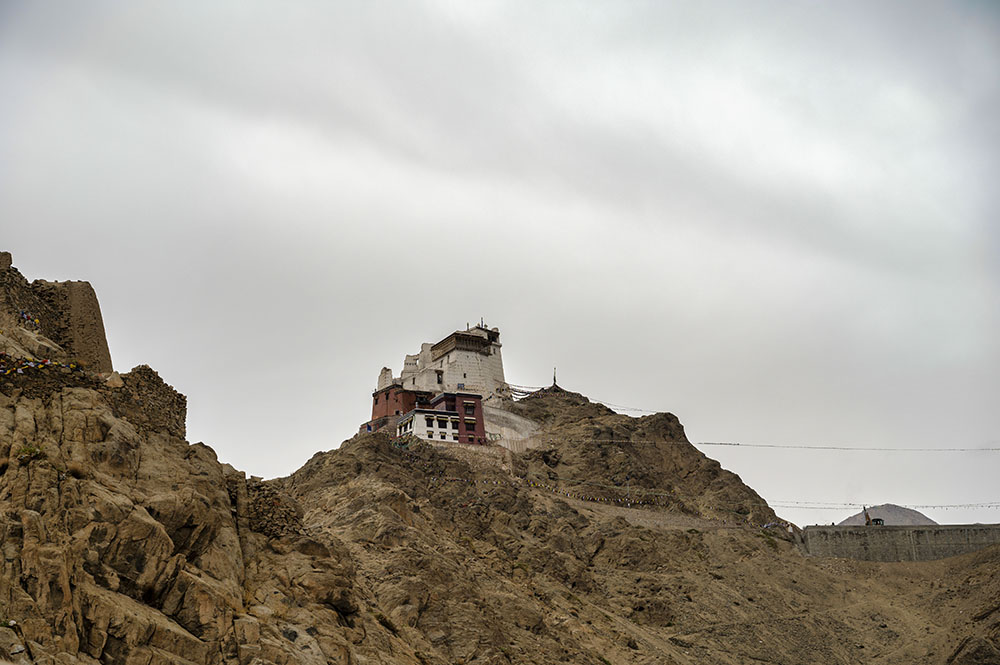 Shanti Stupa
Shanti Stupa is not actually located near Leh Palace. Take a look at the picture below. There is no direct road between the two places. You will actually have to drive down to the market and then take another road to reach Shanti Stupa.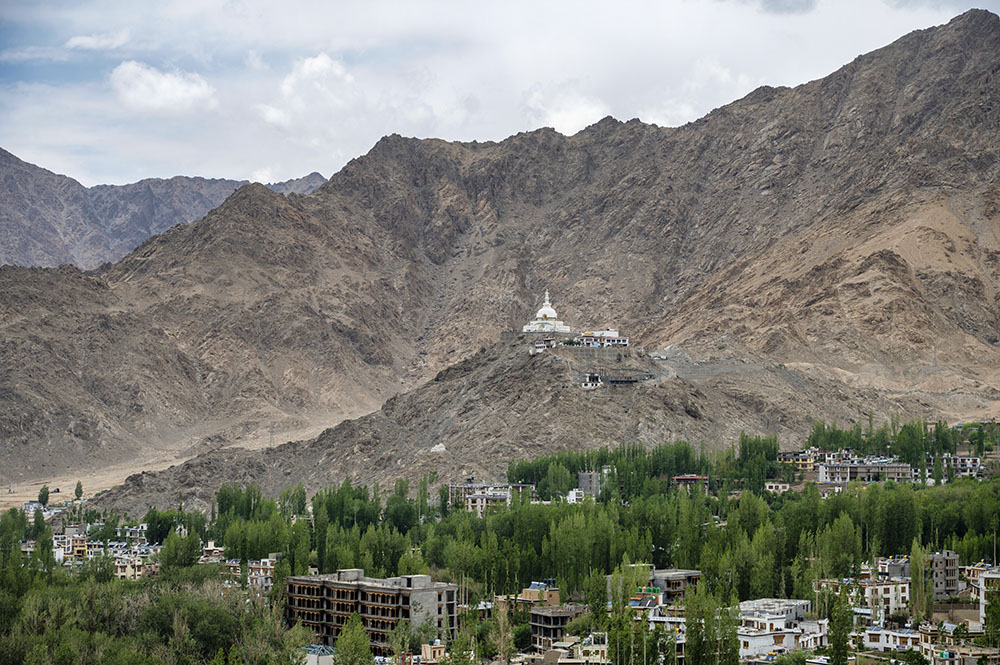 Leh to Leh Palace
Now returning to the travelogue, let me talk briefly about our visit to the Palace. It was our 6th day in Leh and Day 20 of the trip overall.
This was not the first time I was visiting Leh Palace. I had been there before during my previous trips to Ladakh. So I knew that the best time to be there is in the evening.
We were actually doing work from home in Ladakh. So the trip was a mix of both travel and work at the same time. The entire idea of this trip was to remain in Leh and explore the nearby areas from Monday to Friday and explore nearby regions over the weekend.
After arriving in Leh on Saturday, we visited Shey Palace, Thiksey Monastery, and Shanti Stupa on Sunday. On Monday, we visited Sindhu Ghat, Gurudwara Patthar Sahib, and Magnetic Hill.
We tried visiting Stakna Monastery on Tuesday but it was closed when we reached there. Wednesday was spent relaxing in the hotel only and it was Thursday when we decided to go to Leh Palace. We only had a couple of hours for this before we had to be back in front of our laptops.
The View of the City
Our hotel was located near the market area itself and it hardly took us 15 minutes to reach the Palace. We paid the entry fee and were soon walking through its narrow corridors.
You can also check out the video of our visit that I posted above. Photography was allowed inside but videography was not permitted without prior permission. Hence there is no video of its interiors but let me post a few pictures.
It was a cloudy day and there was a drizzle when we stepped out of our hotel. Thankfully, the drizzle did not turn into rain and stopped shortly after. This gave us a good opportunity to capture a view of Leh under thick clouds.
We were there in the palace for about 90 minutes, most of which was spent sitting on the roof. As the sun went down and it started to get dark, we decided to call it a day and return to the hotel.
We did not go anywhere on Friday and spent the day in the hotel only. On Saturday, we went to the beautiful Tso Moriri Lake and also covered several other places. Please click on the link above to continue reading the next part of the travelogue.
Conclusion
I hope the travelogue, pictures, and information above the Leh Palace were of help. If you have any questions, you can contact me on Instagram and I will be happy to answer. You can also consider subscribing to my YouTube channel and asking your question there.
This error message is only visible to WordPress admins
Error: No feed found.
Please go to the Instagram Feed settings page to create a feed.