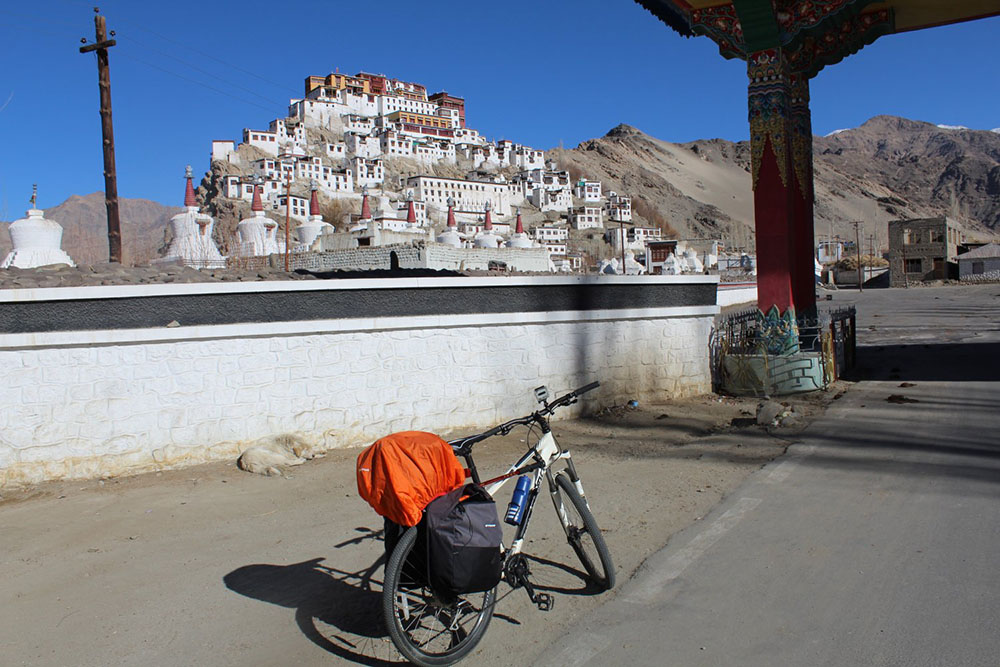 There are two things about Thiksey Monastery that make it one of the most visited places in all of Ladakh. The first one is its spectacular location and the second one is its close proximity to Leh City. Also known as Thikse Gompa, this grand monastery is the largest in central Ladakh and sits at the top of a small hill, overlooking the entire valley around it. It is located at a distance of only about 17 kilometers from Leh and offers some of the best views you can get during your trip.
If you were in Ladakh then this is one place that you just cannot afford to miss. How you can plan your trip and include Thiksey Monastery in it is what I will be providing details on in this article. For a complete travel guide covering all of Ladakh, please read How to Plan a Trip to Leh Ladakh.
There are several monasteries located at a short distance from Leh and Thikse is one among them. The best way to plan a visit is to spend a day in Leh City and do a monastery tour. You can cover all the monasteries near Leh and also include some of the other places like Gurudwara Patthar Sahib, Magnetic Hill, and Indus Zanskar Confluence. If you were however short on time, then you can cover Thikse while going to or returning from Pangong Lake; or while traveling between Leh and Manali. Read on to get more details.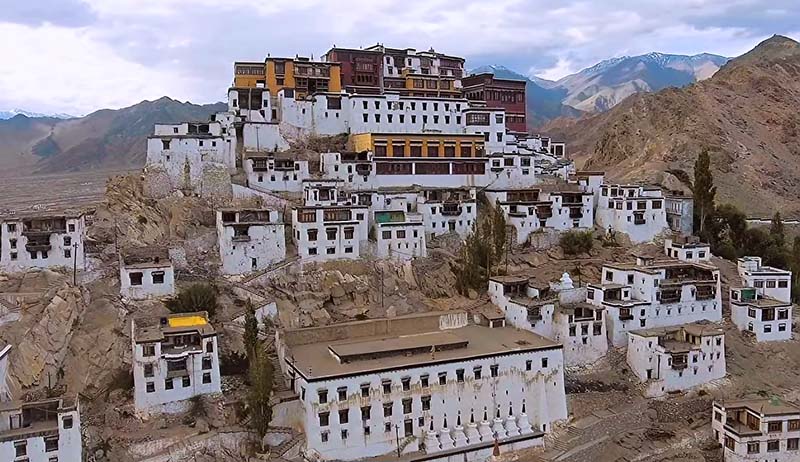 Where is Thiksey Monastery
Thiksey Monastery is located at a distance of 17 kilometers from Leh on Manali Leh Highway. To get here, you will start driving towards Karu from Leh and the monastery will fall to your left, a little after Shey Palace.
About Thiksey Monastery
Also spelled as Tiksey, Thikse or Thiksay, this monastery is truly a wonder in itself. It is among the largest monasteries not just in Ladakh but all of India. Located on a hill slope, it was built as a fort monastery in the early 15th century and the current structure is a grand 12 stories high building painted in red, ochre and white.
One of the prime attractions of the monastery is a grand 15 meters (49 ft) high statue of Maitreya Buddha, covering two stories of the building. While other monasteries in Ladakh too have such large statues, the one in Thiksey Gompa is the largest. It was built to commemorate the visit of the 14th Dalai Lama in 1970 and took four years to complete.
Different sections of the monastery are arranged on the hill slope in ascending order as per their importance. On the top of the hill are the main shrine and the residence of the Head Lama.  The monastery is home to a total of 60 lamas and also has an attached nunnery that houses 26 nuns. Its architecture bears resemblance to Potala Palace in Lhasa, Tibet, the former official seat of the Dalai Lamas. Due to this, the monastery is also referred to as 'Mini Potala'.
The motorable road will bring you to the courtyard where you will leave your vehicle and climb a flight of steps to the main monastery.
The annual Gustor Festival is held in the monastery from the 17th to 19th day of the ninth month of the Tibetan calendar. As per the solar calendar, this time falls in late October or early November. You can visit THIS THREAD to check the exact dates of all festivals celebrated in Leh Ladakh.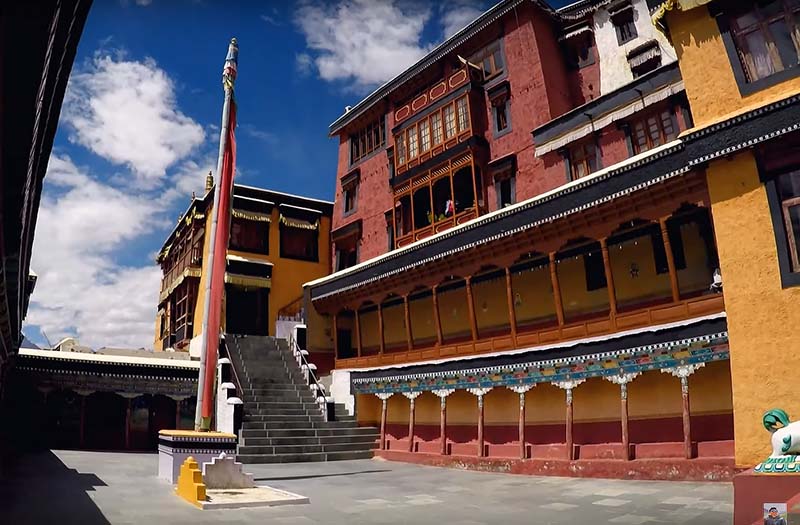 History of Thiksey Monastery
The monastery also has an interesting tale around how it came into existence. It is said that in the early 15th century,  Je Tsongkhapa, the founder of the Gelug School of Tibetan Buddhism (also known as the 'Yellow Hats') sent 6 of his disciples to different parts of Tibet to spread the teachings of the new school. One of these disciples, Jangsem Sherab Zangpo, arrived in Ladakh and met the king and presented a small statue of Amitayus as a gift.
The Ladakhi king was impressed by the gift and decided to help the disciple in establishing a new monastery. In the year 1433, the monastery was built in the village of Stagmo and Gelugpa order was introduced in Ladakh.
Years later, Palden Zangpo, a disciple of Sherab Zangpo, continued the work of his teacher in Ladakh and decided to build a larger monastery. According to a popular narrative, the location of the new monastery at Thiksey was decided after a mystical episode.
It is said that once, Sherab Zangpo and Palden Zangpo were performing a sacred ritual. Upon its completion, they took the ritual torma (figures and objects made of flour) to be disposed of in the valley or the river.
As they were about to throw away the torma, two crows appeared out of nowhere, snatched the ceremonial plate containing the torma and flew away. The plate, after a long search, was then found on top of a hill above Thiksey Village. It was placed on a stone and was in an undisturbed condition. Interpreting this mystical event as a divine directive, the monks decided to set up the new monastery at the same spot and the first temples were constructed at Thiksey.
Also Read: How to Plan a Trip to Ladakh with family
Architectural Style
The monasteries in Ladakh and Tibet commanded and controlled the region, land and agricultural produce. There was a time when Thiksey grew in prominence and controlled 1,327 acres of land and about 25 villages. It also administered ten other monasteries in the region, such as Diskit, Spituk, Likir, and Stok.
This often lead to conflicts with rival sects of monasteries for political and material control over the region. This is why the monasteries were built like forts, with thick peripheral walls, and at a strategically selected high altitude location; to protect its inhabitants and wealth from rival attacks. One visit to the monastery and you will clearly see that Thiksey is a classic example of such a fortress-type monastery.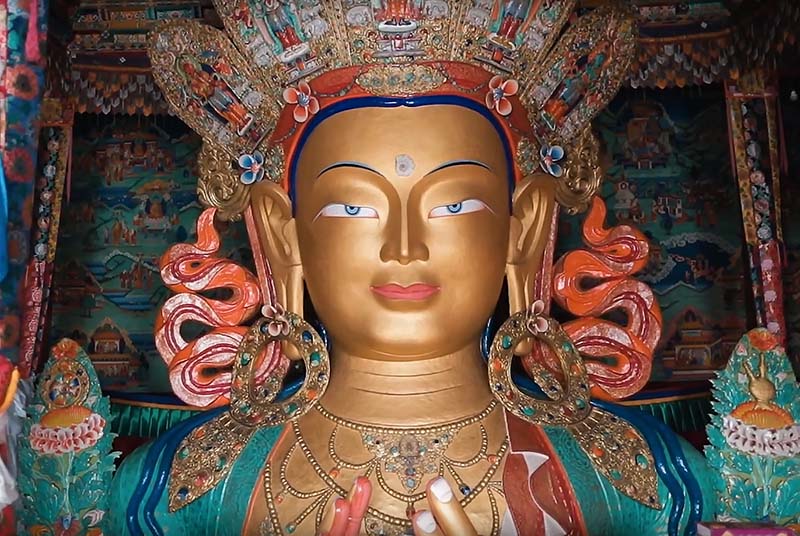 Exploring the Monastery
The route leading up to the monastery is lined with chortens (stupas) and mani (prayer) walls. A winding pathway leads up to the courtyard through an elaborate gateway. The main temples and other important structures are all built around this courtyard. Other rituals and cham dances too are performed in this courtyard at the time of different festivals.
As a common tourist who will not have much knowledge about Buddhism, there are three things that will be of interest. The first is the grand statue of Buddha, second is the beautiful paintings on the walls of the monastery and the third is the awesome view you get from here.
Maitreya Buddha
The main point of interest is the Grand Buddha statue made by clay and copper and painted in gold. It is a 15 meters high statue that took 4 years to complete and was built to commemorate the visit of the 14th Dalai Lama to this monastery in 1970. It is the largest such statue in all of Ladakh and is really a sight to behold.
Also Read: How to Handle Acute Mountain Sickness in Leh Ladakh
Assembly Hall
The assembly hall has a set for the Dalai Lama at the center, the head lama to the right and a picture of a deity on the left. There are several murals of the Tibetan calendar with the Bhavacakra (Wheel of Life) depicted on the walls. The hall also has an image of the Thousand-armed Avalokitesvara, murals of  Mahakala and Sitatapatra and 225 volumes of the Tengyur wrapped in silk.
Tara Temple
After the assembly hall, you can also visit Tara Temple. It has 21 images of the goddess placed in glass-covered wooden shelves.
Temples on the Top Floor
You will then move further up to the top floor and visit the Lamokhang temple. Please note that women are not allowed at the top floor which also has the official residence of the head lama.
Rooftop
The excellent view that you get from the roof of the monastery will be the prime attraction for you as a tourist. If nothing else, then the view itself makes a trip to the monastery worth it. If you are into photography, then this is one place where you can get some excellent shots of the Indus Valley flood plains.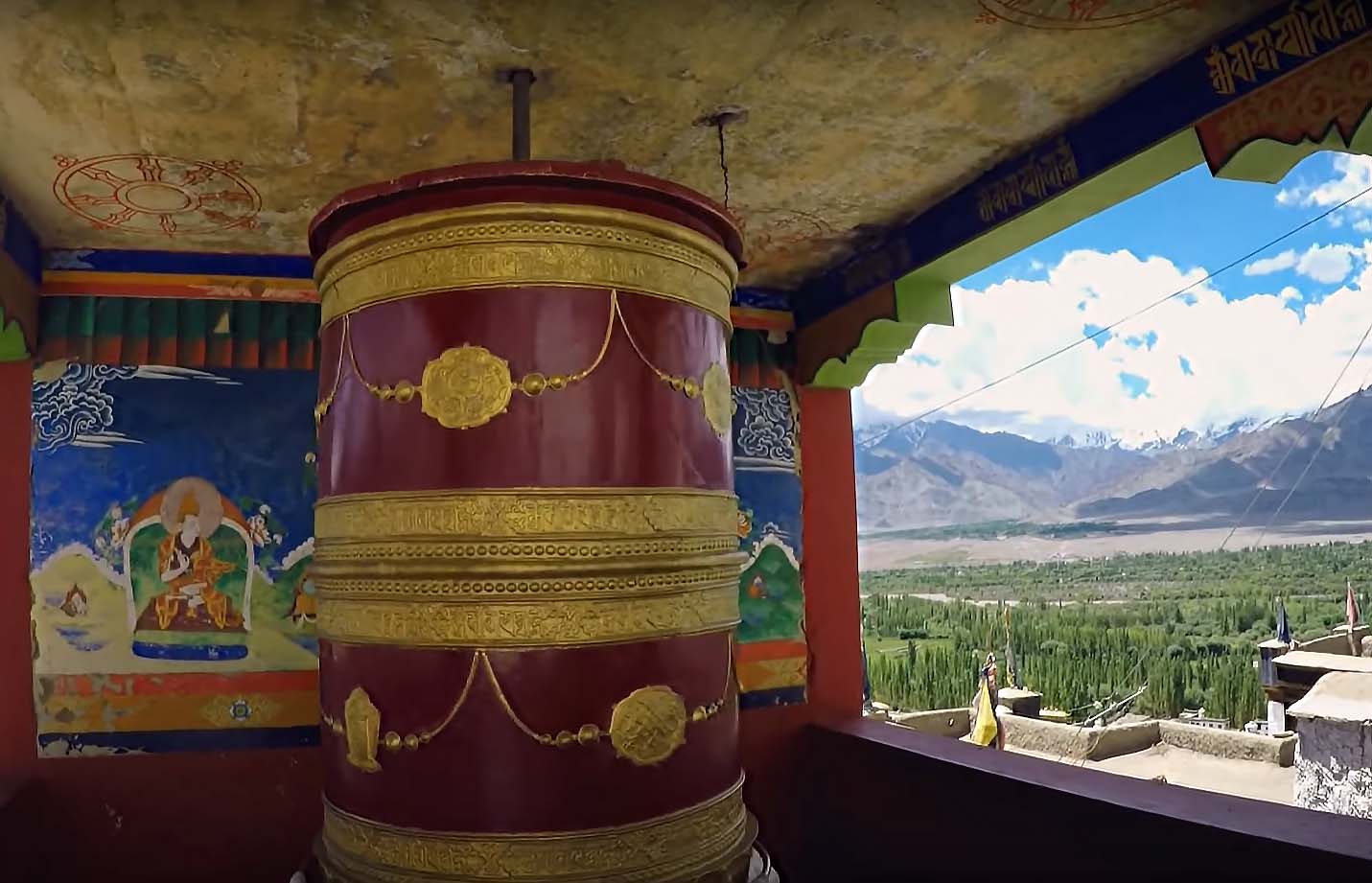 Thiksey Monastery Festival
An annual festival known as Thiksey Gustor is held in the monastery in the month of either October or November. It is based on Tibetan Lunar Calendar so the exact dates of the festival vary each year. It is a 2-day event marked by sacred Cham dance by the monks.
The word 'Gustor' in Tibetan means 'sacrifice of the 9th day' and is a celebration of good over evil. The festival is held simultaneously in several monasteries for two days. The one that is held in Thiksey monastery is named as Thiksey Gustor.
It begins with the preparation of sacrificial cake, Torma which indicates an evil entity or force. During the festival, the traditional Black Hat dancers perform the sacred mask dance.
The most important ceremony of the festival, however, is the enactment of the killing of King Langdarma. He was a king who ruled Tibet from 838 to 841 CE and is considered as an evil king. It is said that he was was possessed by demons.
The enactment is known as Argham. An effigy of Langdarma is made and then rituals are performed for 7 days. On the last day, the effigy is burnt, marking the victory of good over evil. The sacrificial cake Torma is cut and distributed by the Black Hat leader.
Best time to Visit
There are two points of view if we talk about the best time to visit Thiksey monastery. On an overall basis,May to September is the best time to visit Ladakh and will also apply to Thiksey. The weather at this time is very pleasant and perfect for tourists. Srinagar Leh Highway as well as Manali Leh Route will both be open and reaching Ladakh will not be difficult. All hotels, guest houses, and tourism-related activities too will be open in this period. Tourist places in Ladakh like Nubra Valley, Pangong Lake and Tso Moriri will be accessible during this time period.
If you, however, wanted to know about the monastery; the local culture and Buddhism; then a better time would be to visit around the annual festival, Thiksey Gustor, in October or November. But please note that October marks the beginning of winter season in Ladakh and the temperature starts to drop several degrees below zero at night. Manali and Srinagar roads may not be open any longer and it can snow anytime. Winters in general are harsh times here and you will have to prepare accordingly. To know more, please read How to Plan a Trip to Leh Ladakh in October or How to Plan a Trip to Ladakh in November.
How to reach Thiksey Monastery in Leh
For this part, I am assuming that you have already arrived in Leh and are now planning a visit to Thiksey Monastery. However, if you want to know more about getting to Ladakh first, then I will recommend you to take a look at How to reach Ladakh by Road, Bus, Air or Train.
Depending on your time of arrival in Leh and mode of travel, reaching Thiksey monastery is fairly easy. There is a motorable road that goes all the way to the monastery, most of which is actually the Manali Leh Highway itself.
Leh to Thiksey Monastery
From Leh, you will start driving on the Manali route, towards Karu. You will reach Choglamsar, then Shey and then Thiksey, about 17 kilometers later. There are two ways to get to the monastery. You can leave your vehicle on the highway itself and then climb a steep set of stairs to get to the gompa. Or you can bring your car right to the parking spot of the monastery. To do this, turn left near Chamba Hotel and Restaurant on a narrow road that goes up to Thiksey. You will reach the parking spot as in the picture below.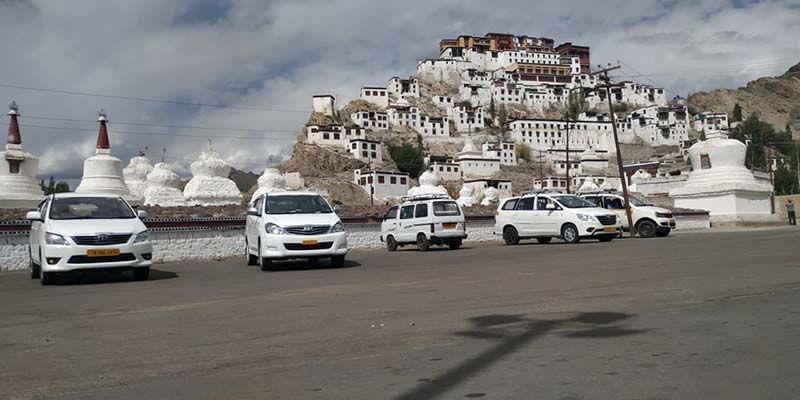 From the parking area, you will start walking on the road that goes into the monastery. There will be a huge golden gate where you will buy the entry ticket of Rs. 30 first. Keep walking for a short distance on the road and then you will climb up the stairs to enter the gompa.
Leh to Thiksey Bus
If you were traveling by public transport, then you will have to board a bus going from Leh to Sakti. The timings of the buses are 8.15 am, 8.30 am, 1.30 pm, 2.30 pm, 3.30 pm, and 4.30 pm. Fare per person will be Rs. 35. Please note that this bus will drop you on the highway itself and not all the way at the monastery gate. After you get down the bus, you will have to walk the remaining distance. For more details, please read Local Bus Timings in Ladakh.
By Shared Taxi
If you weren't traveling by your own vehicle and the bus timings weren't matching yours, then the best way to board a shared taxi from the bus stand. These leave at regular intervals all day long and you can actually find all the way going to the monastery itself. Fare per person will be around Rs. 50.
By Private Taxi
A more convenient way, of course, will be to rent a private taxi. That way, you get picked up from your hotel itself and brought back. But if you were doing this, do not rent one just for Thiksey. Rent a taxi for an all-day-long tour of all monasteries around Leh and other tourist spots. Please read Taxi Charges in Leh Ladakh to know how much it will cost you.
Rented Bike
If you wanted something convenient but not as costly as a private cab, then you should opt for a motorcycle, like Royal Enfield. You can easily rent one in Leh and use it to move around between places. Even if you do not want to rent one for the entire duration of your trip, I will still recommend getting one for at least one day in Leh City. Riding around a bike on the roads of Ladakh is really an experience worth having.
If you weren't too comfortable with a motorcycle, you can also opt for an automatic scooter like Activa. Please read Leh Ladakh Motorcycle Rental Rates to find out how much it will cost you.
Hitchhiking
The most cost-effective way would be to simply hitchhike and in Ladakh, it is not difficult at all. Thiksey Monastery is located on Manali Leh Highway, a busy road. You will find plenty of locals and tourists traveling on it all day long. Someone in a car may not stop but a biker riding alone will not mind giving you a lift at all.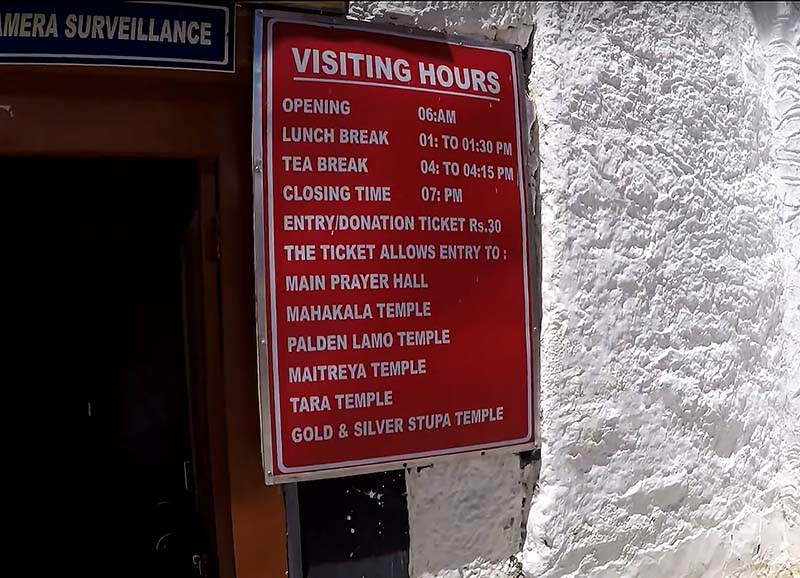 Thiksey Monastery Timings
Thiksey monastery opening hours  are from 6 AM to 1 PM and 1.30 PM to 7 PM every day, including Sundays and national holidays. The monastery also remains closed for 15 minutes between 4 – 4.15 PM for tea break.
Thiksey Monastery Entrance Fee
You will have to pay an entry fee of Rs. 30 per person to enter the monastery. The fee is the same for both Indians and foreign nationals. There is no parking charge.
How to Plan a Trip
There are three ways that a trip to Thiksey Monastery can be planned.
The first one is a monastery tour. You stay for a day in Leh City and spend it visiting all the nearby monasteries and other tourist attractions like Leh Palace, Shey Palace, Shanti Stupa. If time allowed, you can also visit Gurudwara Patthar Sahib, Indus Zanskar Confluence, Magnetic Hill, Likir and Alchi.
The second one is to incorporate the trip with Pangong Lake or Tso Moriri. It is the same road that you will take to get to both of these lakes. So you can also cover Thiksey either while going to Pangong or Moriri or while returning. If you were doing this, another monastery that I will also recommend visiting is the Hemis Monastery known as the richest monastery in India.
The third way is to visit while commuting between Leh and Manali. For example, if you were coming from Manali, you can pay a short visit to the monastery before reaching Leh. There is no permit required for it so you won't be stopped anywhere. Or if you were planning to return via Manali, then you can cover the monastery while on the way.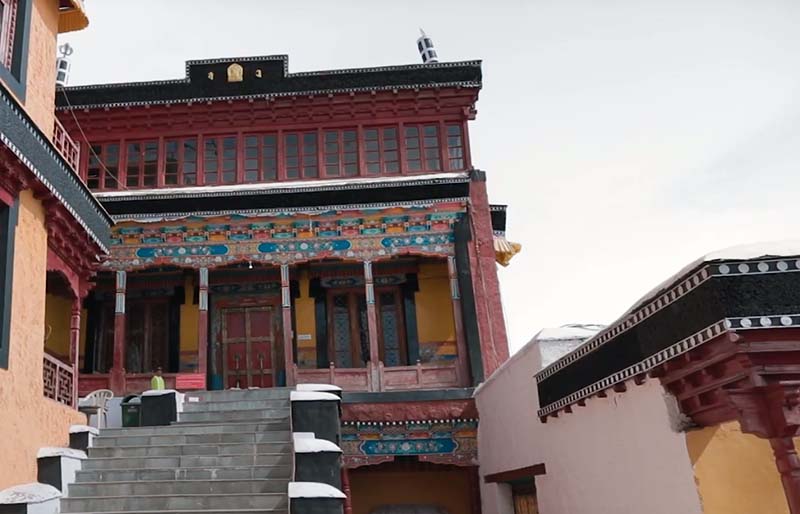 Thiksey Monastery Accommodation
The entire stretch between Karu and Leh has several hotels that you can choose from. Chamba Hotel and Restaurant is probably the closest hotel near Thiksey Monastery but there are several others in both directions, towards Leh and Karu. My advice would be that you stay in Leh only unless you wanted to spend some time in the monastery for which, the best thing to do is to say inside the monastery.
Thiksey Monastery Stay
The monastery offers the visitors an option to stay on the premises, in decent enough rooms at a very reasonable price. It is also known as Thiksey Monastery guest house but these are just very basic rooms. Before you decide to stay, please take a look at the rooms first and then make the choice. They may not be the best in terms of comfort but are definitely a cost-effective choice.
Where to Eat
Like hotels, there are also a lot of restaurants that you will come across on the highway between Karu and Leh. There are also two small eateries inside the monastery. One is on the rooftop where you can get something to eat while enjoying the great view. Another one is located near the parking area.
Mobile Network
BSNL has the widest coverage in all of Ladakh followed closely by Airtel and Jio. The thing that you should know, however, is that only postpaid phones work in Ladakh due to security reasons. Prepaid phones do not work at all and will be dead as a paperweight. So, if you were carrying a postpaid BSNL, Airtel or Jio phone, it will work fine in Thiksey. For more details, please read Mobile Connectivity in Leh Ladakh.
Facilities Available
There are washroom facilities available for tourists and visitors. Drinking water too is available at several places, including the stairs that you take to reach the monastery.
Leh to Thiksey Monastery Distance
Thiksey Monastery is located at a distance of 17 kilometers from Leh and will take you about 30 minutes to complete.
Other Tips
Thiksey Monastery Morning Prayer is held at 7 AM and is a very peaceful ritual that I will highly recommend attending.
Please ensure that you are not wearing revealing clothes and have your entire body covered.
Please do not point your feet towards a Lama. It is considered disrespectful.
Thiksey Monastery is also known as 'Mini Potala'.
Please carry your own water bottle as you will be walking a lot and also climbing some stairs.
Please find a good sunscreen lotion and apply it regularly. The sun in Ladakh is very harsh and can give you some serious burns if you weren't careful.
Thiksey Monastery's closing time is at 7 PM.
Conclusion
I hope the information above on Thiksey Monastery was of help. If you have any questions or need any other details, please feel free to ask in the comments section below, or at our Community Forum, and I will be glad to answer.