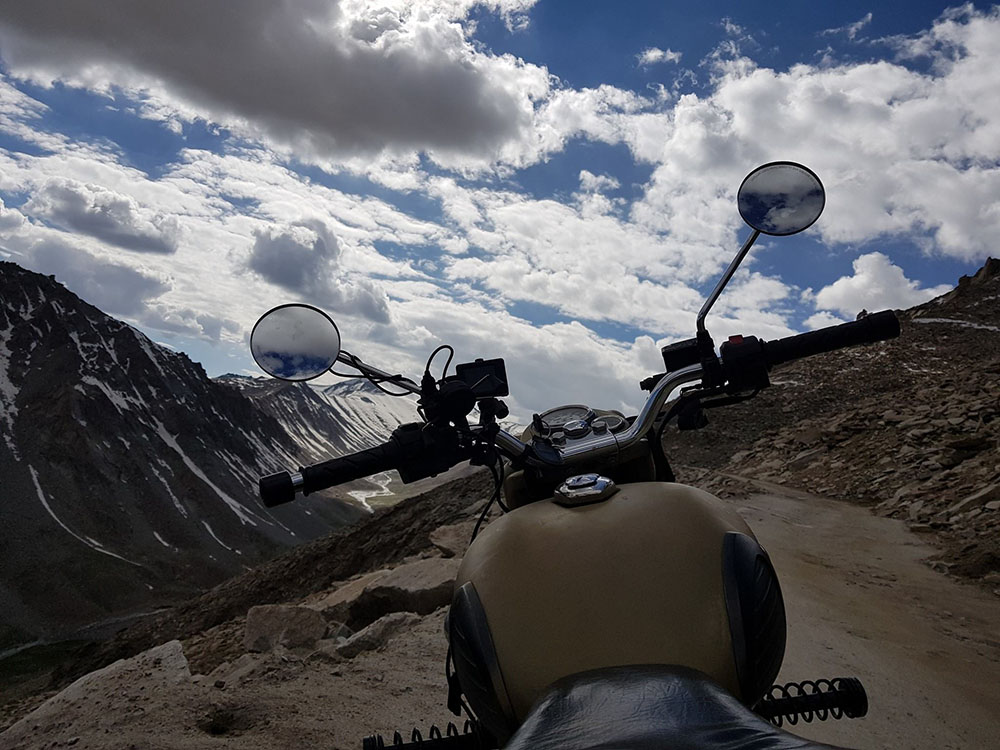 Below is the updated Leh Ladakh Bike Rental Rates List for the year 2023 – 2024. There have been no official revisions in motorcycle rental rates in Ladakh for the last few years. But there has been a slight increase in the rates since this list was made official.
The change is not really that drastic though. The rates have been increased by a couple of hundred Rupees only which happens almost every year. For any other information on visiting Ladakh, you can follow the link below and take a look at the other post where I have covered all the necessary details.
Also Read: How to Plan a Trip to Leh Ladakh – A Complete Travel Guide
For renting a motorcycle in Leh, please contact Kunal @ 9910 402 252. Give him my reference and you will get a discounted price with motorcycles in good condition.
An important thing that you should remember is that the dispute between Ladakh and Manali bike associations is still ongoing. Do consider this before renting a bike from Manali for Ladakh. Read on to find out more.
Ladakh Bike Rental Rates List
Below is the Leh Ladakh Bike Rental rates list that will remain applicable in the year 2023 – 24.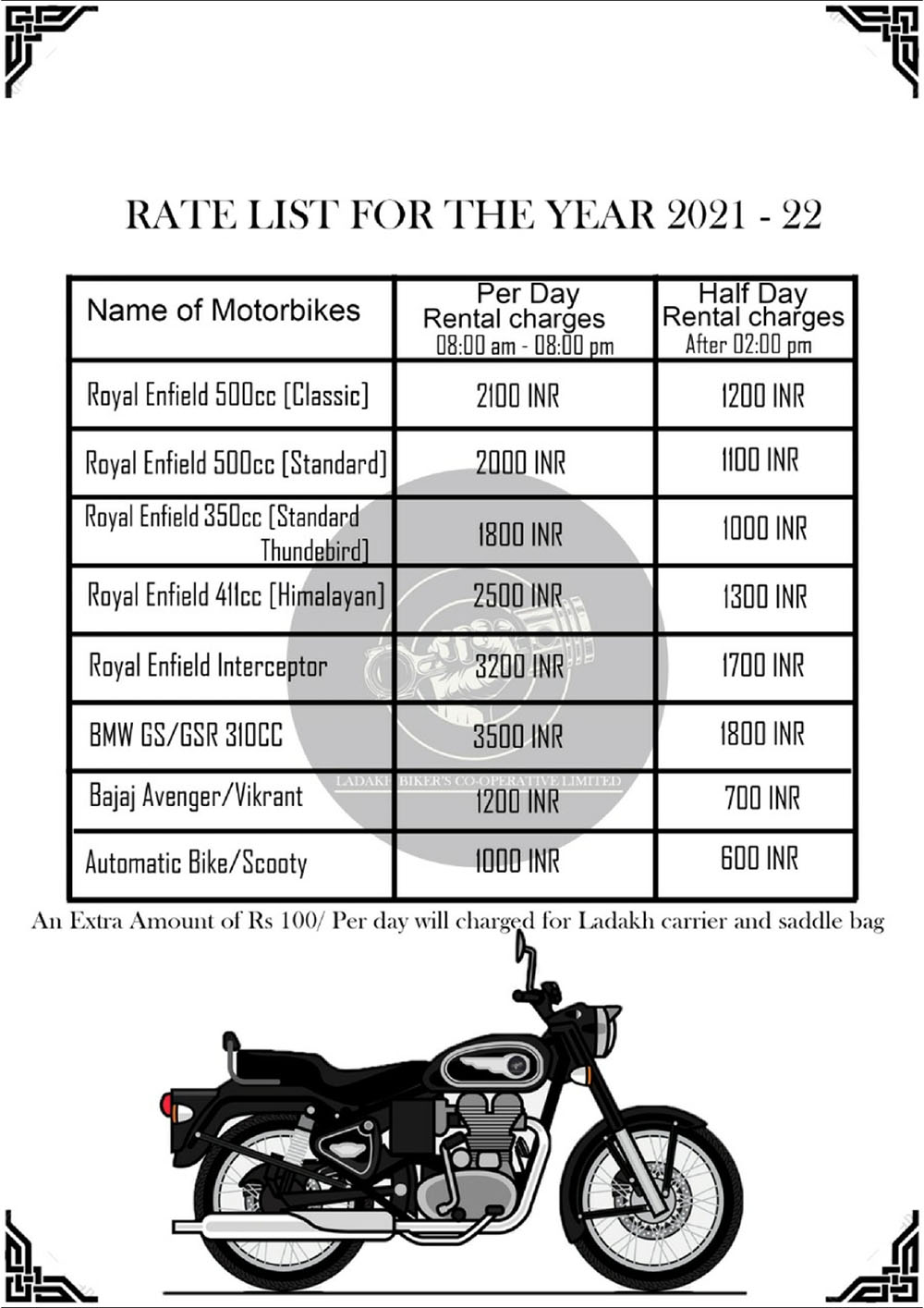 Leh Ladakh Bike Rental Price
In case the image above failed to load or is not clear enough, below is the same information in text format.
| | | | |
| --- | --- | --- | --- |
| Bike | Engine | Daily Rental | Half-Day Rental |
| RE – Himalayan | 411 CC | Rs. 2500 | Rs. 1300 |
| RE – Classic 500 | 500 CC | Rs. 2100 | Rs. 1200 |
| RE – Standard 500 | 500 CC | Rs. 2000 | Rs. 1100 |
| RE – Classic 350 | 350 CC | Rs. 1800 | Rs. 1000 |
| RE – Thunderbird 350 | 350 CC | Rs. 1800 | Rs. 1000 |
| RE – Interceptor | 648 CC | Rs. 3200 | Rs. 1700 |
| BMW GS/GSR 310 CC | 310 CC | Rs. 3500 | Rs. 1800 |
| RE – Electra | 350 CC | Rs. 1800 | Rs. 1000 |
| Bajaj Avenger | 160 CC | Rs. 1200 | Rs. 700 |
| Bajaj Vikrant | 150 CC | Rs. 1200 | Rs. 700 |
| Automatic Bike/Scooty | 150 CC | Rs. 1000 | Rs. 600 |
Also read: How to Obtain Inner Line Permit for Ladakh
Leh Ladakh Bike Rental Rates 2023-2024

In case the table above failed to load, then below is the rate list in text format.
Due to COVID, there was really no tourism in Ladakh for the last couple of years. The rates were revised a bit last year for whatever little tourism the region received. The same rates will remain applicable for this year as well.
Royal Enfield Himalayan
Engine Size: 411CC
Rental: Rs. 2,500 per day, Rs. 1,300 for half day
Royal Enfield Classic
Engine Size: 500CC
Rental: Rs. 2,100 per day, Rs. 1,200 for half day
Royal Enfield Standard
Engine Size: 500CC
Rental Rs. 2,000 per day, Rs. 1,100 for half day
Royal Enfield Electra
Engine Size: 350CC
Rental: Rs. 1,800 per day, Rs. 1,000 for half day
Royal Enfield Standard
Engine Size: 350CC
Rental: Rs. 1,800 per day, Rs. 1,000 for half day
Bajaj Avenger
Rental: Rs.1,200 per day, Rs. 700 for half day
All other Bikes Like Pulsar (150CC)
Rental: Rs. 1000 per day, Rs. 600 for half day
Automatic Bike / Scooty
Rental: Rs. 1000 per day, Rs. 600 for half day
Let me give a brief overview of motorcycles that are available for rent in Ladakh.
Royal Enfield on rent in Ladakh
Love it or hate it but the fact remains that an Enfield was and still is the most preferred motorcycle for a Ladakh trip. No other motorcycle handles the rough terrain of Ladakh like an Enfield does. It is a perfect mix of power, durability, comfort, and convenience.
Depending on which model you chose, renting an Enfield in Ladakh will cost you anywhere between Rs. 1100 to Rs. 2500. If you asked me, I would go for an Electra or Standard. You will save some money there in a few days and it will serve the purpose very well.
It doesn't matter if you were riding solo or with a pillion, a 350 CC bike will handle any road in Ladakh. You do not really need a 500CC engine.
Himalayan on Rent in Leh
Himalayan would be the most expensive bike to rent in Ladakh with a rent of Rs. 2500 per day. To be honest, I haven't yet received positive feedback about it from the majority of the people, especially if you were riding with a pillion. But if appeals to you and is within budget, it is capable of bringing you almost anywhere in Ladakh.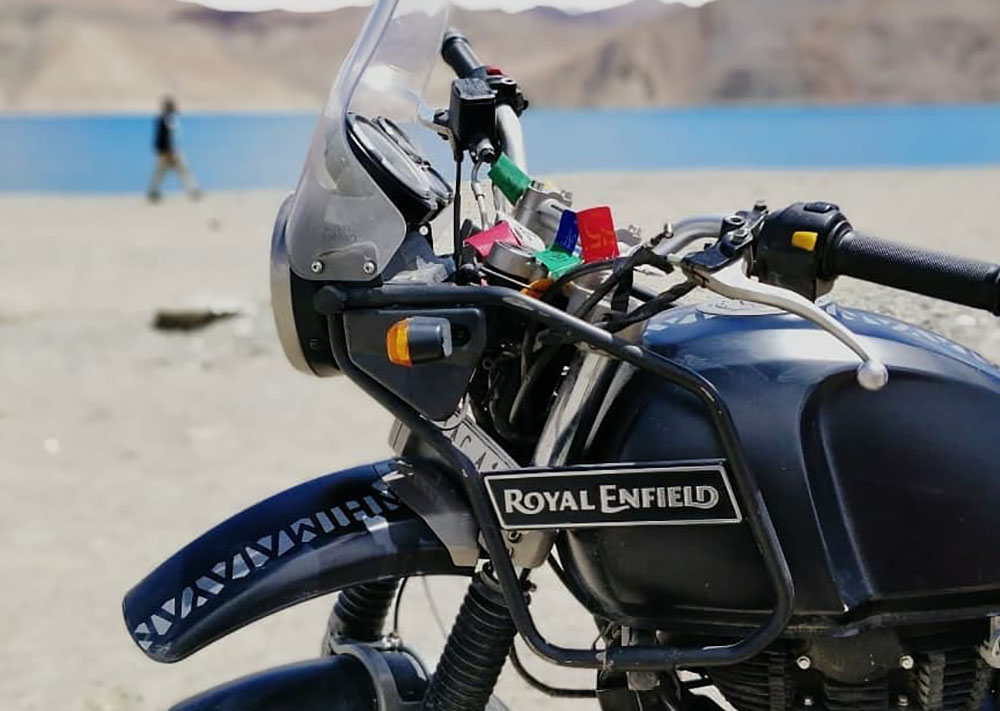 Bajaj Avenger on Rent in Ladakh
It is a good motorcycle to rent only if you have been riding it around in your personal life as well. It brings a lot of comfort in the journey with decent enough power and affordable rent.
I, however, would not recommend it in the mountains if you have no prior riding experience on Avenger. The large turning radius may be a problem at sharp climbs. A bigger concern is that if you applied sudden brakes, you will be on the ground flat before you get your feet down.
Also read: How to rent a motorcycle in Leh
Activa on rent in Leh
Automatic bikes like Activa too are available for rent in Leh City. With a daily rental of Rs. 1000 per day, this is the cheapest option of a bike to rent. It is, in fact, an excellent choice for sightseeing in Leh and towards Sham Valley.
You can bring it to Nubra and Pangong as well but the bad roads around Khardung La and Chang La could pose a serious problem if you were on an automatic Bike.
Other Motorcycles available for rent in Ladakh
I have seen a Pulsar and Yamaha Fazer available for rent in Ladakh as well. A friend of mine claims to have rented a KTM as well but I cannot guarantee it.
These other motorcycles are not a part of the rate list but if any rental agency is providing it, then the daily rental would be based on the engine size. For example, a Pulsar 150 CC would cost the same as a Hero Impulse but a 220CC Pulsar would cost the same as an Avenger.
Also read: Clothes for Ladakh Trip – What to Pack?
What to Check While taking a Motorcycle on Rent in Leh Ladakh
I am not a mechanic myself but I will still list a few things. Check the condition of the chainset and ensure it is not worn out.
If the motorcycle is an electric start, try bringing it to life a couple of times and ensure that it doesn't cough or give trouble when you press the start switch. If it is a kick start, ensure that there is no starting problem and the motorcycle is a single or at most two kicks start.
Check the condition of the tires to make sure they are not worn out. Sit down on the motorcycle to check that the seats are comfortable enough.
Do a thorough inspection of the motorcycle for any oil leakage, either from the engine or front shock absorbers. Check that the headlamp is bright enough and get it replaced if it is not. Also, check the tail light and that both the indicators are in working condition.
Ladakh Bike Rental Cost – Security Deposit

For renting a motorcycle in Ladakh, you will be asked to pay upfront a security deposit which can be up to even 25,000 to Rs. 30,000 depending on the company and motorcycle. You should also ask about this before you finalize a motorcycle with any of the companies.
Other Accessories Available on Rent
Luggage Carrier: Rs. 100 per day
Riding Jacket: Rs. 300 per day
Riding Gloves: Rs. 100 per day
Knee Guard: Rs. 200 per day
Elbow Guard: Rs. 200 per day
Gum Boots: Rs. 50 per day
Apart from the accessories above, you can also rent camping and photography gear. A simple digital camera can be rented for Rs. 500 per day. A GO Pro mounted on either bikes or helmets will cost about Rs. 700 per day.
Also read: How to Handle Acute Mountain Sickness in Ladakh
If you wanted to go self-camping then you can rent a tent for Rs. 500 per day. It will be big enough to accommodate two people but you will have to rent the sleeping bags separately.
A sleeping bag will cost you Rs. 200 per day and a sleeping mat will cost Rs. 150 per day. So if you were two people and rented a camp, you will be paying Rs. 1200 per day.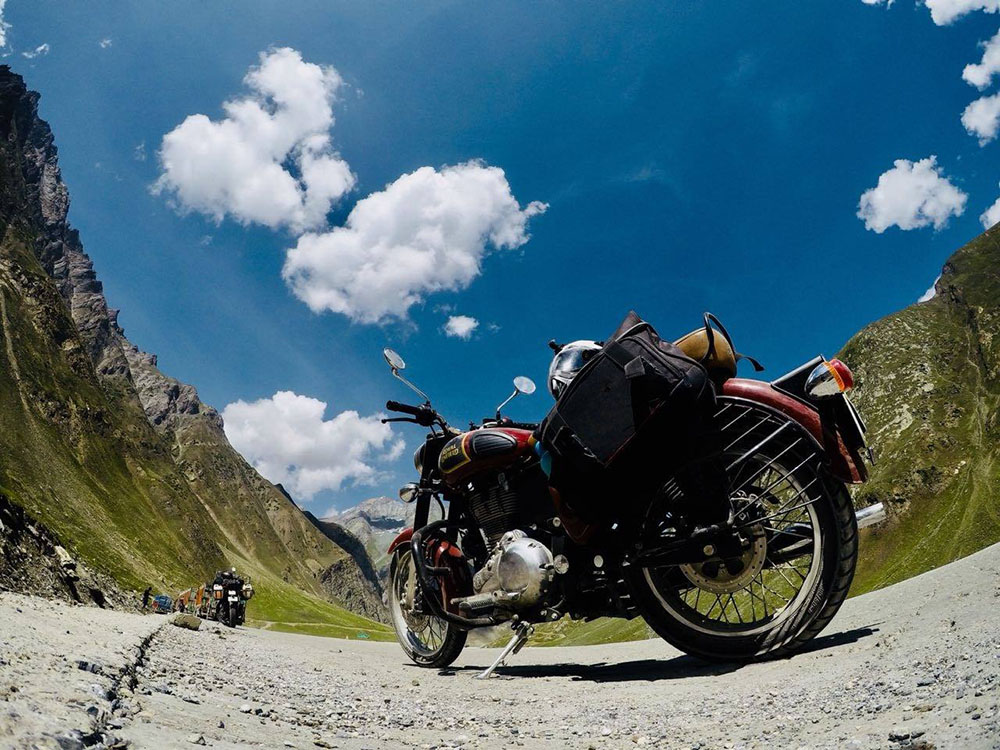 Non Local Rented Motorcycles in Ladakh
The most important thing to remember would be in terms of a motorcycle that you rented outside of Ladakh; like Manali or Srinagar. These motorcycles can only be used to reach Leh City but not for visiting any other place like Nubra Valley or Pangong.
As a matter of fact, you cannot even use this bike for sightseeing in Leh town. You must and absolutely leave this motorcycle parked at your hotel and rent another Leh registered motorcycle for sightseeing in Ladakh.
This rule is a serious one and enforced even by violence. The locals have check posts and barricades set up at all tourist routes and they will stop you to validate that the motorcycle you were renting was a privately owned one. There have been incidents when arguments followed and vehicles were even vandalized.
For example, if you tried to go to Pangong on a Manali rented bike, you will be stopped on the way and sent back to Leh. If you argued, then your motorcycle may even get damaged or even seized.
Some rental agencies in Manali, Leh, and Srinagar have ties ups with each other. So for example, if you rented a motorcycle from Manali and then rented another in Leh from the company that the Manali people are in tie-up with; there can be some discount given on Leh motorcycles. You may want to ask about this while renting bikes from Manali or Srinagar.
Privately Owned Motorcycles
If you arrived in Leh on a privately owned motorcycle, then you are free to travel on it anywhere you like as long as the motorcycle is registered in your own name; or your parents.
For example, if you are traveling on a motorcycle registered in your father's name, you can produce any valid identity proof to prove that the owner of the bike was your father and that you were not renting it.
If however, you are traveling on a motorcycle registered to a sibling or a friend, you must leave it in Leh and rent another motorcycle for local sightseeing.
Also Read: Leh Ladakh Bus Service
Renting Bike in Leh and Leaving in Manali or Srinagar
Several rental agencies in Leh provide this facility but for an additional cost. If you rented a bike in Leh and chose to leave it at either Manali or Srinagar, then you will have to pay an additional Rs. 10,000 to Rs. 15,000 over and above the daily rental. Not all rental companies provide this facility so please check and confirm before you agree to rent.
Other Tips
You will need a permanent Driving License to rent a motorcycle in Ladakh. No agency will be allowed to rent you a motorcycle if you cannot produce a valid driving license. A learner's license will not work.
If you are a foreign national, you must produce an international driving license. Your local DL issued in our respective country will not be sufficient.
Half-day rental is applicable post 2 PM. It means that you need to return the motorcycle before 2 PM. Failure to do so will imply full-day charges.
Dispute Between Manali and Leh Ladakh Bike Rental Associations
This has been an ongoing issue for a few years now and still remains.
In short, Sarchu became a border not just for Himachal but for bike rental companies as well. Manali bikes were not allowed to enter Ladakh and Manali folks will not allow Ladakh bikes to cross Sarchu. For both regions, Sarchu was as far as the rented bike could go.
So if you were renting a bike from Manali for Ladakh (or from Ladakh for Manali), speak to the rental agency and clarify everything. It will be also good to record a video of your conversation for proof.
Why I am recommending this? This is because the bike rental agencies of both regions were hijacking and holding the bikes for several days. Because of this, tourists suffered and were asked to pay either the damage or additional rental.
So before you take the delivery of the bike, clarify that if any such thing was to happen, you will not be held responsible and asked to shed more money. Record a video of the conversation.
Leh Ladakh Bike Rental Rates – Conclusion
I hope the details and information above on Leh Ladakh bike rental rates were of help.  If you have any questions, you can ask in the comments section below. You can also contact me on Instagram to chat with me or subscribe to my YouTube channel and ask a question there.
This error message is only visible to WordPress admins
Error: No feed found.
Please go to the Instagram Feed settings page to create a feed.