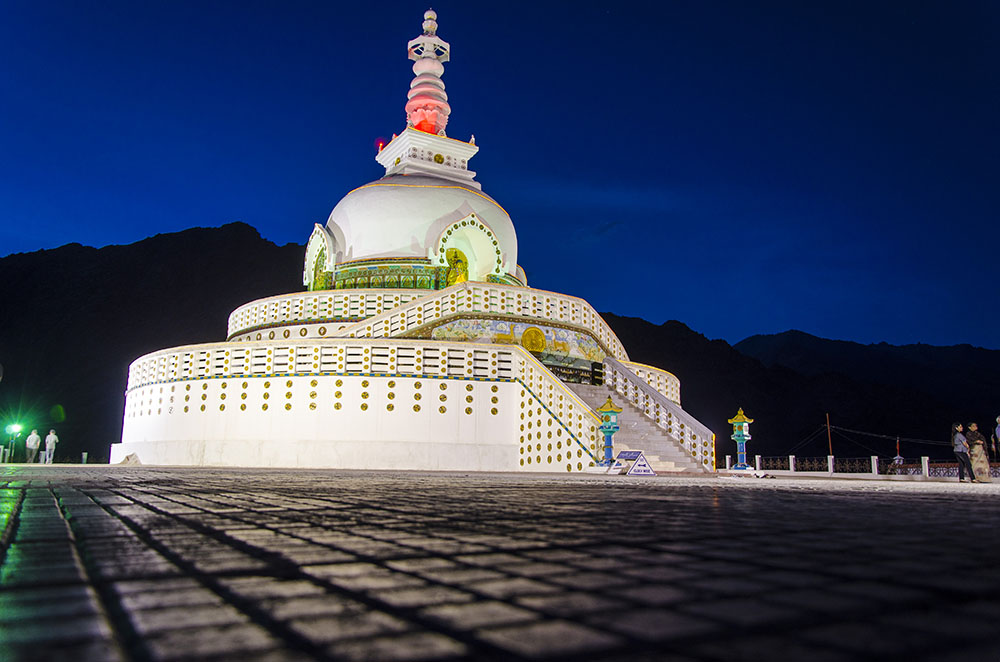 Shanti Stupa is a Buddhist Stupa (Chorten) located in Leh city. Overlooking the city of Leh, it sits on the top of a hill, at an altitude of  3,609 meters (11,841 ft), providing a panoramic view of Leh and its surrounding landscape.
Built in the year 1991 by a Japanese monk, Shanti Stupa has great religious significance among the Buddhist community of Leh. It holds the relics of the Buddha at its base, enshrined by the 14th Dalai Lama. But other than that, it has also become a prime tourist attraction due to its location.
Shanti Stupa is possibly the best spot to view the sunset in leh City. Not just the tourists but you will also find a lot of locals arriving here every evening to get a view of the setting sun and spend some time in peace.
I was recently on a road trip to Ladakh and we visited Shanti Stupa the next day after we arrived in Leh. It was our second day in Leh and the 16th day of the trip overall. To read the previous parts of this travelogue, you can follow the links below.
Journey So Far:
What was supposed to be a relaxed evening turned out to be an exciting one. Why? Because I lost my GoPro at Shanti Stupa, a camera I bought just a couple of months ago. What happened after that and did I find it again? Read on to find out.
About Shanti Stupa
Before I move on with the travelogue, let me first provide some details on Shanti Stupa that can be of help to anyone planning a trip to Ladakh. You can also take a look at the video of the Shanti Stupa to get this information.
For all other details on visiting Ladakh, like how to reach, itinerary planning, where to stay, public transport, etc, you can take a look at How to Plan a Trip to Ladakh – A Complete Travel Guide.
To get the best hotel rates, motorcycle rentals, and taxi charges, and to organize your trip to Ladakh, you can speak with Kunal @ 9910 402 252. Give him my reference and you will surely get a discounted rate.
The construction of Shanti Stupa began in the 1980s and was completed in 1991.  It was built to promote world peace and prosperity, hence the name. It also commemorates 2500 years of Buddhism.
A motorable road to the Stupa from the city was sanctioned by the then Prime Minister of India, Indira Gandhi. The foundation of the Stupa was inaugurated by the 14th Dalai Lama itself.
Financial support to complete the Shanti Stupa was provided by the Japanese people as well. Due to this, it is also considered a symbol of the ties between the people of Japan and India. (Source: Wikipedia)
I do not want to go into a lot of detail about its religious significance because my knowledge of Buddhism is limited. What I rather want to focus on are the details that will be relevant to you as a regular tourist, like how to reach there, what to see, the best time, entrance fee and timings, etc.
How to Reach Shanti Stupa
Shanti Stupa is accessible by a motorable road that takes you all the way to its gate. There is also a steep set of stairs that you can climb from its base to get to the top.
Keep in mind though that it is a long climb of 555 steep steps to the hilltop. In all my travels to Ladakh, I have never seen anyone walking to Shanti Stupa except for maybe the monks.
There is no public transport available for Shanti Stupa. The only way to reach is either in your own vehicle or by a private taxi or a rented bike.
Shanti Stupa Leh Location
Shanti Stupa is located at a distance of about 3 kilometers from Leh market on a steep hill facing the Leh Palace. Irrespective of where you were in Leh, it will not take you more than 15-20 minutes to get to Shanti Stupa.
It is marked in Google Maps so you can just follow the directions. In case you got lost or were not able to spot the way, ask any of the locals and they will point you in the right direction.
Shanti Stupa Leh Entry Fee
The entrance fee to Shanti Stupa is Rs. 30 per person. This is how much I paid the last time I was there. The charges could be a little higher at the time of your visit but not that high.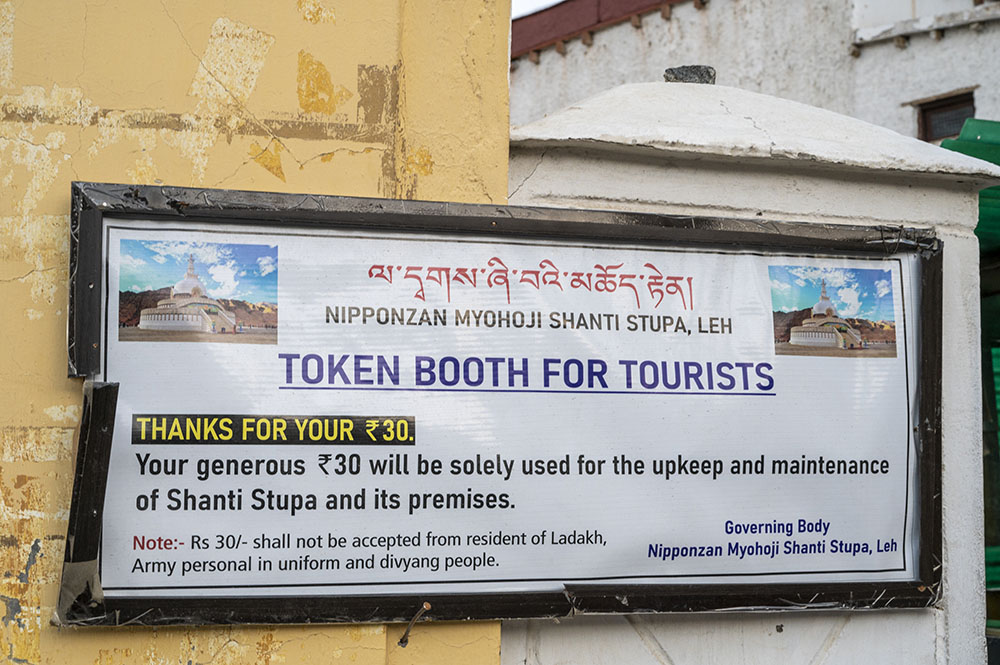 Shanti Stupa Leh Timing
Shanti Stupa remains open from 8 am to 8 pm. These are the official timings but I believe you can reach here earlier than 8 am as well. During this trip, we were at Shanti Stupa until 8.30 pm.
I believe it is the weather that forces people to leave after dark. As soon as the sun goes down, it gets very cold and the temperature drops significantly. The cold wind will make it difficult for you to stay up there.
I will however recommend staying a little longer than the sunset timings. The Stupa is illuminated with lights at night and looks very beautiful, like in the first picture that I posted in this article.
Also Read: How to Handle Acute Mountain Sickness in Leh Ladakh
Shanti Stupa Leh Dress Code
There is really no set dress code for visiting Shanti Stupa, at least not that I am aware of. But it is a religious place and I will recommend dressing up accordingly.
I am not judging anyone on their dressing style but you need to remember that people offer their prayers here. The Buddhist community of Ladakh holds the place in the highest regard. So you should respect that and dress modestly.
Do not wear revealing or skimpy clothes that may offend someone. The weather up there is either harsh sun during the day or cold winds in the early or late hours. So you will have to keep your body covered anyway.
What to See
The best thing to see from Shanti Stupa is the sunset view. Take a look at the picture below. This is what you see if you are there in the evening.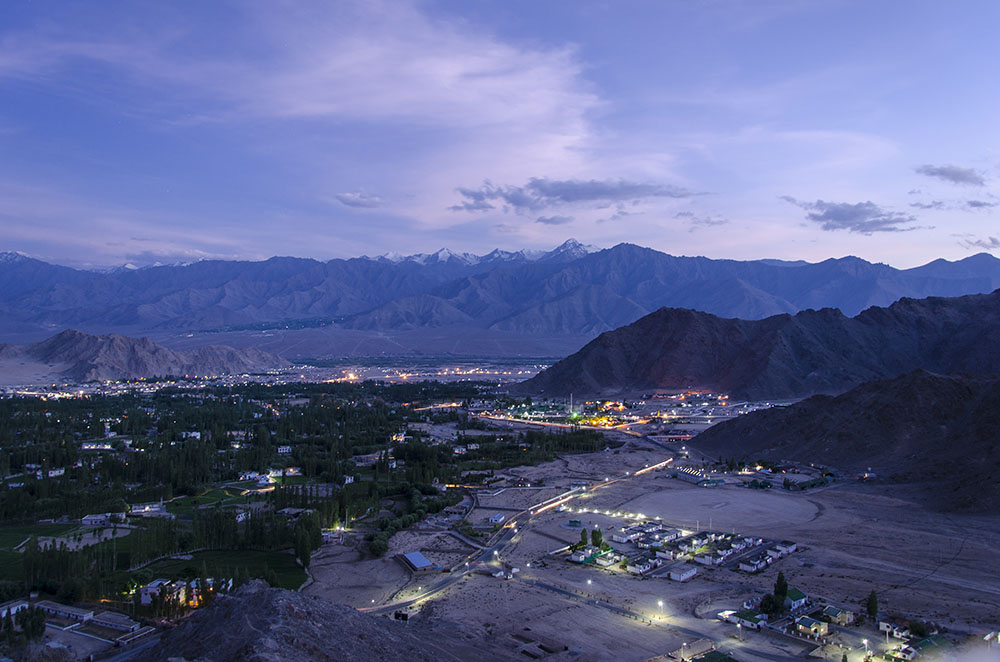 You do not get a direct view of the setting sun. It sets behind the mountains to the right but the overall effect that you see in the sky is sure to charm you.
Other than this, the architecture of Shanti Stupa is also of note. It is built as a two-level structure. The first level features the central relief of Dharmachakra and the second level has relics depicting the birth and death of Buddha and Buddha defeating the devil.
You can also come to Shanti Stupa to view the sunrise. Once again, you will not get a clear view of the rising sun but will definitely see the colors in the sky and the orange cast on the city.
Best Time to Visit
The best time to visit Shanti Stupa is either early in the morning or in the evening. Between these two, I will recommend being here at the time of sunset.
You get to see the lovely colors in the sky and a beautiful panoramic view of the city. But that is not just it. Once the sun goes down and it is dark, you also witness how beautiful Leh City looks at night.
After the Stupa is illuminated with lights at night, it presents an entirely different view and is worth witnessing. So be here at around 6 pm and stay for as long as you can.
You can visit the Stupa during the day as well but will not enjoy it so much. The sun is quite harsh in Ladakh and it will just be way too hot during the day. The view of Leh City will also be not that great.
A day trip to Shanti Stupa will just be a checklist activity. You will go there, stand in the shade, click a few pictures, and will soon be driving down. There will be nothing worth remembering about this part of the trip.
No Drone
One thing that you must remember is that flying a drone at Shanti Stupa is not allowed. You are free to carry any other kind of camera but will not be able to fly a drone there. So if you carrying one with you for the trip, better leave it at the hotel. Do not bother bringing it with you.
Also Read: How to Plan a Trip to Ladakh with family
Leh to Shanti Stupa
Coming back to the travelogue, let me talk now about our visit to Shanti Stupa and what happened while we were there.
It was our second day in Leh and overall the 16th day of the trip. We reached Leh on Saturday evening from Kargil and the next day, Sunday, was spent sightseeing in Leh City.
The first place that we visited was Shey Palace followed by Thiksey Monastery. We had lunch after that and returned to our hotel to rest for a while.
In the evening, we again drove out of our hotel at 5 pm. The destination this time was Shanti Stupa. I had been to Ladakh several times and this was going to be my third visit to Shanti Stupa.
I was carrying two cameras – a GoPro and a Nikon Z6ii. Both of the cameras were only a few months old and I was excited to get some late-night shots of Leh City and record a few time-lapses from Shanti Stupa.
Leh to Shanti Stupa Distance
The distance between Leh and Shanti Stupa is about 4 kilometers, depending on where you were staying in Leh and the route you were taking to get there. From the market area, the distance is about 3 kilometers.
From our hotel though, Leh Palace was only 2 kilometers. I knew the way but just to be on the safer side, we turned on Google Maps and started to follow it.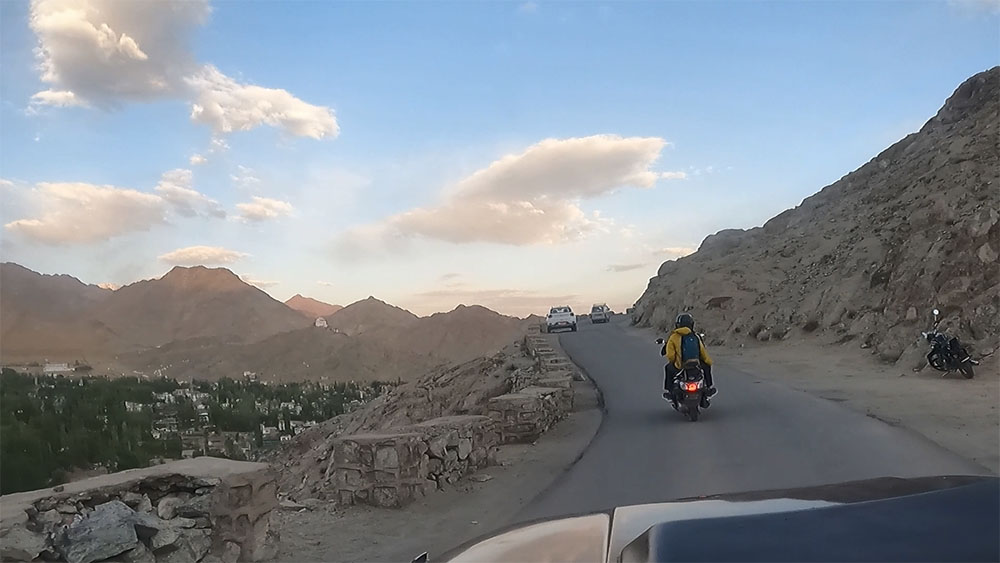 The condition of the road was good. It was freshly tarred and the drive was a pleasant one. Like us, a lot of other tourists were on their way to Shanti Stupa so the narrow single-lane road did feel a little crowded at a few places.
It took us only about 10 minutes to reach Shanti Stupa. We parked our car, walked to the gate, paid Rs. 30 per person at the ticket counter, and entered Shanti Stupa.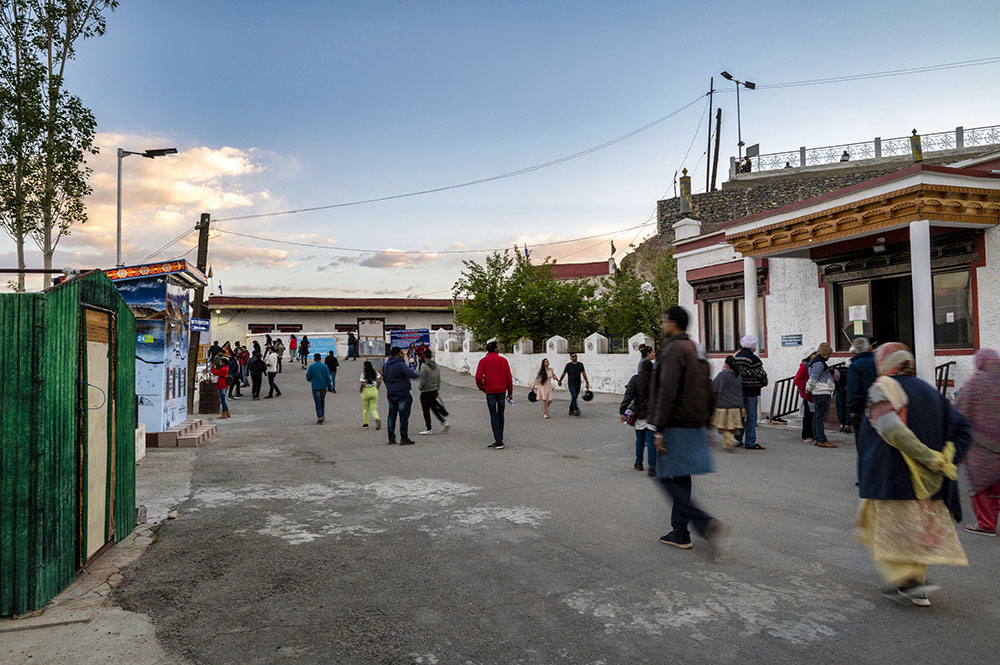 The next 30 minutes were spent walking around, clicking pictures, and enjoying the view. After that, we decided to do a Parikrama of the Shanti Stupa.
Where is the GoPro
We took off our shoes and left them at the foot of these stairs.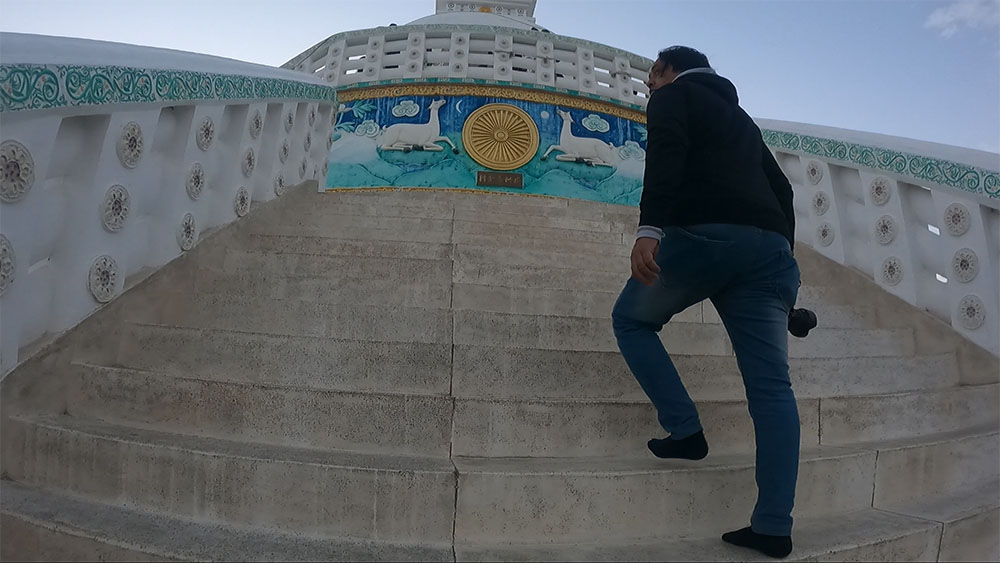 After this, we climbed up the stairs and started to walk around the Shanti Stupa.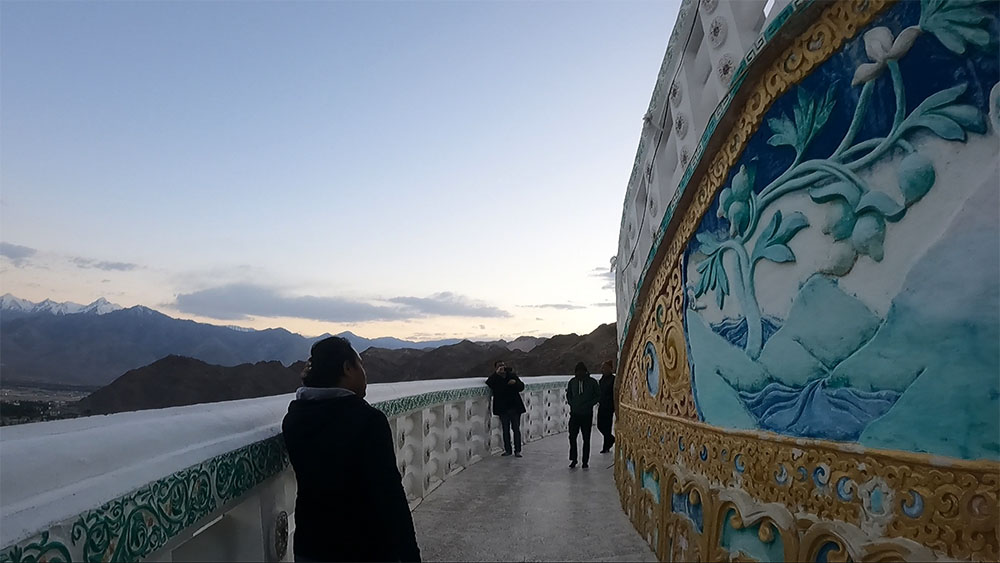 We spent about 15 minutes walking in circles and admiring the beauty of Shanti Stupa. After that, we walked down again, put our shoes back on, and once again got busy clicking long exposure shots of Leh City.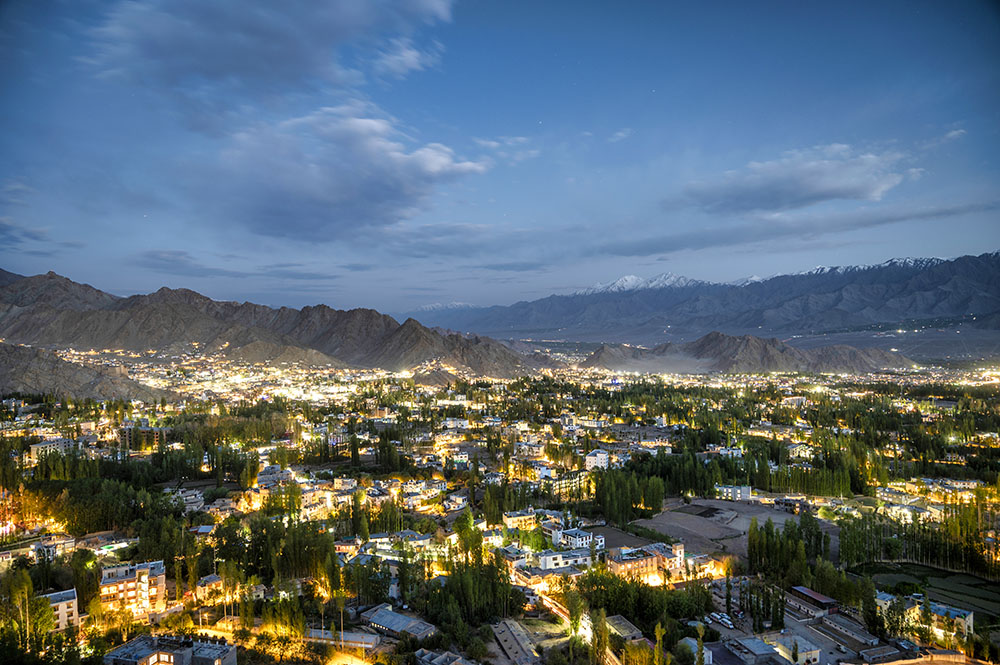 I was busy with my Nikon Z6ii mounted on a tripod and Lavish was busy capturing with his cellphone. After about 10 minutes, he walked up to me and asked, "Where is the GoPro?"
I checked my pockets but found them empty. Lavish checked his pockets but those were empty too. We looked around but GoPro was not to be found anywhere.
All this while I was under the impression that Lavish had GoPro and he was thinking I had it. Now we were just standing there with no idea where the camera was. It was time to retrace our footsteps and try to remember where we had it last.
Find the GoPro
I knew that I had the camera in my hands while we were doing the Parikrama of the Shanti Stupa. I recorded a video of it using GoPro. So it must be within the last 15-20 minutes that we left it somewhere.
And suddenly it all came back to me. I had both cameras in my hands while we were putting our shoes back on after finishing the parikrama. To tie my shoelaces, I hung the Nikon around my neck and put the GoPro down to my side.
And that is where I left it. I tied the laces, stood up, took the tripod out of the cover, mounted the Nikon on it, and just started to walk around, looking for a good spot for a long exposure shot. The poor GoPro was left completely forgotten on the floor.
With this part figured out, it was now time to try and find the camera. But we did not know exactly how. There were a lot of people at Shanti Stupa at that time and anyone could have picked it up.
Also Read: Festivals celebrated in Leh Ladakh 
GoPro is Lost
The next 90 minutes were spent walking around looking at the other people's hands carefully. We were hoping that we would notice someone holding the camera but it was all in vain. No one had our camera.
Slowly, people started to leave and, in the end, it was just Lavish and I left there. The weather was getting cold and it was hard to stay at Shanti Stupa any longer. At around 9 pm, we walked back down to the ticket counter.
I knew that the chances were slim but our last hope was that someone picked up the camera and handed it over to the monks at the ticket counter while going back. So we walked back to the gate and asked the monks there. Much to our disappointment, no one had submitted a camera there.
There was not much that we could do. I had to accept the fact that my new camera is now lost. With heavy hearts, we got back in our car and drove back down to the Leh market.
What Now?
To be honest, it was not only losing the new camera that was bothering me. It was only our 2nd day in Leh and we planned to be there for another 6 to 7 weeks. Without the GoPro, recoding videos would get difficult.
True that I still had my Nikon but it was no action camera. It could not be mounted on a car like GoPro and was not built for rough use through the dusty terrain of Ladakh. So a big problem was how were we going to shoot the videos now.
What was upsetting me even more was that with the GoPro, we also lost the footage of the last 2 days of the trip. The videos of our journey from Kargil to Leh and our visit to the Shey and Thiksey Monasteries were still on there.
Nonetheless, there was nothing that we could do now. We reached the market and started to look for a place to eat. The plan in the evening was to find a good restaurant and try some Tibetan today. But now we were in no mood to do that.
There was a Sharma Ji ka Dhaba right in front of our hotel. So we just parked our car, went to the Dhaba with our long faces, had some daal roti for dinner, and came back to the hotel.
GoPro is Found
Just as we entered the hotel, we were confronted by the owner. He was talking to someone on the phone and upon noticing us entering the hotel, he threw a question at us asking if we left our camera somewhere.
This came as a surprise to both of us. How did he know about that? Did they just telecast it on the local Leh TV or what?
"Yes, we did. How did you know?" is what I said.
"She found your camera," he said and handed the phone over to me.
There was a lady on the other side of the phone. As it turned out, she was at the Shanti Stupa at the same time that we were. She found our camera and took it home with her and was now calling the hotel to inform us about it.
"But how did you know it was my camera and how did you know the hotel I was staying at?" I couldn't help but wonder and ask.
Also Read: Mobile Network & Data Connectivity in Leh Ladakh
The Good People of Ladakh
So this is how the entire story unfolded. Earlier on this day, which was our first day in Leh, I recorded a video of the hotel that we were staying at and somewhere in that video, I spoke out the name of the hotel.
So after the lady found our camera, she reached home and downloaded all the videos to her laptop. She went through all those videos one by one until she found that one video that I recorded in the morning.
From there, she got the name of the hotel I was staying at and called the reception, to inform them that one of their guests had lost a camera. Coincidentally, we were the only guests in the hotel that day so the owner knew that it could only be us.
I did not know how to thank that lady for her kind gesture and was at a loss for words. I asked her for her address so I could come and collect the camera.
But by then, it was already 10.30 pm, a little too late. On top of it, she lived in a village called Chushoot, located about 25 kilometers from the main Leh town.
She told us that she anyway had to come back to Leh the next day. So when she will be in town, she will call me to come and collect the camera from her.
End of the Day
That was the end of our exciting first day in Leh. It taught me to be more careful with my belongings but more than that, it also gave proof that good people still exist in the world. That kind lady put so much effort to give it back to me.
Downloading all the videos, going through them one by one, then figuring out the hotel, looking for its number on Google, calling the hotel to inform – talk about good people, right? It almost made my eyes watery.
The plan for the next day was to collect the camera from the kind lady. With that, we also went to Sindu Ghat and the mysterious magnetic hill of Ladakh and did a few tests to find out if there was any truth to it at all. Please click on the link above to continue reading the next part of the travelogue.
Conclusion
I hope the travelogue, pictures, and information above on Shanti Stupa in Leh were of help. If you have any questions, you can contact me on Instagram and I will be happy to answer. You can also consider subscribing to my YouTube channel and asking your question there.
This error message is only visible to WordPress admins
Error: No feed found.
Please go to the Instagram Feed settings page to create a feed.