Himachal Pradesh – A land of fine landscape, diverse culture and exquisite cuisine; well known for its wide range of tourists' spots, adventurous treks and trails, large lakes, beautiful meadows, and ancient Buddhist monasteries. Situated in the extreme north, this state attracts maximum tourists every year irrespective of all seasons. Since it is so diverse in offering multiple choices in terms of trekking and traveling for all age groups, a huge number of bag packers move to Himachal to quench their thirst for traveling more than any other place in India. Due to this, places like Shimla and Manali can definitely feel crowded to some people. If you are of the same opinion and were thinking of an offbeat destination for your next trip, then mentioned below is a list of a few unexplored places in Himachal Pradesh near Delhi that can well serve the purpose.
Before we go any further into the topic, let me first mention that my criteria for listing the places below are three. The first and most important one is that neither of these places gets too crowded. The second one is that they have decent enough accommodation options. Last but not least, they are all easily accessible and you will not have to go too remote to visit them.
Geographical location of Himachal Pradesh
Set in the extreme north in the Asian subcontinent, Himachal Pradesh is bound by Jammu and Kashmir to the north, Punjab on west and southwest, Haryana on the south, Uttar Pradesh on the southeast and China is the only east neighboring country. Situated in the Western Himalayas it covers a region of 55,673 kilometers with an altitude of 350 to 7,000 meters above sea level.
The geographical location offers the maximum importance in its tourism. This place holds many small regions that are less traveled and hardly explored. People with a taste for exploring new places tend to set their paths to those locations to satisfy their hunger for traveling and knowing more. Himachal offers a perfect opportunity to its visitors to travel as per their interest; either to the most popular travel destinations like Manali or to test and challenge themselves a bit by visiting the lesser or unexplored places in Himachal to witness the raw and rough-hew beauty of it.
Unexplored Places in Himachal Pradesh
If we leave out the most popular destinations of Himachal such as Shimla, Kullu, Manali, Dharamshala, Chamba, Dalhousie, Kangra, Kasauli, Solan, etc. there are places which are still less explored and have much more generous offerings in terms of landscape representation. In this article, we are going to list down such places which are still less traveled and partially unexplored by many of our fellow travelers.
Why choose offbeat places in Himachal
An offbeat destination comes with many more and new sides of natural beauty. The places are less crowded and offer more scenic beauty rather than shopping hubs and multi-cuisine restaurants which we commonly see in the famous tourists' destinations of Himachal. It depends on the traveler's priority though and requirement behind choosing a place.
Let us first talk about a few advantages and disadvantages of choosing an offbeat destination.
Advantages of Offbeat locations:
Witness the incredible and untouched beauty of nature
Build a pure connection between nature and yourself
Explore places as per your choice
A relaxing tent stay in mother nature's lap with a bonfire and more bonding
Experience a lifetime memory and bag a story to tell your friends
Memorable bond with locals and experience their unique culture
Make yourself a part of the place.
Disadvantages of Offbeat locations:
New challenges and unexpected surprises regarding roads and stay
Accommodation (might be discomforting for some)
No shopping zone
Nothing fancy to eat
It is said that a good thing never comes in a beautiful or large package. It is completely you who identifies the quality and make it good for you. Same way, going to an offbeat destination may surprise and even challenge you; but as long as you are willing enough to oversee a few discomforts, it may very well be the destination and vacation that you have been longing for.
Here is a list of offbeat destinations which will definitely quench your thirst for touring the unknown places of Himachal.
Malana
If you wish to see the untouched and most ancient village of Himachal Pradesh, then Malana should be the first tick in your bucket list. This small village is situated on the bank of Parvati River and home for very few families. This village is separated and surrounded by lustrous greenery and snow-clad mountains which gives a picturesque view to it. One can easily identify the similarity of a calendared landscape village with Malana. This village is set up at an altitude of 9,500 feet above sea level. There are few untold facts about Malana that are hardly discussed.
The most famous weeds: Malana is famous for its incredibly good quality weeds or cannabis resin. Though it is prohibited by the Govt. of India, it is still sold worldwide as Malana cream. Malana cream is a product of cannabis plants grown in Parvati valley.
Holds the oldest democracy in the world: This amazing place is well known for the oldest democracy in the world. They have a village council named 'Hakama' which is divided into lower and upper court. They have a different judiciary system.
Believed to be the descendants of great Alexander: They believe that they are the true descendants of the great Alexander and part of the pure Aryan race and that reflects in their style of government which exclusively follows the ancient Greek system.
Isn't it exciting? A place nestled in the Himachal but far from Indian practices and rituals must in your bucket list. This small village will definitely amaze you with its unique culture, cultivation and true beauty of the Himalayas.
Renuka Ji
This second offbeat destination comes with great historical importance along with its magnificent beauty. Situated in the Sirmaur district, Renuka Ji is located at an altitude of 672 meters above sea level. The place is named after the great Renuka Lake, situated in the middle of the Himalayan dense alpine forest, offering the visitors a breathtaking view. Renuka Ji is famous for its location and also offers adventure sports like mountaineering, climbing, and trekking, etc. Visitors can also enjoy boating in leisure.
Historical Importance:

It is believed that the Renuka Lake is the embodiment of Sage Parshuram's (one of the ten avatars of Lord Vishnu) mother and the wife of sage Jamadagini. As per the local tale, an evil force killed the husband of Renuka Ji and tried to abduct her. Renuka Ji got rid of the evil by immersing herself into the lake. The lake got this name after she died in it.

A rare Connection with Nature:

This small place has very limited things to offer but it's pure and untouched beauty crosses its limitation and makes it unique. This is a perfect place to rejuvenate you and make a bond with solitude in nature. Avoiding the huge crowd and clicking cameras, this place will definitely help you to bag a lifetime experience. The best time to visit is from April to October, though it can be visited all year long. It is only 365 kilometers from Delhi and can be easily reached in 5-6 hours.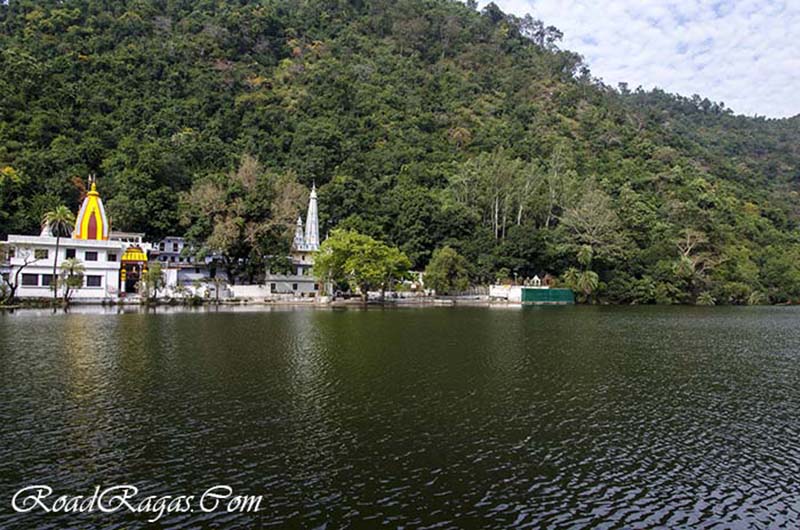 Bahu -Gada Gushaini – Chhatri
This is another spectacular site to visit to experience the unprocessed and unfiltered beauty of Himachal. Firstly do not get confused between Gada Gushaini and Gushaini in Tirthan valley. These two are completely different places.
Location:  Situated in the Mandi district (Himachal), this place is not very far from the Jibhi- Jalori stretch. The roads are challenging but the immaculate beauty of the place definitely makes it worth the effort.
Natural treasure: The view will amaze you definitely and you will witness the untouched cultural practices of the Seraj region which is mostly undiscovered by regular travelers.
Barot
A mesmerizing small village situated in the Mandi district, Himachal Pradesh at an altitude of 6,000 feet. Though this place is not that unexplored, but is comparatively lesser visited than other parts of Himachal. This small village is situated at the bank of Uhl River which is known for its hydroelectricity projects from years.
Fishing: Barot is known for fishing, especially trout. It is part of the trout breeding department under the Himachal Pradesh fishing department.
Trekking: The valley provides a good number of treks that cover the unique cultural heritage and the lifestyle of the people of Barot valley. One can witness beautiful Himalayan birds and wildlife during treks.
Paragliding: The paragliding site here has been recognized worldwide and this place also hosts the Paragliding world cup. Travelers need to trek 16 kms to reach the take off-site from where the snow-capped mountains get sighted. The duration of paragliding is 20 – 40 minutes.
Other than this, Barot also offers mountain biking, joyful village walks, etc. Overall this place offers peace and serenity which is unforgettable.
Sangla
Sangla is situated at a height of 8,900 ft in the Baspa Valley of Kinnaur district, also known as Sangla Valley. It offers a magical and untouched beauty of Himachal. Blessed with diverse natural flora and fauna, Sangla displays apple, orchids, walnuts, cedar trees, impossibly clear glacier streams and a lot of trout fish. The extreme natural beauty makes it paradise on earth.
Best time to visit:  The different timings offer distinct beauty of the place. The choice is completely yours! If you are looking for snow-capped mountains and a snowy, frozen landscape, then December to February is the best time to visit, which will also be definitely adventurous and challenging. You will bag a lifetime memory. Mostly from September to November is considered the best time to visit Sangla. You can witness the most demanded Kinnauri apple trees and taste them as per your choice.
Also Read: How to Plan a Trip to Sangla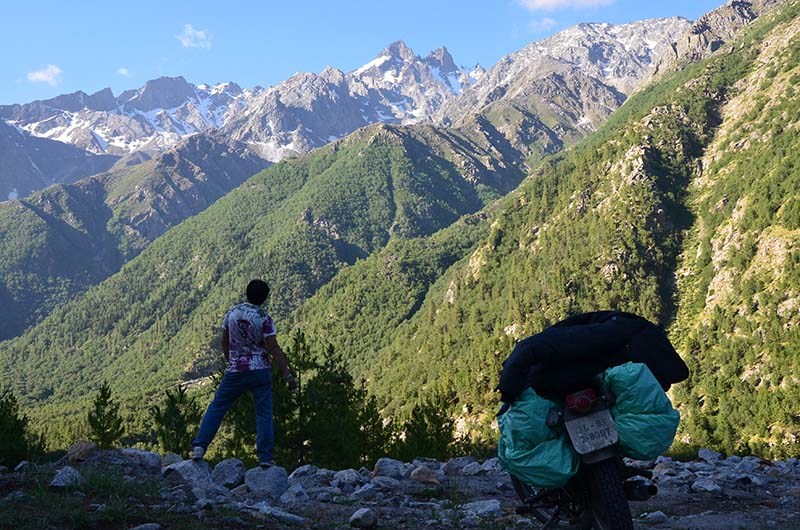 Shoja
This place is the hidden gem of Himachal. It is a hamlet in the Seraj valley which connects the two districts Shimla and Kullu. It is still largely hidden and offers the peace and rural life of Himachal which will detoxify you surely. The whole valley is covered with lush forests including deodars, verdure, and conifers. The spectacular view of lofty mountains and rare orchids will blow your mind. Far from the humdrum of city life, this hidden place has so much to offer.
Best time to visit: Shoja has a very moderate climatic approach throughout the year. So this could be your year-round destination. Though it is said that from April to June is the best time to visit this place as you can notice the clear sky and blooming orchids. Due to the moderate climate condition one can visit Shoja throughout the year.
Also Read: How to Plan a Trip to Tirthan Valley
Forest walk: Shoja is a part of the Himalayan national park which will allow you to access the forest path and stay close to nature always. Its dark greenery appears mystical and magical. The evenings are more beautiful and the sunset looks magical from Serolsar Lake.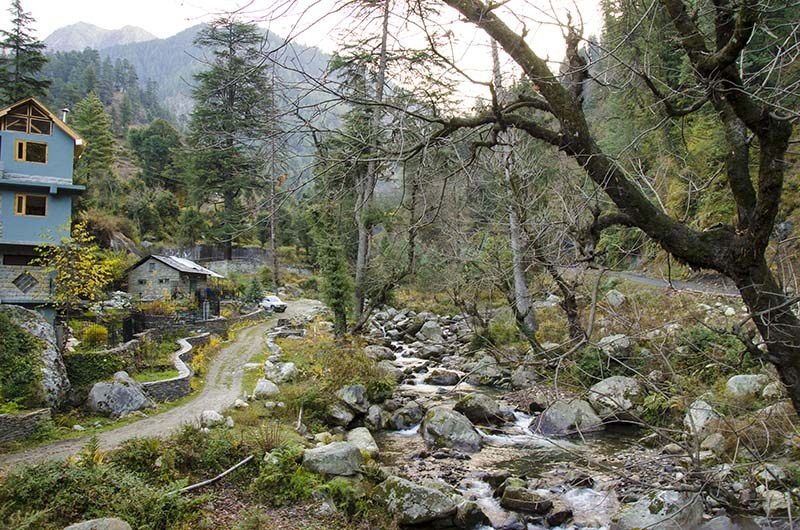 Rakcham
This is a true offbeat destination in Himachal. This nomadic village is situated between Sangla and is among the last villages on the Indo- Tibetan border. The altitude is 10,000 feet above sea level (3048 meters). Very less number of people visit this place but it's recommended for those bag packers who seek camping at offbeat destinations.
Way to reach: There are multiple ways to reach the village of Rakcham from Sangla. One can opt for a private taxi from Sangla to Rakcham which is the fastest and safest route. Then there are state transport (HRTC) and private buses from Sangla. It is recommended to find out the bus timings from the locals. The local transports are always better options to experience the best of a place. The adventurous minds can hit the road by asking lifts from the milk trucks and other vehicles.
Also Read: How to Plan a Trip to Sangla Valley
Best time to visit: It is recommended to visit the place between the mid of April to October. Winter is very rough as it snows heavily so the locals migrate down to the lower sea level and return back to the village at the end of the winter month.
Unexplored Places in Himachal – Conclusion
These above-mentioned places are truly considered as offbeat destinations and unexplored places in Himachal. I hope the information above was of help. If you have any questions; or need any other details; please feel free to ask in the comments section below; or at our Community Forum; and I will be glad to answer.