Tosh is just a small village, one of many in Parvati Valley. It is a quaint little hamlet, hidden up in the Himalayas and known only to a certain part of the tourism community; and as such, there is really no long list of places to visit in Tosh Village. The honest answer to the question of what to see in Tosh is natural beauty, that you will find here in ample amount. This entire region offers some of the best landscape views in the entire Himachal. But if you asked what to do in Tosh Village then the answer would be nothing. Surprised? Let me explain.
You really do not come to a place like Tosh to have loads of fun and spend days sightseeing, shopping or partying non-stop. For that, you go to places like Manali or Goa. But when you want to spend some time in peace, in the lap of Mother Nature and do some soul searching, you go to a place like Tosh. Out here, you just sit down with a cup of tea in your hand, mighty lush mountains in front of you and treat your eyes to a mind-blowing landscape. You come to Tosh to slow down life for a few days, to feel every hour of the day, to relax, to try something new, to experience a different culture and to rejuvenate yourself.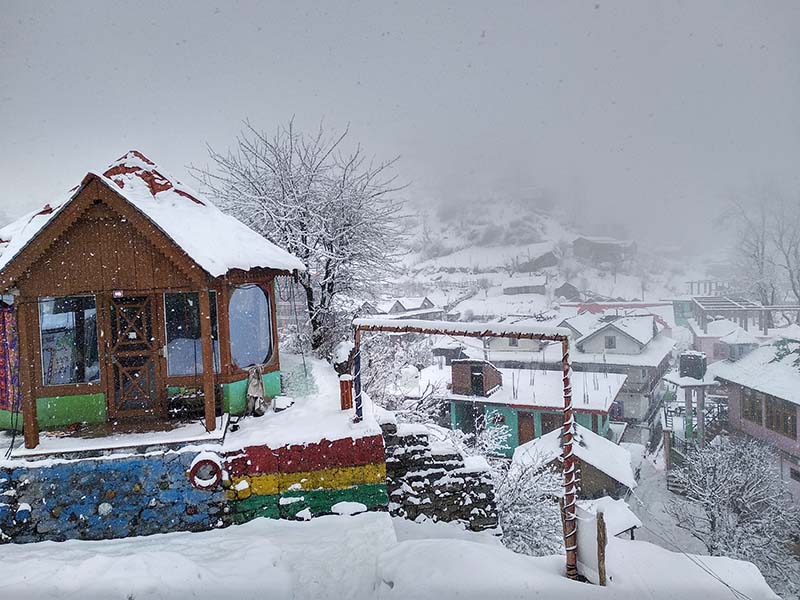 For a complete travel guide on Tosh Village including details like how to reach, where to stay and public transport, please read How to Plan a Trip to Tosh Village – A Complete Travel Guide.
What to see in Tosh
With that being said, there are a few tourist places near Tosh that are worth a mention and definitely worthy of a visit. Please note though that Tosh doesn't have roads in the village. The road will only accompany until you till the parking spot and from there, you will be on trails leading to several different places in Tosh.
Also Read: When is the Best time to Visit Tosh?
Tourist Places in Tosh
Let me first begin with the two tourist spots that are within the village itself.
Tosh Mandir
This is one of the best places to visit in Tosh. The temple is located right at the heart of the village. It is a wooden temple dedicated to Sage Jamdagni Rishi. Please note though that the temple mostly always remains locked and not open to tourists. Outsiders are not actually allowed to even climb the stairs of the temple. The best you can do is take a picture from the temple complex with the village and the mountains in the backdrop.
Why am I listing it as a place to visit then, when you are not even allowed to go there? Well, how often do you find a temple that you cannot even enter? It is definitely a place rare in nature.
Also Read: How to Plan a Trip to Kasol
Waterfall
There is a small waterfall located in Tosh village which is a good spot to sit and relax. It is also an excellent site for clicking some great pictures with your friends. It is located at a small 15 minutes walk from the village. The best time to be here is during sunset. You can sit here and watch the sun go down, lighting the skies on fire and presenting a great view.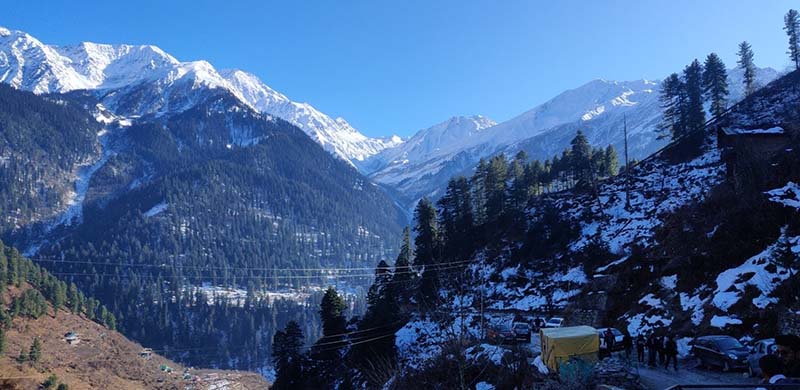 Places to Visit near Tosh
Now let us take a look at some of the best places to visit around Tosh Village.
Manikaran
Manikaran, located on the Bank of the River Parvati, is an important religious site for Sikhs as well as Hindus. It located at an altitude of around 1800 meters; and is a well-known place in the Valley due to its religious importance and the famous hot water Springs around the Gurudwara. It is believed that Guru Nanak, the first Guru of Sikhs, visited Manikaran a long time ago. Almost every Gurudwara offers Langar and Manikaran Sahib Gurudwara is no different. They also have a good Langar arrangement for the visitors.
There are many unique temples around Manikaran Area. There is a 17th Century Temple dedicated to Lord Ram and a temple dedicated to Lord Shiva which is of great importance in Hindu Mythology. Manikaran is Just around 4 kilometers from Kasol.
Barshaini
This is a small little hamlet in the far end of the Parvati Valley at an altitude of 2500 meters. It acts as a starting point to reach Tosh, Kheerganga, and Kalga Village. Barshaini is the last point till where the local buses can drop you in Parvati Valley. The hills opposite to Barshaini, are covered with Pine, Oak, Deodar trees; and with the Roaring River Parvati flowing below, these are some of the most surreal views you'll see in Parvati Valley.
Kutla village
Since Tosh keeps on attracting more and more travelers every passing year, it somewhat feels crowded during touristy months. So, if you are one of those who have an aversion for too much crowd, then Kutla is the perfect place to seek some solitude. Kutla is just a 2-hour hike from Tosh and the views from Kutla are impeccably exquisite.
Kutla seems to be the new Tosh and even though it can be a lot less crowded than other popular places of the valley, but it can't be called an offbeat destination these days as the tourist influx keeps on increasing. There a lot of camping spots coming up along with the homestays so accommodation shouldn't be a real problem if one wants to stay there.
I would like to caution those attempting to visit this place in winter that the trails remain buried in deep snow at this time. It will drastically increase the difficulty level of the hike. So please ask the locals before venturing on the trail to Kutla during winters. If at all you want to attempt despite the snow, then please take a guide along with proper winter gear.
Also Read: Dharamkot – A Complete Travel Guide & Itinerary
Visit Kala-Pulga-Tulga
These triple villages of Parvati valley are a perfect example of a traditional Himalayan hamlet. The hike from Kalga starts from Barshaini which is the last point where the buses drop. The hike to Kalga is just 45 minutes and offers an amazing view of the mountains with lush green deodar and pine forests all around Kalga. From Kalga, well-marked trails can be embarked on to reach the villages of Pulga and Tulga which again are some of the less-visited places of the valley.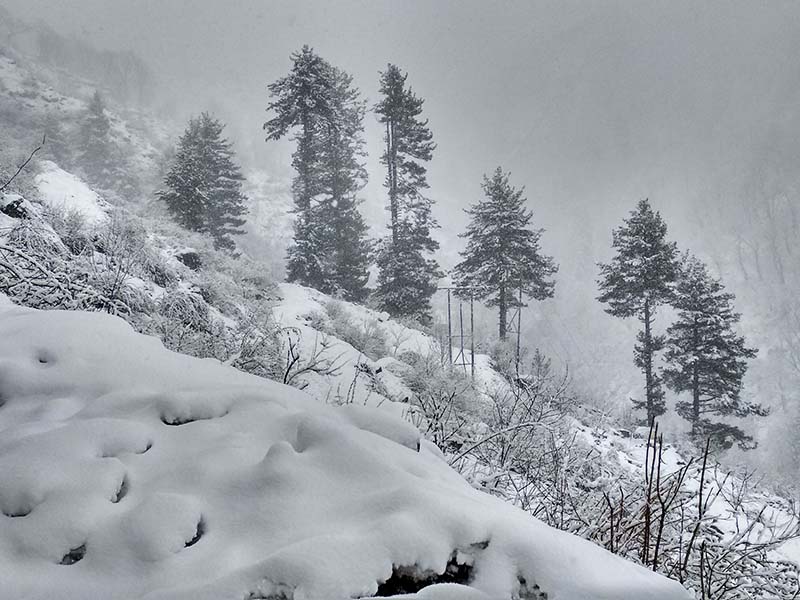 Malana
This is one of the most popular places in Parvati Valley. Recently it was opened to tourism and has gained popularity due to unique facts about its culture and people. Residents of Malana claim to be descendants of Alexander the Great. You are not allowed to touch its people, nor you can touch anything in the village, else you'll be fined heavily. The entry to the village temple is also prohibited. The main deity of the village is called Jamlu Devta (almost every village in Himachal have their own deity).
Waichin Valley
Waichin Valley (also known as Magic Valley) is an unexplored area of Parvati Valley that not many people know of. It is located after a 4 kilometers trek from Malana and offers stunning views of the surrounding mountain ranges. It is located at an altitude of 2,700 meters and gets called as Magic Valley because of its dramatic and charmingly beautiful landscapes.
Please note that even though it is only 4 kilometers long, the trek after Malana is a bit steep and not an easy one. There are a few camping sites in Waichin Valley where you can stay for the night.
Visit the other popular places in the valley
Mostly people include Tosh in their Parvati valley trip along with the other famous places in the valley. Almost nobody exclusively does the Tosh trip. In case, you need more information on different places of Parvati valley then please check out the Travel Guide to Parvati valley. I am sure it will be of great help and will help plan your trip.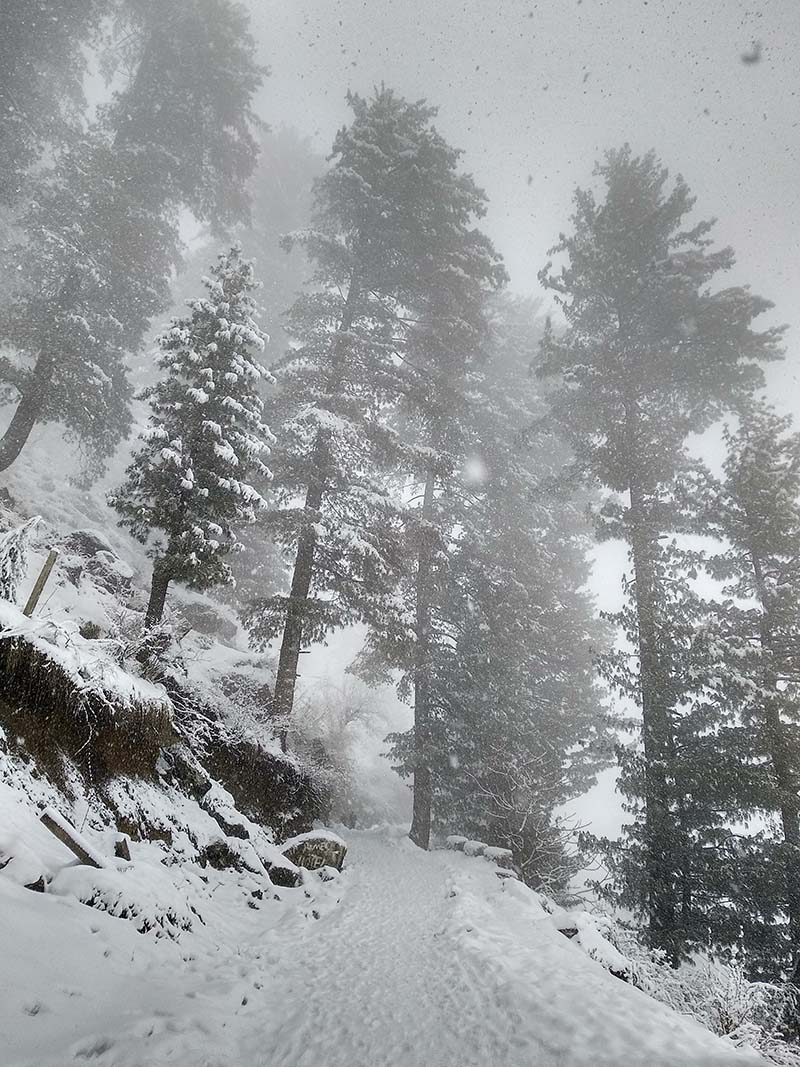 What to do in Tosh Village
In my opinion, the best thing to do in Tosh is absolutely nothing. Just relax, soak in the hippie vibes the village is known for, eat some delectable food in the cafes around and admire the serene landscapes around the village. But in case you love hiking then there are a lot of beautiful trails and treks in the vicinity of Tosh which will surely enhance your experience.
Apart from visiting all of the above listed places and enjoying the natural beauty, mentioned below are a few other things that you can do in and around Tosh.
Also Read: Solang Valley Travel Guide – How to Plan your Trip
Attend Namaste Festival
Namaste Festival is actually a party arranged and hosted by the Israelis living in the region. It costs about Rs. 2500 per head and is held in peak tourist season, from May to July. If you happened to be in Tosh as the time of this party, be sure to attend it and enjoy.
Trekking in Tosh
Trekking and nature walks are one of the best things that Tosh offers. You can either go on some serious treks like Pin Parvati Pass trek, some moderate ones like Kheerganga or just some beginners treks to nearby villages that I listed above.
Camping in Tosh
There are a lot of campsites in Parvati Valley that you can stay at. You can pitch your own tent as well if you were carrying all the necessary gear but I would not recommend doing so in the middle of nowhere. Camp closer or in a village but before doing so, talk to a local. Pay them a little amount to give you a spot to set up camp.
Trek to Kheerganga
This is one of the most famous treks not only in Parvati Valley but in the entire of Himachal, Triund Trek in Mcleodganj being the other popular one. This is termed as an easy trek but keep in mind that no Himalayan treks are easy for any first timer. There are several different trails heading to Kheerganga. One them is from Kalga Village which is a bit longer than the trail frequented by most. Most of the people start the trek from Barshaini via Nakthan Village which is the shortest and the easiest routes of all.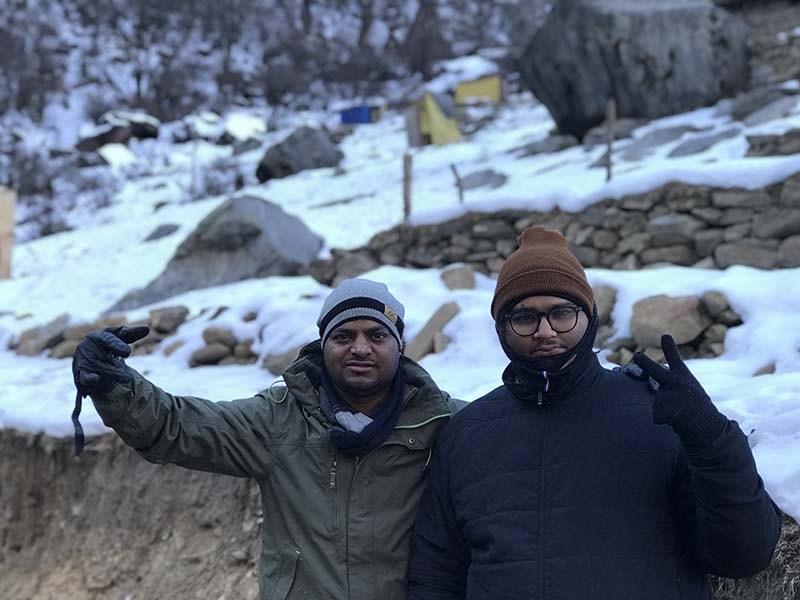 From Barshaini, Kheerganga is around 12-15 kilometers which would take anywhere from 6 to 8 hours to complete. The trail is well marked and is frequented by many people, attempting this solo as well shouldn't be a problem at all. Trails to Kheerganga are buried in deep snow during winters. So If you are someone looking for adventure and planning to reach Kheerganga in the winter season, then please make sure you hire a guide; and are well equipped with the necessary gear required for winter conditions.
Also Read: Kothi Village near Manali – How to Reach & What to See
Try some local and Israeli Food
One of the must do things in Tosh is to try some Israeli food; like Falafel, Hummus, Shawarma, and several other variants. There are a lot of Israeli people living in Parvati Valley; and as such, streets of Tosh village have several Israeli Food joints and cafes like Buddha palace, Pink Floyd, Cafe Freedom. You can get some real authentic Israeli Food in Tosh and at a reasonable price as well. The cost of a meal for two will not go beyond Rs. 500.
There is another restaurant called Pinky Didi's Cafe. By name it sounds very strange or simple but don't let that stray you away. This place serves some of the most amazing food that I have had in Tosh. It comes highly recommended by me.
Shopping in Tosh
Another entry in the list of things to do in Tosh is shopping. Out here, you can buy stuff like semi-precious stones, woolens, loose t-shirts, bags, handicrafts, fake jewelry, and several other items. The market remains open from 10 in the morning till dark and you will not have to spend a fortune to buy some souvenirs from here.
Photography
No matter what kind of photographer you were, Tosh will reward you with ample chances to click some really beautiful and memorable pictures. The pollution-free skies of the village light up each night with countless stars; and become a sight for the sore eyes. Out here, you can actually see the Milky way with the naked eye. If you were carrying a capable enough camera, you will have your fun taking some long exposure shots; and capturing star trails.
Also Read: Essential Items for Camping Trip in Cold Weather
Experience the local Culture
The overall culture of the village of Parvati Valley is much closed; and to be honest, a bit mysterious as well. Search Malana and you will read some very strange stories about the village. The same applies to Tosh as well. The villagers out here won't allow you to climb the stair of the temple and some of them won't even be comfortable with you even touching them. There is nothing sinister about it though, just a little different.
On top of this, there are a lot of Israeli people living here. So what you get in the end is a mishmash of Himachali, Israeli experience mixed with the different culture of Parvati Valley.
Conclusion
I hope the information above on what to see in Tosh Village was of help. If you have any questions; or need any other details; please feel free to ask in the comments section below; or at our Community Forum; and I will be glad to answer.