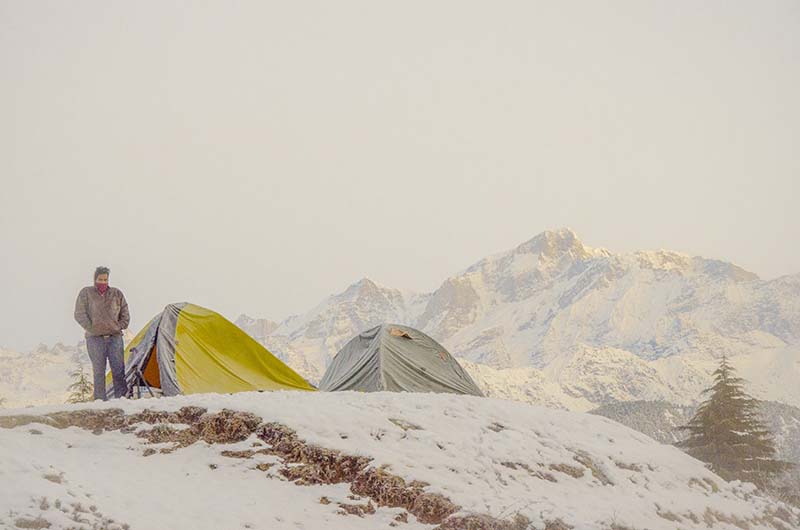 Cold weather camping is one of my favorite adventures. I love to wake up inside a tent and be surrounded by snowy mountains when I step out of it. While it can be exciting, it won't be fun if you're not prepared for the weather. It is important to pack the right gear, clothing, and essential items for camping trip to make your experience memorable.
I have been on several treks in the Himalayas that lasted from just a weekend to several days. Mentioned below is a list of how I prepare myself for such a trip when I know that I am going to be pitching our tent with freezing temperatures outside. These are some tips that are based on my own experience over the years or gained by either researching on the web or some other fellow travelers.
Essential Items for Camping Trip in Cold Weather
Let us take a look at my 10 Cold Weather Camping Essential items.
Insulation
The key to staying warm is choosing the correct clothing that will help insulate. I like to start with a base layer, middle layer, and outer layer. The base layer consists of the layer that directly touches your skin. Consider finding a good pair of tights, wicking underwear, or long johns. There are many different styles out there, so do your research depending on what the temperatures will reach.
The middle layer is typically what helps insulates. Find a good puffy down jacket or a synthetic insulated jacket to keep you warm. Some insulated jackets are puffier than others, so I suggest going to a store and trying one on to see what you like best. You don't want to be too hot or too cold.
For your outer layer, it is very important to find a durable waterproof jacket and pants. The weather can change overnight, so it's best to have waterproof clothing to keep you dry. Without it, you will be freezing all night if it rains and you are not properly covered.
Cold Weather Sleeping Bag
There's nothing worse than trying to sleep while you're shivering cold. Now that you have your warm clothing, it's time to find a nice and warm sleeping bag. There are a lot of cold weather sleeping bags on the market, so do your research.
Most brands of cold weather sleeping bags contain insulation that is best used in temperatures between 20 and 40 degrees, so it's important to check the weather forecast for your trip. That way, you're not too hot and not too cold.
A good trick that I was taught is to choose your sleeping bag based on the temperatures being a little bit lower than you anticipate, just in case it rains or is super windy. Also make sure that the size of the sleeping bag will work well for you, too. You don't want to be squished in there all night if it's too small!
Sleeping Pad
Sleeping pads are especially important if your cold-weather camping trip involves a lot of snow on the ground. These sleeping pads block the cold beneath you so that you don't lose too much body heat.
There are many different kinds of sleeping pads to choose from. Styles can range from inflatable (similar to an air mattress) to foam pads. If you already have summer sleeping pads on hand, you can always double them up to create sufficient insulation. This is my preferred method and has saved me money in the past.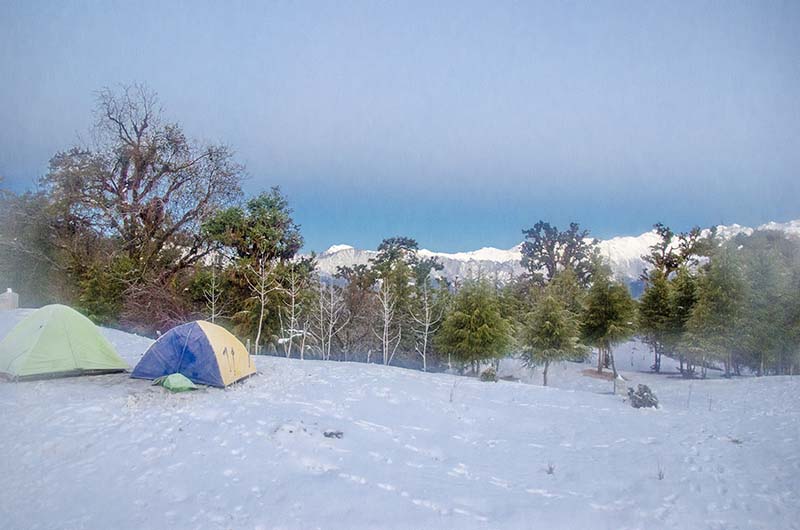 Insulated Water Bottles & Coolers
When you're camping at a high altitude or in extremely cold weather, there is a greater risk of dehydration. I recommend purchasing insulated water bottles. Insulated coolers act as a buffer to keep food from freezing and canned beverages from exploding. You don't want to be stuck somewhere with frozen food or drinks that have exploded, trust me.
A trick that I have learned along the way has been to keep your cooler at room temperature before you leave. That way, you're not moving your cooler from a cold garage or attic to a cold campsite. Once you're camping, try to minimize how many times you open your cooler. Only open it when you absolutely need to.
Cooking Devices
The key to cooking during the winter months is to keep it simple! Make sure you have a cooking device that can handle the cold temps. Personally, I like flash cooking systems that can quickly boil water. This makes it easy to heat up oatmeal, rice, soup and more.
There are plenty of other cooking devices depending on what you are looking for based on weight and size. For obvious reasons, please don't cook inside your tent. I recommend purchasing a cooking platform if you will be cooking in deep snow. The heat will melt the snow and the stove will continue to sink to the ground. A cooking platform will help provide a sturdy surface for you.
To find recipes, search online- there are so many! I always like to print them out ahead of time or write them down, just in case cell service is spotty at the campsite.
Nutrition
When packing food and nutritional items for your trip, it is important to plan. Think about the length of the trip, how you'll eat or cook if bringing a cooler is an option, and what cooking tools you'll need. I always like to carry non-perishable foods that are lightweight and provide good nutrients and energy. A few of these are trail mix, granola bars, and jerky.
If you are planning on bringing a cooking device as mentioned above, research different recipes that would be easy for you to make. Along with proper nutrition, drinking water is so important.
When I first leave for my trip, I like to drink 4-5 cups of water, so I am properly hydrated before beginning the hike. If I am hiking a longer distance to the campsite, I always like to drink about 2 cups every hour. Staying properly hydrated when hiking in extreme weather is essential.
Fire
Learning how to build a fire can be tricky, especially in the backcountry. If you're at a developed campsite that has a fire ring or grill, then you're in luck! But, in the backcountry, you can either find an existing fire ring that was left behind or build a new one.
A few essentials to make this job easier are matches or a lighter, a waterproof container for your matches, and a fire starter which is usually only used for emergency survival fires. If this is your first time building a fire, do your research ahead of time to know what to do so that it is done with efficiency.
Navigation
When hiking and camping, it is extremely important to know where you are and where you are going. You can quickly get lost in the wilderness if you don't have a good navigation system. Some great essentials to carry with you is a map, compass, and digital GPS.
However, using a GPS can sometimes fail, so it's important to learn basic map and compass skills, the old school way! Navigating your way with a map and compass can be difficult if your mind isn't sharp. Make sure you are staying warm, drinking water, eating along the way. Confirm your location on a map regularly.
It's also important to note that true north and magnetic north are different. A compass will point to the magnetic north, but true north is the direction of the North Star. This difference is called declination and changes pretty often. Learn more about declination to keep yourself from going in the wrong direction.
Emergency Shelter
When camping in extreme weather, it is important to have emergency shelter in case the weather gets crazy. Rain can really put a damper on your trip if you don't have the proper gear. Staying dry is essential to staying warm in the cold weather months. Bringing tarps or other similar items can help keep you dry through the rain.
Also, look into purchasing an all-weather blanket. If you become too cold overnight, these types of blankets can radiate most of your body heat to help warm you back up.
Urination Devices
When nature calls, don't hold your bladder in the middle of the night. To keep urine warm, your body has to burn calories, so you need to let it out. However, it may be too cold to leave your tent.
Males can consider using a designated water bottle and females can consider using a jar. Females can also purchase a female urination device (FUD) beforehand. It's definitely not the most fun part about camping, but it works!
Essential Items for Camping Trip – Conclusion
I hope this guide properly assists you with your camping list for your cold-weather camping trip. These are mostly based on what I have learned throughout my time from camping and other tips I have picked up from other campers.
Everyone may have their own way of doing things, so it may be best to start with this guide and see what works best for you! If you have any other tips for essential items for a camping trip, please feel free to share them.