Spiti – cold, harsh, menacing and treacherous. Not a shining advertisement for a traveler, right? Yet, this vast cold desert with its otherworldly vistas is one of the most breath-taking locations in India. Years and years ago, Rudyard Kipling aptly summed it up – "Surely the Gods must live here, this is no place for men". His words ring true even now, even though this enigmatic territory is attracting more and more tourists every year. There remains however something unfathomable about the sheer simplicity of the place. It's something more than our five senses can grasp. If you are planning a trip to this little piece of heaven in the near future then mentioned below is a list of things to do in Spiti valley to make your visit truly a memorable one.
Also Read: How to Plan a Trip to Spiti Valley – A Complete Travel Guide
Tourism in Spiti is on a rise and there is no doubt about it. Each year, more and more travel enthusiasts make their way to experience this enchanting part of our country. With that being said, the fact remains that it is still a highly remote and sparsely populated region. Add to it another fact that a trip to Spiti means that you will be covering a vast region, almost over 600 kilometers, which can definitely leave a first time visitor confused about what to do in Spiti Valley. What are some of the fun activities that you can be a part of here? Hopefully, after reading this article, you will have an answer to your questions.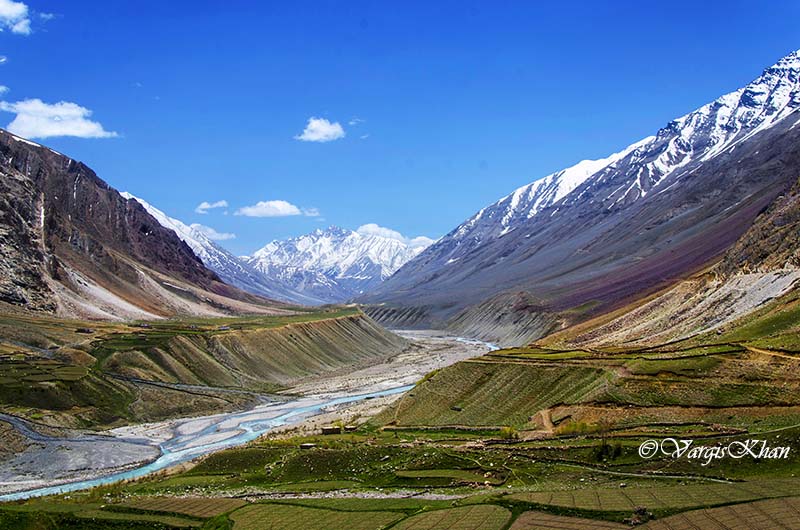 Things to do in Spiti Valley
Are you enthralled? When you are lucky enough to visit Spiti, here are some things to do and see to make your trip memorable for a lifetime.
River Rafting in Spiti Valley

I agree that rafting is not everyone's cup of tea but if you are visiting Spiti, then I am assuming that you do want to add a pinch of adventure to your trip. And what better way to do it than to go rafting. Spiti and Pin are the two rivers which blast through this desert landscape. Both of these are chock full of rapids. Rafting on these rivers is the ultimate pleasure for adventure enthusiasts. You can behold snowy peaks, majestic monasteries perched on hilltops and splendid views throughout the route. The best time for river rafting is from July through August. The 180 kilometers stretch between Tuting and Pasighat is the most challenging one.
Also Read: What to See in Spiti Valley | Sightseeing in Spiti Valley
Nature's best at the Pin Valley National Park
Spiti will never cease to surprise you. Just when you think that the desert is never-ending, you will happen upon the lush green Pin Valley National Park. This vast park features some of the most endangered flora and fauna in the upper Himalayas such as the Siberian Ibex, Snow Partridges, Blue Sheep, Tibetan Gazelles, Bharal, Weasels, Red Foxes, Martens, Bearded Vultures, and Himalayan Snowcocks. The park's apex predator is the reclusive, mysterious Snow Leopard.
These shy beasts are very rarely spotted in wild. You need a lot of time and patience to spot one, and of course an immense amount of luck. Nature lovers can volunteer at the Snow Leopard Trust or the Nature Conservation Foundation, both of which aim to conserve the Snow Leopards in the region. The locals practice Tibetan Buddhism which advocates non-violence towards all forms of life. This has also contributed to the protection of wildlife and helped them to flourish.
The Pin Valley National Park stretches over nearly 700 square kilometers with an extended buffer zone of nearly 1200 square kilometers. The park sprawls upwards from a height of 11,000 feet to more than 20,000 feet. Apart from the abundant wildlife, there are also hundreds of plant species including rare medicinal herbs and exotic plants like Birch and Juniper. The scenic beauty is mesmerizing.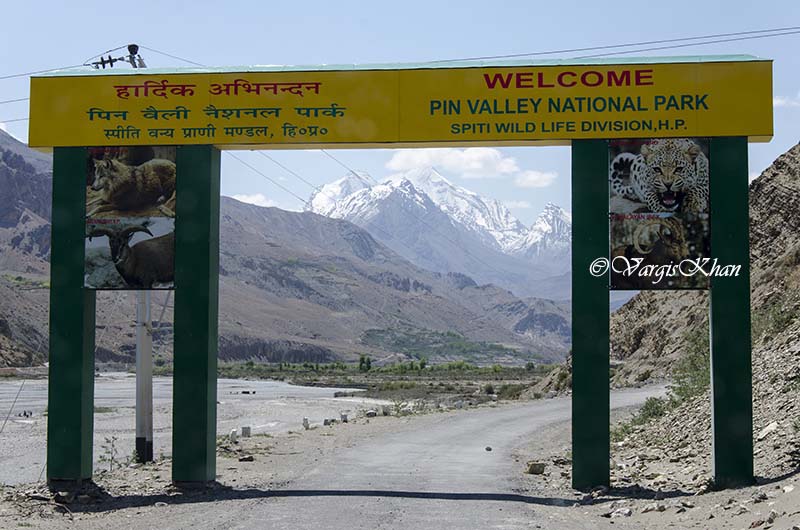 You can opt for a trek through this vast paradise. The park being at such a high altitude is covered with snow for most of the year. Permits are required for treks. In addition, foreign nationals are not allowed inside the park at all.
Wildlife enthusiasts who want to spot animals in their natural habitats should visit during winter because the wildlife migrates to the lower mountains in search of food.
Explore the ancient monasteries in Spiti Valley

Tibetan Buddhism is practiced extensively throughout the Spiti region. In fact, the roots of Buddhism here stretch back over thousands of years. This makes Spiti a cultural centre for Buddhists from across the world. There are an innumerable number of Monasteries across Spiti, each rivaling the other in terms of beauty, architecture and tranquillity. Any visit to Spiti is incomplete without staying at a Monastery. It is essential to understand Tibetan Buddhism and culture. Spending a day with the Lamas, watching their rituals and reading their scriptures will really add to your knowledge. In fact, in Spiti, every family sends their second son for studies at a Monastery.
Monasteries are active during daylight hours only. They open at dawn and close at dusk so make sure to plan your visit accordingly. Some monasteries do not allow women to enter the prayer hall when prayers are going on. Also, it is considered extremely rude to talk loudly or make noises in a monastery.
Monasteries really come to life in late July. The three-day Chaam festival is held during this time and every monastery conducts ancient rituals and masked dances to celebrate.
Here are some of Spiti's best known and loved monasteries:
Also Read: Road to Spiti Valley | The Hindustan – Tibet Road
Key Monastery
This is the largest monastery in the entire Spiti Valley. It is rumored to have been founded in the 11th century, making it more than a thousand years old. In fact, it celebrated its 1000th year in the presence of His Holiness the Dalai Lama in the year 2000. It is located more than 4000 feet above sea level, not far from the banks of the Spiti River. Despite its remoteness, it has had to face innumerable attacks from invading armies over the long centuries. Today this stunning monastery stands tall not just as a surpassing example of Tibetan architecture, but also as a training school for Lamas. In fact, around 300 Lamas receive their religious education here at any given time. Key Monastery welcomes all travellers who are seeking peace, tranquillity and happiness in solitude.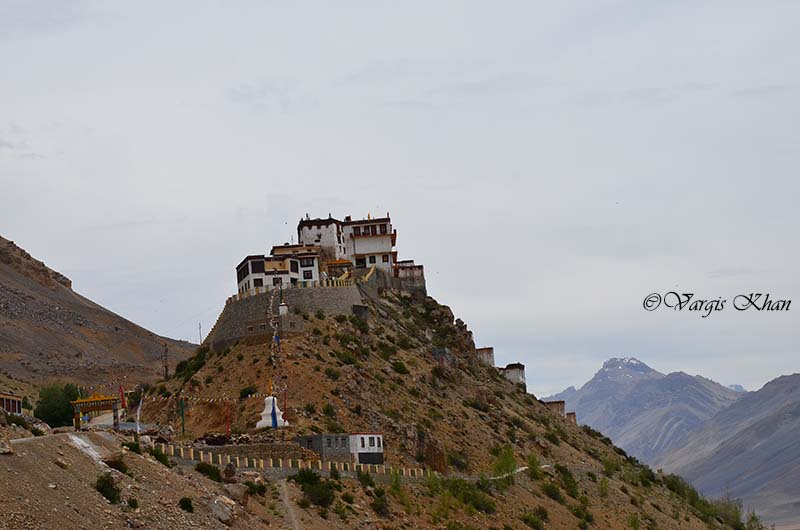 Dhankar Monastery
Dhankar is one of the most eye-catching monasteries. It is perched precariously on a cliff edge, bang in the centre of the Spiti Valley. Located at nearly 13000 feet, it offers a heart-stopping view of the Pin and Spiti river confluence. This thousand-year-old monastery is officially listed as one of the hundred most endangered monuments in the world! This monastery has impressive murals and scriptures and even a small museum. A short walk from the monastery leads to the beautiful Dhankar Lake.
Tabo Monastery
Located in Tabo Village, more than 10,000 feet above sea level, the Tabo Monastery is the oldest in India. Since it was built, it has been continuously open. The tall mud brick walls hold a host of cultural treasures and this monastery is revered by Buddhists. In fact, only the Tholing Monastery in Tibet is more revered than this one. This monument was constructed by the ancient Buddhist king Yeshe-O thousands of years in the past.
Also Read: The Folk Tales of Spiti Valley – Gods & The Prophecies
Tabo Monastery is famous as the "Ajanta of the Himalayas" owing to its rich heritage of fascinating paintings and ancient murals. In fact, these artworks are very similar to the Ajanta Ellora Caves in Maharashtra. It also hosts elegant frescoes and exquisite stuccos. Because of its historical significance, this monument is protected by the Archaeological Survey of India who is responsible for its preservation and maintenance.
Shashur Monastery
Shashur Monastery was named after the Blue Pine trees which are found in abundance in the surrounding area. This three storey building was built in the 17th century and is a young monument compared to the other ancient monasteries. It is located around 40 kilometres from Manali town.
Thru structure of the monastery was built by incorporating the Mandala design, and as such, it is a square building, a centre circle and four large gates. From its location 600 metres above the valley, you can observe panoramic views of the nearby Keylong town, spiky mountains and the snowy river. Inside, you will find prayer rooms adorned with Thangka paintings and floor to ceiling illustrations of Tibetan history and mythology. Visit in July during the Chaam Festival to behold some enchanting dances.
Gandhola Monastery
This iconic monastery is located in Lahaul region and is the oldest monastery there. It was founded nearly 900 years ago by the revered Guru Padmasambhava. Perched on a hilltop in the Tupchiling village, you can hear the ever-present waters of the Bagha and Chandra rivers rushing past in the background. The Gandhola monastery is famed for having wooden idols, in stark contrast to the clay idols commonly seen in other monasteries.
Also Read: Spiti Bus Service 2019 – 2020 | The Latest Schedule
Tayul Monastery
This monastery is famous for its 12 feet tall statue of the revered Guru Padmasambhava. In addition, you can find a mind-boggling hundred million mani prayer wheels here. As per legend, they turn by themselves on auspicious days. Tayul Monastery is situated in Bhaga Valley.
Sakya Tangyud Monastery
This monastery borders the Kibber Wildlife Sanctuary and is located in Komic Village in Kaza district. It is one of the highest monasteries in India, located more than 4500 feet above sea level. It is one of the best places to learn about Tibetan Buddhism in all of Spiti.
Kardang Monastery
Kardang Monastery is a little different from other monasteries. For starters, there are both monks and nuns here. They have permission to marry and equal rights to boot. They spend winters in the monstery, while in the summer they return to their families!
This popular monastery is located on the Bhaga River's banks in Kardang village. It faces the town of Keylong from its ridge-top perch below the Rangcha Peak. For more than 900 years, Kardang has remained an important centre of Buddhist learning and contains significant numbers of instruments, murals, paintings and thangkas, apart from the phenomenal architecture of course.
Kardang celebrates the Chaam festival as well. The monks and nuns dress up in dramatic headgears and masks and dance out stories from Buddhist legends. It is truly a sight to see!
Also Read: Spiti Valley Road Condition : Shimla to Kaza to Manali
Kungri Monastery
This monastery is the second oldest in Spiti and is located in Pin Valley. It is the only monastery which follows the oldest Tibetan Buddhism order – Nyingmapa Buddhism. Come here for the brilliant silk painting of Buddhist Gods and legends all along the inner walls.
Visit the Dhankar Lake
A short trek from Dhankar monastery lies the Dhankar Lake. You can follow a trail which extends from the monastery itself. Come prepared to spend at least 4-5 hours on the banks of the lake. As the day progresses, you can watch the changing colors of the sky with its clouds reflected on the pristine, mirror clear surface of the lake. The ambiance is sure to cast a spell on your senses.
Camp out at Chandra Taal
Chandra Taal is named after the moon, because of its signature crescent shape. It is a breath-taking place. To get here you need to either undergo a tiring but ultimately rewarding trek or drive 14 kilometers on a road barely wide enough for one car. Once you get here, you will find a night sky overflowing with diamond-like stars and clean crisp Himalayan air thanks to the altitude of more than 4000 feet.
Also Read: Chandratal Lake in May – White & Beautiful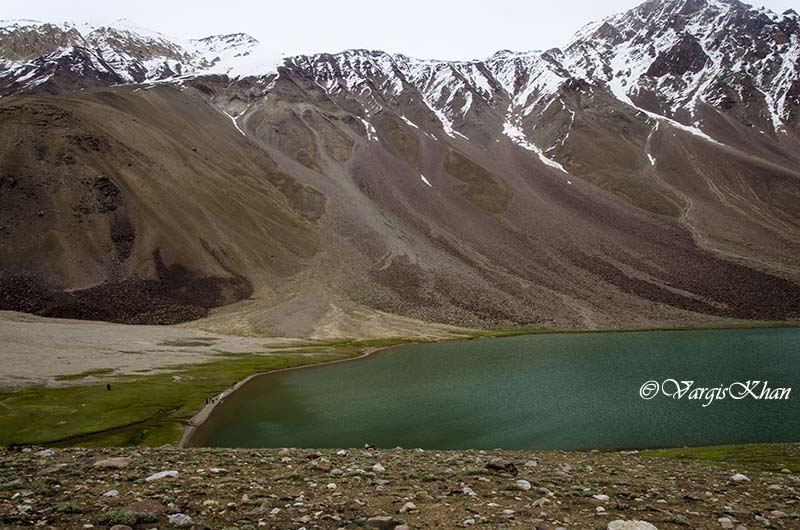 See the Mummy of Giu
This is one of the most mysterious places of Spiti. In Giu, a tiny hamlet located between the towns of Tabo and Sumdo, you will find the 600-year-old mummified body of Lama Sangha Tenzing in a meditating pose. He is reputed to have sacrificed his life when his village was suffering from an infestation of scorpions. His mummy was recovered from an ancient tomb which collapsed when an earthquake struck in 1975. Today, the mummy is preserved and well looked after in the temple in Giu.
To reach Giu, you need to drive 8 kilometers over a steep trail which branches away from NH 22.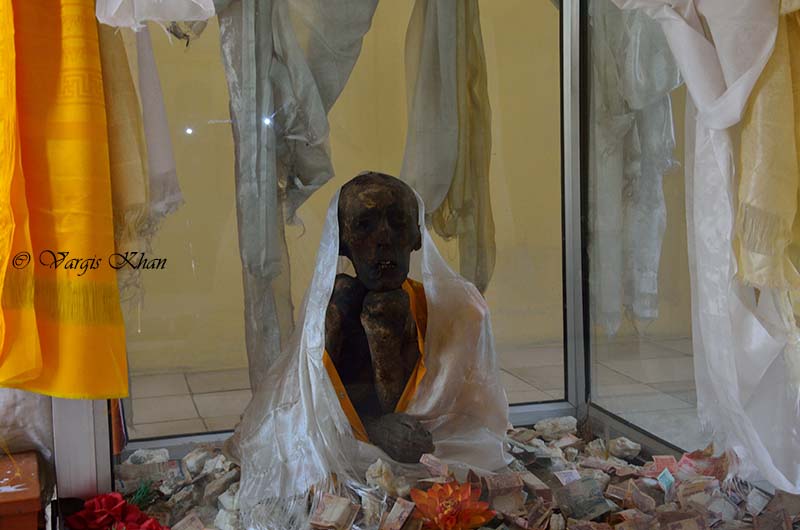 See Kunzum Pass
Kunzum La is located more than 4500 meters above sea level. That makes it one of the highest mountain passes in India which are motorable. The Kunzum Pass is the gateway to the Spiti valley. From here, you can get an uninterrupted view of Himalayan ranges of Kunzum and Chandrabhaga. You can also get an awe-inspiring view of one of Bara Shigri glacier. And of course, you have an enthralling view of the entire Spiti Valley stretching out below you. Kunzum is, therefore, a photographer's paradise.
From Kunzum Pass, you can drive or trek around 14 kilometers to get to the Chandra Taal Lake. On the way, make sure you pay your respects at the Kunzum Devi Temple. This goddess is believed to ensure safe travel through the treacherous terrain beyond. Make a complete circle of her temple. Kunzum La lies 122 kilometers from Manali.
Also Read: Kunzum Pass in May – The Frozen Road
Visit Baralacha Pass
If you think Kunzum Pass was at a dizzying height, wait till you get to Baralacha Pass. Adventurers are attracted to this dangerous place like bees to honey. It is not only one of the highest motorable passes in the world, but it also dangerous to navigate. Still, it's a must-visit for thrill-seeking trekkers and bikers.
Baralacha Pass stands at the intersection of the Zanskar range, Great Himalayan range, and the Pir Panjal range. At more than 16,000 feet above sea level, this pass connects Ladakh to the Lahaul district. Nearby are even more picturesque sights to see such as the Bhaga River a tributary of the Chenab whose source is the Suraj Taal Lake.
Do some Shopping
What is a visit to Spiti without some shopping at Kaza? You can find incredible handicrafts here – everything from paintings to wooden works to jewelry to woolens to carpets to food items and so much more.
Also Read: Shopping in Spiti Valley – What To Buy and Where
Gaze upon the Stars
Villages in Spiti are pretty remote and hence free from light pollution. Come dusk, the stars begin to put in their appearance, a hundred at a time. By the time proper nightfall hits, you can gaze in wonder at billions and billions of stars stretching endlessly above you! There is no more peaceful way to spend the night right under a canopy of stars!
Hunt for Fossils
Amazingly, in some villages, you can find fossils lying around! We're not kidding – just patiently looking at the ground while you walk can easily bag you dozens of fossils. Ok, Jokes apart. You won't just find them lying around but ask around the locals in the villages near Kaza and they will have some fossils to show and even possibly to sell. Now those are true souvenirs! Hikkim and Langza are the best places to collect fossils.
Gorge on Delicious Food
Much like Ladakh, Spiti Valley is heavily influenced by Tibetan culture. You can find simple but fulfilling fare here. And almost everything is one hundred percent organic produce and farm fresh to boot. Whether it is at a monastery, at a roadside stall or in a local's home, you will find it difficult to stop eating. Move over momos and try everything on the menu. It's totally worth it!
Also Read: Local food in Spiti Valley – What to Eat in Spiti
Saunter about on a Yak
Every village family here is sure to own a Yak. This gentle giant of an animal is crucial to a Spiti home – it provides milk, fur, and even meat. Sometimes they are even used for rides. Request a local to hire their Yak and travel in a slow but stylish pace over the landscape!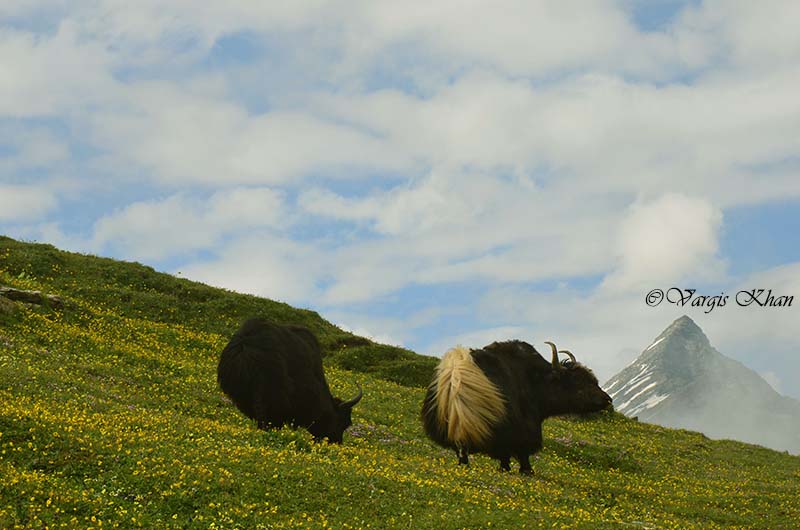 Drop-in at the world's highest post office
India never ceases to amaze. Spiti Valley is home to the highest post office in the world, located at an altitude of nearly 4500 meters above sea level between Langza and Komik villages. Send a postcard to your loved ones from this unique post office!
Drive over the Kibber – Chicham bridge
This long bridge is a relatively new addition to the landscape. Opened in 2017, this bridge makes the locals' lives much easier and they no longer have to trek for hours to reach Chicham. The bridge is suspended over the Parilungbi Gorge and stretches nearly 400 feet. The views from above are breathtaking!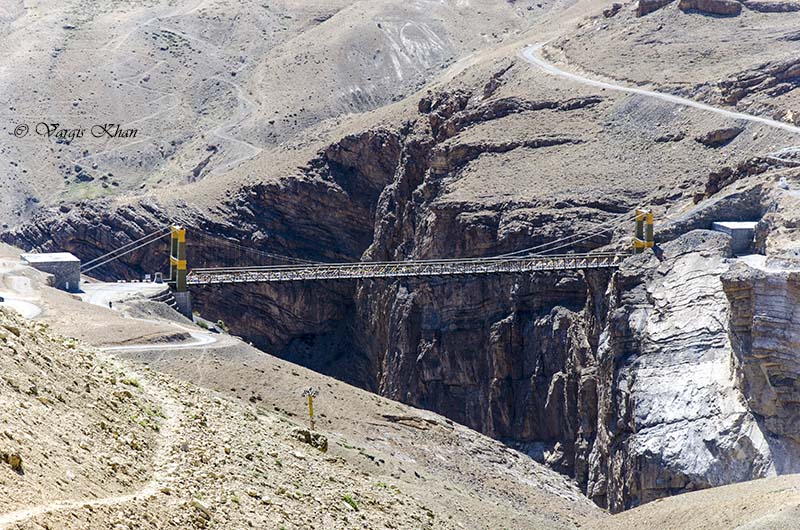 Visit Komic Village
Komic Village is the highest village in the world and one which can still be reached by a vehicle. This secluded village is home to a 500-year-old monastery and is chock full of millennia-old fossils. The road to this village is sure to be a memorable one passing through craggy mountains and barren landscapes.
Rest at a Village Homestay
There is no better way to experience Spiti than to live like a local. Visit a remote village and stay at a local's home for the ultimate authentic experience. Often, the only way to reach these villages is on foot. Some of the most beautiful villages in Spiti are Tashi Delek, Sai Chilling, Rama, Mudd, Lingti, Gete, Hane, and Chhatru.
Also Read: Spiti Valley Bike Trip with Pillion or Solo ?
Suraj Tal
The lake of the Sun God, Suraj Taal is India's third-largest lake and is located nearly 5000 meters above sea level. This stunning lake is en route to the biking and trekking base camps on the Leh-Manali path and stretches out just below the Baralacha Pass.
Trilokinath Temple
This temple is located in Trilokinath Village and is the only temple which is sacred to both Buddhists and Hindus. Lord Shiva is the presiding deity and this temple is considered the third most sacred Shiva temple in the world after Mount Kailash and Manasarovar Lake in Tibet. Trilokinath literally means the "Lord of the Three Worlds". At a height of nearly 3000 meters, this stark white temple surrounded by snowy mountains and redolent with the scent of pine trees exudes peace and serenity.
Trekking in Spiti
Spiti has some of the best trekking trails anywhere in the world and offers dream landscapes for any trekker. Some of the most popular trekking routes are:
Kaza to Losar to Kunzum La
Kaza to Ki to Kinner to Gete-Kaza
Pin Parvati
Kaza to Langza to Hikkim to Komic to Kaza
Kaza to Tabo to Sumdo to Nako
Also Read: Spiti Valley With Kids – What to Know Before You Go !!
The caves at Tabo Village
These man-made caves were carved by ancient monks who used them for meditation. These caves are one of the most serene places in the Spiti Valley. Even today, monks from the nearby monastery (which is also carved into onto a mountainside) come here to practice meditation. This monastery is, in fact, the oldest in India and opened in 996 AD. The caves open into the sky in the middle!
Conclusion
When you finally travel to Spiti, make sure you have ample time in hand. Missing even one of these is a sin. I hope the information above on things to do in Spiti Valley was of help. If you have any questions; or need any other details; please feel free to ask in the comments section below; or at our Community Forum; and I will be glad to answer.