When I get asked about whether it will be better to go to Spiti solo or with a pillion rider; my answer  always is solo. When I say solo here I do not mean that you ride all alone on your own; but just one person per motorcycle, irrespective of whether riding in a group or alone. The reason for saying that however is really from a convenience point of view; because riding alone on a motorcycle will definitely be more comfortable. With that being said, it does not mean that you cannot plan a Spiti valley bike trip with pillion.
Also Read: How to Plan a Trip to Spiti Valley – Complete Travel Guide
A lot of people do so each year for their own respective reasons, especially couples. If you too were wondering to travel to Spiti valley with a pillion rider, the answer is that yes you definitely can keeping in mind a few things which I will discuss in this article.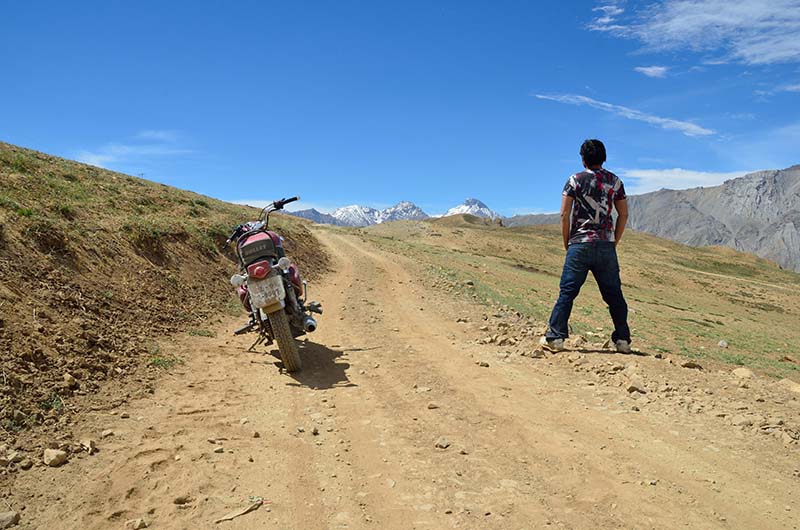 The first thing to know is that riding on Spiti circuit is not really that difficult in terms of height. If you travel from Shimla to Kaza and return the same way, then you do not cross over even a single high altitude pass. If you however have Manali – Kaza route on your itinerary, then this is the stretch when you cross the only two passes in the journey; Kunzum La and Rohtang La. Taking a look of the overall altitude on the circuit; Shimla is at a height of 2,276 meters; Sarahan at 2,100, Kalpa at 2,960, Nako at 3,662, and Kaza at 3,880 meters. The only time you cross over 4,000 meters is at Chitkul at 4,550 meters and Kunzum Pass at 4,590 meters.
Spiti Valley Bike Trip with Pillion
What really makes Spiti valley notorious however is not the steep climbs and high altitude but the badly broken condition of its roads; which remains the same no matter when you travel here. Keeping all this in mind, mentioned below are a few tips that you need to consider when planning on riding to Spiti valley with pillion.
Also Read: Clothes for Spiti Trip –  What to Pack?
Weight and Duration
This is the most important thing to take into consideration. It is not just 2 people out on the trip but also their luggage. And then a trip to Spiti valley is not really a weekend affair; it will easily last for about 8 to 9 days. Hence both these factors are inter-related. Longer the duration means that more the luggage will be; and more the luggage for longer the duration will be a problem for both the riders and the machine. Your entire trip needs to be planned based on this.
Bigger the Better
Without doubt, the best motorcycle for the trip would be a Royal Enfield; either 350CC or a 500 one. The bigger engine would definitely be an added advantage carrying the two riders and all their luggage in the hills. If you were on an 500CC Bullet, then you would not really have to worry much about luggage. But it is not only the engine that is of benefit. The overall sitting position of the motorcycle too is comfortable for long rides. Then there is also the fact that roping all that luggage would be easier on an Enfield than on other bikes. Mounting a luggage carrier too is easier on an Enfield.
Travel Light
However, not everyone owns a Bullet and not everyone likes a Bullet. If you were riding to Spiti on a smaller engine bike; say 150CC or smaller for example; then you need to make sure that you are traveling light. Dumping all the unnecessary weight of things that you can do the trip without just means stress on the motorcycle; due to which it may start to under-perform. Also the fact that there is not really much space available on these motorcycles to put luggage; and if there is too much of it, then it will become highly uncomfortable for the pillion rider.
Also Read: What to See in Spiti Valley?
Age & Condition of the Motorcycle
This will be the deciding factor whether or not you can ride to Spiti valley with a pillion on your motorcycle. If you own a Bike that is 6-7 years old, has already clocked 60-70,000 kilometers and has an engine size of 125CC then it is best to give up the idea entirely. You will just torture the poor thing for 6-7 days unnecessarily. It will just refuse to climb at steep ascents and you will end up pushing it forward.
Seat of the Bike
This is extremely important. Seats of some of the bikes like Pulsar or RE Himalayan are a bit too thin for a comfortable long ride. If same is the case with your bike too, then you may want to visit a mechanic or someone who does seat work to get a bit of cushion added. Or else your pillion rider will just keep complaining about their butt throughout the ride.
Itinerary
If you think your bike will not make it up the steep climbs with a pillion, then you may want to keep places like Sarahan, Chitkul, Chandratal, Kunzum Pass and Manali route out of your itinerary. Better to just reach Kaza via Shimla and return the same way. You can plan to cover rest of these in another ride at another time.
Make a reasonable Judgement
Think about why do you want to ride with a Pillion and then decide whether or not you should do it. A few reasons could be,
You want a pillion rider because of budget problem; so that you can share the overall cost of the bike with some. If this is the reason than you may also want to consider traveling by public transport which will be equally fun and for a much smaller cost. Read How to Travel to Spiti by Bus and Taxi Services for details on how you can do it.
You are going with Pillion because you have your lady accompanying you on the trip. In this case, hiring a private taxi for the trip can also be considered if budget is not really a problem.
Lack of another machine could be  a reason; that you are going with Pillion because there is just one bike available. In this case, a wiser choice would be to reach Kaza and Shimla and rent an additional bike from there for your pillion.
If you have a pillion rider accompanying you because the other person do not know how to ride a bike then either both of you can travel by public transport. Or you can use your smaller engine bike until Shimla or Manali and rent an Enfield from there.
All the 4 reasons are however applicable only when you think that your motorcycle is not capable of taking two people to Spiti. If you are confident that it can last the trip then by all means, bring it along.
Riding
Be very careful around the turns and at water crossings. Ride in first gear if you have to but take the turns slow. At water crossings, ask your pillion rider to get off and cross it on foot while you take the motorcycle across. Do not get off the tarmac and ride in dirt unless you do not have another choice. Do not indulge in unnecessary chitchat and keep your focus on the road. If you are on a smaller engine bike then your riding skills at steep ascents will be put to tests. However do not stress the motorcycle unnecessarily. If at any ascent, your bike starts to show signs of extreme stress then do not force it. Just ask your pillion to walk a little while you handle the steep climb.
Also Read: How to Prepare your Motorcycle for Spiti Trip?
Minor Fixes
Apart from this, please learn how to tweak your motorcycle a little, like tuning for increased pick up, removing the air filter etc so that in case your machine refuses to climb up, you can handle it on your own; at least for a while before you found a mechanic. Another important thing you must keep in mind is that more the weight you have on rear wheel, greater are the chances of a puncture. So you must carry a puncture kit, spare tubes and should know how to fix it on your own.
Conclusion
I hope the tips above on Spiti valley bike trip with pillion were of help. If you have any further questions; or need any further details; please feel free to ask in the comment section below; or at our Community Forum; and I will be glad to answer.