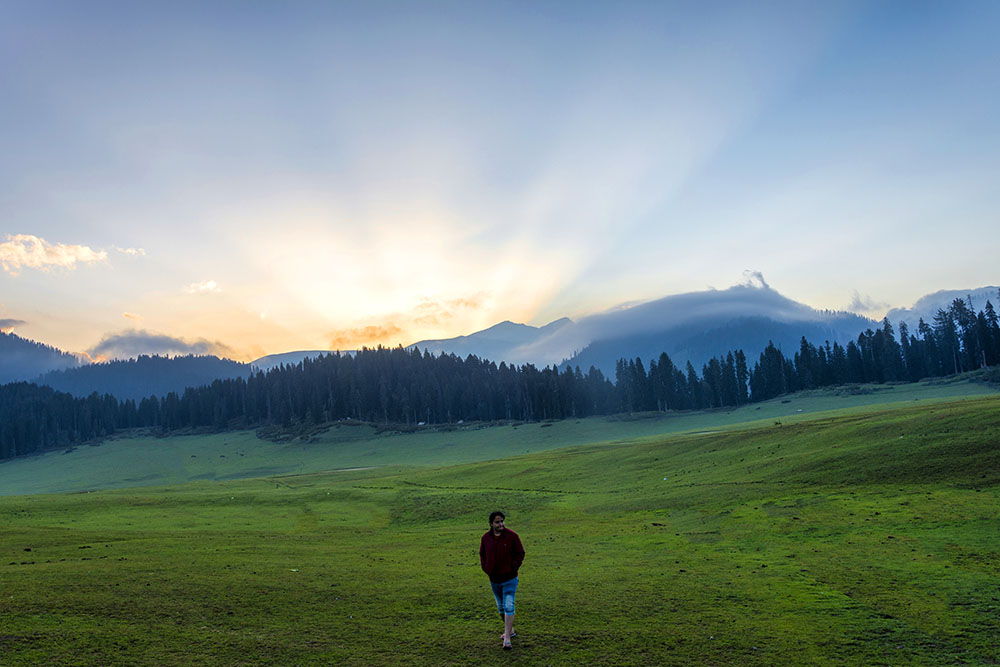 Not many people would have heard of the name Doodhpathri. It is one of those lesser-known destinations of Kashmir that hardly receives any tourism but is now slowly gaining popularity as a tourist destination. Located at a distance of about 40 kilometers from Srinagar, it is a quiet little sleepy place with immense natural beauty and plenty of peace.
I got to know of Doodhpathri when I was thinking of my first week-long trip to Kashmir. I wanted to travel a bit offbeat and a local from Srinagar suggested Doodhpathri. On his recommendation, I included it in my itinerary and must say that I am glad I did.
What I saw in Doodhpathri was possibly one of the most charming sites I saw in all of Kashmir. It is a beautiful lush green meadow surrounded by a dense forest, snow-capped mountains the Shaliganga river flowing down on its other end.
So mesmerized I was by the sites that the second time I visited Kashmir, I ensured that I stay in Doodhpathri for at least one night. In my opinion, it is a must-visit place for anyone who is visiting Kashmir and would like to include a few offbeat and lesser-crowded destinations.
How you can plan your trip to Doodhpathri is what I will be talking about in the post below. For all other details on Kashmir like mobile connectivity, public transport, taxi services, and several other tips, please take a look at How to Plan a Trip to Kashmir – A Complete Travel Guide.
For getting the best hotel rates, and taxi charges, and to organize your trip to Kashmir, you can speak with Kunal @ 9910 402 252. Give him my reference and you will surely get a discounted rate.
About Doodhpathri
Doodhpathri is a small hill station in Kashmir. It lies in a bowl-shaped alpine valley surrounded by snow-clad mountains and meadows of Pine Fir and Deodar. It sits at an altitude of 2,730 meters (8,957 ft) above sea level and receives heavy snowfall in the winter season.
The region does not have all-year road connectivity yet. In the months of peak winter, it can get very difficult to reach here. For the rest of the year though, a trip to Doodhpathri can actually be made in less than half a day.
To be honest, it is not yet a hill station as there is little to no development in the region. What you see is nature in its raw form. There are just a few houses of the local shepherds and that is the only sign of civilization that you will see here.
The area is largely unexplored and receives very little tourism. However, efforts are being made by the authorities to develop it as a tourist destination. JKTDC has also built a resort here for tourists who wanted to stay overnight. Read on to find out more.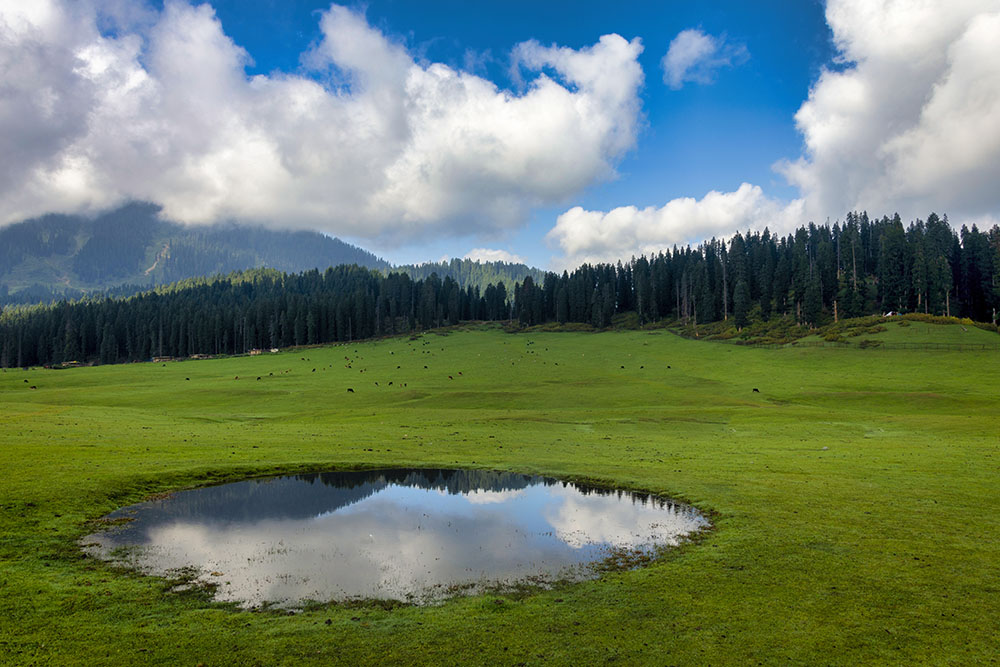 How to Reach Doodhpathri
Doodhpathri can be reached from Srinagar only road. You can either drive in your own vehicle or rent a private taxi which will cost about Rs. 2500 for a round trip. For people traveling by public transport, buses, and shared cabs can be boarded but they will not take you all the way to Doodhpathri.
Let us first talk in a little more detail about how you can get to Doodhpathri and then I will move on to other details like where to stay and what to see.
Srinagar of course will be your first destination and it is fairly easy to get there.  For people coming by their own vehicle, you can just drive to Srinagar city by either the regular Jammu – Srinagar highway or the Mughal road through Shopian.
Once you arrive at Srinagar, you can then make a road trip to Doodhpathri. This will be a 2 hours drive at most, covering a distance of about 40 kilometers.
If you were however not traveling by your own vehicle, then Srinagar is well connected to the rest of the country by Air, Train, and Bus service. No matter which part of the country you live in, you can easily reach the city by either flying or boarding a train.
For more details on Srinagar, please take a look at How to reach Srinagar by Road, Air, and Train.
How to reach Doodhpathri from Srinagar
Once you are in Srinagar, there are a few different routes that you can take to reach Doodhpathri. I will explain the one that is the best, quickest, and most commonly used. There is no permit needed so you do not have to worry about that.
Srinagar – Badgam – Khan Sahib – Dooodhpathri
This entire journey is roughly around 38 kilometers, depending on where you started from in Srinagar. Until Khan Sahib, for the first 30 kilometers, the drive is mostly on flat roads.
The last 8 to 9 kilometers are however a steep climb. The condition of the road is a mix of good, bad, and average. The bad part is mostly between Khan Sahib and Doodhpathri.
If you were driving on your own, the most important thing to remember is to not blindly follow Google Maps. It picks the wrong location sometimes when you enter Doodhpathri.
Even when it picks the right location, it will have you drive through badly broken narrow roads of remote villages. I once got lost during my second trip to Doodhpathri and had to turn back because the road was just too bad, even though I was in a Thar.
So if you wanted to follow Google Maps, rather than searching Doodhpathri only, search for TRC Doodhpathri. That is when Google will actually have you navigate through better roads and not through the villages.
Srinagar to Doodhpathri Taxi
The best, easiest, and most convenient way would be to rent a private taxi for the trip. Depending on the type of cab you chose, your total charge for the day would come out to be between Rs. 3200 for a round trip from Srinagar.
You can either look for a taxi at the airport itself or book one in advance and have the driver pick you up from the airport or your hotel.
If you wanted to book in advance then talk to Kunal @ 9910 402. He is a great guy and will be able to get you a cab for the lowest possible price.
For more details, please take a look at Srinagar Taxi Union Rates.
Srinagar to Doodhpathri Taxi Fare
It would depend on the time of your travel. For an SUV like Scorpio or Innova, expect the per-day fare to be around Rs.3,200 including fuel. If you were traveling in the offseason, you may get a cab for around Rs. 2500.
Srinagar to Doodhpathri Shared Taxi
For budget travelers, I would still recommend a private taxi if you were traveling in a group and can share the cost among 5 to 6 people. If you were however traveling solo then you can look for a shared cab as well.
The problem however is that it will not be easy to find. There is absolutely no way that you will find a shared cab in Srinagar that can take you all the way to Doodhpathri.
Your journey will have to be broken down into multiple parts and you will just be looking for a mode of transport from one town to another.
Depending on where you were staying in Srinagar, you will first have to reach Qamarwari or Parimpora. You can either rent a private cab to drop you there or just look for shared cabs within Srinagar city for either of these places.
Your next destination will then be either Badgam or Magam. Shared cabs for Magam will be a little easier to find so if there was one available, hop on.
Then from Magam, look for a shared cab for Badgam. From there, look for a shared cab for Khan Sahib and then finally for Doodhpathri.
As I mentioned, this will not really be an easy-to-make journey and a lot of your time and energy will get spent on finding transport. For returning to Srinagar from Doodhpathri, you will have to follow the same schedule in reverse order.
Also Read: How to Plan your Trip to Alpather Lake?
Srinagar to Doodhpathri by Bus
Like shared cabs, traveling by Bus is not going to be easy either. There is no direct bus from Srinagar to Doodhpathri and the journey would have to be completed in parts.
The route will be the same as that I mentioned above for shared cabs. You will have to reach all these stops and from there, either board a bus or a shared cab, whatever was available first.
Other than Qamarwari and Parimpora, shared cabs are also available from Lal Chowk and Hazratbal for Magam. Depending on which place was closest to you in Srinagar, you can pick either of these.
If you were somewhere near the airport, you can board a bus or shared cab from the Humhama area. It is just two kilometers from the Airport.
You can also get a cab for Doodhpathri from Badgam itself. So do ask around before going to Khan Sahib. A shared cab is pretty much the only choice as there is no bus going to Doodhpathri from either Badgam or Khan Sahib.
Nearest Airport to Doodhpathri
Srinagar Airport is the nearest airport to Doodhpathri. It is located about 50 kilometers from Doodhpathri and the journey can be completed in 2 to 3 hours. The major airlines operating regular flights to Srinagar are Air India, Jet Airways, Spice Jet, Air Asia, and Indigo.
Nearest Railway Station to Doodhpathri
Srinagar railway station is the nearest railway line to Doodhpathri. The problem however is that it is not yet fully operational and connected.
At the time of writing this article, it will take at least another couple of years for full connectivity. Right now, you can reach Udhampur by train.
From Udhampur, you will then have to board a bus or taxi for Ramban. After reaching Ramban, you will then board another train from Ramban to Srinagar. An easier way thus would be to just board a bus or shared taxi directly from Udhampur to Srinagar.
How to reach Doodhpathri in Winter
Doodhpathri remains closed in the winter season. It will be very difficult to reach here by road in January and February. This entire area gets buried under several feet of snow and so does the road leading here.
It then becomes impossible for a normal car to climb up the final stretch after Khan Sahib. During this time, only 4×4 vehicles ply on this route, and that too with snow chains.
In winter, my advice would be that you do not bring your own vehicle. You can then just catch a cab from Srinagar to Budgam or Khan Sahib first, and then another 4×4 cab from Khan Sahib to Doodhpathri.
Another problem is that the snow-clearing operation on this route is not guaranteed, as it is in places like Gulmarg. If there was a lot of snow on the roads, it may not get cleared for a few weeks at all.
If you were wanting to visit Doodhpathri in winter, it would be best to first inquire about the road conditions before finalizing the plan. It is usually in the months of January and February that the road may remain closed. In March, it is mostly open.
A 4×4 cab with snow chains from Budgam or Khan Sahib will cost about Rs. 1500 to Rs. 2000.
Places to visit in Doodhpathri
Doodhpathri itself is actually a tourist attraction that you see while visiting Kashmir. As I mentioned previously, there is nothing here really except for a huge green ground sitting in the middle of mighty peaks all around.
There are no big tourist attractions or adventure sports happening here either. It is just natural beauty at its best, tranquil enough to soothe your soul.
There are however a few places near Doodhpathri that are worth mentioning and visiting.
The Meadow
The moment you reach Doodhpathri, the first sight you see is the vast meadow. It is really a sight to behold. You can walk around in the meadow and enjoy the natural beauty of the place.
Also Read: When is the Best time to Visit Gulmarg?
Shaliganga River
From the meadow, drive a little ahead for about 2 kilometers and you will reach the Shaliganga river point. There is a car parking and a gate there. If you want, you can park the car and walk for another 1 kilometer to reach the river.
You can also pay a fee of Rs. 100 at the gate and bring your car all the way to the river. It is really a good spot to just sit down and have fun. There are a few eateries near the river where you can order some food as well.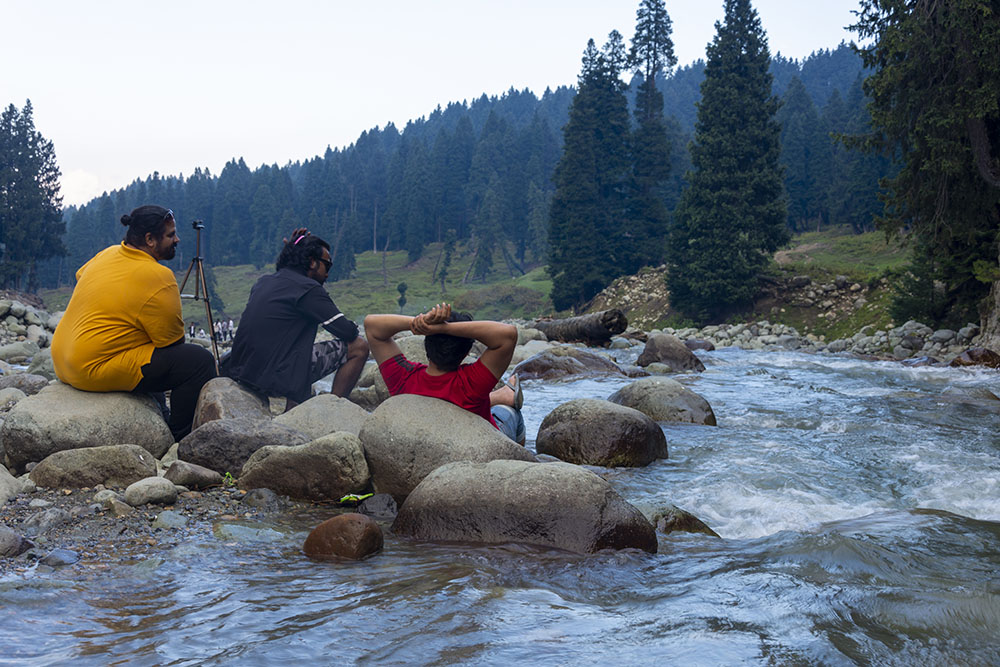 Pony Ride
One of the most popular activities to do in Doodhpathri is to ride a pony. If you know how to ride a horse, you will really enjoy taking it for a run in the vast meadow.
The pony owners can also take you to a few viewpoints in the nearby forest. I have not done it myself but I think you can get some good views from those points, especially if you are into photography.
One of the pony owners also told me that there was a waterfall nearby but I cannot actually confirm that since I did not go.
Tangnar
You will be crossing Tangnar while going to Doodhpathri, about 2 to 3 kilometers before. It is a beautiful place of small valleys with Deodar and Pine trees on small hills and worth a brief stop.
Chances are that you will actually just pass through it without realizing it unless you were specifically looking for it.
Mujhpathri
The name Mujhpathri literally translates to a valley of Turnips. The name is also spelled Mujpathri. It is a small hamlet situated on the bank of the river Shaliganga and is about 3 kilometers away from Doodhpathri.
You will have to trek to get here though. Whether or not you will see the Turnips will depend on the time of your arrival.
Palmaidan
The name Palmaidan means 'a ground of big stones' and that is what it is. It is another meadow, like Doodhpathri, but with huge stones all around.
It is situated at a distance of about 5 kilometers from Doodhpathri and is a favorite spot for shepherds to graze their cattle and livestock. In short, it is a beautiful place surrounded by Deodar and pine trees and a small stream running on one side of the ground.
Earlier you had to trek to get to this place but now there is actually a road that goes all the way to Palmaidan. You will have to ask the locals for directions though. That road bifurcates at one of the villages that you will cross while traveling to Doodhpathri.
Another important thing I would like to add is that the road is in extremely bad condition. You will need a car with high GC to ensure no damage.
Also Read: Gulmarg Gondola – How to Plan your Ride?
Diskhal
It is a beautiful meadow on the top of the mountain and overlooks the Ashtaar glacier. It is around a 10 km trek from Shaliganga nallah in Doodhpathri.
Shaliganga river actually originates from the Ashtar Glacier. So if you were up for it, you can actually follow the river all the way to its originating point, at the glacier.
But you will need to make prior arrangements for that, must have enough trekking experience, and will need a few days in hand.
A few other places near Doodhpathri that are worth visiting are Dophkhal, Sochilpather, and Parihas. These are all treks though and will require you to have at least 2-3 days in hand.
For regular tourists, Doodhpathri is the main attraction. You should go there, see the meadow, sit by the river and return.
Things to do in Doodhpathri
Below is a list of activities that you can enjoy in Doodhpathri.
Pony Ride
Camping
Trekking
Photography
Skiing could be another winter activity but that has not yet started in Doodhpathri. For now, it remains limited to the above 4 items.
But if you asked me, absolutely nothing is the answer. That is what you should come here for. It is a place to just enjoy the peace and the silence and rejuvenate yourself.
If you want to go trekking or camping, keep in mind that there are no such facilities available at Doodhpathri itself. There are no campsites here so you will have to bring your own tent and know how to set it up.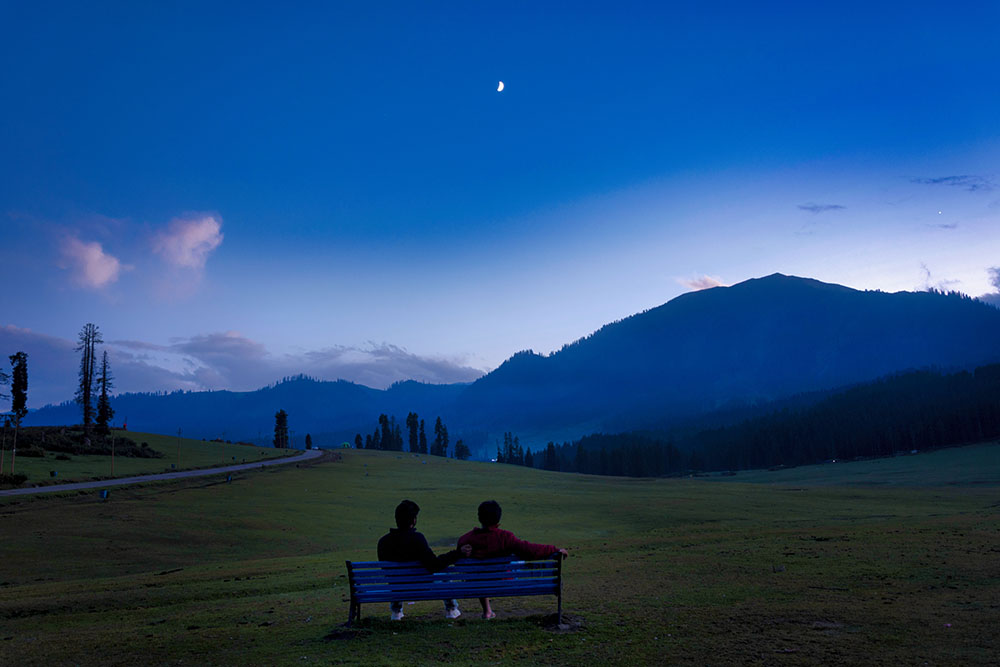 Best time to visit Doodhpathri
The best time to visit Doodhpathri is April to June and September. This is when the weather is most pleasant and it will also be safe to travel during this period.
But it will also heavily depend on what exactly are you looking for. If you want to see white valleys and meadows buried under snow then February will be the best time to visit. But if lush green is what you are after then April, May, July and August will be the best.
If rain makes you uncomfortable then you may want to avoid August altogether. For photography, September will be the best month.
When I say a safe period, I mean it in terms of road safety. In the months of January and February, due to all the snow, a drive to Doodhpathri will be very risky.
In July and August, if it was raining heavily, there could be a risk of landslides. If not, the rain may just ruin your trip entirely.
Where to Stay in Doodhpathri

The only choice of accommodation at Doodhpathri is the JKTDC resort. This is where I also stayed and absolutely loved it. You can read more about this place at JKTDC Resort Doodhpathri.
They have 2 wooden cottages and a few igloo-shaped huts that you can choose from. The fare per day is Rs. 2000. You can book your stay at either the JKTDC online portal or negotiate an on-the-spot deal with the caretaker there.
Hotels in Doodhpathri
Other than the JKTDC resort, there are no other hotels or guesthouses near the meadow. The nearest hotel is located at a distance of about 3 kilometers near the Doodhpathri entry point.
As you drive from Khan Sahib, you will reach a large junction-type area with a lot of restaurants and a few hotels. That is the TRC point. Accommodation there will cost about Rs. 1000 per day.
But in my opinion, staying there does not make any sense. You either stay in Doodhpathri or just return to Srinagar after making it a day trip.
Also Read: Shalimar Bagh – Mughal Gardens of Kashmir
Camping in Doodhpathri
Camping is definitely an option. We in fact wanted to camp here but the weather changed drastically the day before our visit and we ended up staying at the JKTDC resort.
There are no campsites readily available and you will have to bring your own gear though. If you were carrying your own tents then yes, you can stay at Doodhpathri for the night. There are plenty of camping spots here.
The pictures below are of the JKTDC resort.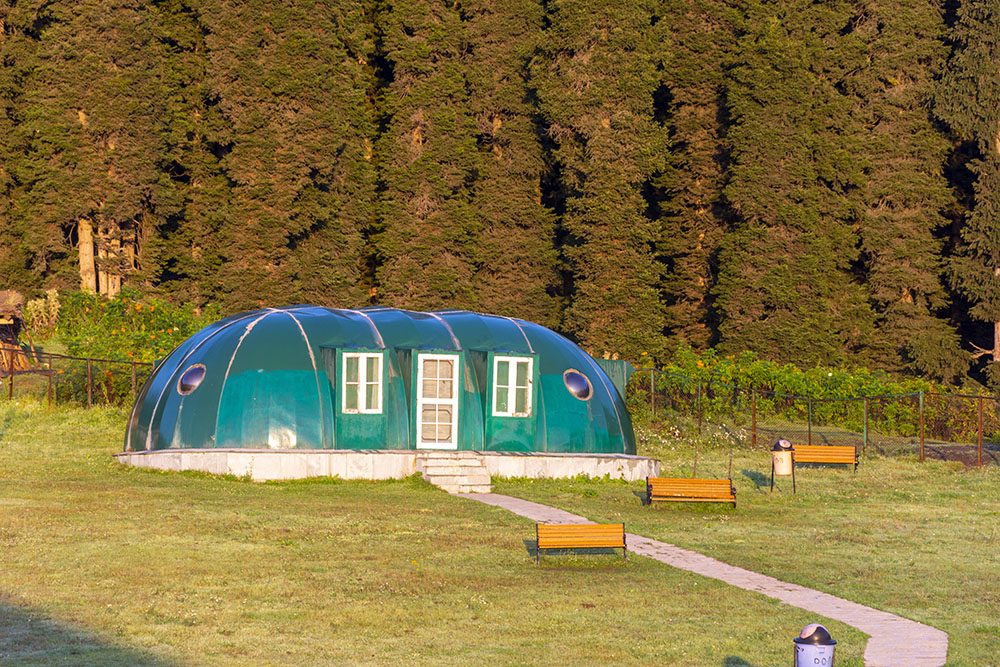 Itinerary for Doodhpathri



The best way to plan a trip to Doodhpathri is to either make it a 1-day trip or 2 days. If you wanted to go on a trek then it will become a 4-5 day trip which I will cover in a different article. But for regular tourists, the itinerary can be as mentioned below.
1 Day Trip
Start from Srinagar after having your breakfast by 9 am
You will reach Doodhpathri by 11 am
Spend some time, relax, walk around, and have fun in the meadow
Enjoy a pony ride
Drive down to Shaliganga River
Spend a couple of hours in Doodhpathri and return to Srinagar by evening
If you want to, then you can mix Doodhpathri and Yusmarg together on the same day. But for that, you will have to start early from Srinagar, possibly by 8 AM.
Travel to Doodhpathri, spend some time and then drive the same way back to Wullin. From Wullin, take the road towards Charar-e-Shariff and reach Yusmarg.
You can also mix it with a trip to Gulmarg. Start early from Srinagar, visit Doodhpathri, and then drive back to Magam. From Magam, go to Tangmarg and reach Gulmarg by evening.
2 Days Trip
A 2 days trip will be even more fun because then you get to enjoy the natural beauty even more. Below is how you can plan to make the most out of your time.
Start early by 7 or 8 am from Srinagar and reach Yusmarg
Go to the Doodhganga river, spend some time a the lake, walk around in the meadow, and leave
Drive back to Badgam and from there, go to Doodhpathri via Khan Sahib.
Spend the evening in the meadow, enjoy the sunset view, and go to JKTDC resort for a night's stay
Enjoy the sunrise view from the JKTDC cottage, like in the picture below.
Leave after having breakfast and either come back to Srinagar or go directly to Gulmarg.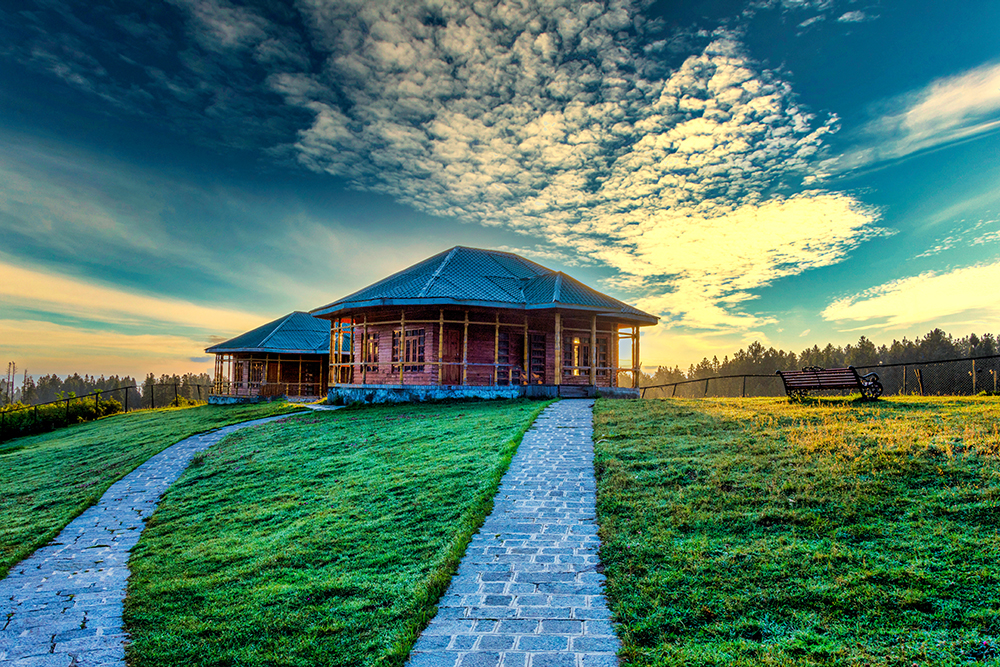 Other Tips
Mentioned below are some other tips that can be of help in planning a trip to Doodhpathri.
Mobile Connectivity
BSNL and Airtel postpaid phones work well in Doodhpathri but only near the meadow. As you reach the JKTDC resort and the Shaliganga river, you will lose reception.
Vodafone and Idea work only as far as Khan Sahib but not after that. Neither of us had a Jio connection but I believe it also works only till Khan Sahib.
Prepaid phones do not work anywhere in Kashmir. You will need to have a postpaid connection to stay connected.
Where to Eat
There is a restaurant just before the Shaliganga river parking called Zaika. It serves good enough but expensive food and you can eat there.
Other than that, there are a few other small eateries but they all close after sunset. You can eat there during the day but for dinner, Zaika is the only option. It remains open until 9 pm. If you were staying at JKTDC resort, they have a kitchen and you can ask the caretaker to cook for you.
For more details, please take a look at Foods to Try in Kashmir – What to Eat.
Road Condition
The road is mostly a smooth run all the way from Srinagar to Doodhpathri. It is a single-lane road though with traffic coming on both sides. But the condition of the road is not bad at all.
Until Khan Sahib, you won't even feel like you are traveling through a hilly region actually as the road is mostly flat. It is only after Khan Sahib that you climb up a steep ascent to reach Doodhpathri.
Banks/ATM
There are no Banks or ATMs here. The nearest one is in Khan Sahib.
Mechanic / Petrol Pump
There is no gas station or mechanic at Doodhpathri. The nearest one is in Khan Sahib.
Medical Facilities
There is no hospital or medical shop here as well. The nearest medical assistance is either at Budgam or Khan Sahib. For something serious, however, you will have to rush to Srinagar.
Clothes to pack for Doodhpathri
It will depend on which month of the year you are visiting here. In the months of winter, from October till March, you will need all heavy woolens with windproof jackets to protect you from the cold.
During the spring or summer season, however, your regular cotton clothes will do just fine. Even wearing a light jacket here from May till August will start to feel warm after a bit of walking around during the day.
Mornings and evenings are cold always. Even in May and June, you will need a jacket or light woolens if you were staying here for the night.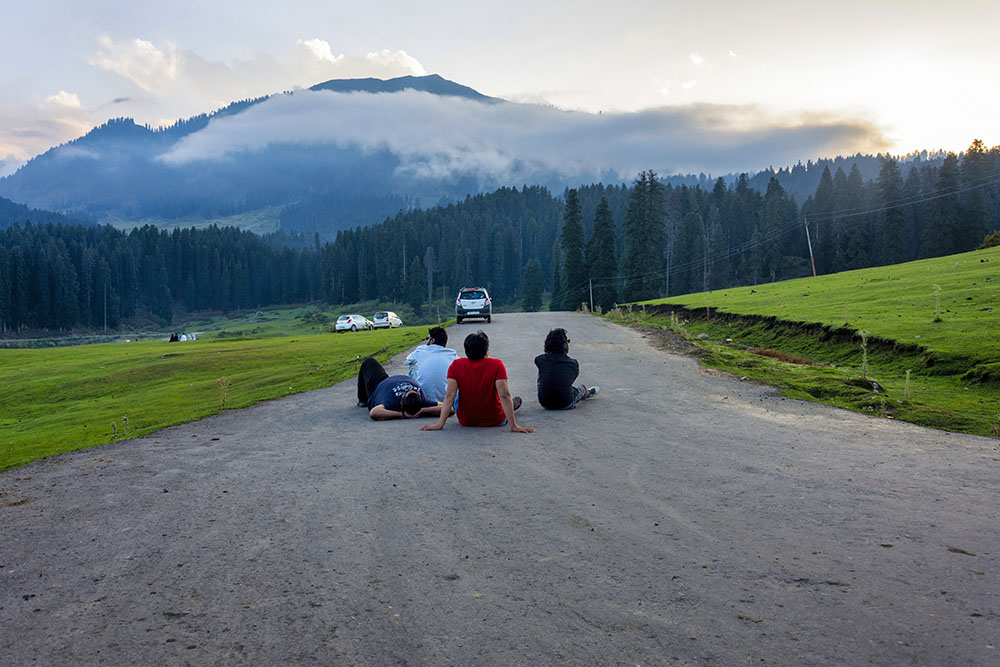 Weather of Doodhpathri
The weather of Doodhpathri can be best described as pleasant in summer and very cold in winter. In January and February, it receives a heavy amount of snow and the temperature falls several degrees below zero.
Snow starts to melt in March, and the weather turns to more of a pleasant cold than a harsh cold. Spring arrives in April and the meadows get covered with a green carpet of grass.
April to June is considered to be among the best times to plan a visit to Doodhpathri. Monsoon arrives in July and it can rain here anytime. August and early September once again see lush green all around after Monsoon has passed.
Cold starts to settle in again towards the end of September. By November, it can start to snow here anytime. Below is a month-by-month breakdown of how the places look at these respective times.
Doodhpathri in January
It will be snowed out completely, white all around. Reaching here this month can be a bit of a challenge. The average temperature will remain several degrees below zero.
Doodhpathri in February
The weather in February will mostly be the same as in January. The amount of snow however will be greater due to all the heavy snowfall in the previous weeks. The road may remain closed completely.
Doodhpathri in March
Snow starts to melt towards the end of the month but it all depends on the weather. If it was colder that year as compared to previous years, it may continue to snow in March as well.
Historically though, the road is usually open towards the end of March and it will be a good time to see a white Doodhpathri.
Also Read: Tourist Attractions in Gulmarg, Kashmir
Doodhpathri in April
The spring season arrives in April and the vistas will turn green from white. The weather becomes pleasant and the snow will get limited to upper areas only.
Doodhpathri in May
May is when things start to get a little warmer. You can easily walk around in your cotton clothes only. There will be no snow around anywhere but you will definitely need a jacket or light woolens in the mornings and evenings.
Doodhpathri in June
The weather will continue to get warmer. Together, the months of April to June are a great time to enjoy pleasant weather and plan a family trip to Doodhpathri. May is also best for trekking expeditions.
Doodhpathri in July
Monsoon arrives in July. It can rain here anytime and may just rain non-stop. The weather remains to be very pleasant with lush green meadows all around.
Doodhpathri in August
The weather in August will mostly be the same as in July. It will however be even lusher with greenery all around. Bringing an umbrella and rain gear is highly recommended. Before you leave your hotel in Srinagar, make sure you inquire about the weather ahead.
Doodhpathri in September
It is one of the best months to visit Doodhpathri. The weather will be pleasant at the beginning of the month but the cold starts to settle by end of September. The monsoon season will be gone but would have left plenty of green vistas behind. It is a perfect month for photography as well.
Doodhpathri in October
The weather will be very cold and a bit dull as well. The greenery will mostly be gone and you will see a lot of dried-up grass. In my opinion, it is not a good time to visit Doodhpathri.
Doodhpathri in November
The weather will continue to get colder in November. Usually, by the middle of November, Doodhpathri starts to receive snow in the upper reaches. If visiting in November, make sure to inquire about the weather and road conditions ahead.
Doodhpathri in December
The weather in December can turn anytime. Doodhpathri will definitely receive snow in December and the intensity continues to increase as the month progresses. Towards the end of the month, the road may also get closed temporarily.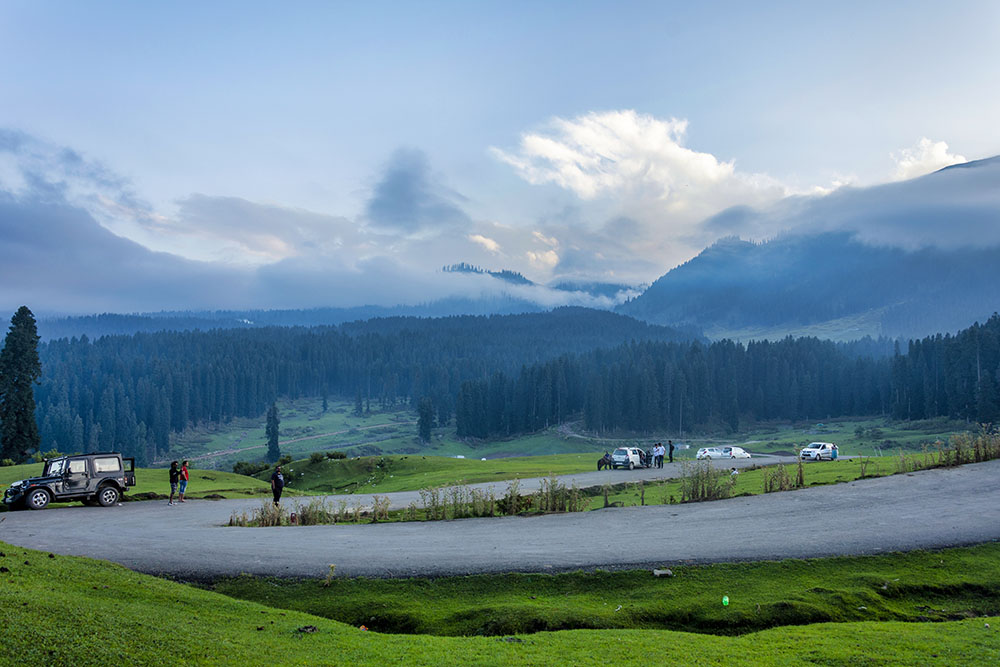 FAQs
Below are some frequently asked questions about Doodhpathri.
Why is it called Doodhpathri?
The name Doodhpathri literally translates into ' a valley of milk'. There is in fact an interesting tale about how this place got named as such.
It is said that a famous Kashmiri saint, Sheikh Noor din Noorani, used to pray here. Once he was looking for some water in the meadows to prepare for his prayers. While doing so, he pricked the ground with his stick.
The moment he did that, milk came bursting out of the ground. Sheikh Noorani however refused to use milk to wash his hands and face for prayers, saying that milk can and should be used only for drinking.
Upon his refusal, milk at once changed its state to water. That is how this meadow got named Doodhpathri.
You may not find milk out here coming out of the ground but what you will indeed find is plenty of natural beauty to leave you mesmerized. The lush green grasses over the vast meadows and silver shining streams running over the large stones further increase its beauty.
Interestingly enough, the water that now flows through the valley has a very milky appearance. This could also be the reason why the place gets called Doodhpathri.
How far is Doodhpathri from Srinagar?
Doodhpathri is at a distance of about 45 kilometers from Srinagar.
Conclusion
I hope the information above on planning a trip to Doodhpathri was of help. If you have any questions, you can contact me on Instagram and I will be happy to answer. You can also consider subscribing to my YouTube channel and asking a question there.
This error message is only visible to WordPress admins
Error: No feed found.
Please go to the Instagram Feed settings page to create a feed.