Solang Valley is best known for three things. The first is its natural beauty which will surely leave you enchanted. Second, are adventure sports like paragliding which we will talk about in detail further in the article. The third is its peace and tranquility. Together, these three things work as the top tourist attractions in Solang Valley. Is that all though? Surely not. These are the best among the lot but there are several other places to visit in Solang valley which we will discuss in this article.
For a brief overview, Solang Valley is a valley located near Manali, at a distance of about 13 kilometers. It is the area between the village of Solang and Beas Kund. Whether the village Solang was named after the valley or whether the valley was named after the village, I do not know but one thing is for sure. It is truly an enchanting valley and one of the most beautiful spots in all of Himachal.
Please note that in this article, I am only discussing places that are located either in Solang Valley or in its close proximity. If you want to read about all the places that you can visit in and around Manali, I will recommend you to read Sightseeing in Manali – What to See in Manali.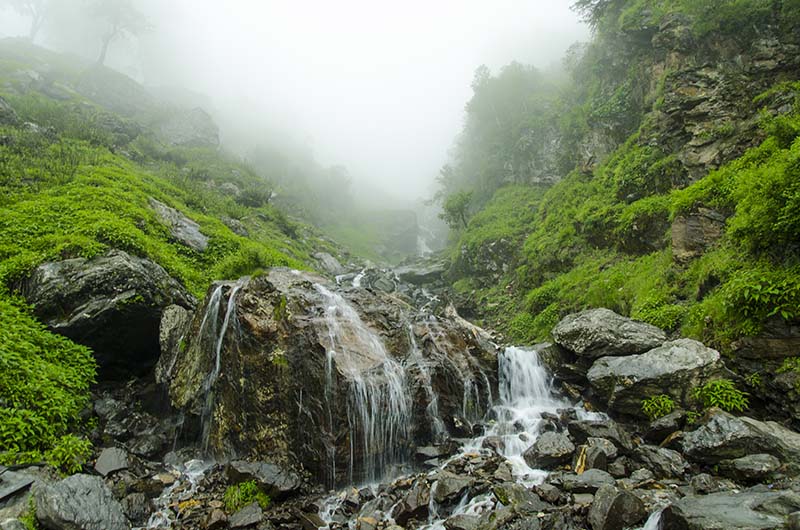 How to reach Solang Valley
To get to Solang Valley, you will start driving from Manali towards Rohtang Pass. After about 11 kilometers, you will reach the village of Palchan and here, you will leave the Rohtang Road and turn left towards Solang Village. The road then further continues for another 8 kilometers after Solang Village before ending at the mouth of the Rohtang Tunnel. To get more details on visiting here, please read How to Plan a Trip to Solang Valley.
For details on an ideal time to plan your trip, please read Best Time to Visit Solang Valley | When to Visit Solang Valley.
Places to Visit in Solang Valley
Listed below are the top entries in the list of tourist places in Solang Valley.
Natural Beauty
Solang Valley is beautiful, and I mean really beautiful. A trip here really gives you a taste of everything that you would want to see in a hill station.
If you visit in the months of Summer, you will get pleasant weather, sunny skies and a clear view of the mighty surrounding snow-capped peaks. If you come here in the winter season, you will find yourself in a white valley covered with a shining sheet of snow. Come here during the monsoon season and you will find the valley coming alive with flora and fauna and turned green.
Also Read: Taxi Rates in Manali – Updated Rate List
Waterfalls, streams, patches of clouds floating low, magical evenings, refreshing mornings, beautiful views of sunset and sunrise; that is what Solang Valley offers.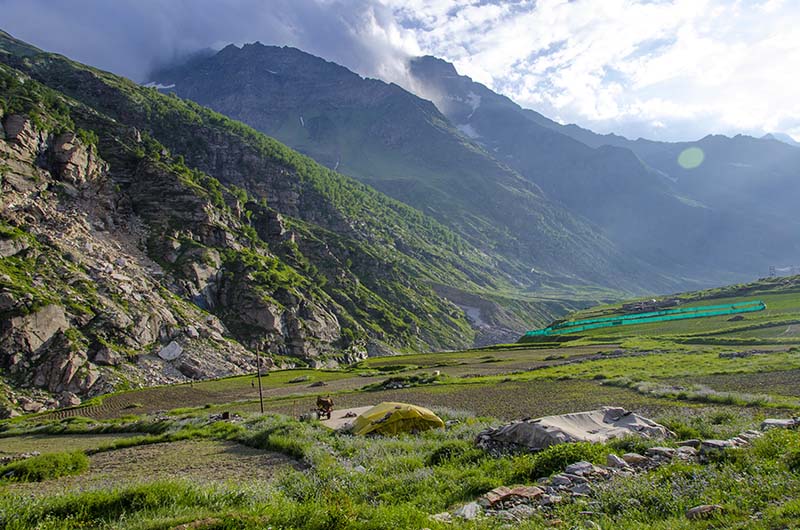 An Offbeat Experience
Manali is a great place to visit but the fact is that it gets crowded in the tourist season. The flow of the visitors doesn't ever stop here. In fact, it is the only place that I have seen a traffic jam at in the middle of the night, at 1 AM.
So what do you do if you want to go to a more peaceful place? You visit Solang Valley. Even though it is at a very short distance from Manali, not many people come this way really. Though it is not exactly an offbeat destination, the peace and tranquility here will surely make you feel that it is one.
Solang Village
This small village is the heart of Solang Valley and also the preferred spot for adventure sports like skiing, paragliding and riding a snow scooter, etc. The quality and number of mountain-sports offered here are quite good which attracts a lot of interested people each year.
Most of the hotels are located in and around Solang only or towards Palchan. The village is at an elevation of 2,560 meters (8,400 feet) and receives plenty of snow in the winters. It is a silent peaceful village and a perfect spot to stay if you were on your honeymoon.
Also Read: Manali Bus Service – Schedule & Timetable
Kothi Village
Kothi is at a distance of about 7 kilometers from Solang. It is another picturesque village with amazing views of mountains, the Beas River, and snow-covered peaks. The elevation of this village is even greater than Solang Village and it is another good spot if you wanted to stay away from the crowd.
There is also a PWD Circuit House in Kothi at a great location if you were able to book it for a night. Gulaba viewpoint is about a kilometer from here which means that the road till Kothi remains open all year so you can get here even during peak winters.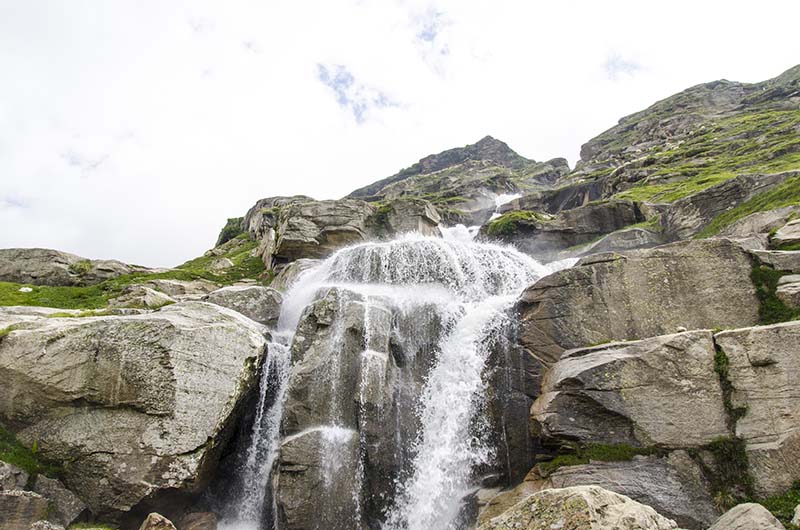 Rohtang Pass
Though not exactly in the Valley itself, this name cannot remain amiss from the list of tourist places near Solang valley. Rohtang top is located about 45 kilometers from Solang Village and it will take you around 2-3 hours to cover, depending on the traffic. The picturesque views of the Himalayas from the Rohtang simply cannot be missed. On the way, you will witness the beauty of the Himalayas like you have never done before which makes Rohtang Pass one of the most visited spots in all of Himachal.
It, however, remains open only between early May and October. If you wanted to see snow and did not find any in Solang Valley, take a ride towards Rohtang Top and you will find plenty of it there. The top of the pass carries snow throughout the year and if you want to see those famed snow walls on both sides of the road, Rohtang is where you will see it.
For more details, please read How to Plan a Trip to Rohtang Pass and How to get your Permit for Rohtang Pass.
What to do in Solang Valley
After you have enjoyed sightseeing and seen the places I mentioned above, I will recommend that you take some time out to enjoy a few adventure sports while you are in Solang. Don't worry, it does not require you to have any prior experience. In fact, most of the people you will find here will be first-times and families.
Listed below are some of the best and fun things to do in Solang Valley.
Mountain Sports
Solang Valley is fondly termed as the adventure sports capital of Himachal and for good reasons. There is a large open ground in Solang (which must have been a meadow earlier) that becomes the center of fun activities like quad-biking, skiing, snowboarding and riding a snow-mobile in winter. During the summer, you can enjoy other activities like Zorbing and Paragliding.
Also Read: How to Plan a Trip to Manali
Paragliding in Solang Valley
Paragliding in Solang Valley is one of the most preferred, famous and easy adventure activities. You basically just run off a cliff with an instructor at your back and slowly glide down while enjoying a bird-eye view of mountainous landscapes.
There are two levels of paragliding. The first one is at a lower elevation and ends in a couple of minutes. The take-off site is near the gorge in Kothi Village and the landing site is in Solang Village.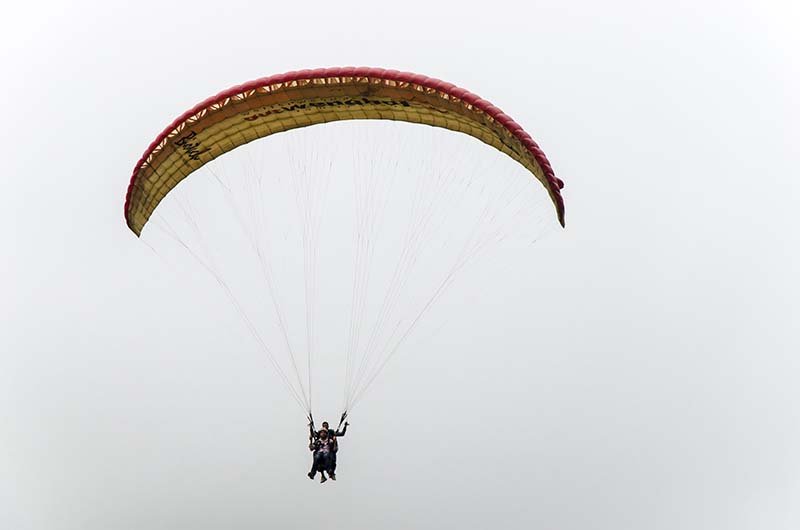 If you, however, want to enjoy longer and higher rides then you should try taking off from the point where Gondola ride (ropeway) ends. This ride lasts for about 6-7 minutes. For this, you will have to take the ropeway and there is no other way to reach the jump site. The Rs. 3500 charges that you will pay for paragliding will be inclusive of Gondola ride as well.
An even better site for paragliding, however, is near Dobhi Village, about 35 kilometers from Solang and near Kullu. Here it will cost you much less, about Rs. 1000 per person for a flight time of 8-9 minutes. As you drive from Manali towards Kullu, you will notice several boards put up along the road offering paragliding. Talk to either of them and they will take you to the jump site which is near Phallan. A car will be arranged to take you to the jump site (Sumo mostly) and that too will be included in the overall paragliding cost.
Also Read: Gulmarg Gondola – The Best Gondola Ride in India
Paragliding in Solang Valley Cost
The cost of the low elevation ride is about Rs. 1000 and for the higher one, it will cost you about Rs. 3500. The prices can, however, be negotiated down if there weren't many tourists around.
In my overall experience though, Bir Billing is a much better option for paragliding than Manali. The flights there are more exciting, higher and much longer. For more details, please read How to Plan a Trip to Bir Billing.
Solang Valley Gondola Ride
Another activity that must not be missed while you are in Solang Valley is to enjoy the Gondola ride. The cable car takes you from the valley to the top of Mt. Phatru at an elevation of 3200 meters; which is the jumping point for Paragliding. It gains altitude by almost 500 meters in a total distance of 1.8 kilometers. The price is Rs. 500 per person for both ways for a total ride of about 10 minutes.
Also Read: When is the Best time to Visit Manali?
Skiing in Solang Valley
If you were visiting Solang Valley in winters and there was plenty of snow around, you should try your hand at Skiing. During the month of January, a thick blanket of snow covers the valley and turns it into a perfect skiing destination. A lot of serious and professional skiing enthusiasts try it down the slopes of Mt. Phatru; at a drop of 500 meters. For beginners or regular tourists, you can try skiing on easier slopes and in the valley itself.
Quad Biking / Snow Mobile Rides
It was a little costly for my taste (Rs. 500 – Rs. 600 for 2-3 minutes rides) but if you were eager to try and did not mind paying, it can really be a great fun thing to do. The instructor will give you some quick instructions, show you how to operate it and then you can take the quad or snowmobile for a short ride around.
Snow Mobiles, of course, are available only in the winter when there is plenty of snow around but Quad bikes can be ridden throughout the year.
Zorbing
What is Zorbing? Well for this activity, you are sealed shut in a huge transparent ball and then pushed down a slope. You then tumble down the side of a small hill or a slope in a sphere; something like in the picture below. Sounds fun? I agree.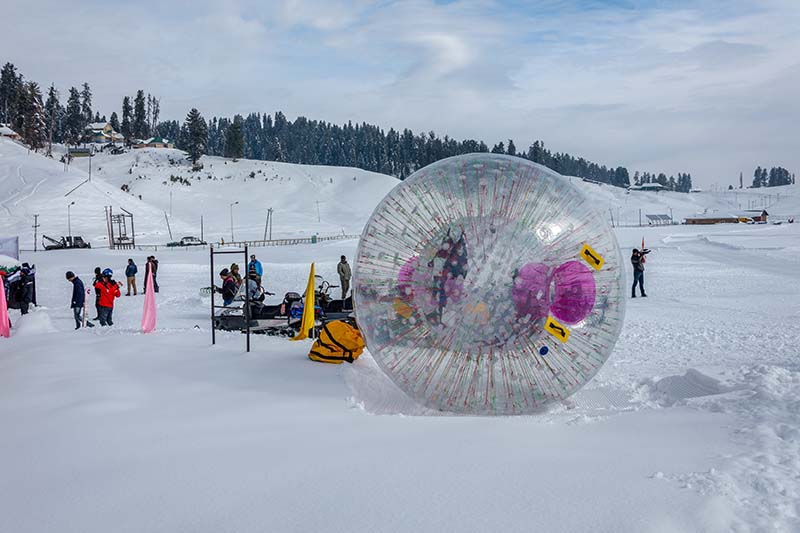 This too remains available throughout the year. In winter, you tumble down on the snow and in summer, it is on smooth grass.
For all these activities, like Skiing, paragliding, Zorbing, snow scooters etc, you do not even have to go anywhere. Just take a walk around the village and you will have a lot of local tour guides approach you offering the services. Pick one that you like.
Camping in Solang Valley
Yes, camping also is a possibility in Solang Valley if you wish to do that. There are several campsites in and around the valley (all around Manali actually). Most of them are located just at the banks of the River Beas and you can choose one according to the location, activities, and facilities. Do not book in advance though. See a few campsites after you arrive here and stay at one that has the best location and facilities.
Self camping can be done as well but you may struggle to find an appropriate camping ground. Most of the good spots are already taken by travel and camping agencies. A friend of mine pitched their tents near Kothi but ran in trouble with the locals and had to pay off a little amount in the end.
Trekking in Solang Valley
I agree that trekking is not everyone's e cup of tea but if you were up for it, it really gives you a whole new view of the mountains and the landscape; something that you cannot really enjoy while sitting inside a car or just driving by. There are a few treks heading out of Solang Valley and nearby Kothi Village that you can venture on if you had the time and stamina.
Also Read: List of Necessary Items to Carry for Trekking
Anjani Mahadev Trek
This is among the short and easy treks in Solang Valley and Manali. The total trek distance is about 3 kilometers approximately and will take you 45 minutes to 1 hour to cover. The trek starts from Solang Village and ends at Anjani Mahadev temple. It is said that Lord Hanuman's mother Anjani meditated here and the temple is named after her.
It is a beautifully constructed temple amidst Himalayan ranges and a small stream flowing down the valley completes the beauty. At a little distance from the temple is the site of the 'Shivling' which gets formed on its own every winter. There is a waterfall nearby which, when it freezes in winter, forms a heap of ice at its dropping point in the form of a Shivling. The slopes around the Shivling are named after Rishi Bhrigu.
It takes about 45 minutes to 1 hour to reach the temple and then another 30-45 minutes to get back. The trek looks even more beautiful during the winter season. If you were staying for a day in Solang Valley, you must take a walk to the temple and enjoy the beautiful vistas on the way.
You must have good trekking shoes for this trek with good grip. If you were going to trek in the winter season, you must have snow boots that can also be rented in Solang Village itself.
Dashir Lake Trek
This is not really your casual walk and is a moderately challenging trek. Dashir Lake is a Holy Lake situated near Rohtang Top. The trek starts from Kothi Village and takes you through some amazing landscapes surrounded by Glaciers and Pir Panjal Range Mountains.
It is believed that the water of this lake has medicinal properties. A lot of locals store its water and use it for healing.
Another place to start the trek is near Rani Nallah. The lake attracts hundreds of local pilgrims during the months of August and September. The walk to the lake is a gradual climb and you also get views of Lord Gehpan (5870 meters) and Mt Hanuman Tibba (5960 meters) when you reach the top.
The lake is located at a height of 4200 meters and it is highly advisable to hire a guide as one can their way in the mountains here. It is also known by the names of Dashaur, Sarkund, Shelasar Lake.
Also Read: Triund Trek – How to Plan your Adventure
Patalsu Peak Trek
This is another moderately challenging one day trek that takes you to the top of Patalsu Peak at 4200 meters (13,800 ft). The trail starts from Solang village and then climbs up the mountains through meadows and pine, deodar and oak forests. I will strongly recommend hiring a tour guide for this one as well. The trek can be easily completed by beginners as well.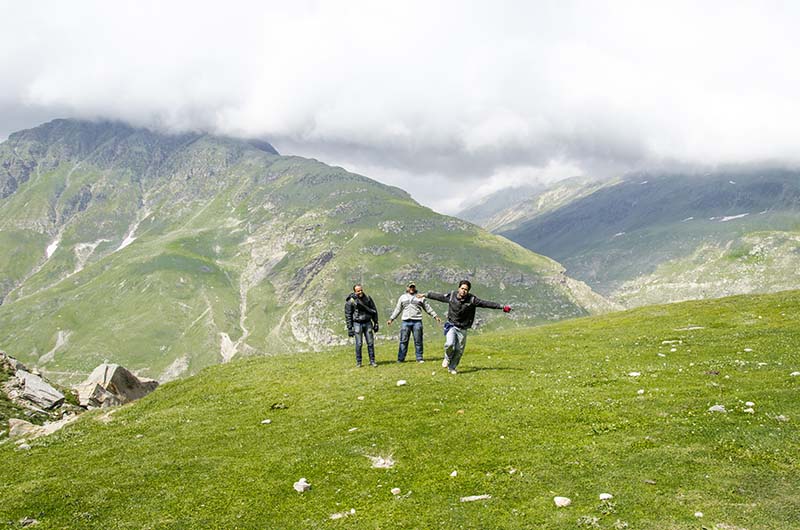 Beas Kund Trek
Now let us talk about a little more challenging and longer treks. Solang Valley is a narrow valley located between Beas Kund and Solang village. Beas Kund is the source of Beas River and is believed to be the water body where Sage Vyas use to take bath while he meditated. The trek starts from Solang Village and takes 3 days to complete. The maximum altitude you gain is 3700 meters.
Also Read: Top 5 Easy Winter Treks in Himachal
Bhrigu Lake Trek
Bhrigu Lake or Brighu Lake is a high altitude lake located at an elevation of around 4,300 meters (14,100 ft). It is named after Maharishi Bhrigu who is believed to have meditated here. The lake is considered sacred and can be reached either from the Vashishth temple in Manali or from near Gulaba.
Sightseeing in Solang Valley – Conclusion
That should be enough to answer your question of what can we do in Solang valley. I hope the information and details above about tourist places in Solang Valley was of help. If you have any questions; or need any other details; please feel free to ask in the comments section below; or at our Community Forum; and I will be glad to answer.