Yes, you read it right. Now it is possible to travel from Manali to Leh by Bus in one day. Manali to Leh one day Bus service was a recent addition by HRTC to cut short the total travel time between two places. This will be greatly beneficial for people who did not have a lot of days for the trip. What's more? You can even book your ticket online.
Also read: How to Plan a Trip to Ladakh – Complete Travel Guide
I remember about a decade ago, Manali to Leh by road was considered a 3 day's journey minimum. Any less was thought to be rushed and unsafe. In recent times, the duration was reduced to 2 days and that is how people traveled. The time frame seems to have gotten even lesser this year onward.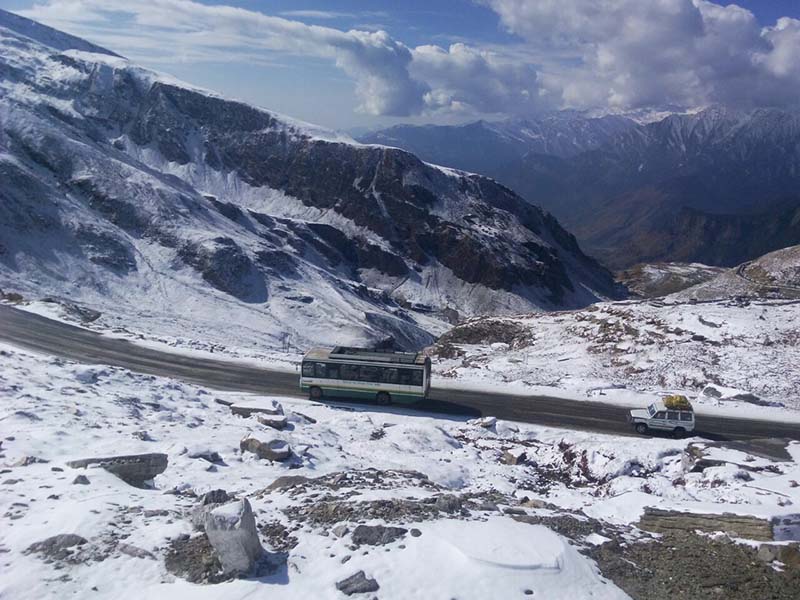 Manali to Leh One Day Bus Service
There were two types of bus services available between Manali and Leh earlier. One was the HPTDC Deluxe Bus and the other one being the ordinary HRTC Bus. Both of these were a 2 day's journey with a night halt at Keylong. This new bus service however will take you through the entire highway in a single day.
It will start from Manali at 4 AM and will reach Leh by 8:30 PM. The fare per person is Rs. 833 for one way journey. You can book your ticket online at HRTC Online Portal. Click on "Book Tickets Online" towards right side of the page at the top.
It will take you to the next page where you can search for the bus. In the dropdown, select your preferred date and make online bookings.  There is also a tab that read "Select Seats". Clicking on it will show you the Bus layout and you can even select your own seats in the bus.
Also read: How to Travel to Ladakh by Bus and Shared Taxis
Below is the schedule of the Bus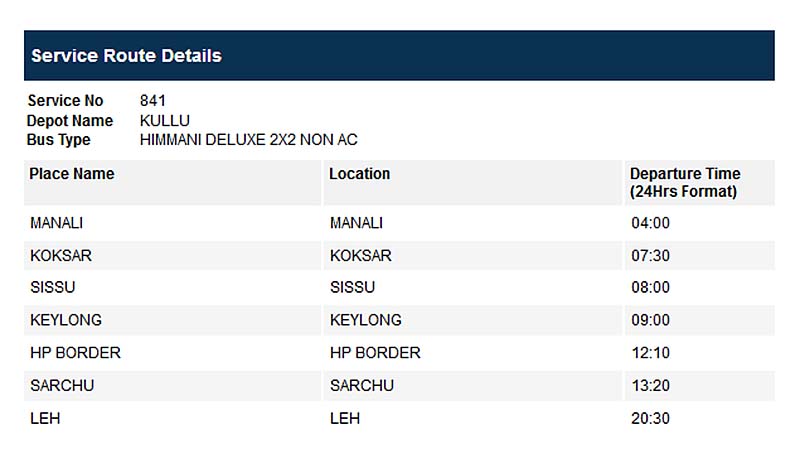 It will start from Manali at 4.00 AM so please ensure that you reach the bus stand at around 3.30 AM. The Bus will cross over Rohtang Pass in dark and arrive at Kokhsar at 7.00 AM. By 9 AM it will reach Keylong; Sarchu at 1.20 PM and finally at Leh by 8.30 PM.
Also read: How to Handle Acute Mountain Sickness in Ladakh
Benefits
This bus service of course will have its own set of advantages and disadvantages. I will list down a few that come to mind.
The biggest benefit will of course be of time. Now you can actually make to Leh even from Delhi

in two days

. Just board a Delhi to Manali Bus in the morning and then Manali to Leh bus. It has shortened the duration of the journey tremendously.
This bus service is also a great option for people traveling in a limited budget.
It also saves the hassle of changing buses and looking for hotel for night stay at Keylong.
You can complete the journey in a single day without worrying about driving yourself all the way.
Disadvantages
There are however a few disadvantages as well which too I will list.
It is too long a journey and bound to get you tired. You are covering almost 500 kilometers and across 5 high altitude passes

in 15 hours

non-stop on a long winding road.
Acute Mountain Sickness is definitely going to hit you and probably hit you hard.
You will miss a lot of scenery as well once you start from Manali in dark and then cover the last bit of the journey in dark again.
Below is a picture of the notice at Manali Bus stand near Mall road.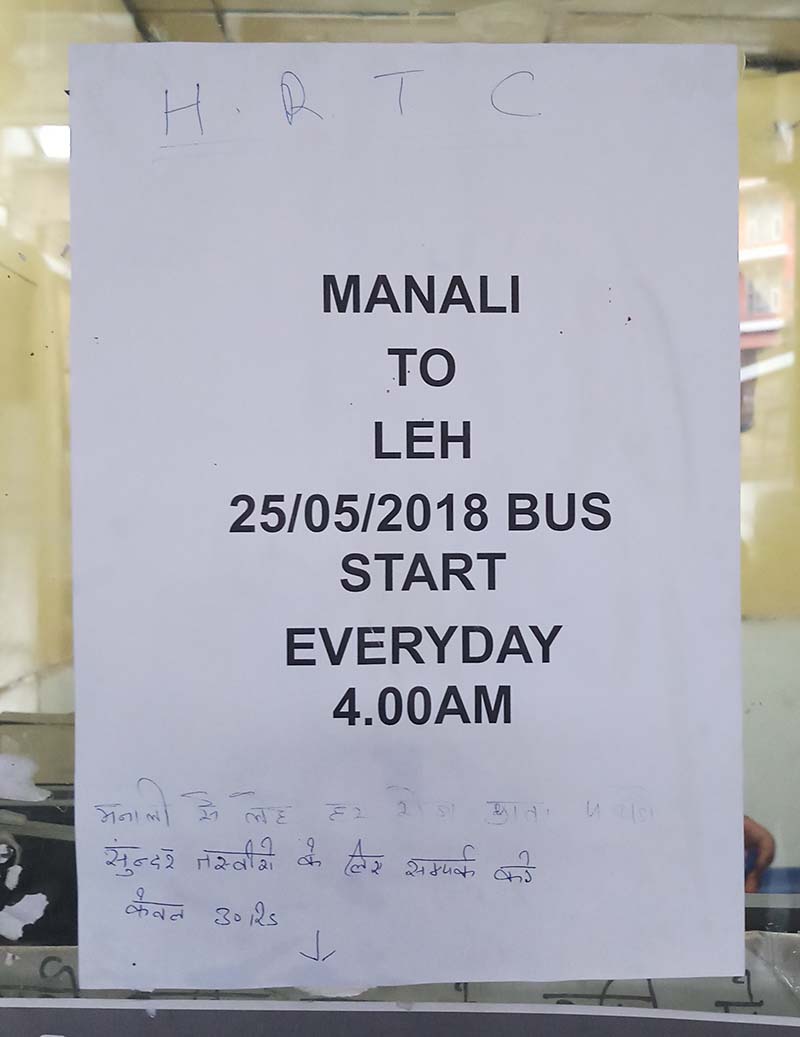 Manali to Leh One Day Bus Service – Conclusion
I hope the information above on Manali to Leh one day bus service was of help. If you have any questions or need any other details, please feel free to ask in the comments section below, or at our Community Forum, and I will be glad to answer.