Ladakh, or the entire Kashmir and Ladakh for that matter, is a beautiful yet sensitive area because of the constant conflicts between India, Pakistan and China in this region. There is heavy army presence in this area and not all parts of Ladakh are accessible to civilians. To visit some areas, all foreign nationals as well as NRIs are required to procure a Protected Area Permit. Indian nationals living in India do not need PAP. This only applies to foreigners and NRIs.
 What is a Protected Area Permit : Ladakh Protected Area Permit, or PAP, is a government issued document to foreign tourists. It is a permit to be allowed entry to restricted areas for a limited period of time. Places located near LOC (Pakistan) & LAC (China) require civilians to acquire this permit in order to visit. The sole purpose of this permit is to keep a check on movement in these areas.
Some of the places that require PAP :
Khardung La
Nubra Valley
Tso Moriri
Pangong Tso
Turtuk
Dah and Hanu Villages
No permit is required for local sight seeing around Leh, Zanskar Valley, Suru Valley. Foreigners aren't allowed to go visit Changthang valley, that is to go beyond Merak Village along Pangong Tso or Mahe Village if you are coming from Chumthang or More plains side. However, after procuring PAP, any foreign national can travel as far as villages of Man and Merak or till Loma post if driving through Upshi and Chumathang. Hanle is still not accessible for foreigners. In Nubra Valley, tourists can now travel as far as Pachatang and Tyakshi villages, beyond Turtuk.  Permits are now also issued for Kargil, Chitkan, Dah, Garkone, Darchik and Batalik.
Where to Obtain: Protected Area Permit can only be issued through a registered travel agent and a minimum of 2 people are required in order to procure PAP. In case you are traveling solo, then the travel agent will get you the PAP issued by putting your name on the list with a different group. This doesn't mean that you need to be traveling with that group if your PAP is issued with them. Once you have the PAP, you are free to travel solo again. PAP for tourists from Bangladesh, Pakistan, China, Afghanistan and Burma is issued by the Ministry of Home Affairs in Delhi and permit for those on official or diplomatic visa are issued by the Ministry of External Affairs in Delhi. If you are unsure of the procedure or have no idea where to go an apply, the simplest way out is to to contact a registered travel agent and have him arrange the permit for you.
Validity of PAP: The Protected Area permit can be procured only for a maximum of 7 days. However though it is not a one time entry pass, which means that you can, after procuring ILP, visit that particular region as many times as you wish, as long as the permit is still valid. After 7 days, if you wish to stay back and visit more places, you will need to reapply for PAP.
Please carry several photo copies of your PAP with you as you will need to submit one at each check post. So in case you run out of photo copies, you wont have an option but to come back to Leh to get more photocopies.
Documents Required: Below is a list of documents that you will have to submit in order to obtain PAP.
Photocopy of your Passport (front page)
Photocopy of your latest Indian visa
Processing fee: Rs. 20 as red-cross fee, Rs.300 per person as environmental fee. Apart from this, you will have to pay the travel agent as agreed.
PAP Application: Below is a scanned copy of the PAP application form. Click on the thumbnail to view in full size or save it to your disk to take a printout.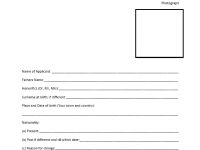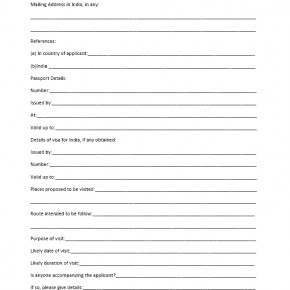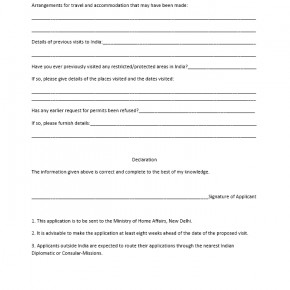 You are free to download and use the forms. A few other points worth mentioning.
1. The permit is valid only for a group of tourists, consisting of a minimum of two people.
2. The permit is specific to a tourist route/area and entry or exit points of that region.
3. Tourists must not visit any other area apart from the ones mentioned in the permit.
4. Please ensure that you are carrying enough photocopies of the permit as you may be requested to submit a copy at each check post on the route.
5. Tourists must not stay in the restricted/protected area after the expiry of the permit.
6. Every foreigner, except for a citizen of Bhutan, is required to obtain the protected area permit.
Please take a look at the following links on more information on protected area permit and how to obtain it.
http://mha1.nic.in/papvt/Index.aspx
http://mha1.nic.in/pdfs/ForeigD-FAQs-onPAPandRAP.pdf
I hope this information was helpful. Please note that being an Indian citizen, I have never obtained a PAP myself and my knowledge on the subject is pretty much limited to what I mentioned above. If you still need any further clarifications, you should get in touch with a travel agent for answer to your queries.