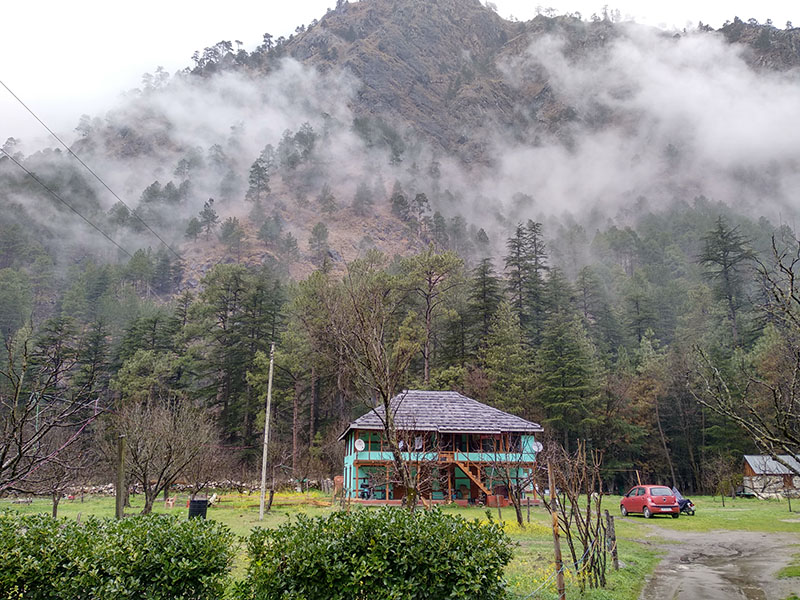 Are you planning a trip to Kasol and wondering what to see there? In this article, I will provide a list of places to visit in Kasol that you can use for local sightseeing. I will list down all the tourist places in and around Kasol. How many of these are you able to cover entirely depends on the time you have in hand.
Kasol is the very heart of Parvati Valley and the center of all tourist activities here. In the last few years, it has developed into one of the most visited destinations of Himachal and a hotspot for backpackers. The natural beauty of the place is by far its biggest attraction followed closely by its unique mix of culture. Such is the status of this small town now that just the very name of Kasol is enough to drive tourism here.
Please note that in this article, I will only talk about local sightseeing in Kasol. For details like how to reach, where to stay, the best time to visit, please read How to Plan a Trip to Kasol – A Complete Travel Guide.
Places to visit in Kasol
Let me first being by places that you will visit in Kasol town itself and then I will move to other nearby places.
Parvati River
Not just Kasol but the Parvati River is the prime attraction of the entire Parvati Valley. After all, it is this river that forms the valley and gives it its name. It originates from the Man Talai Glacier below the Pin Parvati pass, forms the Parvati valley, and then merges into the Beas River at Bhuntar.
When you talk about tourist places in Kasol, the banks of the river Parvati anywhere will serve the purpose. The entire town of Kasol is around the Parvati River. The flow of the water is too strong and it is not suitable for any adventure activities. You can however definitely spend some time sitting on the river banks and enjoy the peace.
Local Market
The second attraction of Kasol is its small market. It is nothing fancy but a good place to buy some small trinkets, handicrafts, accessories, trendy clothes, woolens, fake jewelry, stones, and caps. The Israeli and Hippie touch of the village also reflects on the clothes and items that you will find here. That is why I used the term 'trendy clothes'. These are not very expensive and are locally made items that can serve as a good souvenir of your trip.
Local Culture
I wanted to use the terms Hippie Culture but then I realized that it will not be entirely true. The culture that you see in Kasol is a mix of Indian, Israeli, Buddhist, Hindu with a touch of Hippie. It is really one of its kind and something that you will not get to see elsewhere.
Also Read: Budget Trip to Kasol – How to Reduce Kasol Trip Cost
Restaurants
The eateries of this small town are among the tourist attractions in Kasol. A trip to Kasol is incomplete unless you have done a little bit of restaurant hopping and tasted the food here. Like the culture, the food in Kasol also is a mix of Indian, Israeli, Chinese, Italian, and others. I will highly recommend eating at a different restaurant for all of your daily meals as long as you were in Kasol.
That pretty much is it. As I mentioned, Kasol is really an attraction in itself in Parvati Valley. Such take a walk around, do some shopping, a little eating, sit down by the river, and have a great time. For further sightseeing, you will have to then move out of Kasol and drive or walk around.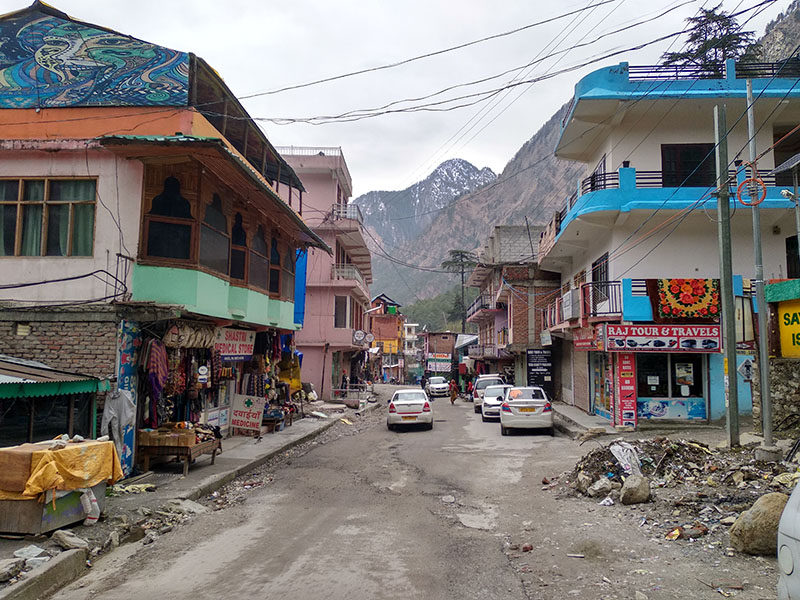 Places to Visit near Kasol
Mentioned below are the other places worth visiting near Kasol that you can cover while you were in Parvati Valley.
Chalal
The first entry in the list of places to visit near Kasol will always be the Chalal Village. Chalal is just a stone's throw away from Kasol and you can easily walk to the small village in 15-20 minutes. Because of it, most people consider it a part of Kasol itself but it is in fact a different village. What makes it stand apart from Kasol is that it is more quiet and peaceful. Being in Chalal is like living on the outskirts of a major tourist destination. Everything remains within reach and you can enjoy yourself to the fullest while being a little away from the crowd.
Malana
Malana is an ancient village perched at around 2400 m deep inside Parvati valley. It is a world of its own with its idiosyncratic rules and strange customs. A few years back, it was not easy to reach Malana. But now, with the advent of roads reaching Malana is easier than ever. You can even visit here in the peak winter months of December, January, and February.
These days Malana is a must-visit place for people visiting Kasol. Most of you might have probably heard about Malana concerning the infamous Malana cream. But trust me, Malana has much more to offer. The area is heaven for hikers and trekkers and is a bit less crowded and away from noisy and crowded Kasol. For more details on this ancient and unique village, please take a look at How to Plan a Trip Malana.
Tosh
Tosh needs no introduction these days. A trip to Kasol or Parvati valley is incomplete without experiencing the picturesque Tosh. Surrounded by beautiful pin forests and huge mountains, the area around Tosh is straight out of a fairytale. The main Tosh village is inundated with hotels and guesthouses which is not a pretty sight. Therefore, you need to walk for a couple of km to enjoy the true beauty of Tosh.
Kasol and is considered a hippie paradise, and Tosh is no different. Tosh is as hippie as it gets. Tosh can be visited throughout the year. But this 2400 meters high village becomes a true winter wonderland during winters with far less crowd. It is a must-visit during winters. For more details, please check out How to Plan a Trip to Tosh.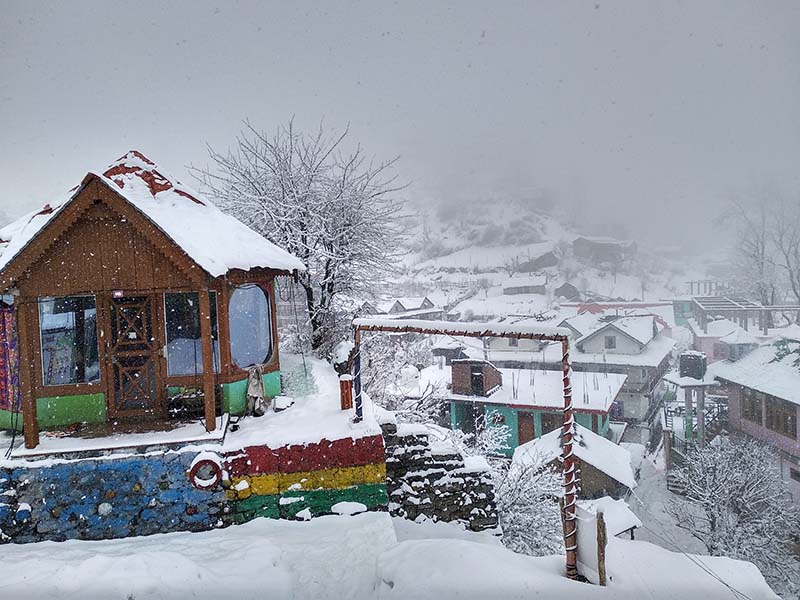 Manikaran
Manikaran is a picturesque holy town just 4 km ahead of Kasol. There are three places that it is famous for and that you should visit.
Gurudwara Manikaran Sahib
Hot Water Springs
Ancient Shiv Temple
Manikaran is considered sacred by both Sikhs and Hindus. Taking a dip in its Hot Sulphur springs is one of the most popular things to do in Parvati Valley. The water of the spring is considered auspicious and said to have healing properties. Bathing arrangements have been made by the authorities for both men and women in different sections. (Source: Wikipedia)
Manikaran is a must-visit due to its picturesque landscape and its proximity to Kasol. There are several hotels and guesthouses in Manikaran. But it is more to cater to the people on pilgrimage rather than travelers.
Kheerganga
Nothing can get as mainstream as Kheerganga when it comes to places around Kasol. It is probably the most famous beginner trek in Himachal apart from Triund. One of the reasons why it is so popular amongst the masses is due to the splendid vistas it has to offer. The hot sulfur spring is another reason for its ever-growing popularity.
Perched at 3000m, most people visit it during the summer and autumn months. Kheerganga is open throughout the year. But the difficulty increases several folds due to the trail being in deep snow during winter months and must be attempted with only proper gear and a local guide. No campsites operate during peak winters, so the trek has to be either self-supported or should be organized through a trekking agency.
If you want to see snow during your trip here in March and April, Kheerganga is where you will surely find it.
For more detail, please take a look at Kheergagan Trekking Guide.
Kalga and Pulga
These are two villages near Barshaini and Tosh. These were mostly unknown until a few years ago but now have started getting notices after an increase in tourism in Parvati Valley. They are both a couple of quiet scenic villages that a lot of people prefer to stay at. If you want to spend some time away from the crowd and in complete silence, you can consider staying here for a cupel of days. Accommodation is available in both villages in the form of small guest houses and paying guests.
Nakthan Village
The only tourists that Nakthan receives are actually the ones going to Kheerganga but it is also a quiet little place away from the crowd in Kasol. If you do not want to go all the way to Khherganga but want to see the Rudranag temple and the waterfall that falls on the way, staying for a day in Nakthan can be a good idea.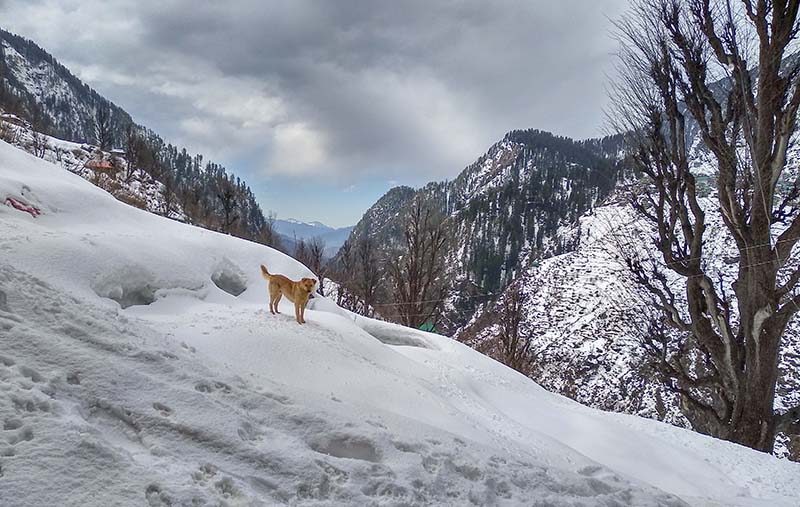 Things to do in Kasol
Kasol is one such place where you can just relax and do nothing. You can experience solitude and admire the vistas around you. If you are a trekking enthusiast, there a lot of treks and short hikes around Kasol that you can venture on.
Take a stroll in the woods
If you like sauntering amongst the towering woods, then Kasol is a perfect place. It is surrounded by dense Deodar and pine forests that are also home to a wide range of wildlife. Taking a stroll in the woods really helps and is really rejuvenating. The months of May and June will be the best time to do this.
Also Read: Weekend Trip to Kasol – How to Plan your Itinerary
Sit by the Parvati river
One of the things I like about Kasol is River Parvati. Kasol is situated very close to the bank of the River Parvati. Within minutes you can reach the Riverbank from several places in Kasol.
Sitting by the river is refreshing. Especially listening to the mellifluous sound of the river. You can get away from all the clamor of Kasol and spend some time in solitude. Just make sure you are at a safe spot and not too close to the river. You need to be extremely careful during monsoons. Undermining the flow of the Parvati can be fatal and you should be extremely careful while visiting in the monsoon months of July, August and September.
Hike to the nearby villages like Chalal, Choj, Katagla
Kasol is just like a tourist resort with a lot of hotels. You have to get out a bit to experience the splendid scenery. Fortunately, you have to walk just for a few minutes to experience the beauty of Kasol. To enhance your experience, you can hike to the nearby villages of Chalal, Katagla, and Choj. These places are quite picturesque. It takes around 30-45 minutes to reach them.
Also Read: Parvati Valley – How to Plan your Trip & What to See !
Satiate your taste buds with delectable cuisines
Kasol is home to several hippie cafes. There are so many good cafes in Kasol that it would probably take around three days if you were to cover them all. This is why Kasol is heaven for foodies. But they are a bit expensive, to be honest.
The prominent cuisine in Kasol is Israeli and middle eastern. Italian cuisine is quite ubiquitous in the cafes. The thing which remains common across all the cafes is extremely scrumptious delicacies that will surely satiate your taste buds. The famous cafes include Evergreen Cafe, little Italy, Jim Morrison's cafe, Moonlight cafe, Bhoj Cafe, Panj tara Cafe.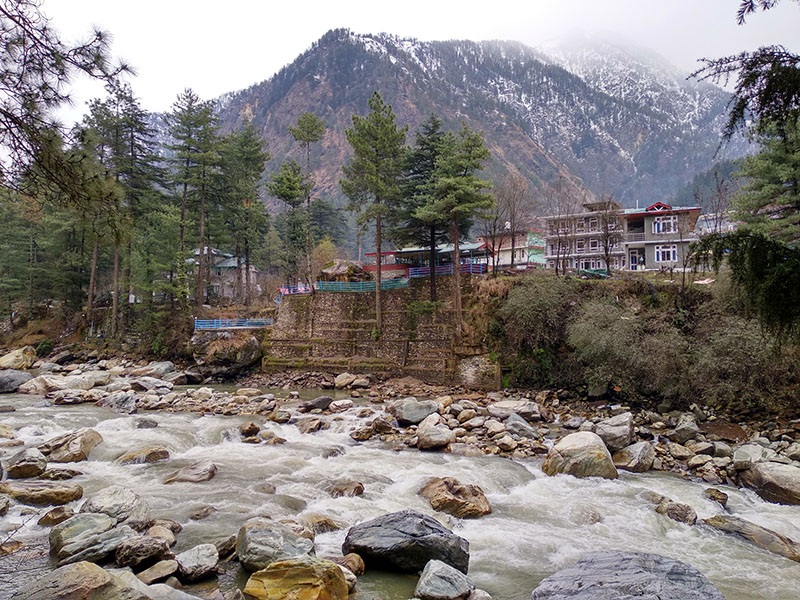 Trek to Sar pass
Sar pass is one of the well-known treks in Kasol. It's a beautiful 4-day trek which takes from Kasol to Barshaini. The vistas you observe on this trek are just impeccable. The initial part of the trek involves trudging in dense deodar, pine forest to reach the beautiful hamlet of Grahan.
As you climb further, you encounter several beautiful meadows en route to Sar pass. Finally, you cross the pass and descend to Barshaini while encountering exquisite meadows. The best time to do this trek is around early May. YHAI organizes this trek along with several other private trekking companies.
Also Read: Best time to Visit Kasol – When to go to Kasol
Hike to Magic Rasol
Rashol or Rasol used to be one of the best-kept secrets of Kasol. Things are certainly very different these days. Rashol is now one of the popular places to visit in Kasol. But even now, it remains isolated and is away from the maddening clamor of Kasol as it can be only reached on foot. For those looking for desolate places in the lap of nature, hiking to Rasol can be therapeutic.
Rashol can be reached from Kasol by a steep trudge. It takes around 4 hours to reach Rashol from Kasol. The hike to Rashol is quite rewarding with some exquisite views of Parvati. There are decent budget homestays in Rashol as the locals have realized its tourism potential.
I would recommend at least spending a night here if you are fit enough. If you are an adventure enthusiast, then you can attempt to reach Malana from Rashol via now forgotten Rashol pass.
Take a dip at hot water springs near Chalal Bridge
Hot water spring is something people look forward to in Kasol. Kheerganga and Manikaran are the more popular places where people prefer to take a dip in hot springs. But what you might not know is there are small hot springs near Chalal bring as well.
Yes, you heard it right. You don't even need to go to Manikaran or Kheerganga to take a dip in hot springs in the first place. Of course, the small sulfur hot springs near Chalal bridge are not as big as in Kheerganga or Manikaran. There is no separate men's and women's section, unlike Kheerganga or Manikaran.
Also Read: Kasol and Kheerganga Trip – A Mesmerizing Experience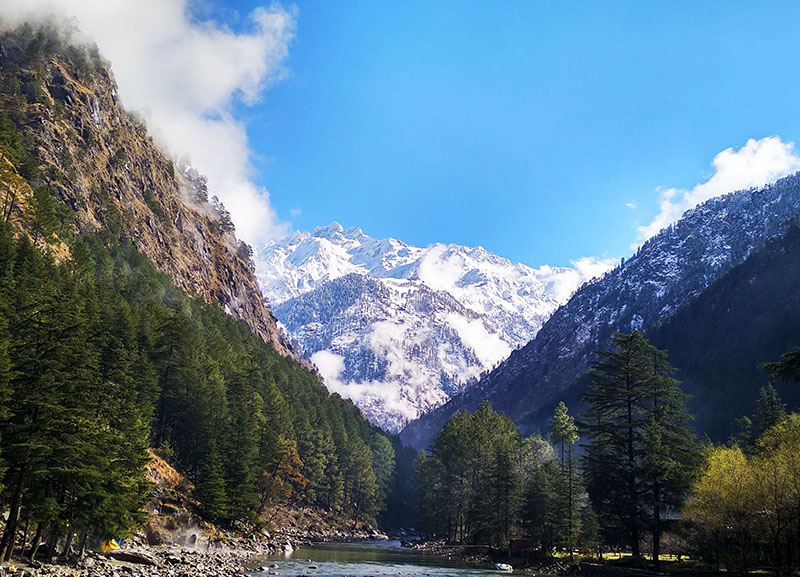 Trekking and hiking around Kasol
One of the best things to do when in Kasol is to trek. Kasol is perfect for avid trekkers and adventure connoisseurs. The landscapes that you get to witness in the upper reaches of Parvati while being on such treks are just otherworldly. Hikes around Kasol caters to everyone, be it a novice hike or an adept trekker. The months of October and November are considered to be the best time due to the try weather.
For beginners, Kheerganga near Barshaini is the perfect one. Intermediates can try out Sar pass trek, Waichin valley, Dev Ropa, Bun Buni pass. Experts can venture on the famous Pin Parvati pass, Mantalai lake, or less explored but not uncommon treks like Sara Umga La, Animal pass trek near Tosh.
Almost all these treks are not navigable during winters. So, the best time to embark on these treks would be towards the end of May and the whole of June and then after monsoon during September and early part of October. All these treks are covered in this blog. So, don't forget to check it out.
Places to visit in Kasol in 2 Days
If you were on a short trip and only had 2 days in Kasol, it would be better to cover only Kasol and nearby places like Chalal, and Katalga. Your will trip will be more relaxed and better this way. Just spend time in Kasol, enjoy good food, trek to Chalal and Katalga, take a dip in the hot water spring and it will be fun times.
If you wanted to explore, then you can spend day 1 in Kasol and then trek to either Malana or Tosh on Day 2.
Places to visit in Kasol in One Day
If you only had one day in hand, just walking around Kasol and to the nearby Chalal Village will be the best thing to do. Enjoy the restaurants, spend some time by the river, and relax in the beautiful setting of Kasol. Trying to explore any other places around Kasol will be neither possible nor recommended.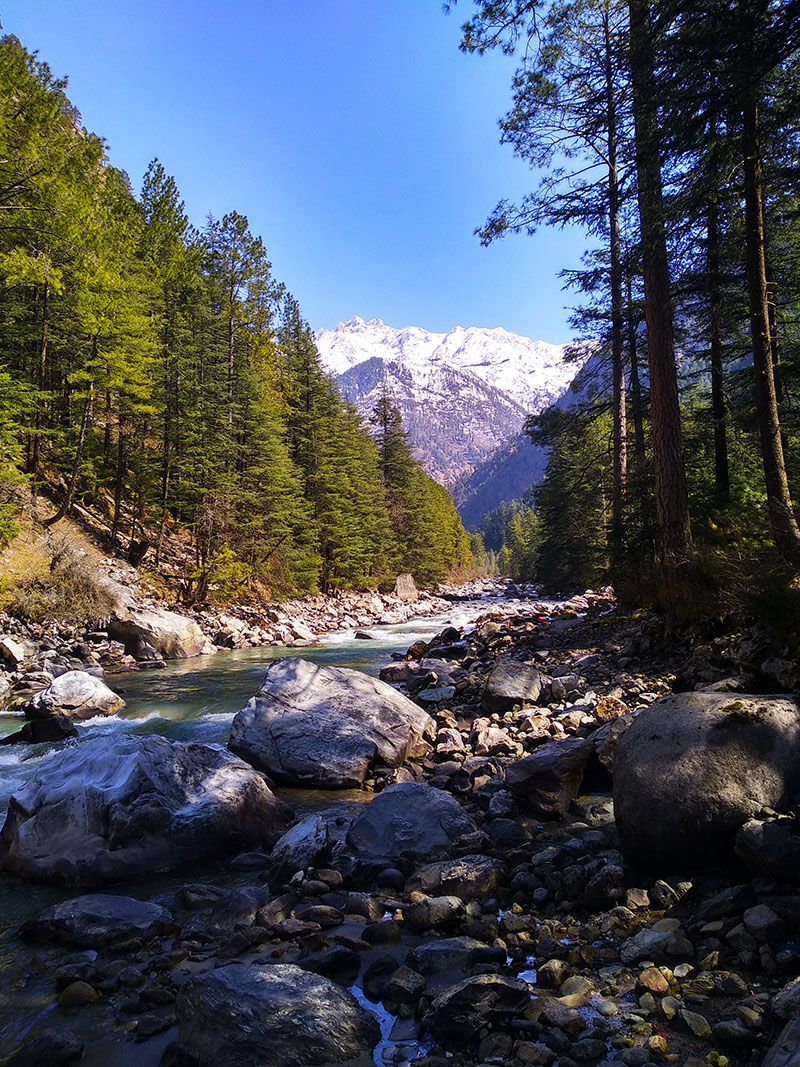 Places to visit in Kasol – Conclusion
I hope the information above on places to visit in Kasol and things to do was of help. If you have any questions or need any other details, please feel free to ask in the comments section below or at our Community Forum and I will be glad to answer.