If you actually think about it, there is no definitive or perfect answer to the question of the best time to visit Tosh. Why? Because it entirely depends on the reason for your visit. And this applies to not just Tosh but any other tourist destination as well. When to go to a place entirely depends on what you want to see or do there. Some other factors like how to reach and budget play a part as well but in the end, it all depends on when is it most suitable or convenient for you.
With that being said, there is a certain time of the year when every tourist spot receives the majority of its share of tourists. This is considered the best time to be there because it suits the majority of the people. Weather is usually the driving factor behind it. When we talk about Tosh, it is the months of April to June and September that can be called as the best time to go. But with this time suit you as well? Read on to find out.
For a complete travel guide on Tosh, please read How to Plan a Trip to Tosh Village. But for a small overview, Tosh is a small village in the Parvati Valley of Himachal Pradesh. It is located at a height of about 2,400 meters (7,900 ft) on a hill near Kasol. Manali is about 95 kilometers from here. The village is often described as a "traditional village turned hippie colony" and is a well-known place among backpackers. Apple farming and tourism is the main occupation of the people here.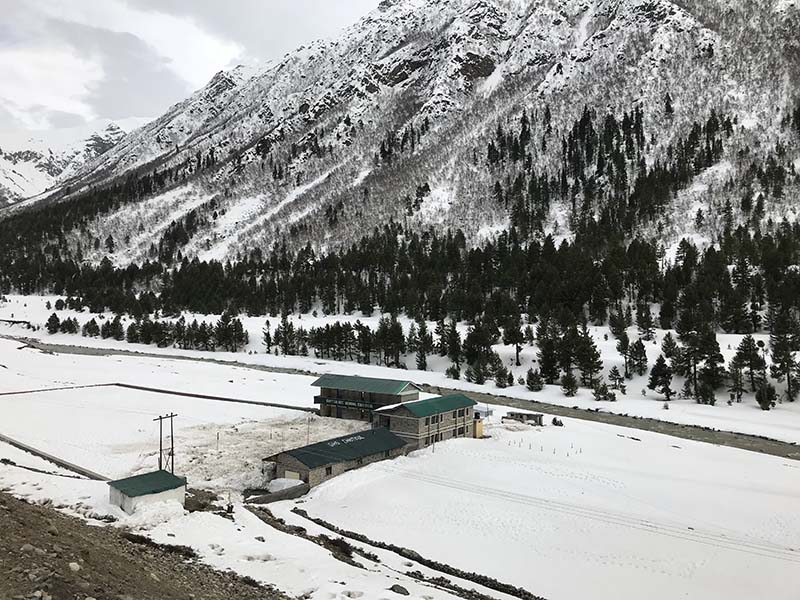 Best time to visit Tosh
Tosh is beautiful in every season. Though you may not be able to hike or trek at this time, the winter season has its own charm with heavy snowfall in and around Tosh; making it a perfect white wonderland. But as I said, every season in Tosh has its own colors and is a treat to watch.
Weather in Tosh Village
To understand the best time to visit Tosh, let us take a look at how the weather here trends in the year. For a list of local tourist attractions here, please read Places to visit in Tosh Village and Things to Do.
Tosh in May and June | Tosh in Summer
This is one of best times to visit Tosh because the weather at this time is very pleasant and delightful. The valley appears lush green and it is a perfect time to hike and trek around Tosh and Parvati valley in general. The only downside is that this is the peak tourist season as a lot of people arrive here looking to escape the harsh summers of the plains.
So if you are someone who does not like visiting crowded places and tends to avoid a lot of people around, then this is not a good time for you.
Also Read: How to Plan a Trip to Parvati Valley
Tosh in July and August | Tosh in Monsoon
Tosh, and all of Himachal Pradesh in general, receive substantial rainfall each year. Hence monsoons here are considered off-season in terms of tourism. It can be a little perilous for hiking and trekking as trails might become slippery due to constant rain. But with a little caution and proper gear, this can be one of the best times to explore Tosh.
On the positive side, the entire valley comes alive with flora and fauna and is the greenest during this period. It is also a great time to undertake any high-altitude treks near Tosh as most of the snow would have melted by this time. For photography as well, this can be considered a good time as you can capture some amazing landscapes in these months.
In recent years though, Himachal Pradesh has witnessed a surge in extreme floods, swollen rivers during monsoons; resulting in landslides and blocked roads near Barshaini area. So please do check the weather forecast before leaving home.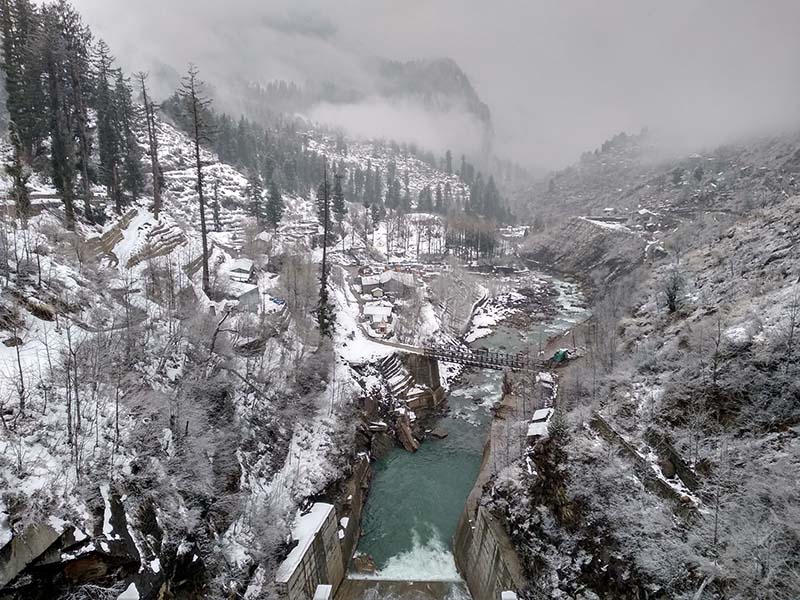 Tosh in September and October | Tosh in Autumn
The landscapes start turning golden brown during this period. One of the reasons why I like autumn is that at this time, the skies are very clear with mostly dry weather and pleasant temperatures. But with each passing autumn day, temperatures start to drop indicating that the winter is approaching.
Autumn can be a perfect time to hike and trek around Tosh as the trails are in crisp condition and are not slippery as it would have been during monsoons due to rains. Morning and nights tend to be colder and the days are extremely pleasant during autumn in Tosh.
September is more green because the monsoon would have just passed. On the other hand, October will have a lot of golden Orange in the trees. Both these months are a great time to visit Tosh to enjoy some good weather, great vistas and get some great pictures.
Also Read: Dharamkot – A Complete Travel Guide & Itinerary
Tosh in November, December, January and February | Tosh in Winter
Tosh experiences extremely severe winters with temperatures nose-diving to sub-zero from November itself. Most of the landscape appears to be impeccably white after heavy snowfall in and around Tosh; which makes it a perfect winter destination if you want to experience snow.
The November and December snow melts away quickly if there is no snowfall in the next few days. But once it snows heavily in January and February, it tends to remain for a longer period.
Chances of catching a live snowfall are more in January and early February. But snow on the ground is more in February. In my opinion, February would be the best winter month to visit Tosh as the snow keeps on accumulating from the previous snowfall with the landscapes being extremely beautiful.
Also Read: Solang Valley Travel Guide – How to Plan your Trip
Tosh in March April | Tosh in Spring
After brutal winters the valley slowly starts coming back to life with flowers blooming and the snow starting to melt in March.  There is however enough snow still on the mountains for landscapes to appear picturesque. Even spring can be a good time for short hikes around Tosh with trails no more blocked with the heavy snow. The temperatures are still cold but not as cold compared to winters.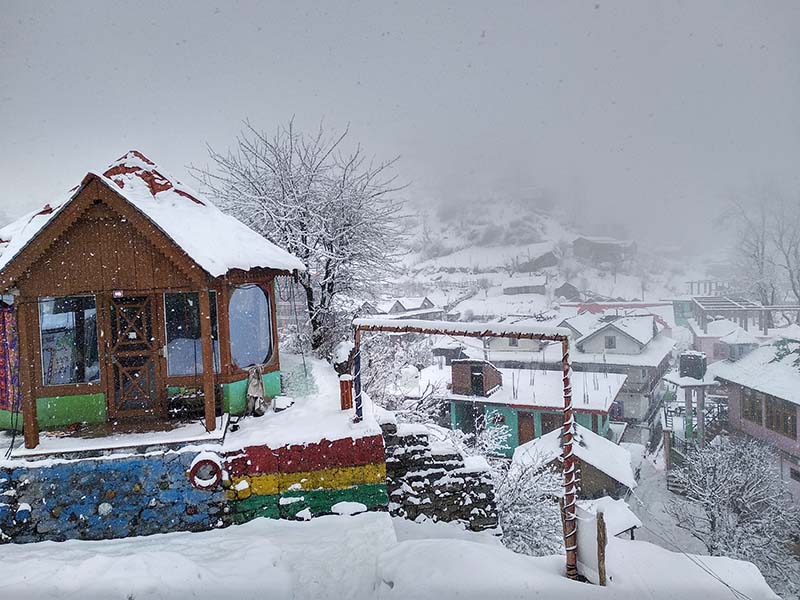 Best time to visit Tosh
Now based on the information above, I believe it is safe to assume that the months of February, April, May, June, September and early October are the best time to visit Tosh. Which one you pick from these is completely your call. If you want to find snow and possibly catch a live snowfall, go in February. For a family trip, plan in May or June. In terms of photography, you should plan in September or early October.
If cold weather is not something you prefer, then do not go between October to March. For a budget trip, you should go in July, August or November. If you were completely dependent on public transport, then plan between April to November.
Also Read: Kothi Village near Manali – How to Reach & What to See
Temperature in Tosh
Below is an overview of the average temperature in Tosh during the year. Please note though that these are just average numbers based on historical data. The temperature may be lower or higher than this depending on the weather and time of the day/night.
| | | |
| --- | --- | --- |
| Month | Avg. Minimum (°C) | Avg. Maximum (°C) |
| Tosh in January | -2 | 5 |
| Tosh in February | 0 | 8 |
| Tosh in March | 3 | 12 |
| Tosh in April | 8 | 17 |
| Tosh in May | 11 | 21 |
| Tosh in June | 13 | 23 |
| Tosh in July | 14 | 21 |
| Tosh in August | 13 | 21 |
| Tosh in September | 11 | 20 |
| Tosh in October | 7 | 16 |
| Tosh in November | 3 | 13 |
| Tosh in December | 0 | 9 |
Conclusion
I hope the information above on the best time to visit Tosh was of help. If you have any questions; or need any other details, please feel free to ask in the comments section below; or at our Community Forum; and I will be glad to answer.