Making a budget trip to Kasol in Parvati Valley is not really that difficult. In fact, being inexpensive is also one of the factors that helps drive tourism in this area. This is why it is a favorite among backpackers. If you planned your trip carefully, the overall cost of Kasol trip can be brought down significantly. In this article, I will provide a few tips on how you can do so.
Please note that in this article, I will only talk about Kasol trip budget. For other details like how to reach, where to stay, what to see etc, please take a look at How to Plan a Trip to Kasol – A Complete Travel Guide.
About Kasol
Kasol is a small village located in the Parvati Valley of Himachal Pradesh. It is in several ways the very heart of Parvati Valley. At an altitude of 1,580 meters (5,180 ft), the place is blessed with immense natural beauty and also acts as a base for several treks within and leading out of the Valley.
Kasol in recent years has gained tremendous popularity and the number of tourists here is on a rise. Due to a large number of Israeli tourists, it is also known as 'Mini Israel of India'. The place is well connected with a good motorable road and has regular public transport available. The nearest airport is only 30 kilometers away in Bhuntar and local commute within Parvati Valley is not that difficult either.
How to Plan a Budget Trip to Kasol
Keeping your Kasol trip within a tight budget is fairly easy. A lot of backpackers (especially Israelis) stay here on a long term basis. So the overall cost of accommodation and food is not that high. Local commute within the valley by public transport or on foot will also not be a budget concern. The only part where it can cost you a bit is getting in and out of the valley.
Not just Kasol but the budget of a trip anywhere can be broken down into the following factors.
Travel Cost
Local Commute
Accommodation
Food
Personal Expenses
Personal expense is something that no one can give you an idea of because it will entirely depend on you. But let me talk about how much it will cost you on a per-day basis for the other four factors. Multiply that with the total number of days of your trip and you will get your total cost of Kasol trip.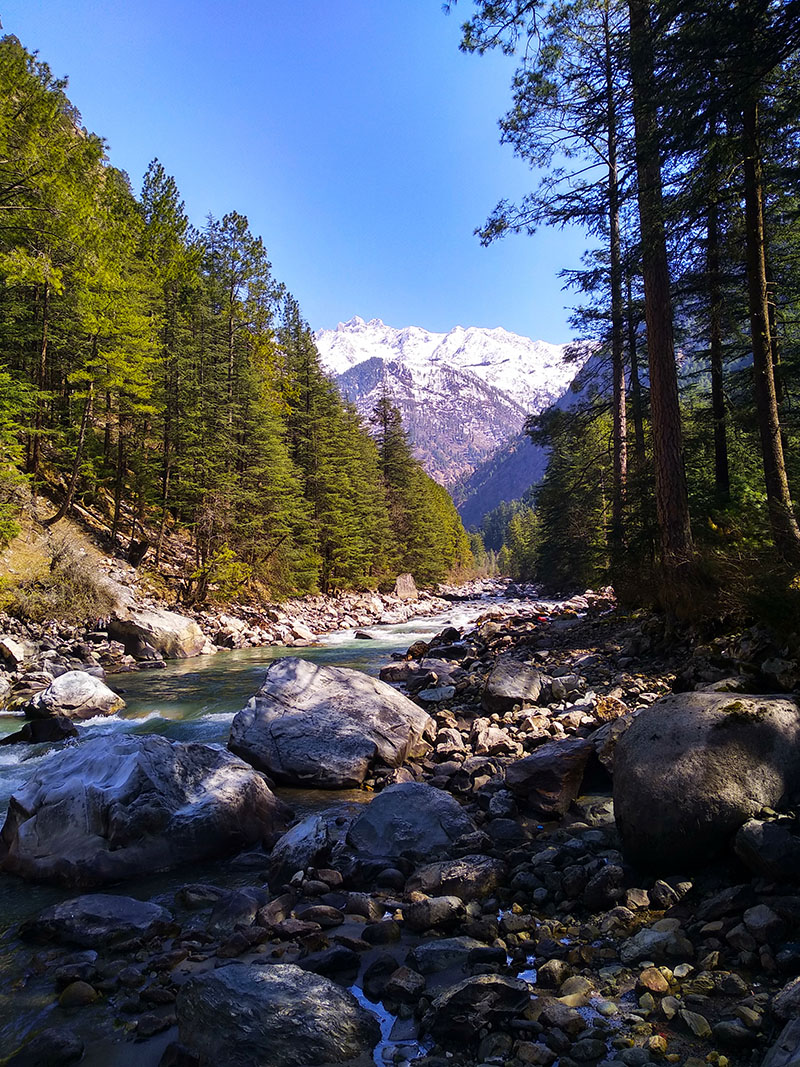 Itinerary for a Budget Trip to Kasol
Let me lay down an example of an itinerary for Kasol and then I will explain how much it will cost you to travel like this.
Delhi / Chandigarh to Kasol – Day 1
Sightseeing in Kasol – Day 2
Trek to Malana – Day 3
Kasol to Tosh – Day 4
Tosh to Kheerganga – Day 5
Kheerganga to Kasol – Day 6
Kasol to Delhi / Chandigarh – Day 7
Why this itinerary? Because this week-long plan covers the entire Parvati Valley (at least the major tourist spots) and will give you an idea of the per-day cost at all these places. The only areas left are the upper reaches of the valley and other villages. But if you decide to go there and spend some time, the per-day cost will come out to be the same as Kasol or Tosh. So you can just add a day there.
Kasol Travel Cost
Let us talk about how much the travel cost to and from Kasol will come out to be. This will be your major expenditure for the first and the last day of the trip.
By Privately Owned Vehicle
Since it is a budget trip we are talking about, I do not believe that you will be traveling by your own vehicle because that will just send the overall budget shooting to the skies. But it can be a good choice if you are in a larger group. For example, if you were a group of 5-6 friends, the fuel cost can be divided and will cost you about the same as traveling by public transport.
Delhi to Kasol is about 500 kilometers and Chandigarh is at a distance of 270 kilometers. If you were traveling from a different city, google the total kilometers between your starting point and Kasol. Divide that by your vehicle's fuel efficiency, multiply by price per liter for Diesel or Petrol and you will get the total fuel cost. Divide that among the group and you will have the per-person cost.
By Bus
Almost every budget traveler will opt to travel to Kasol by Bus because this is the most cost-effective mode of travel available. The town of Manali is not too far away from Kasol and there are regular buses available on the route by HRTC, HPTDC, and several private companies. No, I am not saying that you will have to go to Manali but boarding a Bus going in that direction will be the best choice.
Finding a bus for Manali from any of the cities nearby either in day or night is not going to be difficult. Traveling by this bus, you will get down at Bhuntar which falls on the way, about 50 kilometers from Manali.
At the Bhuntar bus stand, look for a bus going to either Kasol or Manikaran. The first bus from Bhuntar to Manikaran leaves in the morning at 7 AM and then there is a bus almost every hour. This is the bus you will board and get down at Kasol.
Fare per Person
If you were coming from Delhi, the fare per person of an ordinary HRTC Bus is about Rs. 800 for Manali. From Chandigarh, this fare is Rs. 500 per person. If you boarded the AC bus, the fare will come out to be around Rs. 1200 from Delhi. Tickets for a luxury bus will cost you about Rs. 1500 – 1600. Since you will buy a ticket for Bhuntar, it will cost you slightly less.
From Bhuntar, if you could not find a bus, shared taxis are also available on a regular basis. Your fare per person for this part will not be more than Rs. 50 per person.
From Chandigarh (or a city at a similar distance) the fare will be about Rs. 500 for an ordinary bus and Rs. 800 – 1000 for a luxury AC bus.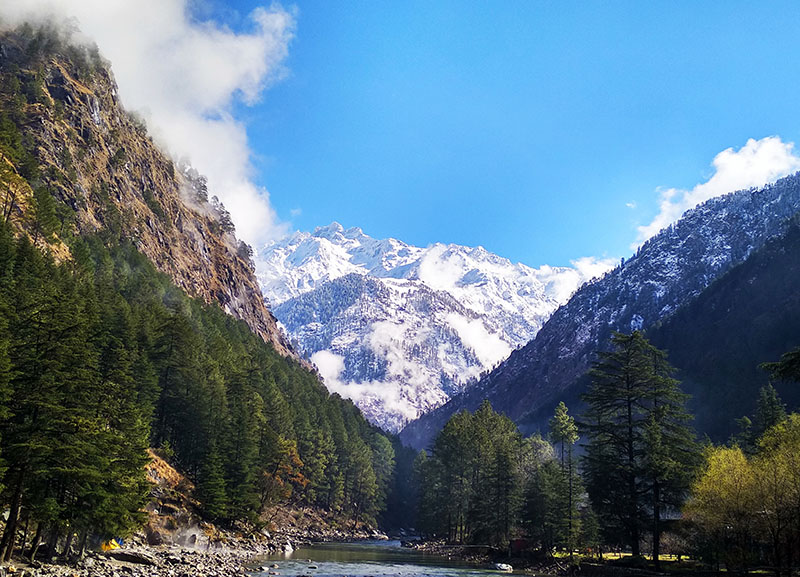 By Train
The bus calculation above was for someone coming from Delhi, Chandigarh, or a place at a similar distance. But if you were coming from a place like Bangalore, Mumbai, or Kolkata, then the first leg of your trip will have to be completed on a train.
The nearest railway station to Kasol is in Joginder Nagar, at a distance of about 125 kilometers. This however is a narrow gauge rail track, similar to the Shimla Kalka toy train. There is a single train that runs between Pathankot and Joginder Nagar.
I will not recommend traveling by this because it will cost you more time and money. From your city, you will first board a train for Pathankot. Then you will board this toy train for Joginder Nagar and then you will board a Bus for Kasol. Not really the most efficient way of travel.
A better choice hence will be to first reach either Delhi or Chandigarh by train. If you were able to find a direct train, Chandigarh will be a much better choice. Once you arrive at Chandigarh, reach the bus stand and board any bus going towards Manali (like I explained above).
Whatever money you spend on the train ticket from your city will be in addition to the bus fare I explained above.
Local Commute within Parvati Valley
Now let us take a look at the local commute within Parvati Valley. The best way to explore the places near Kasol is by foot and in some cases that is the only choice available. But you cannot of course go walking everywhere so let me break it down by places.
Chalal – It is a short walk away from Kasol. You do not need a vehicle for this.
Tosh – You can board a bus till Barshaini and then walk to Tosh. Fare per person is about Rs. 30. Shared cabs are also available.
Malana – You can board a bus from Kasol to drop you at Jari and then you will have to walk to Malana gate and the village. Hiring a taxi to drop you at the Malana gate will cost about Rs. 700 – 1000 from Kasol and can be a good option if you were in a large group to share the cost. For more details, please read How to Plan a Trip to Malana.
Kheerganga – You can board a bus for Barshaini and then will have to walk to Kheerganga. Take a look at Kheerganga Trek Travel Guide for more details.
Most of the other places like Rashol, Kalga, and Pulga villages will also have to be reached on foot. At an average though, your per day commute cost within Parvati Valley will rarely exceed Rs. 100 per person.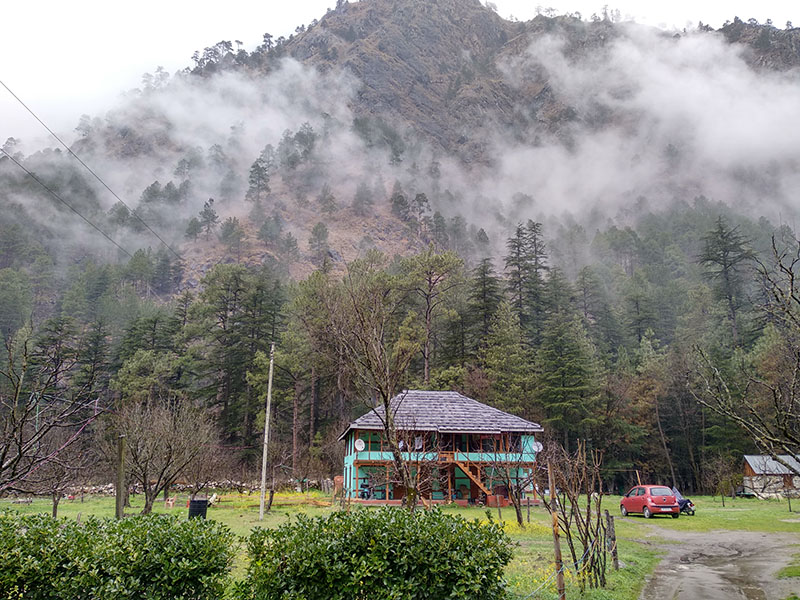 Accommodation Cost and Budget in Kasol
Every tourist destination develops in its own unique way. Some will attract people who can afford an expensive vacation while a few others will appeal to budget travelers. Kasol falls under the second category.
It is really a haven for backpackers and you will find people living here for months. Hence the entire place developed in a way to accommodate tourism like that. Your options for stay in Parvati Valley are a mix of hotels, guest houses, hostels, dormitories, and homestays. At an average, your total living cost will come out to be Rs. 500 per day.
This will also vary depending on several factors like your time of arrival, the place you were staying at, and your own negotiation skills. In peak tourist season, if there were a lot of people in the valley, this may go up by a couple of hundred bucks. Places like Tosh and Kheerganga will cost you a little more. The dormitories however will cost about Rs 300 per person.
Keeping everything in mind, assuming a number of Rs. 500 per day as hotel cost in Kasol will be a safer bet. If you arrived in tourist season and hotels in Kasol were charging, you should try walking to Chalal and look for a place there.
Food Cost in Kasol
One of the best things about visiting Kasol is food. There is a vast variety of restaurants and the food they serve here is simply amazing. You must try the Israeli food during the trip. The only other place where I have seen so many places to eat is Mcleodganj. In my opinion, the food options here are even better than Manali.
But this does not mean that you will end up spending a fortune on your daily meals. Fancy restaurants are available as well which may cost a little more. But for budget travelers, you can easily manage a day in Kasol spending about Rs. 300 – 400 for food. There are a lot of dhabas and eateries where the food prices are very reasonable.
Other places in Parvati Valley may cost you a little more, like Kheerganga and Tosh but nothing too significant. If you were staying at a homestay, negotiating a price that includes both food and lodging would be a wise decision.
Personal Expenses
This is something that will entirely depend on you. But since you are a budget traveler, I do not assume that you will be interested in attending parties or shopping. But if you do, you can attend a rave party if it fits into your budget. For shopping, you can try buying some cheap T-Shirts or trinkets as souvenirs.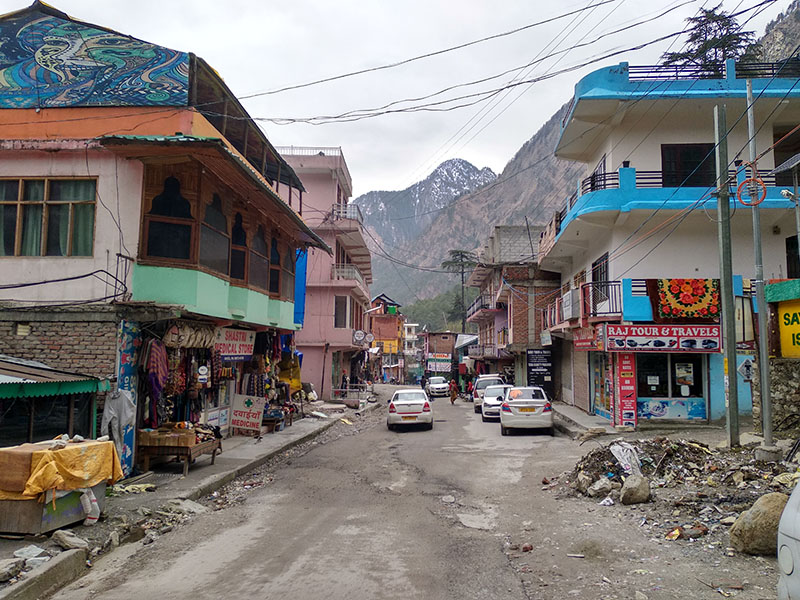 Budget for Kasol Trip
Now let us put this all together and take a look at how much the 8 days long trip above will cost you.
Delhi to Kasol – Day 1
Assuming that you boarded an ordinary HRTC bus for Kasol, you can easily manage this day in under Rs. 1000. This will also include the money you will spend on meals during the journey. If you were coming from a city even farther, any money that you spent on the train ticket and travel expenses will be in addition to this cost.
Sightseeing in Kasol – Day 2
The total cost of this day will again be under Rs. 1000. This will include an average of Rs. 500 for hotels and Rs. 300 – Rs. 400 for meals, snacks, tea, coffee, and other personal expenses. If you found accommodation for a lesser price and ate at an even cheaper place, the cost will be even less.
Trek to Malana – Day 3
This day will cost you between Rs. 800 – Rs. 1000. You will keep your hotel in Kasol since you cannot stay in Malana overnight and will have to return to Kasol by evening. Buy some snacks to eat while trekking and carry water as well.
Kasol to Tosh – Day 4
The cost of this day will come out to be close to Rs. 1000. This will include your accommodation cost in Tosh, food, and the travel cost to Barshaini.
Tosh to Kheerganga – Day 5
This day may cost a little more or less, depending entirely on you. If there was no accommodation available at Kheerganga (the tents were removed by court order), you will have to make arrangements for self camping. In this case, it will surely cost a couple of thousands.
A cheaper option will be the Aashram at Kheerganga. They offer dormitory-type accommodation and you can get a bed for a night for Rs. 100 or 200 at most.
If not the Aashram,  I will recommend that you do not stay at Kheerganga and trek back down to Rudranag temple. There are a couple of cafes near the temple that offer cheap overnight stay. The temple also has a Dharamshala where you can stay for the night.
Kheerganga to Kasol – Day 6
The total cost of this day will again be under Rs. 1000. You will trek down from Kheerganga to Kasol and stay there for the night.
Kasol to Delhi / Chandigarh – Day 7
You will travel from Kasol to Bhuntar and then board the ordinary bus for Delhi or Chandigarh. The total cost including the fare per person and food will come out close to Rs. 1000.
Cost of Living in Kasol
If you chose your time of the travel wisely, stayed, and ate at cost-effective places, you can easily manage your day in Kasol between Rs. 800 to Rs. 1000.
Solo Trip to Kasol Budget
The total of a 5 days trip from Delhi or Chandigarh to Kasol will come out to be around Rs. 5000. If you were traveling by your own vehicle, you will have to add the total or per person fuel price to this figure. If you were coming from a place like Delhi, Kolkata, Mumbai, any money spent on traveling to and from Delhi will be in addition.
Zero Budget trip from Delhi to Kasol
At least 3 people have asked me about this and honestly, I have no idea how this can be done. I am into travel blogging and a couple of hotels in Kasol have offered me a free stay in exchange for advertising on the blog. But they also just offered me a free stay only. Travel costs and meals had to be paid by me. I agree that you can be a backpacker but traveling to a place without spending a penny out of your pocket is beyond me.
So if you did find out about a zero budget trip to Kasol, please be kind enough and do leave a comment informing me how you managed it. I will also definitely try it.
Budget Trip to Kasol – Conclusion
I hope the information I provided on planning a budget trip to Kasol was of help. If you have any questions or need any other details, please feel free to ask in the comments section below or at our Community Forum and I will be glad to answer.