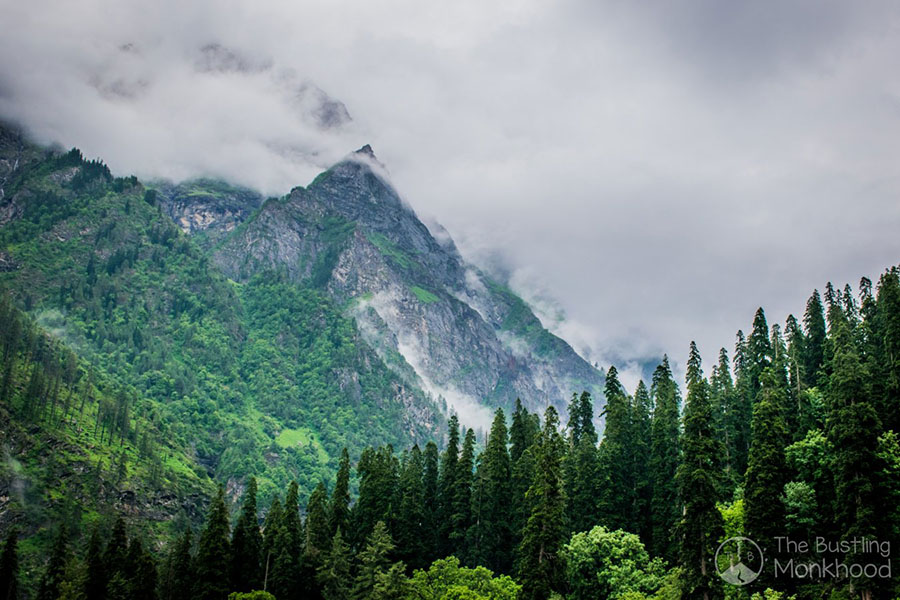 When is the best time to visit Kheerganga? Are you planning to undertake this awesome trek but weren't sure when to go? Hopefully, this article will help you get an answer to this question and figure out the best time for Kheerganga trek.
Kheerganga is among the most sought after and immensely popular treks in our country. The short duration, easy to moderate climb, superb atmosphere, and stunning scenery makes it a favorite for people looking forward to adding a pinch of adventure to their next trip.
It caters to all kinds of trekkers and backpackers and offers an experience that is one of a kind. From people who have never gone trekking to the ones who have done plenty of serious treks, you will find them all having a great time at Kheerganga.
Please note that in this article, I am only going to talk about the best time to visit Kheerganga. For more details like how to plan, the best route, trekking time, and how much it will cost, please read How to Plan a Trip to Kheerganga – A Complete Travel Guide.
About Kheerganga
Kheerganga, also spelled as Kheer Ganga or Khir Ganga, is a high altitude meadow situated in the Parvati Valley of Himachal Pradesh. It is located at an altitude of 2690 meters and falls under the Great Himalayan National Park, a protected forest area. It falls on the Pin Parvati Pass trek route and also acts as a stopover for people attempting the trek.
But more than anything, what puts Kheerganga on the tourist map is its hot water spring. Sitting in the middle of a high altitude meadow and in the cold weather, this geothermal spring is quite an attraction in itself. Bathing arrangements have been made by the locals where tourists can even take a dip in its lukewarm water.
The trek starts from Barshaini village and then runs for a total of 12 kilometers through a dense forest to Kheerganga. The motorable road ends at Barshanini and regular bus service is available on the route to get there. After Barshaini, there are two routes that a person can take. One goes through Kalga village and the other goes through Nakthan Village. A third route also exists from Tosh village but it later merges into Nakthan route only.
The total trek time from Barshaini to Kheerganga is about 5 to 6 hours.
Also Read: Weekend Trip to Kasol – How to Plan your Itinerary
Weather of Kheerganga
Owing to its altitude and location, the weather of Kheerganga ranges between being pleasant to freezing cold. It never gets hot here (unless you were sitting in the hot water spring). Summers are pleasantly cold, monsoon is terribly wet and winters freezing cold. The temperature is really unpredictable and changes drastically bases on the month, time of the day, and your location. Below is a month by month breakdown of when can it be a good time for you to visit Kheerganga trek.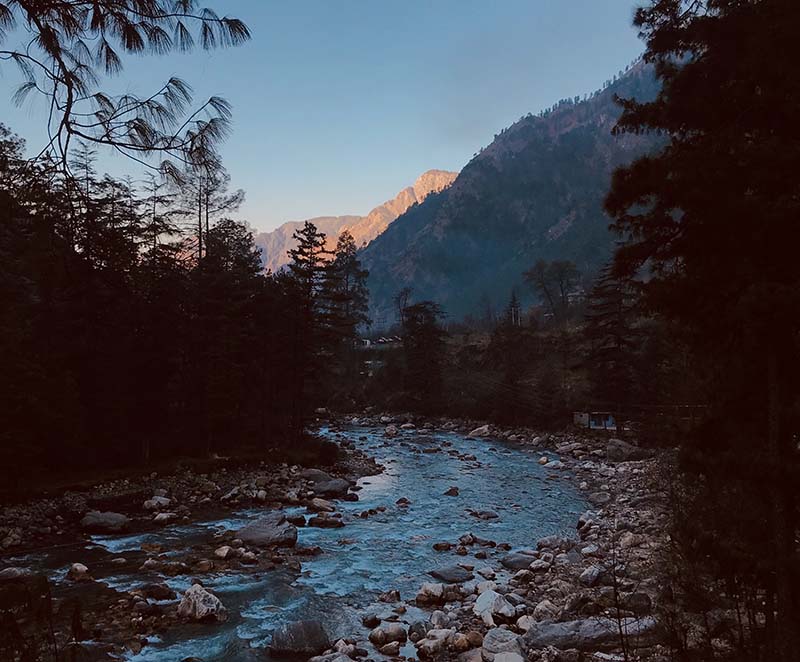 Kheerganga Trek in January
Whether you can attempt Kheerganga trek in January depends entirely on the weather. This is the coldest month of the year with the temperature falling to as low as -5°C. Hence, this is also the time when this entire region receives the maximum amount of snow. Sometimes the trail can be buried under 4 to 5 ft of snow. If the weather turned worse, it may even get closed temporarily for safety reasons.
With that being said, it is the best time to see a snow-covered Parvati Valley. If you were lucky, you may even catch a snowfall while you were here. But once it starts to snow, trekking will get a little difficult and you may want to consider hiring a local guide. It is best advised to call ahead and find out about the weather conditions and if the trek was open or not before you leave home.
The average temperature in January will range between 2°C maximum and -5°C minimum. This is the best time to visit Kheerganga if you want to catch a live snowfall.
Kheerganga Trek in February
The weather condition in February will mostly be the same as January. However, the snow on the ground will be a bit more this month. The snowfall will continue well into February as well and the average temperature will range between 5°C maximum and 0°C minimum at an average. Please note though that I am quoting the average numbers here and it will be different between day and night. At night, it may and probably will fall a few more degrees below 0.
February is another good month to go if the snow was on your mind. If this was your first ever trek, I will not recommend attempting it and wait for a couple of months more.
Also Read: Kasol and Kheerganga Trip – A Mesmerizing Experience
Kheerganga Trek in March
March is probably the best time to visit Kheerganga in the winter season. The weather would have improved a little and you will still find snow around, at least at the top. Things will warm up a little with an average temperature ranging between 8°C maximum and 5°C minimum. Chances of snowfall will remain in this month as well, at least around the top.
For a trip in the winter months, you must bring your winter gear. This will include woolens, jackets, warmers, and snow boots. You cannot put on too many or heavy clothes that will just make trekking for 6 hours impossible. But at the same time, you cannot bring cotton clothes because then you will simply freeze.
Go through what you have and make a wise decision. Wear warmers that are effective and comfortable. Then put on some light woolens and carry a jacket that is warm but not too heavy.
You must think about the shoes you want to bring. Walking with snow getting into your shoes and wet feet will just send you back an hour in the trek. Bringing a trekking pole is also highly advised.
March is the best time to visit Kheerganga if you want to see snow but do not risk extreme weather.
Kheerganga Trek in April
Snow starts to melt in the month of March and is mostly all gone in April, except for a few small patches here and there. April marks the beginning of the tourist season in Parvati Valley and Kheerganga as well. There is a high chance that if you went in the first week of April, you may actually get to see a snowfall still.
The average temperature in April will range between 15°C maximum and 5°C minimum in April. You will find a lot of trekkers on the trail at this time. This is also a good month of photography because the water from the melting snow will feed the meadows and turn them green. The only downside is that due to the tourist season, prices of almost everything will rise up.
Also Read: Malana Village – A COMPLETE Travel Guide & Itinerary
Kheerganga Trek in May
This is another great time to trek to Kheerganga in terms of the weather. Days will be moderately warm and nights pleasantly cold. The entire Parvati Valley will be open for tourism this month. So other than Kheerganga, you can also spend time in places like Kasol, Malana, and Tosh. The average temperature in the month of May ranges between a maximum of 21 °C and a minimum of 11 °C.
This is also when the trek and the entire region for that matter may feel a little crowded. You will find a lot of tourists in Kasol at this time. With school vacations on, even families travel to Parvati Valley in May and June. As a result, this is not a good time for anyone wanting to avoid the crowd. I visited Kheerganga in May a couple of years ago and there were a lot of people on the trail and even at the top. In terms of budget as well, things are bound to be a little costly at this time.
Kheerganga Trek in June
The average temperature in June will be 23 °C maximum and 13 °C minimum, making it the warmest month in the year. You can easily complete the trek wearing a regular cotton T-Shirt and shorts but will need a light jacket for the evening though.
This is also the safest time to attempt the trek. With a lot of people around, help will always be available if needed. Places to stay will also not be hard to find. At this time, you will find people on the trail not only the ones going to Kheerganga but also to Pin Parvati Pass.
In terms of view, things may seem a little dull and dry in both May and June. If you are into photography or want to see lush green hills, you may be a little disappointed.
Kheerganga Trek in July
Parvati Valley starts to receive pre-monsoon showers towards the end of June and July officially marks the beginning of the monsoon season. The first half of the month is considered to be a comparatively safer time because after that, until early September, rains can wreak havoc in this region. You may have to face landslides, and blocked roads that can very well hamper your trek.
Also Read: Trekking in Parvati Valley – A COMPLETE Travel Guide
Even if things did not go that extreme, walking on a slippery trail with the rain beating down on your head is not that much fun. But if you are planning to go in July, ensure that you are carrying proper rain gear and waterproof everything. It would also be wise to call ahead and inquire about the weather and trek conditions before you leave home.
The average temperature in July remains around 21 °C maximum and 14 °C minimum.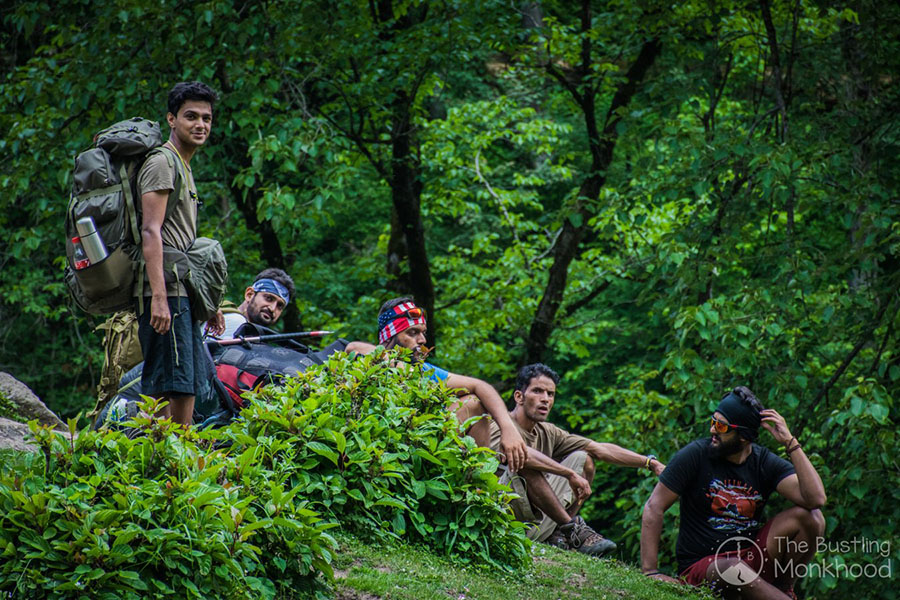 Kheerganga in August
With all that I said above about the monsoon season, there is a certain upside to it as well. The views that you get in the monsoon season are unparalleled. This is when the mountains really come alive. Everything would seem as if it has just been washed clean and covered with a carpet of green. With flowers of all kinds blooming all around, it truly turns into a sight to behold. If you are ready to risk the rain and don't mind getting wet, this is when you will get the best shots of Parvati Valley.
The average temperature in August ranges between 21 °C maximum and 13 °C minimum. With all the continuous rain, slush and water, this is probably the most difficult month to trek to Khherganga, second only to the winter season.
Also Read: Parvati Valley Trip Itinerary – The Best Way to Plan your Trip
Kheerganga in September
This in my opinion is the best month to visit Kheerganga. The weather at this time is just about perfect. Monsoon will be gone but would have left plenty of greenery behind. Vistas will be heavenly and the temperature will range between 20 °C maximum and 11 °C minimum. If you went in the earlier part of the month, there is a high chance that you may still encounter rain.
Another thing that you must remember about monsoon is that if the weather was turning extreme, you may not find anyone at all on the trail and at Kheerganga. So please find out about the weather and take a calculated risk. Waterproof everything and carry additional plastic bags to put your wallet, phone, watch, documents, etc in. Buy a poncho that can handle a few hours of rain without giving in. A trekking pole can also be very helpful.
Kheerganga in October
October marks the arrival of the autumn season. All that was green in September now turns Orange. This is another good month for photography. The average temperature will drop further down to 16 °C maximum and 7 °C minimum. October is usually a very dry month which makes it great for trekking. The trail will be all open, it won't be too cold and the views of the distance peaks will be all clear.
Not many people attempt the Pin Parvati trek in October which means that the trail will also be a little less crowded.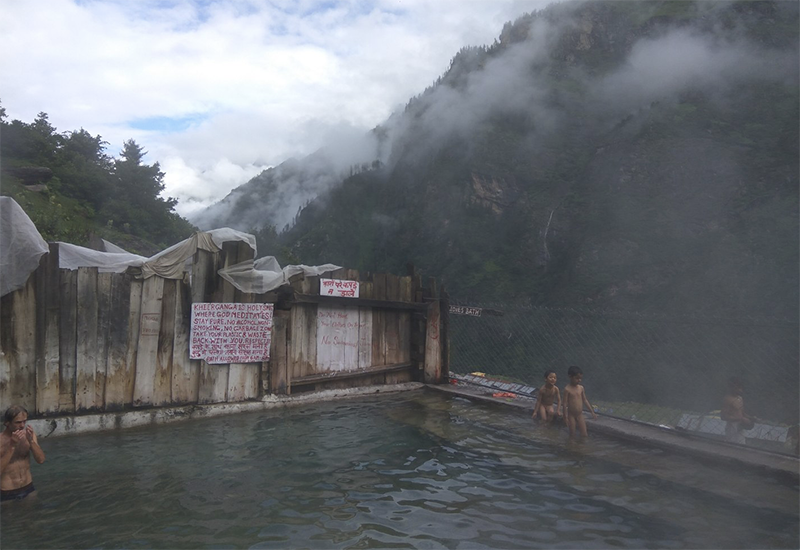 Kheerganga in November
November is officially the beginning of the winter season. The temperature will drop by each passing day. At an average, in November it ranges between 10 °C maximum and 3 °C minimum. November is another dry month and it is great for trekking since it doesn't snow here until December. But in terms of scenery, it is very dull and featureless which may disappoint a lot of people.
I personally think that November is a bad month to plan the trip. The views will be very boring, it will be terribly cold and there won't even be any snow around.
Also Read: Tosh Village – A Comprehensive Travel Guide & Itinerary
Kheerganga in December
It usually starts to snow in Parvati Valley after the 15th of December but chances of a snowfall remain throughout the month. The average temperature will drop further down to 6°C maximum and 0°C minimum. You should pack well and carry thermals, gloves, light woolens, and a light but warm jacket. If you were planning for the latter part of the month, make sure you are bringing shoes that are capable of surviving the snow.
Best time for Kheerganga Trek
Now based on the information above, I believe it is safe to say that the months of April to June are the best time to visit Kheerganga. This is the safest time and the weather in these months will suit everyone.
But it will also depend on what kind of trip you were looking forward to. If you wanted to do a winter trek and see snow, you should plan from January to March. If you wanted to catch a live snowfall, January and early February will be best.
For a photography visit, September will be the best month. If you were on a limited budget, you should think about visiting in November or in the monsoon months.
Conclusion
I hope the information above on the best time to visit Kheerganga trek was of help. If you have any questions or need any other details, please feel free to ask in the comments section below, or at our Community Forum, and I will be glad to answer.