The very name of Malana Village invokes interest and for several good reasons. It carries a 'mysterious' image that draws thousands of tourists to it each year. Natural beauty, strange customs, Malana cream, hippie culture, offbeat destination, trekking, photography, and the list of the tourist attractions in Malana goes on and on. If you were planning a visit here anytime soon and were wondering what to do in Malana, then list below is a list of best places to visit in Malana Village and the region around it.
To be honest, Malana in itself considered as a tourist attraction of Parvati Valley. There isn't much to do around here. It is just a tiny village that can cater to only a specific kind of tourist crowd.
Why a specific kind? Because reaching the village involves an uphill steep walk which you will also have to cover downhill on the same day. You cannot stay in the village, cannot click pictures, and cannot even touch anything there. So more or less, you just trek to the village, see the sights and return. I have covered all this information in great detail at A Complete Travel Guide to Malana Village.
This is why a trip here is not everyone's cup of tea. If your idea a trip is to do plenty of shopping, adventure activities, eat out, relax and party around, then you are better off sticking with places like Manali and Kasol. If you however want to see some amazing vistas, natural beauty, a completely different kind of culture then welcome to Malana.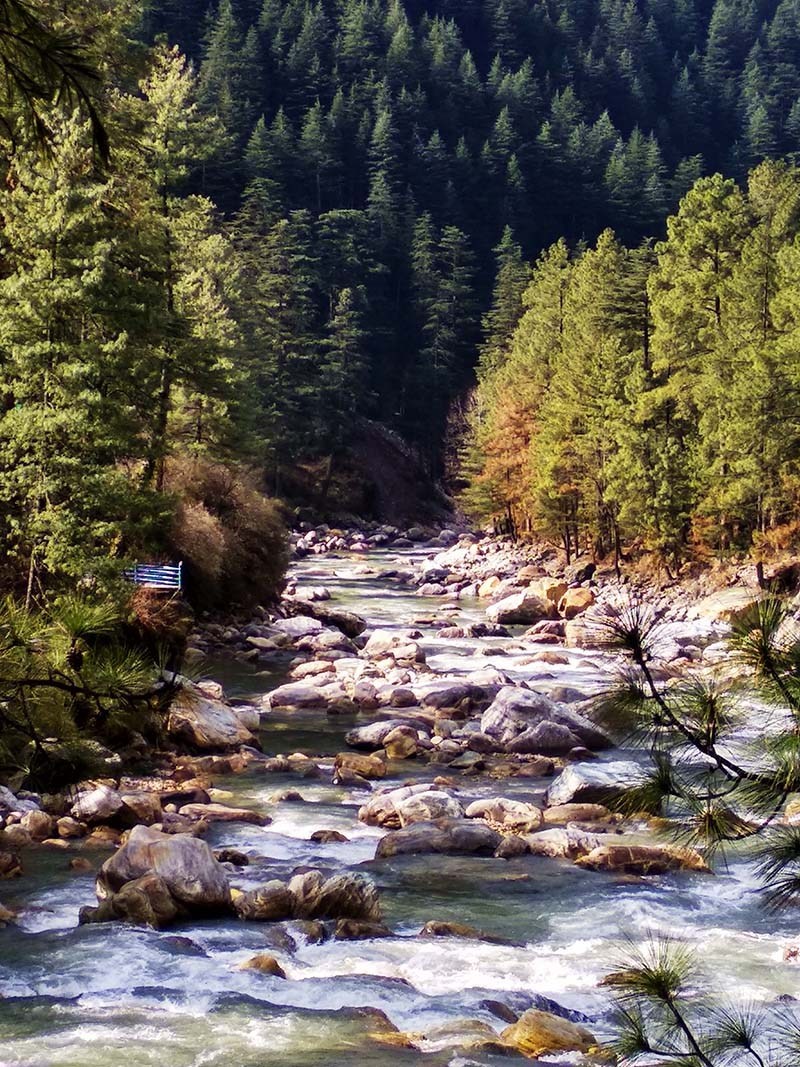 Places to Visit in Malana Village
I will first talk about places to visit and things to do in and around the village itself. After that, I will move on to some other places that you can visit near the village, other destinations of Parvati Valley.
Natural Beauty of Malana
Your first destination will be none other than the village itself. Sitting at an altitude of 2,652 meters, surrounded by lush green mountains and with the Malana River flowing beside it, this village is truly a sight to behold. The natural beauty here is in plenty like many other villages of Himachal.
Jamadagni Temple
There is a temple in the village dedicated to Rishi Jamadagni. Built of wood and stone and located in the center of the village, the temple is really an architectural beauty. The catch however is that you can only view the temple from outside and cannot enter it. You cannot also touch anything in the temple (not even the walls) and will have to seek permission before clicking pictures of it.
Renuka Devi Temple
Another temple in the village is dedicated to goddess Renuka Devi. It is located on the slopes of the mountain in the lower region of Malana. You can get here after a small trek from the village. Just ask any of the villagers and they point you in the right direction.  You will also find remains of animals sacrificed at the temple placed on its outer walls.
Malana Cream
This is definitely one of the greatest tourist attractions of Malana because a lot of people come here looking for it. I am not saying that you try or buy it but when you are in Malana, you are in a place known for growing world's best weed, known as Malana Cream;  a strain of Cannabis hashish. It is freely available for purchase in the village and you will find even kids as young as 10-12 years old selling it. Please note though that possession of Hashish is illegal in India and if you were found with it, you can face some serious jail time and fine.
The Culture of Malana
But what truly sets Malana apart and bring the majority of the visitors here are its culture and traditions. Natural beauty and beautiful temples are there in other towns of Himachal as well and not everyone wants to smoke weed. Tourists instead come here wanting to see the village that they have heard and read so much about. Listed below are some traditions practiced in Malana that you will not see anywhere else.
Touch Me Not
The first rule of Malana is that the outsiders are not allowed to touch the villagers or their belongings without permission. They will talk to you, laugh with you and be friendly but will also immediately impose a fine if you touched anything. Even if you bought something from the village shop, the shopkeeper will not take the money directly from your hand. He will ask you to put it on the counter and will then put the goods on the counter for you to pick them up; a strict 'No Physical Contact' policy.
What happens if a villager accidentally comes in contact with you? He will immediately run to take a bath. Why do they do that? Read on to find out.
Also Read: Road Trip to Kinnaur Valley – Kalpa, Chitkul, Sarahan, Theog
The Greek Heritage
People of Malana consider themselves to be the direct descendants of Alexander the Great. In this way, they believe that they belong to a superior 'Aryan race' and hence, are better than others. This is why they avoid all physical contact with the outside world in order to keep their bloodlines pure and heritage intact.
It is said that some soldiers of Alexander took shelter here after being wounded in the war against Porus, the king of Punjab. Those soldiers stayed here forever and Malana came into being as a village.
Local Justice
Even today, the local court system of the village resembles the ancient Greek system. Police are not allowed inside and the villagers settle their dispute among themselves, on their own. Even as a tourist, if you have any concerns, you will need to talk to the village superior about it and cannot bring the police. If you do, you will be fined.
How do they settle their matters? There is a strange custom around it with a godly intervention. In case of a conflict, both parties involved bring a lamb of their own. A deep cut is made in the forelegs of both the lambs and poison is inserted inside the cut. The party whose lamb dies first loses the case. Strange and somewhat cruel? I agree.
No Outsiders
Rishi Jamdagni, fondly called Jamlu Devta, is the village deity that the people of Malana worship. Some time ago, they started to allow tourists to stay overnight. Some guesthouses were constructed and villagers even let people stay as paying guests in their homes. This is said to have upset Jamlu Rishi terribly and he commanded the villagers that this must stop.
Since then, they do not allow any outsider to stay in the village after dark. You can visit Malana during the day but must come back down before dark.
Also Read: Bike Trip to Dharamshala and Mcleodganj with Friends
Architecture
Another interesting thing to observe in the village is the architecture of the houses. They are all two or three storied buildings built in the same manner.
The ground floor, known as Khudang, is used as cattle shed and for storing firewood and fodder.
The first floor, known as Gaying, is used for storing household items like food, clothes, and other belongings.
The top floor, known as Pati, is where people live.
The inside of the house walls is plastered with mud while the outer sides are all wood.
Village School
There is only one primary Government school in the village and that is where all the kids go. It is manned by only one teacher who teaches all the kids and all subjects.
Kids here tend to drop out after primary education. There is a senior secondary school as well that has different teachers for different subjects like science and history. But only a handful of students attend the classes here.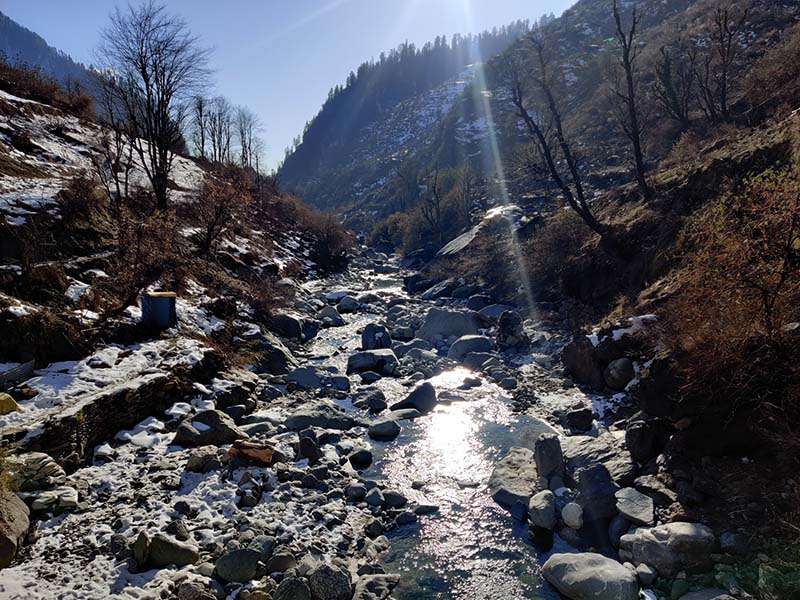 Festivals of Malana
There are two festivals celebrated in Malana Village. One is called Malana Fagli and the other one as Malana Shaun Festival.
Malana Fagli
This is celebrated in the month of February and is marked by masked dances. A group of villagers dressed in nothing but cannabis leaves and masks dances around the village houses, spreading cow dung on them. This is followed by a procession of Mughal Emperor Akbar that is taken out by the villagers.
It is said that Akbar once fell critically ill. On one of his minister's recommendation, he visited Malana village looking to be cured. He stayed here for a few months and returned to Delhi fully recovered from his illness. As a token of gratitude, he freed Malana from any form of tax that his government was collecting. As long as the Mughal rule remained, people of Malana never paid any tax and for this, they hold Akbar in high regard.
Also Read: Bike Trip to Chitkul in Winter – Delhi to Chitkul Bike Trip
Malana Shaun Festival
Malana Shaun Festival is celebrated on the 15th of August every year. On this day, the villagers perform their local dance, Nati, and offer their fresh grown crops to the god as a gift. People from all over the Parvati Valley and other parts of the state come here on this day to attend the celebrations.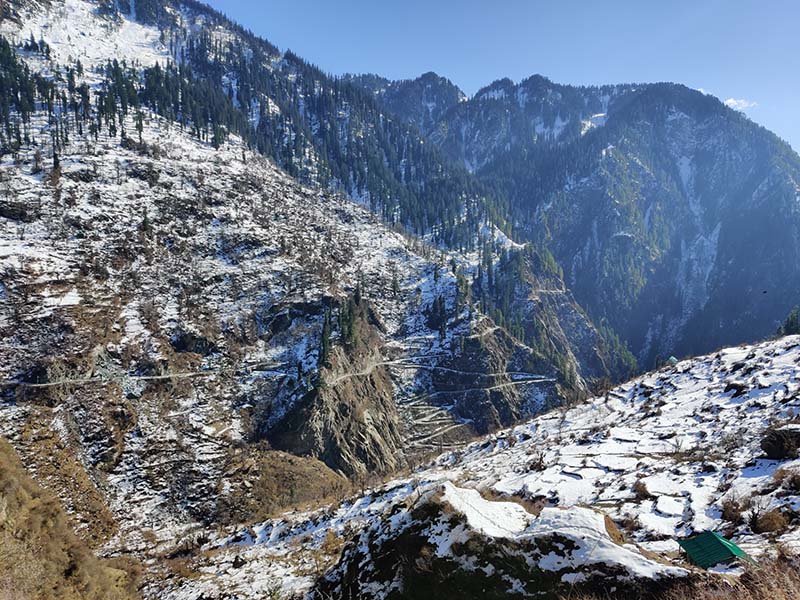 Tourist Places near Malana
Now all these were places that can be termed as main sightseeing in Malana. But as I said, Malana is really a one-day affair. You go to the village in the morning, walk around, do some sightseeing in Malana and return before dark. Since you cannot stay there overnight, you will have to stay in some other town in Parvati Valley.
And this is why I initially said that a trip to Malana cannot be a standalone affair. The village itself is a part of a trip to Parvati valley, covering places like Kasol and Tosh. I would recommend taking a look at A Complete Travel Guide to Parvati Valley for more details on this.
So while you were there, below is a list of some other places that you can visit around Malana.
Kasol
Kasol is pretty much the heart of Parvati Valley. It is most commonly called as mini Israel of India; and the prime reason for this is the presence of too many Israelis in the region. The place is best known for its good food, parties, amazing views, trekking and much more. This is usually the first destination for everyone coming to Parvati Valley. For more information, please read How to Plan a Trip to Kasol.
Also Read: Best Time to Visit Malana – When to Visit Malana and Kasol
Chalal
If you are someone who loves quiet places, then this is a perfect getaway for you, much better than a crowded Kasol. Chalal can be reached only on foot through and takes about 30 minutes from Kasol.
Tosh
This is the second most popular place in Parvati Valley, after Kasol. It is perched at an altitude of 2400 meters and used to be one of the most untouched traditional Himachali Villages until some time ago.  If you want to witness impeccably scenic winter landscapes then this is the place to be at. Summer months offer a lush green view of the slopes along with the snow-capped peaks. For more details, please read How to Plan a Trip to Tosh.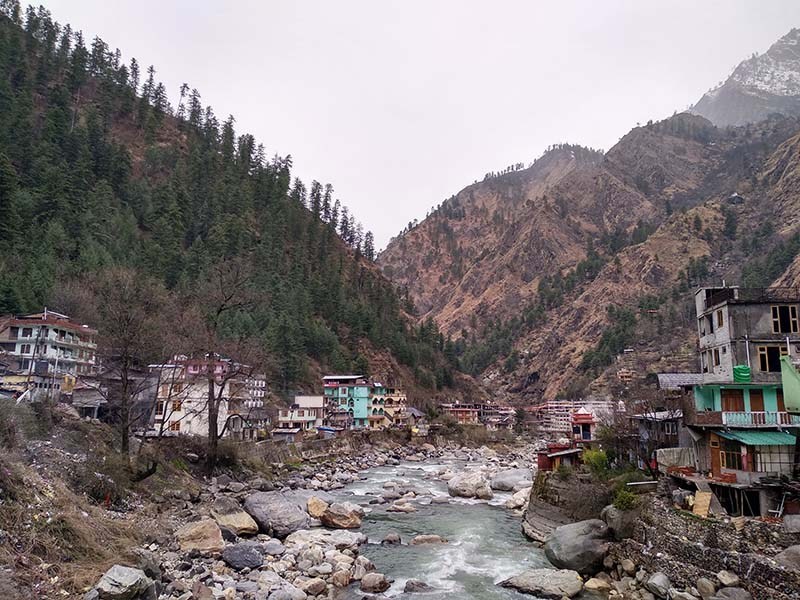 Kutla
If you don't like touristy Tosh, then Kutla is where you should go. Kutla is around 2-3 hours hike from Tosh and the views from here are insane.
Manikaran
Located on the Bank of the River Parvati at an altitude of 1800 meters, it is an important religious site for Sikhs as well as Hindus. It is a well-known place in the Valley due to its religious importance and the famous hot water Springs around the Gurudwara.
Barshaini
This is a small little hamlet in the far end of the Parvati Valley at an altitude of 2500 meters. It acts as a starting point to reach Tosh, Kheerganga, and Kalga Village. Barshaini is the last point till where the local buses can drop you in Parvati Valley.
Also Read: Tosh Village – A Comprehensive Travel Guide & Itinerary
Jari
This small hamlet is the first prominent Village of the Valley and acts as a base if you want to get to Malana. It is around 30 kilometers from Bhunter and around 9 kilometers from Kasol. Local buses from Bhunter and Kasol are available throughout the day to reach Jari.
Kalga
Kalga is located at an altitude of 2500 meters and is best known for its apple orchards. It is one of those places that are still untouched and unaffected by the tourism mania in the valley. It will take you about 40 minutes to get here from Barshaini on foot.
Other Villages
Listed below are some other villages that you can visit in Parvati Valley.
Mateura Jari
Rasol
Grahan
Pulga
Tulga
Naktan Village
Rudra Nag Temple
Thakur Kuan Village
Pandupul Village
Odi Thatch
Please note that like Malana, all these other villages can also be reached only on foot. You will need to start trekking from either Kasol, Tosh, Barshaini, or Jari. To read in detail about all these places near Malana, please read Sightseeing in Parvati Valley – What to see in Parvati Valley.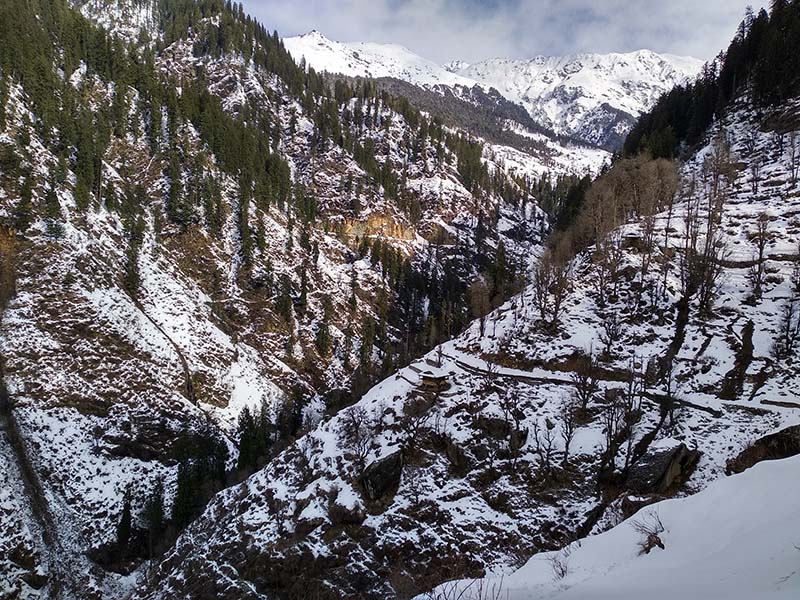 Trekking near Malana
If you want to go trekking then Malana itself is the first village that you will have to trek to. From Malana gate to the village, it takes about 2 hours to reach and then a couple of hours to get down. After Malana, you can then visit the rest of these villages in the valley that I mentioned above and they will all require you to trek up the mountain; and some of them are quite steep.
With that being said, most of these can easily be cover in a single day and are a few hours of walking around. If you are into some serious trekking and want to be at places where only a few people have been, then listed below are some other treks that you can venture on near Malana.
Waichin/Magic valley
Chanderkhani Pass Trek
Dev Roopa
Rashol Pass
Kheerganga Trek
Mantalai Lake
Waichin Valley
Pin Parvati Pass
Bun Buni Pass
Sar Pass
I have covered all these treks in great detail in another article, Trekking in Parvati Valley and How to Plan a Trip to Malana, which I will urge you to read.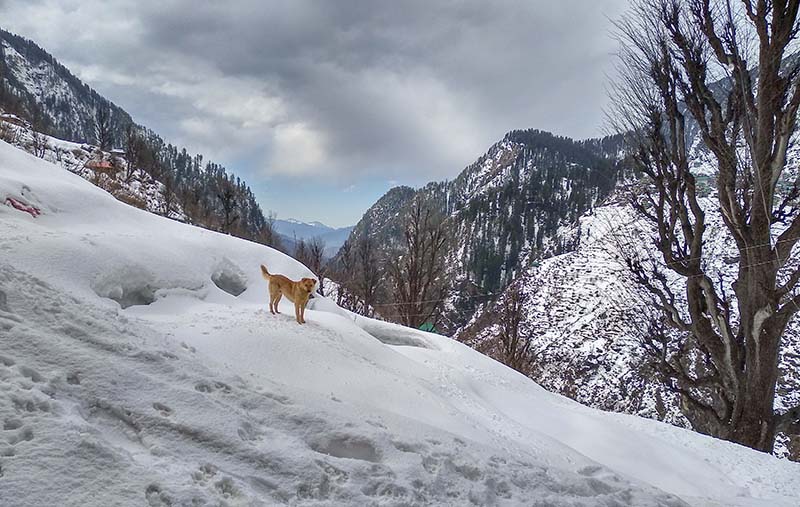 What to do in Malana
Last but not least, let us talk briefly about what you should and should not be doing in Malana Village. If I talk about things to do in Malana then hiking to the village will be your first activity. The entire walk of about 4 kilometers is really a pleasant walk and can easily be covered even by someone who has no experience of trekking.
Once you are in the village, just take a walk to explore a traditional Himalayan hamlet in its full glory. As you walk around the village, try interacting with locals. The people of the village are very amiable and would love to tell you about their culture and tradition.
This brings us to activity # 3. You have an entire day to spend in the village so learn about their culture, their lifestyle, their history, and their folklore. Malana is truly a place one of its kind and there are so many unique things about it that you will get to know.
Photography will be more like an ongoing thing the moment you start to walk towards the village. But please be careful of what and who you are pointing your camera at. Otherwise your click can get you in some serious trouble and you may have to pay a hefty fine to get out of it.
Also Read: Dharamkot – A Complete Travel Guide & Itinerary
Things not to do in Malana
We have already talked about how the villagers do not allow anything to be touched in the village and their strange justice system. But this does not end here. They are several other practices that you will find interesting and must not do while you were in Malana.
Hunting of wild animals is strictly prohibited.
You cannot fix a nail on any tree in and around the village.
You cannot burn wood here.
Taking pictures is allowed (after permission of course) but videography is strictly prohibited.
You can only carry out dry twigs and branches outside the forest.
You cannot touch anyone or anything in the village without permission.
Police intervention is not allowed and you must seek help from the village council only.
Staying overnight in the village is not allowed.
Entering any of the temples of the village is strictly prohibited for outsiders.
Please know that breaking any of the above mentioned rules will call for a fine and you can even get in some serious trouble with the villagers so take extreme care.
Conclusion
I hope the information above places to visit in Malana was of help. If you have any questions, or need any other details; please feel free to ask in the comments section below, or at our Community Forum, and I will be glad to answer.