This article is in continuation with a previous one and a part of my Spiti Valley Bike Trip. We traveled from Delhi to Kalpa in a total of 4 days and then continued to Kaza from there. Our destination on Day 1 was Narkanda, Sarahan on Day 2, Chitkul on Day 3 and Kalpa on Day 4. Details of the bike trip to Kalpa on 4th day of the trip are provided further in this post. To read the previous day's journey, please click on the link below.
Journey So Far: Sarahan to Chitkul – The Mesmerizing Beauty of Kinnaur
I woke up early morning, looked out of the hotel window and was greeted by an amazing view. The picture is not really doing justice to what I truly saw. This was probably one of the best sights I ever witnessed in my life followed by an equally amazing sunrise.
If you are going to be in Chitkul in the near future, I will highly recommend getting up early in the morning and catching a view of the sun coming up. I agree that it is going to be very cold and you will literally have to drag yourself out of the bed but trust me, it is going to be worth it.
Also Read: How to Plan a Trip to Spiti Valley – A Complete Travel Guide
Narender woke up a little later. Pretty soon the sun was up in the sky in its full glory; and it was time for us to pack up our bags and leave for our next destination, Kalpa; the very heart of the Kinnaur Valley.
Kalpa
Before I go on talking about how we traveled from Chitkul to Kalpa via Sangla, let me provide little detail on what makes Kalpa so special. To be honest, it is just another small Himalayan village with not much to do. There will be absolute silence all around except for occasional sounds of people talking somewhere, birds chirping and the wind. The natural beauty of the place is really astounding.
But what puts Kalpa on the tourist map is the magnificent view it offers to the Kinner Kailash peaks. You can just sit all day long staring at the mighty mountain in front of you and realize how small we all are in front of them. The Shivling peaks rise up to 20,000 feet (6,000 meters) and are of great importance in Hinduism. See the picture below to know what I mean. The peaks right in front are the sacred Kinner Kailash Peaks.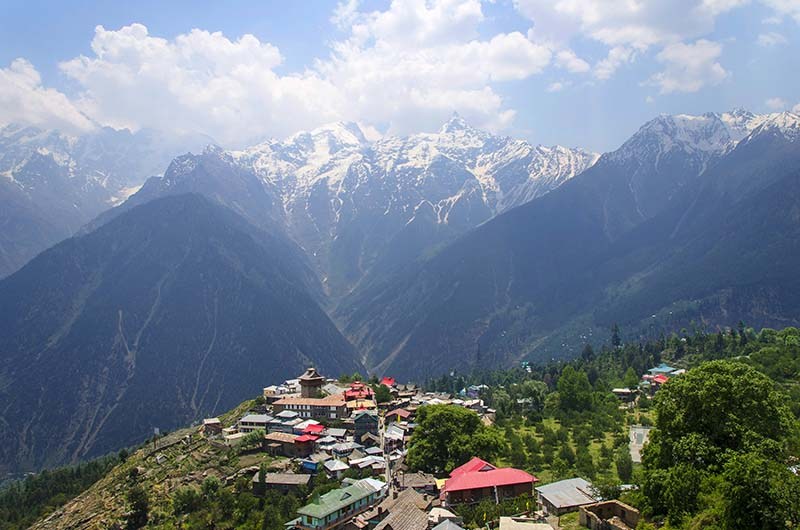 Other than the Kinnaur Kailash massif and the natural beauty, Kalpa is also famous for the production of high-quality apples. The entire village is surrounded by apple orchards, pine-nut forests and the stately Deodars.
Things to do in Kalpa Himachal
The entire town of Kalpa is actually a sightseeing spot. No matter where you are, the view of the Kinner Kailash peaks will be right in front of your eyes. Other than that, you can also go to the Suicide Point which is actually just a view point.
Kothi is another village located about 3 km and has a temple dedicated to the goddess Chandika Devi. The temple is set against a backdrop of mountains and groves of the Deodar and is known for its unusual architectural style and fine sculpture. You can also visit another nearby village called Roghi. The Chaka Meadows is an easy trail of 3-4 kilometers that you can venture upon.
For more information on Kalpa, where to stay, what to see, what to do and Kinner Kailash Peaks, please read How to Plan a Trip to Kalpa.
Chitkul to Sangla
By 8 in the morning, we have had our breakfast and were all set to leave. I had no idea how far Kalpa was from Chitkul. And given the condition of the roads we traveled on yesterday, I knew that progress will be slow so the sooner we started the better. We had one last view of Chitkul for this trip and were on our way, knowing that this won't be the only time we visited here.
Our hotel in Chitkul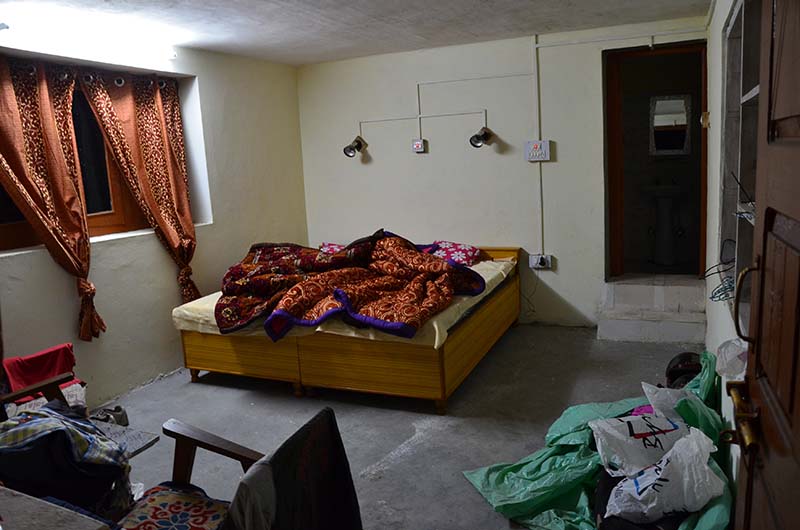 We were backtracking towards Karcham, on the same terrible road that we traveled on yesterday.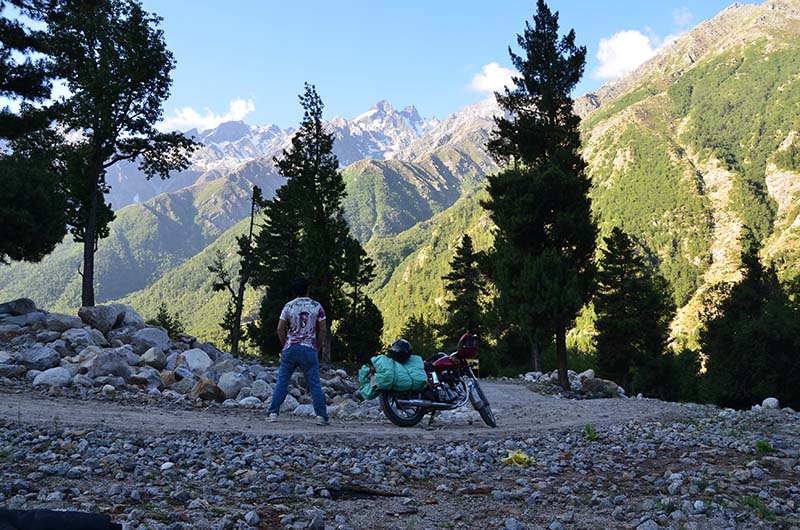 We did not stop at this temple yesterday while on our way to Chitkul but decided to do so today. Surprisingly, while we were standing there, I did not notice even a single vehicle that crossed and did not stop at the temple. This made me wonder if we were the only ones yesterday who passed without paying respect.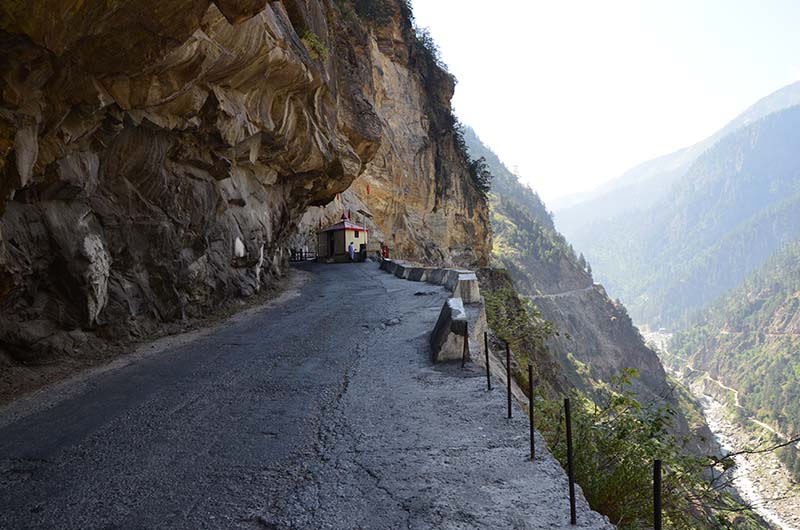 We stopped at Sangla to withdraw cash from an ATM and while we were doing so, I noticed a guy waving at us from the roof of a nearby hotel. As it turned out, he was one of our French friends who, as I suspected, broke their journey yesterday at Sangla. They wanted to go visit Chitkul today and after a brief conversation, it was decided that they will skip Kalpa and catch up with us at Nako tomorrow.
Also Read: How to Plan a Trip to Manali
Sangla to Kalpa
After another cup of tea with the French, we started the ride again and pretty soon reached Karchham.
Herd of goats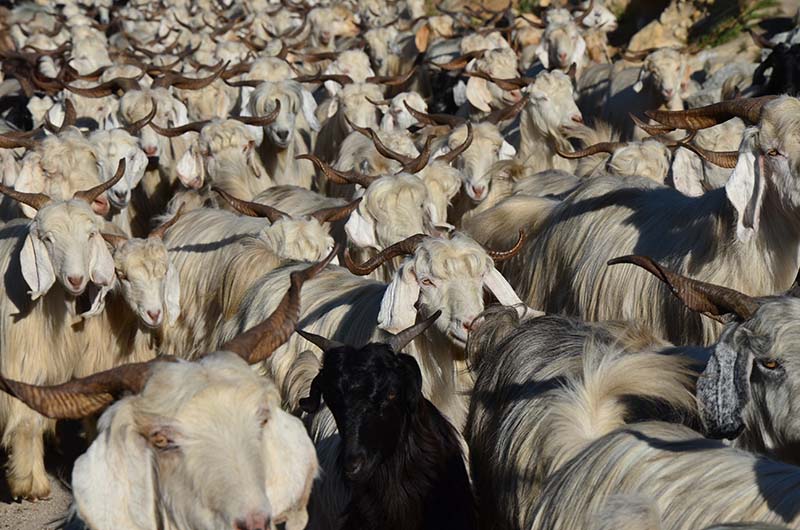 Here I thought that my prayers were finally answered as the road turned from dirt & stones to super-smooth. But that lasted only for a few kilometers around the Karcham Dam. As soon as we had crossed Karcham, it was again just dirt & stones. But along with that also came the amazing views that made us forget the pain of traveling on such bad roads.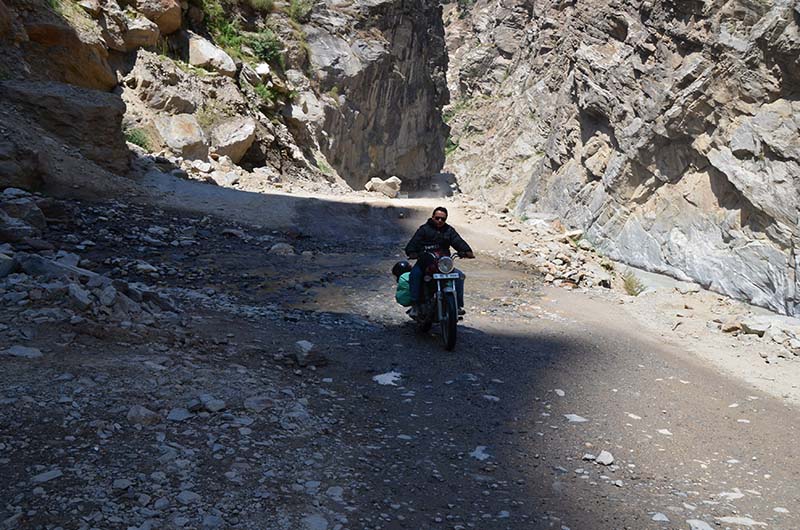 Reckong Peo to Kalpa
We continued on the main highway towards Pooh and pretty soon had reached Reckong Peo. From here, we once again left the main highway (which we have been doing continuously for the last 3 days) and started on the 10 km ascent towards Kalpa. After a few km, we had our first view of Kinner Kailash.
The circled part in the picture is Shivling that thousands of pilgrims travel to each year here.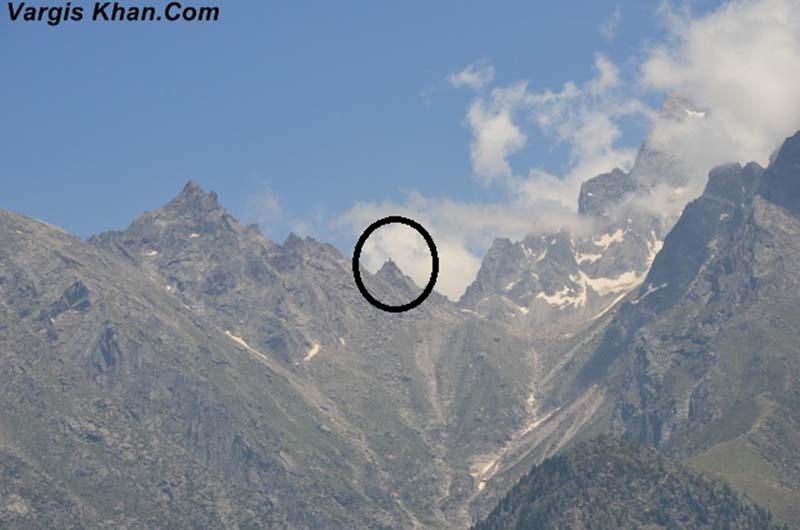 In about an hour we had reached Kalpa and checked into a hotel with an amazing view and a very reasonable price. It was only 1 pm so we had plenty of time to go sightseeing.
Also Read: How to Plan a Trip to Shimla
Suicide Point Kalpa
I asked the hotel owner about places we can visit around here.
"Yahan aas paas aur koi jagah hai?" I asked.
"Suicide point hai, vo sahi rahegi" Was his response.
"Main ghoomne phirne ke liye puchh raha hoon, marne ke liye nahi"
And he laughed.
"Nahi nahi main bhi ghoomne ki hi baat kar raha hoon. Accha view hai vahan se"
Upon his advice, we went to visit the so-called suicide point, and came back to Kalpa for lunch.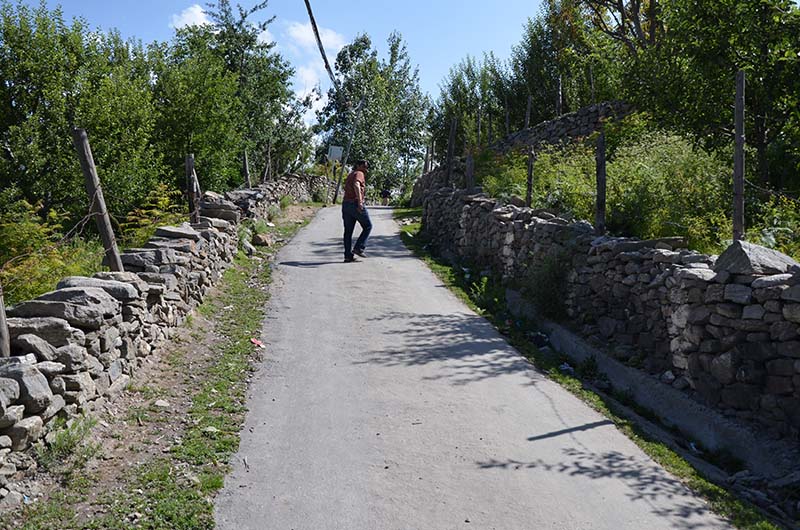 One thing that I found out about Kalpa is that public smoking is a punishable crime here. You can buy cigarettes at any shop, but cannot smoke in open. The rest of our day was spent walking around in Kalpa before we finally retired to our hotel room, which by the way had an amazing view.
Journey Ahead: Kalpa to Nako – The Far end of Kinnaur
Please click on the link above to continue reading the next part of this travelogue. If, however, you are planning a bike trip to Kalpa (or by any other mode of transport for that matter), then mentioned below are some details that can definitely be of help.
How to reach Kalpa from Delhi?
Getting to Kalpa is really very easy. The town is connected with a smooth motorable road and remains open for all 12 months; except for winter season when occasional heavy snowfall may block the road between Reckong Peo and Kalpa. Depending on your own preference, you can either drive here by your own vehicle or reach by public transport.
Also Read: How to Plan a Trip to Chail
Delhi to Kalpa by Bus
If you were wondering how to reach Kalpa from Delhi by bus, then you have three options. However, all three of these will have you change at least 2 buses because there is no direct bus from Delhi to Kalpa.
The first and probably the best choice is to board the daily bus from Delhi ISBT for Reckong Peo. At the time of writing this article, there is an ordinary direct bus available from ISBT Kashmiri Gate in Delhi at 8 PM for Reckong Peo. Two other buses are available in the morning at 6 AM and 7.15 AM. This, however, may change later so it would be best to confirm the bus timings before finalizing the plans.
From both Delhi and Chandigarh, you can easily find an ordinary HRTC bus for Reckong Peo which is about 7 km from Kalpa. Once you reach Reckong Peo, you can then take another bus for Kalpa. This is the most hassle-free, easiest and quickest way to travel to Kalpa if you do not mind the ordinary buses. Delhi to Reckong Peo takes about 18 to 19 hours and Reckong Peo to Kalpa takes 20 minutes at most.
Delhi to Reckong Peo will cost you about Rs. 900 and then Rs. 15 for Peo to Kalpa. If you hire a taxi from Reckong Peo, then it will charge you about Rs. 500 for a drop to Kalpa.
Delhi to Kalpa A/C Bus
The second option will be to board an A/C bus for Rampur Bushahar. There is an HRTC AC bus that leaves from Delhi ISBT at 7:20 pm every day and reached Rampur around 9 am. The ticket for this bus will cost you about Rs. 1,100 per person, including the online booking charge as well.
From Rampur Bushahr, there are ordinary buses available for Reckong Peo at almost every hour. This will cost you about Rs. 200 per person. From Peo, you will then reach Kalpa by bus (Rs. 15) or a taxi (Rs. 500).
Delhi to Kalpa Bus via Shimla
This is the most comfortable but also the costliest way to travel to Kalpa by Bus. There are several Volvo/Scania buses available from both Delhi and Chandigarh for Shimla throughout the day. From Delhi, it will cost about Rs. 1000 per person for a Volvo Bus or Rs. 800 for an AC Bus.
Once you reach Shimla, you will then have to find a Bus for either Rampur or Reckong Peo. It will cost you about Rs. 300 per person for Rampur and Rs. 500 for Reckong Peo. These buses will be available from the Tutikandi bus stand of Shimla.
Also Read: Taxi Rates in Shimla
There are several buses available between Shimla and Rampur and it will not be difficult at all. At most, you may have to wait an hour for the next available bus. From Rampur, you can then board another Bus for Peo which will cost about Rs. 200 per person.
For Reckong Peo as well, there are a few buses available in the first half of the day. There is one that leaves Shimla at 9 AM and another at 9.30 AM. These buses can, in fact, be booked online as well.
Delhi to Kalpa Bus Fare
Depending on the type of bus you chose, a journey from Delhi to Kalpa by Bus will cost you between Rs. 1000 to Rs. 1500 per person.
How to reach Kalpa from Delhi by Train
Traveling from Delhi to Kalpa by train is really more a hassle than a convenience. I will really recommend choosing the bus as an option over it but if you would like to go by train, then he nearest train station is at Shimla; connected to Kalka by the famous Kalka – Shimla toy train. The nearest major railway station is at Chandigarh; trains to which are available from all major cities in the country.
Delhi to Kalpa Flight
There are no flights available between Delhi and Kalpa. The nearest airport to Kalpa is the Shimla airport located in Jubbarhatti. After Shimla, the next nearest airport is the Bhuntar airport between Chandigarh and Manali. These are however small airports and flights to both these places are limited. The nearest major airport is at Chandigarh which is connected with several flights from all over the country.
Bike Trip to Kalpa
If you were traveling from Delhi to Kalpa by road on a motorcycle, then mentioned below is the route you will follow.
Delhi – Sonipat – Karnal – Kurukshetra – Ambala – Kalka – Shimla – Narkanda – Rampur – Reckong Peo – Kalpa
There can be several other alterations to this route but the one I mentioned above is possibly the quickest way for a bike trip to Kalpa.
Delhi to Kalpa Route Map
If you would like to get a map of the above mentioned Delhi to Kalpa route, then please follow this link Delhi to Kalpa road map. This map, in fact, covers the entire Kinnaur and Spiti valley as well.
Delhi to Kalpa distance
The distance between Delhi to Kalpa will be a total of about 570 kilometers, depending upon where you started from in Delhi. The journey will take you at least 20-25 hours if you traveled non-stop. Ideally, it is a 2 days journey with a night halt at either Chail, Shimla or Narkanda.
Road condition from Delhi to Kalpa
The condition of the road is a mix of good, average and bad. The good part is about 60% and average and bad is about 20% each. The bad part is mostly limited between Rampur and Kalpa. The rest of the journey is majorly smooth.
Delhi to Kalpa by car
A journey to Kalpa by car will not be an issue at all. The roads are wide enough for even buses to ply so there will not be any problem anywhere as long as you have decent enough driving experience. The only narrow section of the road is about 16 kilometers between Powari and Kalpa.
Delhi to Kalpa itinerary
Below is an example of an itinerary that you can follow for Delhi to Kalpa road trip. The journey can be followed for a bike trip to Kalpa, or by your car or even by public transport.
Delhi to Chail / Shimla / Narkanda – Day 1
Arrive at Kalpa – Day 2
Rest and sightseeing in Kalpa – Day 3
Kalpa to Chitkul – Day 4
Chitkul to Sarahan – Day 5
Sarahan to Delhi – Day 6
Other Tips
Listed below are a few other useful tips.
HRTC buses can be booked online at https://www.hrtchp.com
For a bike trip to Kalpa in July or August, please first find out how the weather was. It rains here a lot and resulting landslides can block roads for days.
Ordinary HRTC buses in the hills are usually fully packed and do not have an allotted seat system. You may even have to travel standing.
If traveling by Bus, plan your day in a way that you are traveling between Shimla and Kalpa during the day.
The condition of the road after Rampur is bad at places. Even between Chandigarh and Shimla, there is road construction work going on which can delay the travel. Please start your day keeping in mind that you may get delayed on the way.
Most of the hotels in Kalpa are at a little distance from the Bus stand and you will have to walk uphill to get there.
Bike Trip to Kalpa – Conclusion
I hope the information above on a Bike trip to Kalpa and reaching from Delhi by Bus were of help. If you have any questions; or need any other details, please feel free to ask in the comments section below, or at our Community Forum, and I will be glad to answer.