This post is in continuation with a previous one and a part of my Spiti Valley Travelogue. We traveled from Delhi to Nako in 5 days, halting at Narkanda, Sarahan, Chitkul and Kalpa on the way. On Day 6, we rode from Nako to Kaza and stayed there for the night. Details of the 6th day of the journey are provided in this article. If you want to read the previous parts of the travelogue, please click on the link below.
Journey so Far: Kalpa to Nako – The Upper Kinnaur Valley
Kaza was going to our destination for this day. So far, we had not yet entered Spiti Valley and were going to do so today. Nako is often considered as Spiti but it is, in fact, the upper part of Kinnaur Valley. So while we were in Nako, we were still on the outskirts of Spiti.
Our plan was to reach Kaza and then spend at least a day there sightseeing around in the remote villages. I knew Kaza was not too far away from Nako and was only 3-4 hours of the journey so we were not really in a hurry. On the way, we were going to be visiting the monasteries of Tabo and Dhankar so overall, it was going to be a ride of 6-7 hours at most.
Nako to Kaza
I was the first one to wake up and stepped out in search of a cup of tea. Narender was still asleep and I left him that way while I went for a morning stroll.
Our French friends did not or maybe could not catch up with us at Nako yesterday and I knew that we were not going to meet them now for the rest of the trip.
I got something to eat at a restaurant, took a last few shots of the disappointing Nako Lake and returned to the guest house. By then, Narender was up as well and was waiting for my return.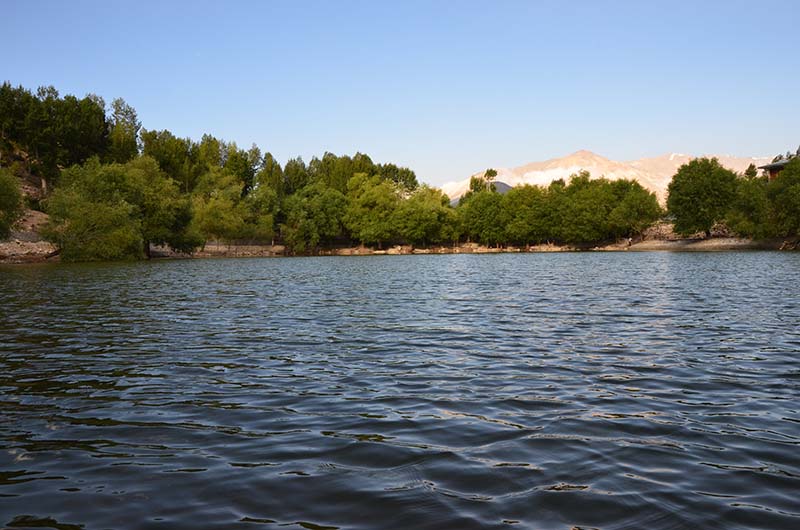 We packed our bags, checked out of the HPPWD Guesthouse; stopped again at the restaurant so that Narender could get some breakfast; and were soon on our way towards Gue village.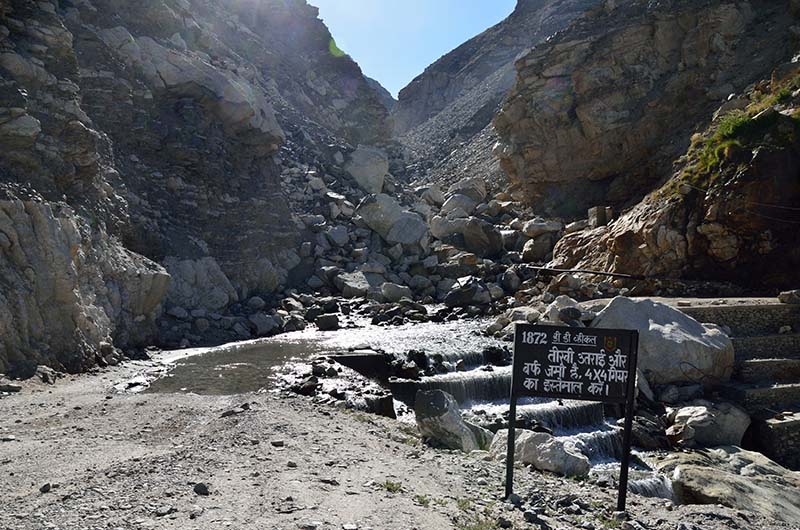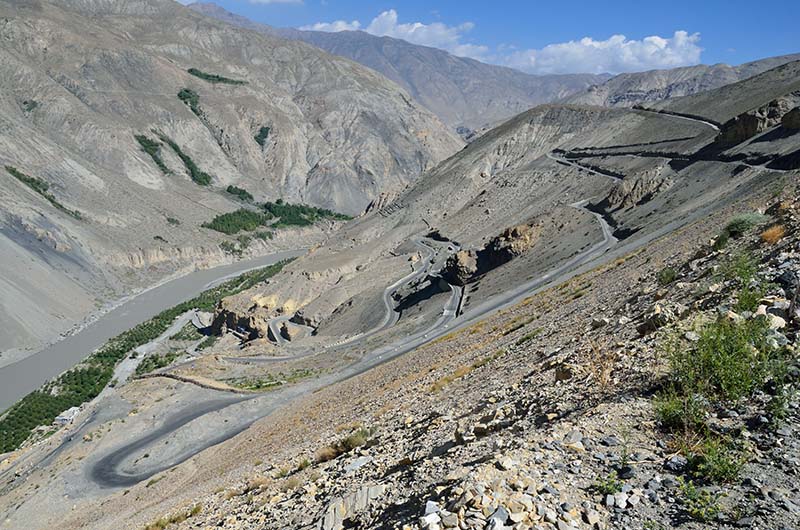 Gue Village
Gue is a small village that nobody would ever have known of if it wasn't for a mummy that was found here in the 90s. It is said that this mummy belonged to a Lama that lived here around 560 years ago. I had seen pictures of it earlier so I already knew what we were in for but still wanted to go and meet the dead Lama in person. To know more about it, please read The Story of the Mummy of Spiti Valley at Gue Village.
So we left the main highway once again and took the 8 kilometers long road towards Gue Village. The plan was simple; go there, see the mummy, take a few pictures and be back on the highway.
The road from the highway to the village was not too bad in the condition so it did not take us long to get to the village. We asked a local about the Mummy and he pointed us to a small shrine located towards the other end of the village, at a little height.
We reached the small temple only to find it locked. There were a few laborers around and we asked them. One of them came to us with the key and opened the shrine.
Mummy at Gue Village
For us, a Mummy is what we saw in the movies based on Egyptian history. But the one in Spiti is not wrapped in any bandages. What we saw was a dead body in a sitting position, inside a glass cage.
It was much different than a typical image of Mummy. The hair on the head and teeth in the mouth were still intact.  Take a look at the image below to know what I mean.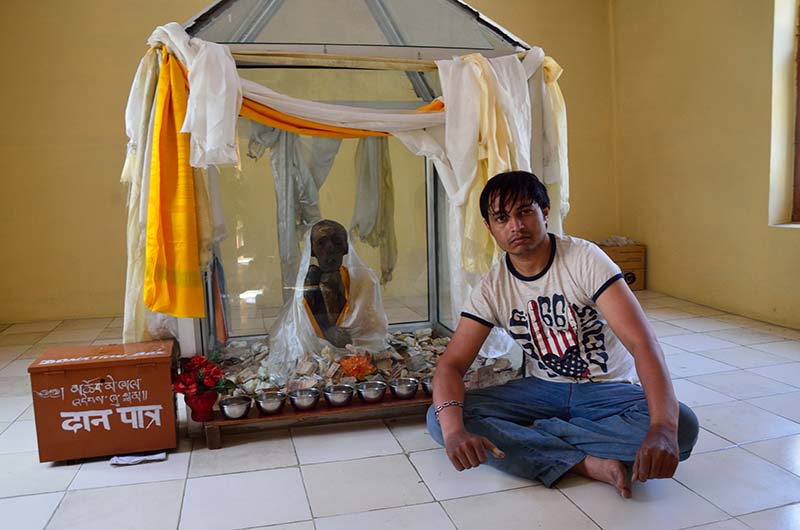 After spending some time at the shrine, we drove back to the highway. There is no Bus or public transport service from the highway to Gue. So you either have a vehicle of your own or hitch-hike for 8 kilometers to reach the village.
Actually, I don't think that even hitch-hiking is an option because I did not see even a single vehicle going towards or coming from Gue while we were visiting there.
So if you don't have a vehicle of your own, the only option is to walk which we found a German woman doing on our way back. We met her just near the highway and she was just starting on foot towards the village, alone.
When she asked us if it was worth it to go 8 kilometers on foot and come back to catch a bus to Nako, I honestly told her No. To walk 16 kilometers on foot out of which 8 kilometers was uphill, just to see a dead guy, HELL NO.
This is where you pass through the gate towards Gue Village.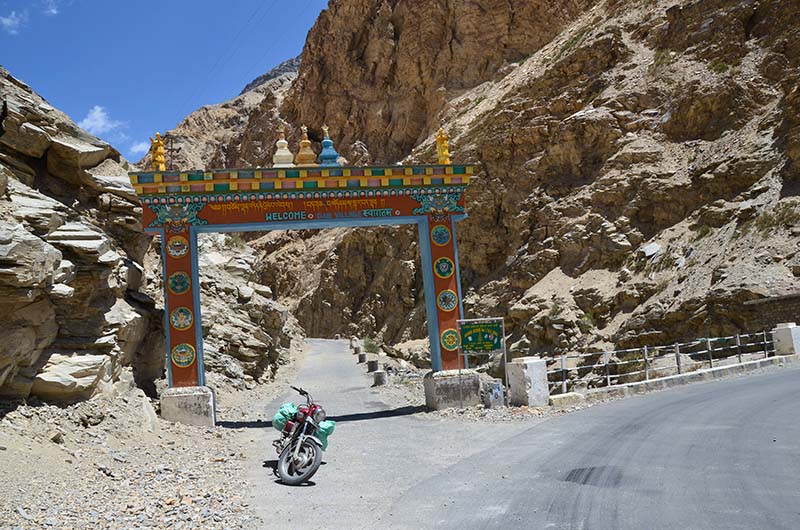 Nako to Tabo
After meeting the dead Lama of Gue Village, the next destination for the day was Tabo. We reached there around noon and visited the Tabo Monastery.
Tabo Monastery is the oldest continuously operating monastery in India and possibly all over the Himalayas. It comprises a total of 9 temples, 4 decorated stupas, 23 chortens and monks quarters. It is located at an altitude of 3,280 meters (10,760 ft) and is often called "the Ajanta of the Himalayas". There are currently 45 monks living in the monastery.
All of its 9 temples and many stupas are made out of the mud and have been standing like this for its entire existence which is no less than a wonder in itself. Photography is not allowed inside the monastery but you can take pictures of the complex from outside. To know more, please read How to Plan a visit to Tabo Monastery and What to See.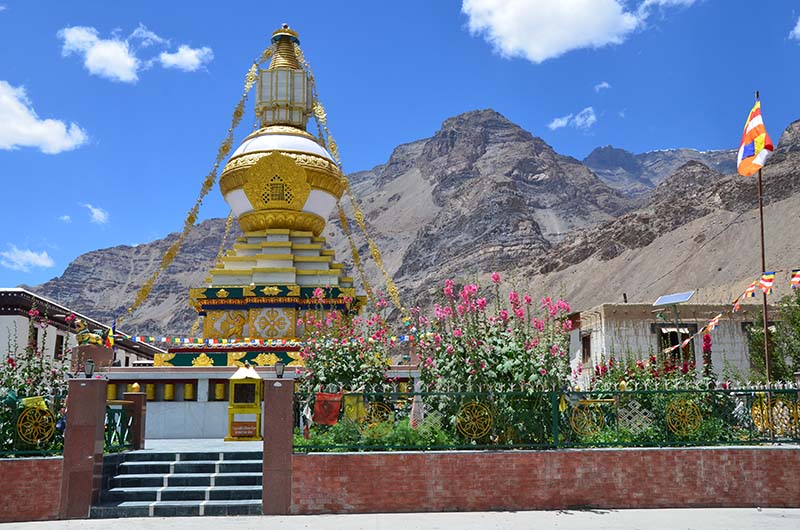 Tabo Monastery
The interesting thing about this place is that once you are in any of the temples of the monastery, chances are that you will be asked if you want to donate some money towards the monastery, and in quite an assertive manner. I found this a little awkward because I have been to several other monasteries and never before was asked this question, or at least not in this manner.
You also will be informed that it is not mandatory to donate, and is totally upon your wish but it will be conveyed in such a manner that a yes will skip out of your mouth before you even know it. And if you made the mistake of asking how much you can give, the answer will be "Anything, Rs. 500 or Rs. 1000"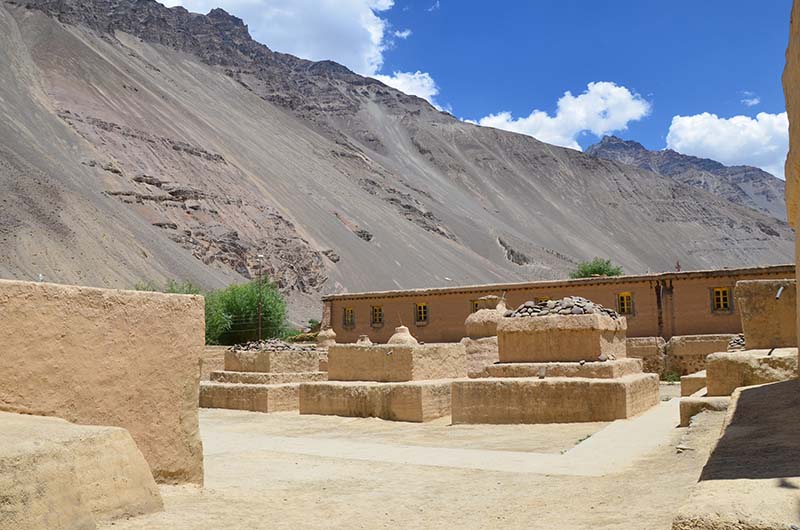 Tabo to Dhankar
We had lunch at Tabo and started on our way towards Dhankar, to visit another monastery. Dhankar Monastery is another ancient and marvelous monastery of Spiti Valley. It is built at a stunning location, on the spur of a mountain overlooking the confluence of Spiti and Pin Rivers. To know more, Please read How to Plan a Visit to Dhankar Monastery and What to See.
Upon reaching Dhankar, to my surprise, I found the monasteries closed; both the new and the old one.
While outside the monastery, we struck up a conversation with an Israeli, who was standing there waiting for his friends to arrive. I asked him if he was renting his Royal Enfield or bought it here. He said that he bought it and was on his way to Ladakh and thus our conversation went on to how most of the foreigners who visit here usually prefer to buy rather than rent.
While I was talking to the Israeli, a Qualis arrived with a foreigner in the driving seat. His wife and kids were also in the car and when the guy got out, I made the mistake of asking him this question.
"So you bought a car here?" I asked.
"I bought a car, I bought a house, I bought a shop" Was his answer.
"What?" Was my reaction.
"25 saal ho gaya Bhai. Main idhar manali mein rehta hoon" he said in fluent Hindi.
A shocked expression mixed with embarrassment was my only answer.
And then he went on to explain how he came to visit India, decided to settle here, bought his family over and was now living in Manali for the last 25 years.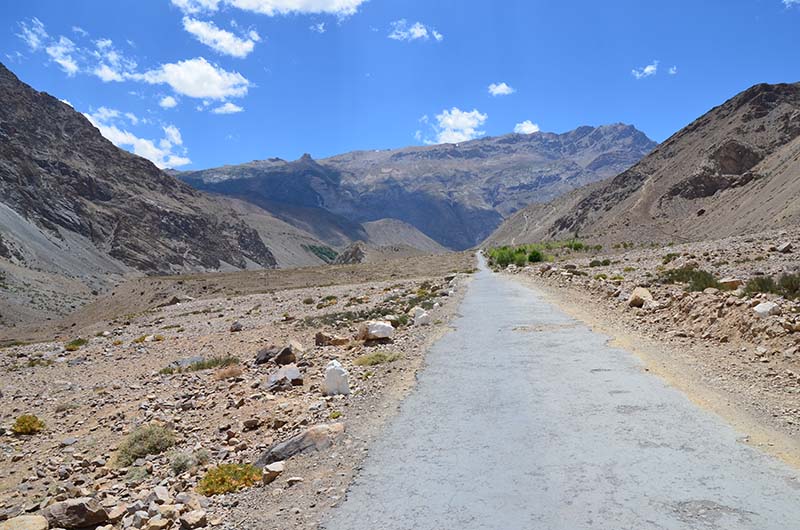 Dhankar to Kaza
Embarrassed enough, I thought it was better to cut the conversation short. We waited for a while but no one could tell us when the monastery would open again.
So we just decided to give up the idea of seeing the monastery and started on our way to Kaza. Throughout the way, a smiling Narender kept making remarks at how stupid that guy made me sound after he started talking in Hindi.
By evening we were in Kaza. We drove around for a while looking for a hotel but then finally decided to stay at a homestay. Once checked in, we stepped out for a walk in the streets of Kaza and on the banks of river Spiti.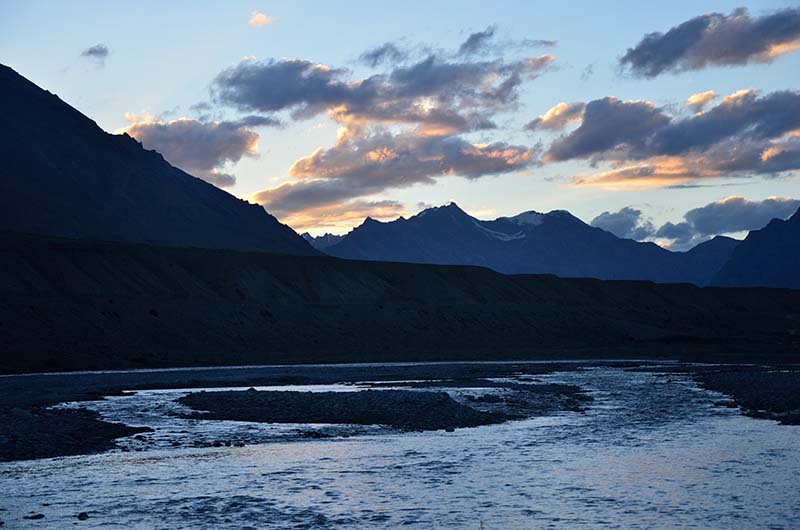 Overview of the Journey
Below is a brief overview of the journey between Nako to Kaza.
Nako to Kaza Road Condition
The condition of the road between Nako and Kaza is a mix of good, bad and average. The good part is mostly limited to around Nako Village. Once you start driving downhill, the condition of the road will start to get a little bad.
Between Tabo and Kaza, the road is mostly average at best with some bad patches in between.
Nako to Kaza Bus
The only bus between Nako and Kaza is the one that comes from Reckong Peo. It starts from Peo at around 7 AM, reaches Nako around Noon and reaches Kaza by evening. To know more, please read Spiti Valley Bus Schedule.
Nako to Spiti Valley
Nako is not considered a part of Spiti Valley. It is the last village of Kinnaur District. Spiti Valley starts shortly after you drive from Nako towards Tabo.
Nako to Tabo
Tabo is at a distance of 65 kilometers from Nako and will take about 2 hours in total.
Nako to Tabo Bus
The same bus that comes from Peo is also the one that you will board to travel from Nako to Tabo or Tabo to Kaza by Bus.
Nako to Chandratal Distance
Chandratal is at a distance of about 115 kilometers from Nako and will easily take at least 7-8 hours to complete. To know more, please read How to Plan a Trip to Chandratal.
Nako to Leh
Leh is at a distance of about 660 kilometers from Nako and will take at least 3 days to complete.
Nako to Pooh Distance
Pooh is at a distance of about 45 kilometers from Nako and will take around 90 minutes to complete.
Journey Ahead: Sightseeing in Kaza – Kibber, Komik, Langza, Hikkim, Chicham
Conclusion
I hope the travelogue and information above on traveling from Nako to Kaza were of help. If you have any questions, or need any other details, please feel free to ask in the comments section below; or at our Community Forum; and I will be glad to answer.