When I get asked about minimum time needed for a Ladakh trip; my answer usually is at least 10-14 days if you truly want the journey to be a memorable one. If this is not possible than at least 5 to 6 days for an air trip and 7 to 9 days for a road trip is bare minimum. This will ensure that you have plenty of time to witness the beauty that Ladakh is without stressing yourself. For some people however; to be away from our regular jobs and lives for these many days too is not possible. Hence comes the need of trying to complete the journey in lowest possible duration. If you too would like to plan a trip to Ladakh and have a very short span of time in hand; then in this article I will explain how you can visit Leh Ladakh in 4 days.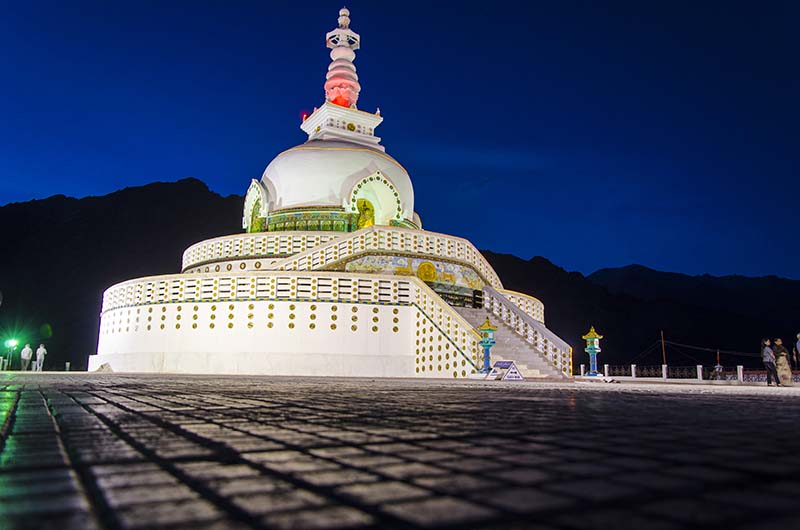 Most important thing to remember here is that trying to cover Ladakh in 4 days will mean that you are reaching Leh by flight. There is no possible way at all that you can make this a road trip. You will not be able to travel on Manali to Leh or Srinagar to Leh roads and will have it leave it for another time. For now; you will reach Leh by air and spend next 4 days in local sightseeing.
To be honest, I would not recommend planning to visit Ladakh in 4 days due to multiple reasons of which acute Mountain Sickness will be your biggest concern. When you visit a place like Ladakh, you bring your body to heights that it has never been to; that it is not accustomed to. It then becomes of utmost importance that you allow sufficient time for acclimatization. Slow gain in altitude and ample amount of rest become the key factors here. Covering Ladakh in 4 days will however result in the exact opposite of it. In order to cover as many places as you can, you will be rushing for most part of your trip which may trigger your body going in to a shock and suffering symptoms of acute mountain sickness. For more details on how to handle AMS, please read How to handle acute mountain sickness in Ladakh.
Second concern will be about how much sightseeing you can really do in 4 days. A trip to Ladakh is not an everyday affair. It is not a nearby hill station where you can just pack your bags and go over a weekend. Who knows how long it would be before you are able to plan another trip so you need to ensure that when you get here; you cover as much as you can. Ladakh is an endless list of tourist attractions and places that you must visit. You can spend weeks here and still not be done with it all. Trying to wrap up Ladakh in 4 days would mean that you will miss several of these places and will only visit a few, that too in a rushed manner.
For a complete list of all tourist attractions in entire Ladakh, please read A complete list of tourist attractions in Ladakh.
Third reason will involve the overall cost of the trip. Visiting Ladakh in 4 days is not going to be cheap. You cannot make this a road trip or rely on public transport due to lack of time and will have to book a flight. For sightseeing, you will then need to either book a private taxi or rent a motorcycle. Unless you got a really good and cheap deal on air tickets and rented a motorcycle for 4 days; or have a group of 5-6 people to share the cost of the taxi; your total budget of the trip will definitely shoot up a bit high.
If you were looking for an itinerary where you can fly out of Leh and reach home on Day 4 itself, then please read How to Plan a Trip to Ladakh in 3 Days.
Ladakh in 4 Days
With all said and done, mentioned below is an itinerary that you can follow for visiting Leh Ladakh in 4 days. I will strongly suggest that you stick to the plan and list of places mentioned below. If you try to squeeze in any more than this, you will just end up stressing yourself more than necessary.
Day 1: Arrive in Leh
Most of the flights to and from Leh are early in the morning which will work in your favor here. On Day 1 you will arrive in Leh in the morning and have the entire day to yourself to get ready for the trip ahead. The first task of the day would be to find a hotel first and check in which is not really a big deal. No matter what your budget is, you will easily find a hotel in Leh. Read  Good Budget Hotels in Leh for a list of some recommended places you can stay at.
Second task would be to arrange for Inner Line Permits. It can either be applied for online or obtained in person from DM office Leh. Please note that the permit is absolutely mandatory and without it; you will not be allowed to travel towards places like Nubra Valley or Pangong Tso.Please read How to Obtain Inner Line Permit for Ladakh for more details on how to get the permit and what the related charges are.
Third thing that you will need to take care of is to arrange your mode of travel for next two days. You can either hire a private taxi or rent a motorcycle after you land in Leh. In case you hired a taxi, then I recommend that you book it in advance and have the driver pick you from the airport itself. In case of a motorcycle, it is best that you first reach Leh; check out a few motorcycles to ensure they are working in best possible condition before you rent it. Read How to rent a motorcycle in Leh for some important tips on renting a bike here.
Sightseeing in Leh
After taking care of this, you can either chose to rest at Leh or do some local sightseeing in the town. Leh Palace, Shanti Stoopa, local market and monasteries are some of the places you can visit.
Important tips
A couple of things you can do to make your first day a bit easier is to take care of a few things in advance; before your arrival in Leh town. This will include booking a hotel, a taxi and arranging the Inner line permits as well. Call the hotel and ask them if they can keep the permits arranged for you when you arrive. Several hotels in Leh provide this service in return of an extra charge. If your hotel agrees, then scan and send them your IDs, wire the money and book your stay.
Second would be to book a taxi rather than relying on a motorcycle. Suffering from high altitude sickness will just make it more difficult to ride around a motorcycle. Have your driver pick you from the airport and drop straight to the hotel. Since your permits too will be already arranged, you can rest all day long and let symptoms of AMS subside. If by evening you feel better, then you can visit the local places in Leh that I mentioned above.
Also read: What clothes should you pack for Ladakh Trip
Day 2: Leh to Lamayuru to Leh
The plan for today is to take a drive on Srinagar Leh highway and return to Leh by evening. Do not plan Nubra Valley or Pangong Tso for this day as it is just your second day in Ladakh. AMS can still hurt so it is best to not go towards a high altitude pass; which you will have to cross in order to reach Nubra and Pangong both. For second day, ask your drive to pick you from the airport early in the morning and start driving towards Lamayuru. On the way, you will see Gurudwara Patthar Sahib, Indus – Zanskar Confluence and Magnetic hills; apart from the natural beauty of Srinagar Leh road. Go as far as you are able to until noon and then start your return journey.
Since you have reached Ladakh by flight, this day would give you at least some taste of the famous Srinagar to Leh road. If you have time, you can also include a tour of Sham valley. Hemis Shukpachan village in Sham Valley is definitely worth a visit. Read How to Plan a Trip to Sham Valley for details on how you can visit there for your second day.
Day 3 – Leh to Diskit to Leh
Today you will be making a day trip to Nubra valley so it is very important that you start as early as possible from Leh. Start at around 6 AM and take the road towards Khardung La; once known as world's highest motorable road. Have a cup of tea at the army run canteen at the top and descend on the other side to Nubra valley. Reach as far as Hunder and Diskit. It is easily a 5-6 hours' drive depending on your speed and the breaks you take. You do not have much time for local sightseeing so keep your breaks limited and short.
Once you reach Diskit, take a break, have lunch and start your return journey. If you reached well in time, that is by 12 noon at most; then you may pay a quick visit to the local monastery and see the tallest Buddha statue here. Start your return journey by 1 PM at most so that you have sufficient time to reach Leh before dark. Take the same road back to Leh across Khardung La that you took to reach Nubra valley.
Also read: 10 Reasons why you should NEVER visit Ladakh
Day 4: Leh to Pangong Tso to Leh
On day 3, you will make a day trip to Pangong Tso. The lake is at quite a distance from Leh so once again you will need to start early in the morning; possibly by 6 AM again. Take the road to Chang La; famous as third highest motorable road in the world. There is an Army canteen here as well where you can take a quick break. Descend on the other side and continue till Pangong. Keep your breaks limited on the way so that you have some time to spend at the lake. Overall, it will be a 10-11 hours of journey so please manage your day accordingly so that you can reach back Leh before dark.
On the morning of Day 5, you will catch your return flight home.
4 day trip to Ladakh: Alternate Itineraries
The plan that I mentioned above is the recommended and probably the best way to visit Ladakh in 4 days. If however you would like to do your trip differently, below is how you can plan it.
Arrive in Leh – Day 1
Leh to Nubra Valley – Day 2
Nubra Valley to Pangong Tso via Shyok road – Day 3
Pangong Tso to Leh – Day 4
Another way around this will be to have your driver will pick you from the airport; take you out for a drive on Srinagar Leh highway and bring you back to Leh by evening. On Day 2, you can go to Diskit, to Pangong on Day 3 and return to Leh on 4th day.
The advantage that this itinerary is that you get to stay in Nubra valley for the night and travel on Agham Shyok road. Nubra is at an even lower altitude than Leh so it can be beneficial in terms of AMS but the journey towards Khardung La on the way can definitely take a toll. It is highly possible that you will not enjoy the day at all; will continue to suffer from AMS and if worst come worst, land in a hospital even. Staying in Leh on Day 1 will also ensure that in case you are in need of medical assistance because of AMS, it will be available in Leh town but not in Nubra valley. Stick to the plan that I mentioned first in the article and do not follow the second itinerary unless you have been to Ladakh a couple of times before.
Another way of doing the journey can be like below.
4 Days Itinerary for Leh Ladakh
Arrival in Leh and day trip to Diskit – Day 1 (Book a cab in advance, ask him to arrange your permits and pick you from airport. Make a day trip to Nubra the same day you arrive in Ladakh.
Leh to Pangong to Leh – Day 2
Leh to Tso Moriri to Leh – Day 3
Fly Out – Day 4
Leh Ladakh Itinerary 4 days
If you wanted to explore a bit on the Zanskar side and got only 4 days in hand then you can plan like this.
Arrival in Leh and drive to Kargil – Day 1
Kargil to Padum – Day 2
Padum to Kargil to Leh – Day 3 (Journey of about 18 to 20 hours including night travel)
Fly Out – Day 4
Or you can plan like below.
Ladakh 4 Days Trip
Arrival in Leh and drive to Kargil – Day 1
Kargil to Rangdum to Kargil – Day 2
Kargil to Leh via Batalik – Day 3
Fly Out – Day 4
Useful Tips
Few important things you must keep in mind are;
Avoid renting a motorcycle as it will be a bit much to do in short time. Rather, book a taxi for the entire trip.
I will strongly advise making this trip with children or infant but in case you still plan to do so; please read How to Plan a Trip to Ladakh with Children or Infants for some important tips that you should follow.
Make sure that you arrange your Inner line permits in advance; before you arrive in Leh.
For information on where you phone will work and where it would be a dead paperweight, please read Mobile and Data Connectivity in Ladakh.
Avoid traveling to any other place on Day 1. Due to AMS, you must spend this day in Leh to adjust to high altitude.
Try to plan the trip in a group of at least 5-6 people. Taxi charges in Ladakh are a too steep but if you are in a group, you will at least be able to divide it among few people; hence reducing the cost per person
As I mentioned above, to visit Ladakh in 4 days is not the best choice; but if 4 days is all you can afford, this is how you should plan it.  You will still get to see plenty of vistas, stay in the city of Leh; visit prime attractions of Ladakh like Nubra Valley and Pangong Tso and return home on Day 5. I hope the information above was of help. If you have any further questions, please feel free to ask in the comments section below or at our Community Forum and I will be glad to answer.