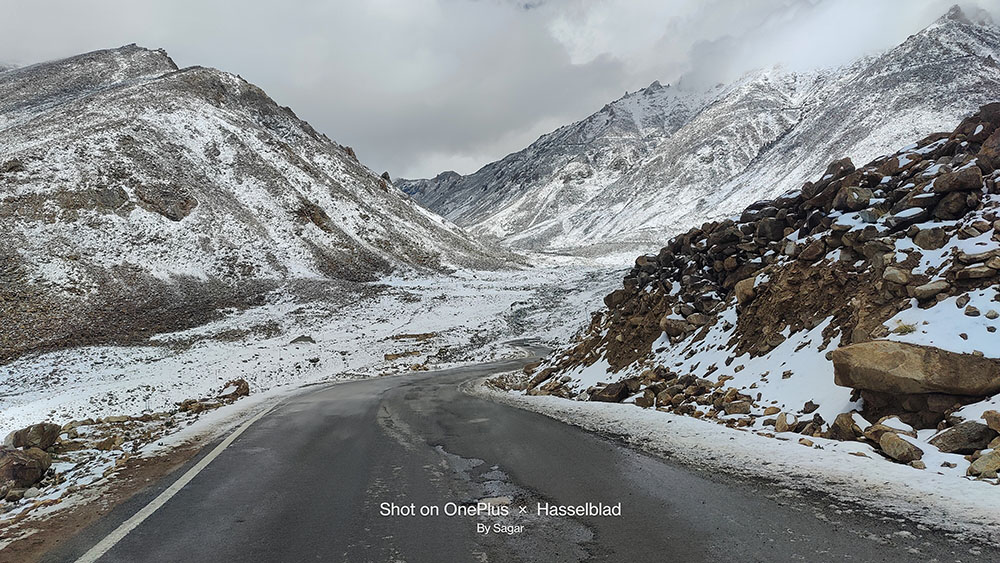 In this article, I will provide information on Leh to Nubra Valley Bus Service. There is a frequent bus service to all the major tourist destinations in Ladakh and if you plan carefully, you can rely on it for visiting the local tourist attractions.
If you are not traveling to Ladakh by your own vehicle, then local sightseeing can become a bit problematic and a costly affair. Private taxi charges over there are enough to burn a hole in your pocket and not at all suitable for a budget trip. Then there is the entire issue of bringing non-local taxis and motorcycles in Ladakh.
The reliability of rented motorcycles is of course questionable. Getting a tourist-shared cab cannot always be an option as per your schedule. In all these situations, the best and most cost-effective way is to travel by bus.
Please note that this is an old article and the information may be outdated. For more recent details on the bus schedule, I will request you to take a look at Leh to Nubra Valley Bus Service Schedule and Timings.
How you can travel from Leh to Nubra Valley By Bus
Nubra Valley is one of the most visited tourist destinations in Ladakh and possibly the most connected as well after Leh town. The entire valley is well populated and there is plenty that you can see here. Read Tourist Attractions in Nubra valley for more details.
Depending on where you decide to halt for the night, from Leh to Nubra Valley will roughly be a journey of 120 odd kilometers; covered easily in 5-6 hours at maximum. There are several major villages en route like Diskit, Hunder, Sumur, Panamik and there is a direct bus plying between Leh and these villages. Details are as mentioned below.
Also read: Leh to Pangong Tso Bus Schedule & Fare
Leh to Nubra Valley Bus service
I will first mention the buses that go towards Diskit and Hunder. All these villages are on the same road that bifurcates from Khalsar and goes all the way till Turtuk, the last point where civilians are allowed.
Diskit / Hunder / Turtuk
Leh to Diskit Bus: There is a direct bus that goes to Diskit from Leh three times a week. It starts from Leh at 8 am every Tuesday, Thursday, and Saturday and reaches Diskit by late afternoon where it halts for the night.
The next day, this bus returns to Leh starting from Diskit at 7 AM. Using this bus, you can go to Nubra Valley on Tuesday, Thursday, Saturday and return to Leh on Wednesday, Friday, and Sunday. Fare per person is around Rs. 200.
Leh to Turtuk Bus: If you plan on visiting Turtuk, then there is a direct bus from Leh every morning at 6 AM. However, this is a weekly bus and plies only on Saturday. This bus also passes through other villages like Hunder or Thoise in case you want to get down there. Fare per person is Rs. 277.
Leh to Skuru Bus Service: Skuru is a small village in Nubra valley that falls ahead of Hunder, a little after Thoise. A bus to Skuru from Leh starts at 6 AM every Tuesday and Thursday. Fare is Rs. 224 per person.
Traveling by either of these three buses, you can easily reach Hunder or Diskit. However, if Turtuk is on your mind and you missed the direct bus, then from Hunder or Diskit you will have to find a public shared taxi that locals here use.
Sumur / Panamik
Coming to the other side of the valley, towards Panamik, mentioned below are a few buses that you can choose to travel in.
Leh to Sumur Bus: Sumur is a major village in Nubra valley and a bus goes here every Thursday and Saturday. It starts from Leh at 6 AM and reaches Sumur by late afternoon. Halting there for the night, it returns to Leh the next day. Fare per person is around Rs. 256.
Leh to Charasa Bus Service: This small village lies a little ahead of Sumur, going towards Panamik. To reach here or even Sumur, you can board a bus from Leh at 6 AM every Saturday. Fare is Rs. 247 per person.
Leh to Khimee Bus Service: A little ahead of Panamik towards Warshi is the small village of Khimee. A bus from Leh starts at 6 AM every Tuesday for Khimee. Fare per person is Rs. 252. This is the bus that you can board to reach Panamik directly from Leh.
Leh to Taksha Bus: This is another village a little after Panamik and a weekly bus to here starts from Leh at 6 AM every Thursday. Fare is Rs. 252 per person.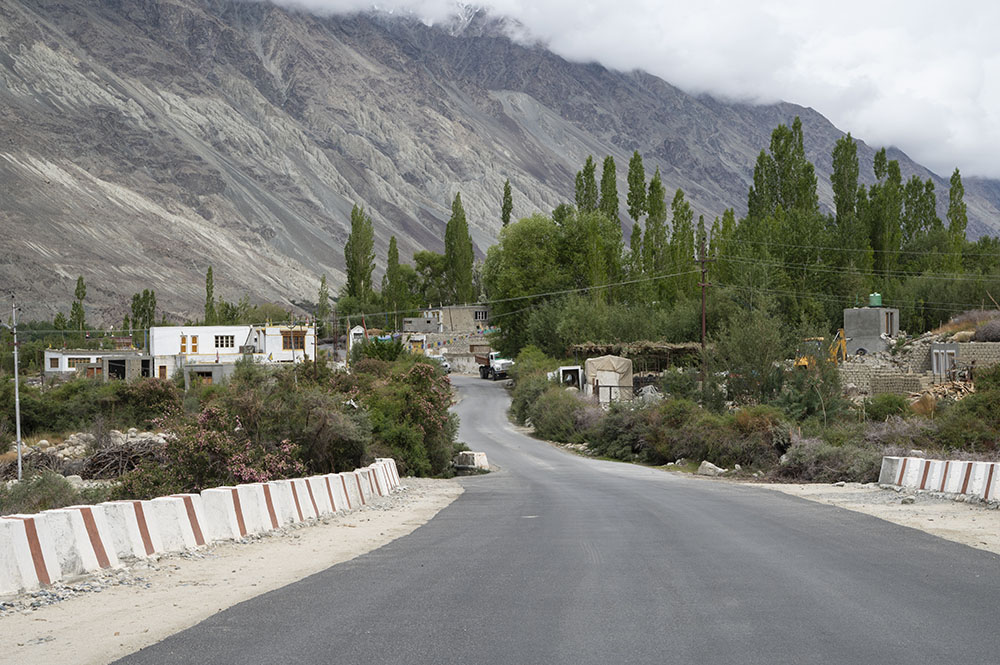 Buses within Nubra Valley
For local travel within Nubra Valley, mentioned below are buses that travel between the local villages.
Panamik to Diskit Bus: There is a daily morning bus from Panamik to Diskit at 7.30 AM.
Diskit to Turtuk Bus: There is a bus from Diskit to Turtuk at 2.30 PM daily. It reaches Turtuk at around 6 PM.
Turtuk to Diskit Bus: From Turtuk, there is a daily bus to Diskit at 6 AM every morning.
All these buses are JKSRTC operated. If you want to travel to Nubra valley in either of these, you will have to plan it on either a Tuesday, Thursday, or Saturday.
For all other days, there may be minibusses or shared cabs running from Leh to Nubra by private tour operators for which you will have to inquire about with any of the travel agents in Leh. Another option is to board either a tourist-shared taxi or a public shared taxi.
Leh to Nubra Valley Bus Fare
As you can see from the details above, planning a trip to Nubra Valley by Bus is not really that difficult or costly. A two-way fare per person to Nubra Valley will be a total of about Rs. 500.
There are several accommodation choices in Nubra valley where you can get a room for as little as Rs. 400 – Rs. 500. Add it with meal charges of about Rs. 150-200 per person and you can easily plan a 2 day trip to Nubra Valley for around Rs. 1500 per person at most.
Leh to Nubra Valley Bus Booking
All of the above-mentioned buses are local government-run ordinary buses and there is no advance ticket or booking available. You will have to reach the Leh bus stand, board a bus, and pay the conductor.
If however, you would like to book in advance, then your only choice is the minibusses or shared cabs operated by the local tour operators.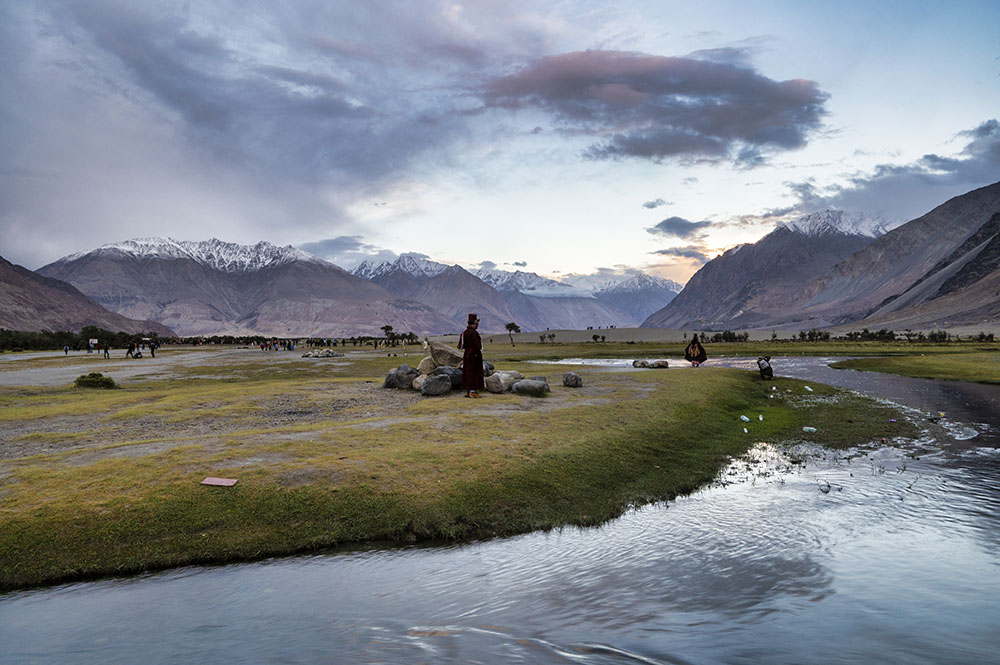 Leh to Nubra Valley Shared Taxi
You can get a shared taxi for Diskit from Leh Bus stand, the fare per person is Rs. 400. The taxis usually start in the morning, around 8 AM towards both Panamik and Diskit. It reaches Panamik at around 1 to 2 PM.
From the Diskit bus stand, you can easily get a shared taxi for Leh. These taxis leave Diskit at around 9-10 AM.
Leh to Nubra Valley Bus Online Booking
There is no online booking available either for JKSRTC or private mini-buses.
Leh to Nubra Valley Distance
It will depend on where you want to travel in Nubra Valley but Diskit is at a distance of about 120 kilometers from Leh. Sumur and Panamik will also be around the same distance. Add another 20 odd kilometers if you want to reach Turtuk.
Leh to Nubra Valley Travel Time
A journey from Leh to Nubra Valley by Bus would take about 6-7 hours.
Accommodation at Nubra Valley
There are multiple choices available for accommodation. You can choose to either stay at a hotel, guest house, or as a paying guest. For more details, read Accommodation in Nubra Valley – Guest Houses, Hotels, and Paying Guest.
Mobile Network in Nubra Valley
BSNL, Airtel, and Jio have good network connectivity in Nubra Valley. You will be able to make and receive calls as well as browse the internet. For more details, please take a look at Mobile Network in Ladakh and Data Connectivity.
Nubra Valley Altitude
Nubra Valley is actually at a lower altitude than Leh. The average altitude of the valley is about 10,000 ft.
Nubra Valley Weather
Days are moderately warm and the sun can be quite harsh. Nights however are extremely cold and you will need a heavy jacket if you want to step out of your hotel after the sun goes down.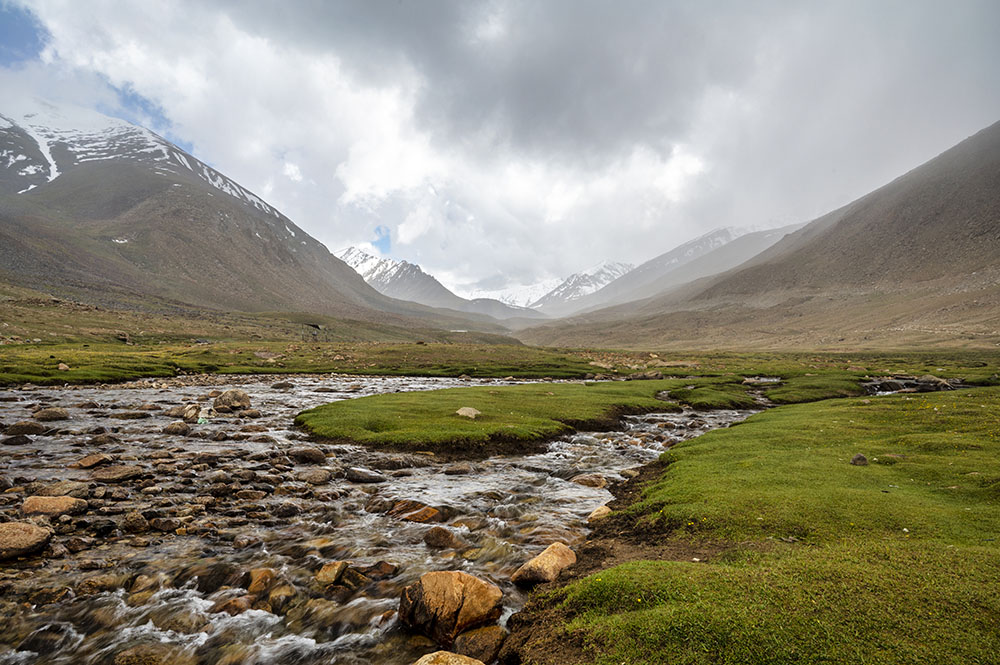 Nubra Valley by Bus
Mentioned below are a few good-to-know details that can help you plan better.
All these buses are just ordinary roadways buses; not even semi deluxe. Locals here use these buses to travel around and you should keep your expectations in terms of comfort to zero.
If you want to travel by luxury or deluxe bus, there are a few tour operators who provide that service in form of minibusses. Contact any of the tour operators in Leh and you can get the details.
All these buses travel past Khardung La so if you just want to visit the pass, you can board any of them.
If you intend on doing some photography, then you will have to carefully pick your seat, or else you will just be clicking pictures of a mountain wall. After Leh, the valley is mostly on the left side until Khardung La top. So you should pick a seat along with the door of the bus. After Khardung La, the valley remains on the right side mostly so switch seats; shift to the row behind the driver's seat.
All of the above-mentioned buses halt at Khardung La top for a brief period of time, about 10-15 mins.
Leh to Nubra Valley Bus – Conclusion
I hope this information on Leh to Nubra Valley bus service was helpful. If you have any questions, you can contact me on Instagram and I will happily answer. You can also consider subscribing to my YouTube channel and asking a question there.
This error message is only visible to WordPress admins
Error: No feed found.
Please go to the Instagram Feed settings page to create a feed.