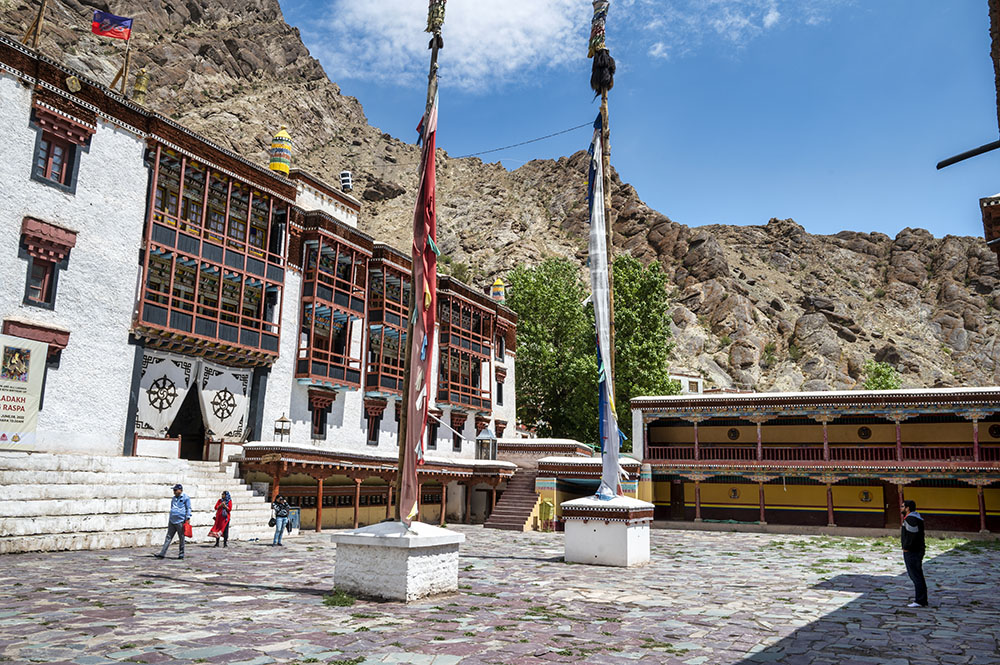 Hemis Monastery is located about 40 kilometers away from Leh City and at an altitude of 3,524 meters (11,562 ft). It was re-established in 1672 by the Ladakhi king Sengge Namgyal and has been under the patronage of the Royal Family of Ladakh ever since.
Painted in Blue, golden, white, and a lot many other colors, the monastery looks quite colorful and beautiful even from the outside. It houses two grand statues painted in golden colors in its temples – one of Lord Buddha and the other of Guru Padmasambhava.
We visited Hemis Monastery during my recent two-month-long road trip to Leh Ladakh. The post below provides a brief narration of our visit and several other necessary details about the monastery that can be of help if you are planning to visit there. To read the previous parts of this travelogue, you can follow the links below.
Journey So Far:
Below is a 5-minute long video of our visit to the monastery. You can take a look at it and it can help you decide whether you should include it in your itinerary or not.
Day 23 – Ladakh Monastery Tour
The thing about Monasteries in Ladakh is that not only they are religiously important, but are also one of the most visited tourist destinations here. A trip to Ladakh is incomplete unless you have been to its grand and magnificent monasteries.
These ancient and hundreds of years old structures attract a fair share of visitors each year. Some people even keep a day in their itineraries for the monastery tour in and around Leh.
Even if you are not able to do so and cover a whole lot of them, I will still strongly recommend that you visit at least one monastery during your trip.
This way, you would have visited and paid respect at a religious place and gained an important insight into the lives of the Ladakhi people.
For all other details about other tourist attractions in Ladakh and information on how to plan your trip, please take a look at How to Plan a Trip to Ladakh – A Complete Travel Guide. This post details everything that you need to know about visiting Ladakh.
Hemis Monastery
We were in Ladakh for 2 months during this trip and this was more than enough time to explore the region completely and see all that there was to see. The monasteries of Ladakh were also part of the itinerary and I wanted to cover as many of them as possible.
It was the 23rd day of our trip. The last 2 days were spent exploring the Tso Moriri and Tso Kar Lakes. While returning from Tso Kar to Leh, we made a small change in our plans and decided to stay in Karu for the night.
The reason behind that was that the Hemis Monastery is located close to Karu. But since we got late while coming back from Tso Kar on Day 22, paying a visit to the monastery was not possible.
So we decided to stay in Karu and go back to Leh on Day 23 while visiting a few monasteries on the way. Hemis was the closest, at a distance of only 7 kilometers from Karu and that is where we decided to go first.
We started the day a little late, at around 8 am. After a light breakfast, we checked out of the small hotel in Karu by 9 am and started driving on our way to Hemis.
How to Reach Hemis Monastery
In order to reach Hemis Monastery from Leh, you will have to travel towards the small town of Karu on the Manali Leh Highway.
In Karu, you will reach a Junction where the road towards your left will take you to Pangong and the one on your right will go towards Hemis Monastery.
Ask the locals there if you weren't sure of the diversion and anyone can point you in the right direction. You will have to cross over the Indus River and travel about 7 kilometers from Karu to reach the monastery.
That is what we did. From our hotel, we drove back a little, crossed the Karu junction, and turned right to drive along the Indus River for a couple of kilometers. After that, we crossed the bridge on the river to get to its other side.
Colorful gates on the way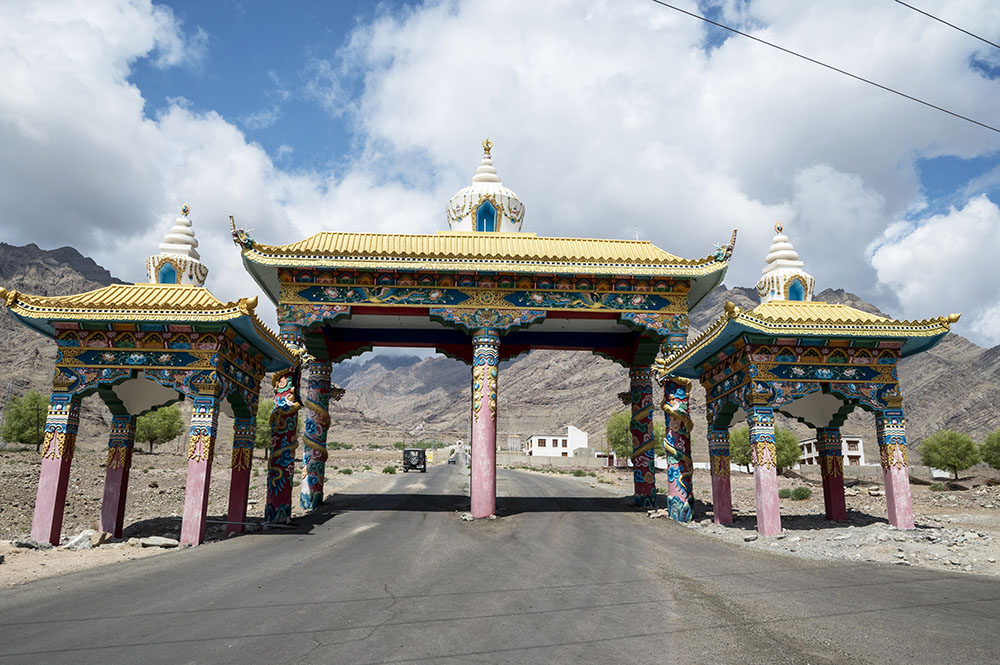 A Stupa that resembles the Shanti Stupa in Leh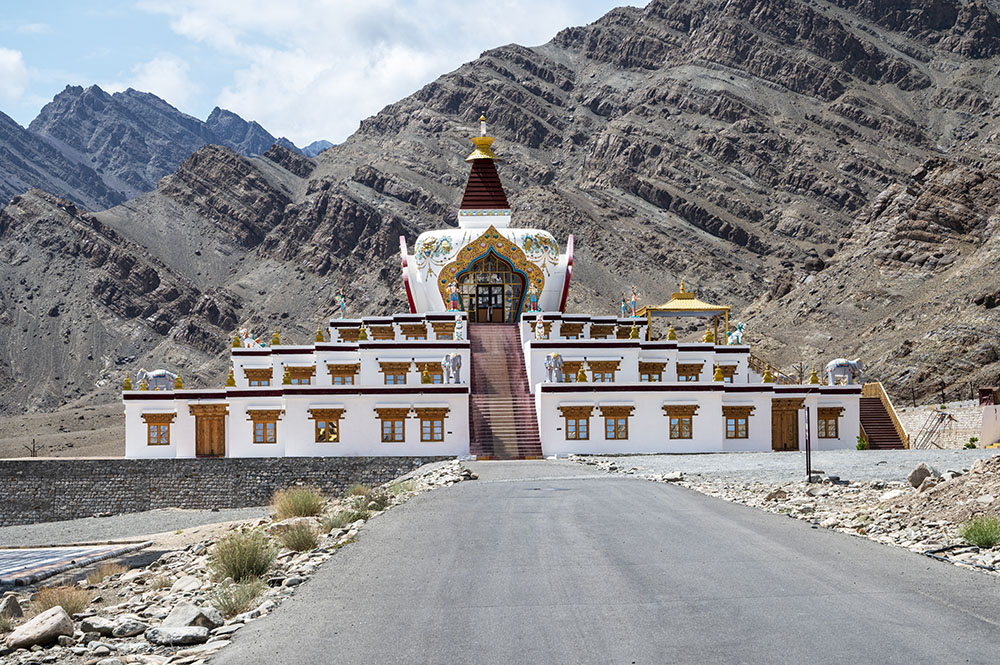 The condition of the road was smooth and it did not take us long to reach Hemis. We took a couple of photography breaks in between and in between 20 minutes, we were standing at the gates of the monastery.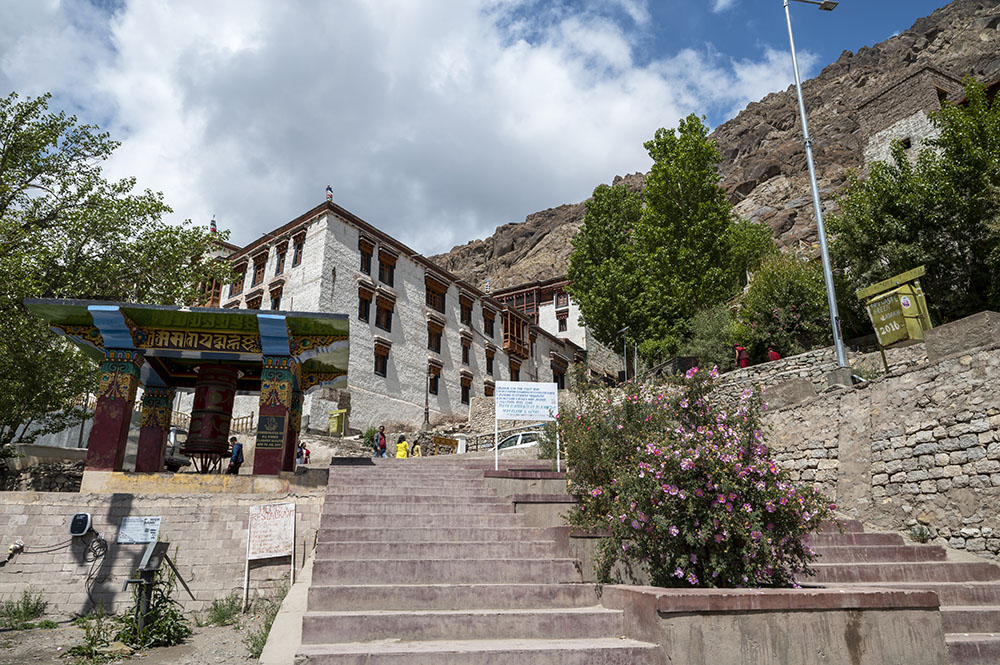 Leh to Hemis Monastery Bus
There is a bus that travels from Leh to the village of Martselang, and it goes via Changa and Hemis. This bus starts from Leh at 8.30 in the morning and arrives at Martselang at 9.30 AM.
For the return journey, this bus leaves Martsellang at 4.30 PM and arrives at Leh at 5.30 PM via Changa and Hemis. If this time suits you, you can travel by this Bus. Otherwise, you will have to either rent a private taxi, motorcycle, or an automatic bike like Scooty from Leh.
Also Read: How to Travel to Ladakh by Public Transport
Hemis Monastery Timings
The visiting hours of Hemis Monastery and Museum for tourists are from 8 AM to 1 PM and 2 PM to 6 PM. The Monastery remains closed from 1 PM to 2 PM and you can visit here on all 7 days of the week. It is open even on all public holidays.
Hemis Monastery Entry Fee
The entry fee for Hemis Monastery is Rs. 50 per person, which is actually slightly higher as compared to other monasteries. For foreign nationals, the fee is Rs. 200 per person.
We reached the monastery, parked our car, and bought the tickets. From the ticket counter, you will have to climb a few stairs to reach the gate of the monastery.
The first thing that I noticed about Hemis was that it felt a little crowded. In my opinion, Hemis Monastery receives the second-highest number of tourists in Ladakh after Thiksey Monastery. There were a lot of tourists around, both domestic and international.
Also Read: Lakes in Ladakh – How and Which Ones to Visit
Exploring the Monastery
Once you are inside the monastery, you will immediately know why it is claimed as the richest monastery in India. It houses gold statues and Stupas decorated with precious stones which are its biggest tourist attraction.
It also has a large collection of Thangkas. A Thangka is a Tibetan Buddhist painting on cotton, or silk applique, usually depicting a Buddhist deity, scene, or mandala. There is one Thangka here which is said to be the largest one in existence and put on display only once every 12 years.
The Hemis Monastery is divided into two sections. The assembly hall is known as Dukhang and the temple is known as Tshogkgang.
Dukhang Chenmo houses an idol of a fierce protector called Gyalpo. He is believed to look over the entire Hemis Monastery. This idol represents the highest and the most powerful form of Buddhism, tantric Buddhism.
The second assembly hall, called Dukhang Barpa, has an idol of a peaceful golden Buddha. On the upper floor of the monastery, there is also a huge statue of Guru Padmasambhava, also known as Guru Rinpoche.
Photography and videography are strictly prohibited inside the monastery and its temples. You can only click pictures from the outside or when you are in the courtyard.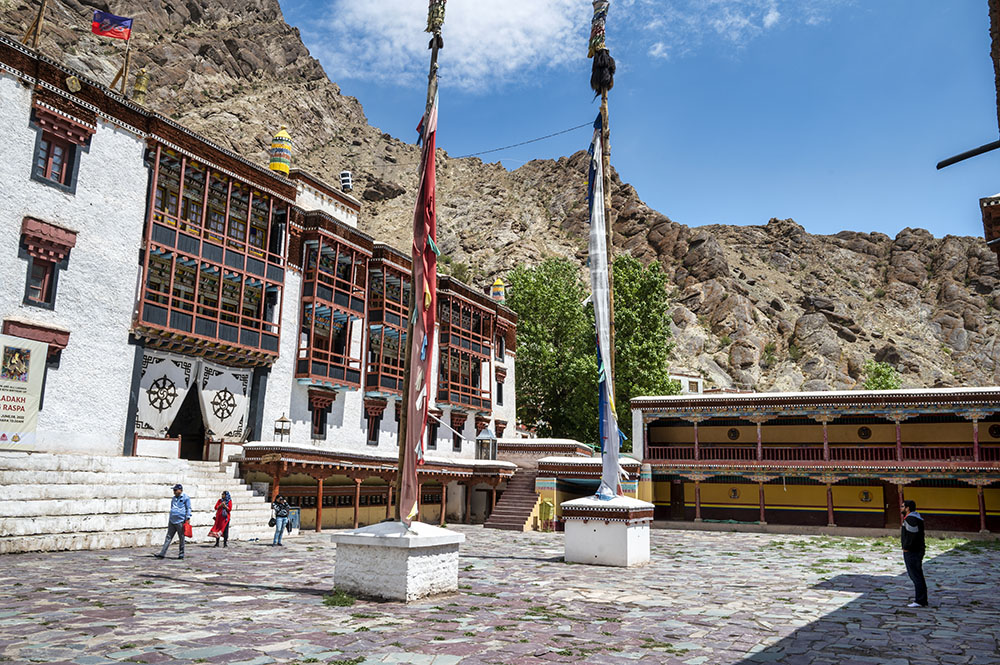 Hemis Monastery Museum
The Monastery also has a museum which is reputed to be as rich as the monastery itself. The museum will be to your left as you climb up the stairs and enter the monastery.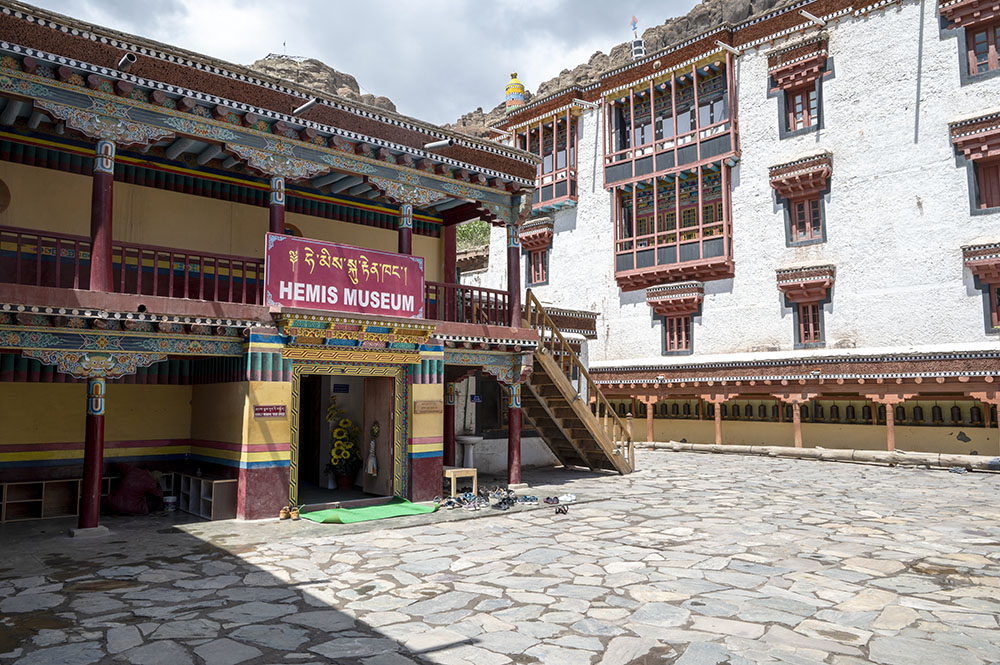 It houses a large collection of historical Buddhist Thangkas, weapons, artifacts, and carriers.  There is also a library here that has an awesome and massive collection of Tibetan Books, manuscripts, and relics.
On the ground floor of the museum, there is a small shop that sells several souvenirs like items like books, T-Shirts, trinkets, and Ladakh magnets. Photography and videography are strictly prohibited inside the museum as well.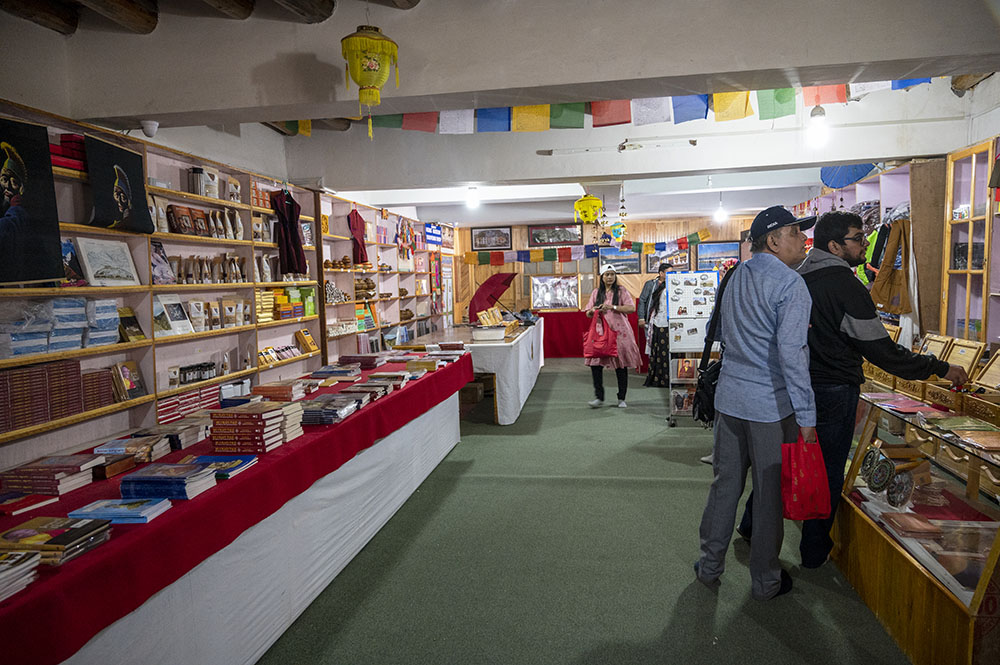 Hemis Monastery Festival
The Hemis Festival celebrates the life of Lord Padmasambhava (Guru Rinpoche) whose life mission, it is said, was to improve the spiritual condition of all living beings.
It is celebrated on Guru Rinpoche's birthday which interestingly falls only once every 12 years. The festival takes place in the rectangular courtyard in front of the main door of the monastery.
During the celebrations, mystic mask dances known as Cham is performed by the Lamas. A number of musicians play traditional music with four pairs of cymbals, large-pan drums, small trumpets, and large-size wind instruments.
Hemis Monastery Stay / Accommodation
The stay option at the Monastery is known as Hemis Monastery Guest House.  The building is separate from that of the monastery. So you are not really staying in the monastery but in a guest house run by the monastery.
Please note that the accommodation here is very basic so do take a look before you decide to check in. The rooms and the bedding will be just about OK in terms of cleanliness.
There are a total of 4 floors in the building and the rooms are not really that well maintained. The worst part, however, is the washrooms. Each floor has just one washroom and all of its occupants share it.
Heed my warning, before you decide to stay with the guest, check the washroom. In fact, check the washroom first and then the room. Chances are that the very sight of the washroom would have you change your mind about staying here.
The charge for staying at Hemis Monastery is Rs. 900 per room. This fare is increased to Rs. 1800 per room during Hemis Festival.
Another important thing you must know is that the monastery guest house has no kitchen so if you stay here, you will have to eat out.
Also Read: Foods to Try in Ladakh
Best time to visit Hemis Monastery
The best time to visit Hemis Monastery would be around the dates of the Hemis Festival which can be either in June or July. This way, you get to see the monastery all decorated for the grand celebrations ahead.
If you could not visit around Hemis Festival, then any time is a good enough time. The road from Leh to Hemis opens throughout the year, including the winter season.
So the only thing you got to worry about is when you can manage to visit Ladakh. But irrespective of the month you visit here, Hemis Monastery will always be a charming experience.
Mobile Connectivity
BSNL, Jio, and Airtel have coverage at Hemis as long as you have a postpaid phone. Prepaid phones do not work here or anywhere else in Ladakh for that matter.
Hemis Monastery Timings
The monastery remains open from 6 am to 6 pm every day, even on Sundays and national holidays.
Permit
You do not need to obtain a permit for visiting the monastery. You can just reach there, buy the ticket and enter. Inner Line Permit is in fact not required to visit anywhere in Leh City. It is only needed when you travel from Leh to other areas of Ladakh like Nubra or Pangong.
That is mostly all that you need to know about visiting the Hemis Monastery. We spent about an hour there, visited the temples, the museum, and bought some trinkets from the souvenir shop.
After Hemis, we decided to continue our monastery tour and move on to the next monastery on our list. Hemis was a pleasant experience that could have been better if it was a little less crowded. This wish of mine came true pretty soon.
We drove from Hemis to Stakna and surprisingly, it was only the two of us there in the monastery. Stakna Monastery was smaller but it had a better view and I loved the peaceful environment there. Please click on the link above to continue reading the next part of the travelogue.
Conclusion
I hope the travelogue, pictures, and information above on Hemis Monastery were of help. If you have any questions, you can contact me on Instagram and I will be happy to answer. You can also consider subscribing to my YouTube channel and asking a question there.
This error message is only visible to WordPress admins
Error: No feed found.
Please go to the Instagram Feed settings page to create a feed.