Below is a Leh to Pangong Tso Road Map that I created. I have tried to keep it as comprehensive as I can; including every possible route that you can take to reach the lake from Leh town. Due to the large area that it covers, you will have to zoom in a bit to read the text. You can right-click and save the image to your hard disk to be able to read it better.
For a detailed travel guide on visiting Pangong Lake from Leh, including route details and where to stay, please take a look at How to Plan a Trip from Leh to Pangong Tso.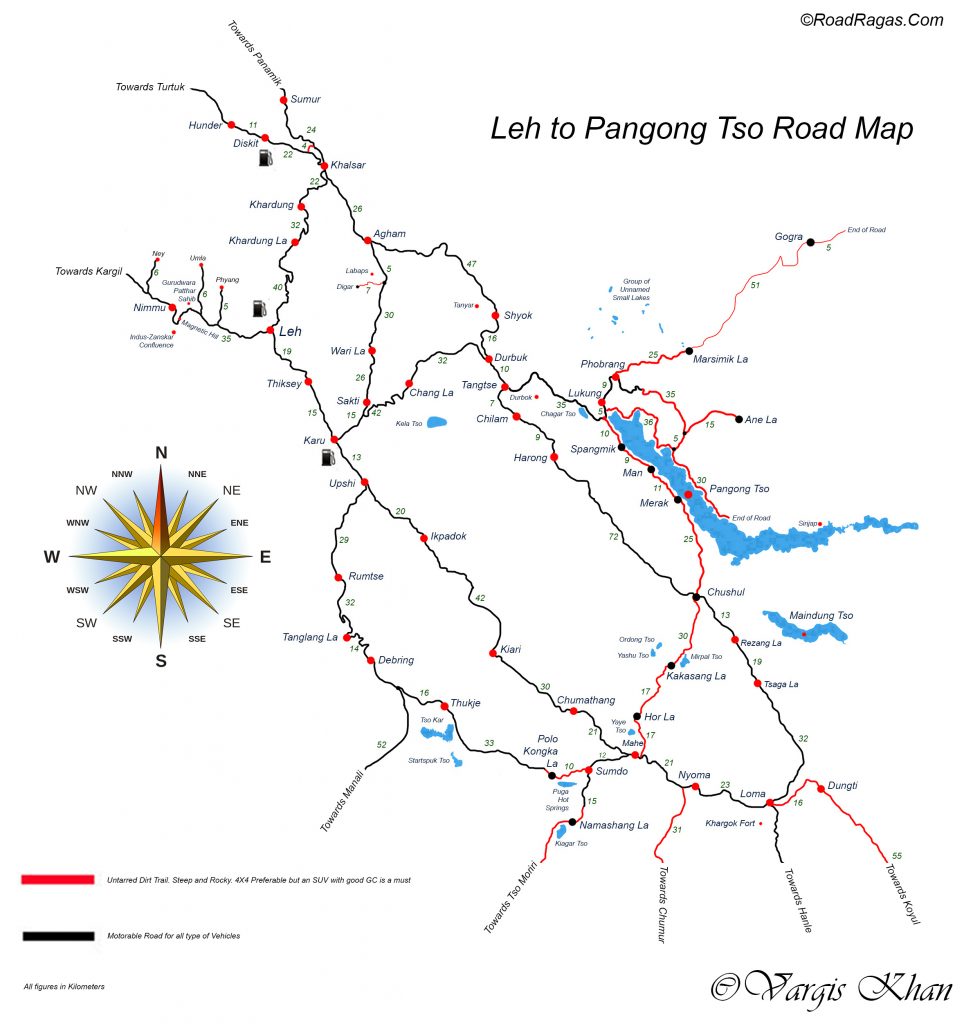 Leh to Pangong Lake Route Map
The most common and quickest way to reach the lake of course is via Chang La; which is about 6-8 hours of journey depending on your speed and breaks. An alternate route is to reach Nubra valley first and then go to the lake via Shyok road or Wari La. Third way around can be to reach via More plains; either from Tso Kar or from Chumathang.
Leh to Pangong Tso Distance by Road: 220 Kilometers via Chang La
Pangong Tso Altitude: 4,250 meters
Leh to Pangong Travel Time: 6 to 8 hours depending upon your speed and breaks
Pangong Tso Weather
During summer, days are pleasant but the wind is strong and the sun harsh. At night, however, even during the months of June and July, the temperature can still drop close to zero degrees.
Leh to Pangong Lake Taxi Fare
A private taxi from Leh to Pangong will cost between Rs. 10,000 to Rs. 12,000 for a 2 days trip. A tourist shared taxi will cost Rs. 1200 to Rs. 1500 per person. A local shared taxi would cost about Rs. 250 to Rs. 300 per person
Leh to Pangong Tso Bus Fare
By Bus, the journey will cost Rs. 250 per person. The bus reaches Pangong, stays there for the night, and returns the next day. This way, you can board the same bus for coming back to Leh and a round trip will cost about Rs. 500.
Conclusion
I hope the Leh to Pangong Tso Road Map attached above was of help. If you have any further questions, please feel free to ask in the comments section below or at our Community Forum and I will be glad to answer.