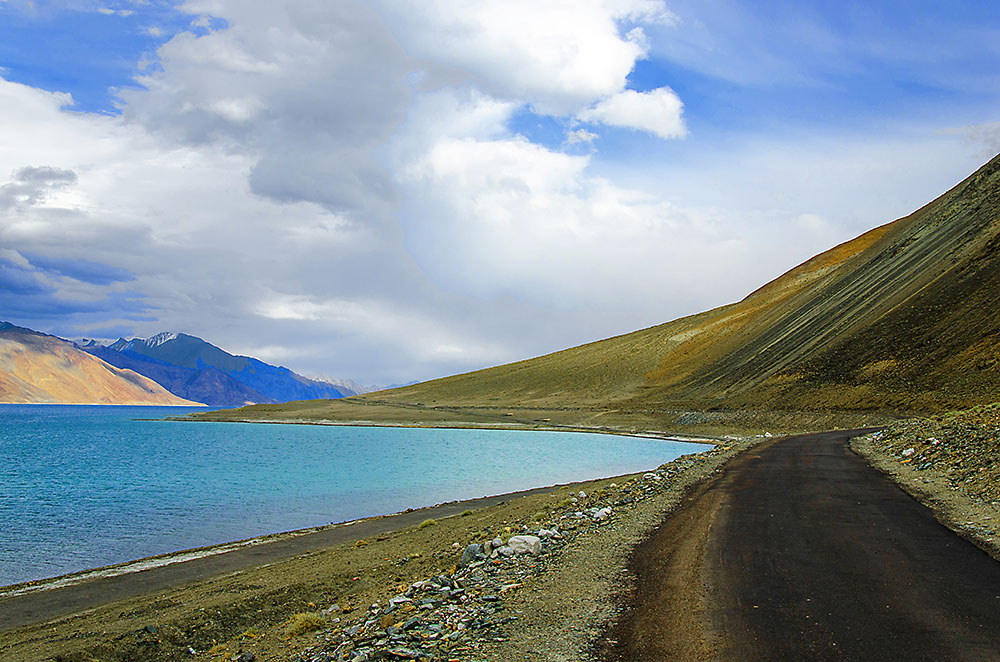 While drafting an itinerary for your Ladakh road trip, the most important thing you need to keep in mind that this is not a journey that you are going to take each month or each year. So the idea should be to see as much as possible and trust me, there is plenty to see there. You must focus on the journey and not the destination.
Unlike most of the other tourist spots, Ladakh is a place where your entire journey is something that you should enjoy. Vistas change at every corner and it is a feast for eyes at every turn of the road. This is not a journey where you can just doze off in the vehicle and wake up when you reach the destination. Instead, this is a journey that is an adventure in itself. A journey that you can not afford to miss any part of.
Best Itinerary for Ladakh for your First Visit
For your first visit to Ladakh, I will recommend that you start from Srinagar. The biggest reason behind doing so will be acute mountain sickness. When you travel to Leh from Srinagar, the gain in altitude is gradual and this allows more time for your body to adjust.
On the other hand, if you travel from Manali, the gain in altitude is a bit sudden. On Day 1, you are in the plains, sitting comfortably at your home. You then begin your trip and on day 2 you are in Manali at a height of 2000 meters. From there, you straightaway jump to either 3000 meters at Keylong or 4,290 meters at Sarchu.
Also read: How to Plan a Trip to Leh Ladakh
Due to this very reason, the majority of the people traveling from Manali to Leh experience high altitude sickness. Keeping this in mind, I will draft out a sample itinerary for Ladakh from Srinagar and returning via Manali.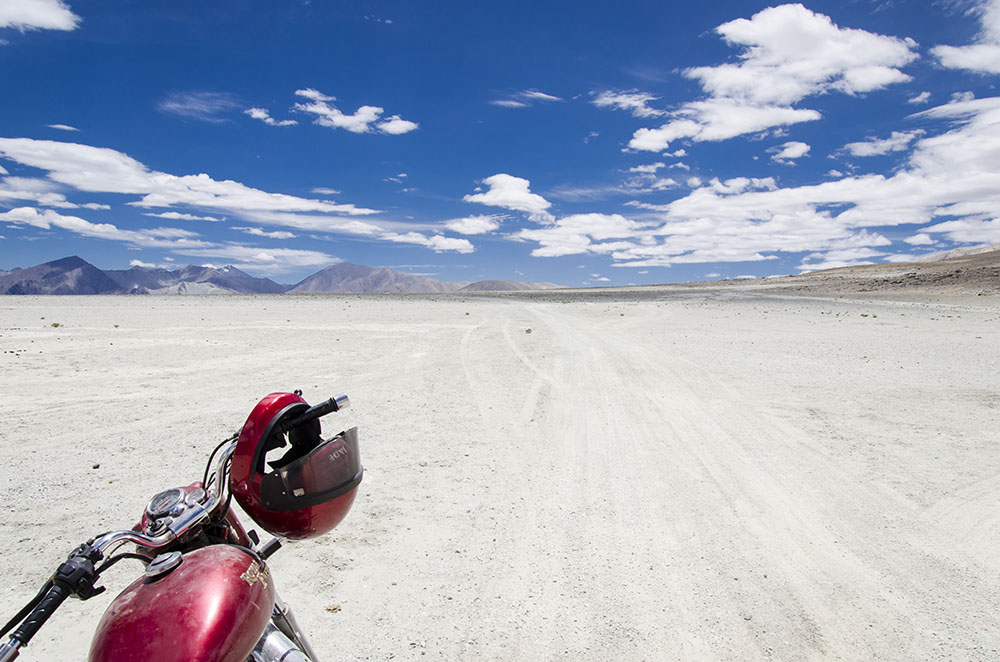 An Ideal Itinerary for Ladakh
I will suggest an example of an itinerary that can be followed by all kinds of tourists. Whether or not you can stick to this itinerary to the last detail will depend on a lot of factors; like your mode of travel and how many days you have in hand.
However, it should at least get you started. You can add or remove places or days from here as you seem convenient. For the sake of this article, I will assume that you are starting from Delhi and traveling by your own vehicle. If your starting point is not Delhi, then the journey for the first and last day will change.
This itinerary is more for a person who is traveling by his own vehicle; either by a car or motorcycle; or even a privately rented taxi. If you are traveling by public transport or a shared cab, it will be hard to follow this plan. For public transport, I recommend that you read How to Plan a Budget trip to Ladakh using Public Transport Services.
Time Required for Leh Ladakh Trip
In my opinion, a minimum of 14 days is a must to fully enjoy Ladakh without rushing yourself. But then not everyone can afford to be away from their regular lives for 2 weeks altogether.
I will plan this itinerary for two weeks but if you have lesser time in hand, feel free to ask in the comments section below and I will be glad to help you out with your itinerary for Ladakh for a lesser number of days. If you would rather start from Manali, just follow the same plan the other way around.
Day 1: Delhi to Jammu
Total distance covered: 590 kilometers
Travel Time: 12 hours depending on your speed and breaks
Several hotels at Jammu and you will have no trouble finding accommodation in any budget range.
Day 2: Jammu – Patnitop – Srinagar
Total distance covered – 300 kilometers
Travel Time – 10 hours
Visit Dal Lake and enjoy a Shikara ride. Stay for the night in Srinagar City. If within budget, stay at a houseboat. If not, you can easily find budget hotels here.
Day 3: Srinagar – Sonamarg – Zoji La – Drass – Kargil
Total distance covered: 210 kilometers
Travel Time: 8-10 hours
Enjoy the scenic ride through the beautiful Kashmir valley. See the beauty of Sonamarg and cross Zoji La Pass on the way.
Day 4: Kargil to Leh
Total distance covered: 220 kilometers
Travel Time: 10 hours
See Lamayuru Monastery, Lunar Landscapes, Mulbekh Maitreya, Gurudwara Patthar Sahib, Magnetic Hills, and Indus – Zanskar Confluence at Nimmu
Day 5: Leh
Spend a day in Leh for rest
Visit Leh Palace, Shanti Stupa, and Leh market.
Arrange Inner line permits for the journey ahead.
Day 6: Leh – Khardung La – Diskit – Hunder
Total distance: 130 kilometers
Travel Time: 6 to 7 hours
Cross Khardung La on the way, once claimed as the highest motorable pass in the world.
Visit Diskit Monastery, Hunder Sand dunes, and see Bactrian camels.
Day 7 : Hunder – Sumur – Panamik – Sumur – Khardung La- Leh
Total distance: 200 kilometers
Travel Time: 8 hours
Visit Panamik before starting on your way back to Leh and see the hot water springs there.
Day 8: Leh – Hemis Monastery – Shey Palace – Pangong Tso
Total Distance: 240 kilometers
Travel Time: 9-10 hours
Visit Hemis Monastery on the way
Day 9: Pangong Tso Lake – Thikse Monastery – Shey Palace – Leh
Total Distance: 240 kilometers
Travel Time: 9-10 hours
Visit Thikse Monastery and Shey Palace on the way back
Day 10: Leh
Spend a day in Leh for rest before starting your return journey.
Day 11: Leh – Upshi – Chumathang – Tso Moriri
Total distance: 220 kilometers
Travel Time: 8-9 hours
Day 12 | Tso Moriri – Tso Kar – Debring – Moore Plains – Pang
Total distance: 150 kilometers
Travel Time: 8 hours
Day 13: Pang – Sarchu – Jispa / Keylong
Total distance: 160 / 190 kilometers
Travel Time: 6 – 8 hours
Day 14: Jispa / Keylong – Rohtang Pass – Manali
Total distance: 140 kilometers
Travel Time: 6 – 8 hours
Day 14 | Manali – Delhi
Total distance: 560 kilometers
Travel Time: 12 – 14 hours
Now, this is probably one of the most common itineraries followed for the Ladakh trip and perfect for anyone visiting Ladakh for the first time. However, not everyone can follow it to the last detail. You can modify the travel plan above per your convenience but do keep the following points in mind.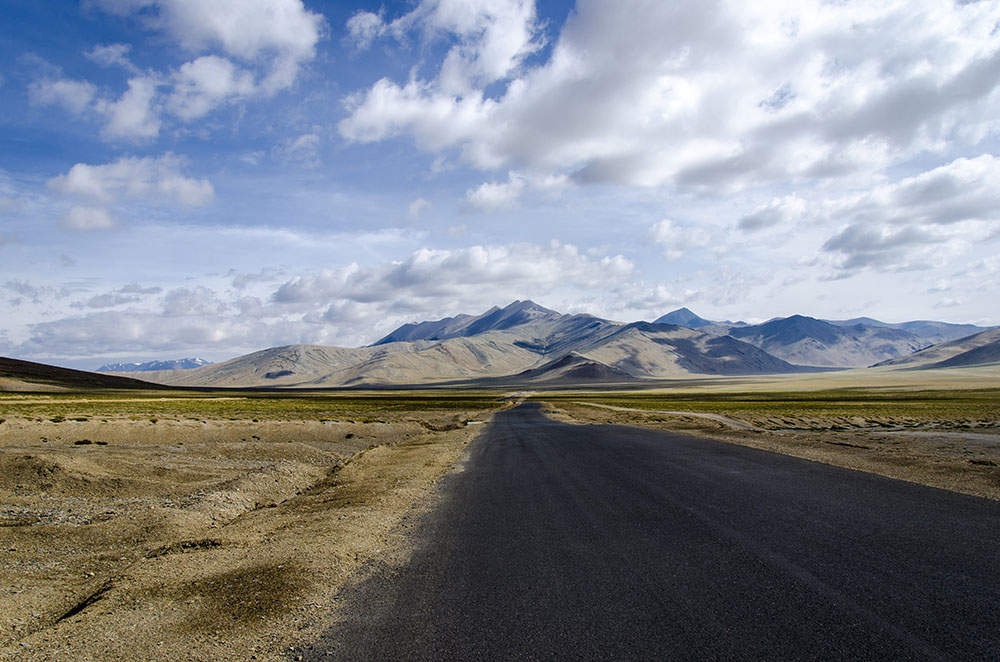 How to Plan Your Own Itinerary for Ladakh
While Manali to Leh can be covered in 2 days as well, you really should give this road 3 days to enjoy it at its fullest. Take a look at Manali Leh Highway Route Guide for more complete details on this part of the trip.
Srinagar Leh highway must be covered in a minimum of 2 days. This is not at all a 1-day journey. Please take a look at Srinagar to Leh Highway Route Guide to read about this route in detail.
You really need to consider and prepare yourself for AMS which will hit you sooner or later if this is your first trip to a high-altitude place. Please read How to Handle Acute Mountain Sickness in Ladakh to know what the symptoms are and how can they be avoided.
If you are traveling to Leh from Manali, do not go to Karzok (Tso Moriri) while on your way. Reach Leh first and then come back to visit Tso Moriri or take the alternate Chushul route. Karzok is at a very high altitude and AMS will definitely ruin the fun which is the last thing you want on this trip.
Another point is of Inner Line Permits without which you cannot go to Karzok. To get these permits, you anyways will have to go to Leh first.
Itinerary for Nubra Valley
Nubra valley can actually be covered in a day if you are short on time. Some people tell me that they do not plan to visit Nubra and my advice always is that they must.
The reason being is that you are anyways going to spend a day visiting Khardung so why not start a little early and stretch your drive till the beautiful Nubra Valley. It is definitely worth it. Just start really early from Leh and return by late evening.
If you are not short on time, then a night stay at any of the villages in Nubra valley is highly recommended. For details on stay choices and sightseeing, you can take a look at How to Plan a Trip from Leh to Nubra Valley.
Accommodation at Nubra is available at almost every village here, either in the form of a hotel/guest house or paying guests. Diskit has the highest number of hotels so you may want to stay there for the night.
Itinerary for Pangong Tso
Like Nubra Valley, the journey to Pangong Tso can also be done in a day if you started really early from Leh but my advice is against that. If you are covering this route in a day, then all that you will do is just reach Pangong, spend a few minutes there, and drive back.
Pangong is not a place that you can just touch and go. It deserves at least one evening of your life. A night stay at the lake comes very highly recommended. Take a look at How to Plan a Trip to Pangong Tso to read in detail about the route and sightseeing involved.
If you are planning to cover Changthang valley, that is to reach Tso Moriri from Pangong Tso, then you need to keep at least 2 days in hand. Though the distance is not that great, the roads are that bad that you can not finish this journey in a day.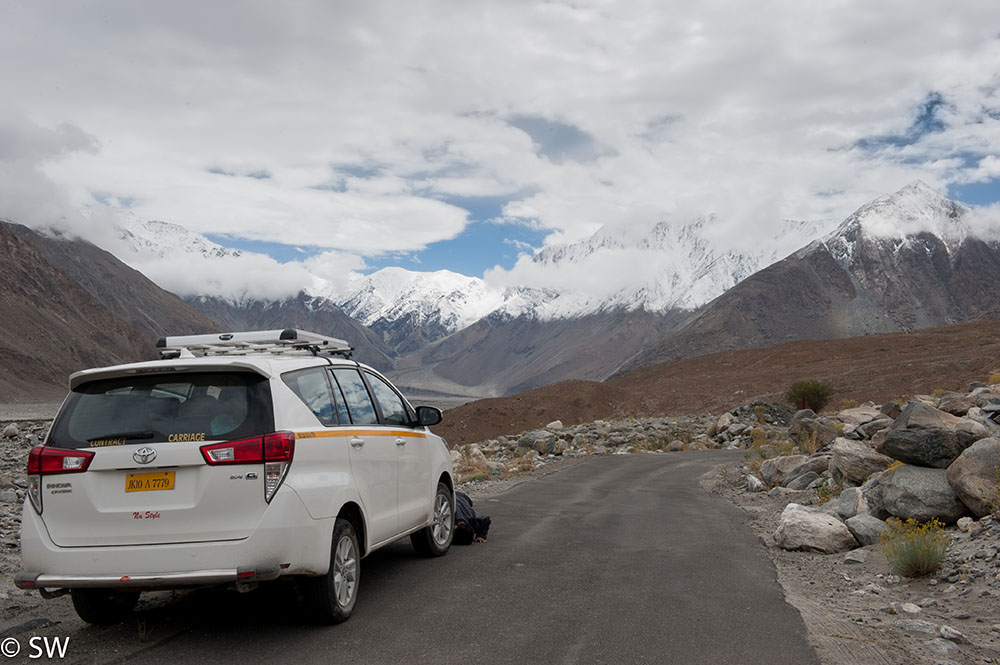 Pangong to Tso Moriri via Chushul
No matter how early you started from Pangong, you will definitely end up riding or driving in the dark if you attempt to reach Karzok from Pangong the same day. This is very dangerous and I advise everyone against it. I have had a first-hand experience at this when we risked getting lost in the middle of the night.
The ideal itinerary is to include Hanle in your permits. Start from Pangong, reach Loma, take the turn towards Hanle and spend the night there. The next day, trackback from Hanle to Loma and then continue to Karzok. For complete route information, please take a look at How to Plan a Trip from Pangong Tso to Tso Moriri.
Itinerary for Zanskar Valley
If you are planning to include Zanskar in your itinerary for Ladakh, then you need to have a minimum of 2 days to cover this region. Reach Kargil from Srinagar or Leh of Day 1, go to Padum on Day 2 and stay there for the night, Come back to Kargil on Day 3, and either go to Srinagar or Leh on Day 4.
This journey needs a minimum of 4 days and any less than that would be a rushed drive or ride which is not at all advised. I have talked about this entire route in detail in How to Travel from Kargil to Padum.
If you are not traveling in your self-owned vehicle, then you can find public transport on both Manali – Leh, and Srinagar – Leh highway in form of shared taxis.
Flying to Leh
If you are flying to Leh, the above-mentioned itinerary and tips for local sightseeing still apply. The only added factor is AMS. You must stay in Leh for at least a day to let your body get used to high altitude. The order of visits should be Nubra, Pangong, Tso Moriri, and Zanskar. This way your body will not suddenly start acting up due to high altitude sickness.
If you want to take a look at an example of an itinerary, please read An Ideal Itinerary if you are Flying to Leh.
Accommodation
Hotels are available in Leh in plenty and in every price range. For budget calculation, assume a daily charge of Rs. 1000 – Rs. 1500 per day at the least in Leh City and also other places in Ladakh. It can go down or up a little depending on your time of travel but you should assume this number to calculate your overall accommodation cost of the trip.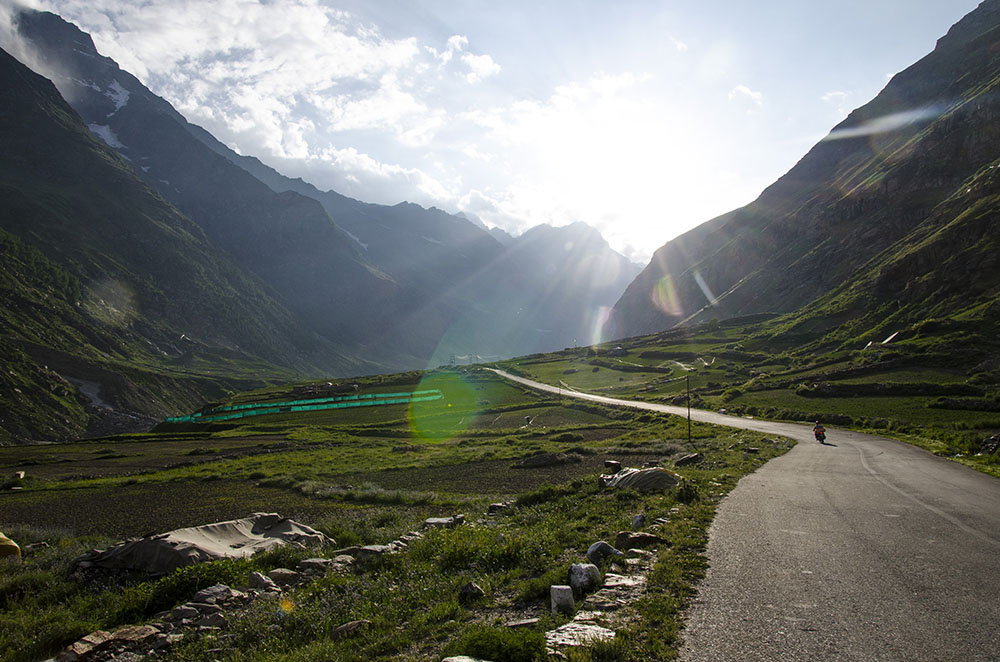 Trip Cost
If your trip is tight budgeted, then shared taxis are your best bet but visiting the nearby regions can become a pain. For people visiting on a motorcycle, a 2 weeks trip, covering the entire Ladakh, including fuel, accommodation, and food can easily be capped between 15-20k.
If you are traveling in a four-wheeler, replace the fuel charges according to your own car's mileage and you will get the idea. Take a look at How to Calculate your Budget for Leh Ladakh Trip to know more about this.
Itinerary for Ladakh Trip – Conclusion
I hope this information and itinerary for the Ladakh trip were of help. If you have any further questions, please feel free to ask in the comments section below or at our Community Forum, and I will be glad to answer.