One of the most common queries I receive on a daily basis is regarding reaching Tso Moriri directly from Pangong. There is a lot of confusion regarding how long it takes to reach from Pangong Tso to Tso Moriri. People would plan their itinerary assuming that it is a single day journey and they will make it to Moriri on the same day. Reality however is entirely different. Distance between these two lakes may not be that great but the fact remains that it is at least a 2 days journey. There is absolutely no way that you can make it to Karzok from Pangong while the sun is still in the sky and I am speaking this out of experience. While I did not do this intentionally and we ended up completing this journey on the same day but by the time we reached Karzok, it was pitch black all around and clock was showing just about midnight, after starting from Pangong at about 9 AM. The entire journey from Loma till Karzok was completed in rush due to no roads, no help and absolutely pitch black. We ended up getting lost as well which added another couple of hours to an already tiresome day.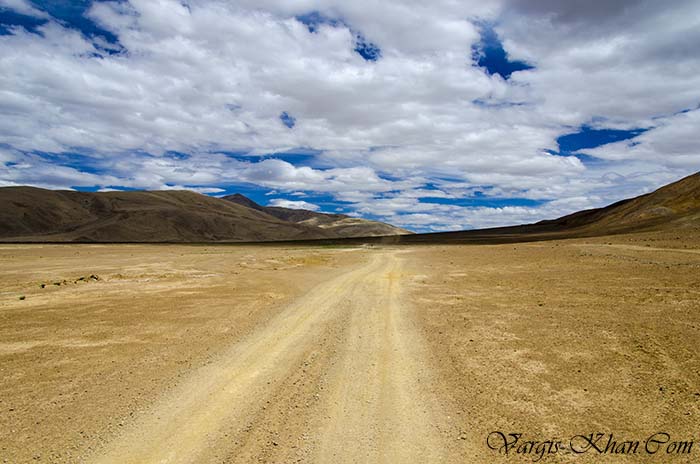 There are 2 ways to reach Moriri from Pangong. One is either you return to Leh and then go to Karzok. If you are doing this then you already would know that it took you good 8 hours to get to Pangong from Leh so there is absolutely no way that you can reach back to Leh and continue to Moriri, hoping to reach in time before the sun sets. For this route, you would have to return to Leh, spend the night there and then continue to Moriri on the next day.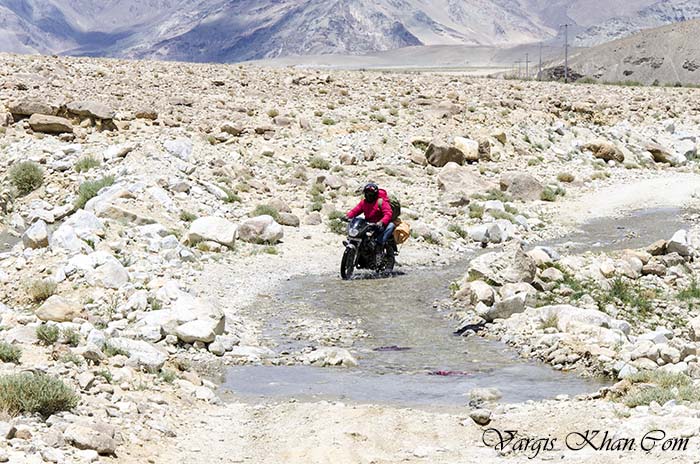 Another, shorter and more popular route is via Chushul. For someone who hasn't been to Ladakh and is planning their first trip, the small distance of 200 odd kilometers on this route gets misleading. If this is your itinerary then you must consider the fact that road on this route is almost non-existent. For most of the journey, you will have to follow a dirt track created by Army trucks, as shown in the pic above. Below is another pic of the road.
You cannot rush on these roads and for the initial couple of hours you will be driving right next to Pangong Lake which would also mean frequent breaks. Even on the patches where you will actually be on a road, the condition will not really be that great. This ideally is a 2 days journey at the least. If you are on a motorcycle, then you may hope to reach Karzok by sunset if you started by first light of the day from Pangong. But if you are in a car, then this journey must be broken in to two days. You will also have to consider the fact that you will be stopping at several places for registering yourself with ITBP check posts. Another reason you cannot speed up is because you will have to drive slowly and carefully to ensure that you remain on the right track. As I mentioned, there is no road and one wrong turn taken in rush (which happened with me) can land you in trouble. This entire area is highly sensitive so there is absolutely no one in sight that you can ask for help or directions except for the army guys. An ideal plan should be
Day 1 – Spangmik-Man-Merak-Chushul -Saga-Loma-Hanle
Day 2 – Hanle- Loma -Nyoma-Mahe-Sumdo-Karzok.( Tso Moriri)
For more information on this route, please visit the following article where I have explained the entire route with a map.
So if you are planning on the either of these routes, please ensure that you make it a 2 days journey and then only you can enjoy your trip without getting tired and rushing through the entire day.