If you think about it, there is actually no set or definite answer to the question of the best time to visit Chitkul. Why? Because it will entirely depend on your reason for the visit. Not just Chitkul but when to go to any place really depends on what do you want to see or do there. Factors like mode of travel, company, and budget also play a part. So in the end, it all boils down to your own preference and convenience.
It is extremely rare that a person will cancel or change their plans to visit any place just because it wasn't the greatest time to be there. The question rather should be what you can actually expect at the time of your own visit.
Also Read: How to Plan a Trip to Chitkul – A Complete Travel Guide
With that being said, there is a certain time of the year when every tourist destination receives the majority of its share of tourists. Weather is usually the driving factor behind it. This time is considered to be the best one to visit because it suits most of the people. In terms of Chitkul, the weather literally decides whether you can plan your trip there or not at a certain time in the year.
Overall, the months of May, June, and September are considered to be the best time to go to Chitkul. But will these months suit you as well? Read on to find out.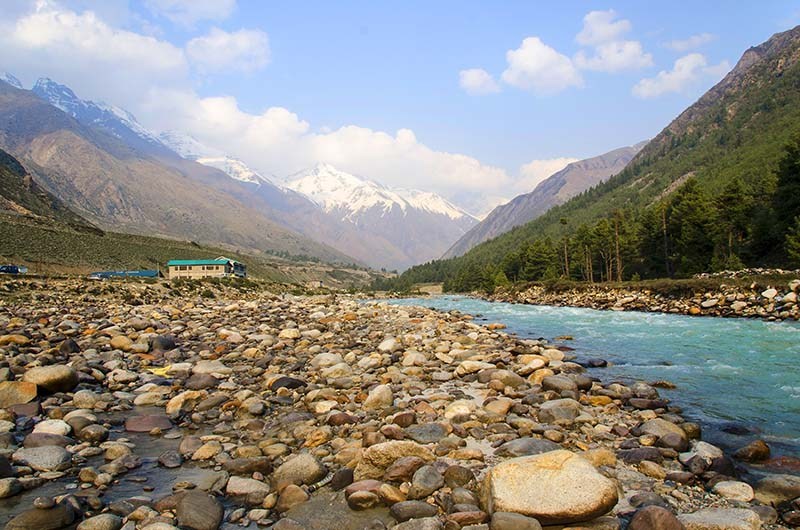 Best time to visit Chitkul
The first thing you need to know about visiting Chitkul is that it remains cut off from the rest of the world during the winter season. The 40-kilometer stretch that bifurcates at Karchham Bridge and ends at Chitkul gets blocked by snow in winter, making the village completely inaccessible. At this time, the entire village remains covered with snow and even the locals move to lower regions of Himachal.
So your trip can actually only be planned from late March to mid-November. Within this window as well, late April to September is considered a safe period. Any before than mid-April or after September will include a certain amount of risk that you will have to consider.
There have been incidents when the weather closed in and tourists got stuck in Chitkul for several days before they could be airlifted and rescued. In 2017, about 100 people were stuck there in April and in 2018, people got stranded here in October.
Also Read: Tosh Village – A Comprehensive Travel Guide & Itinerary
Weather of Chitkul
Due to its location and altitude, the weather of Chitkul remains cold throughout the year. It almost never gets hot, not even warm, and the only change in weather is between being harsh cold to pleasant cold. I have been here in May, June, and July and in all three months; we had to sleep with a heater right next to our beds at night. Even after that heater, I was buried under 2 blankets to get a peaceful sleep.
Chitkul in Winter
Winters in Chitkul are harsh, long, excessively cold and never-ending (in a way). October marks the beginning of the winter season which lasts well until March-end to April first week. The entire village gets buried under several feet of snow and turns into a ghost town as the locals move out to lower areas. The only way to reach Chitkul at this time is on foot and that too is dangerous. All hotels shut down and only a handful of villagers get left behind, waiting for the cold weather to pass.
Chitkul in October
October is when the higher reaches of Solang and Kinnaur valley start to receive snow. It is a magical time with the autumn arriving in and a lot of golden orange in the trees. If you were able to plan a trip here in early October, you will really get some amazing photo-worthy landscapes. The first 10 days of October can be considered a safe enough time to go but do not plan a trip after that. It can start to snow anytime in October in lower areas which will block the road.
The average minimum temperature in this month is around -5° C and maximum at 10° C between day and night.
Chitkul in November
In all probability, road connectivity to Chitkul will be lost in November but even if it remained, it is not a safe month to go. The temperature will range between 3° C maximum to -15° C minimum. There is no telling when the weather in November may close in, leaving you stranded in the village.
Also Read: Bike Trip to Kalpa | Delhi to Kalpa Road Trip
Chitkul in December
The average temperature in December falls further down to -2° C maximum and -19° C minimum. It is also not a safe month to go even if the road was open in the earlier part of the month. By mid of December, the road will surely get blocked making the village inaccessible.
Chitkul in January
You cannot reach Chitkul by road in January. Even most of the locals would have moved out as the temperature will reach a freezing -5° C maximum and -21° minimum; making January the coldest month.
Chitkul in February
The weather at this time will mostly be the same as January. The village will remain buried under snow and inaccessible. The average temperature will be -2° maximum and -17° minimum.
Also Read: Chitkul Village – A Trip to Remember
Chitkul in March
A lot of people think about making a winter trip to Chitkul in March but this too is not entirely a safe time. The temperature will warm up a bit to 1° maximum and -13° minimum between day and night. There will be a high chance of snowfall throughout the month and the locals will start to move back in towards the end of March. Road connectivity is not guaranteed and will depend on the weather and the snow.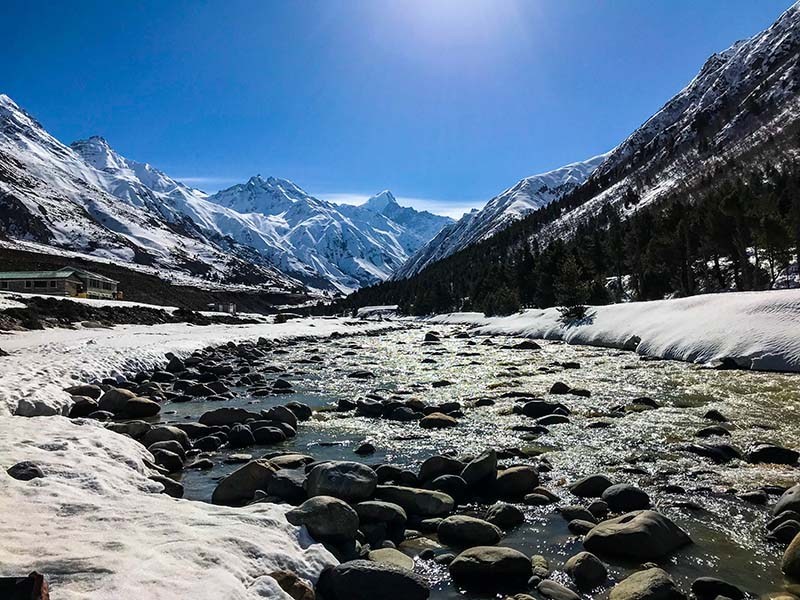 Chitkul in Summer
Summers in Chitkul are short but definitely good times. All routes, including the road and treks both, remain open. Hotels will all be up and running making it the peak tourist season. Weather will still be cold but on a pleasant side. The other nearby tourist spots in Kinnaur valley too remain open making it a great time to plan a visit covering all of Kinnaur. Let us talk about why summers are considered as the best time to visit Chitkul.
Chitkul in April
The snow in the region starts to melt towards the end of March and is mostly all gone by April, with a little left in higher reaches. There is a chance of snowfall but only in the early days of the month. The road from Karchham to Chitkul gets opened and restored in this month. The average temperature rises up to 7° C maximum and -8° minimum. You can go in April but it is not the best of the times. Go in the early days of the month if you want to get some snow.
Chitkul in May
This is a great month to plan a visit here. The weather will get a little better with days being moderately warm at 12°C. Nights, however, will still be very cold at -3°C. All routes will be open and you will have no problem reaching Chitkul and other nearby places like Sarahan and Kalpa. It is also a good time to camp in the region. You can either bring your own camping gear or stay at any of the available campsites in and around Sangla and Rackcham.
Chitkul in June
The region starts to experience pre-monsoon showers but only towards the end of the month. Overall, it is another good time to plan a visit to Chitkul. The weather will get even warmer with an average maximum temperature of 18° C and a minimum of 2°. A lot of people visit Chitkul in this month to experience the pleasant climate. Road to Chitkul as well will remain open throughout the month.
Chitkul in Monsoon
Visiting Chitkul or anywhere in Kinnaur Valley in the monsoon is not considered to be a good plan. This entire region experiences heavy rainfall in July and August. Landslides caused by incessant rains and resulting accidents are a common theme in Himachal during the monsoon season. Roads can get blocked and sometimes it can rain non-stop, keeping you indoors throughout the duration of your trip.
On a positive side though, this is also the time when the hills and the valleys truly come to life with flora and fauna. The mountains seem as if they have just been washed clean and covered with a carpet of green grass. Patches of clouds floating low make the landscapes look even more amazing.
This is when the landscape is most beautiful in the entire year.
Chitkul in July
July officially marks the beginning of the monsoon season, though it can start to rain sometimes in June itself. The temperature will hold at around the same numbers as June with a maximum of 20°C and a minimum at 7°, making it the warmest time of the year.
Though monsoons are a bad time to visit the mountains, you will still find a lot of people here; mostly the one traveling on the Spiti Circuit. Nonetheless, planning a trip in the earlier part of the month will be a better idea as the intensity and frequency of the rains increasing later in the month.
Chitkul in August
August is more or less the same as July in terms of the weather, just a little greener. The maximum temperature will remain around 20°C and minimum at 7°. It will continue to rain throughout the month.
Chitkul in September
September is by far my favorite time to be in Chitkul. The vistas at this time are absolutely mesmerizing. Monsoon would be long gone but would have left plenty of greenery for you to enjoy. Tourist season will still be on so you will have no problem getting here.
It will get a little colder though with the maximum temperature dropping down to 15° and minimum to 1°. Towards the end of the month, all that was green starts to turn orange marking the arrival of the autumn season.
Also Read: Sarahan to Chitkul – The Magnificent Valley of Baspa
Best time to go to Chitkul
Now based on the information above, I believe it is safe to assume that the months of May, June, and September are the best time to visit Chitkul. You will easily be able to reach here, find accommodation and the weather too will be pleasant. If you want to see some now though; then you should try to plan in early April. If you do not like the cold weather so much than plan in June or early July only. If you tend to dislike rains, then do not come in July and August.
For a family trip, May and June are best. If photography was on your mind, then you should come in July, August or September. For a budget trip, plan in July or August.
Also Read: Kalka to Shimla Toy Train – How to Plan your Trip !
Best month to visit Chitkul
September can be considered as the best month to visit Chitkul. After September, June will be the next best followed by May at the third spot.
Best Season to visit Chitkul
Summers are the best weather to visit Chitkul.
Conclusion
I hope the information above on the best time to visit Chitkul was of help. If you have any questions or need any other details, please feel free to ask in the comments section below, or at our Community Forum; and I will be glad to answer.