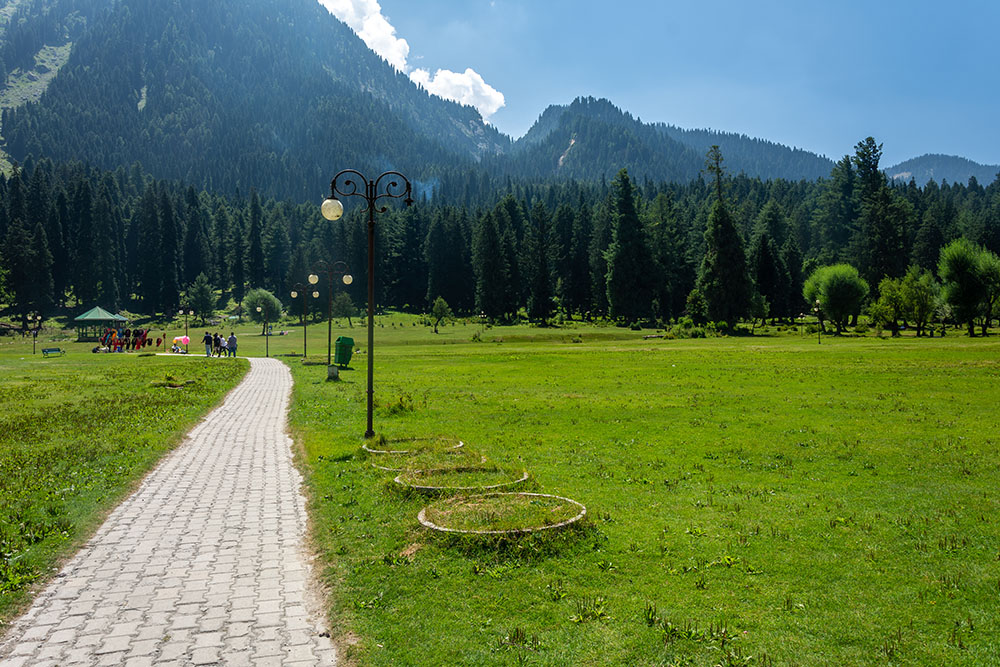 If you think about it, there can really be no perfect answer to the question of the best time to visit Pahalgam, or any place for that matter. Why? Because it will be different for each individual and depends on what kind of trip were they looking for.
With that being said, there is a certain time of the year when every tourist destination receives the majority of its share of visitors. The weather is usually the driving factor behind it.
With that logic, the months of April, May, and June are mostly considered to be the best time to visit Pahalgam but will that time suit you as well? Read on to find out.
For any other details on visiting Pahalgam like how to reach, what to see, where to stay, and itinerary planning, please take a look at How to Plan a Trip to Pahalgam.  You can also take a look at the video below that I shot during one of my trips to Pahalgam.
When is the Best time to visit Pahalgam?
It starts to snow in Pahalgam towards the end of December and continues well into March. So if you wanted to see snow then you would have to plan a trip during this time.
Chances of catching a live snowfall are more in January but the snow on the ground is more in February. However, if cold weather bothers you then you must avoid visiting anytime before March end.
If you just wanted to enjoy pleasant weather and sunny days, then anytime from April to June would be good enough. This is the peak tourist season and all tourism-related activities and businesses too would be up and running.
Keep in mind though that May and June is also the time when it gets a little crowded in Pahalgam. With vacations in school, a lot of families plan their trips at this time.
Amarnath Yatra starts in July and it is not a good time to be in Pahalgam unless you wanted to go to Amarnath. This is because of two reasons.
The first one is that it is going too crowded with devotees in late June, July, and August. Secondly, it will also be the monsoon season which means a lot of rain.
From a photographer's point of view, visiting in April or September would be best because vistas are best in these months. November is overall a bad month because the scenery is very dull at this time.
For a budget trip, visiting in August or November will be perfect. If you want to avoid the crowd, plan for either September or October.
Also Read: How to Plan a Trip to Kashmir – A COMPLETE Travel Guide
When Not to Visit Pahalgam?
The time of Amarnath Yatra will definitely be the one. At the time, the entire place is filled with devotees and people wanting to undertake the Amarnath Yatra. This also means that accommodation will get rarer and costlier.
The months of July and August when monsoons can wreak havoc would be another bad time. A trip in the weeks of 26th January and 15th August too can be problematic due to increased security in Srinagar and surrounding areas.
Similarly, a trip in the weeks of Eid al-Fitr (Meethi Eid) or Eid al-Adha (Bakra Eid) is also not suitable. It may get hard for you to find a hotel as the workers go on leaves to celebrate the festival.
Visiting in the month of Ramzan too will leave you traveling through a sleepy valley everywhere as people fast and spend most of their time praying.
Last but not least, keep an eye on the news, and if there is any news of trouble in Kashmir, best postpone your plans for another time.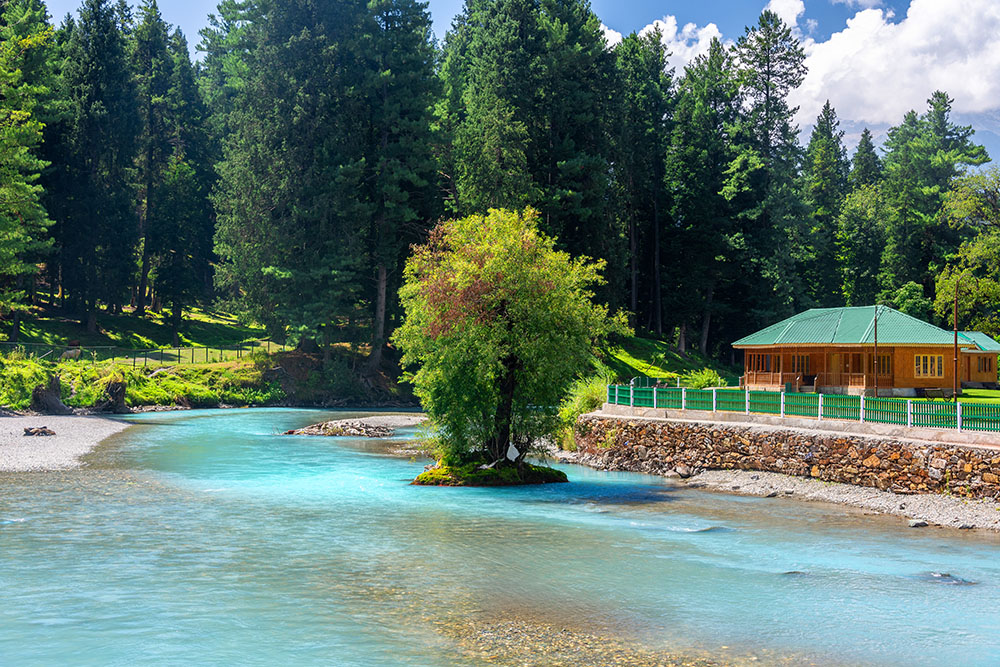 About Pahalgam
Have you ever imagined waking up and hearing the symphony of the flowing river and galloping horse? You walk to the window and see the lush green pine trees and the snow-capped mountains. It's Pahalgam, a family destination in the beautiful state of Jammu and Kashmir.
Pahalgam is a tiny town situated in the heart of Lidder valley, formed by the Lidder River. This small town is more like a family and honeymoon destination, where you can roam around the small town exploring the small markets, trying pony rides, relaxing at the club park, and many more.
The name Pahalgam literally means a village of Shepherd. It is located at a distance of about 90 kilometers from the city of Srinagar and the journey can easily be completed in 2-3 hours.
Even though it is a small town, you could stay in Pahalgam for days or even weeks. Each day has something new to show you and every month has something to offer.
Be it the bone-chilling winter or the heart-warming summers or the cool monsoon, Pahalgam has something to offer in each season.
Pahalgam in Winter
Pahalgam witnesses a considerably long and cold winter. The months of December, January, and February are ideal for those who want to experience snow.
Extreme cold winds and snowfalls await the visitors and the entire valley gets painted white. A hot Kashmiri Chaai or Kahwa in the morning and a steaming hot breakfast from any small street stall is an indelible experience.
Temperature lowers to sub-zero in peak winter months so make sure you are geared up for that. A pair of good-quality trekking boots are highly recommended as roads can be slippery.
The average temperature ranges from 5 to -5 degrees celsius. It is an ideal time for winter sports like skiing, ice skating, sledding, snowboarding, and snowmobiling.
Also Read: Pahalgam to Chandanwari Road Trip
Pahalgam in Summer
Starting from March to late June, the mountain town offers pleasant weather and is considered to be the most favorable time to visit.
Snow starts melting by late March and the trees start blooming, flavoring the air with the scent of freshness. This season witnesses the maximum inflow of visitors during the month of May and June. The average temperature ranges from 7 to 18 degrees Celsius.
Pahalgam in Monsoon
Pahalgam receives scanty rainfall, with maximum precipitation in the months of July and August leaving a pleasant and cool climate in September. which makes it ideal for travelers who want to experience the misty mountains and lush green landscape.
Monsoon leaves a pleasant scent of earth and cool. Wet air cleanses the mind filling the body with a heavenly freshness. The average temperature ranges between 10 and 20 degrees celsius and is most humid.
However, in the months of July and August, it can sometimes rain enough to cause landslides and leave people stranded.
Remember the Kashmir Floods of 2014? It left several thousand Amarnath Yatris started in Pahalgam and the nearby areas. So do remember that before you plan a trip to Pahalgam in either July or August.
Best Time to Visit Pahalgam with Family
As I have mentioned, Pahalgam is a family destination. The months of May to June and September to October are ideal for those who wish to explore the valleys completely.
Since this is the peak tourist season, all the amenities are easily available. You will easily find a budget or a luxury hotel to stay in as per your liking.
From small street food to proper restaurants and easy access to transportation, everything is available in these months. If you wish to travel to Aru Valley, Betaab Valley, or Chandanwadi, you can do that too.
Best Time to Visit Pahalgam for Solo travelers
The mountain town offers year-round access to solo adventures. One could spend time relaxing in the meadows during the pleasant summer evenings, do an adventurous snow trek to the nearby woods, or do a long walk around the wet winding roads during the monsoons.
Also Read: How to Plan Your Trip to Gulmarg, Kashmir
Best Time to Visit Pahalgam for photography
White snowy landscapes with clear skies await you in the month of February. Be it a small Smartphone or a high-end digital camera, just click and you will see wonders captured.
Apple orchards bloom in the month of April and make Pahalgam truly a photographer's paradise. If you like to capture the clear skies with lush green pinewoods and meadows, August and September is the ideal time.
To be more specific, let me give you a month-by-month detailed description of what to expect in Pahalgam at a certain time of the year.
Best Time to Visit Pahalgam to see Snow
Pahalgam starts to receive snow by late December. In the upper areas like Betaab Valley, Chandanwari, and Aru Valley, it can snow as early as October itself.
The intensity of the snowfall continues to increase throughout January but it is usually after the second week of the month that the snow starts to stick to the ground.
If you want to see snowfall and a white Pahalgam, I will recommend planning a trip between January 15th and February 15th.
Also Read: Pahalgam to Aru Valley Road Trip
Best Time to Visit Pahalgam for Honeymoon
The best time to visit Pahalgam for a honeymoon will be the months of February, March, April, and September. This is when the weather and the views here are ideal for honeymooners.
Best Season to Visit Pahalgam
Spring and post-monsoon will be the best seasons to visit Pahalgam. If you want to see snow, you should plan a trip in the winter season.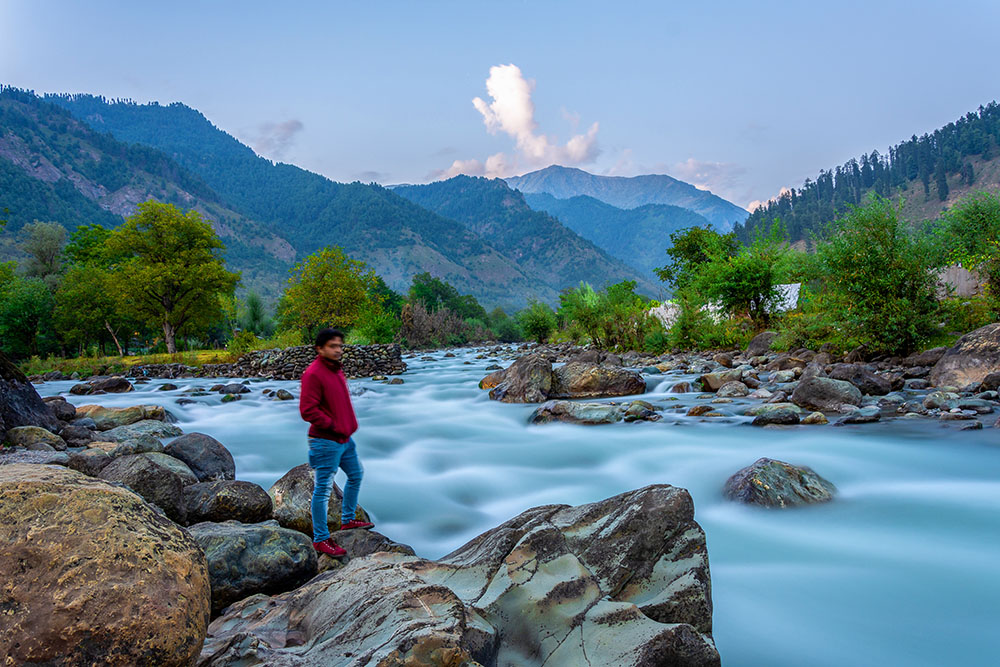 Best Month to Visit Pahalgam
February, April, and September are the best months to visit Pahalgam. Let me give a month-by-month breakdown.
Pahalgam in January
In January most of the Pahalgam is covered in snow and it is the time for adventure lovers to visit and experience snow and snowfall. An extreme cold climate can be expected during the first two weeks.
The average temperature goes into negative during this time and visitors should carry heavy woolen clothes and proper boots while visiting this month.
Hotels and restaurants do not see much business at this time but will still cost you a little high because the cost of living in such harsh weather too goes up. The town will be less crowded and not an ideal time for those with large families or people who despise cold weather.
Pahalgam in February
A symphony of clear sky with vivid blue shade and snow; this is what February is in Pahalgam. The month of February sees more visitors than any other winter month.
This is the Ideal time for snow enthusiasts. Weather conditions are more or less the same as in January.
Temperature ranges between an average of -1 to 5 degrees Celsius and one can expect snowfall throughout the month. February is the best time for snow photography.
Also Read: Road Trip from Pahalgam to Betaab Valley
Pahalgam in March
Occasional rain can be expected during this month and the temperature starts rising to a comfortable level. Nights are still cold with temperatures occasionally falling below zero.
Moderate winter gear is recommended during this month. Hotels and restaurants start getting ready for the coming busy months and can expect a small hike in cost. But a good bargain can do the trick.
Pahalgam in April
Snow starts melting in early April and the inflow of travelers also starts to increase. Apple blooms during this month and those white flowers can be seen all the way to Pahalgam.
Comfortable days with colder nights mark the month of April and light but decent clothes to withstand the weather are necessary. Hotels and restaurants will be available at decent rates and it is an ideal time for all sorts of travelers.
Also Read: Gurez Valley – The Most Comprehensive Travel Guide
Pahalgam in May
The weather conditions in May are mostly the same as in April, only a little warmer. The inflow of travelers increases and the temperature gets pleasant in the range of 7 to 18 Degree Celsius throughout the month.
You should still carry a pullover or jacket, as the nights can be cold.
Pahalgam in June
This is the best time to escape from the scorching heat in north and central India. Mid-May and June witness the maximum tourist flow for the summer months and the availability of hotels needs to be ensured before starting the journey.
Temperature ranges from 10 to 20 degrees Celsius. Regular cotton clothes accompanied by light woolen clothes are necessary.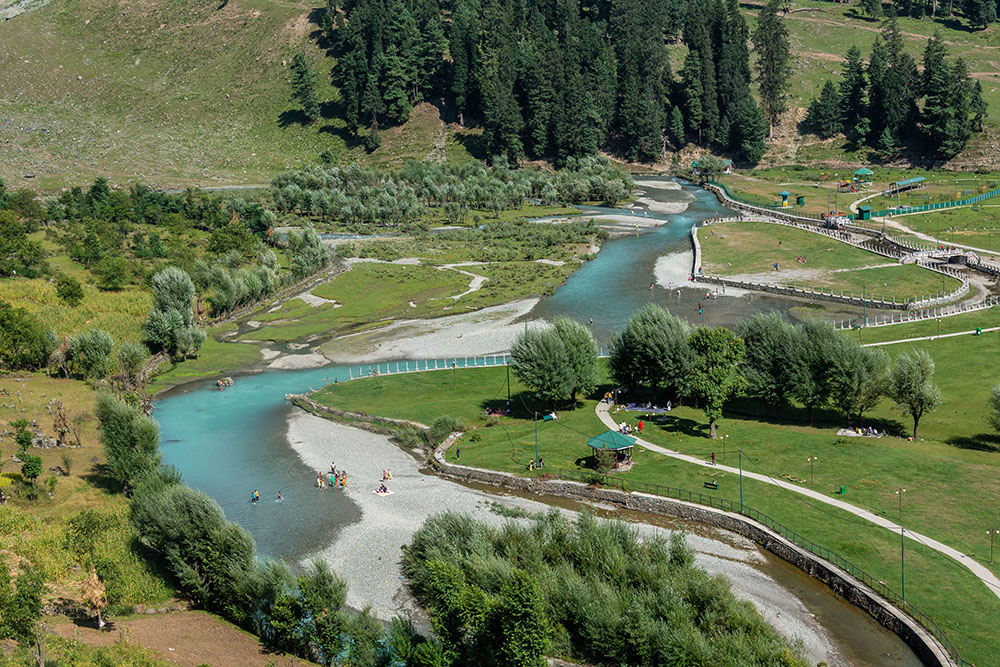 Pahalgam in July
The average temperature goes up to 21 degrees C. The weather becomes unpredictable during this month and thunderstorms and rainfall are to be expected.
At night the temperature falls to an average of 11 degrees Celsius. Bring clothes that are easier and faster to dry like polyester.
Pahalgam in August
The weather in August is pretty much the same as in July. Temperature falls down a little and nights get cooler. Thunderstorms and evening showers can be expected, so make sure you are geared up for rain.
Pahalgam in September
This is probably the best month to visit Pahalgam in my opinion. Vistas will be lush green and the scenery will be at its best. After the monsoon has passed, hills will look like they have just been washed clean.
Temperature ranges between an average of 8 to 16 Degrees Celsius. This is an ideal month for all sorts of travelers. The town is however a little crowded during this month and pre-booking of hotels is necessary if you are visiting as a family.
Also Read: Food to Try in Kashmir – What to Eat in Kashmir
Pahalgam in October
Predictable climate and temperature for travel make October a great month to plan a trip to Pahalgam. Temperature goes down to an average of 3 degrees Celsius at night. So don't forget to pack your jackets and woolen clothes.
You can also expect busy streets and hotels, so pre-booking of hotels is recommended. A cool breeze during this month is both chilling and refreshing.
October is also the time of Autumn and all that was green in September becomes golden orange at this time, giving a magical touch to the valley.
Pahalgam in November
Pahalgam starts getting ready for the winter days to come. Trees start shedding leaves and the cold dry wind reminds you of the arrival of Winter. Temperature falls between an average of 9 to -2 degrees Celsius and heavy winter clothes are a must.
Tourist flow is lesser during this month. The scenery is very dull and dry at this time. The weather will be cold and there won't even be any snow around making it a bad time to visit.
On the other hand, it is perfect for someone looking for a place with fewer people around. It is also a good time for someone traveling on a shoestring budget as things will not be that costly.
Pahalgam in December
December is officially the winter season so make sure you carry plenty of woolen clothes and a heavy windproof jacket. The first half of the month, however, is mostly dry and it only starts to snow after the 20th of the month.
It is not really an ideal time for families with kids and old people. The extreme climate continues from mid-December to January and tourists are considerably fewer during these periods. Temperature goes to sub-zero at night.
When to go to Pahalgam
So in order to sum it all up,
For photography: February, April, July, August, and September
With Family: April, May, June, and September
Budget Trip: October, November, and December
For Snow: February
For Snowfall: January
How to Reach Pahalgam
Let me also briefly talk about how to reach Pahalgam and where to stay. For a more detailed version of this information, I will recommend reading How to Plan a Trip to Pahalgam.
Pahalgam is connected to Srinagar and Jammu by road. If you are coming from a very far away location and have much less time to travel, you can reach Srinagar by Flight and from there it's about a 2 to 3-hour journey.
Private taxis are available from Srinagar Airport. From Jammu, you can opt for private taxis or shared taxis to Anantnag and Pahalgam.
Pahalgam By road
Buses are available from Delhi to Jammu
Private taxi or Shared taxi to Anantnag
Private Taxi or Sumo from Anantnag to Pahalgam
Buses from Jammu to Pahalgam can be time-consuming. In fact, you may not find a direct bus at all.
By train
The nearest railway station is Jammu and is well connected with the rest of the country.
Private taxi or Shared taxi to Anantnag
Private Taxi or Sumo from Anantnag to Pahalgam
By flight
The nearest airport is Srinagar
Private taxi to Pahalgam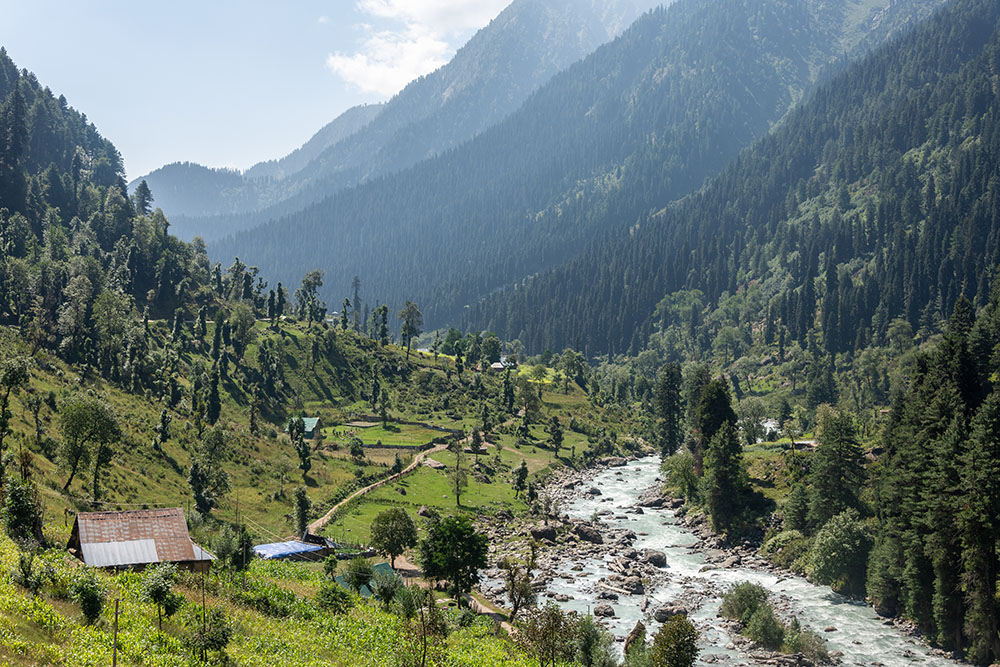 Things to do in Pahalgam
Pahalgam is a very small town and you can cover it all just by walking. It is a little bit crowded during the peak tourist seasons but you can still explore the town all day and won't get bored.
You will get to hear the sound of the river a little far away. The small yet busy market offers humble and inexpensive things for your memories.
If you get tired of exploring, you can sit and relax with your family and loved ones in Club Park. Bring a book as your companion if you were traveling alone, or just let your thoughts flow with the sound of the river.
And there are Ponies everywhere. You can have a pony ride to the beautiful meadows nearby.
Aru Valley, Chandanwadi, and the exotic film location, Betaab valley are some of the wonders to see in Pahalgam. Roads to Aru Valley and Chandanwadi deviate from Pahalgam town and Betaab Valley lies on the way to Chandanwadi.
There are nominal entry fees to enter Aru Valley and Betaab Valley. Chandanwadi is also famous as the starting point of the Amarnath Yatra.
For a more detailed version of this information, please read Places to Visit in Pahalgam and Things to Do.
Best Time to Visit Pahalgam – Conclusion
Every month has something to show you, to pull you towards the wilderness of mountains. Pahalgam is well connected through roads and many consider this location in their Itinerary along with Sonamarg and Gulmarg.
The mountain town welcomes adventure seekers throughout the year. However, if you are visiting with families, avoid the extreme winter months. One should carry woolen clothes even if it's in the summer months.
I hope the information above on the best time to visit Pahalgam was of help.  If you have any questions, you can contact me on Instagram and I will be happy to answer. You can also consider subscribing to my YouTube channel and asking a question there.